---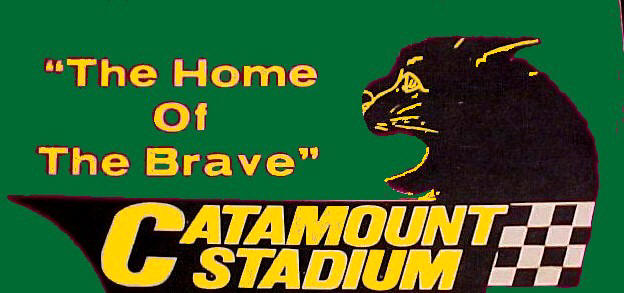 ---
NEWS & UPDATES
April 1 - I added some photos to the Johnny Gammell page. I hope this computer doesn't give us an April fool. Both the Thunder Road and Devils Bowl pages have been giving me crap - not allowing me to add anything to them. Could be coincidence, but both pages were put together with a complicated, multi - table arrangement. I just redid the Devils Bowl page without so many tables. We'll see how that goes. If you do any of this - you know that it hard to entirely replace a page and keep the same name. I outfoxed it, I guess.
April 2 - I made some repairs, and added a photo the the Davis Speedway page. I wanted to do more, but the system for adding photos continues to act up.
April 3 - I finished a considerable page called Busy Rensselaer County, a page that looks at a small section of New York and how it had six tracks in or near the vicinity. I added some great McCarty family photos to the State Line Speedway page.
April 4 - I added Steve Leavitt to the Distinguished Catamount Graduates page, and straightened it up a little. I discovered that, somehow, the page called Northern New York Drivers and Teams [which inexplicably covers mostly TRACKS] had been compromised. I recovered an old version of it; but I don't know how ,much more recent work was lost off from it.
April 5 - I made some repairs, and added a photos the the Catamount Competition Action page, a page I had entirely forgotten about for years.

April 9 - Over the weekend I made some repairs and additions to the Stub Fadden, Johnny Gammell, Northern New York Drivers and Teams, and Racing at Rutland fairgrounds pages. This required complicated transferrals when I got home; so, we will just have to see if all that took or not. I received two rare photos from Louie Senecal, via Diana Peters. One is Senecal and CJ Richards at a Devil's Bowl banquet, possibly hatching up plans for Rainbow Ridge Raceway. The other is one of the few Rainbow Ridge Race shots that exist.

April 10 - I started another page called Catamount in the Burlington Free Press, containing some of the many newspaper clips I saved for a few years - from around 1969 to 1973. I also added some material to the Colchester Raceway page.
April 11 - I added some stuff [including the above photos] to the page on Otter Creek Speedway/Hillside Raceway/Rainbow Ridge Raceway.
April 15 - A good car show at Crete Civic Center in Plattsburgh yielded some new info and photos. I have added some stuff to the Airborne Speedway page. More to come another time.
April 17 - I made huge additions to the Pete Corey page. If there are a few seemingly screwy captions, I was having some trouble with stuff unexplainedly changing on me.
April 23 - I added Column Page 79, on Frank Hart and on the Dutcher Construction racing team that ran in the early days of Airborne. Being in a column sort of mood, I also added Column Page 80, on Ray Lasnier.
April 25 - I added Column Page 81, on Tiger Tom Pistone.
April 27 - I added a ton of photos to the Steve Danish page. If you are not particularly familiar with the name, this man was the prototype of what modern race drivers have become. he worked out in pre-season, he kept a clean, well - uniformed crew, he effectively cultivated sponsors, he had a tear-off windshield setup, his cars were brought in, immaculate every week with matching tow vehicle, and he was beating out V-8's with a six - all in the 1950's. I have been working for a while on a Lou Lazzaro page. I don't claim to have half of his photos, but it is a good representation of the famous driver.
April 28 - Hey ! Has anyone out there heard anything about the "Racin' Paper" ? I haven't seen an issue for a long time and I am not getting any response to my emails.

April 30 - It appears as there is no more Racin' Paper, so I have instituted a new Weekly Blog page, on which I can share my column with anyone who wants to hop on this site and read. Spread the word.
+-+
For all 2005 News and Updates Archives - Click Here
For all 2006 News and Updates Archives - Click Here
For all 2007 News and Updates Archives - Click Here
For all 2008 News and Updates Archives - Click Here
For all 2009 News and Updates Archives - Click Here
For all 2010 News and Updates Archives - Click Here.
For all 2011 News and Updates Archives - Click Here

For all 2012 News and Updates Archives - Click Here