Ivanhoe Smith's

COLCHESTER RACEWAY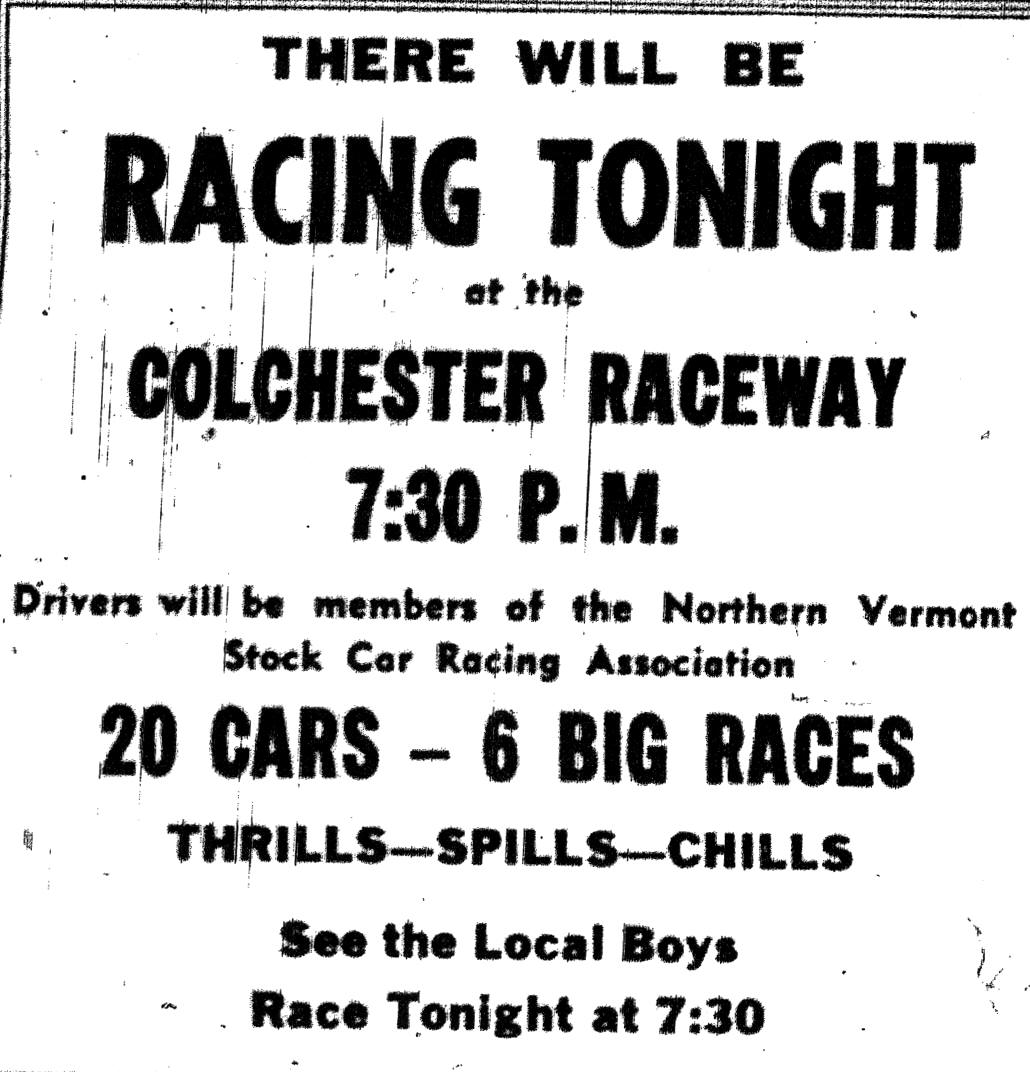 Courtesy of John Nelson's Research
A rare actual ad for Smitty's track from the Burlington Free Press.
Local Winooski used car dealer Ivanhoe Smith was a familiar figure around early racing in the Chittenden County area. Besides fielding a number of stock cars at various tracks in his time, he made a game attempt at running a race track. This was located to the Essex side of what now is Canyon Estates, outside of Colchester. Smitty had a pretty good track, by the standards of the day, and his operation survived a bout with Vermont Blue Laws, as well as at least one bad accident involving spectators.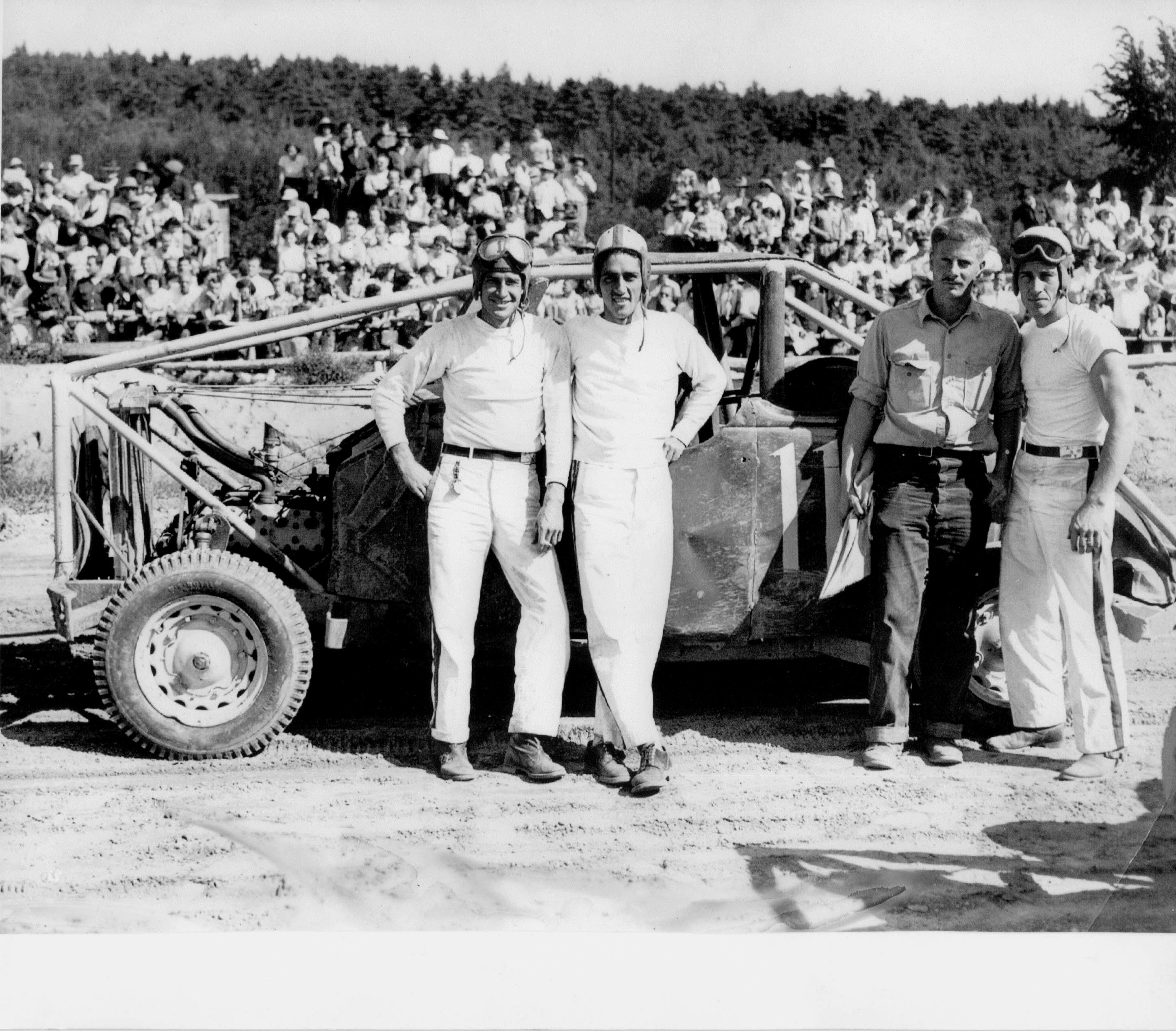 Courtesy of Jodie Trayah, via Steve Jangraw
The rough and ready bunch is supposedly posing at Colchester Raceway in front of this lovely
example of modern race technology. From left: Carl Trayah, Ed Charbonneau, flagger Ira Farnsworth, and Herb Trayah.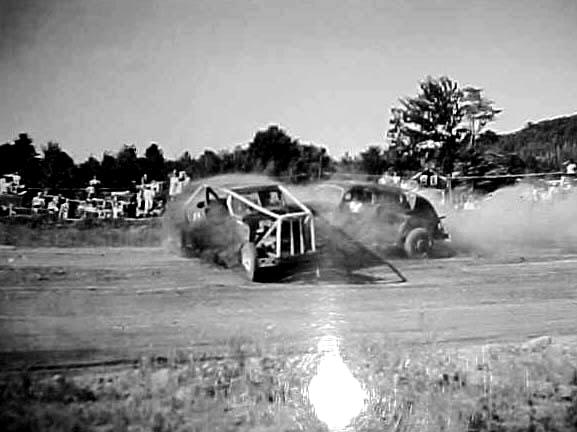 Courtesy of the Dooley Family
Harlan "Red" Dooley bulldozes one of the Trayah boys in that same car as above.

Courtesy of Jack Anderson
A race lineup at Smitty's

Courtesy of the Owen Family
Gordy Owen [31] paces
a heat field at Colchester
Raceway around 1951.


Courtesy of Jack Anderson
Carl Trayah at the track.
Steve J says the barn in the
background is the Purvis'.

Courtesy of Jack Anderson
A pit gathering at the track.

Courtesy of Jack Anderson
Jack Anderson says this is
at "Smitty's" and that he
was only 16 in this shot.

Courtesy of Bushey Family
via Jack Anderson
A gathering around Bob Bushey's
pit area at Smitty's .

Courtesy of Bushey Family
via Jack Anderson
Bob Bushey's Spud 19, at
speed during a private
practice at Smitty's .

Jackie Peterson Collection
Jackie Peterson, the car
at left in background, at
speed at what could likely
be Colchester Raceway.
Peterson was one of Smitty's
most loyal drivers.


Courtesy of Owen Family
Gordy Owen gets pushed
off in the pit area at Smitty's .

Courtesy of Bob Bushey Family
via Jack Anderson
Gordy Owen gets pushed
into the pit area by Rex
Shattuck.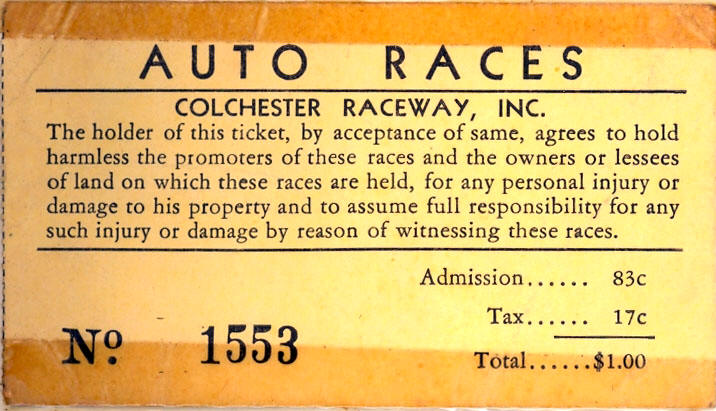 Courtesy of Walt Perkins
An apparetn ticket stub from the Colchester Raceway. It looks almost identical to one used by Walter Barcomb's
Colchester - Bayview track, but the price is higher. The disclaimer is particularly significant on this stub in view
of the controversial spectator accidents that Smitty endured in 1951.
View the former location, via Terraserver, at this URL:
http://www.terraserver.com/view.asp?cx=643428.474545527&cy=4933393.11032872&proj=32618&mpp=7.5&pic=-1&prov=-1&stac=-1&styp=AD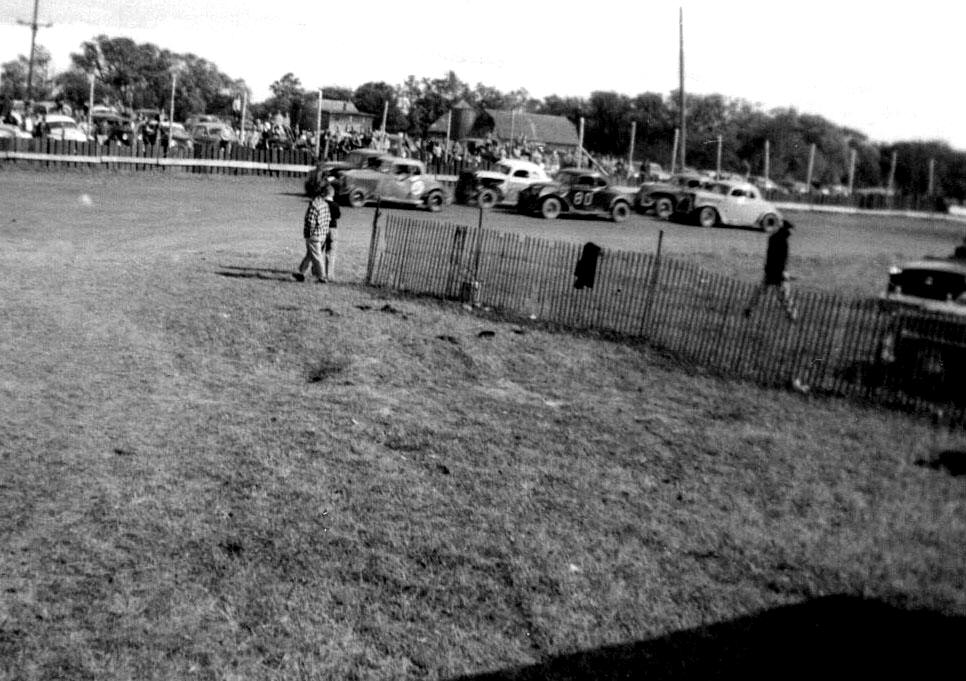 Courtesy of Owen Family
Gordy Owen is on the pole for this heat race that also features Jackie Peterson in the rear.

Return to the Main Page
Return to the Main News Page
Return to the All Links Page
Return to the Races Tracks in Colchester Page