THE RACE TRACKS IN COLCHESTER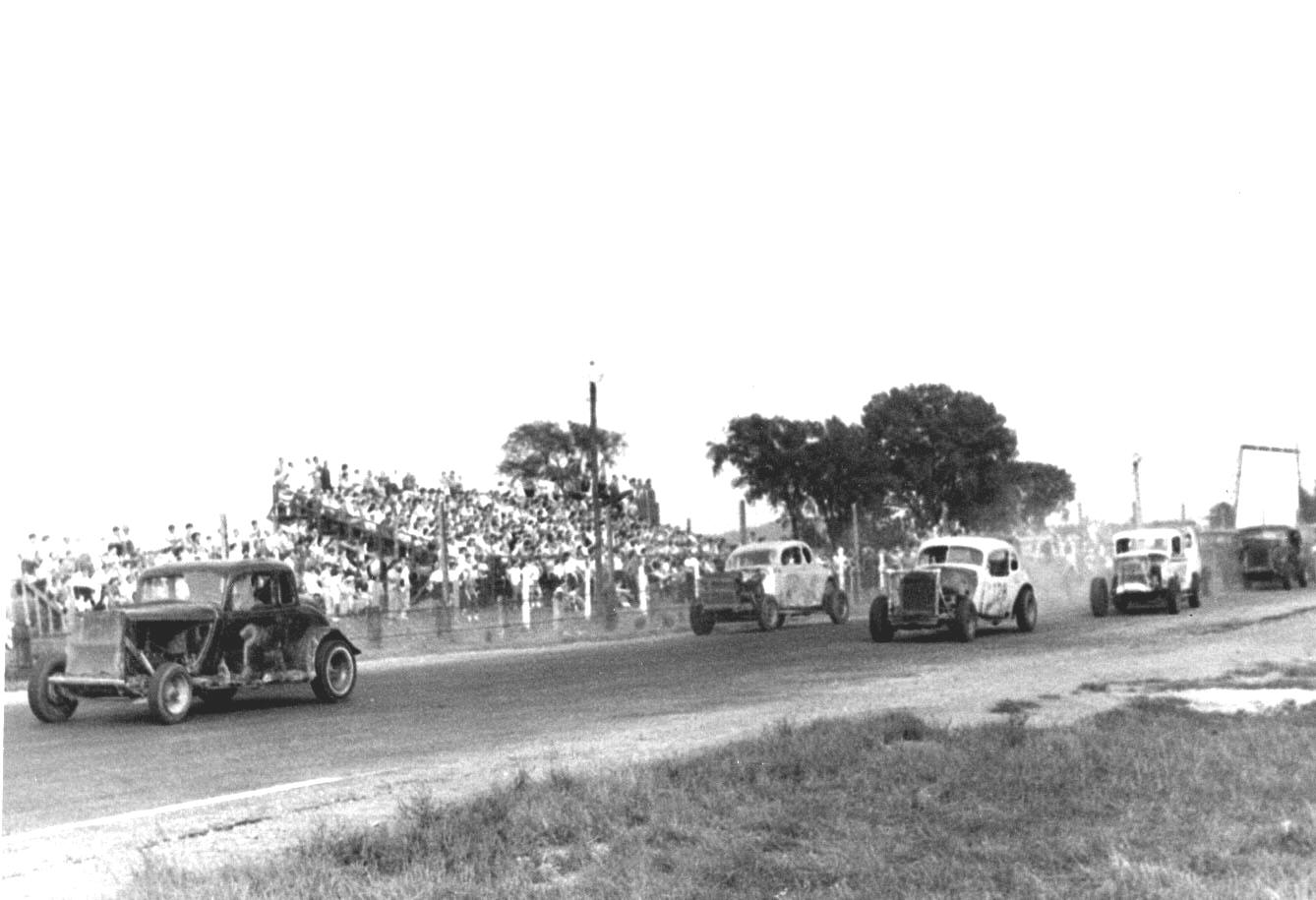 Bob Mackey Photo Courtesy of C. J. Richards
This photo from a New York photographer shows how close the track was to the drive-in theater.

The town of Colchester, Vermont has a considerable stake in the history of stock car racing in Vermont. At various times in the earlier years of racing, there were arguably up to tofive race tracks operating in that large [and then rural] township: one near the Malletts Bay drive - In Theater ; one on Williams Road, about a mile away from the first; one on where the Sunset Drive-in Theater now sits; one near Bel Air Drive off Holy Cross Road; and another out on US Route 2 near Essex Junction. The first two went about their promotions in such an informal way that, on a given Sunday, if one track had more entrants than the other, they would agree to all pack up and go to that track to race that week. The track near the drive - in, run by Walter Barcomb [from a family which produced noted driver Ron Barcomb] usually won out. The Barcombs already included Ernie, Herb, and Leonard.... and Herb's son Ron would make his own mark, in years to come, at Catamount and other venues.
According to local legend [and it may be just that], the owners of the drive - in theater hated the race track and schemed to get rid of it. According to the story I heard, they were able to buy it through some subterfuge and treachery, and had it bulldozed the very next day. Don't know how true it all is. Local resident and former race car participanr Bob RIley says there is no truth to the drive - in treachery story that he knows of.
We thought that the racing world lost a considerable chunk of Malletts Bay history when the thirty-plus photo collection of former driver Red Dooley was lost in a fire at his son's home in 2002. But they have apparently survived and I am working on scanning them - if I can track down the owners of the originals. As of mid - 2007, these along with photos from Bob Bushey, Frank Hart, Bob Riley, and Gordy Owen, would have been the only photos I could find of the track.
April 19 post script: Recent remarks made by Ron Barcomb, former ACT driver and nephew of Walter Barcomb now adds further clouding to which track in Colchester ran by which title. I thought I had finally nailed it down to : the best known track on Route 127 [Barcomb's] was named Colchester - Bayview after having used Malletts Bay in the name before; the Harvey Moody track near Williams Road was named Green Mountain Speedway; Ivanhoe Smith's track out on Rte 2 was Colchester Raceway; the early track on Holy Cross Road was Malletts Bay Speedway; and a really early track, named Sunset Speedway, was replaced by the present drive-in of the same name.

REPUTED COLCHESTER TRACK LOCATIONS - Pre 1960
COLCHESTER-BAYVIEW [MALLETTS BAY] SPEEDWAY
Click Here to go to a page on that track.

GREEN MOUNTAIN SPEEDWAY

COLCHESTER RACEWAY

Return to the Main Page
Return to the Main News Page
Return to the All Links Page