---
---
---
THE CRESCENT HILLBILLY
Pete Corey, One of Racing's Pioneers and Great Innovators
---
---
---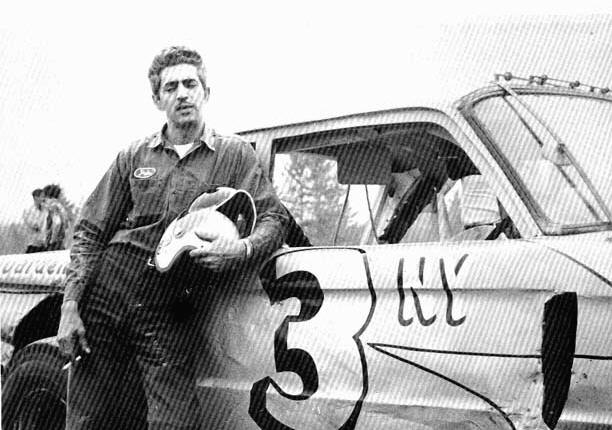 Bob Frazier Photo Courtesy of Ed Fabian
The typical Corey photo - leaning against the car, cigarette in hand. Pete didn't
like a lot of things, and posing was one.
From what I can gather from readings and conversations, it was hard to think of Pete Corey and Ken Shoemaker, one without the other. They roomed together in a small apartment in the Capital District of New York, they began racing together, and one ran pretty much where the other one did. So, when one night in a fit of exasperation, Shoemaker hollered at Corey' "%#$X!, you Crescent Hillbilly !" Corey loved it and the name stuck.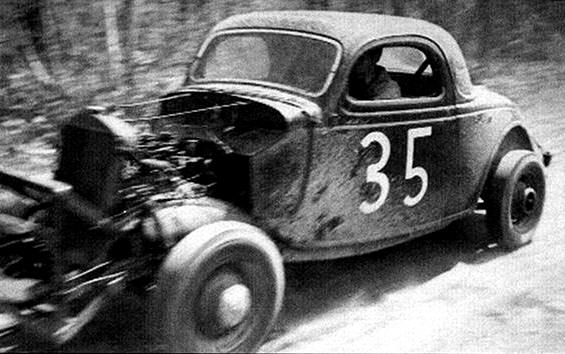 From the Fonda Book - No Other Source Given
Pete and Kenny bought this first race car for $35 - in 1949.
Shoemaker always said Pete was first to drive the $35 first car because Corey was a natural from Day One, whereas Ken said he had to learn to be a driver [he apparently learned very well]. Corey's talents were noticed by Bob Whitbeck of Canajoharie, NY whose car was already widely known in New York racing circles. As it would turn out, Whitbeck began the long line of #37's with which Corey would be forever linked [albeit through three different owners: Whitbeck, Kitler and Wolf, A.C. Caprara,Tony Villano, Sr., and finally Hank Spetla.]
While Corey was still driving successfully for Whitbeck, Bob sold the operation to the team of Gibby Wolf and western meats dealer Sam Kitler. They wanted Jeep Herbert as driver, so Corey moved over to Bob Mott's yellow #3, a car he would later describe as his all-time favorite ride. It was this car's yellow and silver scheme that Corey would use on his own cars in the 1960's.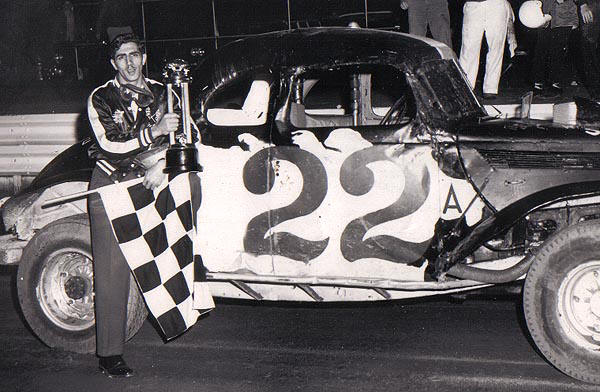 From the Schenectady Collection, Otto Graham Site
Pete gathers a Fonda win in the Bob Whitbeck flaming 22.

When Fonda began to give Mott grief about the body on his car, Mott sold it and bowed out. Whitbeck was car building again and had started the black paint scheme with flaming #22, a scheme that would Dave Lape would make more famous in the 1980's. Corey returned to Whitbeck in the middle 1950's. Corey and Whitbeck were magic at Fonda until Whitbeck's race operations suffered a terminal garage fire in 1959.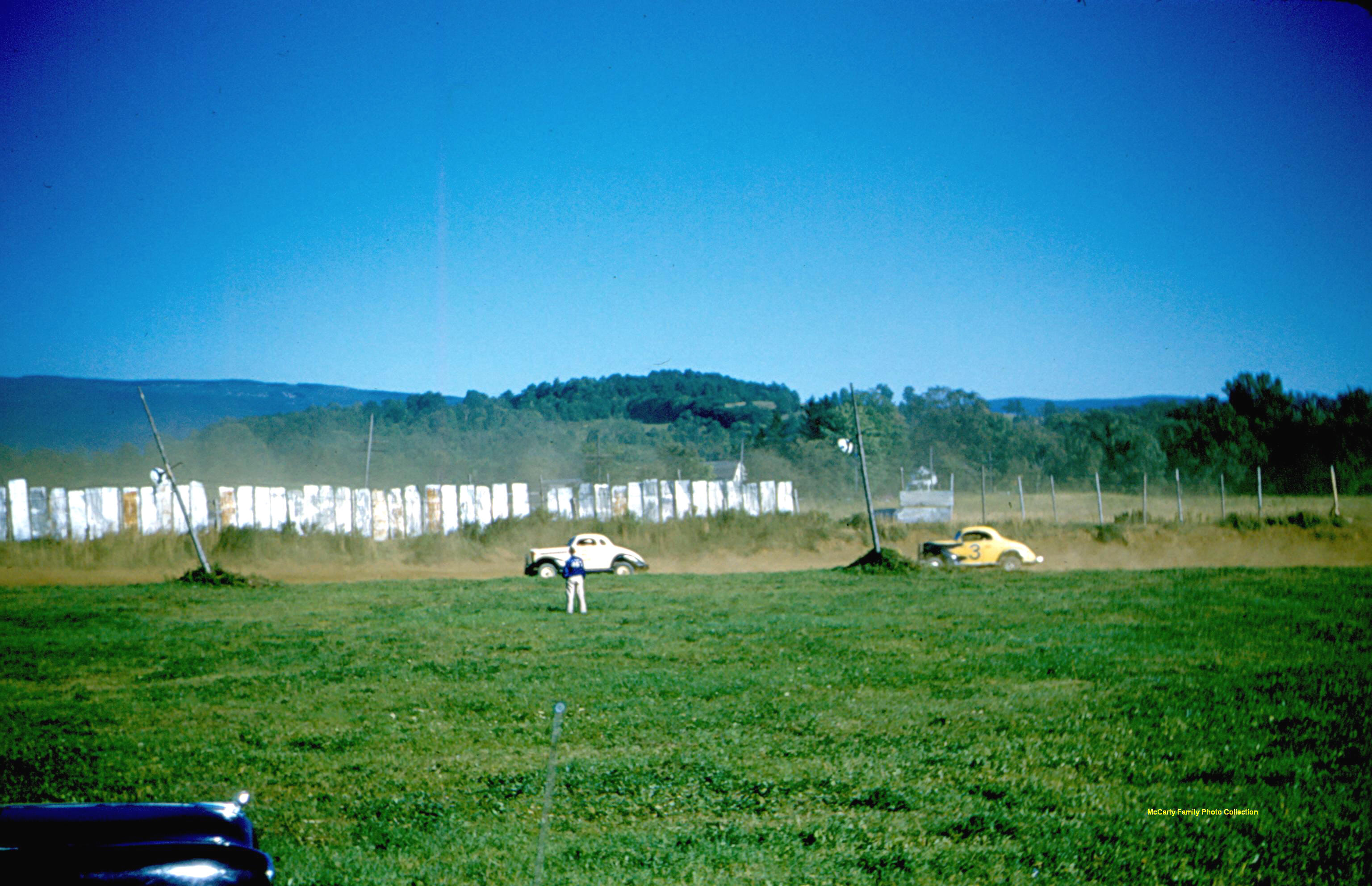 Courtesy of Joe McCarty
A superb, rare color photo of Stateline action with Steve Danish leading Corey in the second Bob Mott 3.

With Corey out a ride again, he was re-hired to drive the very #37 he had been released from in the early '50's. By now, the team was owned by A.C. Caprara. Corey raced for the next while in both Caprara and Frank Trinkhaus cars, winning with both. Corey was still at the wheel when the car was sold to Tony Villano, who added his own unique paint scheme to the car. That is the first Corey car I can remember.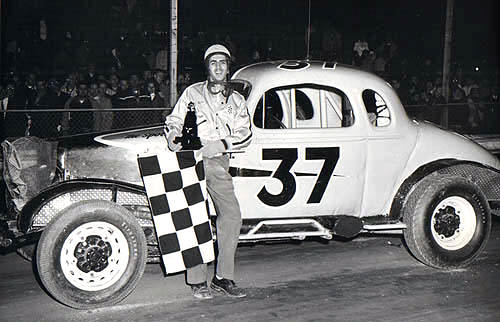 From the Bill Fifield Collection
My first memory of Fonda is the hot laps during practice, and
Pete Corey flying through Turn One sideways, leaning so far to the left
that his yellow helmet was sticking out the driver's window.
By around 1962, Corey and Shoemaker had been given the chance to run together, as team mates, in a sort of super team. Chris Drellos had bought out the red and white coupes of Henry Caputo, re-outfitted the cars, and set out to win glory. Shoemaker was already ensconced in the #111, clearly the better of the two cars, and - for the first year - the 111A was driven with moderate success by Jeep Herbert. The following year, the backup car was improved, numbered 11, and placed in the hands of Corey.
Not only did the two scald the track at Fonda, but the team would descend upon Stafford Springs, Connecticut [perhaps to repay the invasion by SS regulars like George Janoski and Ernie Gahan]. In the words of Stafford regular fan [and a future star, himself], Dick Berggren, the Fonda cars "killed our locals". Corey was not always happy to play second fiddle to Shoemaker and he left by the 1963-64 season, when Drellos sold Shoe's car to Frank Trinkhaus and Pete's car to Buck Holliday.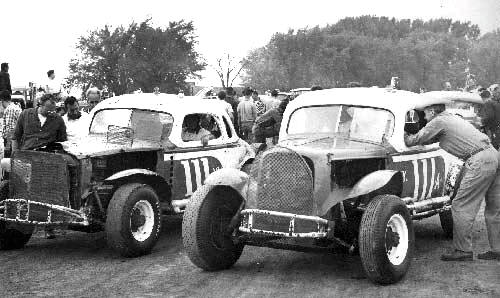 Photo Source Unknown
The highly - impressive Drellos team sits in the pits at Fonda, waiting
to go out and dominate another feature. The right hand car is probably
Jeep, not Pete.


Pete would now enter one of the most famous points in his career. A body man by trade, he would begin to produce some unusual and good-looking cars of his own, with some financial backing from a businessman in his hometown of Crescent. The first such car did a lot to begin the eventual revolution to late model modified bodies. Pete's Falcon was one of his most well-known cars. With this car, he starred at Fonda and at many far-flung tracks all over the Northeast, including the bucolic Fairmont Speedway, in Fair Haven, Vermont [where I got to see it].
Corey and friend, Irv Taylor, both drove Falcons at Fonda during most of the 1965 [and some of 1966] season. When the Falcon was destroyed, Corey's clever body skills transformed a 1937 Chevy coupe, lengthened and all to a body that would fit the longer frame left from the Falcon. Then after a brief stay in the coupe, came the strangest creation he ever came up with - the Studebaker. Corey had fitted a 1956 Studebaker body [very sleek but five hundred pounds heavier than the competition] onto a standard racing frame and was doing quite well. The huge car was able to hold its own in the wetter conditions of early season; but, as the track surfaces dried out more in mid-summer, the ark began to struggle. So, characteristically, Pete cut it up.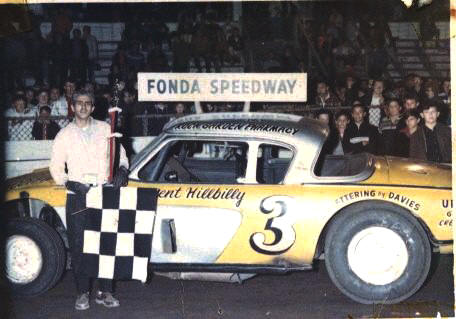 Russ Bergh Photo
An early season win with the Studebaker.

The remaining years of the 1960's would see Pete and Ed Pieniazek build some beautiful race cars, including some standard coupes and a heart-stopping Mustang. Eventually, the cantankerous Pete and Fonda Speedway management had endured their fiery marriage as long as either could stand, and Pete took off to run Lebanon Valley. This was the era when the headliners at the Valley were running late model bodies. Corey constructed an eye-catching 1955 Chevy with his usual colors. The Valley regulars, already chafing at other Fonda invaders coming down and grabbing their prize money, were were outright hostile to Corey and - more often than not - he'd go home to Crescent with his car in pieces.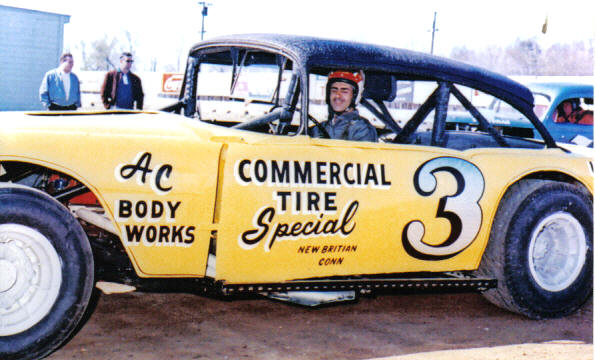 Arnie Ainsworth Photo
The Valley car - in one piece, which was rare. Sign man Dave Davies never
could spell New Britain.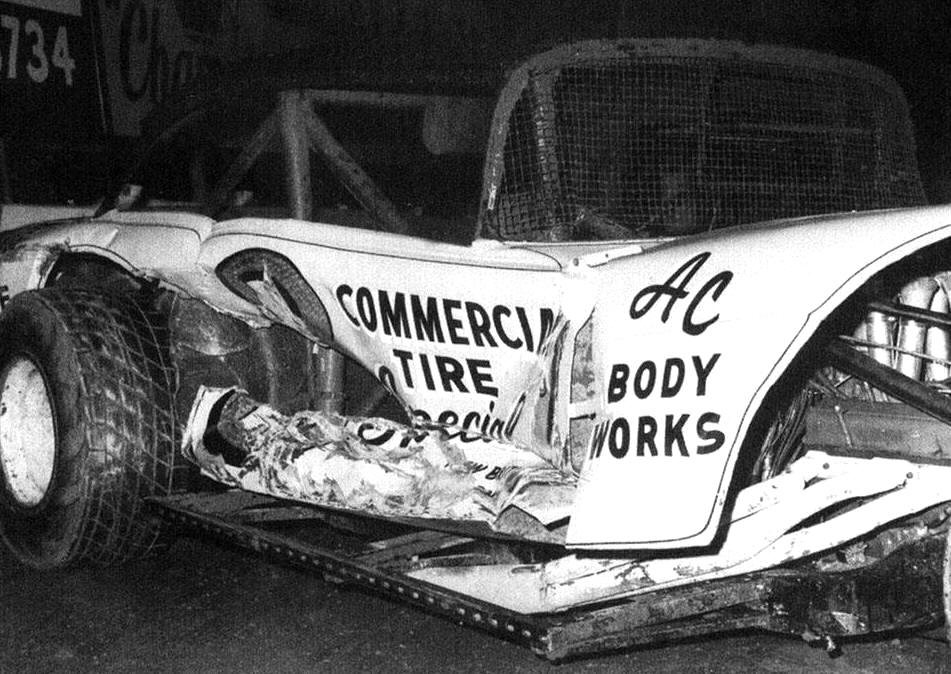 John Grady Photo, Gater Racing News From Fonda History Book
The Valley car - too many times.

Pete and Pieniazek tried one more run at Fonda, but the gorgeous Mustang show piece he had created ended up in pieces, as well. Pieniazek ran the coupe there some, but Corey had had it with racing by then. He was convinced to come back and try Jerry Rose #93 coupe in 1970, and he even won a feature - but the Rose team was headed for asphalt [with Pieniazek] and Pete really did not like racing any more. He retired to his hunting and fishing. Sadly, Pete ended up quite bitter from his racing experience and soon, thereafter, began to suffer serious health issues.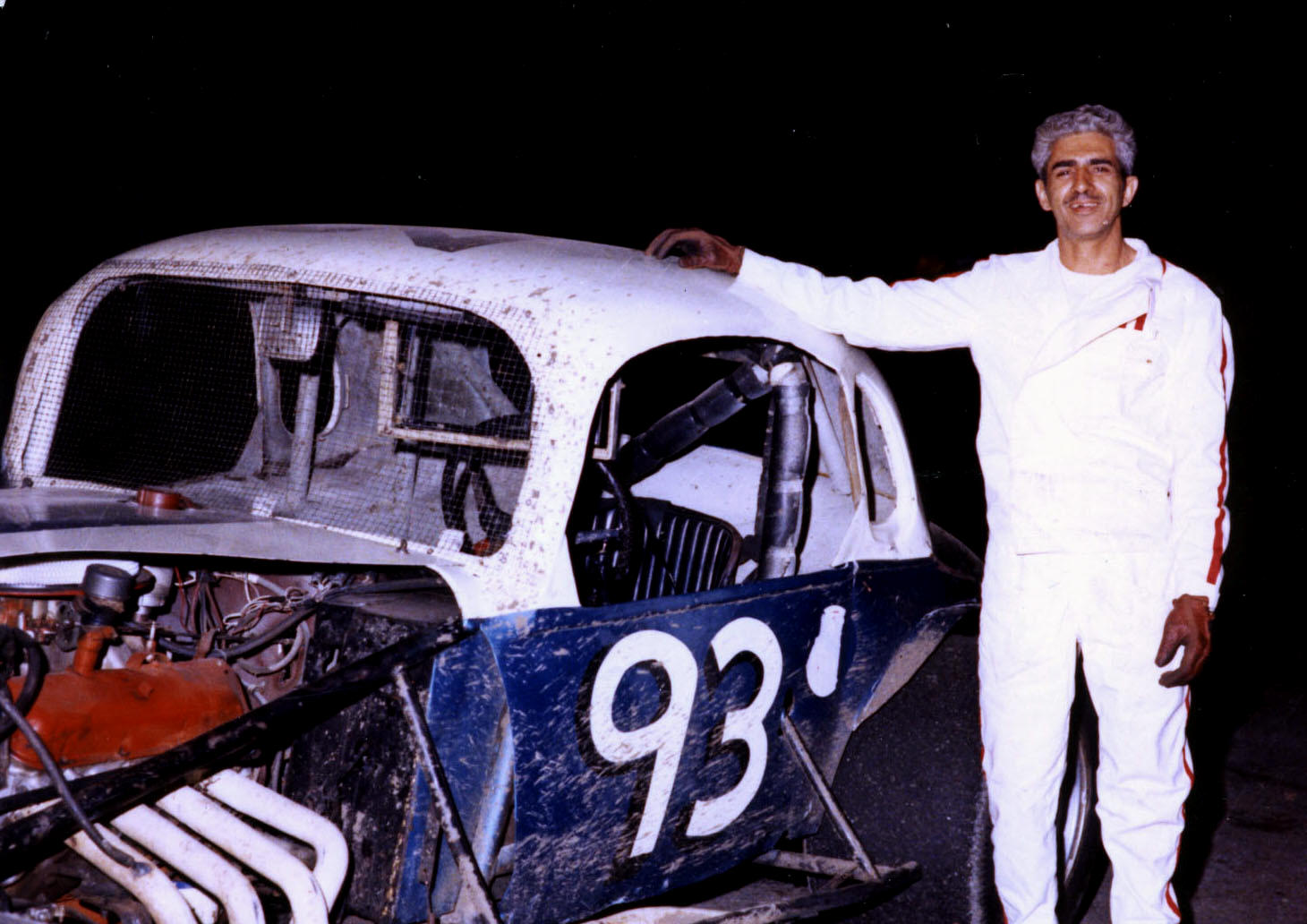 John Grady Photo
Pete, with the Jerry Rose car, around 1970.


Beaver Dragon, a legend in his right, was at the same hunting camp with Pete in northern Quebec just before Corey ended up passing away. Even then - one racing giant to another - Pete did not want to talk about racing. His life ended as he raced: on his terms and laced with strong feelings. I always admired Pete Corey and all his innovative ideas. I hated to see it end the way it did.

Courtesy of Ken Gypson
Some claim this is Corey's
first race. If so, it did
not go well. Looks like
Burden Lake.


Courtesy of the
Hackel Family
Pete, Steve Danish,
and an unidentified
[but familiar looking]
third man at Stateline.


Both Shots Courtesy
of the Herbert family
Pete, posing with
an obviously early
entry of his.



Courtesy of the
Herbert Family
Bob Whitbeck built
this car, and the
choice of number
is interesting. I don't
know who owned it:
Corey said it didn't handle.

Courtesy of the
Herbert family
Pete, subbing with
the Young / Vine team
for Hoppy Redner.

From Dan Ody's 8MM DVD
Pete with the first Bob Whitbeck - built car.

Courtesy of the
Bittig Collection
Pete, with the ill - fated
Whitbeck holey car.


Putnam Collection
Pete with Art
Spoar, an early car
owner.

Courtesy of Phil Miller
Pete in a vintage - looking
sprinter at Fonda. Must have been in the '50's.


Courtesy of Otto Graham
One of the first photos
I ever got for my site.
Pete follows Joe
Ciganenko and leads
Jim Luke at Fonda in
the late '50's.

Vogel Family Photo
Pete, in the Whitbeck -
built Harold Smith
car, giving Ted Vogel's
kids a ride.

Source Unknown
Pete at Alcyon, NJ.


Schenectady Collection
Otto Graham Site
Another win with the
Mott 3.

NE Mod SitePhoto
Pete wins at Fonda
after rolling the car.

Schenectady Collection
Otto Graham Site
The Whitbeck car.

Courtesy of Jo Towns
via Otto Graham
Another of Pete with
Whitbeck's flame car.

Dick Berggren Collectoin
With the 22 at the 1958
Syracuse race, outside
of southerner Dink
Widenhouse's B29.

Dick Berggren Collecton
Pete, with Whitbeck's
flame car on the pole
at Syracuse in 1958
with Southern star
Dink Widenhouse.


Herbert Family Photos
Pete and early
racing buddy
Jeep Herbert.

Herbert Family Photo
Pete is awarded
by Jeep.


Courtesy of Starin Family
Article about a
Fonda championship.

Schenectady Collection
Otto Graham Site
The AC Caprara car
Pete was Fonda's
champion.

McDowell Photo
Courtesy of Phil Miller
With the second
Mott coupe.

Schenectady Collection
Otto Graham Site
The Mott 3 which
eventually was banned
from Fonda because
NASCAR's solid roof
rule.


Ted Vogel Collection
Otto Graham Site
Corey in the Mott car
before it was banned.
Here he sandwiches
Shoemaker in Vogel's
LVJr with Walt
Roberts/

Courtesy of Dan Ody
Corey actually ran
the Daytona super
speedway with this
Caprara coupe
around 1959.
Courtesy of Dan Ody
New year, another
at the Daytona
before the coupes
were banned. These
2 shots are off 8MM.

John Grady Photo
Towing the Mott 3
down the NY Thruway.

Source Unknown
Pete, in full opposite
lock at Alcyon, NJ


Courtesy of Phil Miller
Pete looks on from
behind as his famous
car owner, Bob Mott
wins one at Stateline.

Courtesy of Phil Miller
Pete, with Steve Danish
and maybe Howie Westervelt at
Stateline Speedway.

Courtesy of Lew Boyd
The awful Langhorne
accident.

Courtesy of Starin Family
Featured on one of
the Langhorne
programs.


FuezCollection
Fonda Book
Dramatic shot of Pete
cutting himself out
of the Capara car
in 1960.

Irv Conron Photo
Courtesy of Ed Mudd
Pete with a friendly wave from the hospital [probably with the leg injury.


Courtesy of Gene Strenkoski
Article about Pete
getting back into
Fonda racing in 1961
after the 1960 leg accident.


John GradyPhoto
Pete wins one for either
Caprara or Villano

Ladabouche Collection
Pete might not have
looked so thrilled
with the new 37
if he knew what
would happen in it
later.

Courtesy of Starin Family
After having NASCAR ban Bob Mott's potent
3NY, he built this one.
The caption explains
the nature of the crew.

Schenectady Collection
Otto Graham Site
An earlier Caprara 37.
A rarer Ford version.


Courtesy of Rob Trombley
While recovering from
the amputation, Pete
awards Pete Peterson
a trophy at Empire.


Ladabouche Collection
Pete, in the Caprara
car, leading the
legendary Red Foote.

Grady Photo From Book
A win with either
Capara or Villano.

John Grady Photo
Corey wins in
1963.

SSCR Photo
With autograph.

Cavalcade of Auto
Racing Photo
With the yellow
and black shirt
for Villano's 37

Dan Ody's 8MM DVD
Drellos 11 at
Syracuse. Very
blurry 8MM frame.

HAMB Photo
Pete, in the 11 and
Ken Shoemaker, in
the 111 - the Drellos
Team.

Conde & Parry Site Photo
Chris Drellos somehow
managed to coordinate
two temperamental
egos on one team.





Ladabouche Photo
The Drellos car
arriving at Fonda.

Source Unknown
Blurry shot of
the Drellos 11 in
Fonda pits with
Jollie Ollie in
background.

John Grady Photo
Going across in
first under the
flag of Chet Hames.


Courtesy of Dave Dykes
A win for Drellos
with flag from Chet
Hames.

Courtesy of Rick Parry
This car looks a lot
like the 1963 ride of
Shoemaker, reworked.


Conde & Parry Site Photo
Pete, winning with
Frank Trinkhaus' 62.

HAMB Photo
Somewhere -
not Fonda.

Roger Kofroth Photo
Unknown track.


John Grady Photo
The less familiar
configuration for
the Falcon body.


HAMB Photo
Pete in a lineup at
Trenton or Langhorne.

Ted Vogel, Jr. Photo
Pete uunloads the Falcon
at Fairmont around 1964.
Big treat for the locals.

Ladabouche Photo



Mike Russo Photos
Pete exit the Falcon
at Fonda after a
spectacular wreck.



Ladabouche Collection
Pete, in hot water
with Wimble and
Lazarro bearing down.

Maynard Johnson Photo
A little support for Pete.






Ladabouche Photo
Pete rolls into Fonda
with either the same Falcon without fenders or a
second car.

Courtesy of Cho Lee

Courtesy of Ed Fabian
Pete with the
famous Falcon.

Val BlicarczPhoto
Loading the 3
in the twilight
after a late -
season show at
Fairmont.


Courtesy of Ed Fabian
Pete wins at Fonda
with the Falcon.

Maynard Johnson Photo
Langhorne lineup
near Will Cagle in the
Deasey sedan #70..


John Grady Photo
via Dave Dykes
The Studebaker,
at Fonda.

api.nin.com
The Studebaker at
an UNK location.


Courtesy of Ed Mudd
Pete with the
Studebaker, at
Stafford Springs.

Courtesy of A. Ainsworth
Pete with the
Studebaker, at
Fonda.

Sources Unknown
The coupe he
fashioned to sit
on the frame that
had carried the
Studebaker.




Courtesy of Dave Dykes
The complicated
body work needed
to fit the smaller '36
coupe on the same
frame is evident here.

Maynard Johnson Photos
That same coupe
in the pits at
Langhorne.

A strong Fonda
presence with
Corey on pole
and Shoemaker
behind.

Courtesy of Dave Dykes
Pete, with longtime
sponsor, Jimmy
Boscoe, of Commercial
Tire Corp.


Courtesy of Ron Wilson
Pete winning the
Lebanon Valley 200
with Ted Ryan.



Source Not Known
Pete in the 3x
coupe that was
a complement
to his Mustang.

Courtesy of Ed Mudd
Pete at Reading Speedway.

Dan Ody's 8MM DVD
At Valley in 1968.
8MM very blurry.

Source Unknown
Twin Corey coupes
await the race.

HAMB Site
The nearly identical team cars at speed at one of the big tracks like Trenton or Langhorne.

Courtesy of CJ Richards
Pete visits Devils
Bowl in the late 1960's.
He ended up selling
this coupe to Bowl
regular Chet Doaner.


Source Unknown
Perhaps his best - known
[and longest - lasting] 3.

Dirt Track Digest
Langhorne


Photographer Unknown
Dave Dykes Site
The tandem hauler
arrangement with the
two coupes around 1969ish.


Courtesy of Ed Mudd
Pete with his ever -
present cigarette and
coffee at Lebanon
Valley.


Vogel Photo Collection
Pete wins at Devils
Bowl in the late 1960's.




Mike Schaub Collection
An pose at Langhorne.

Courtesy of Ed Mudd
Pete chasing Frankie
Schneider at Langhorne.


Courtesy of Dave Dykes
Pete at Langhorne.

HAMB Photo
Pete's twin coupes.

From Joe Cryan
via HAMB
The coupe he
used to have Irv
Taylor drive.

Glenn Eckert Photo
Ken Shoemaker,
in the Corey 1NY.



Bob Mackey Photo
via John Rock
Pieniazek arrives
at Airborne around
1969 with the Corey
hauler and the
backup car.

John Grady Photo
With the 1968 version.

RRUSA Photo


Ladabouche Collecton
The Mustang, when
brand new and unused,
at Fonda.

Grady Photo
The beautiful
Mustang he had
for a few years.

Grady Photo
John Grady must
have had a full
photo shoot.

Grady Photo via
Ackerman
The beautiful
Mustang he had
for a few years.

Likely a Grady Photo
Pete looks at the
Mustang like it
just burped.

Source Unknown
Pete with a
win at Airborne.

Bob Mackey Photo
via John Rock
The Mustang ended
up red, thanks to a
Schmidt Beer
sponsorship

Courtesy Arnie Ainsworth



Source Unknown
A quiet moment on
the phone, maybe
at home.

Arnie Ainsworth Photo
The Valley late model
seen in rare undented
condition.

Gater Racing News Photo
The Valley late model
had more than its
share of problems.


Dave Dykes Site
The Valley late model
before any muggings.

John Grady Photo
The Jerry Rose 93,
in its dirt era.

HAMB Site
At Lancaster with
Jerry Rose's car.

John Grady Photo
Pete and his hardware.

Schenectady Collection
Otto Graham Site
A middle career portrait.

Ed Mudd Photo
This photo about
says it all for the
golden age of
Fonda Speedway.

Herbert Family Photo
A little horseplay
around the Danish
car in the early days.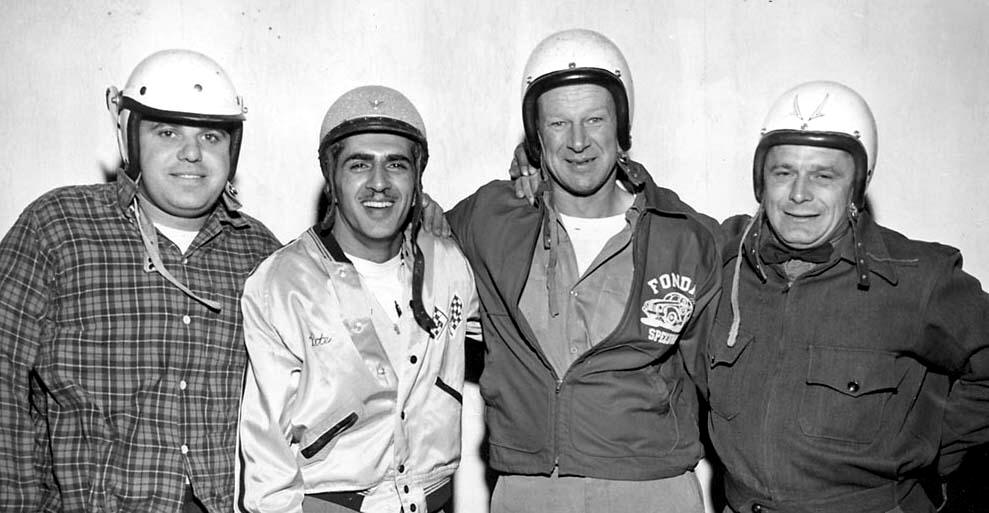 Courtesy of the Herbert Family
A very young Lou Lazarro joins a photo of Fonda luminaries including Pete, Howie Westervelt, and Jeep Herbert.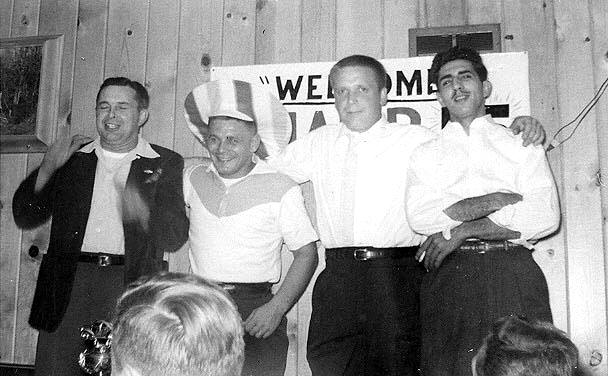 Courtesy of Otto Graham - Probably Courtesy from the Herbert Family
Pete, funning it up at an early banquet with Steve Danish, Jeep Herbert, and Bob Mott.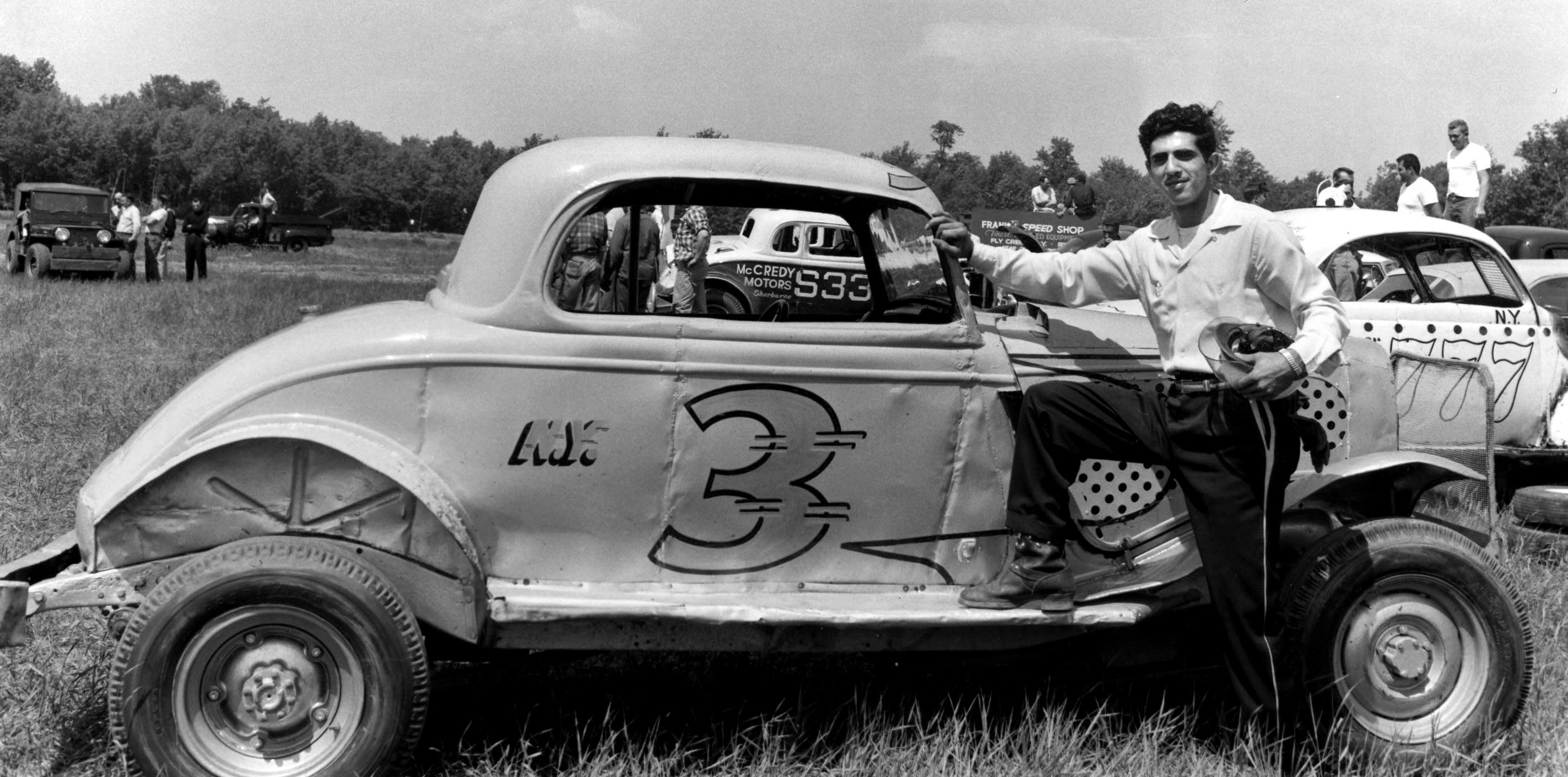 Courtesy of Lew Boyd from the Mona Fuez Collection
This photo speaks volumes - one of those I could do an entire column on. Pete strikes a swashbuckling pose with Bob Mott's nasty little Ford
at Stateline Speedway. In the background, the #777 is that Whitbeck car that he and Bob gave up on, now in the hands of Jerry Jerome. An early
Dave McCready S33 is seen, maybe with Racin' Grayson Smith as the driver.
Return to the Main Page
Return to the Main News Page
Return to the All Links Page
Return to the New York Drivers' Link Page