THE VERMONT FAIRGROUNDS SHOWS
Open Wheel Cars at The Vermont State Fair
Rutland, Vt.
Sprinters and Midgets Starred Before Stock Cars Came
By 1960, there were primarily stock car shows at the Rutland fairgrounds; but, prior to that the fair hosted open wheel shows, as did most other fairs all over the United States. Fair crowds got to see the biggest stars of the era, like Ted Horn, Tommy Heinerschnitz, Joe Csiki, and many more.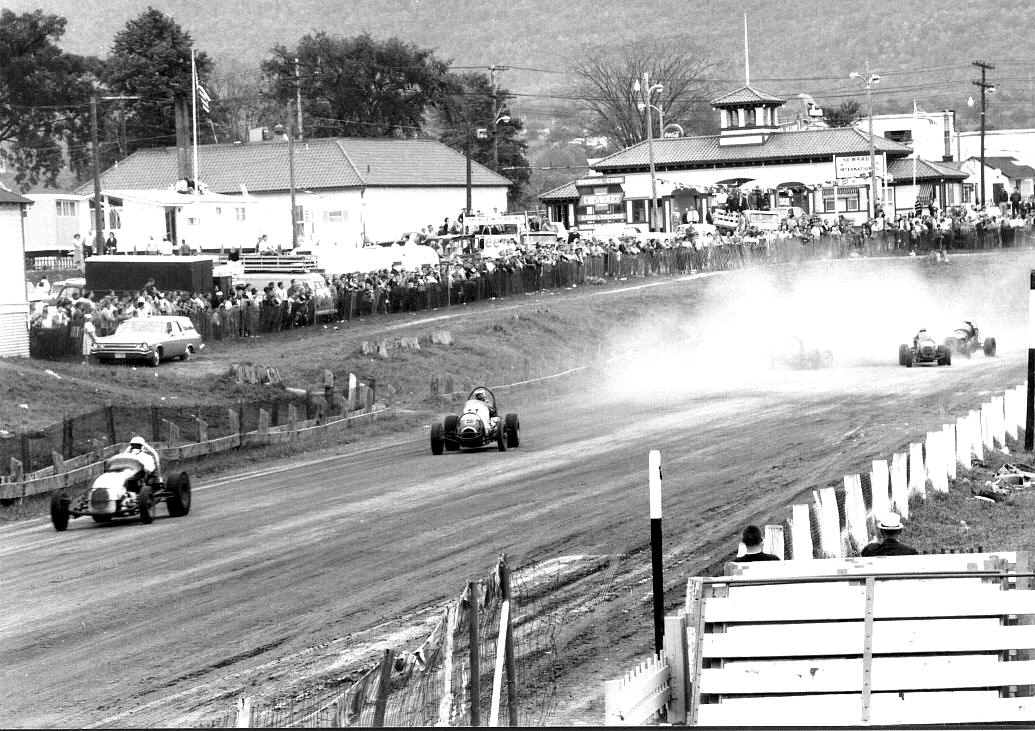 Courtesy of Cho Lee
Sprint cars run the Vermont State Fair oval in the late 1950's.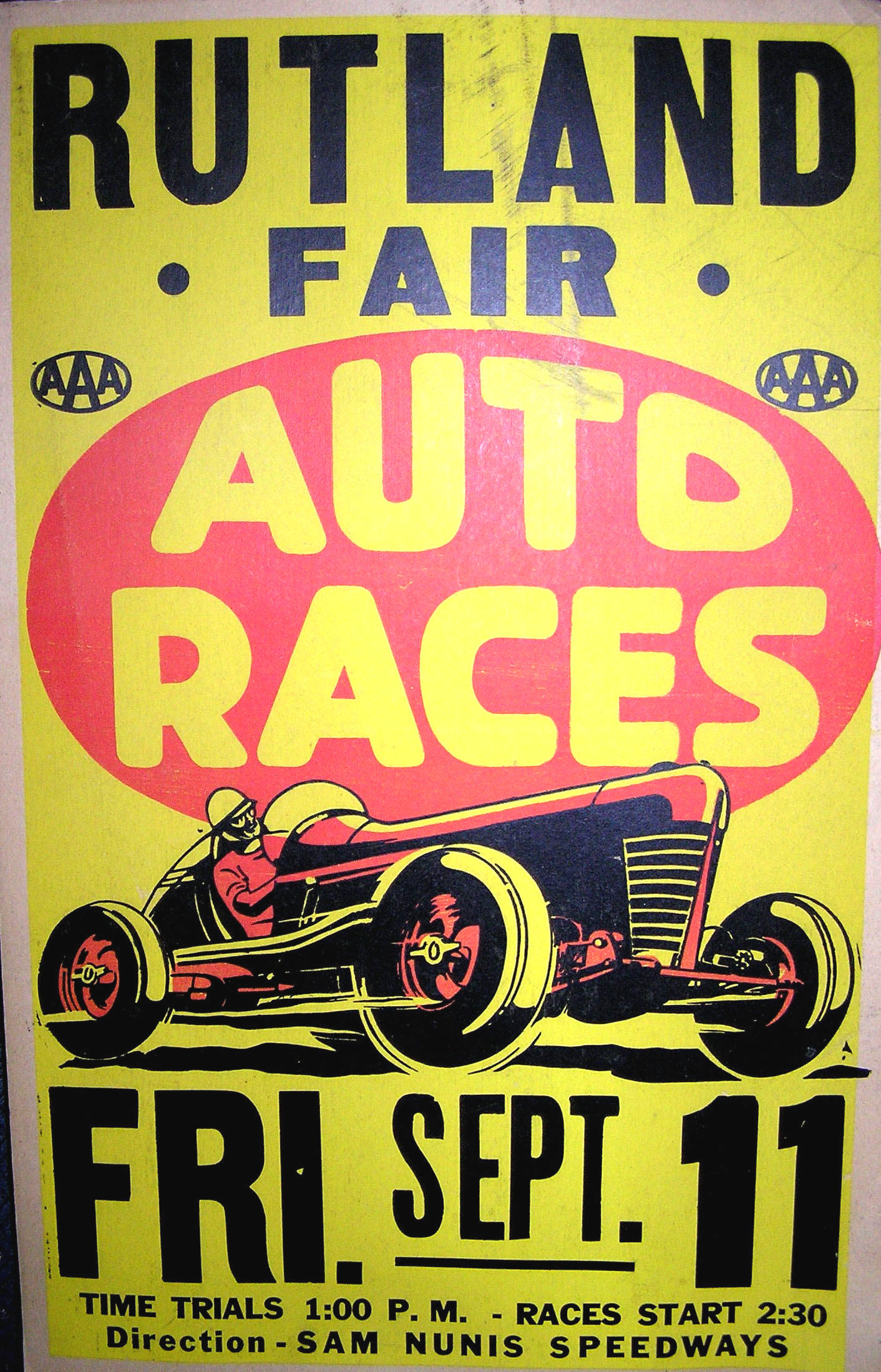 Ladabouche Collection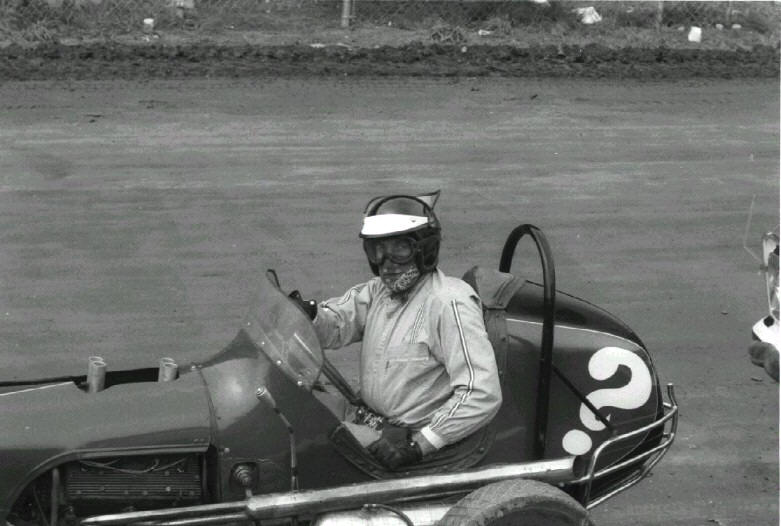 Dragon Family Photo
Beaver Dragon tried out Bob Riley's midget at Rutland around 1959 or 1960.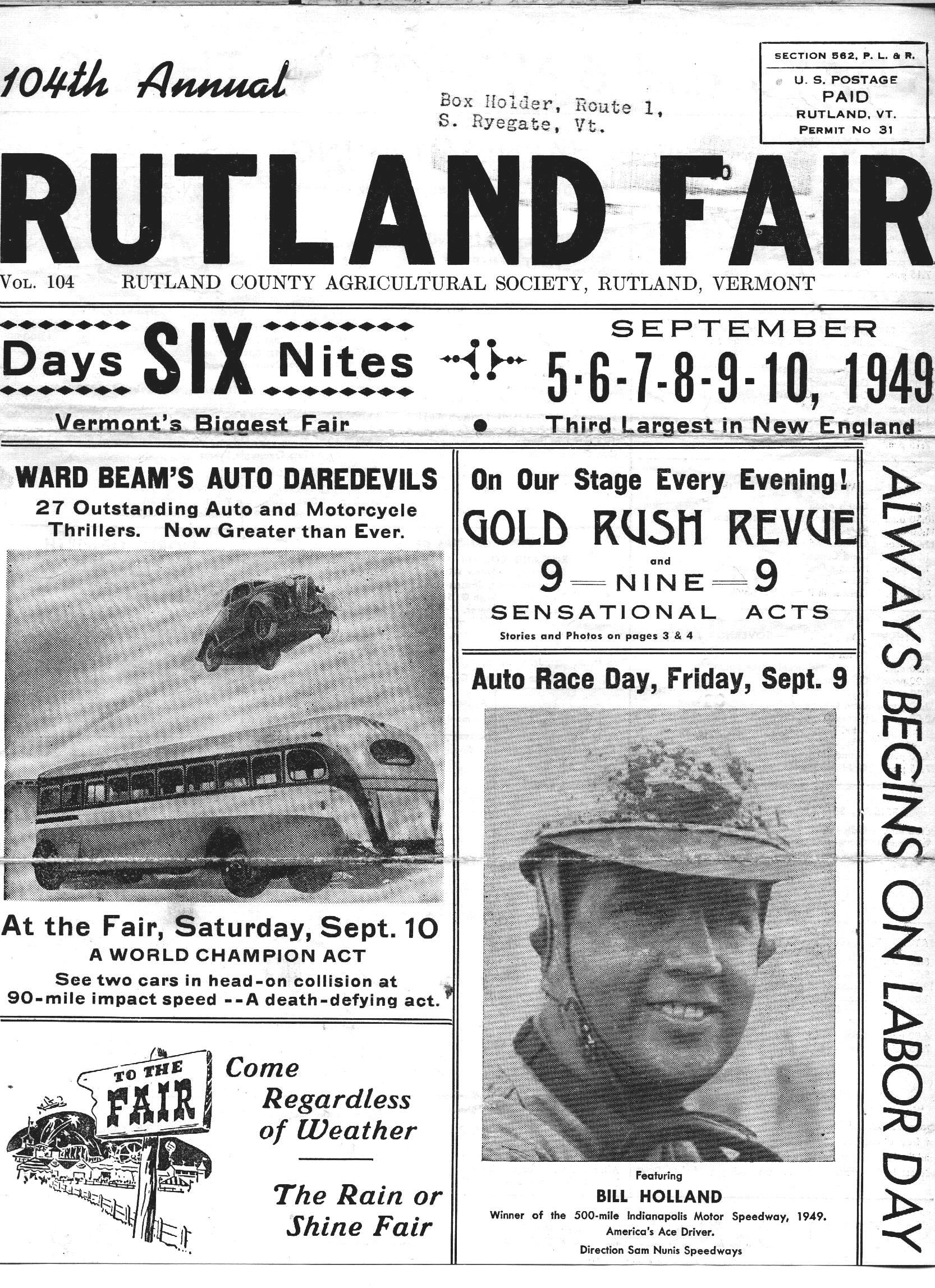 Ladabouche Collection
The Program cover for the 1949 [104th edition] Rutland Fair featured Indy star Bill Holland.
Click on the small picture of the program cover to go to a fuller - sized photo.


For a huge view, click on this thumbnail.
The Rutland Fair Tries Sports Cars in 1957
For some reason, the Rutland fairgrounds decided to host a type of sports car racing in 1957 at the Vermont State Fair time in early Fall. The outfit seemed to be primarily from New Jersey. In the characteristically stiff language of the 1950's, the Rutland Herald announced " A variety of high-performance machinery will be in evidence here this afternoon when sports car racing is the chief attraction at the Rutland Fair."
John Nelson reports that the sanctioning group [which was not even mentioned in the newspaper articles] was called the Sports Car Owners and Drivers Association, or SCODA. Although the group raced at a number or venues including Lime Rock, it is almost certain that this was their first try at a dirt surface. John describes those cars as "hybrids and home-built specials that were not built for looks but for speed", and I concur.


Rutland Herald, Courtesy of John Nelson
That ever-dependable microfilm rat, John Nelson found these rare articles and ads
about the only such race ever attempted in Vermont.
I was there that afternoon, although I don't remember who took me. Probably my uncle. Being only in sixth grade, I cannot recall much about them except - even with my stock car background - I had no idea what they were supposed to be. I think sports cars was being pretty liberal. I don't think the competition was very close, and the only name I remembered was "Jay Jacobs" [which turned out to be actually Jake Jacobs.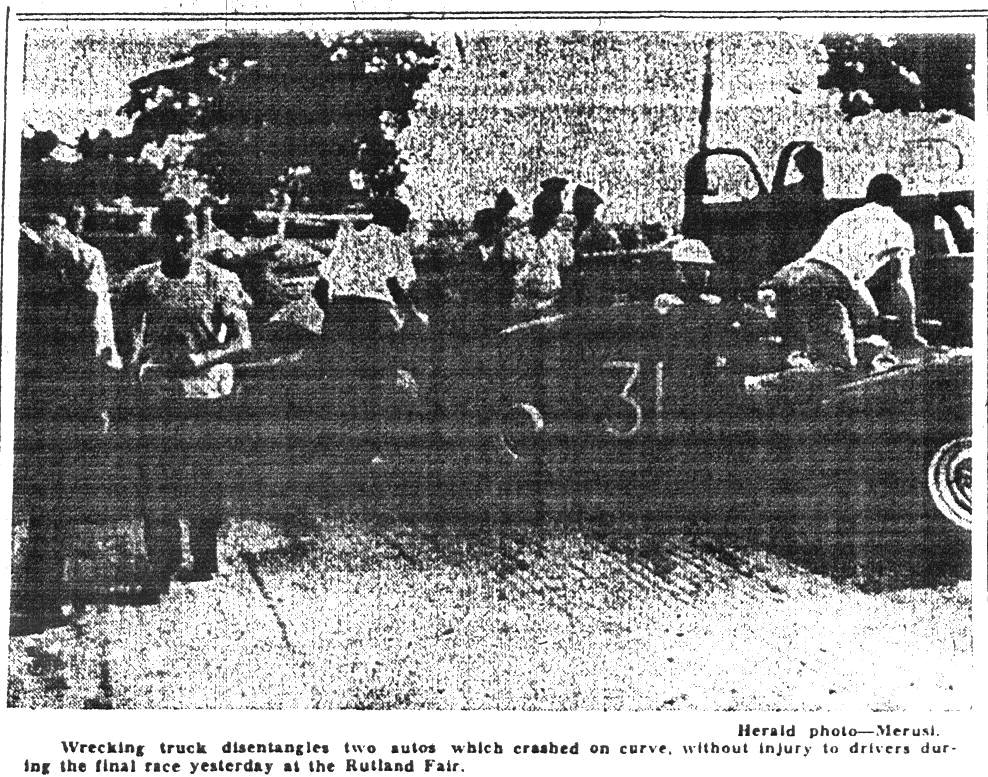 Rutland Herald Photo By Aldo Merusi, Courtesy of John Nelson
The first known photo of a SCODA race held on dirt, to that date, 1957.
The pre- race publicity seemed to center on Charles "Elf" Bettman, of Tappan , New York. As it turned out, Bettman won the event, driving his "beautifully running but banged and dented Volkswagen. Jacobs' car was a hybrid, home-built car featuring parts from MG's, Corvette, Pegas, and Jaguar. Jake Jacobs apparently put on a crowd-pleasing show, judging from the newspaper write-up.
SCODA drivers mentioned in the paper included: Bettman, Tappan, NY; Jacobs, Teaneck, NJ, Bob Ellis, Springfield, NJ; Bill Boyd, Westport, CT.; Dan Brent, Millburn, NJ; Stan Becker, Roslyn, NY [SCODA President]; Ernie Lager, Warnarnassa, NJ; Herb Fisher, Short Hills, NJ; and Paul Borodin. The show was considered successful, but not repeated another time.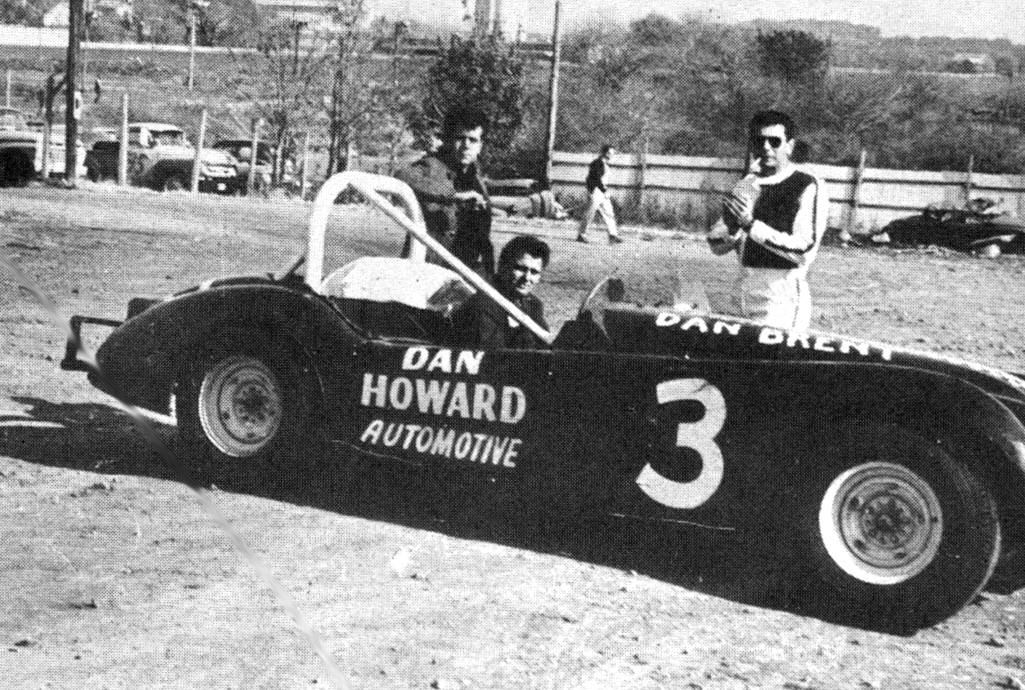 Cavalcade of Auto Racing Photo
Dan Brent, standing with cigarette and chief mechanic Charley Garrity.

The SCODA group would run at the paved Catamount Stadium in Milton, VT - when it opened in 1965. It was also featured, at least twice, with its own page in Cavalcade of Auto Racing.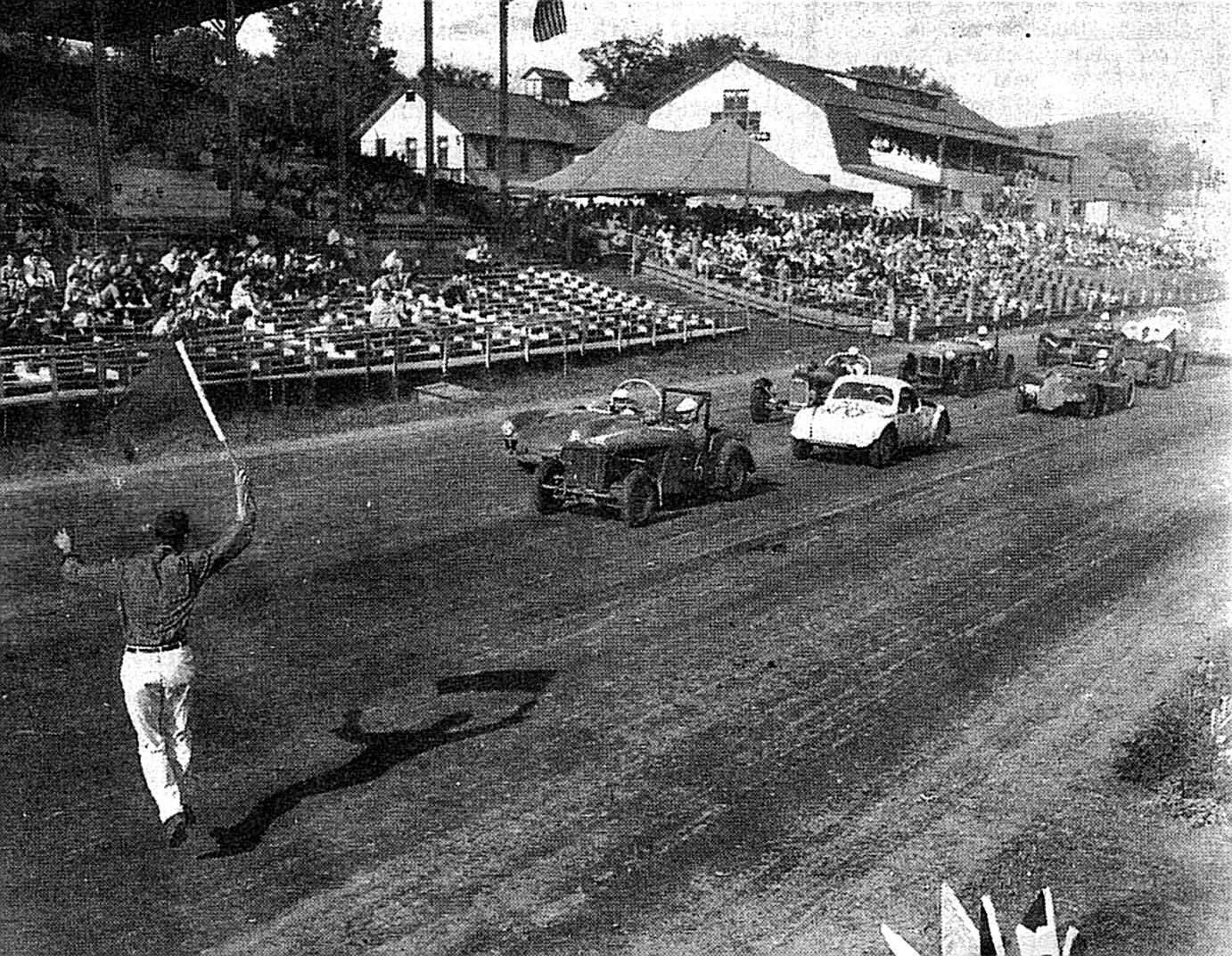 Rutland Herald Photo By Aldo Merusi, Courtesy of Margaret Ladabouche
The second known photo of a SCODA race held on dirt, to that date, 1957. A strange - looking field gets the green.
Stock Car Shows at The Champlain Valley Exposition
Essex Junction, Vt.
Sprinters and Midgets Shared the Spotlight with Stock Cars in the 1950's
By 1960, there were virtually no races at the Essex fairgrounds; but, in the '50's, the fair tried the usual open wheel shows, as well as some stock car programs - in view of the fact that there were around 12 stock car tracks [at one point or another] in the area. As if early stock car racing in Northern Vermont did not already have enough trouble with controversy and spectator injuries, the sport also had to contend with decades of injuries from visits to local fairgrounds by the powerful open wheel cars of the day. These horse tracks were not made for autos, and therefore, many drivers and fans were hurt over the years.
Below is the header from a news article on an accident involving the legendary Barney Oldfield, at Syracuse, as early as 1911.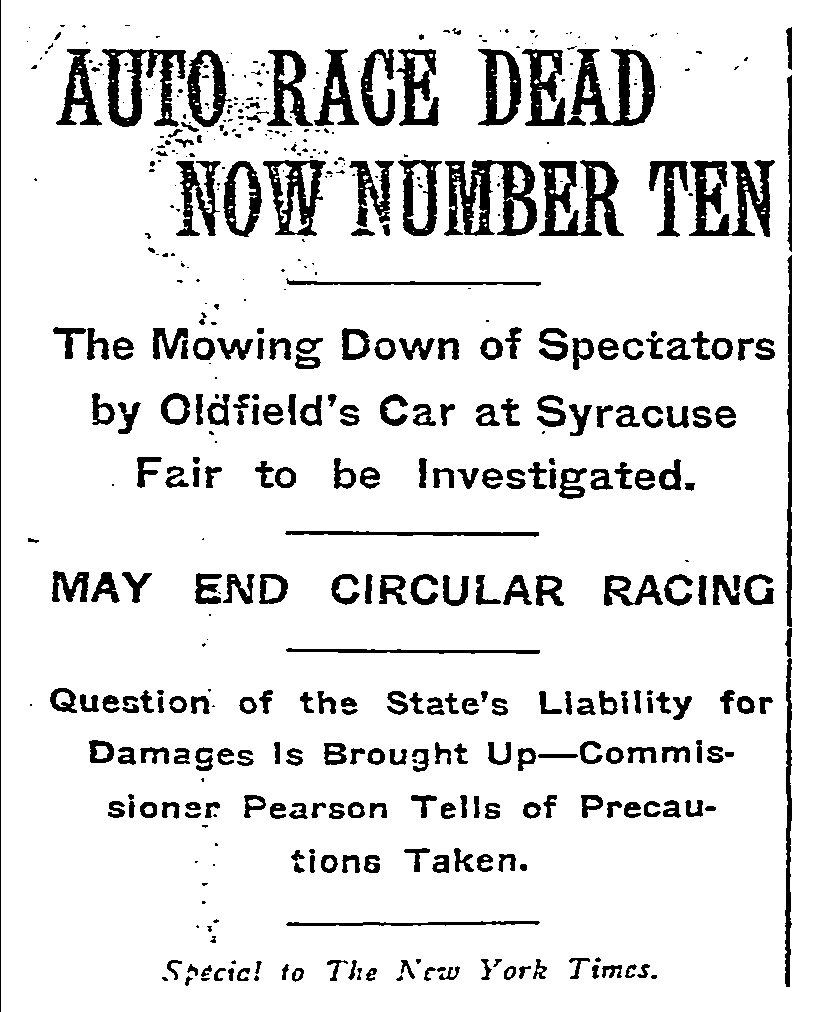 It was just this problem that the Champlain Exposition, the big fair in Northern Vermont, always had to contend with when trying to feature races. They had quite a few, as evidenced by stories I have heard from area people like racing legend Beaver Dragon, who became interested in racing partly because of the stars he saw at the fair. There had been Sunday Blue Laws controversies involving local stock car tracks like the Colchester Raceway of Ivanhoe Smith. So, when the local stock cars finally took the track at Essex in 1959 and a fatal accident occurred - that was pretty much the end of racing at the Exposition grounds.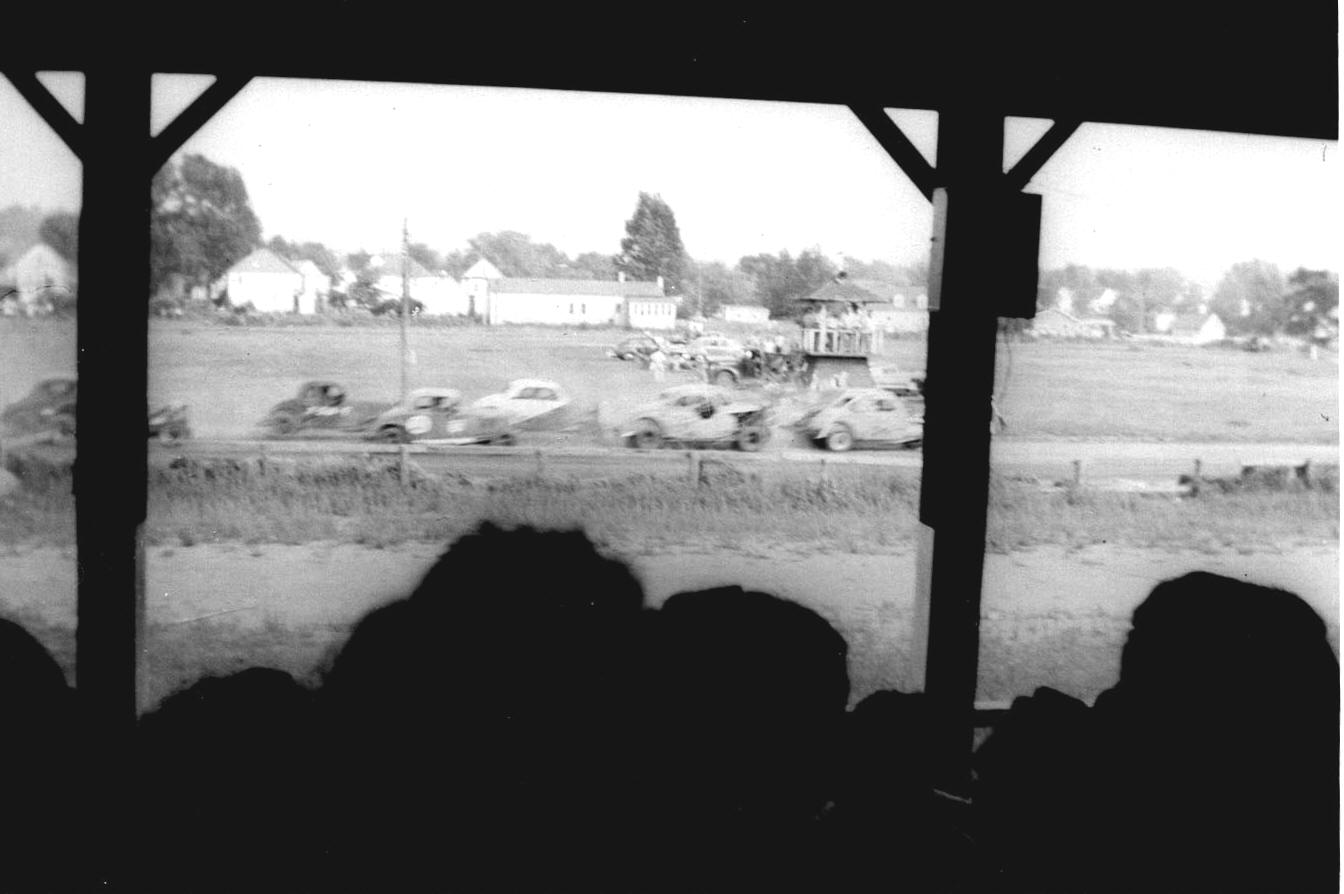 Courtesy of the Bob Bushey Family
Stock cars line up at the Champlain Valley Exposition in 1959,
prior to the fateful accident with a spectator.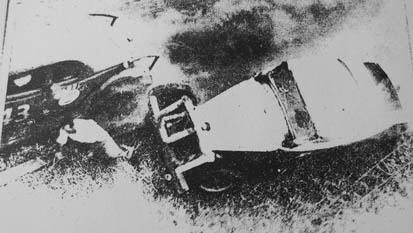 Courtesy of John Nelson
This photo eerily shows the imminent death of spectator Art Bessette, who had been repeatedly
warned to get away from the edge of the track.
The 1960 Vermont State Fair Show
Rutland, Vt.
Lebanon Valley Comes to Call
In 1960, there was absolutely no stock car racing action in the Rutland County area. Races were being held all around: Thunder Road, Barre, Vermont was opening; the race track in Malletts Bay was still in operation; Lebanon Valley Speedway was running, just south of the Vermont state border, Fonda Speedway was the most famous track around, but it was 3+ hours away; and a few tracks like the Pine Bowl [NY], Claremont Speedway [NH], Airborne Park [NY], and Northeastern Speedway [VT] were also holding shows.
So, it wasn't that the race - starved Rutland racing fans didn't know what stock car racing was all about. They could travel to one of these other tracks, or they could fall back on the memories of former Rutland County tracks like Fairmont Speedway and Pico Raceway. When, in 1960, the Vermont State Fair in Rutland announced stock car races during its fair week in September, hundreds of us eagerly attended.
The show was promoted by Howard Commander, and the organization which ran Lebanon Valley. I can remember a few of the cars that raced there that day, and some of the notable drivers from that era who very likely were there. Race conditions were so poor that day that the drivers all agreed to take it easy and split the purse, but the crowd was none the wiser and had a wonderful time.
[ For the record, Don Rounds, another competitor at the fairgrounds that day, strongly disagrees with Jelley that the results were pre-agreed upon. ]
Although Uncle Art Stuarts' book [ a bible of Valley facts] indicates the race was won by Joe Messina, the sparse images of that day I have been able to find are all centered around Bill Webb and his maroon 33 coupe. The photo below is the only actual photograph I have seen in 58 years, and the grainy shots are actually captured from old 8MM very poor movie footage.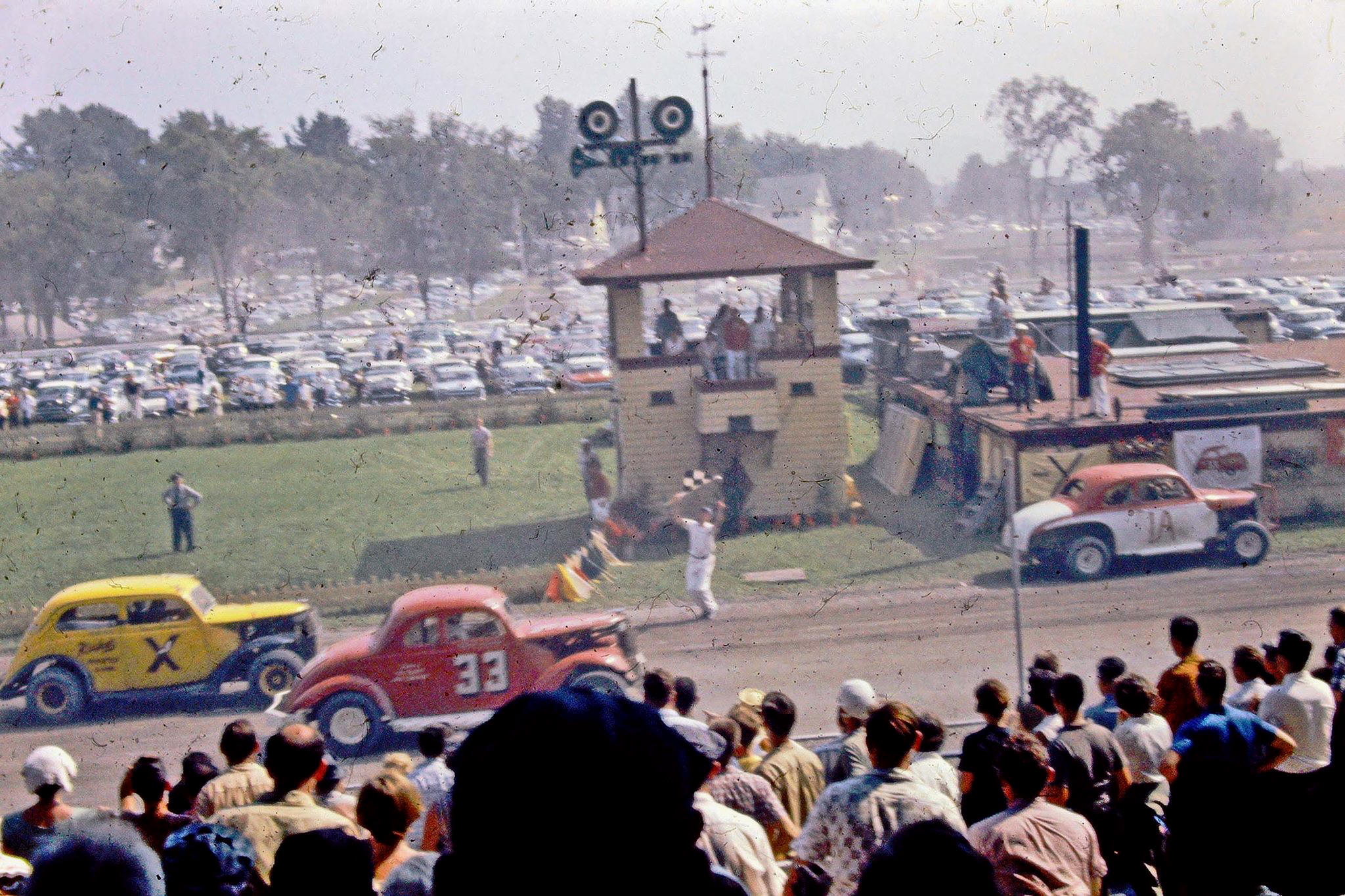 Photographer and Source Unknown
The flagger [probably Ted Ryan] displays the checkers for Bill Webb on a qualifier. The X is Doug Garrison. the car 1A is unknown.



From Dan Ody's 8MM




Old Speedways DVD's




Bill Webb with qualifier checkers.




From Dan Ody's 8MM




Old Speedways DVD's




Bill Webb

is the only car recognizable in this grainy 8MM capture.



From Dan Ody's 8MM




Old Speedways DVD's




Cecil Bosworth, in Chet Cashman's 37 would have been an unwelcome Claremont Speedway invader.




From Dan Ody's 8MM




Old Speedways DVD's




The car in frpont of Webb is likely unwelcome Claremont Speedway invader Sonny Rabideau, who got stuffed into the turn one fence.




From Dan Ody's 8MM




Old Speedways DVD's




Bill Webb, up close.




From Dan Ody's 8MM




Old Speedways DVD's




Someone in the Bill Webb camp took all of thse movies. The quality was awful due to sun and dust.

Bill Ladabouche Photo
Butch Jelley,
Pownal, VT

Lebanon Valley Site Photo
Doug Garrison,
Greenport, NY
Riiska's Yellow X
Winstead, CT

John Grady Photo
From Dave Dykes' Pages from the Past
Don Rounds,
Warwick, RI

Cavalcade of Auto Racing
Fred Searing,
Oak Hills, NY


Midstate Club Site Photo -
Johnny Flach,
East Westerlo, NY
Most likely, that is a young Stan Wetmore to the left and Louie Searing to the left.

Photographer Unknown
Joe Messina,
Albany, NY

Joe Grosseti Photo
Link Pettit,
Schenectady, NY

CLICK HERE for Link's own page


Bill Ladabouche Photo
Bill Stevens,
West Sand Lake, NY

Dan Gowie Photo
George Gowie,
DeFreestville, NY

Uncle Art Stuarts' Book
D.D. "Rebel" Harris,
PoughkeepsieNew York

Gerry Del Negro Photo
Ed Patnode

Vintage NE Modifieds Site Photo
Ray "Dizzy"Delisle,
Stafford Springs, CT

Ladabouche Collection
Kenny Goodermotte

R.A. Silvia Collection
Sonny Rabideau,
Brattleboro, VT
A Claremont runner who invaded the turf of the Valley regulars and got deposited in the turn one fence for his troubles.

Cavalcade of Auto Racing
Stretch van Steenburg,
Saugerties, NY

Gene Strenkowski Photo
Howie Westervelt,
Ravena, NY
The First Richards Show
After the 1960 Lebanon Valley show, there was no more stock car racing action in the Rutland County area until young promoter Charles J. Richards began programs at the old Fairmont Speedway in Fair Haven, Vermont. Races were being held up, near Vergennes, at Otter Creek Speedway; but, those were under a NASCAR sanction and Rutland County racers, being unaffiliated, were not particularly welcome.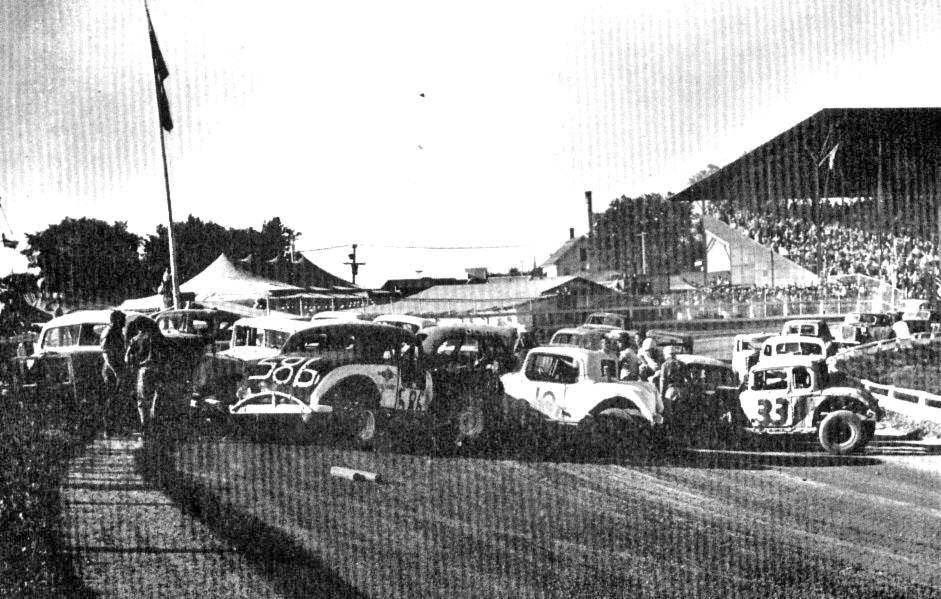 Devils Bowl Program Photo Courtesy of Ed Fabian
During C.J.'s first promotion at the fairgrounds, this big pileup occurred in Turn One. The only cars I recognize are: 33, Art Cody and the #10 in the foreground [it would become Henry Abbott's 44 by 1964]. The 586 apparently was driven by Malletts Bay star, Bob Bushey.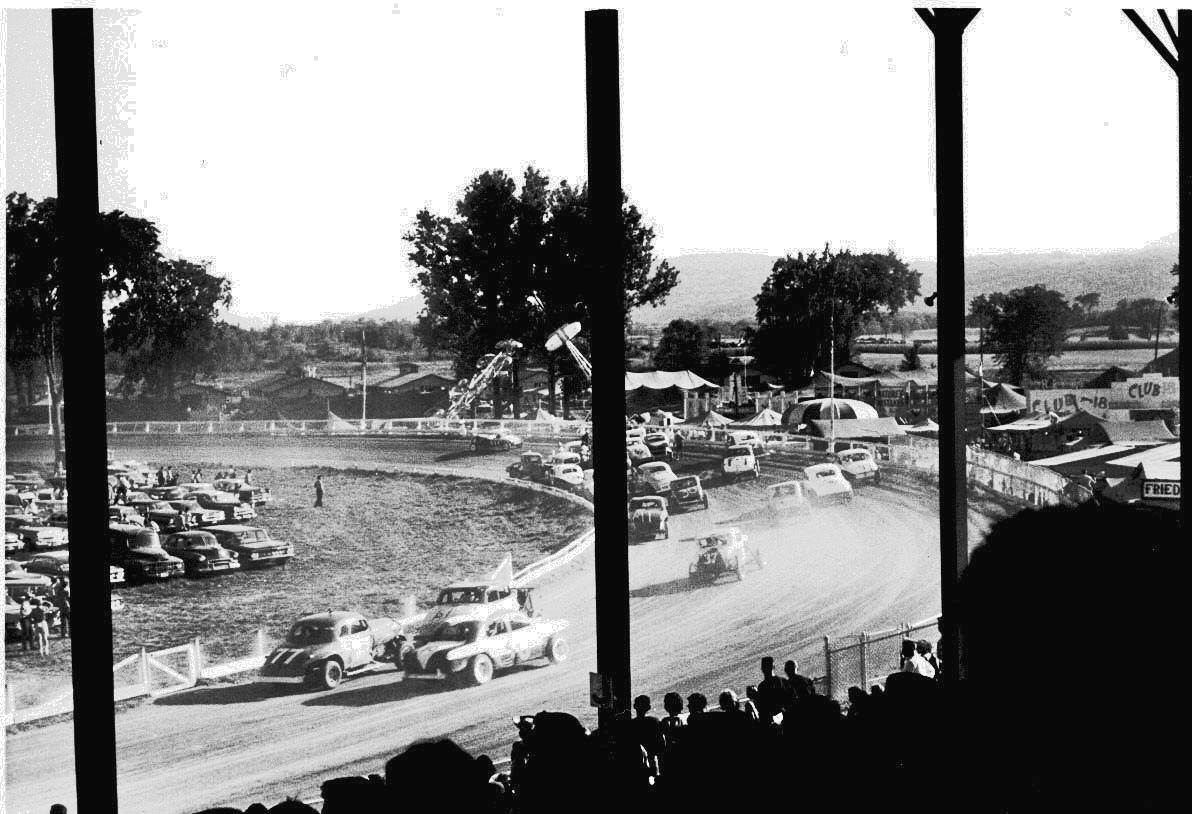 Photo by - and Courtesy of - Norm Vadnais
A look at "the pileup" from the stands, as shot by the Kodak of young Norm
Vadnais. Recognizable are [from left in front]: Sonny Rabideau, untouched by the wreck, pulls the 311 away. 33, Art Cody; 10, Harry Hale; 30, Ed Foley; 11, Jim Spaulding; car 2nd from far right is RR, George Pritchard; 37, Cecil Bosworth; [in back] 77, Johnny Spafford; 61, John Ballantine; and 30 might be Ansel Quintin. At this point, Rabideau thought he would be awarded the win.
Richards was doing all right at Fairmont, and he had even cast his eyes upon Otter Creek Speedway; but he had always recognized the publicity and exposure potential of shows held at the Vermont State Fair. The crowd there would include a large number of people who had not been to one of his shows, for whatever reason. So, in 1963, C.J. had made arrangements to run stock cars, mostly his own Champlain Valley Racing Association cars, on the cramped horse track in Rutland.
C.J. wanted to bring in his own equipment to prepare and maintain the track, but the track manager insisted on using the fair's ancient 1936 water truck, which had only a 750 gallon tank. The end result, on a hot Sunday afternoon, was a hopelessly dusty racing surfaced which eventually became complicated by a rapidly - setting sun that hit the racers right in the windshield in turns one and two.
There were initial complaints of dust from surrounding businesses that drew the Vermont State Police to the fairgrounds. Then, early in the feature, this dust caused a huge pileup in turn two which convinced the constabulary that they should suspend the race and award the victory to then-leader Moran "Sonny" Rabideau of Brattleboro. C.J. eventually talked them out of this and the race ran to its conclusion. I will have to talk to Richards to find out who won. I was there, but cannot recall.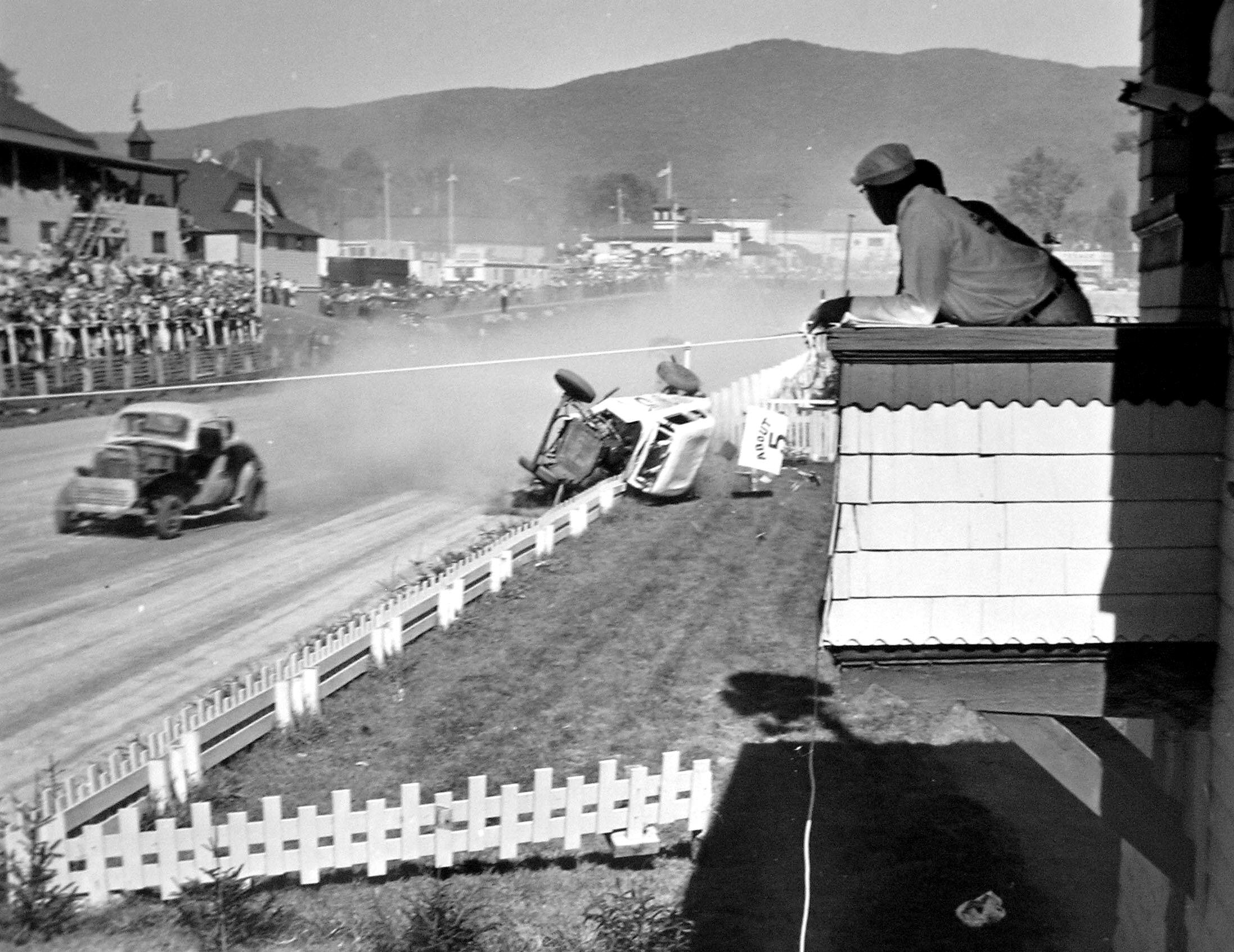 Devils Bowl Program Photo Courtesy of Wes Moody
The inadequacy of the fairgrounds facility can be seen in this crash, where Art Rivers rolls over a flimsy wooden fence on the inside of the frontstretch, in front of worried officials. John Quenneville or Phil Russell roars by in the Checkmate, a black and yellow Hudson.
COMPETITORS AT C.J.'S FAIRGROUNDS SHOWS

Bill Ladabouche Photo
Ed Baker,
Warrensburg, NY

Bill Ladabouche Photo
Bob Hoffer,
Argyle, NY

Bill Ladabouche Photo
Bob Loomis,
Granville, NY

Rutland Herald Photo
Danny Rumpf starts a heat at the
1962 fairgrounds show. From left-
Art Rivers, Griffin, Phil Russell, Ray Richards, Vic Love. Rivers ended up on his roof in this race. [See below]

Bill Ladabouche Photo
Buddy Bardwell,
Keene, NH

Rutland Herald Photo
Stock cars go at the fair
around 1963.
From left: Joe D'Avignon,
Elmer Erickson, Howard
Stevens, and Sonny Rabideau.


Rutland Herald Photo
Art Rivers rolls over on a flimsy fair fence, perhaps with a little
help from the Checkmate of Phil Russell. These were two cars from
the first Fairmont show C.J. ever held.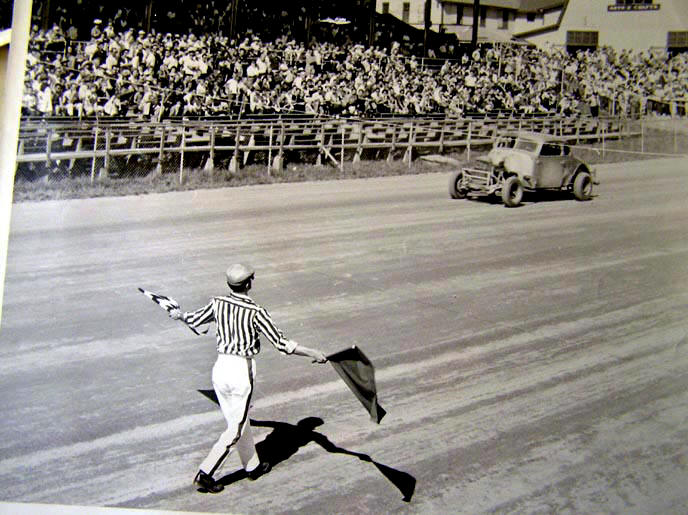 Courtesy of Wes Moody
Danny flags off heat winner Ken Delong in the "Car 54 Where Are You?" entry. - Loomis [P.61]
checks on a stunned Delong after the infamous front stretch pileup early in the race. The A11 has
recently been identified as a young "Unbeatable Lennie Wood", in his first race.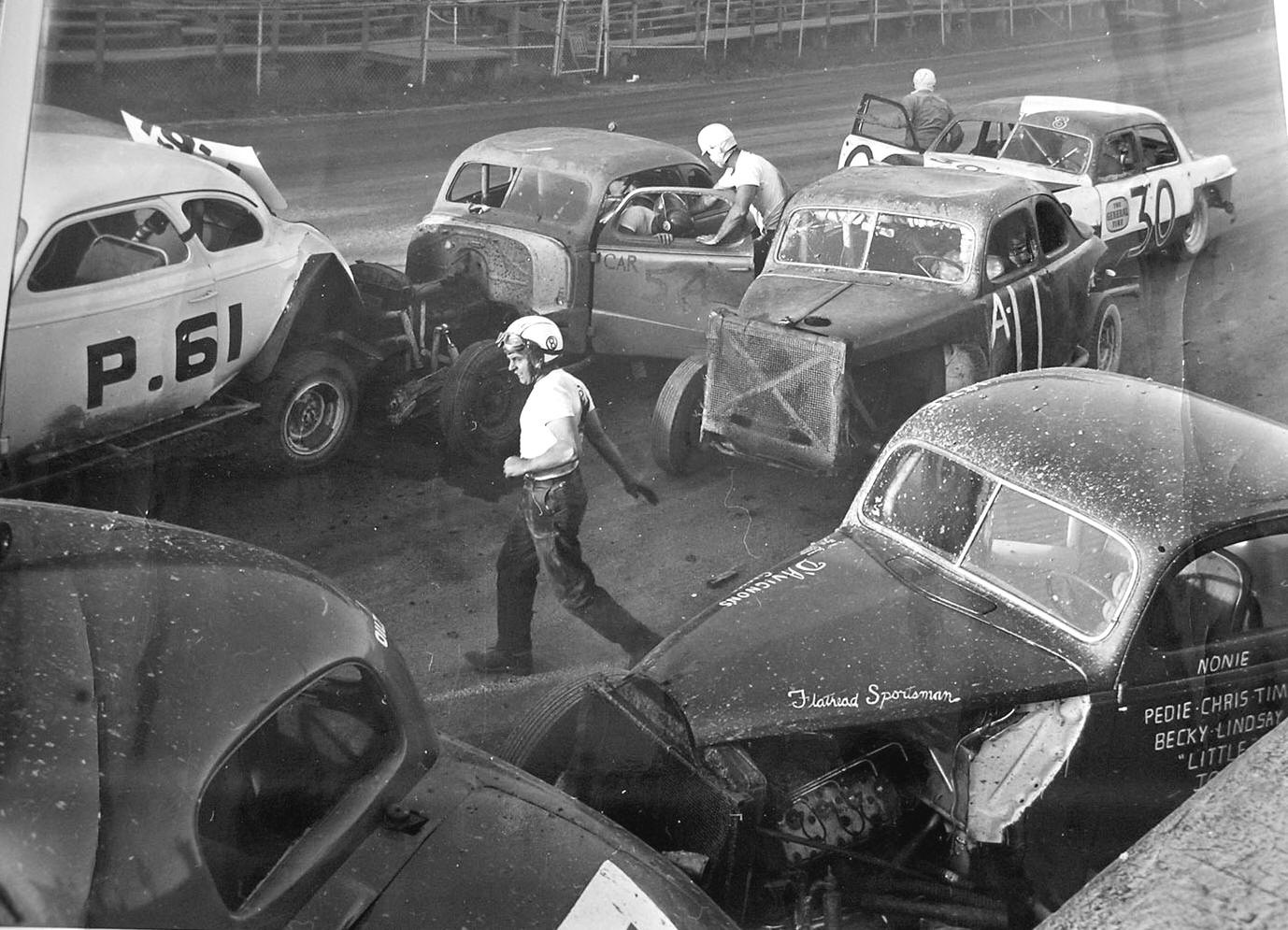 Courtesy of LaFond Family


Photo Courtesy of Norm Vadnais
A lineup before or during the
feature. I recognize 115 Bob Russell, Shelburne, VT; UP2 George Rogers; and 00 Vince Quenneville. Anyone know X or 13 ? They are NOT Jelley and Bardwell.


Photo Courtesy of Norm Vadnais
Stock cars line up before or during the feature. I recognize 61 John Ballantine the car 737 who could have been Ted Brown or Dick Gerard. #30 is Ed Foley.

Photo Courtesy of Norm Vadnais
This shot by Norm caught
some of the hundreds of spectators
waiting for the crash delay to end.


Photo Courtesy of Norm Vadnais
George Pritchard, in Ray Richards'
RR, takes a heat win. Another
Eli's Auto Body paint job, too.

Photo Courtesy of Norm Vadnais
Cars line up for the heat that
featured the spectacular Art
Rivers crash. Rivers leads the
lineup, followed by a car I am
beginning to think is former Otter
Creek driver Ansel Quintin. Phil
Russell, third, may have helped
Rivers crash. Joe D'Avignon is
in the 8 Ball.


Photo Courtesy of Norm Vadnais
A stock line up during the
long pause when the big pileup
was being cleared up. You can make out 311, Rabideau, who thought he was being awarded the win; P.61 Bob Loomis [tire being changed]; and some unidentified cars like #62, Dwayne Gibbs.

Photo Courtesy of Norm Vadnais
This shot of the first pileup shows 95, Jack Cutter, a Malletts Bay
regular, Art Cody [just to the right
of the letter H] and a good view
of the old ambulances.


Photo Courtesy of Norm Vadnais
Phil Russell vainly chases
George Rogers, one of
the best drivers of the era.

Photo Courtesy of Norm Vadnais
The view of the infield pits, taken
from the grandstands by Norm
Vadnais. Recognizable are: 95 Jack Cutter; 71 Keith Ballard [to the right of Cutter] ; UP2 Geo.Rogers; 77 Johnny Spafford; Unknown 13; 92 Ted Brown; car 37-maybe
Cecil Bosworth; and RR Geo.Pritchard.


Photo Courtesy of Norm Vadnais
This carefree group in the infield pits includes: George Rogers [2nd from left], Eli Vadnais [kneeling], and Johnny Spafford [above Eli]

Photo Courtesy of Norm Vadnais
Cleaning up after one of the
wrecks in the D'Avignon/
Russell/Love/Rogers heat. The
victim here is Vic Love,
who narrowly missed the propane
tanks at Roxy's French Fry stand.


Photo Courtesy of Norm Vadnais
Cleaning up after one of the
wrecks in the same heat. It appears
Phil Russell [Checkmate] sits on
the frontstretch watching the cleanup of the Art Rivers wreck, which he may have helped with.


Photo Courtesy of Norm Vadnais
The clearest shot of cars on the
track. Here we see [from left] P.61,
Loomis; 30, Foley; 10, Hale; 77,
Spafford; 30, Quintin; 95, Cutter; and a #49 who may be Chet Parker, a non-CVRA entry.


Photo Courtesy of Norm Vadnais
Jimmy Spaulding is snapped by
Norm Vadnais, who dutifully shot
cars painted by his dad at
Eli's Auto Body in Castleton.


Photo Courtesy of Norm Vadnais
Another pit shot before the races.
Apparently, the young men walking
in the foreground are the Ballantine
brothers. The rest, I need help with.

Photo Courtesy of Norm Vadnais
Jack Cutter slowly moves around
the track to be lined up, with a
crewman riding on the running board. The first big pileup
is being cleared up at this time.

Courtesy of LaFond Family
A shot of a backstretch
pileup involving Bruce
Wylie's 107. Also seen is Dwayne
Gibbs' 62. I think the man here
is CJ Richards' father.

Courtesy of LaFond Family
A shot of the pits, looking
east. Seen are the S29 of Bill
Stevens, as well as Bardwell,
Baker, and George Pritchard's
RR.

Courtesy of LaFond Family
John Spafford's 77 lines up,
as well as the Curt Dragon 31
driven by Leo Howland of Keene.


Courtesy of LaFond Family


Ken Delong's "Car 54




Where Are You?" , moves around




to line up in the race where he would have a bad wreck.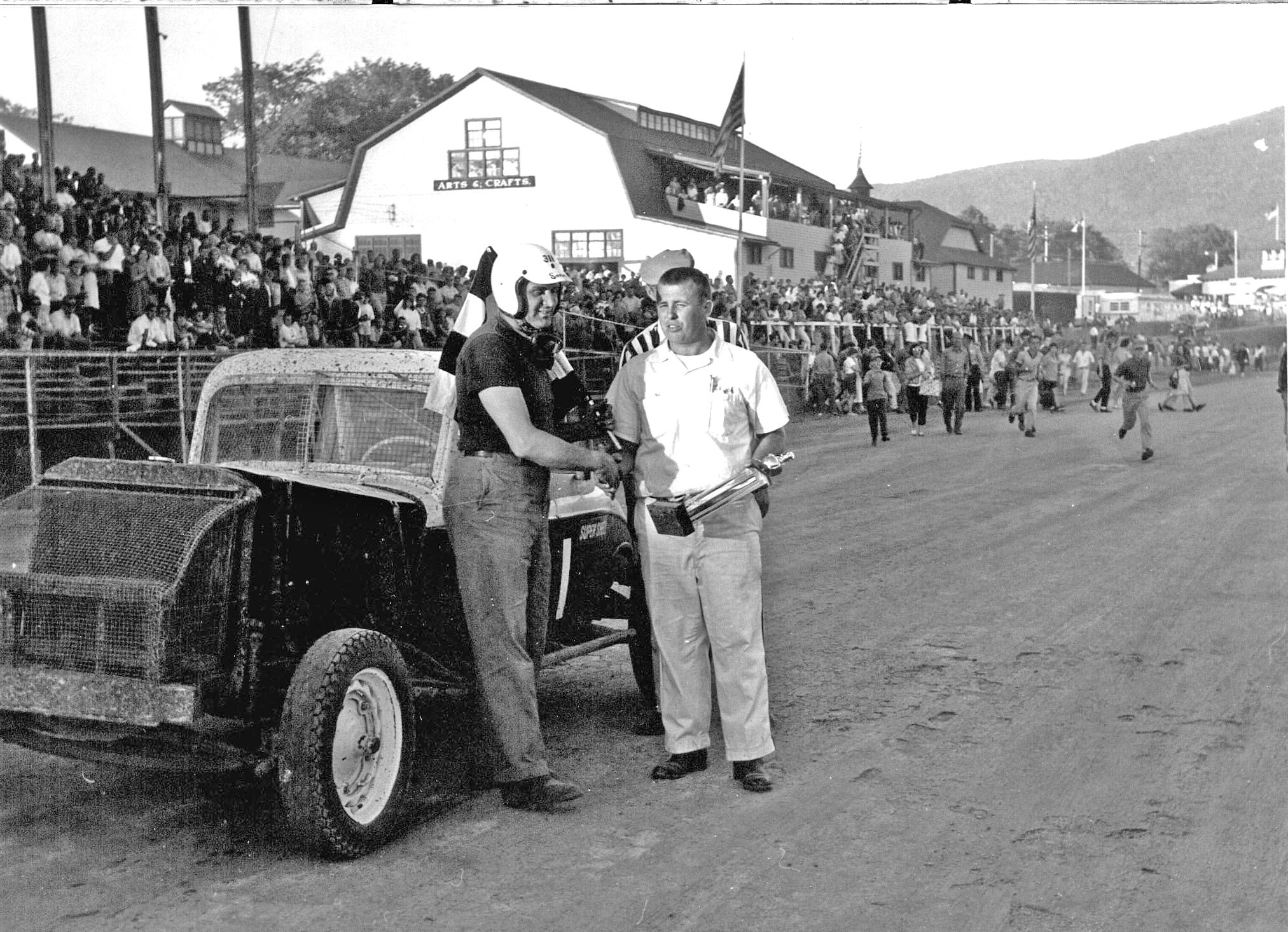 Courtesy of CJ Richards
A visibly exhausted C.J. Richards is relieved to award the trophy to Sonny Rabideau after the crash - filled program.
Some of the record - setting crowd surges towards the scene.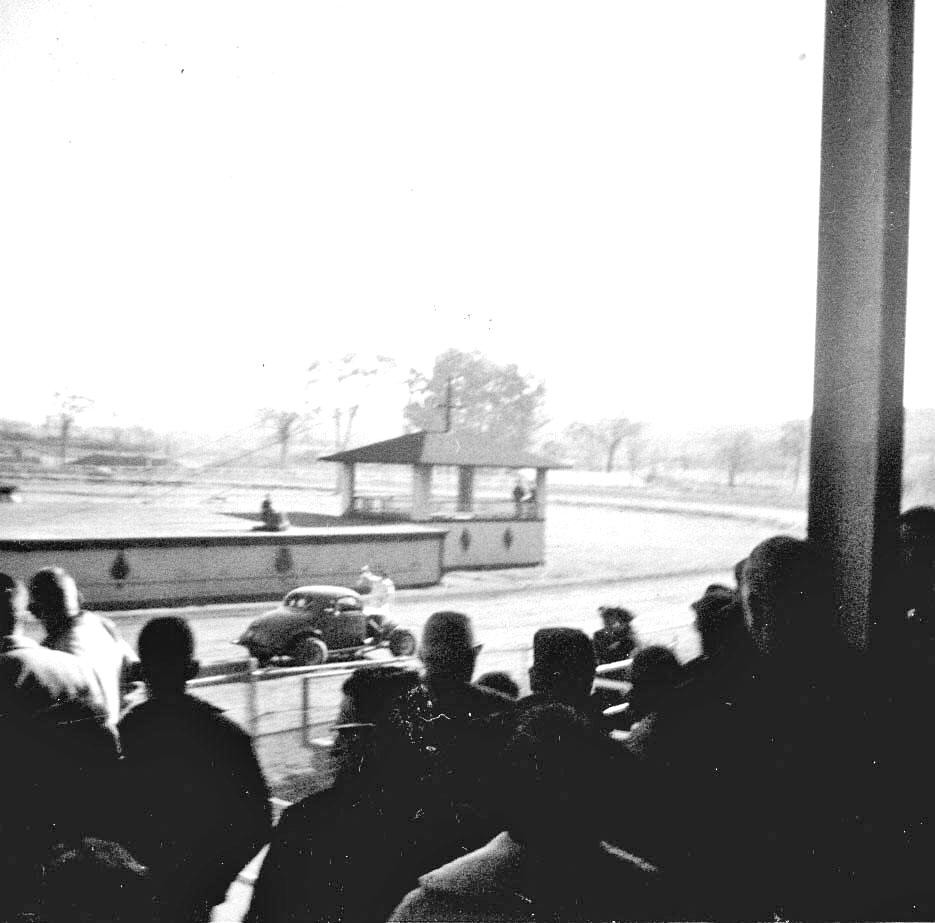 Photo by, and Courtesy of, Norm Vadnais
Jerry Townley, of Catskill, NY brought the Thomas Chewins 108 in from Fonda and won
C.J.'s last fairgrounds show in 1963. Below - A better look at Townley's car.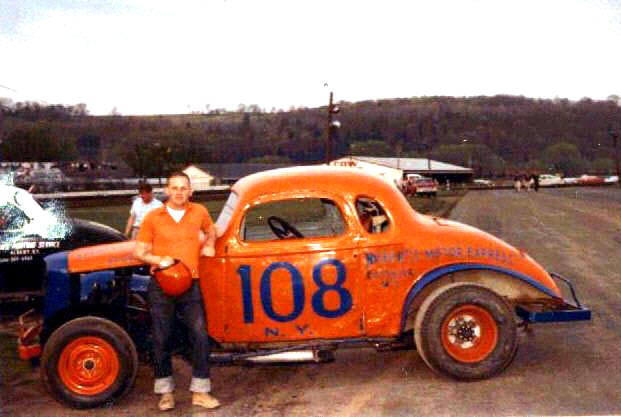 Ladabouche Collection
The URC Grand American Race at Rutland, 1963
While C. J. Richards was in and out of associations with the fairgrounds, the Rutland Fair association came up with a show from the United Racing Club of Harvey Tattersall, out of Connecticut. Tattersall's group ran a number of different types of auto racing events, one of which was a late model division he called the Grand American division. Just like its name, the division was a rather thinly - veiled and poor copy of NASCAR's Grand Nationals.
The GA's did not come into any better racing conditions than had Lebanon Valley or CVRA. Tattersall arrived with headliner Roy Hallquist, with a Holman-Moody Ford just as good as any NASCAR entry. Along with Roy, came New England legend [and a racer with deep pockets] Dick Dixon, of Warehouse Point, Connecticut and Bob Devine of West Fairfield, CT., a man who had appeared at several 1950's tracks in the New York area.
After these three, the field quality thinned out considerably. In addition to the Hallquist 1963 Ford, the Dixon 1960 Ford, and the Devine 1961 Chevy, Poughkeepskie, New York's Mal Delameter brought in a good - looking 1962 Chevy that appeared to be acquired from down South. Tattersall regulars Bill Greco and Danny Gallulo had 1962 Mopars [Plymouths, I think], and Blackjack Les Ley had about a 1956 Plymouth with one of the original hemis.
The remainder of the cars were probably the sad collection of primered heaps and way - too - old rigs I vaguely recall. Tattersall was known to even bring in rental cars to fill in a field, if need be. I can't imagine the famous Tattersall regular Gene Bergin was not in there, somehow, and he may have had the 1950 Ford I am showing him in, in one of the photos below. The track, with its tiny, outmoded water truck, was horribly dusty, and my friends and I left the show, dehydrated, filthy and embarrassed to re-enter the fairgrounds to be seen by the many young girls showing up for Saturday night.
What happened during the race was one of the factors that sealed the end of auto racing in those fairgrounds. In the middle of the race, the third place - running Devine, went through the flimsy wooden horse fence, went airborne, and landed amidst some people who were near their cars behind the track. He trapped a woman against the trailer hitch on her car and amputated a leg. That about did it for racing at that venue. Hallquist eventually won, ahead of Dixon and Delameter. I simply cannot locate a photo of either man.

Vintage Mod Site
Dick Dixon.

Dick Mills Photo
Gene Bergin with one
of the Fords likely to
have run at Rutland.


Courtesy of Sam Barlow
Bob Devine, with
a 1961 late model.

Courtesy of The Bullfather
Winner Roy Hallquist was
one of a handful of URC drivers who specialized in the GA division.


Courtesy of Cho Lee
Wild Bill Greco was at
the race, but I'm not
sure it was this car.

Courtesy of Cho Lee
Buddy Krebs. Might be
the car he ran at Rutland, but
it also could be what Les
Ley drove that day.

Courtesy of Cho Lee
Ed Patnode. Likely, this is
the car Dixon ran at Rutland.

Ginny Ross Collection
Courtesy of Dick Hansen
via Chas Hertica
The Gordon Ross cars
[19 and 9] were GA division but
may have been retired by 1961.



Courtesy of The Bullfather
This Roy Hallquist '62 Chevy was
very likely the car Mal Delameter was running at the fair in 1963.

Courtesy of Cho Lee
This Plymouth [56] being
looped by Bill Greco was almost
certainly in Rutland in 1962.[And probably driven by Greco there].

Cavalcade of Auto Racing


Harvey Tattersall, Sr.

was
likely the promoter that
day. He is at left.

Shany Lorenzet Photo
Courtesy of Dave Dykes
This Leo Matte GA car [shown
here with Ray Brown] might have been
in Rutland, but porobably not.
Return to the Fairmont Speedway Page