---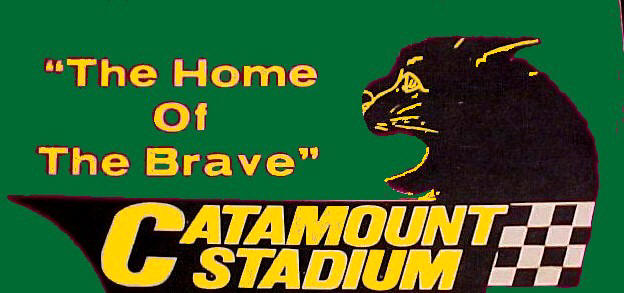 ---
NEWS & UPDATES
April 2 - Sorry there aren't more updates right now. Busy time and not a lot of new additions sent in to show. I have a neat shot of Charlie Jarzombek at Catamount in the pre - late model era, and a photo of the ice racing at Airborne in the late 1950's. If anyone recognizes people in the older shot, please let me know.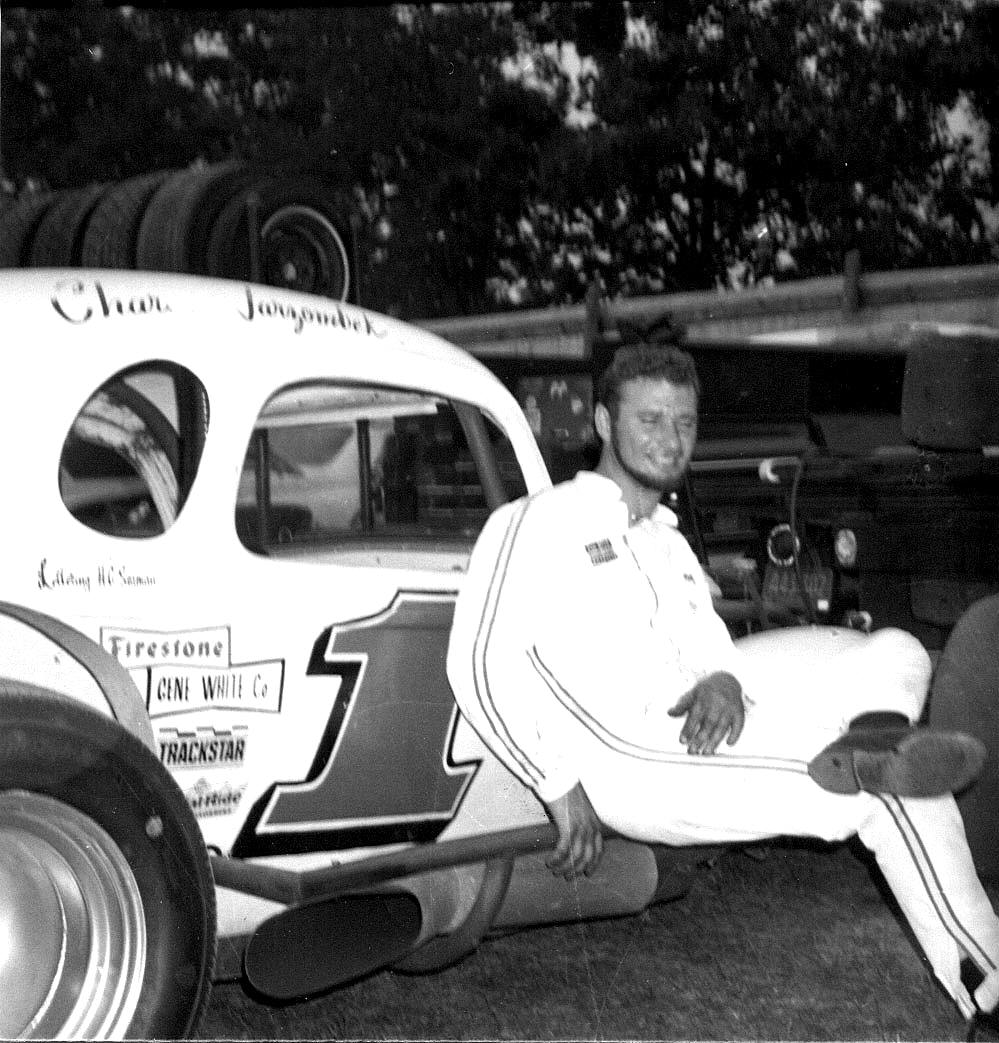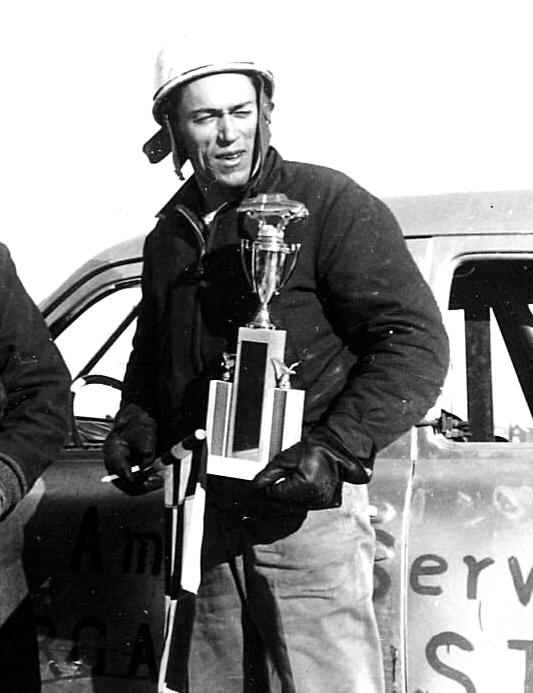 A very young Charlie Jarzombeck [left] and a photo of Bill Guynup winning an ice race. Know anyone else there ?
April 5 - I added a section onto the Airborne Speedway page on early officials - thanks to help from John Rock.
April 9 - We have recently lost three notable stock car racers: Carl Rogers [Maine]; Satch Hunt [VT-NH], and Bob Bruno [NY]. My condolences to all affected by these losses.
April 13 - After going through this wonderful DVD that Mike Watts put together on Airborne, I have taken the shots showing the old Colchester - Bayview Speedway, in Malletts Bay, VT. Check out that page.
April 14 - I need some help with a particular car that has been appearing in Plattsburgh - regional race photos lately. It is seen in the Saranac Lake 8 MM film and I now have it on some old, Bob Mackey color photos. Even Wes Moody and Jim Hoyt cannot id it. Can someone out there help ?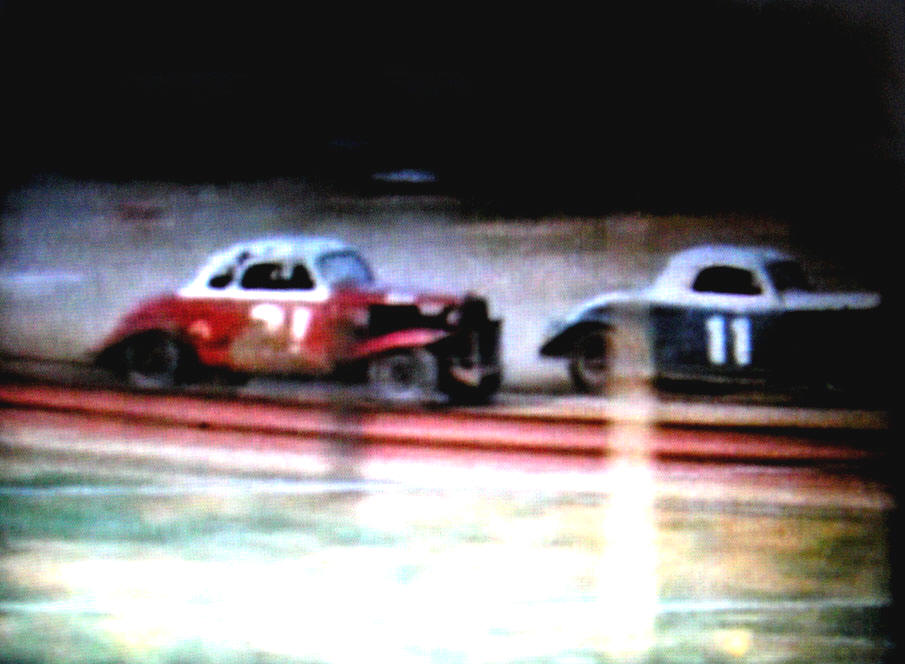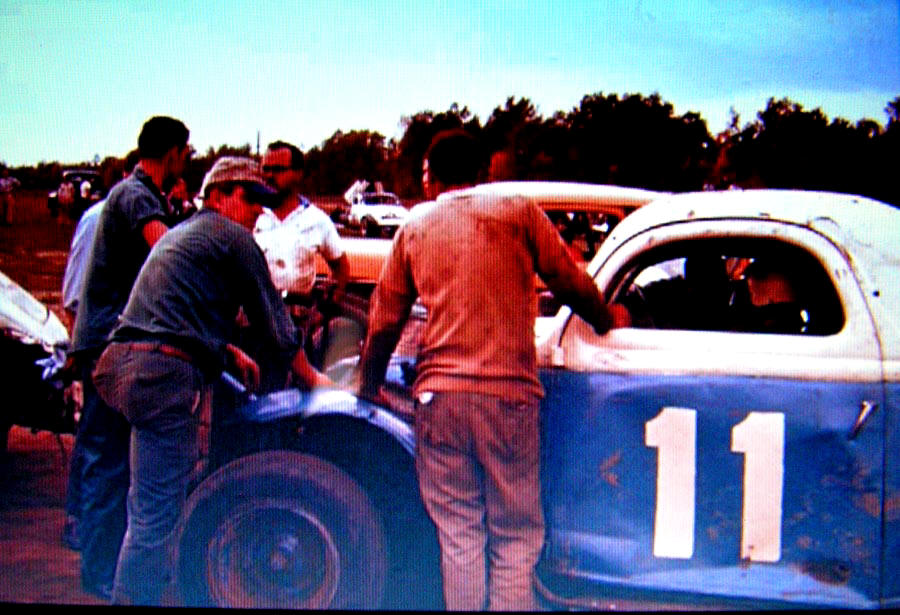 April 15 - I found out that the car 11 above is probably Junior Bruno. I also added a page from Mike Watts' great DVD he has available at his booth at Airborne. It is mostly Bob Mackey color photos, unlike most of what I have made available in the past. I may not add much to this page for a while so as not to screw up Mike's DVD sales. I highly recommend getting one - they are great.
April 21 - I have discovered, much to my dismay, that a lot of the photos I took of Dan Ody's albums came out blurry. Maybe I'll get another chance late to do them better. I have put some of them on the Stateline Speedway page. Incidentally, the car 11 above may be Junior Bruno. He drove a car with exactly the same color scheme and numeral style - in that area.
April 22 - I just love this photo below - it just captures the essence of racing in the 1950's. [Airborne Speedway]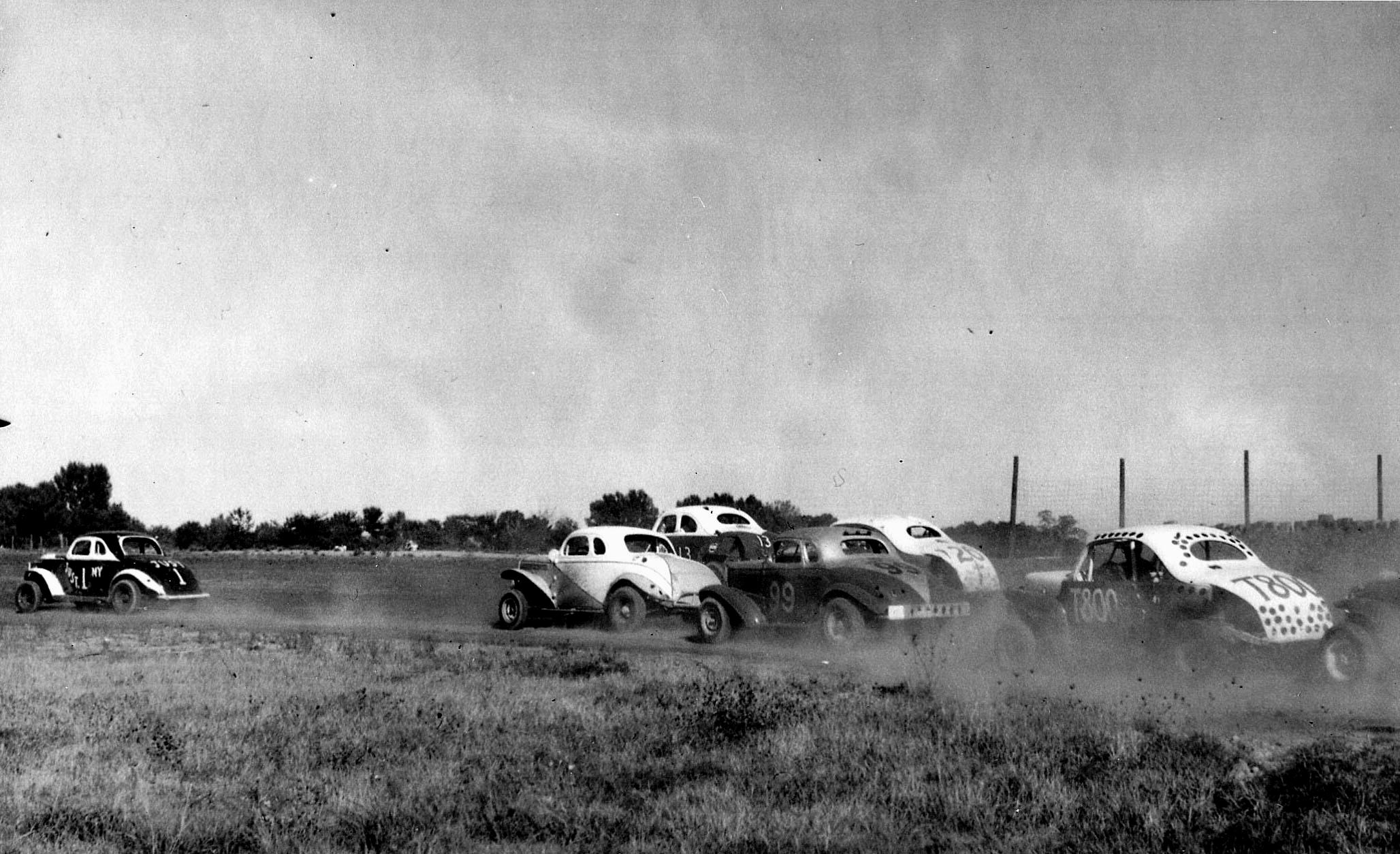 Bob Mackey Photo Courtesy of John Rock
From left- Howard Rock, unknown, Car 13, Charlie Trombley, Bill Wimble [outside], Dick Goodelle, and unknown in rear.
April 26 - I have corrected some problems with the Mike Watts photo page on Bob Mackey material.
April 27 - I have received [from Danny Ody] a copy of an old newspaper article concerning a track called "Raceway Park". The article was listed as from Ballston Lake, NY. That sounds like Whites Beach, Does anyone know anything about it ? I am doing a page called "Old Racing Articles", and I will start with this one.
April 28 - I have added some material to the bottom of the Whites Beach Speedway page, thanks to help from Rick Underwood, Dan Ody, and Joe Grossetti. Thanks guys.
April 30 - I have added a page called Jimmy Hoyt's Nifty Plymouth. It looked like it must have been one of the best - looking cars in Northern New York at the time. I also wanted to show [again] the nice job Eugene Bushey did on his replica of the Gaylord Rowe T-800.

Bill Wimble Collection - Fonda Book
Bill Wimble with the actual T-800 -
Probably at Airborne Speedway around 1955.

Ladabouche Photo
The actual T-800 -as it sits at Eugene
Bushey's salvage yard in Ellenburg.

Ladabouche Photo
The replica T-800 -done by Eugene
Bushey - at the car show.
For all 2005 News and Updates Archives - Click Here
For all 2006 News and Updates Archives - Click Here
For all 2007 News and Updates Archives - Click Here
For all 2008 News and Updates Archives - Click Here
For all 2009 News and Updates Archives - Click Here
For all 2010 News and Updates Archives - Click Here.