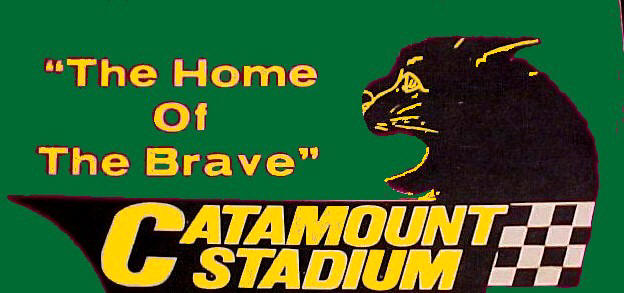 wladabou@comcast.net
Jan 2 - I archived. The year - end one is worse than the others [and they're bad] Happy New Year everybody. I intend to get another blog out ASAP. I am getting ready for eye surgery soon, and it remains to be seen if I get the blog done before or after.
Jan 6 - The cataract eye surgery went OK but I really can't see well enough right now to do another blog. Hang in there.
Jan 7 - The page It's What Is In The Background has been added to. With the doctor wanting to do more surgery by the 19th, I may be unable to see well for the whole month. Please be patient. It is almost impossible to work on the site with my eyesight as bad as ti isw right now.
Jan 10 - With much squinting and cursing, I added Weekly Blog January 10, 2017 - Those Daring Young Men and Their Flags. It's the first of two blogs that have to do with starters.
Jan 13 - I Added material to the Link Pettit page.
Jan 19 - In response to recent interest in them, I have added more of the drawing I used to give away to my students to the Mark Osborne art page. I have noticed that page is really acting up and I don't have time to fight with it right now, sorry. I'd like to have more of Mark's work, too, but I don't have any. I have spent the last two weeks doing this site with one eye closed and with a magnifying glass. Today, I'm getting cataracts off the "good" eye. I may not be able to work on this computer at all for a while. Please be patient and thanks for your support of the site and your concerns about my sight. Both will be fine.
Jan 24 - I am a great admirer of the Henry Caputo race effort of the late 1950's. I did a blog on him a while back just to give him some ink and rekindle memories. I have managed to piss off one of his daughters and have heard from another family member, as well. This member was nice about it and emailed me information he wanted me to know. I am going to put it out here, to try to be fair to the family. " You and I emailed about a year ago, i wanted to give you some facts about the property in Hudson Falls. I know there has been some claims made by a tenant who was cited several times by the NYSDEC for some environmental spills on the garage side of this property and later sued by the state, these clients agreed to clean up the property at their expense. Most people are not aware but in the 1980's a local property owner filed a cpmplaint that their well had been contaminated by my grandfather's property, NYSDEC installed water test wells on the property and tested the soil for environmental issues, none were found and reports read the most likely source. My grandfather did not have the where with all to fight it and allowed the state to file a lien on the property,. As the paper reported in years leading up to this new tenant the business was very low key, no new environmental spills had been reported. This new tenant had every opportunity to have the soil and ground water tested before signing a lease, and felt the risk was minimal.
Henry Caputo was a stand up guy who would and did help family, friends, and strangers at the drop of a hat. Most people don't realize he was the younger brother of several brothers who mater minded the insurance fraud scheme. He was the fall guy for his family because of his age and his loyyalty to his family. That's no excuse for his actions and he paid his debt to society. For many years, Henry Caputo continued to help the town of Kingsbury, Washington County, and all his customers and neighbors.
I know you mean well but understand when you put something in writing you need to get complete facts or your writing could be considered libelous, etc.
I am the executor of my grandfather's estate and have been since my mother's death in the Spring of last year. I've been managing the property for the last year and half, we've seen great progress in the restoration of the buildings using rents paid by seveal tenants. The property is moving in the right direction, we are in hopes the previous tenant meets his obligation to finish the remaining 10% of the cleanup by this year."
Well, Mark, I hope this goes a way towards righting any wrongs that were unintentionally visited upon the Caputos by the blog. For those who have been asking about the ete surgeries, they went well. They have completely changed my eyesight such that no glasses I own work any more, and I won't get the green light to get new ones for another few weeks. So it is still hard to work on this site. I will be adding more drawing to the Mark Osborne page soon.
I also fixed up and added to the Allie Swears page. I then manged to lose the upgraded page and just had to do it all over. Hope it sticks this time,
Jan 30 - Finally felt the eyes were up to it, so I added Weekly Blog January 30, 2017 about Bomoseen Raceway and the old Fairmont Park track.
Jan 31 - I stuck this on January 31 because I may not havew time to archive tonight. The February archive procedure is the most difficult one of the year. I notice the page called The New Hampshire Boys was all screwed up so I spent my time today fixing it [I hope] and adding to it. There needs to be more poepl on that page, but it takes time.
#@

For all 2005 News and Updates Archives - Click Here
For all 2006 News and Updates Archives - Click Here
For all 2007 News and Updates Archives - Click Here
For all 2008 News and Updates Archives - Click Here
For all 2009 News and Updates Archives - Click Here
For all 2010 News and Updates Archives - Click Here.
For all 2011 News and Updates Archives - Click Here

For all 2012 News and Updates Archives - Click Here
For all 2013 News and Updates Archives - Click Here
For all 2014 News and Updates Archives - Click Here
For all 2015 News and Updates Archives - Click Here
For all 2016 News and Updates Archives - Click Here
For all 2017 News and Updates Archivews - Click Here