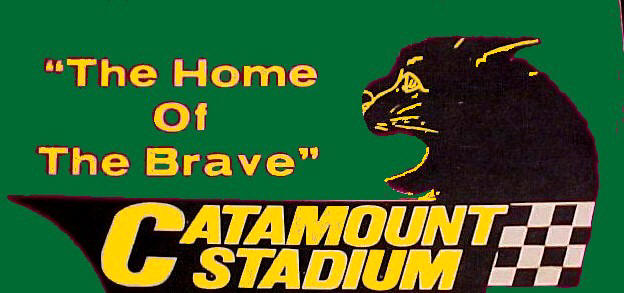 wladabou@comcast.net
NEWS& UPDATES
Oct 4 - I took a rainy day off to do something with the site. I can't explain what is going on woith the photos on the main page. Mostly everything else seems to be working. When I go to my the site, the URL that comes up is http://www.catamountstadium.com/ only. It should be finding the specific page http://www.catamountstadium.com/IndexA.htm. If it would, the photos would return. I hope this doesn't spread to other parts of the site. I don't have time for that right now. Does anyone know what is happening ?
Oct 6 - I still haven't archived because the program I use to update the site is still very shaky. I have recently heard from a woman who is particularly interested in 1950's driver harold Kyer, who usually drove cars numbered P61. Anyone have anything on Harold ? I know he ran at Pico and Stateline. Seee photo below. More work to come soon if the program remains stable.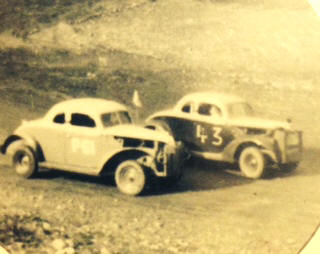 Courtesy of Nicole
Oct 8 - As we are apparently back on track until the next snafu, I have prepared Weekly Blog October 8, 2014 - about tracks and folks in Chittenden County, Vermont in the '50's. I also repaired the dozen or so broken links on the Main Page.
Oct 9 - Added a few photos to the page called Otto's Boys, which honors Otto Graham and is primarily about abpout men who raced at the fairgrounds in Morris, NY. I also added shots to the page called The Jerry Cook / Ken Meahl / Cam Gagliardi Page.
Oct 19 - Added a well - deserved page for Hardwick, VT's Larry Demar, a Catamount and Thunder Road Ford legend.
Oct 21 - Added a new "weekly blog" Weekly Blog October 21, 2014 - on the McGregor Speedway. If anyone knows Tom and Gail Remington - please tell them this piece is up.
Oct 25 - Discovered there was no link on the All Links page to Catamount New Flying Tigers Competitors page. Also realize now there are a number of broken links on the Catamount Grand Americans Competitors page. Will try to fix soon. I have come to realize just how many people regularly check this page. Very flattering. I have, by no stretch of the imagination, lost interest in updating the site. I have never had such demands on my time as I do now. Hopefully, this will tail off when the stepson gets into his house and the weather gets colder. Thanks for your interest.
Oct 26 - I heard absolutely horrifying news today. The youngest drving LaQuerre has been lost in an accident at home. My thoughts and sympathy go out to all the LaQuerres, who have dealt with enough already.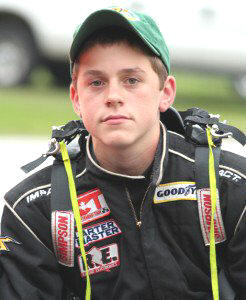 Source Unidentified
For all 2005 News and Updates Archives - Click Here
For all 2006 News and Updates Archives - Click Here
For all 2007 News and Updates Archives - Click Here
For all 2008 News and Updates Archives - Click Here
For all 2009 News and Updates Archives - Click Here
For all 2010 News and Updates Archives - Click Here.
For all 2011 News and Updates Archives - Click Here

For all 2012 News and Updates Archives - Click Here
For all 2013 News and Updates Archives - Click Here
For all 2014 News and Updates Archives - Click Here