---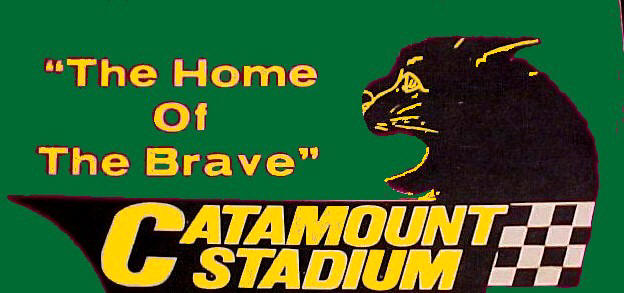 ---
NEWS & UPDATES
Jan 1 - Happy New Year to all. Here's the first morsel of the new year, thanks to Steve McKnight. Thank ye, Steve.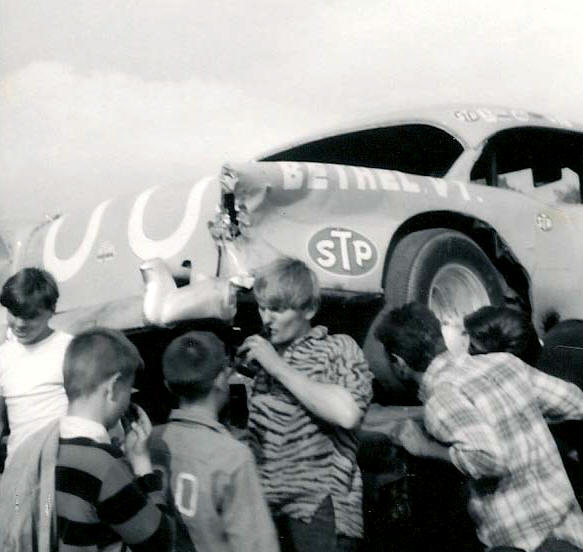 Steve McKnight Photo
Lennie "The Tiger" Stockwell, complete with the famous Tiger shirt, meets adoring
fans and has a post race beer at Catamount in 1967.
Jan 7 - Thanks to a Dan Ody 8 mm, I added a few grainy, but important shots from the Brattleboro Speedway, on the old West Brattleboro fairgrounds, around 1951.
Jan 9 - Added a few shots from that same old 8MM to the Stateline Speedway page. I also created a small secondary page called Pico Raceway Opening Day. After watching my Eagles shoot themselves in the foot against Green Bay, I added some Ody footage shots to the Devil's Bowl page.
Jan 17 - Happy MLK Day. I found a shot on the fine Lebanon Valley Classics site that brought back a memory from Fairmont Speedway. Apparently the late model - bodied sportsman car that Schooch Schoonmaker used to run at the Valley was brought up to Fairmont, at the end of the year, in the hands of John Rohan. The well - travelled car took as much bouncing from the rough Fair Haven oval as it could and then the front end broke. See the two shots below. I also did the Column 57 page, mostly on Larry Demar.

Lebanon Valley Classics Site Photo
Schoonmaker, after a win of some sort. The car looks fresher than at right.

Ladabouche Photo
Someone's wrecker is scooping up the poor old Chevy after
the suspension gave up the ghost. Check out the collegiate
dude at far right. Love that old rope button coat. Wish I still had mine.
Jan 20 - I have added more stills from the Dan Ody 8mm footage to the Brattleboro Speedway page.
Jan 21 - I have added Column 58, on Ed Foley.
Jan 24 - I placed a Jackie Peterson photo on the Saranac Lake Speedway page.
Jan 25 - I placed a Johnny Flach photo on the Searing Road Runner Racing page.
Jan 27 - I got on the Early Late Model Competitors page and fixed some broken links. I noticed there are more on the other late model page; but that will have to wait a while. I added three photos of the famous Pelletier/Falzarano #51 Chevelle driven by Russ Ingerson. I couldn't believe this car was not on the site already - just an unfortunate oversight.
Jan 27 - I put some more shots on the Ted Brown page, and put some more photos on the Bear Ridge Speedway page, too.
Jan 30 - I had to pause and reflect what former Vince Quenneville car owner, [the late] Gael Dundon must have been thinking when he was loading what was left of his beautiful sportsman. The car, shown in before and after shots, had undergone quite a transformation from the beginning of the 1965 through the end of the 1966 seasons at Fairmont Speedway. In '66, it also apparently enjoyed some success [as the cutdown version] at Saranac Lake Speedway. I also added a fun pair of photos to the bottom of the Devil's Bowl Speedway page, with thanks to the Lebanon Valley Classics site.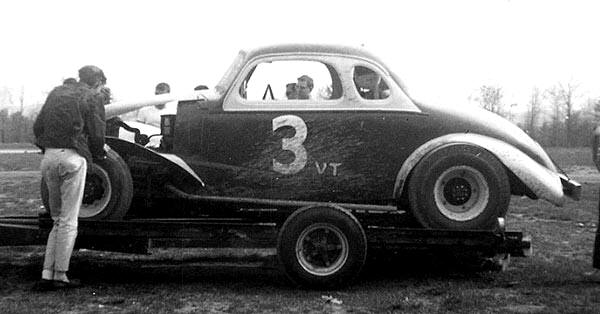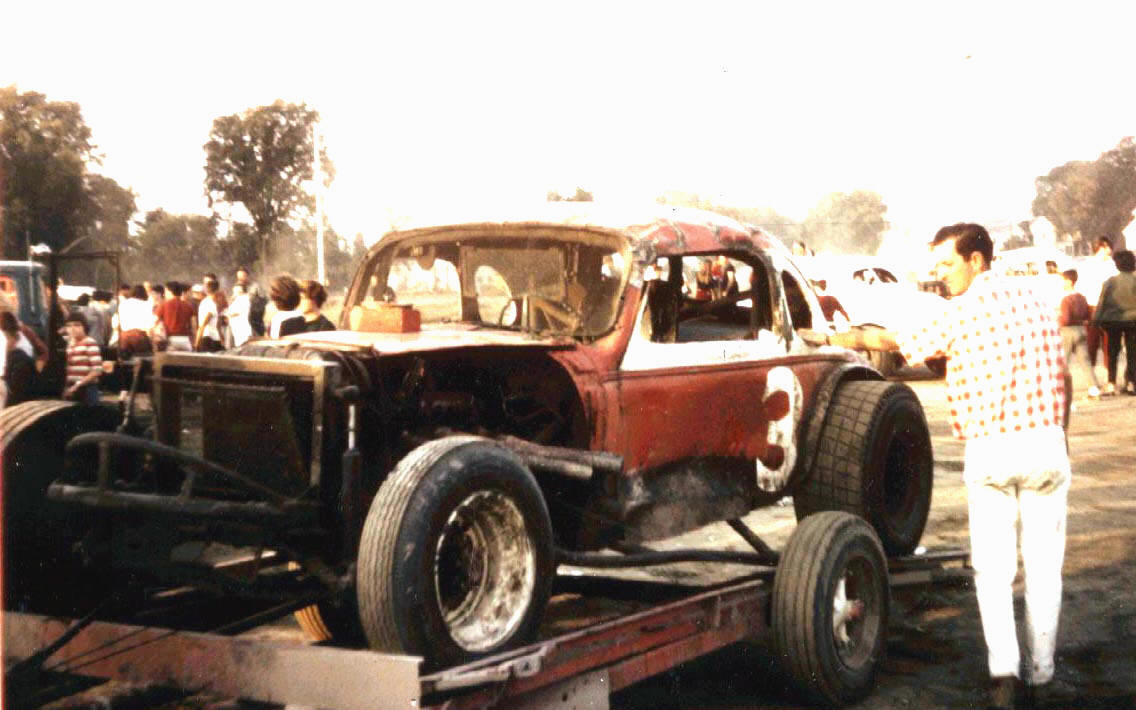 [Left] Courtesy of Ted Vogel, Sr. [Right] Ladabouche Photo.
Jan 31 - This hasn't been a very good day, and it just got worse. I got this email from New Hampshire racing historian Scott Haskell: "It's my sad duty to let you all know that prior to the Hall of Fame banquet, Cho suffered a massive heart attack in my room and was transported to Hartford Hospital. He underwent (2) major surgerys that night. He is not awake and in critical shape." Anyone who knows Cho Lee, from Barre, knows about his tireless devotion to preserving racing history. My prayers and thoughts for a recovery go out to him and his daughter. Cho was down in Connecticut at the NEAR banquet, and I assume they wont move him anytime soon.
For all 2005 News and Updates Archives - Click Here
For all 2006 News and Updates Archives - Click Here
For all 2007 News and Updates Archives - Click Here
For all 2008 News and Updates Archives - Click Here
For all 2009 News and Updates Archives - Click Here
For all 2010 News and Updates Archives - Click Here.
For all 2011 News and Updates Archives - Click Here