BRATTLEBORO SPEEDWAY
A Pioneer Race Track in the Corner of Vermont, New Hampshire, and Massachusetts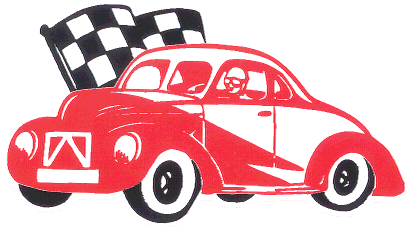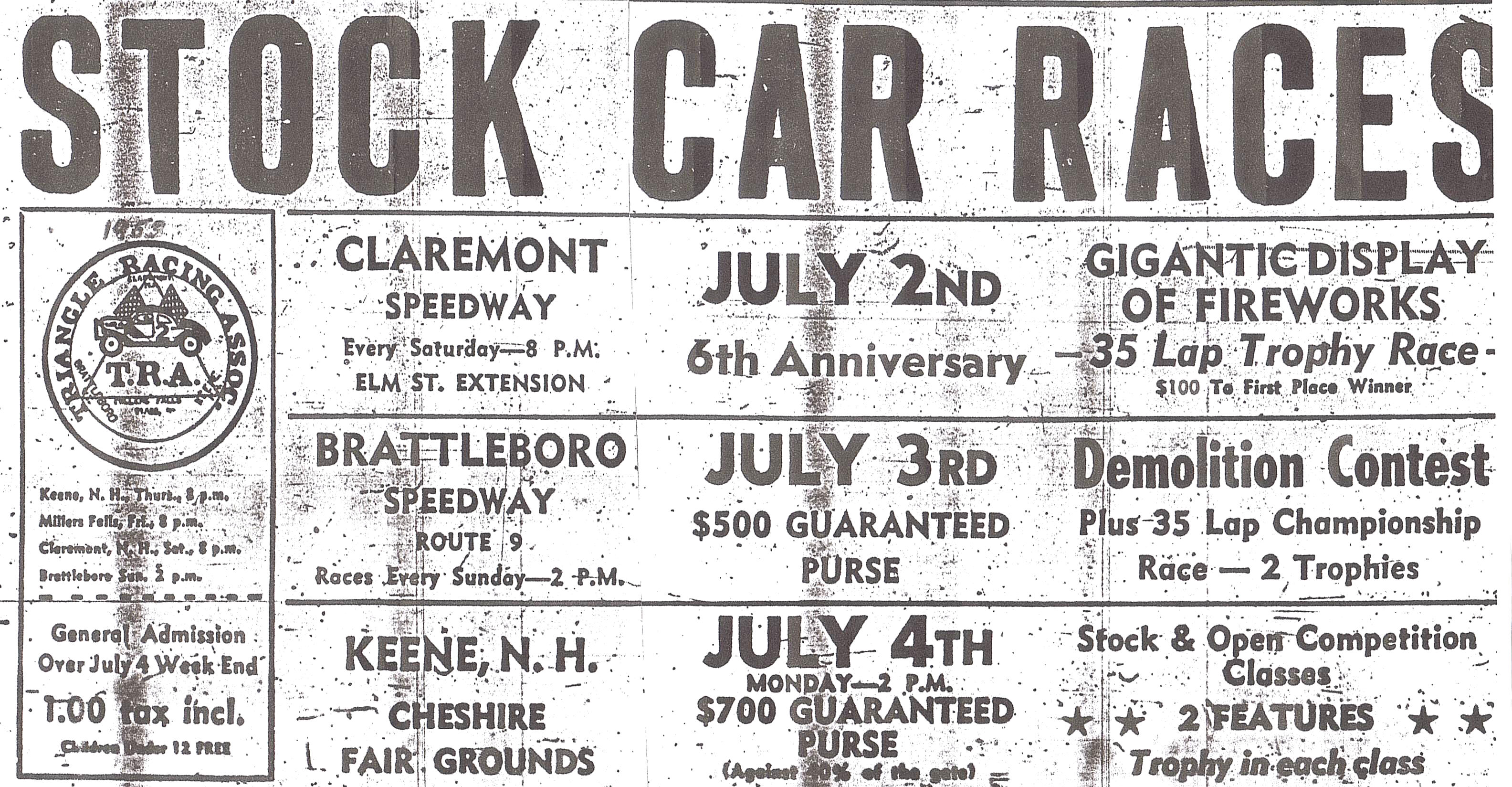 Originally From Barttleboro Reformer
The Triangle Racing Assiociation was one group that ran Brattleboro Speedway. Another seems to be the Pioneer Valley group
[see the membership card below] Not only these three tracks, but also Claremont seemed to have similar compeitors.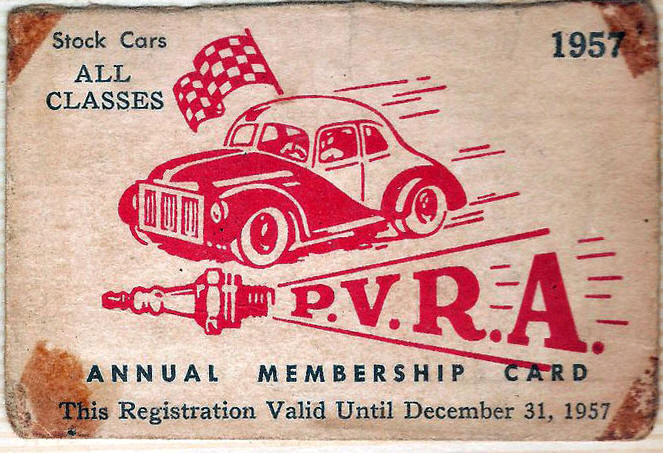 Courtesy of Crystal Snape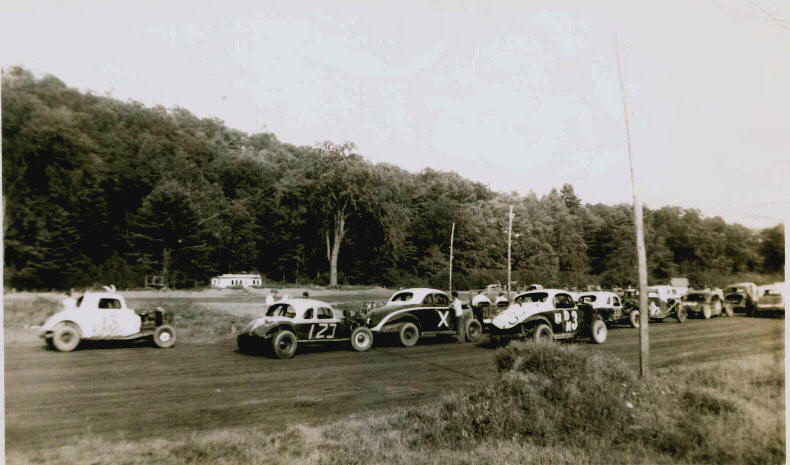 Courtesy of Lew Boyd
Cars line up at the West Brattleboro track, circa 1952. In the photo are [from left]: Buddy Bardwell (13); Joe Ryan (X); and DN3, Sonny Rabideau.
There are a lot of the cutdown cars that were popular in Massachusetts at the time.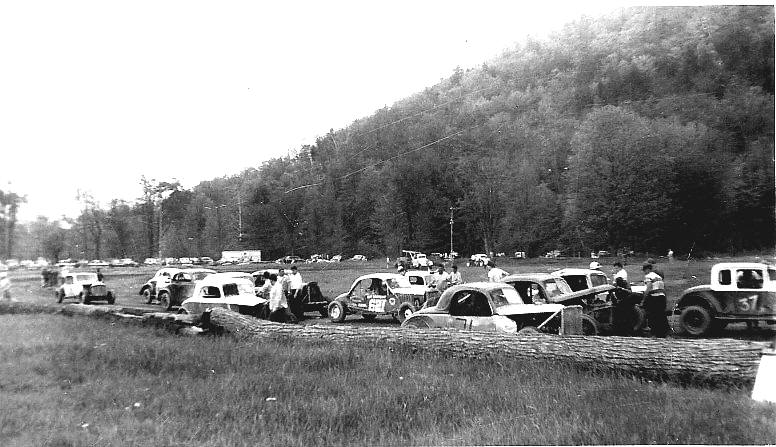 Courtesy of Lew Boyd
Cars line up at the West Brattleboro track, circa 1952. In the photo are [from left]: Ray Harris in Chet Cashman's 37 [probably]; Art Rousseau (621); and Bardwell near the rear.
Car 71 has now been identified as Morris Wisell.
I have little firm information on the West Brattleboro track. I don't know if it had a name other than Brattleboro Speedway or what years it actually was in operation. I can surmise that its location, in the corner of three states, was a big plus. I can see that it was very crude by today's standards, with logs lining the backstretch. I haven't been able to see if there were grandstands or concessions, etc. One photo shows a small outbuilding of some sort.
In recent years, I have snooped around the area and took a few photos, hoping I was even somewhat near the site. Bob Grover, an area native, has taken a more certain series to go with mine. We still seek more information on this track that was obviously an integral part of racing in the early 1950's. I believe it shared drivers with Safford Park [The Cheshire County Fairgrounds in Keene, NH] and with the Rhythm Inn Speedway near Millers Falls, MA. It is also possible that cars that ran North Hinsdale, NH might have run here, as well.
Judging from the cutdowns in some of the shots, a few drivers from The Pines race track may have been trying out tracks that featured more regular - sized stock cars, Drivers who seem to have tried West Brat include Sonny Rabideau, Buddy Bardwell, Art Rousseau, Joe Ryan, Rene Charland, Ray Harris, Ray Brown, George Schnyer, Roy Forsythe, Flash Gordon, Dick Stone, and someone named Kison.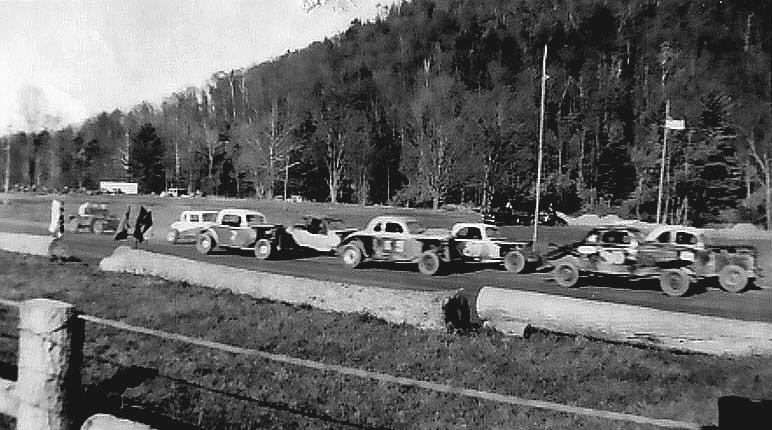 Racers Bored Site
Another look at a lineup. Note the log barriers, as well as some fence. Identifiable cars include:
Roy Forsyth 80 [2nd row inside]; and Dave Todd [2nd to last].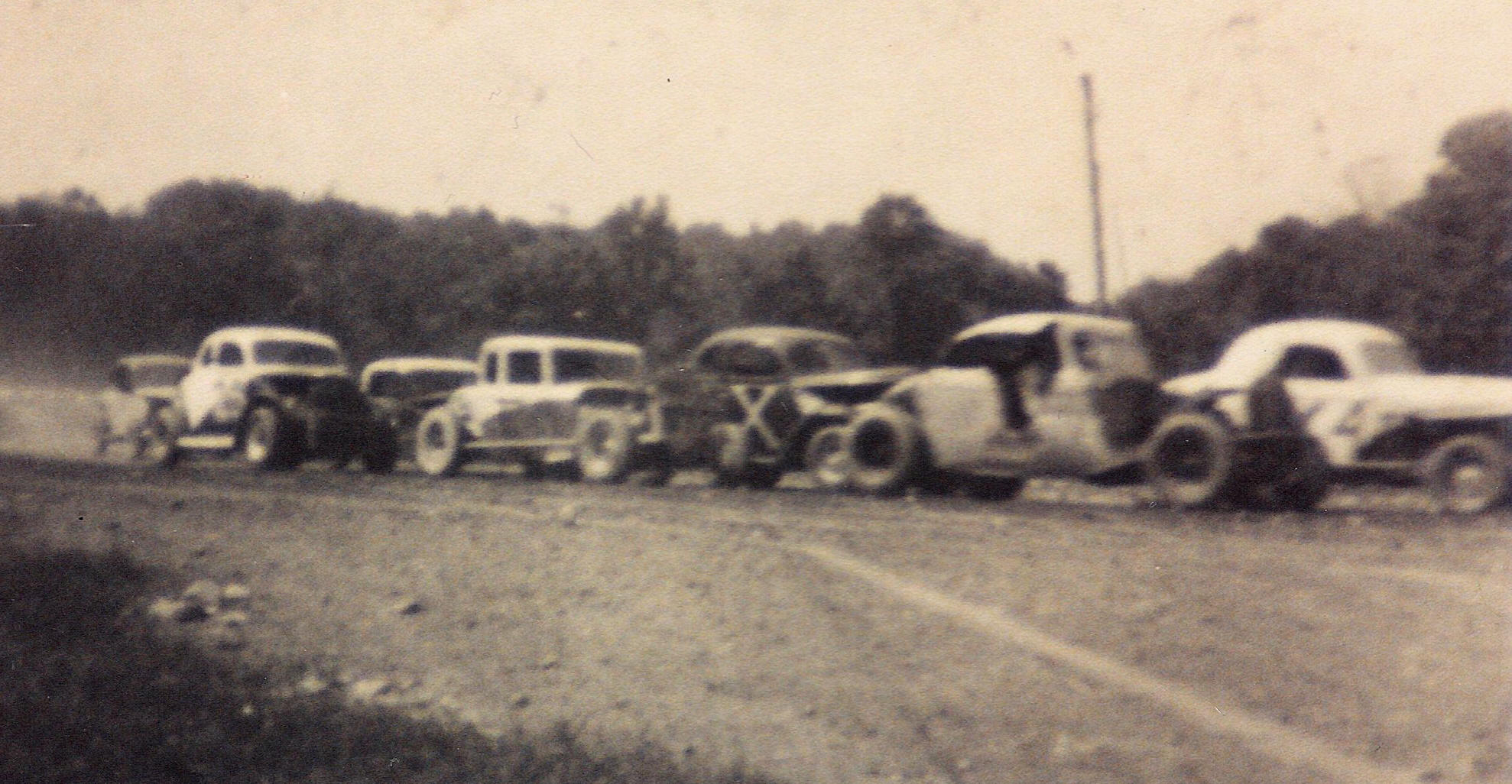 Courtesy of Crystal Snape
Lionel "Blackie" Arel runs the outside in Fred Snape's 26. Also seen is Joe Ryan's X.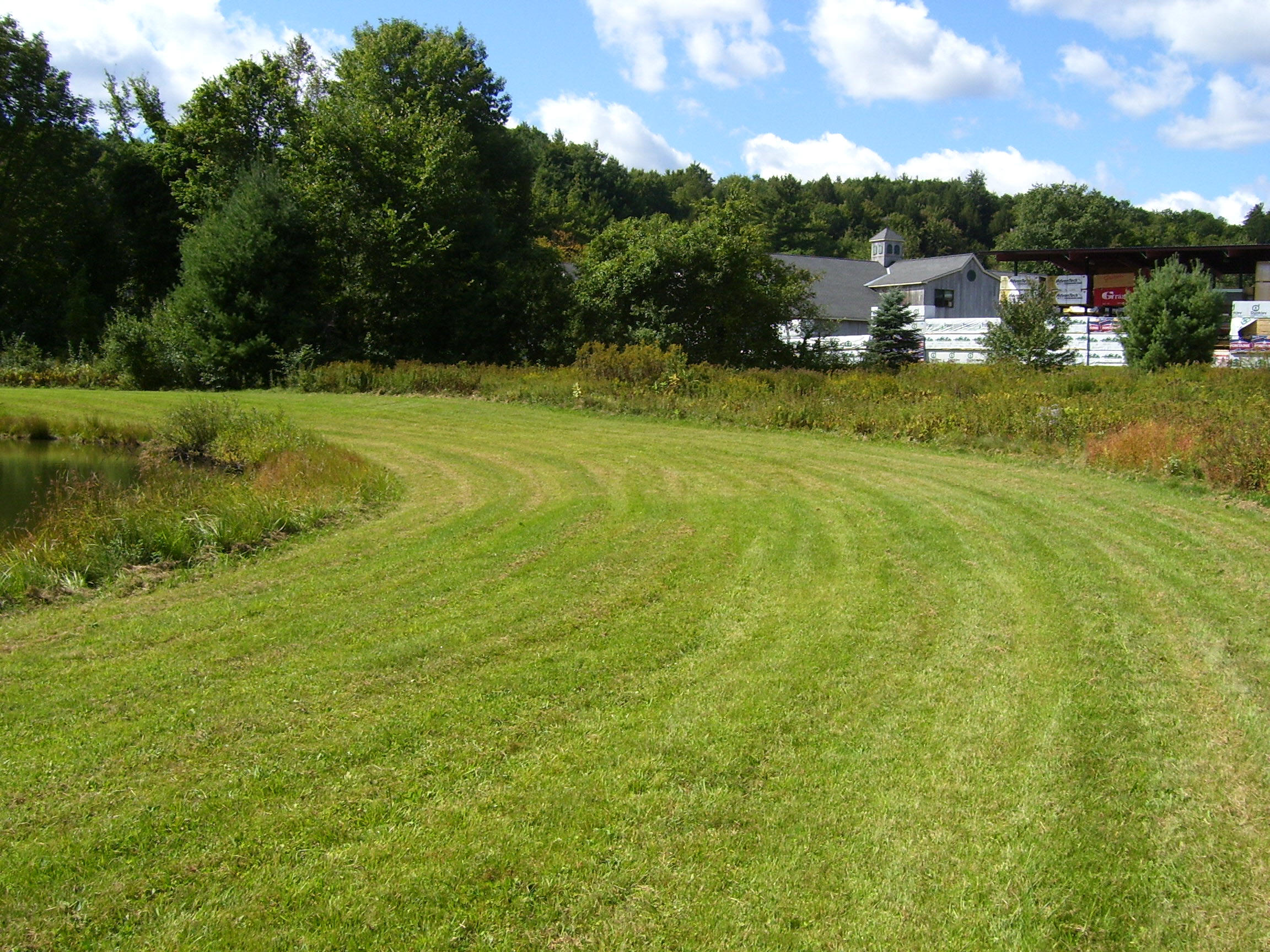 Bob Grover Photo
Turns one and two at the site of the track. That is the building supply on US Rte 9.
MORE VESTIGE PHOTOS

WEST BRATTLEBORO SHOTS FROM OLD 8MM FILMS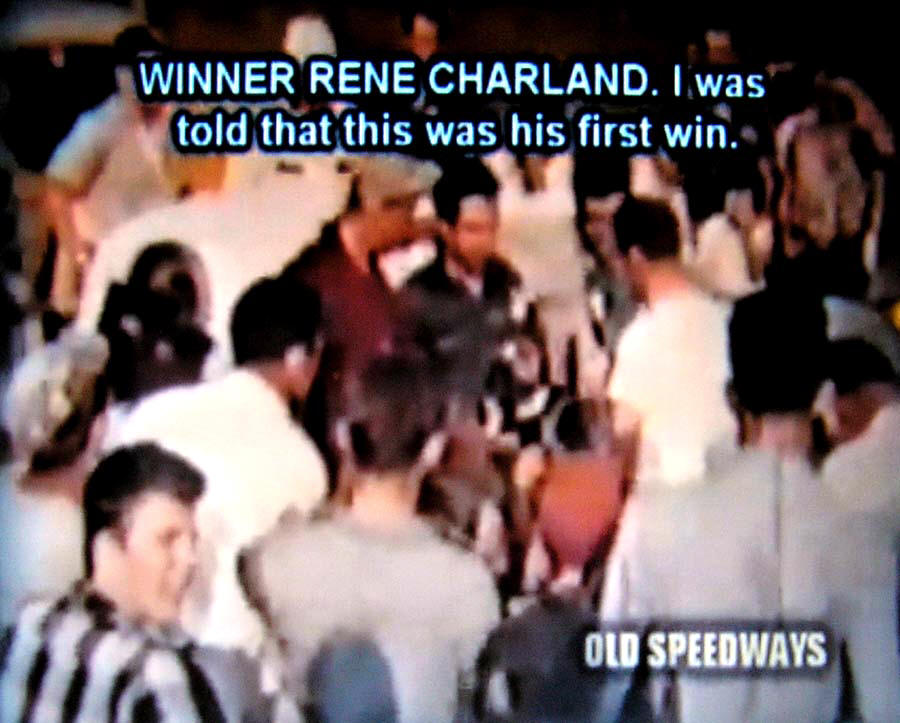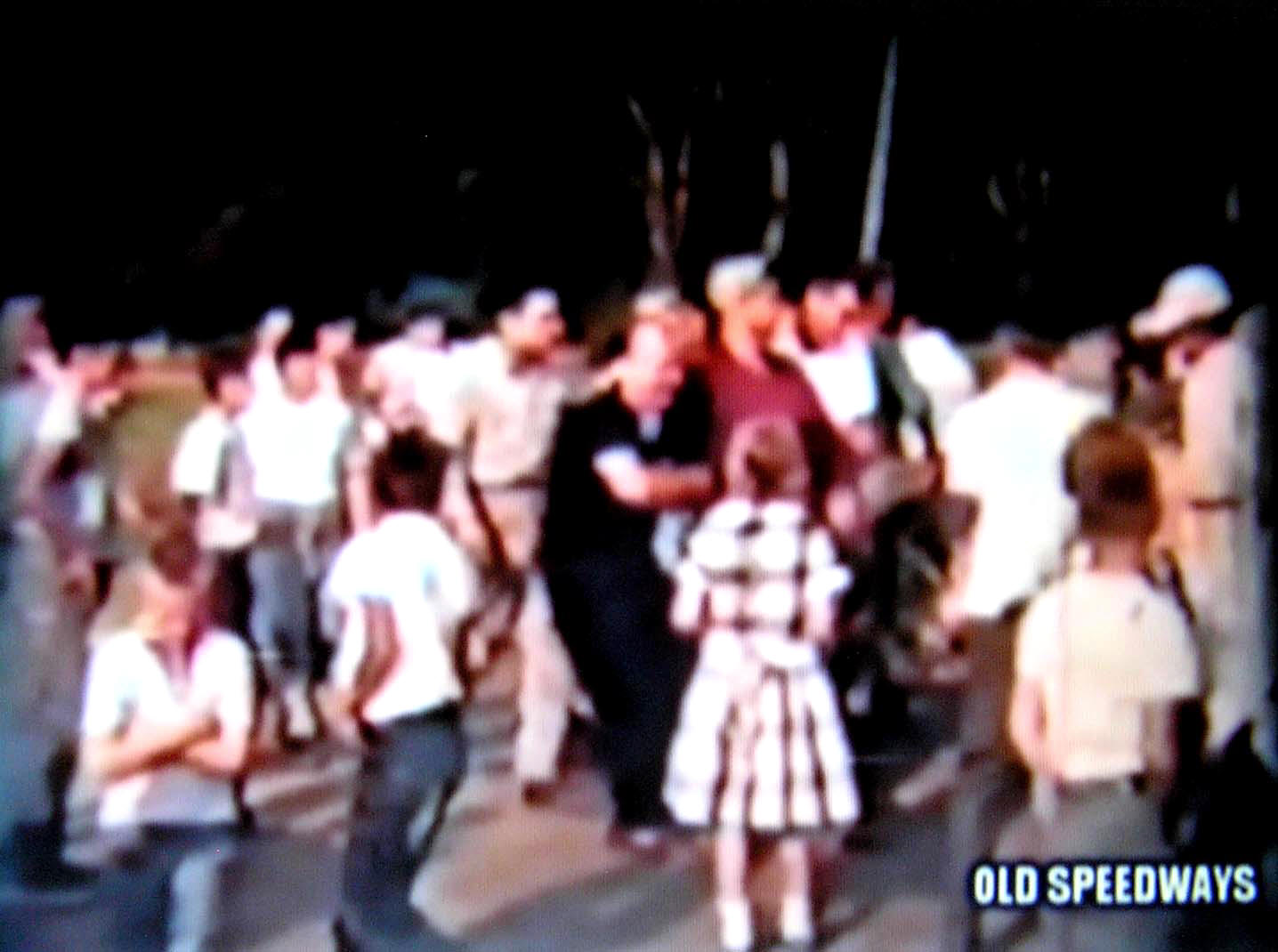 From Dan Ody 8mm DVD
Rene Charland [center, right of man with hat] may be receiving the first feature trophy of his
illustrious career at the Brattleboro Fairgrounds. [RIght] Charland and Matte head for Victory Lane.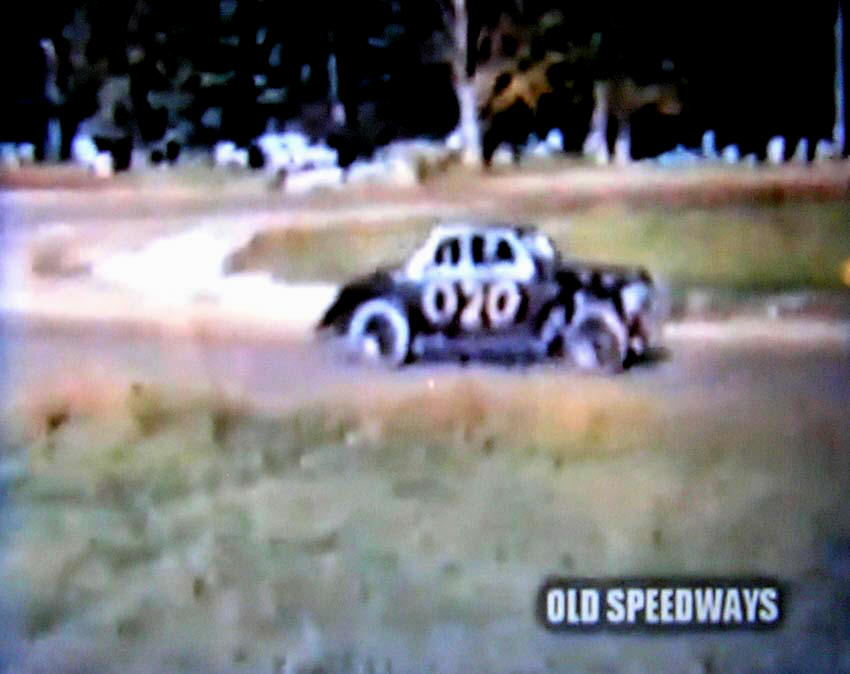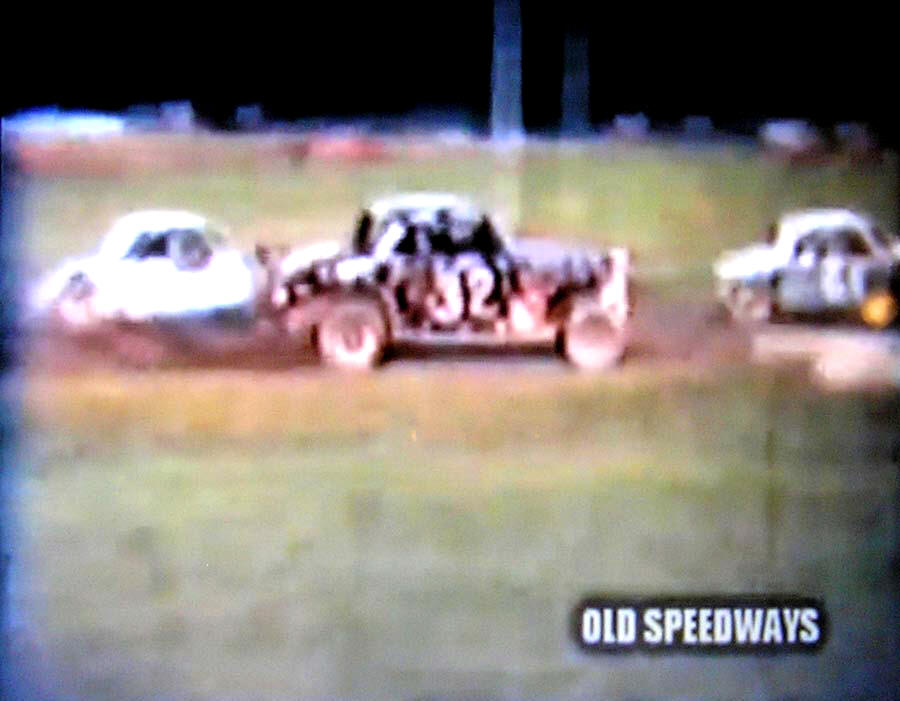 From Dan Ody 8mm on You Tube
Action at West Brattleboro. Car 070 [left] and the J2 [maybe Red Foote] on right.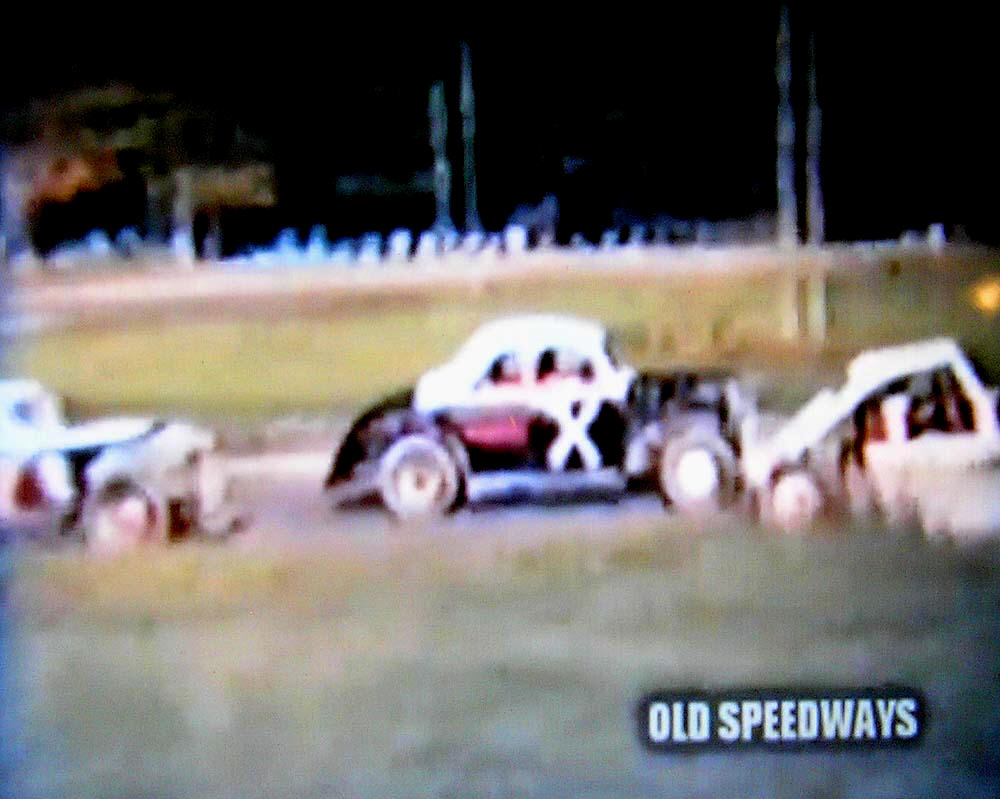 From Dan Ody 8mm on You Tube
Action at West Brattleboro. Joe Ryan, in the X follows something [I wouldn't
dignify it by calling it a stock car]. Could be Charland in the 107 at left.
All of These From Dan Ody's 8MM Old Speedways DVD's
AFTER THE RACES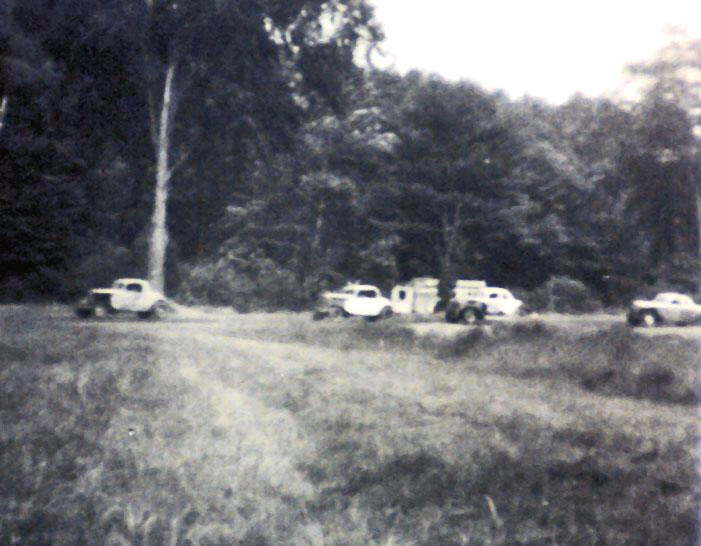 Both Photos From the HAMB Chat Site - Probably Snape Family Photos
Buddy Bardwell and Lionel Arel with Fred Snape's flathead 26 chase another car on
the backstretch of the Brattleboro Speedway.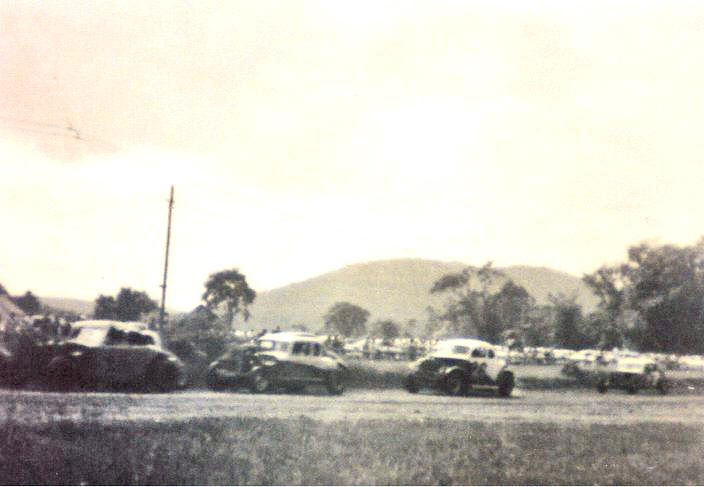 JOE CROWLEY PHOTOS
From an Unidentified Woman in Brattleboro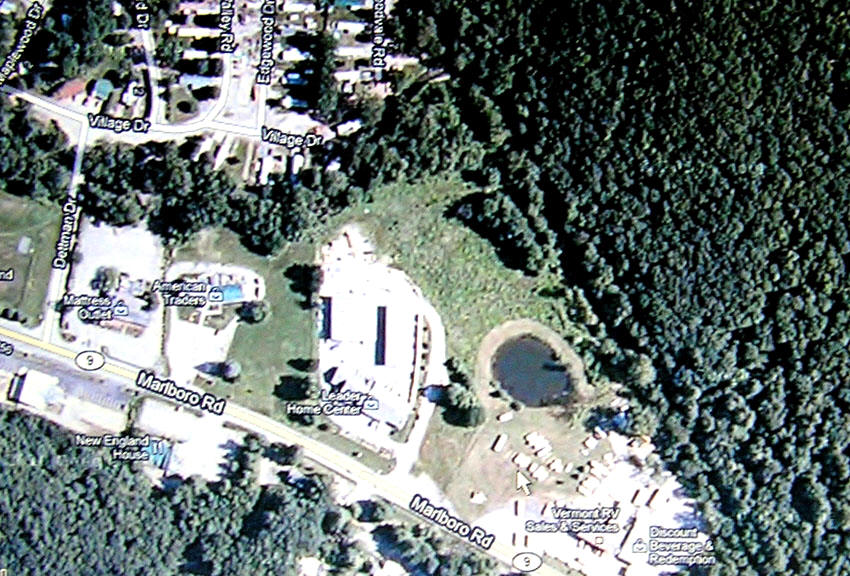 Google Earth Satellite Photo
Although aerial photos show a almost totally - clear oval not far away, this is the site of the Brattleboro Speedway.
The track, seen in the middle, went around that pond. If you look hard, the northern end of that clearing has
a rounded edge to it. The home center seems to occupy the bleacher area.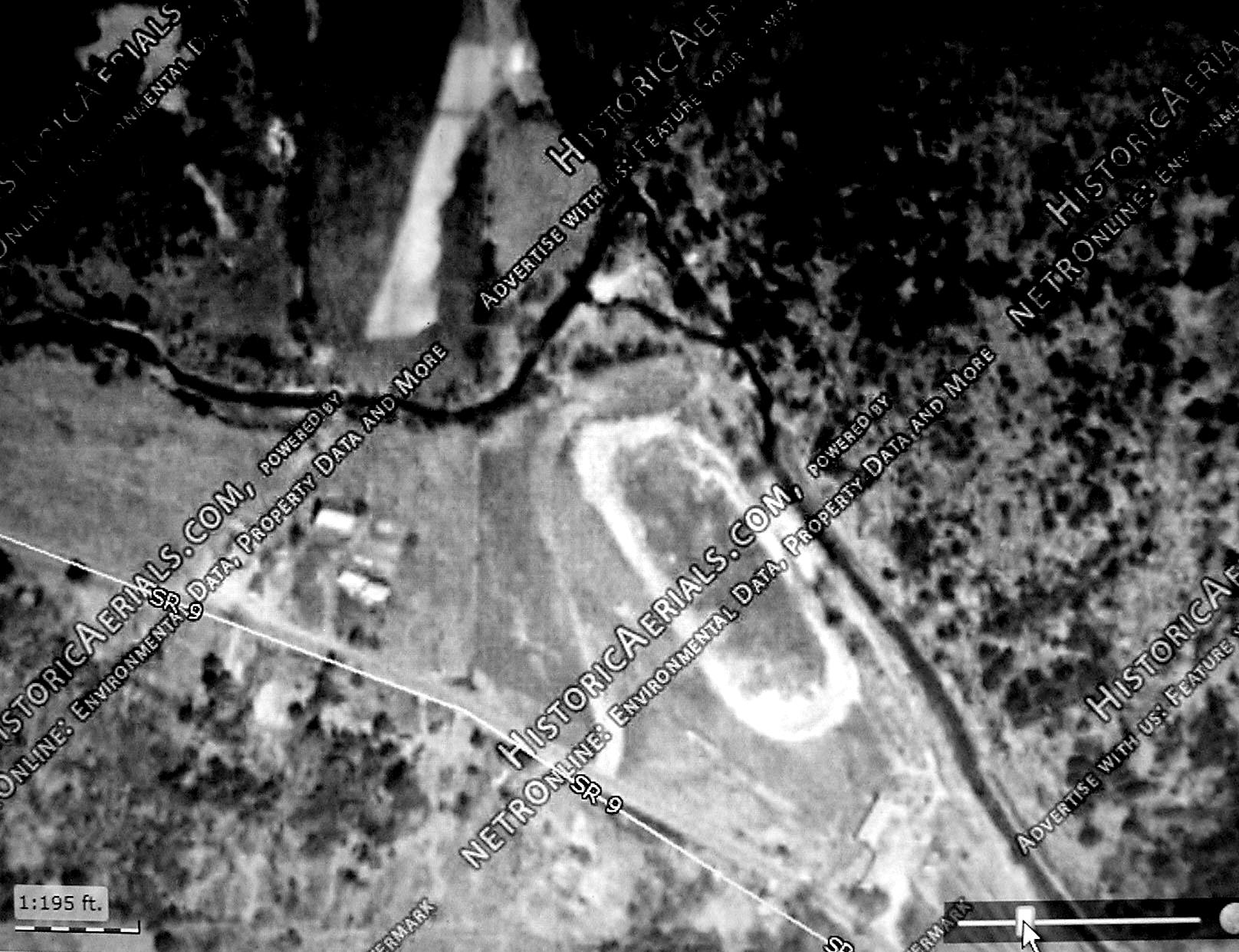 Historic Aerials.Com
This is an early 1950's aerial view of the Brattleboro Speedway site. It might have been still in use.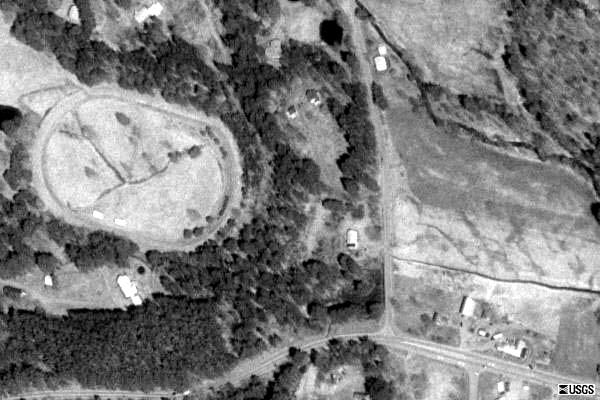 USGS Terraserver Photo
This is a 1990's aerial view of an apparent horse track located very near the former speedwaay location.
Return to the Main Page
Return to the Main News Page
Return to the All Links Page