---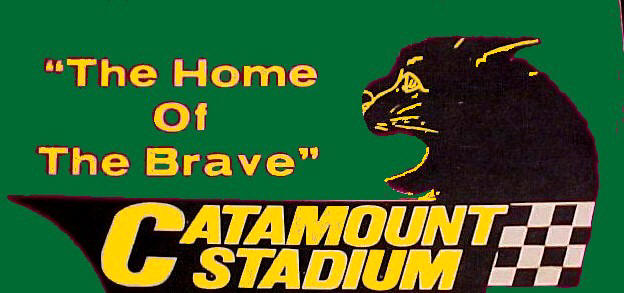 ---
wladabou@comcast.net
NEWS & UPDATES
Dec 1 - I have returned from the annual Lost Race Tracks conference at the Saratoga Auto Museum. For deeply disturbed people like me, this is an experience close to nirvana. Saw a lot of old friends I only see about once a year. I did a talk on the Stateline Speedway [near Bennington, VT]. Other topics included the All - Star League, Rhinebeck Speedway, Saranac Lake Speedway, vintage motorcycle racing, and the dirt racing at Stafford Springs Speedway [ie, 1959 to 1966].
Dec 4 - I completed a page called Racing in Newport, which covers everything I have on races at the Veterans' Park track in the 1950's and at the Can Am Speedway, in the early 1980's.
Dec 8 - My wife took a ton of photos at the Lost Race Tracks Conference; so, I have several additions to my pet page, the Me_ and.... page. I added some photos from the website of Buzz Fisher to the Otter Creek Speedway page. Buzz purchased the collection of my late friend Cho Lee, and he has hundreds of great photos for sale.
Dec 9 - I finally got around to adding the latest blog Weekly Blog December 9, 2013 - about Art Cody. One of the notable folks I met at Saratoga was long - time race photographer Frank Simek. I told Frank I would place a link to his website on here because he gave me permission to take shots off his site. I tried making a live link three times and failed. You'll have to type the URL yourself. Here it is:

FRANK SIMEK PHOTOGRAPHS
www.photosbysimek.zenfolio.com
Dec 14 - I put up another blog - Weekly Blog December 14, 2013 - about Ken Shoemaker. I had considerable trouble with the Filezilla program doing this one. If the site goes through an extended period of no updates, it might be that the particular program has gotten worse. Let's hope it's just a temporary glitch.
Dec 17 - I put up some photos on the Stateline Speedway [Bennington] page.
Dec 19 - I put up a ton of photos on the Fonda Speedway page. Many more to be added, as time allows.

Dec 21 - I put up a few photos on the Welch's 77 page. I have a ton of new stuff but we are having prep for the holidays, this freaking ice storm, and a lot more keeping me from using them at the present time.
Dec 28 - I put up a few more photos on the Uncle Art Stuarts Book Page. I also made a link for it on the All Links Page.
Dec 30 - I have been horrified at the obscurity to which the once - famous All Star Stock Car Racing League [1967 - 1973] has fallen. If you Google the topic - you get something of mine on Jerry Cook and not much else. Therefore, I have started an All Star League page, with my stuff and work from its biggest fan, Ken Parrotte. I hope people will share anything they have that could go on this page to save the memory of this significant Northeastern racing organization. I have gotten the next blog up Weekly Blog December 30, 2103 - on the All Star League [imagine that].
For all 2005 News and Updates Archives - Click Here
For all 2006 News and Updates Archives - Click Here
For all 2007 News and Updates Archives - Click Here
For all 2008 News and Updates Archives - Click Here
For all 2009 News and Updates Archives - Click Here
For all 2010 News and Updates Archives - Click Here.
For all 2011 News and Updates Archives - Click Here

For all 2012 News and Updates Archives - Click Here
For all 2013 News and Updates Archives - Click Here