---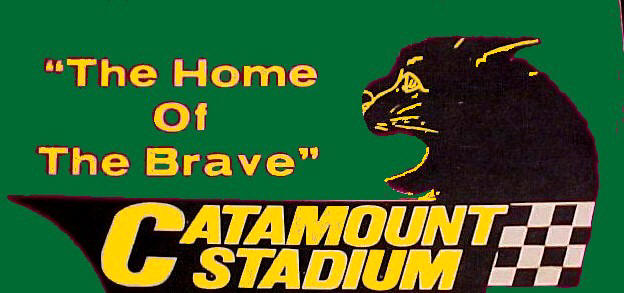 ---
NEWS & UPDATES
November 9 - Updated news archives. I will add some more stuff when I find some more time - prepping two old buildings for winter is time consuming. Incidentally, if anyone out there has a decent photo of the dignitaries in the front of the room at the Nov. 8 Devil's Bowl news conference - my photo did not turn out well and I need one.
November 11 - Added a page called Devil's Bowl: Brave New World, concerning the Bruno Family's purchase of the track. Check it Out.
November 14 - Put some more photos on the regular Devil's Bowl page.
November 17 - I finally got the hang of how to operate a somewhat contrary DVD containing home movies that seem to center around western NY sportsman and modified chauffeur Kenny Meahl. This DVD is courtesy of David Delange. Putting aside the family gatherings and the donkey softball footage, there is some seriously rare footage of the old Seneca Falls [NY] Speedway that featured roadsters. Actually any footage of roadsters is damned scarce. I also have some old NASCAR sportsman footage from Lancaster, but I haven't dealt with that. Photographing off old 8MM movies is maddening and it only yields mediocre pictures; but the historical significance makes it worth while. Check out the Seneca Falls Speedway page, small as it may be. I also added a few photos to the Whites Beach Speedway page.
November 20 - I added more material to the St. Lawrence Valley Speedway page.
November 23 - I am embarrassed to admit I had someone help me with an unknown person in one of my Malletts Bay photos; and I just never really retained that info. [Senior moment]. Lloyd Gilbert is telling me the little guy in the photo with the hat, the cigarette, and the flag is a Burlington policeman named Henry LeClaire, who sometimes flagged and who was flagging at the Essex [VT] fairgrounds the day Art Bessette was killed. Anyone have thoughts on that subject ? I believe Jackie Peterson has mentioned that name before, as well. I also added a story to the Don Rounds page [at the bottom].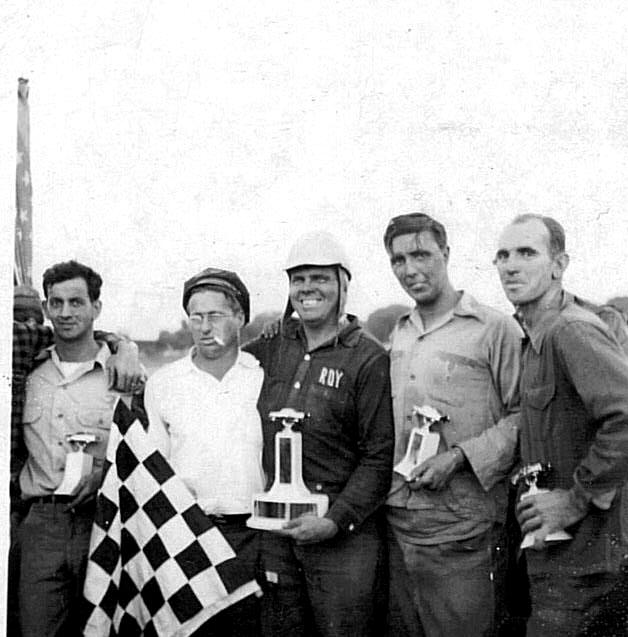 Courtesy of the F.E. Hart Family, via Arnie Hill
From left: Frank Hart, Henry LeClaire, Pappy Forsyth, Jackie Peterson, and Ernie Barcomb.
I believe they were holding trophies for season's points totals. I think Cho Lee has that trophy
Forsyth is holding. I wish I could see who is to the left of Hart.
November 28 - I had a successful Lost Race Tracks conference at the Saratoga Auto Museum. I Took a ton of photos, but unfortunately a lot didn't come out. It is hard to take photos of someone's album. I will be able to get a number of site and column topics from the experience. Mike Richards came up with one interesting tidbit about the mysterious Bomoseen Raceway ticket I had been sent by Steve Hibbard three years ago. Mike's mother recalls attending races there and said that - while it was primarily horses - a few cars did race on the site. Mike helped me locate the site on satellite.
Incidentally, my wife and I will be gone for a week in early December. The site may not see many upgrades in the earlier half of that month. With that in mind, I did a revamp and expansion of the Steve Danish page.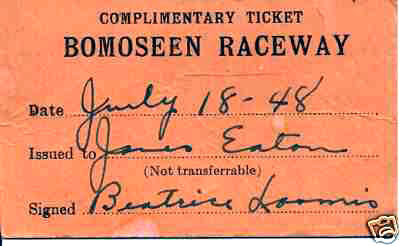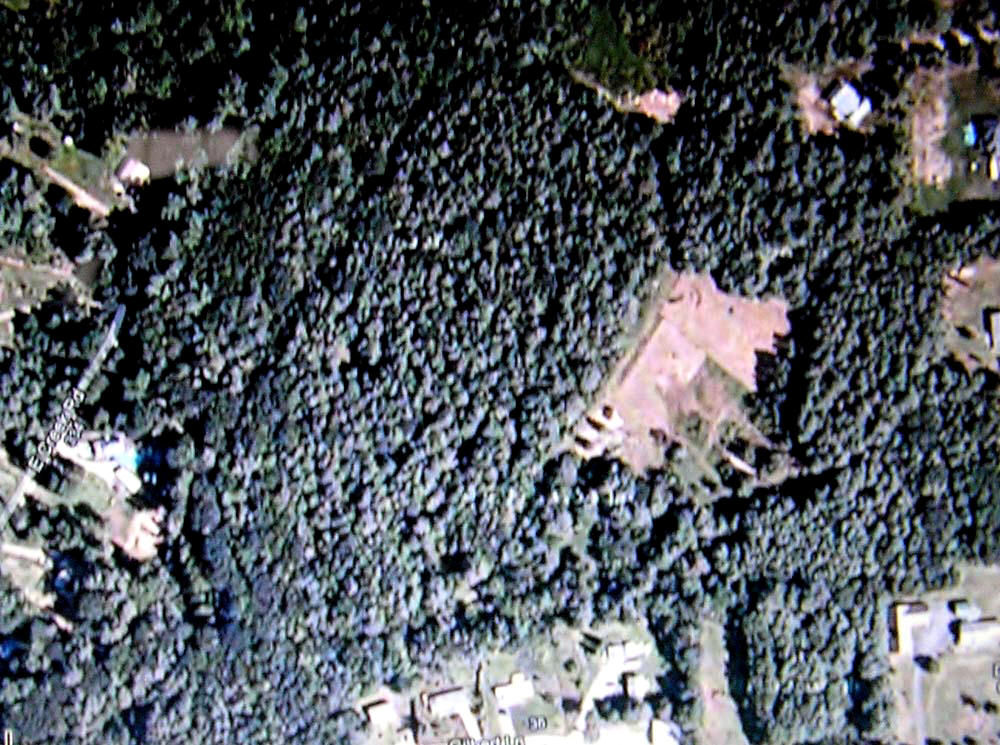 Ticket Photo Courtesy of Steve Hibbard Satellite View from Google Earth
I you know the area, the site is located approximately behind Prunier's Market - between old Route 4 [4A] and the new road.
Mike says you can sometimes see a bit of it from the new road.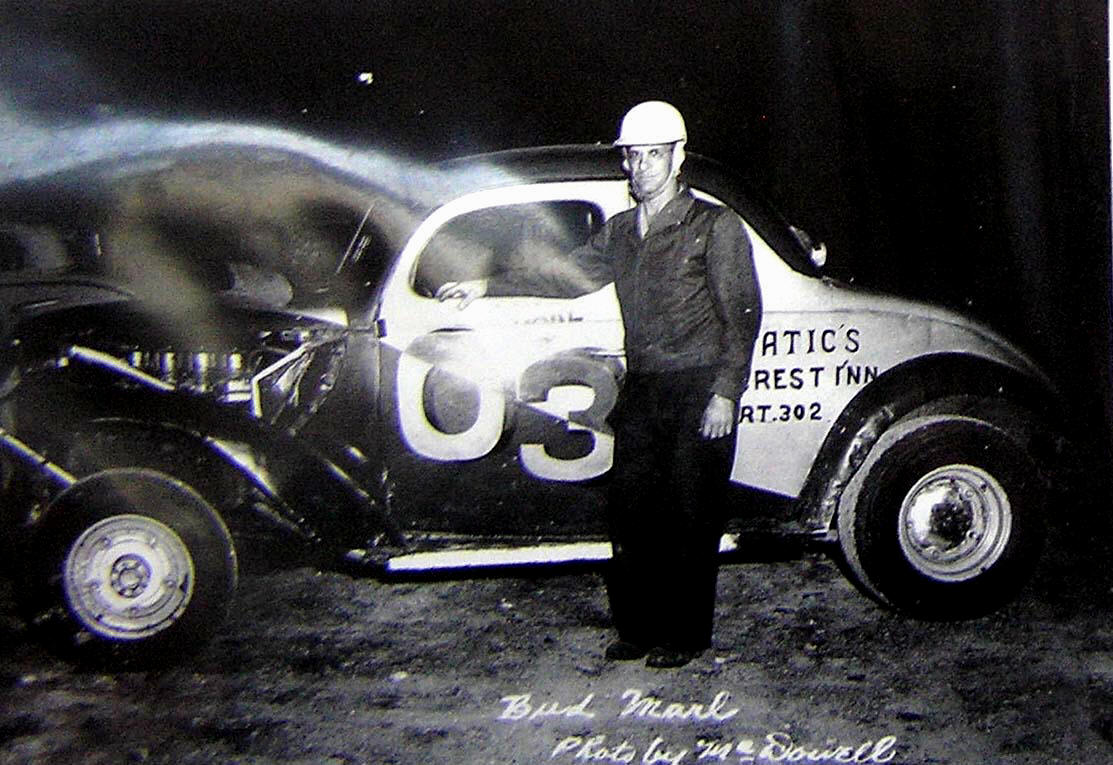 McDowell Photo Courtesy of Ken Gypson
This is an example of the great photos on display at the conference.
November 29 - I added Column Page 69, about the Can - Am Speedway in Newport, VT.
November 30 - I added a few more Hackel family photos to the Ashland Park Speedway page. These are thanks to Dan Ody and could be clearer. I was trying to photograph them through the plastic on his albums, as I didn't have time to remove each shot. I will probably also try to archive the November news page today.
For all 2005 News and Updates Archives - Click Here
For all 2006 News and Updates Archives - Click Here
For all 2007 News and Updates Archives - Click Here
For all 2008 News and Updates Archives - Click Here
For all 2009 News and Updates Archives - Click Here
For all 2010 News and Updates Archives - Click Here.
For all 2011 News and Updates Archives - Click Here