---
DEVIL'S BOWL 2011: BRAVE NEW WORLD
Mike and Alayne Bruno Tackle a Huge Task in Attempting
to Ressurrect A Proud Vermont Track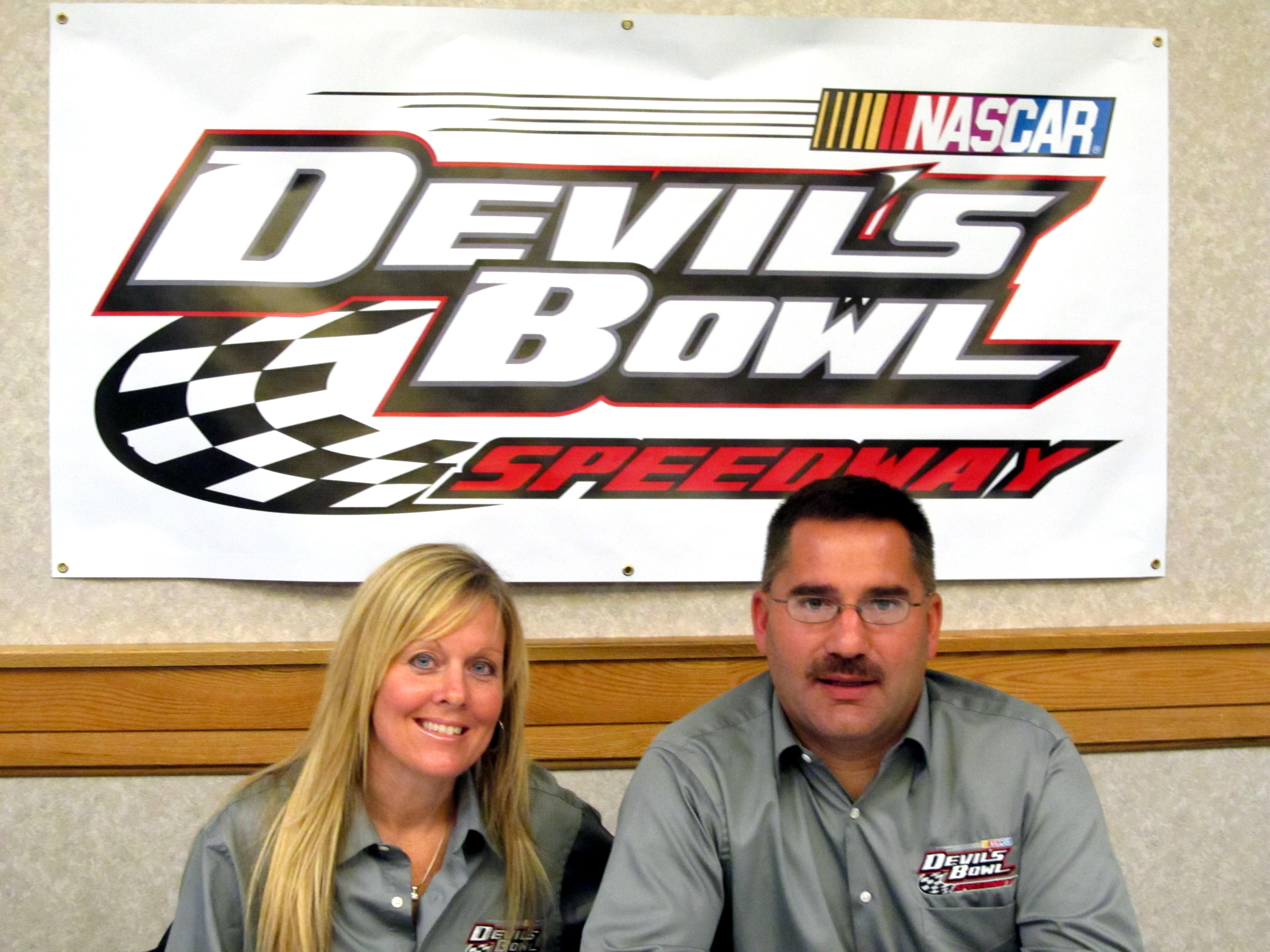 T.J. Ingerson Photo
Mike and Alayne Bruno, before the beginning of their November 8, 2011 news conference to
officially confirm they had purchased the Devil's Bowl Speedway, in West Haven, Vermont.
A Few Important Milestones in the
Lifetime of Devil's Bowl Speedway
1962
Former Race Driver and Strong Racing Supporter C. J. Richards Brings Stock Car Racing Back to Rutland
County When He Re - Opens the Long - Dormant track at the old Fair Haven, VT Fairgrounds.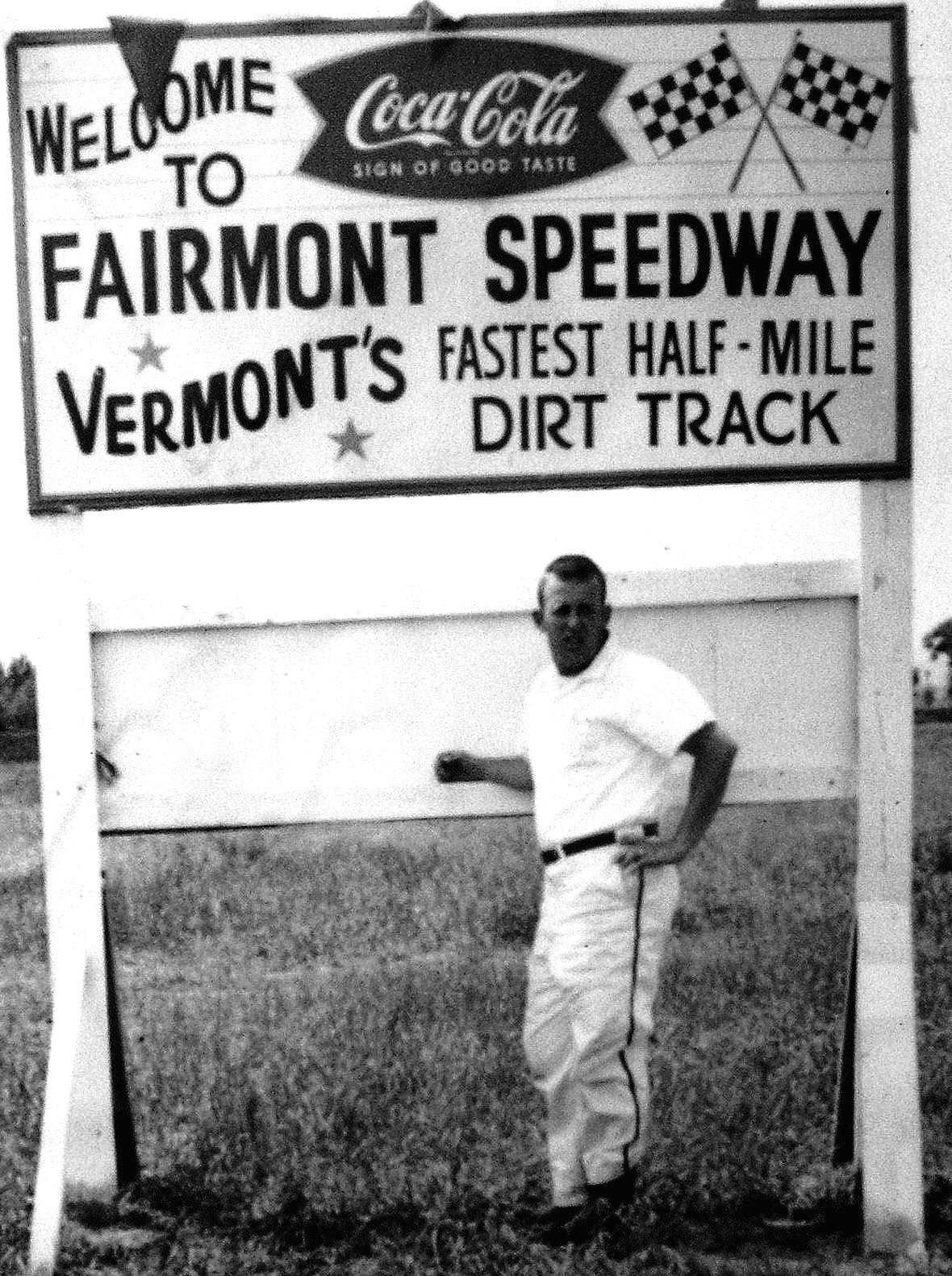 Ladabouche Collection
A proud young CJ Richards stands by the sign for his first promotion,
the Fairmont Speedway. The track would go well, despite lack of support from the town.
1965
C. J. Richards Hits on a Successful Formula When he Makes the Overhead V-8 Sportsman cars
the Lead Division at Fairmont Speedway, Distancing himself from the Flathead Racing to the East.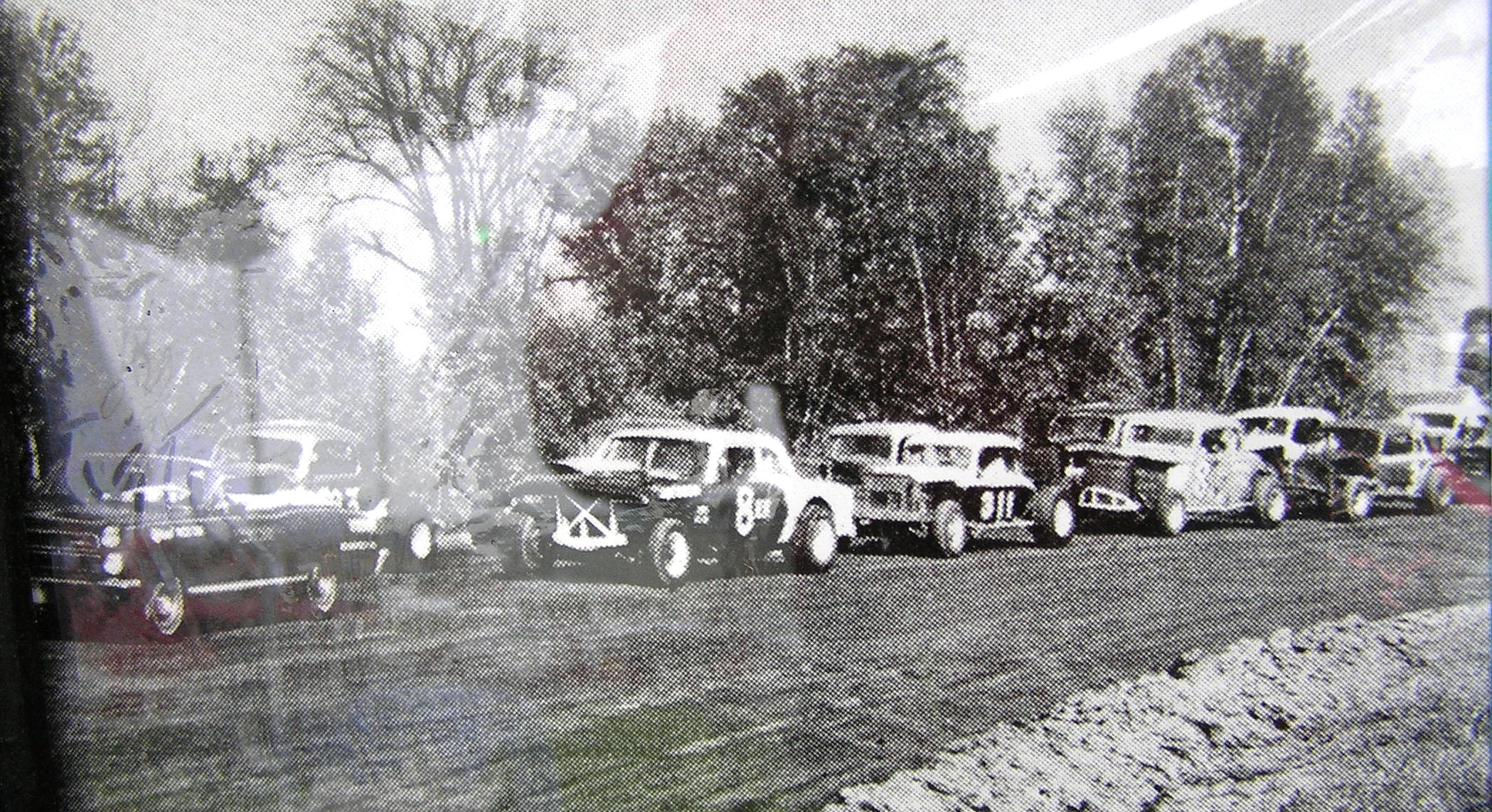 Courtesy of Neal Davis
This eclectic field of NASCAR sportsman cars like Bobby Leach's M3, local sportsman cars like Vince Quenneville's 3,
and New Hampshire - style flatheads like Sonny Rabideau's 311made up the fields for Richards and Fairmont in 1965.
By 1966, most of the flatheads were gone entirely.
1967
With increasing flak coming from the town of Fair Haven, C. J. Richards Buys Land from Some of the Richards Family
near West Haven, just up Rte 22A, and Proceeds to Build Devil's Bowl Speedway.

Courtesy of Wes Moody
A heat, with Devil's Bowl's first track champion Mert Hulbert in second place, pounds the new clay surface
at Devil's Bowl Speedway. Once he dealt with early track condition problems, CJ Richards overcame the efforts
of the track's neighbors to disrupt his shows and developed a great track that would last for decades.
1970
C. J. Richards Takes a Big Gamble and Paves His Track, Which Had Arguable the Best Clay in the Northeast.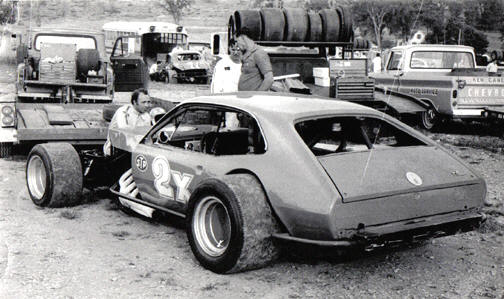 Courtesy of Lew Boyd
The paving of the track allowed for fans to see some new faces in the stock car racing world.
Sadly, the locals were so angry over the paving that there weren't a lot fans to see the new teams.
Here, the famous Judkins 2X Pinto, with Gene Bergin, makes a rare appearance. That's Vermont
driver Bob Dragon in the background with the #71 modified coupe.
1973
Richards Joins Up With the Burgeoning Northern NASCAR [ Late Model ] Circuit, to the North, and becomes the last
Track on an Insane 5 - Track Weekly Schedule That Season.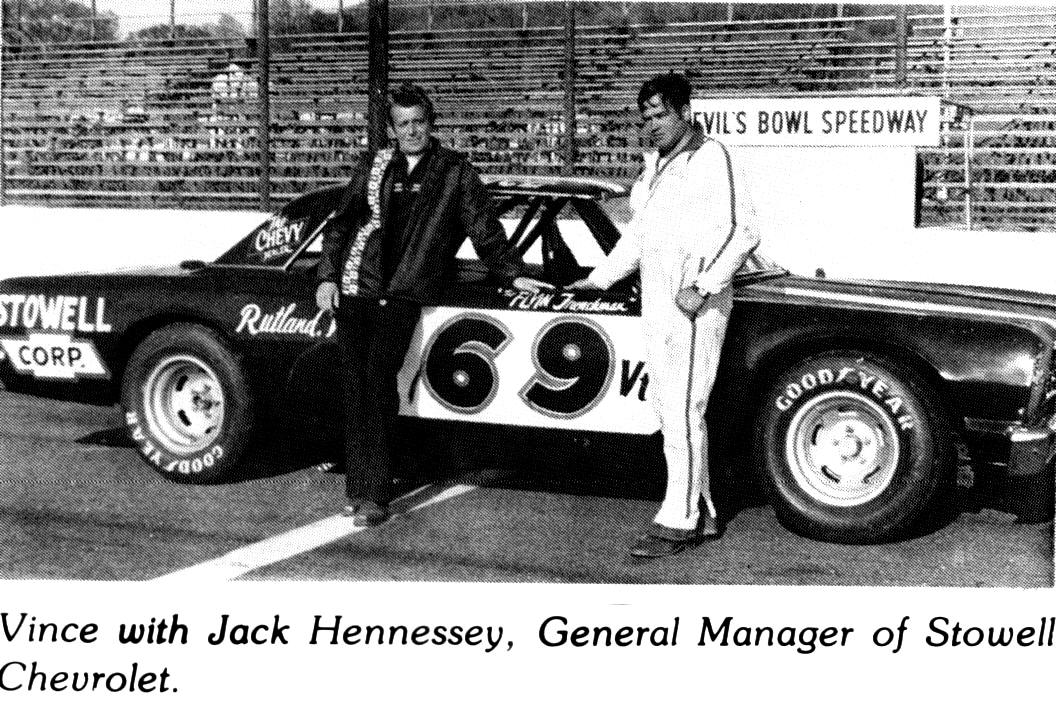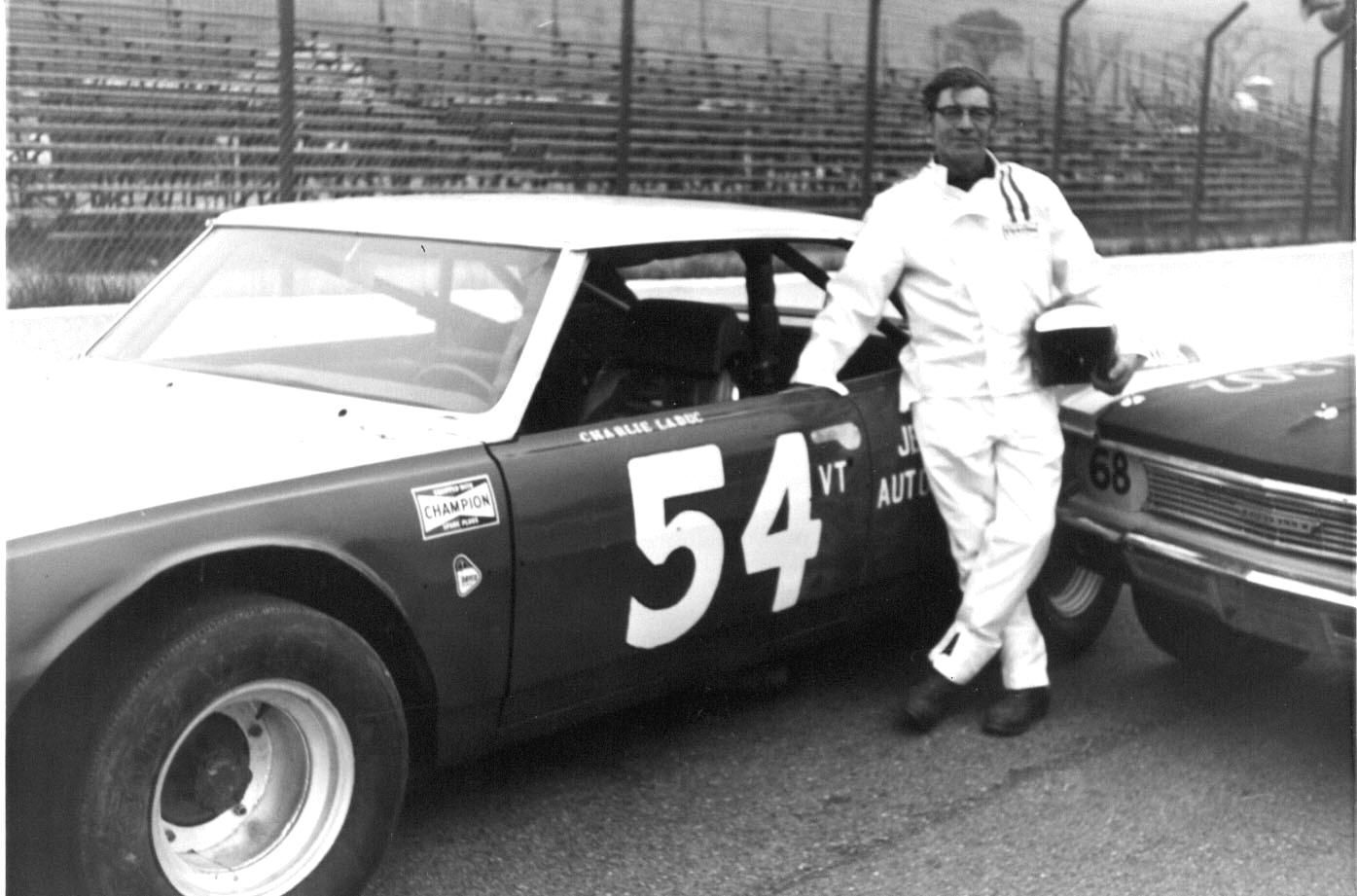 [Left] Courtesy of Ed Fabian [Right] LaDuc Family Collection
Devil's Bowl faithful like Vince Quenneville, Sr. [69], Charlie LaDuc [54] and Chet Doaner [68] bravely tried to compete with the
late model juggernaut from the north; but they were starting a dollar short and a day behind. Their efforts, and Devil's Bowl's unfair
scheduled racing night made for a profoundly less - than - successful year in 1973.
1976 - 1980
Devil's Bowl, Once Having Reverted Back to Its Beloved Clay, Enjoyed Relative Prosperity For a While, Using a Mix
of Lebanon Valley and Fonda Sportsman Teams, Local Heroes, and a Few Sportsman - Type Teams from New Hampshire.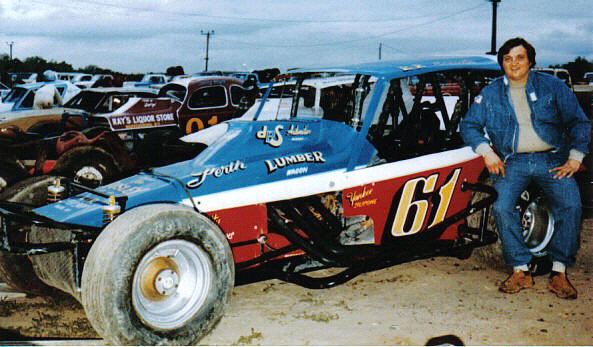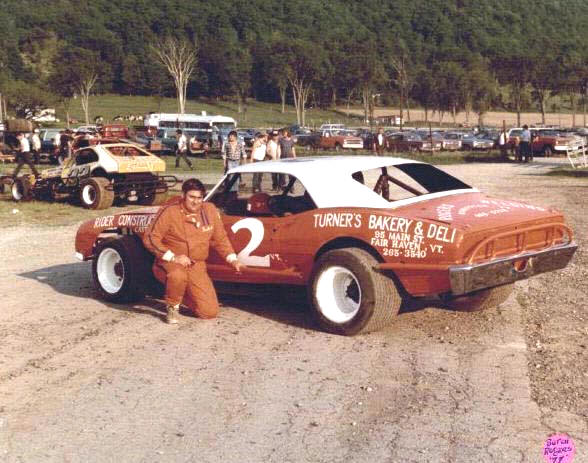 [Left] Ladabouche Collection [Right] Courtesy of Jan Colburn
The post - NASCAR years saw the advance of the newer manufactured modifieds like the
Barnowski 61 of Super CD Coville. Also, a nifty late model support division came
about and Butch Rogers [right] built many of them.
1981
I am not Entirely Sure of the Years, But - For a a Couple of Seasons - the Track was Run as West Haven Speedway
by Long - Time CVRA Employee Tom Perry.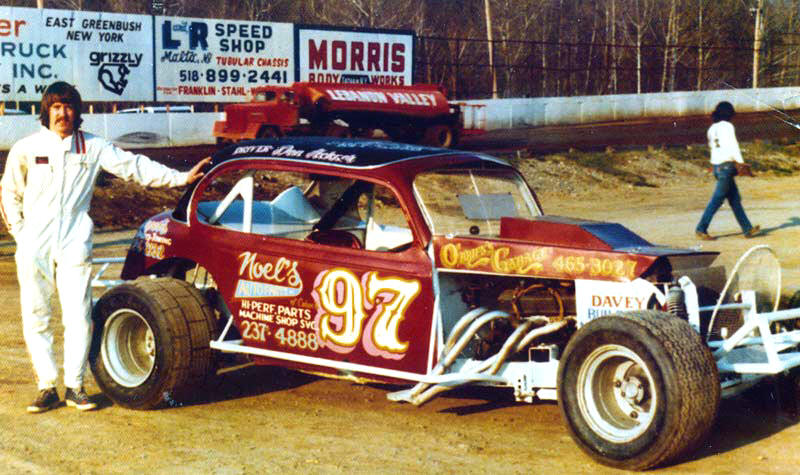 Courtesy of Arnie Ainsworth
During the troubled West haven Speedway days, one of the track's loyal supporters
was Lebanon Valley up - and - comer Don Acker. Ackner would still be driving
at the Bowl as late as 2009, its last year of dirt.
1982 - 1989
Richards and His CVRA Tracks Go With DIRT, the Predominant Dirt Track Sanctioning Body in the Region.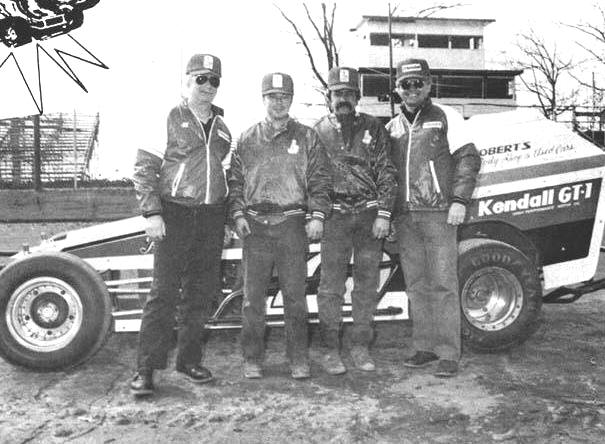 Ladabouche Collection
The DIRT years saw good dirt modified racing at CVRA tracks, which - at times - included Devil's Bowl,
Airborne Speedway, and Albany - Saratoga Speedway. Mike Richards [2nd from left] and Bob Savoie
[2nd from right] were one of the teams to beat in this time period.
1990's - 2009
Devil's Bowl Continues to Run Dirt Mod Racing, mostly Under It's Own CVRA Banner. Eventually, the Richards
Kids Take Over the Operations at the Bowl and at Albany - Saratoga. Towards the End, Fields Were Dwindling.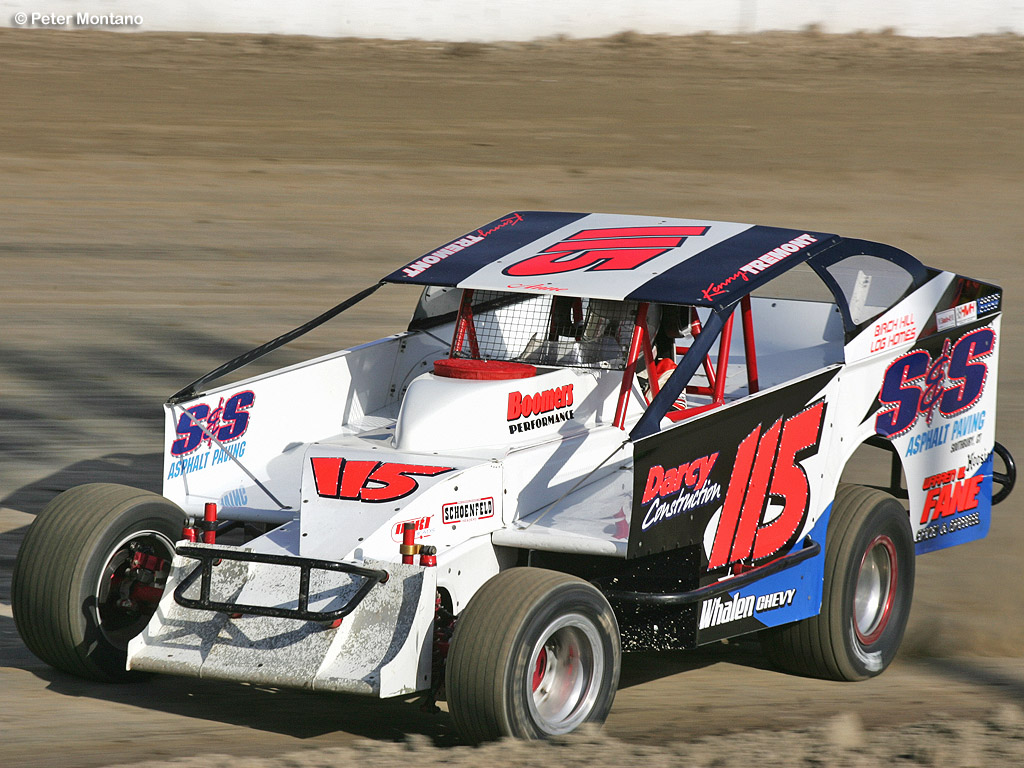 Peter Montano Photo
During the final period, the modern dirt modified reigned supreme at Devil's Bowl, reaching speeds
up to 118 MPH on the front stretch. Ken Tremont, Jr. [115] virtually owned the place during the
last several years that the track ran a dirt surface.
2010 - 2011
The Richards Family Rolled the Dice and Paved Both of Their Tracks, Hoping to Catch on With the Success Being
Realized to the Northwest, at Airborne Speedway. Fields Were Small and the Track Had to Cash it in After the
Particularly - Difficult 2011 Season.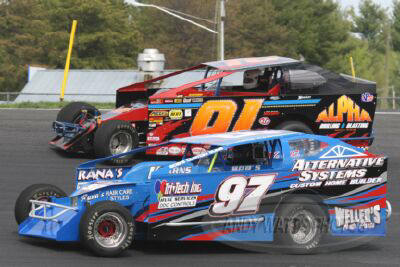 Andy Watts Photo
Devil's Bowl hoped to entice back some of its old CVRA regulars like Chris Vernald [97]
but this was not to be the case, especially after the track went for an unpopular crate motor rule.
2011
Enter Second Generation CVRA Driver Mike Bruno, With Hopes to Save the Local Race Track He Loves.
Good Luck Mike and Alayne - It Ain't Gonna Be Easy !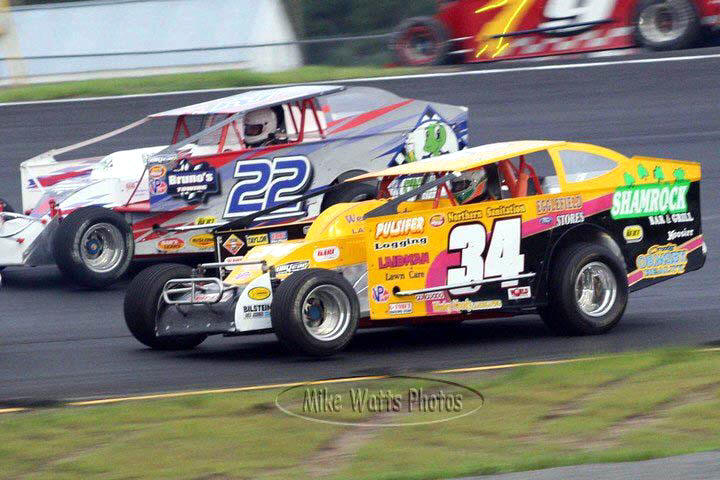 Mike Watts Photo
Mike Bruno, ran his familiar #22 [a family number] on the pavement at both Devil's Bowl and
Airborne Speedways.
Return to the Main Page
Return to the Main News Page
Return to the All Links Page