---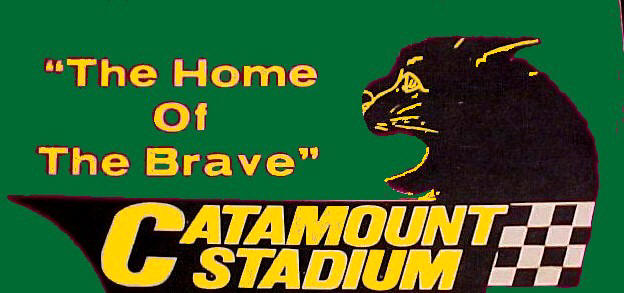 ---
NEWS & UPDATES
March 2 - The news page is archived. I have gotten a ton of photo frames off the 8MM DVD Dan Ody sent me. Some of these are very historically significant; but, bear in mind, they are from old movies and are, therefore, mostly blurry. I also added Column page 60 - on old race tracks.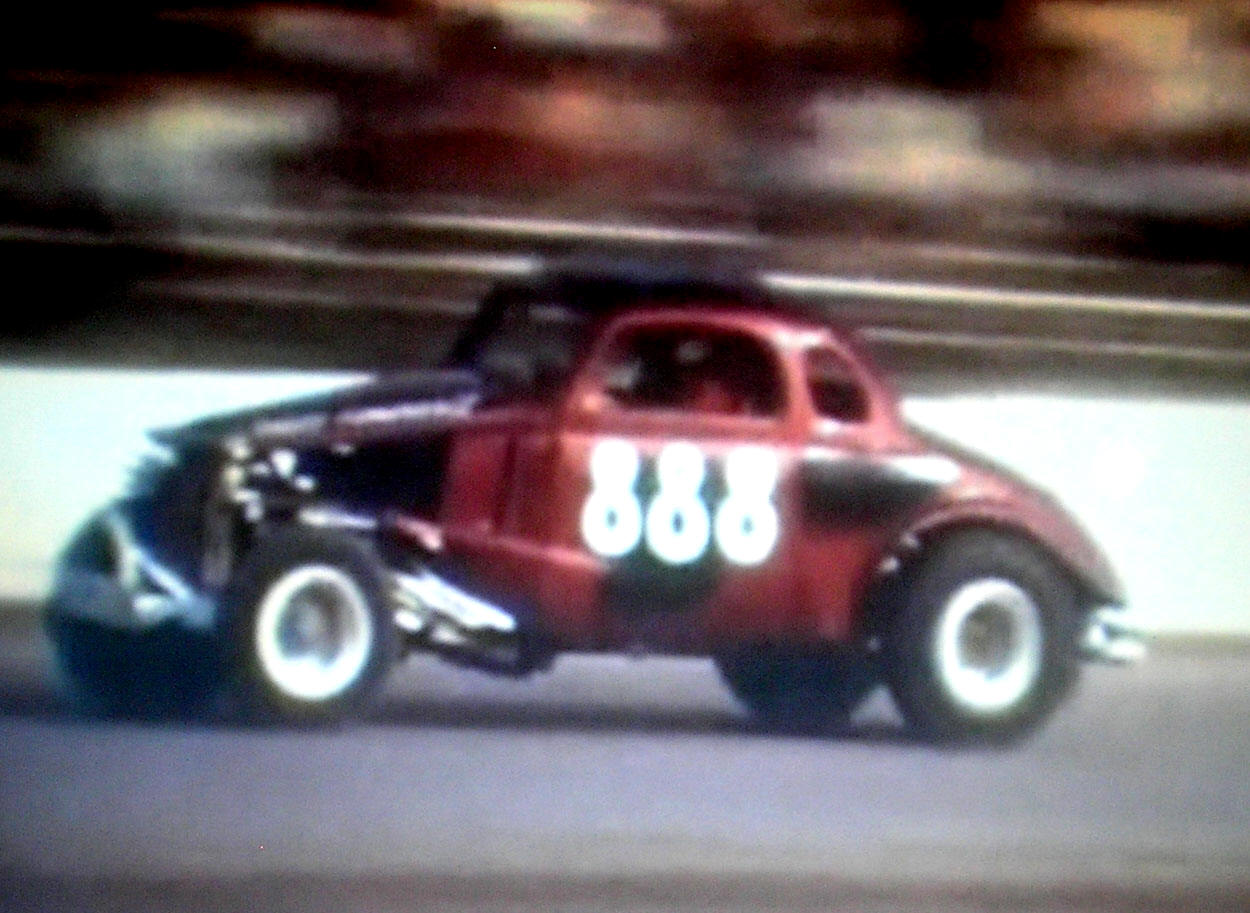 From Dan Ody 8MM DVD
Cecil Bosworth spins out at Devil's Bowl. I have thought his car was purchased from Eddie Allen; but Allen car appears in the same footage. Anyone recognize the car ?
March 3 - There are three Devil's Bowl Speedway photos sent to me from Ken Pill, through his friend Joe Grossetti, a regular site contributor. I apologize, in advance, if this causes a lot of broken links, I never know how these things are going to go lately. I also completed a page of The Tucker Race Cars, the products of Royce and Lee Tucker.
March 5 - Racin' at Northeastern Speedway. The OK seems to be having some problems getting around the track. I also added more 8MM shots to the Devil's Bowl page.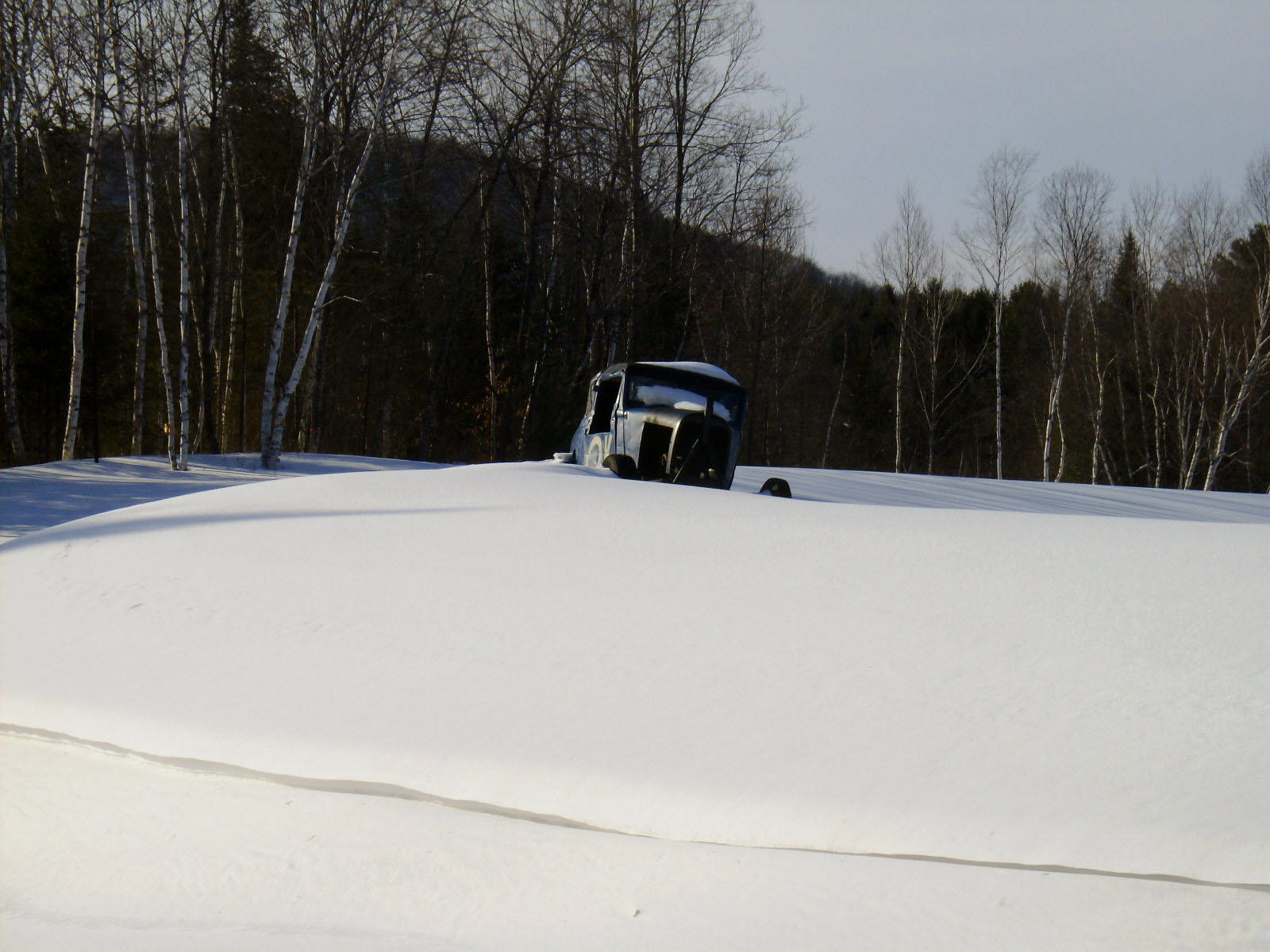 Courtesy of Paul and Lise Belfeuille
March 7 - Check out this poster sent to me by John Morris. Talk about inaccuracies. My theory is that the hell driver organization just went ahead and ordered up the poster, not getting straight where the track actually was or what its name was. I also added Column Page 61 - about a sportsman race at Otter Creek Speedway in 1963.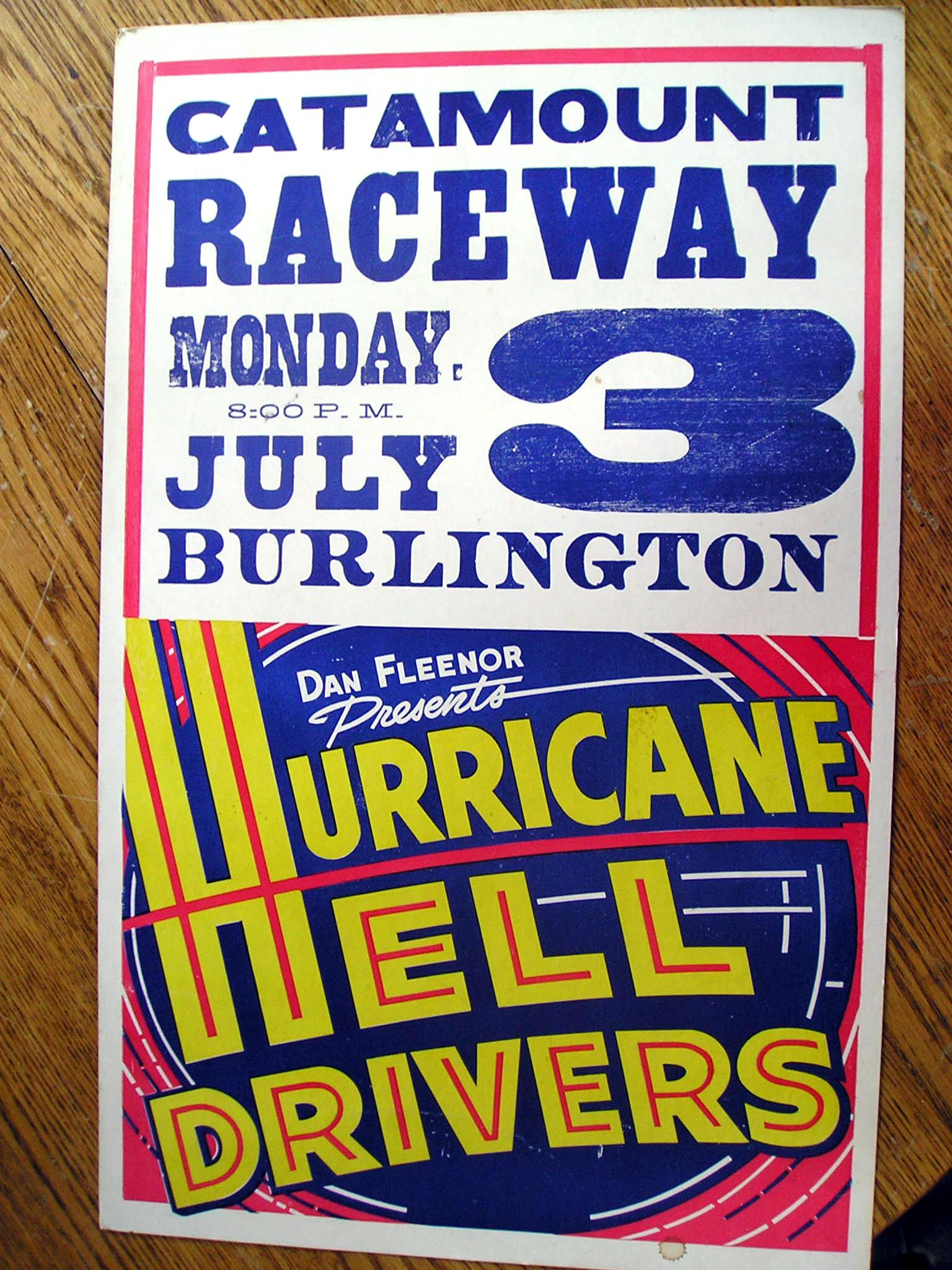 Courtesy of John Morris
March 11 - I received some rare photos from Don Ordway, a neighbor of Beaver Dragon. One shot shows the famous Beaver wreck at the last Catamount show from the perspective of the fourth turn grandstands. Another shows what I believe to be the Dragon backup car, back on the track after the wreck. I wish I had that one when we were doing the book. These will also end up on the Dragon brothers page, at some point.

D Ordway Photo
Supposedly this is action
in the very race in which
Beaver wrecked.

D Ordway Photo
Beaver is still tumbling
and no safety trucks
are yet out.

D Ordway Photo
What I believe is
the car he brought
back out after the
wreck.

D Ordway Photo
Beaver, in the Deering
brothers' #47 era. That is
Brent at left, Scott at right,
and the the Ordway boys.
March 18 - I have added a page called Americans in Canada, about the 1960's invasion of Quebec tracks, primarily by northern NY drivers.
March 21 - I have added a link for Dave Dyke's wonderful site, Racing Through Time, to my Links to Related Sites page.
March 22 - I have made small corrections and additions to the Claremont Speedway page. Also, small additions to the Dead Race Tracks list. I could put legions of more tracks on this page, but changing it is one of the all - time pains on the +$#!!*
March 23 - I have made considerable additions to the Bernie's 71 page. This is about Dick Bennett's #71 Bernie's Liquor sportsman at Fonda. Thanks to Gerry LaVallee who posted them on another site.
March 25 - I have made a couple more additions to the Bernie's 71 page - again, from Gerry LaVallee's contributions to the HAMB site. Thanks Gerry. Also, I added a 1974 Press Pass to the Thunder Road page. Kind of a neat memento from the Joey Kourafas era.

March 29 - I received some extremely rare photos of Brattleboro Speedway from a Joseph Crowley. What a rare coincidence - I just put in a scan of a Thunder Road press pass for another Joe Crowley, who is absolutely no relation. Thanks a million, Joe !
April 1 - I have been put on the sidelines for a bit with two badly infected teeth. Luckily, they got yanked today, but the effects of the infection are still slowing me down
For all 2005 News and Updates Archives - Click Here
For all 2006 News and Updates Archives - Click Here
For all 2007 News and Updates Archives - Click Here
For all 2008 News and Updates Archives - Click Here
For all 2009 News and Updates Archives - Click Here
For all 2010 News and Updates Archives - Click Here.
For all 2011 News and Updates Archives - Click Here