---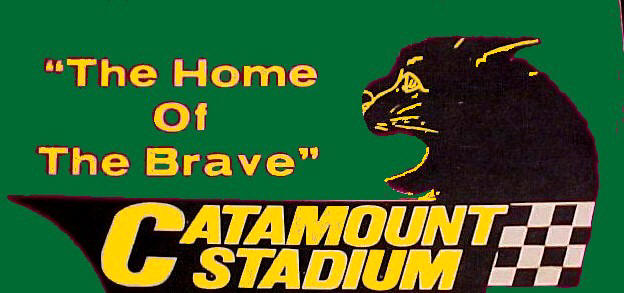 ---
wladabou@comcast.net
NEWS & UPDATES
Mar 2 - I received a photo of this Catamount ticket stub this morning. Can anyone tell the year ? Based on the price, I am guessing mid to late 1970's. I know some of you saved stuff like tickets and even labeled them. Maybe you have a similar stub.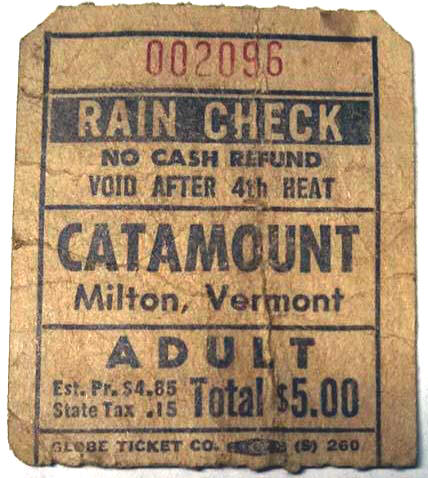 I have another question. After putting in hours of work on the All Star Stock Car Racing League and looking for photos of members wearing their helmets, I am embarrassed to say I never noticed that the graphics on those McHal helmets seemed to change. The helmet seen below on Bugs Stevens now seems to be the older version, and that of Johnny Haroll - a newer one. But what of the one Corellis has ? It just has stars - no "All Star League" is visible. Is this still an official League helmet or something temporary ? I have a photo of Howie Brown [NH driver] with a similar helmet and he was never in the League. ?????

Stevens

I learned
this is a McHal


Harroll
This and the
Corellis helmet >
are Trackmaster

Corellis

The last helmets
for the League
were Bells.
Mar 3 - I put out the latest blog: Weekly Blog - Feb 3, 2014 - about the generations of racers at Devil's Bowl. I know I have left people out of this blog and I am sorry. It is hard to fit everyone in.
Mar 4 - Straightening up the old office I happened upon photos taken of the remains of the old Arundel Speedway, taken by my roving photographer, Travelin' Billy Hoffnagel. An amazing man ! He once photographed vestiges of Fort Covington and North Ridge Speedways in one day, while also filming for Survivor Borneo. Remarkable. Thanks Bill, sorry this took so long. Check 'em out on the Maine Race Tracks page. C'mon folks, doesn't anyone know anything about those helmets mentioned above ?
Mar 10 - I added a big page called Those Amazing Sedans. Enjoy.

Mar 13 - I added a Unity Raceway section to my Maine Race Tracks page. This is only a few of what could be used for Unity. Maybe more to come later.

Mar 19 - I have sort of landed back on my feet thanks to a lot of work from my brother and son. I can't find the other news page you saw come up on St. Patrick's day. I did mean what I said about going blindly into sites looking for some photo credit - it ain't happening again. Cost me my trusty Dell computer. I added another blog - Blog March 19, 2014 - about one of Bob Whitbeck;s cars. Enjoy and let's hope it uploads OK. I have lost some of the familiar fonts and I am still learning these new programs.
Mar 20 - Bill Hoffnagle reports that we have lost Mackie Miller this week. He was one tough little guy.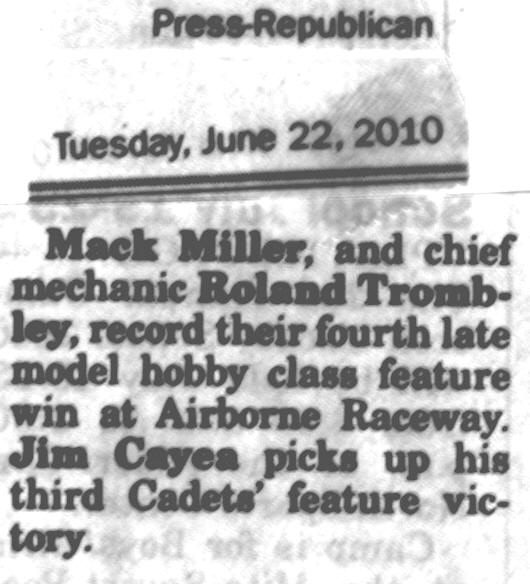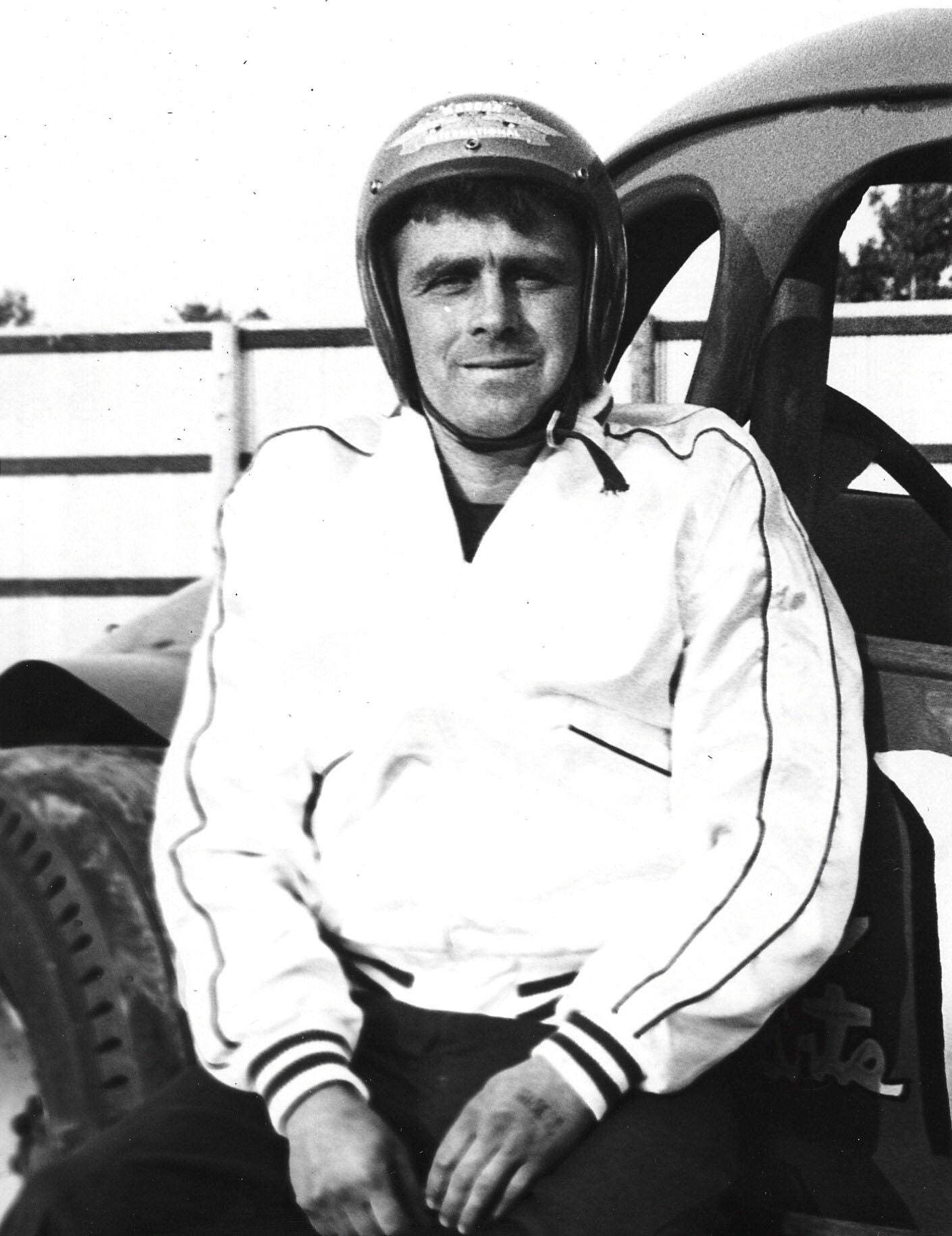 Left - Source Unknown Right - Bob Mackey Photo Courtesy of John Rock
Mar 21 - A big page on NASCAR sportsman champion Bill Wimble is now up.
Mar 23 - Thanks to Neal Davis, I added several photos to the Claremont Speedway page.
Mar 26 - I addded a page called The All Racing Names List. I stumbled onto some notes in my folders that go back several years. On some web chat site, one of the Ricci's [I really don't know which] had written what he considered to be the only important, defining changes in modified stock history: the 1974 Tobias kit car; the 1980 Batmobile; the 1982 Troyer Mud Buss; the 1987 Olsen "tubular ass" car [whatever the hell that is]; and the 1996 TEO pro car. I had added a few thoughts of my own to his list [see below]. Mind you, there are some Tibetan monks who know more about the mechanics of a race car than I do, but I would like to hear from others on this list below and other momentous developments they think should be added.

The introduction of the overhead V-8 Chevrolet engine to stock cars
The development of the wide racing tire for stock cars

The introduction of fuel injection for stock cars
The development of the fuel cell
Pete Corey's use of the Falcon body
The Flemke front end setup of the late 50's or early 60's
The 1974 Tobias kit car [to go with the Petty car for full body stockers]
The Batmobile in 1980
The 1982 Troyer Mud Buss
CJ Richards' 1985 decision to make the 358 his headlining division's engine size
The 1987 Olsen tubular ass car
The 1996 TEO pro car
Mar 28 - I addded a page called Godfrey's Cars - about those amazing Godrey Wenzel sedans of the late '60's and early '70's.
Mar 29 - I addded a few absolutely super photos to the Devil's Bowl and Fairmont Speedway page thanks to Bob Kilburrn.
Mar 30 - I addded the latest blog - Column 252_March 30, 2014 - called Observations on a Photo of Louie [about Fonda and Lou Lazzaro].
For all 2005 News and Updates Archives - Click Here
For all 2006 News and Updates Archives - Click Here
For all 2007 News and Updates Archives - Click Here
For all 2008 News and Updates Archives - Click Here
For all 2009 News and Updates Archives - Click Here
For all 2010 News and Updates Archives - Click Here.
For all 2011 News and Updates Archives - Click Here

For all 2012 News and Updates Archives - Click Here
For all 2013 News and Updates Archives - Click Here
For all 2014 News and Updates Archives - Click Here