THE MYSTERIOUS CHECKMATES
Whoever Drove 'Em - They Typified an Era
When I first got to see races at Otter Creek Speedway in 1961 [after an ungoldly layoff of almost ten years from regular race viewing] the field of car my uncle and I got to see was an eclectic mixture of strange local rigs, old Malletts Bay cars who had lost their track two years before, some Thunder Road competitors, and a few other cars probably hanging onto the NASCAR points chase in its hobby divisions.
One such car was this black and yellow Plymouth that did not have a numeral on the side - it had a giant check mark and the word "mate". It is not clear if the car was a newly-constructed local or something left over from Malletts Bay. The driver was identified as John Quenneville that first year, and it was not clear where John hailed from. John was an Orwell farmer and generally ran in the company of Chet Streeter, another name from the early days of the Otter Creek track.
Later, the driver would be listed as Phil Russell, from Salisbury - and he was clearly the more frequent and better-known driver of the car. A man named Phil Fisher supposedly built the Checkmate [at least the first one]; and Alex Denis of Cornwall, Vt. was one of its engine builders.
Here are some recent comments sent by Len West, a good friend to the site, a former late model and present IMCA mod driver, and a former neighbor to Russell:
If my recollection is correct, the cars were 35-37 Plymouth coupes. The engine was a Chrysler Spitfire flathead six. Nearly 300 CI, It was ported & polished, the head cut for compression, a hot cam, a 2 barrel rochester carb, a lightened flywheel, and a factory split exhaust manifold from the early NASCAR Chrysler sedans. The last time I saw the engine was around 1966-68 in the barn in Sudbury. One of the old checkmates was on a junkpile in the pasture behind the barn. The last time I saw Phil Russell was around 68-70 in the pits at Lebanon Valley at one of the famous Sunday Night Open Competition shows.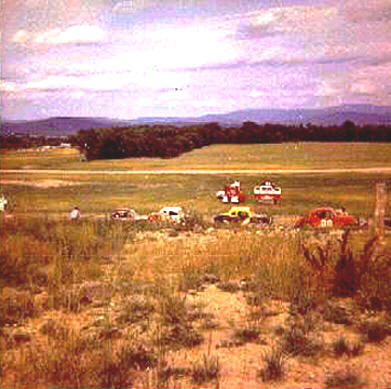 Bill Ladabouche Photo
The Checkmate lines up behind Vince Quenneville, Sr. in this
shot from Year 2 at Otter Creek.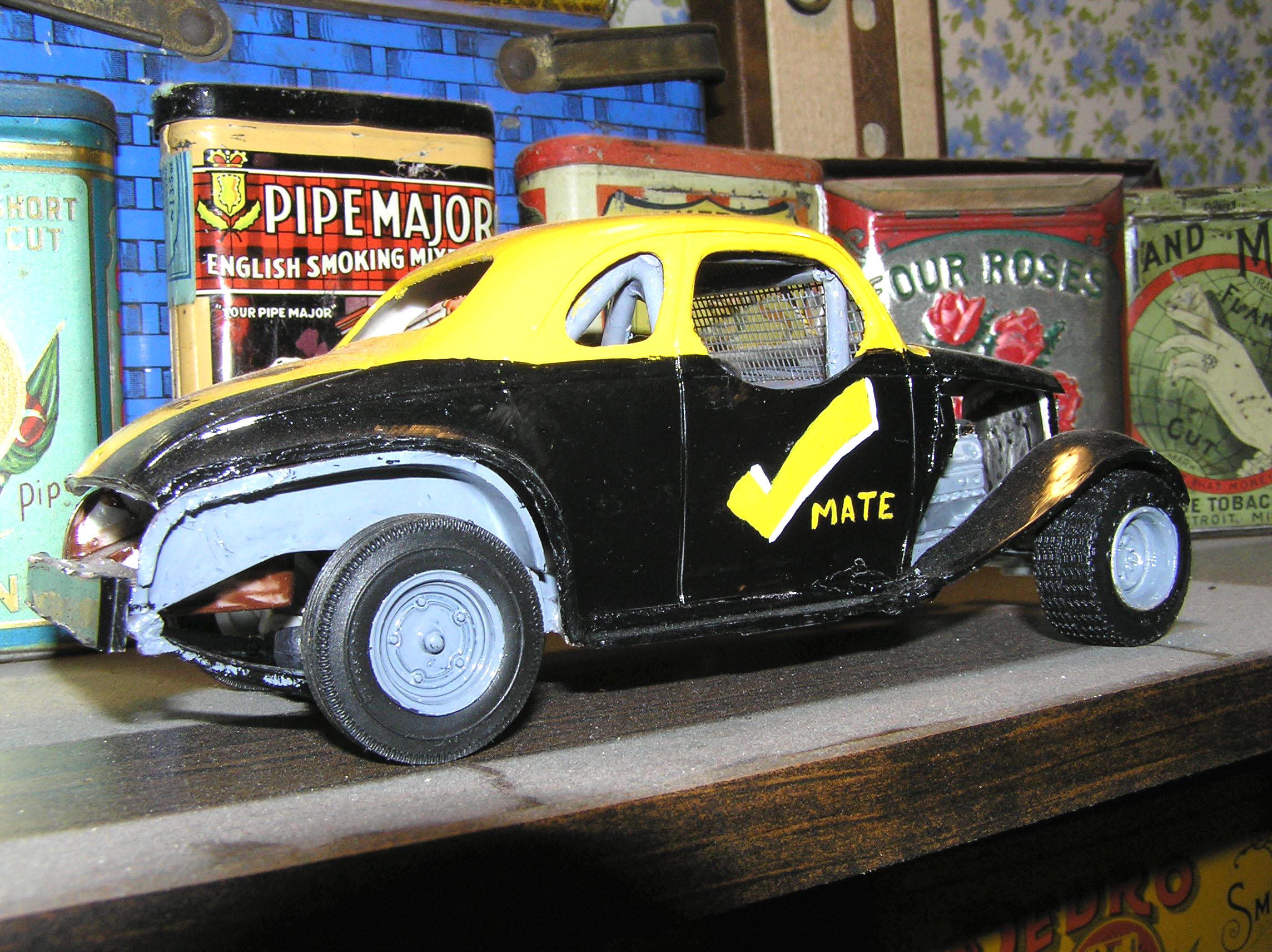 Ladabouche Photo
Notice how close this model is to the Checkmate in the photo above. This was done by Neal Davis.

When racing action also expanded to include to re-opened Fairmont Speedway, the car appeared there, too, and was usually said to be driven by Russell. The potential for confusion was understandable - given there were two Russells driving at Otter Creek, as well as two Quennevilles by 1962. A later- to - be famous youngster named Vincent Quenneville arrived with crude red 1937 Chevy, lettered #00 - and Bob Russell, of Shelburne was a star with his black and red #115. Bob Russell was the fastest of the four drivers, finishing 3rd in the track points title in either 1961 or 62; but he would seldom venture as far South as Fairmont, thereby sort of dropping out of my sight after a while.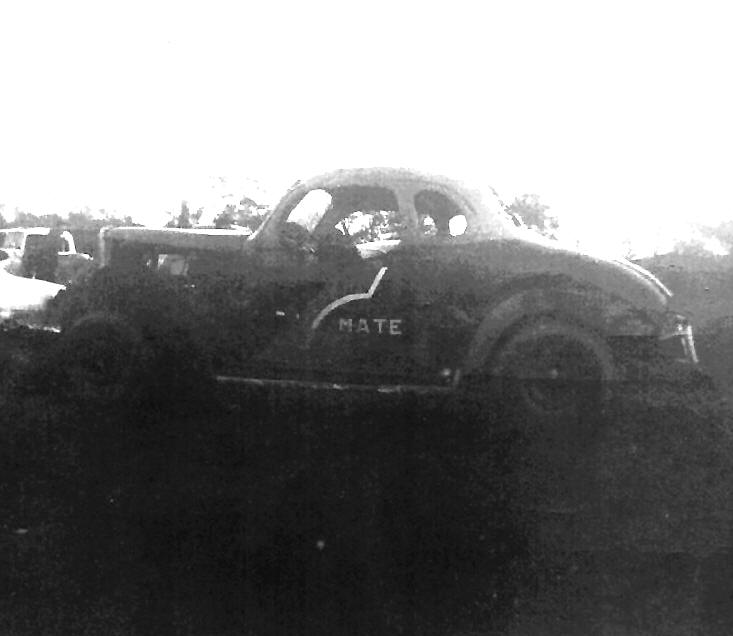 Bill Ladabouche Photo
The Checkmate sits in the pits at Fairmont in this poor, after-sunset shot.
Ironically, the car in the background is future partner - in - controversy Art Rivers.

Everyone knows what happened to Vince Quenneville's career while John Quenneville [apparently no relation] dropped out of sight, as well. The yellow and black Hudson was to make a few more appearances in Rutland County - once at the Vermont State Fair, but mostly at Fairmont Speedway. Apparently, Phil Russell made a return to the scene at Devil's Bowl in the 1970's; but he was best known for helping out on Vince's pit crew.

Bob Frazier Photo
Courtesy Norm Vadnais

Phil, in the "other" Checkmate, takes a 1962 heat win from Danny Rumpf


Bob Frazier Photo
Courtesy Norm Vadnais

Probably the same heat win-
different angle.


L.A. West Photo

Phil lines up behind Warrensburg runner Tom Bennett for a heat in 1962.

According to the racing sages of the area, there wasn't one Checkmate - but two. They were both Hudsons and Russell and his friend L.A. West could switch the bolt-on rollcage from one to the other. The cars made no big waves at Fairmont, but the older one sure did at the ill-fated 1962 CVRA stock car show at the fair. In a heat race, the Checkmate was right behind Art Rivers, of Glens Falls, when his car #About 5 veered off the inside of the frontstretch, over a decorative white picket fence and almost hit the announcers' stand on its roof. No one is sure if Phil assisted Rivers or whether something broke on Art's rickety little five window coupe; but the eyebrows stayed raised around the Checkmate for a while after.

Norm Vadnais Photo

Phil, in the 1962 heat lineup
with Rivers on the pole.


Rutland Herald Photo
Courtesy of Wes Moody

The Rivers car rolls
over the picket fence
as Checkmate goes by.


Norm Vadnais Photo

Phil lines up for a restart as
the Rivers wreck is cleaned
up. Phil may be getting chewed out.
Eventually, the Checkmates no longer raced and one of them was purchased by Granville, New York's Art Visconti who altered its body enough to produce one of the ugliest cars I ever saw at Devil's Bowl. The car disappeared after limited success there. My interest in the Hudson was piqued when I came into possession of a number of photos of the 1962 fairgrounds show; so look through them and remember when.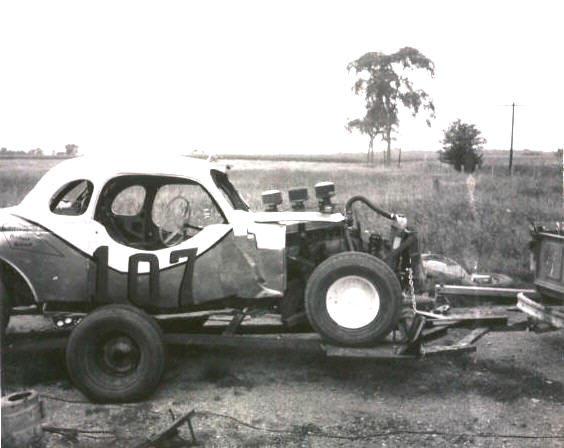 Visconti Family Photo
The Visconti car made from Checkmate #1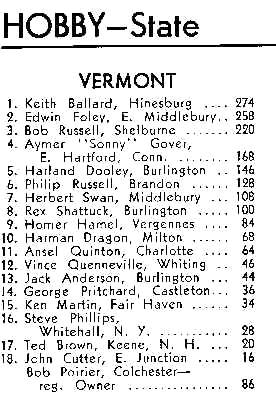 Courtesy of the Nephew Family
This 1961 NASCAR Vergennes points standings shows both Russells and Vince
Quenneville - as well as Beaver Dragon, Ed Foley, and champion Keith Ballard.
Return to the Main Page
Return to the Otter Creek Page
Return to the Main News Page
Return to the Fairmont Page