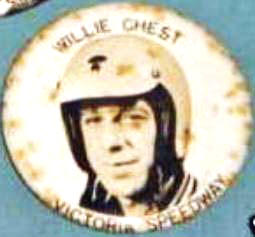 The first time I ever made it to Fonda Speedway it was after major determiners: 1.) we had not seen any racing in our area since both Pico Raceway and Fairmont Park Motor Speedway had closed; 2.) I had gotten to hear constant stories about Fonda from a local man who did get to the track frequently; and 3.) I had recently gotten to see some New York sportsman team run at the newly - opened but rustic Otter Creek Speedway near Vergennes, VT.
All in all, we couldn't wait to get to races there by 1962 to see stars we had watched at home like Steve Danish, Jeep Herbert, Ken Shoemaker, and Pete Corey. Upon sitting in the Fonda stands and watching all the pre - race hullabaloo, I noticed that not only did the track have these stars but that there were a number of big names I had only read about like Lou Lazzaro, Irv Taylor, Jim Luke, and the like.
Perhaps the most interesting thing was that there was this one very pokey car that tooled around the inside of the track and didn't seem to get much beyond last place; but, the guy received warm applause [unlike a couple of the other slower cars]. It turned out to be Willie Chest, from across the canal in Canajoharie. It was a reach to use the subtitle "Canajoharie's Favorite Son", given that the highly - accomplished Bob Whitbeck was from there and, soon, the hall of fame calibre Dave Lape would race at Fonda, too. But they got acclaim through high levels of success; Willie was just dearly loved by the crowd.
A woman sitting near us overheard my comments and offered, "We all just love Willie. He's here every week trying and he doesn't get in anyone's way."
Perhaps he was satisfied winning a qualifier once or twice in his career. More typically, you'd see him deep in the season standings, with something like 25 points. I did notice Willie finished 13th in at least one race at Victoria Speedway [and that was finishing ahead of several other runners]. That must have been a real high point for him and his brother and loyal supporter, Raymond.
During the beginning of one of the early '60's seasons, I noticed there was no Willie and his name wasn't in the Fonda program. He had died in an accident on the New York Thruway. Eventually his car ended up with another Canajoharie man, Jim Thomas -renumbered as 60. The one time I saw Thomas he made a few passes around the track with a car that was misfiring badly and was summarily blackflagged by Chet Hames.
Willie Chest may not have appeared in the all - time Fonda feature winners' list in the Fonda book; but, he did accomplish something a lot of them didn't - he had his own special page, written by former Canajoharie native John Canfield, in the Fonda book, That makes him in the category of importance as such as Ed Pieniazek, Irv Taylor, and others.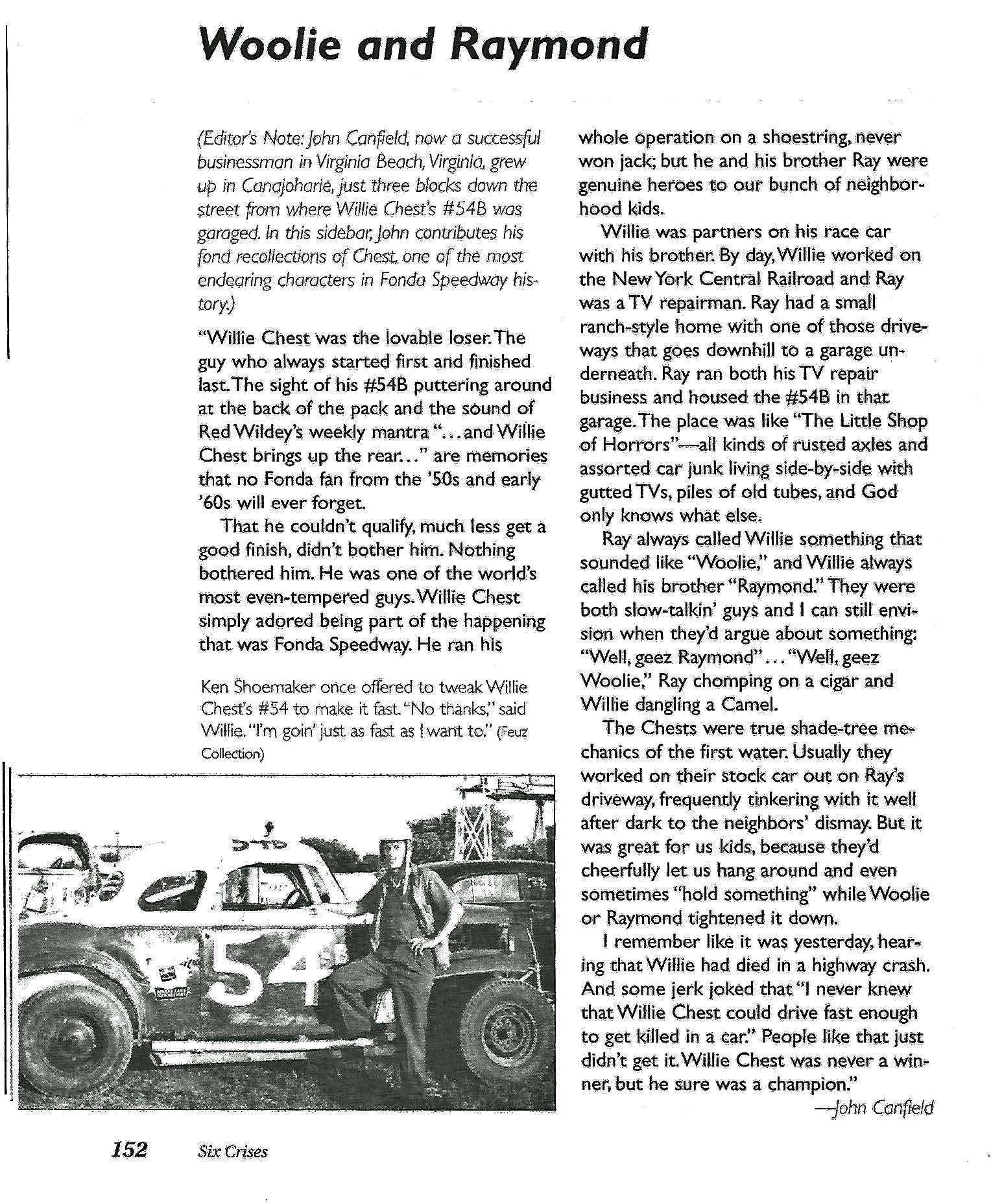 Courtesy of the Ed Biitig Collection
The Chest car is seen to the right of Frank Blum's 502 in this early infield pits shot at Fonda.

Courtesy of the John Chest Collection
The only color shot I have of the Chest car. This might be at Victoria.
Courtesy of the Otto Graham Collection


Willie is seen back beside Jeep Herbert at Victoria.

Courtesy of the Ed Feuz Collection
Another shot of the later '30'sChest car. This one was apparently replaced later by a '36 or '37 coupe.


Russ Bergh Photo
Willie has won some sort of race here with the
other 54B. I think this one came later.

Courtesy of the John Chest Collection
The second Chest car. Fonda kiddie rides.

From Dan Ody's 8MM Old Speedways DVD's
This earlier 8MM movie footage shows Willie
in front, running in the wet Fonda track.

Courtesy of the Darlene Chest Collection
The Chest kids playing in the car. I am assuming this is Darlene and John.

Courtesy of the Darlene Chest Collection
Willie, as a very young man.



Courtesy of the John Chest Collection


Willie's helmet.


Courtesy of the John Chest Collection


Willie, at Victoria.


Courtesy of the John Chest Collection
Form note sent to Willie and others
from NASCAR's Pat Purcell about
points money for the season..

Courtesy of the John Chest Collection


Willie, at Fonda - enlarged below so you can read the article.