BILL'S WEEKLY COLUMN/BLOG PAGE

BILL'S BACK IN TIME
By Bill Ladabouche
SARANAC LAKE SPEEDWAY WAS THE LAND OF MAKE BELIEVE, IN A NUMBER OF WAYS
A previous column I wrote in 2008, when I was still regularly appearing in the since – defunct Racin' Paper periodical featured a story about the bucolic little race track near Lake Clear called Saranac Lake Speedway. The choice of location, out on Trudeau Road, was made because that is where track owner Aaron Hoyt actually lived. Hoyt, the proprietor of the small – scale Lakeside Garage Chrysler dealership in town, knew well that the alpine – oriented town of Saranac Lake was not wanting a stock car track too close by it.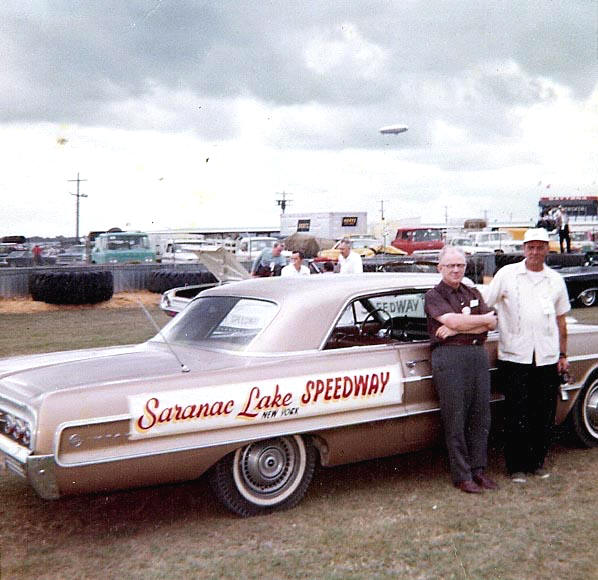 Moody Family Photo
Diminutive Aaron Hoyt and a friend "cooked up" a Saranac Lake Speedway pace car to get into a special NASCAR pace car
parking lot at Daytona in 1964. [Below] – Al Short's garage, which Hoyt would convert into his Lakeside Garage.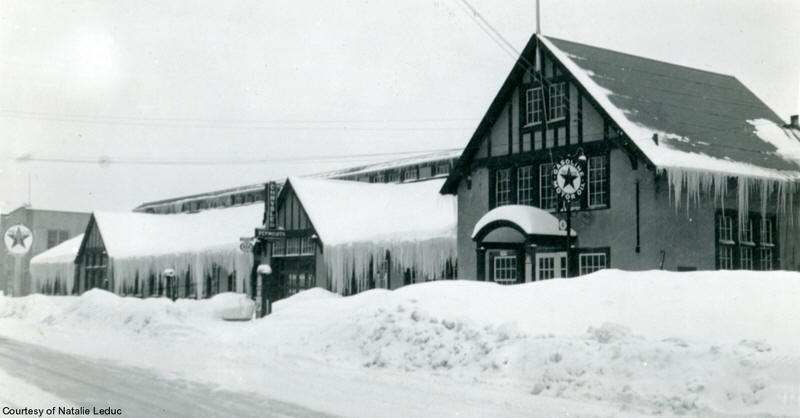 Natalie Leduc Photo
Firstly, just he location of the track seemed like the land of make believe, an actual theme park located not too far away in Upper Jay. The entire surrounding area was – and still is – breathtakingly beautiful; it is right in the classic Adirondack / Olympics region. Unlike places like Weisglass Stadium, located between paved businesses on Staten Island, or the urban – threatened Riverside track near Montreal, Saranac Lake Speedway was in an idyllic setting, much like the rural Otter Creek Speedway in Vermont, a track that often shared participants with Saranac Lake.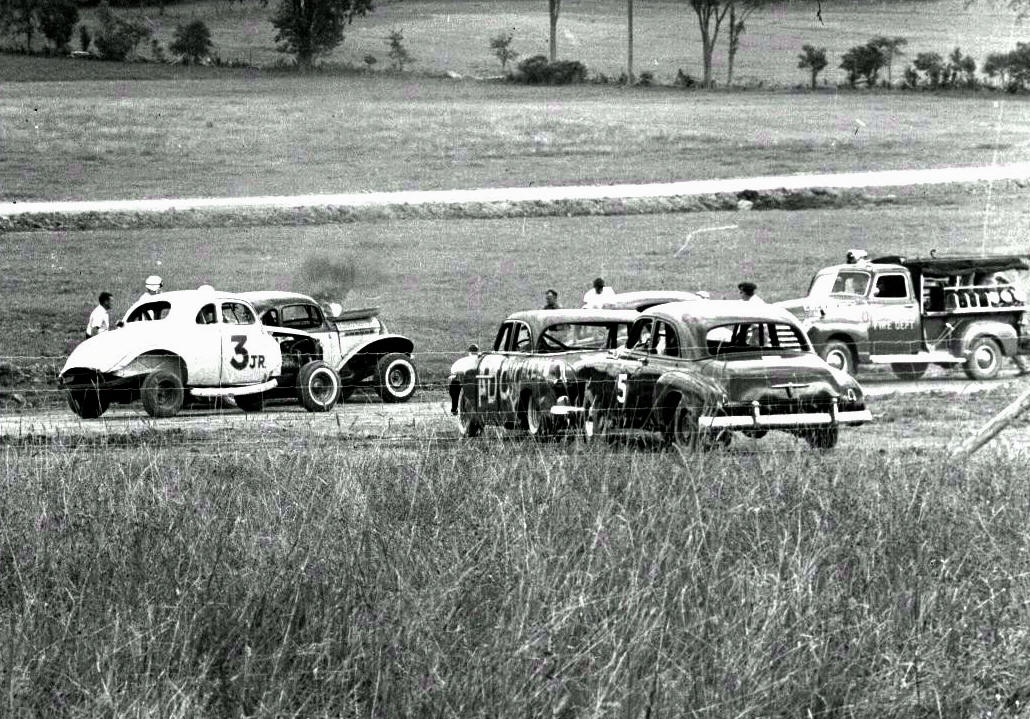 Courtesy of Darrell Tucker
Otter Creek Speedway is a place where a car might burn before a confused local fire department could react was a country track much
like Saranac Lake, which had a barn just off one of its turns [Below]. The photo was taken from the track.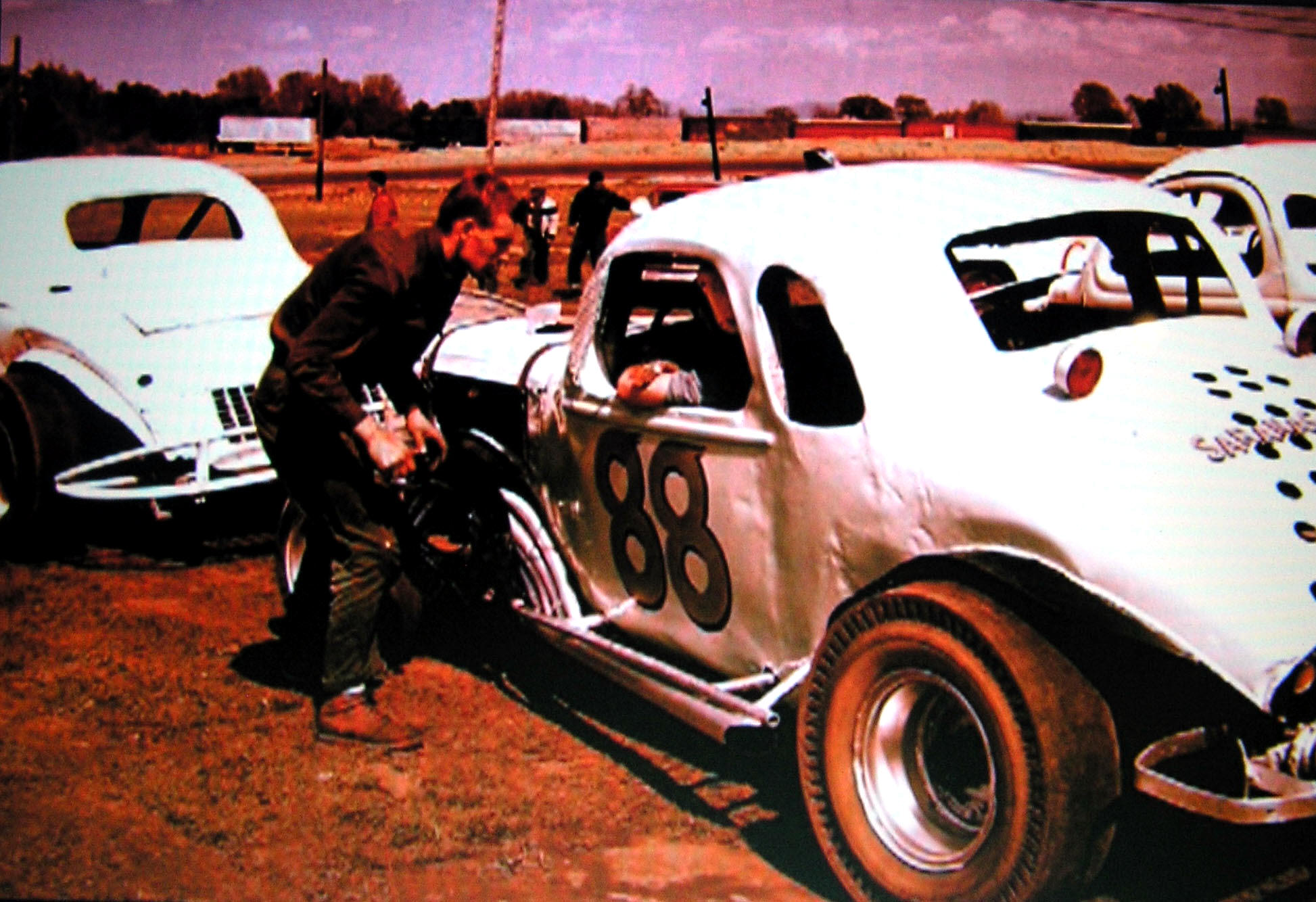 Bob Mackey Photo Courtesy of Mike Watts, Sr.
In the second place, the mere operation of the track turned out to often seem like living in a make believe world . The track had been constructed by the Hoyts and their friends with an absolute minimum of equipment and it looked it – neither straightaway was level. While make the wise choice of running on Fridays, the track struggled with poor luck with the weather and small crowds due, somewhat to the fact that many people could sneak in through the woods and watch for free.
Even Dr. Trudeau, a descendent of Saranac Lake's famous Doctor E. L. Trudeau who established TB sanitariums which attracted the rich and famous to Saranac Lake, would take a horse and buggy and weasel his way into the woods to catch some racing "on the house". The good – natured Aaron Hoyt would see Trudeau almost daily and never said a word about the example the physician was setting for others. Another of the descendents of E.L. Trudeau is the famed cartoonist, Garry, of Doonesbury fame. Track operations were sometimes as wild as one of his cartoon strips.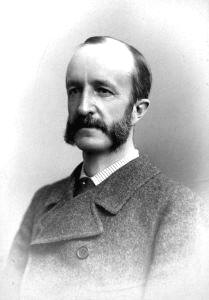 Saranac Lake Historic Site Photo
Saranac Lake Speedway had loose connections to many famous folks, ranging from tuberculosis sanitarium pioneer Dr. E.L. Trudeau,
to famed patients like Robert Louis Stevenson [Middle] to hot rod design legend George Barris. [Bottom]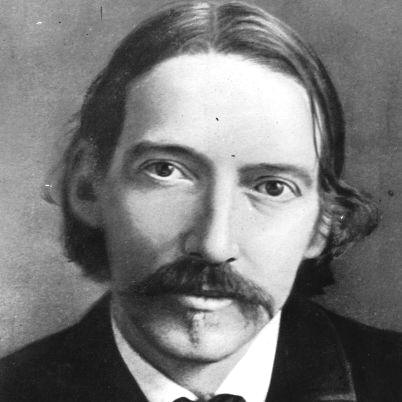 Saranac Lake Historical Society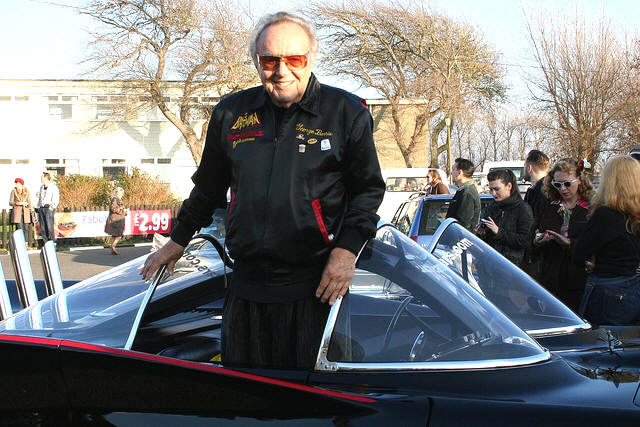 Flickr Photo Sharing
A prominent car owner at the track was one Shirley Wallace, an area mechanic and employee of the region's real Land of make Believe theme park. Just the name alone set the poor man apart but his son, Bob, explains that Shirley is an established family name that goes back in the generations and that his brother, not he, was the lucky recipient. Besides making something out of nothing as a very good low – budget racing team operator, Shirley was the main fabricator for owner Arto Monaco at the theme park.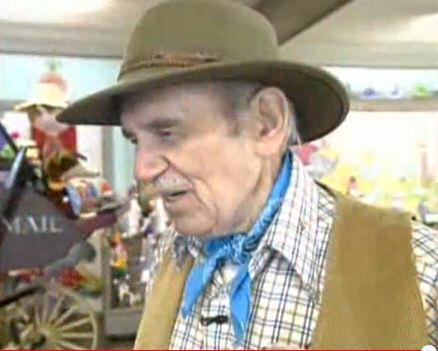 Land of Make Believe Tribute Site
Former Disney designer Arto Monaco had already built The Land of Make Believe before Walt Disney had his Disneyland.
[Below] A man who really could be Shirley Wallace is photographed working on a giraffe for Monaco's theme park.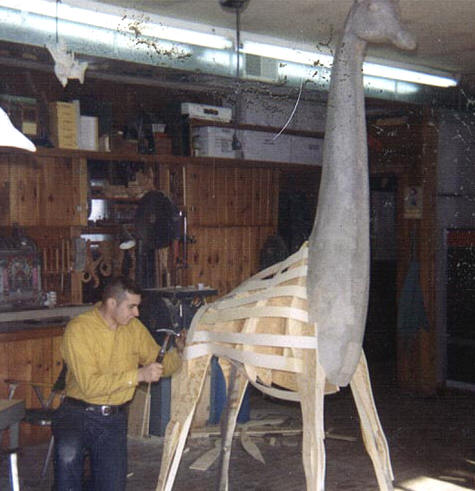 Land of Make Believe Tribute Site
Monaco, himself, was an unbelievable story. Having been born nearby, in Elizabethtown, NY, Monaco made a name for himself in artistic, imaginative design and had a successful career with Walt Disney before establishing the first of his Upstate New York theme parks near home, in Upper Jay. The Land of Make Believe came years before Disney's first park was ever conceived.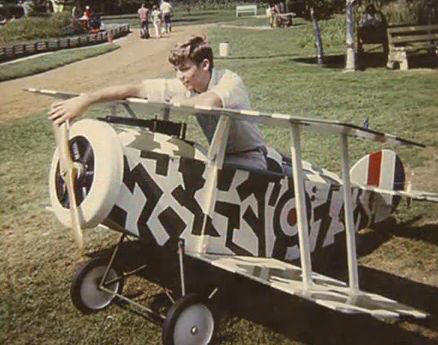 Courtesy of Arto Monaco
Shirley Wallace could build a tiny World War I biplane or a stock car that could win at Saranac Lake Speedway [below] This win comes with Jackie Peterson driving.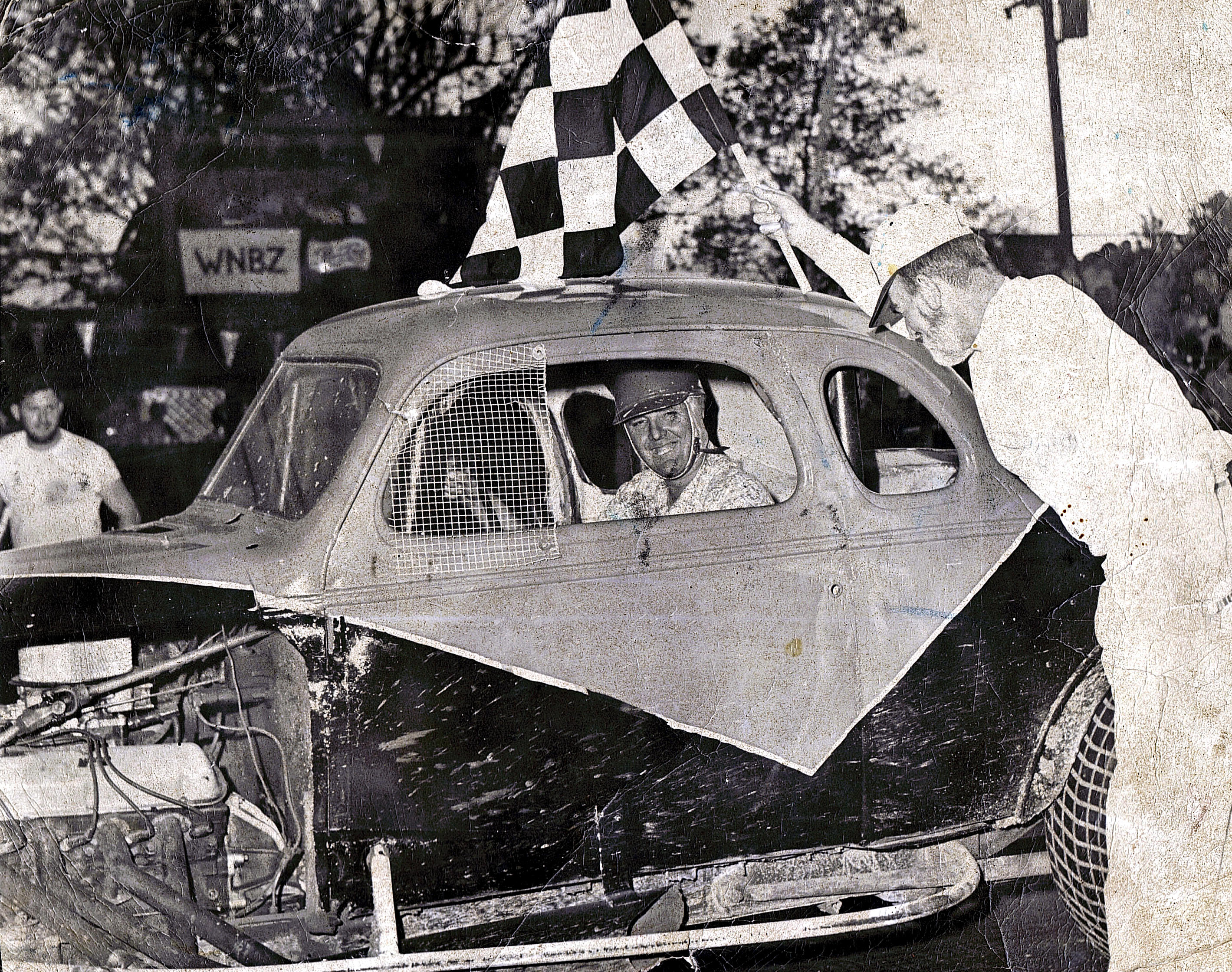 Jackie Peterson Collection
Shirley Wallace, according to former driver, Wes Slugger" Moody and son, Bob Wallace, made everything from whimsical watercraft, to castles, to unique little motor cars. Using drivers such as Moody, Charlie Draper, Jackie Peterson, Bernie Kentile, and Don Scarborough, Wallace's cars usually numbered 1NY won a decent share of features and a track title [with Peterson] at the Fort Covington, NY track near the Canadian border. Moody recalls waiting in the Fort Covington pits to go out for a race and observing some of the locals he raced against at Fort Covington: "Fort Covington was practically on the reservation. These guys would bring in some old coupe with about six carburetors sticking out of the hood. Beer cans would come flyin' out the windows of the cars while they were waiting to go out on the track."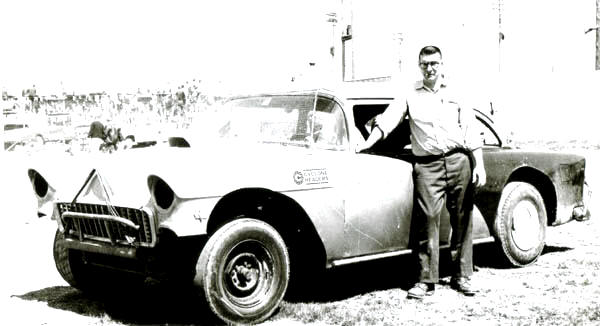 Courtesy of Craig Revelle
Dale Beaulieu poses in the infield at rough and tumble Fort Covington Speedway.

Besides Wallace, Moody also knew another man who visited Saranac Lake Speedway at least once or twice – George Barris. Barris, the famous hot rod designer from California was known for making a 1957 Lincoln into the Batmobile and for creating the Munsters' family car. He had been brought in by a snowmobile company with which Moody was associated at the time. I imagine that Barris found the Saranac Lake scene to be interesting and different than what he was used to in California; but, according to Moody, George was much happier in Montreal night clubs.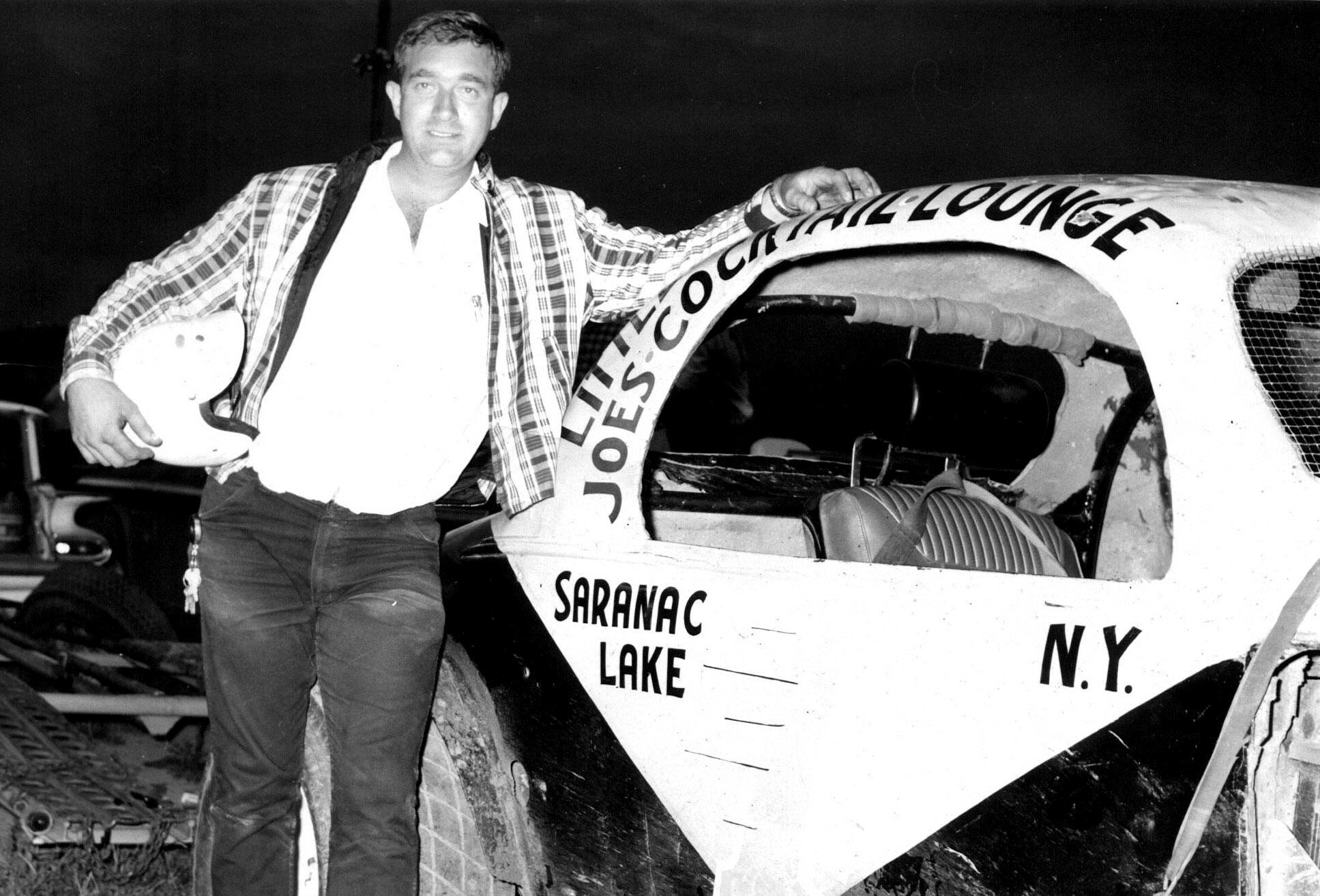 Bob Frazier Photo Courtesy of Norm Vadnais
Charlie Draper poses with Shirley Wallace's three window, black and yellow 1NY at Fairmont Speedway, in Vermont. The car is sporting
an ad from Little Joe Gladd's lounge in Saranac Lake. [Below] -Gladd was pretty fantastical, himself. Here he challenges the city's open beverfage law.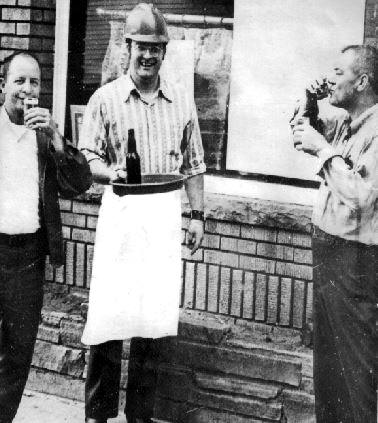 Bunkspace.com Photo
Importantly, Saranac Lake was a place for a good driver whose budget did not allow him to fairly compete at somewhere like the Fonda or Airborne Speedways to win races and many take down a track title. One good example of this was Wilmington's Rod Ritchie, a virtual terror at Saranac Lake and a pretty fair hand at Airborne, as well. It was Ritchie who thought it was a good idea to let Bill Hickey drive his car at the track. Trouble was, Hickey was the driver on the USA One Olympic bobsled team, and his participation in that "professional" sport got him thrown off the Olympic team. I am sure the US team suffered from this narrow-minded short - sightedness, as the local drivers like Hickey and Fred Fortune were the best there were at the time.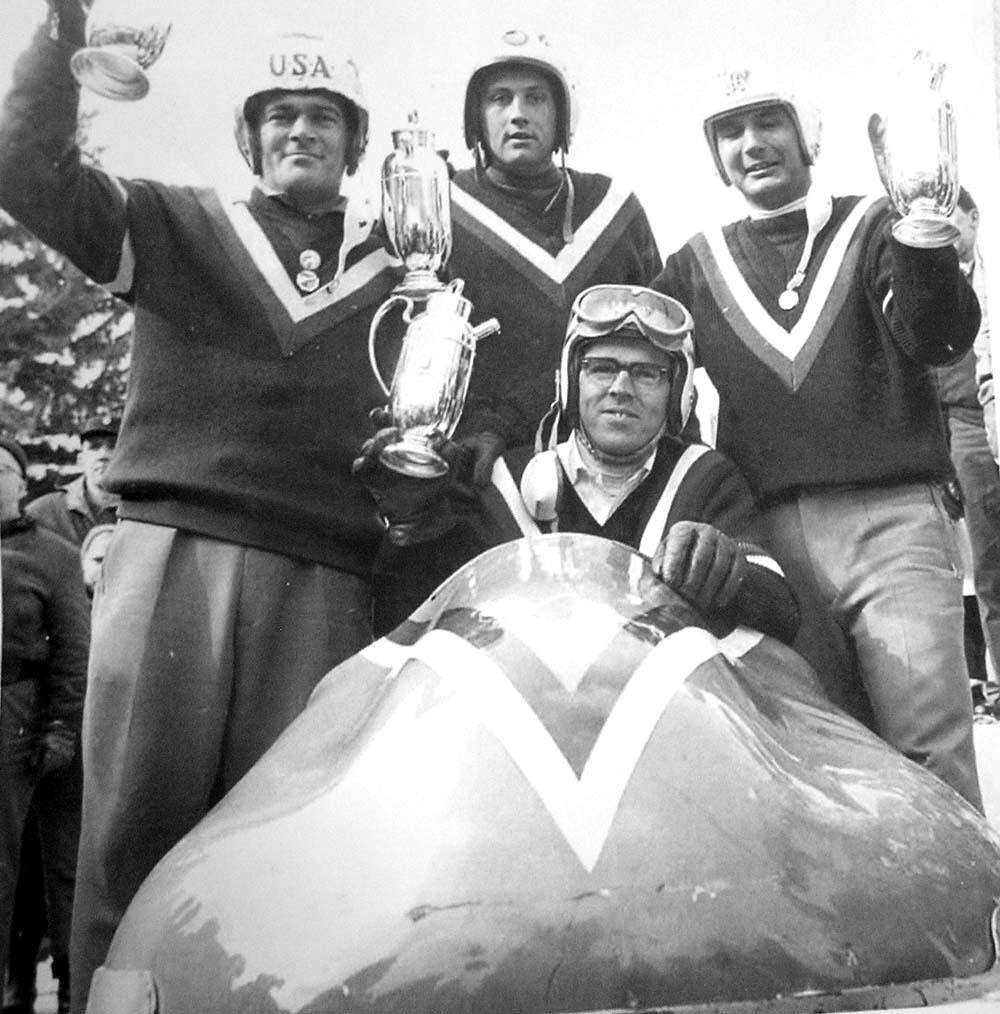 Bob Mackey Photo Courtesy of John Rock
Bill Hickey and US Bobsled One pose with trophy in happier days. [Below] Hickey poses with the Rod Ritchie car at Saranac Lake that would end his amateur status.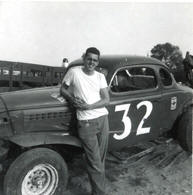 Bob Mackey Photo Courtesy of John Rock
Just the eclectic makeup of the Saranac Lake fields made for a bit of fantasy. Especially in the first year or two, the track was happy to scrape up teams from anywhere. It did enjoy a time period when it was attracting cars from the prestigious Fonda Speedway because there was no Albany – Saratoga Speedway yet and they had nowhere to run. However, when Victoria Speedway switched over to Fridays and when the Malta – based A-S track was built, Saranac Lake went back to struggling for cars.
Over the years, a number of Vermont cars helped to fill out the fields at Aaron Hoyt's little track. The first Vermont team was probably the Sullivan 586 team, with driver Bob Bushey. Bushey, by then, already held the all – time features wins record for one season at Airborne Park Speedway; but, that was with another team. The 586 was an unusual rig, sporting a La Salle body with a Hudson engine. In time, Saranac Lake would host other prominent Vermont stars such as Graham Trudo [with his radical '50 Ford late model] and the legend, Vince Quenneville, Sr.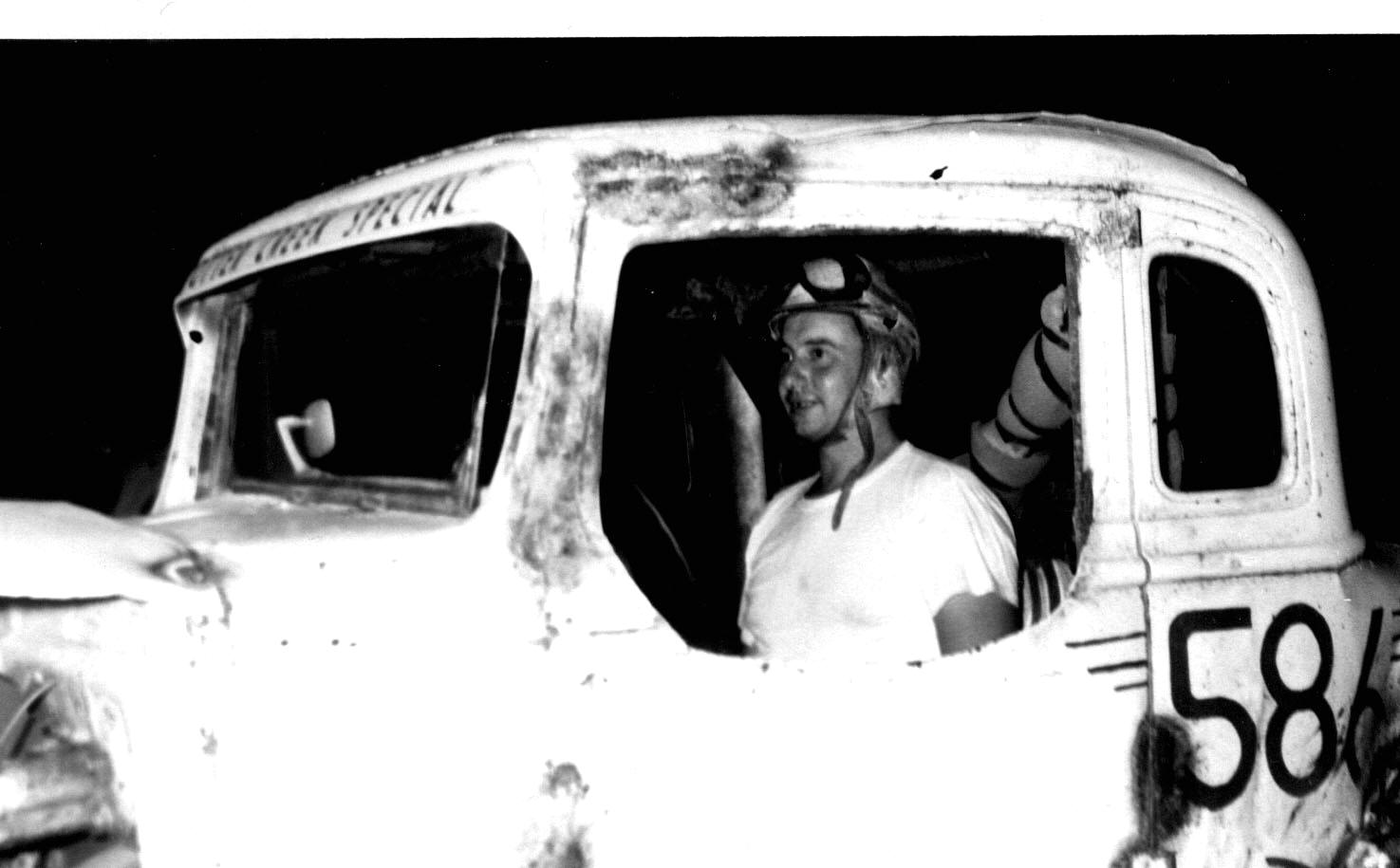 Courtesy of CJ Richards
Here come the Vermonters ! Bob Bushey, with the Sullivan 586. [Below] Vince Quenneville picks up a 1966 feature win at Saranac Lake with the
Gael Dundon 3VT. The flagger is Art Priairie, a former driver and an insanely crazy character in his own right.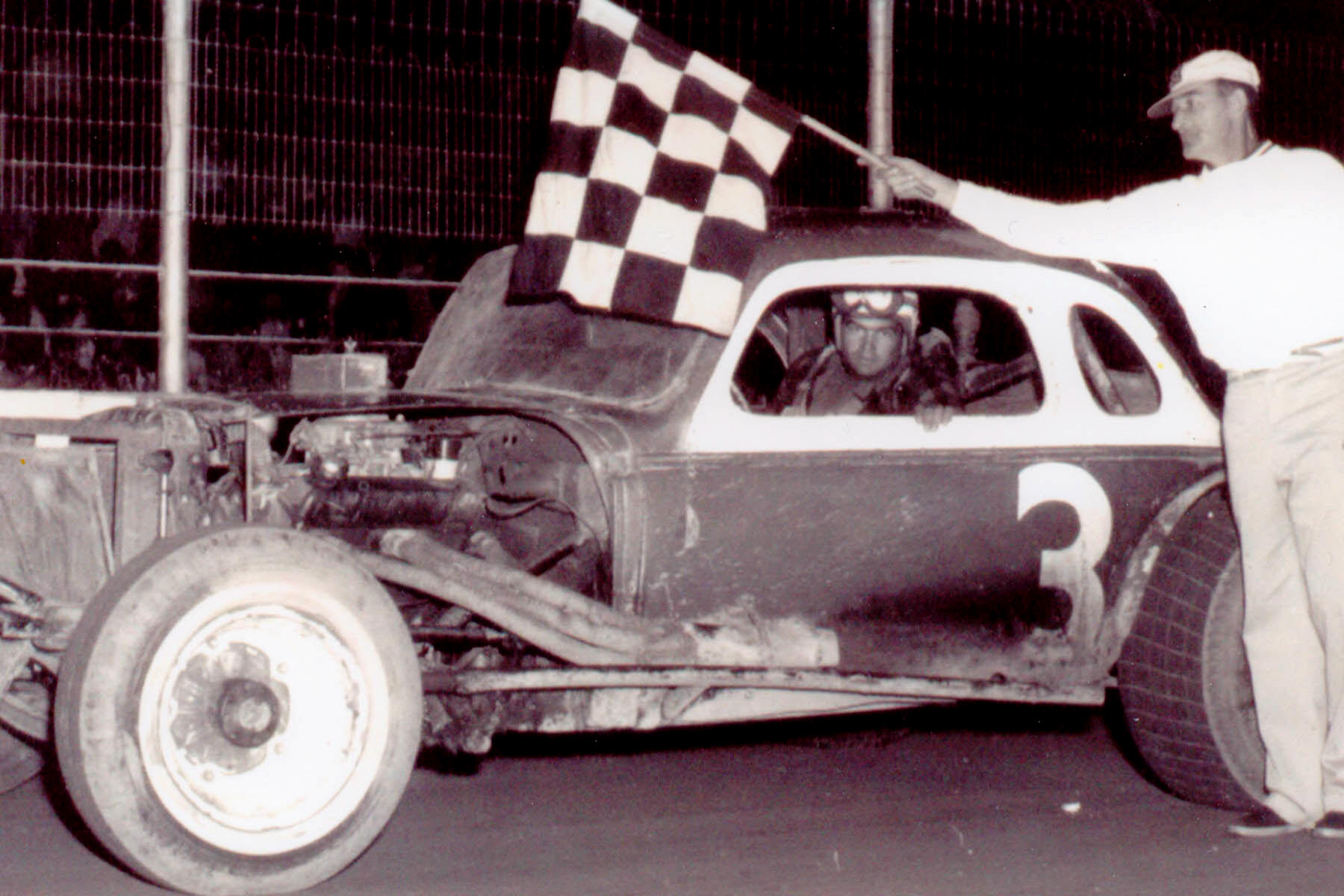 Courtesy of Mike Watts, Sr.


Saranac Lake would see locals, such as Chubby LeRoux, Moody, Kentile, Ritchie, and Al Patterson defend against leading Airborne teams such as Mack Miller, Dick Nephew, and Bob Bruno. Teams from elsewhere in New York would often add to the mix; and the occasional Quebec competitors joined in, as well. Bruno, particularly raised the ire of local fans, with much help from the local newspaper. Although a very upstanding, college – educated man, Bruno was always cast as the villain at the track. Wes "Slugger" Moody was definitely the most famous [or perhaps, infamous] graduate of Saranac Lake Speedway – having a career that lasted into the 1980's.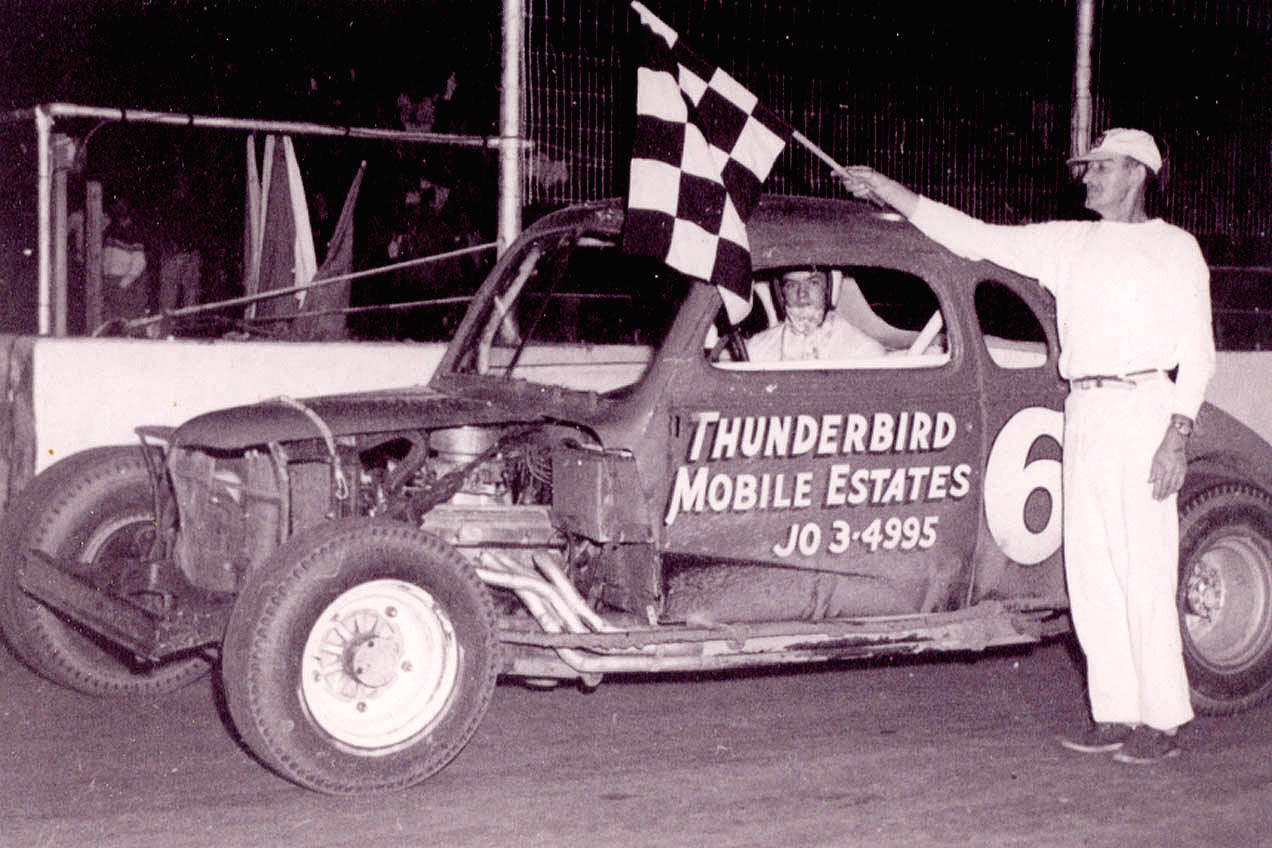 Courtesy of Mike Watts, Sr.
Bernie Kentile, then a mechanic for Dick Nephew, steals a win at Saranac Lake in his boss's car. Note the wall in the background. [Below] That wall, as it looked in 2008.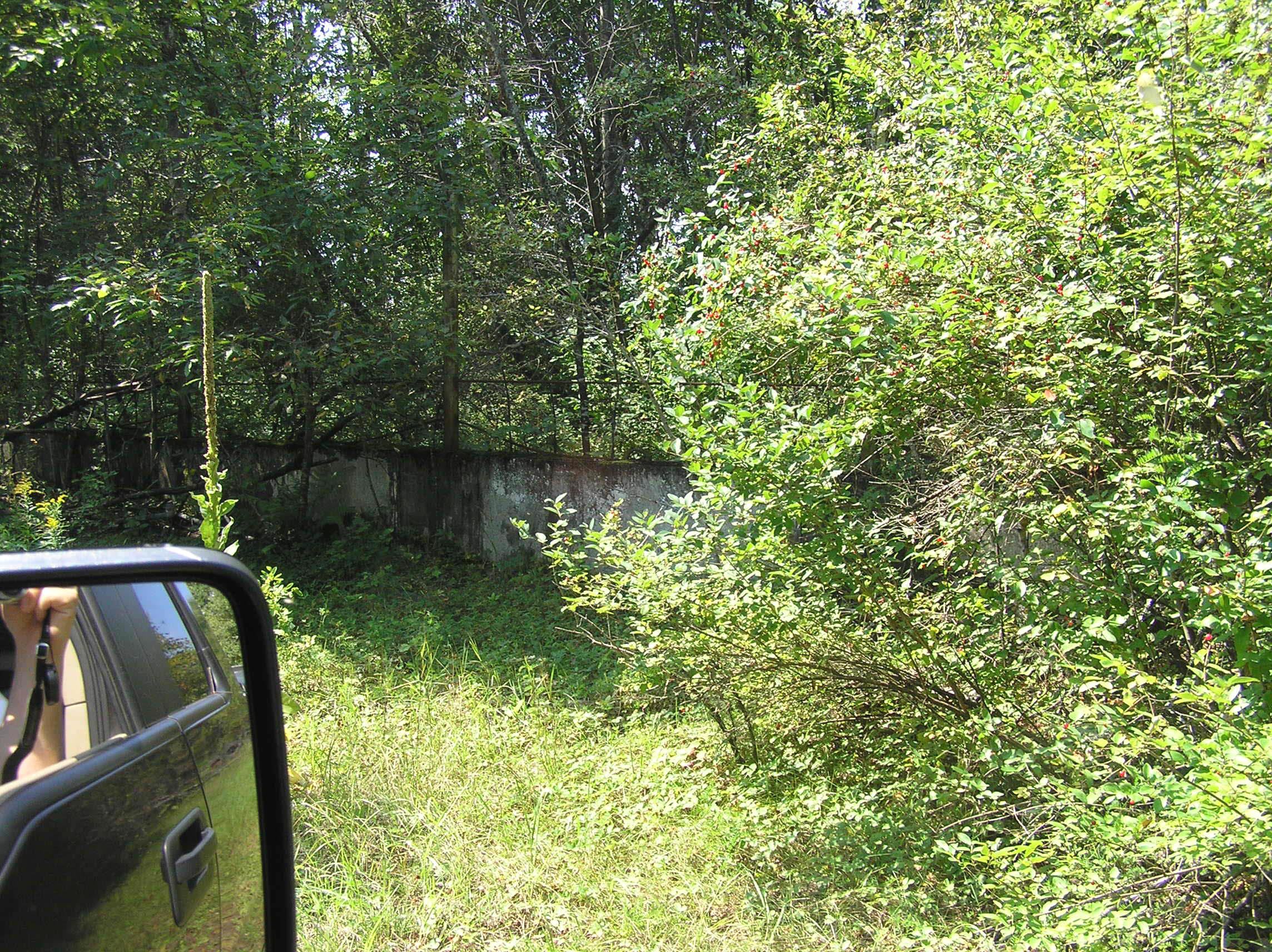 Ladabouche Photo

Today, the track rests beneath forest growth, right behind Jim Hoyt's house. People love to recall the days of its operation; and many of those recollections are about something fairly offbeat. It is a sorely – missed track. Saranac Lake Speedway never made that big of a dent in the history of the racing; but some of its lore and the antics of many of its denizens certainly did.
I had occasion to stay over with the Wes Moody family, which lives a few scant miles from the track that really got him going in his career. Touring the track now is similar to driving through a forest trail, craning one's neck and straining the eyes to catch sight of occasional ARMCO barriers and cement walls along the way.
Pulling up in the middle of turns three and four and sighting in on Jim Hoyt's barn, standing as it was when Aaron would protect it from wayward cars by placing the manure spreader strategically between turn three and his farm structure, still gives one the perspective seen by Paul Whitmarsh, whose car 13 struck that spreader and was treated to a manure shower all over car and driver.
Just another of those odd little stories of the track out in the middle of nowhere called Saranac Lake.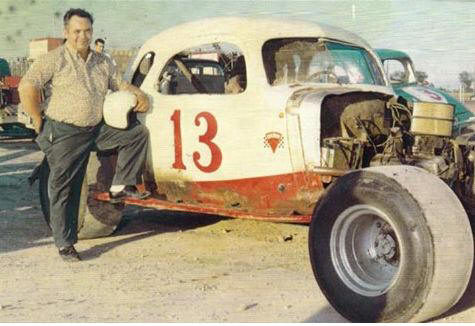 Courtesy of Craig Revelle
A simple, no frills runners, much like the track he sometimes frequented, Paul Whitmarsh – shown here at Evans Mills –
looks safer and cleaner than he would have appeared that night at Saranac Lake.
Please email me if you have any photos to lend me or information and corrections I could benefit from. Please do not submit anything you are not willing to allow me to use on my website - and thanks. Email is: wladabou@comcast.net . For those who still don't like computers - my regular address is: Bill Ladabouche, 23 York Street, Swanton, Vermont 05488.
AS ALWAYS, DON'T FORGET TO CHECK OUT THE REST OF MY WEBSITE
www.catamountstadium.com
Return to the Main Page
Return to the Main News Page
Return to the All Links Page
Return to the Weekly Blog Links Page