BILL'S [Somewhat] WEEKLY COLUMN/BLOG PAGE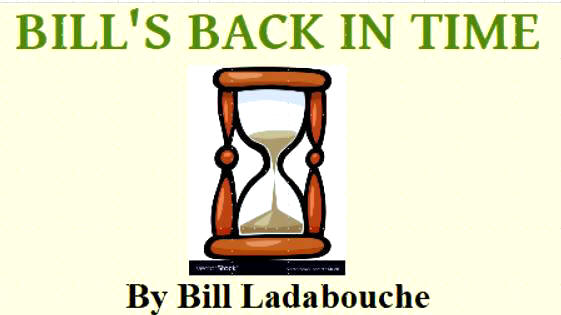 WE NEVER MADE IT TO
WHERE WE THOUGHT WE'D BE

The Milton [VT] Historical Society just completed a series of three gatherings that featured automobile racing in the town of Milton – namely the dragstrip, Milton Speedway and Catamount Stadium. This was a very innovative and leading thing for them to do, and it paid dividends. They said the three events were the most heavily attended programs they have hosted thus far.
The final event was a panel discussion, with a large and sumptuous buffet made possible by the society and by potluck contributions from many of the attendees. Besides a lot of commentary and reminiscing from the likes of the Dragon brothers, John Keefer, Tom Tiller, John – Paul Cabana, Langis Caron, and many others, the event featured a recorded video interview that society member [and racing enthusiast] Greg Gilbert did with Ken Squier, famed racing announcer and former co – owner of Catamount.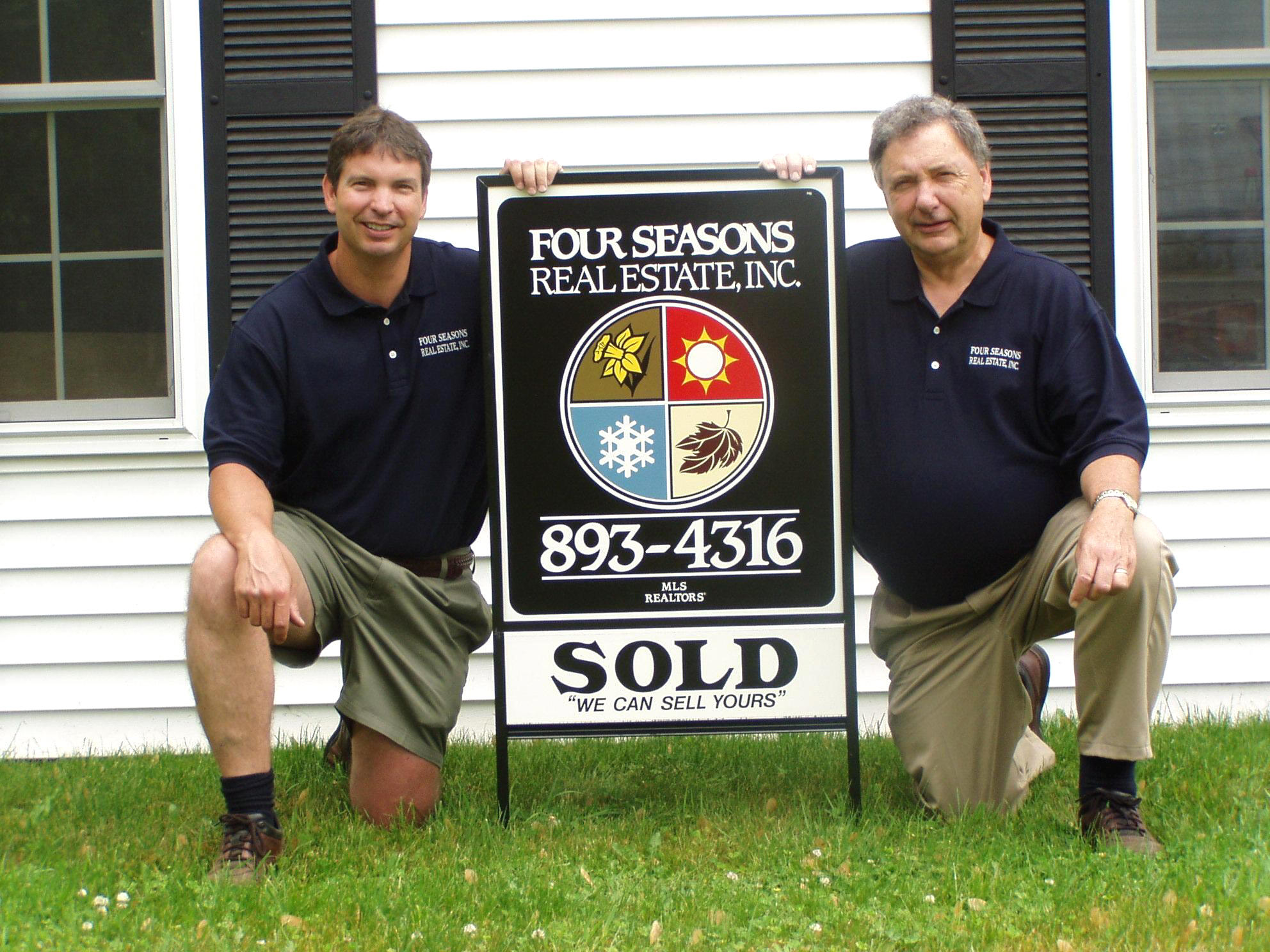 Four Seasons Photo
Lloyd Gilbert [right] was in attendance as son, Greg
was one of the emcees and the Squier interviewer. Below
Ken Squier, with Vermont racing legend John Gammell.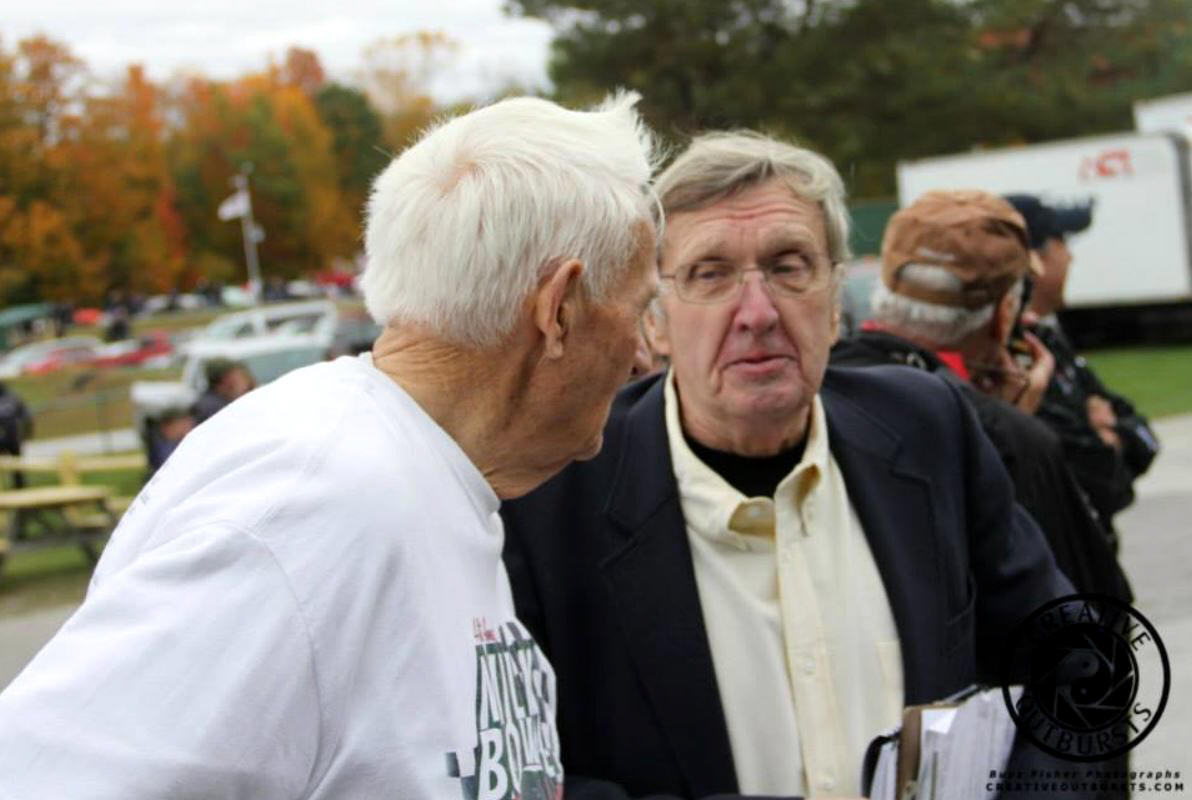 Buzz Fisher Photo
Squier didn't say a whole lot that surprised me much in discussing how they started Catamount and what it all meant; but, he did say one thing that caused me to stop what I was doing and stare at the screen for a moment. Ken had said something to the effect: "We never made it to where we thought we were going to get." Considering how successful Catamout had been in its short life, I was trying to figure that one out.
Then Ken went on to make reference to Don MacTavish, a star driver still on his way up who had his life cut short tragically by a freak crash at Daytona in 1969. Squier intimated that MacTavish had really loved Catamount and sought to run there as much as possible, That seems true. Old town Miltonians whom I got to know after teaching there for 41 years would tell me about stops Don, Jerry Cook, and others would make at some of their homes to work on the cars before a race program.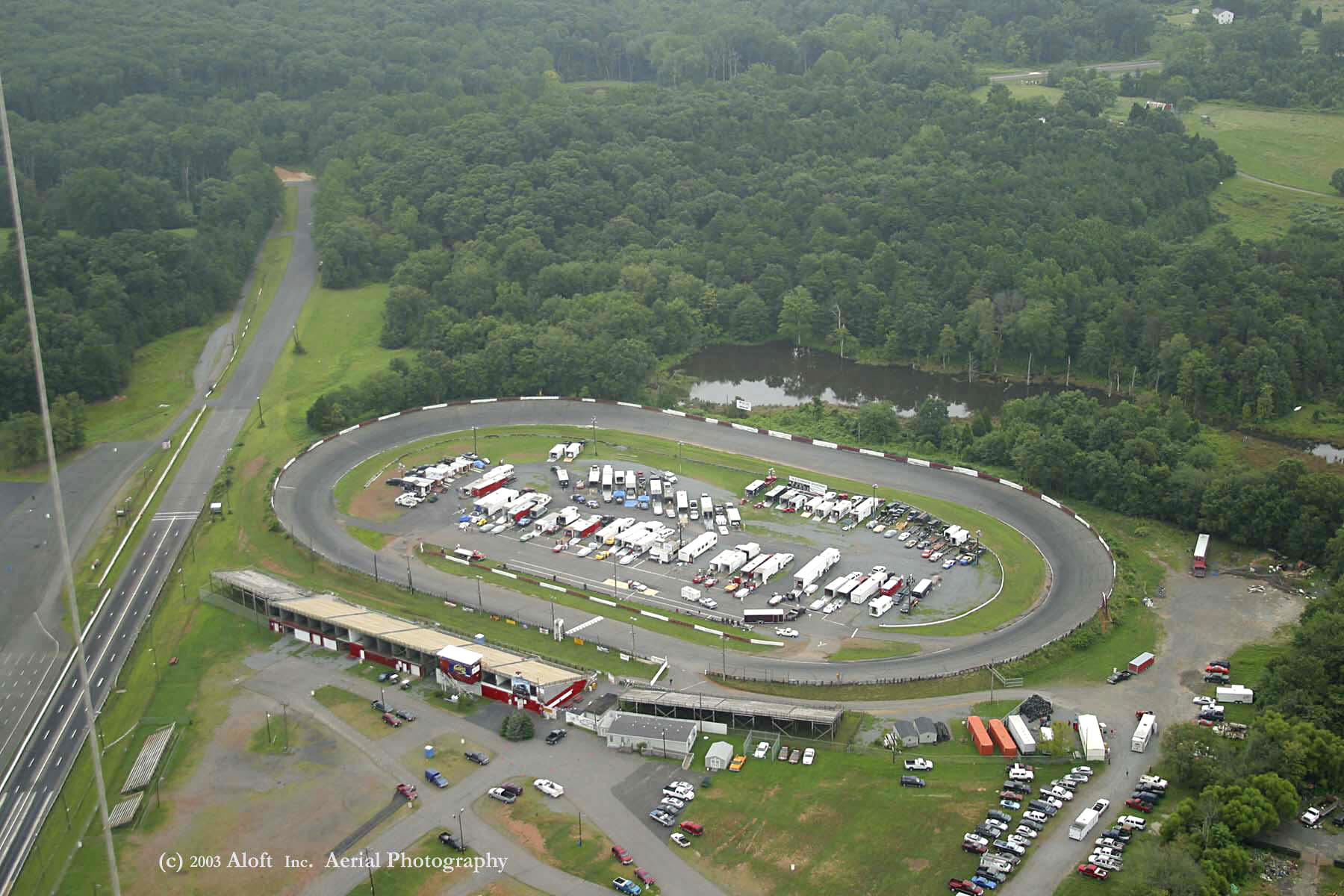 OldDoninionSpeedway.Com
Squier first spoke of how carefully Catamount was
patterned after Old Dominion Speedway. Below – The
Catamount layout early in 1965. Notice they didn't
set the pits in the infield, however.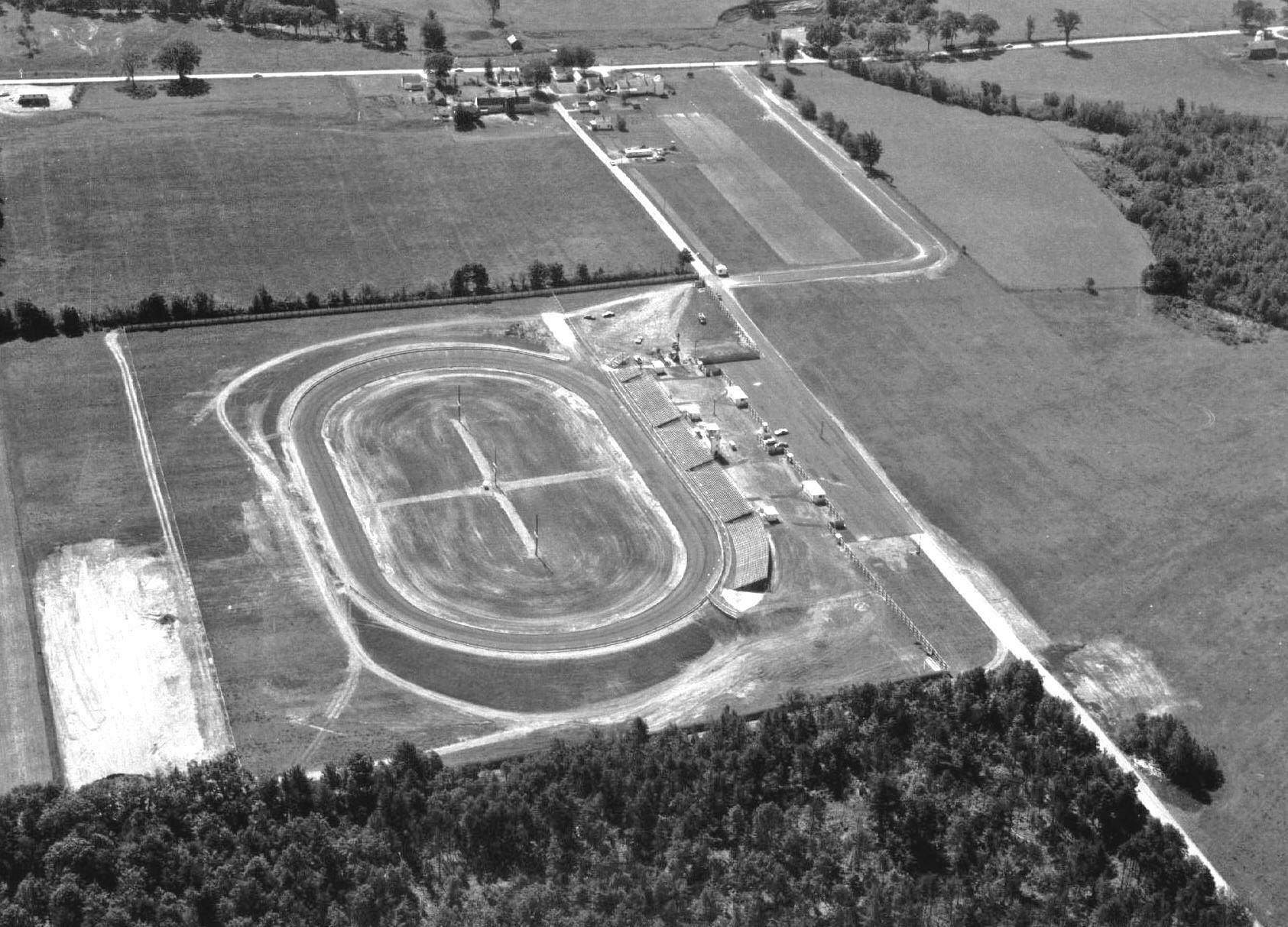 Ladabouche Collection

I also know MacTavish must have liked Catamount because he appeared there in a number of cars, not the least of which were the Wright / Zautner 24NY and the L&R. Squier had gone into some detail to describe how the Catamount founding fathers had discussed how they wanted their new track to be. They were not so much worried about raw speed as they were about having a track that didn't "fight the driver all the way around".
Squier spoke of talking with the man who ran the United Racing Club, a premier sprint car organization in the day. The man [I believe he was Louis Kuntz] had told Ken about the best track for the URC – in Manassas, Virginia. So, Squier, Dubrul, and the others [much to the dismay of Old Dominion Speedway owners] made extensive measurements and calculations to have a track just like Old Dominion. And it turned out to be a drivers' track, as they hoped.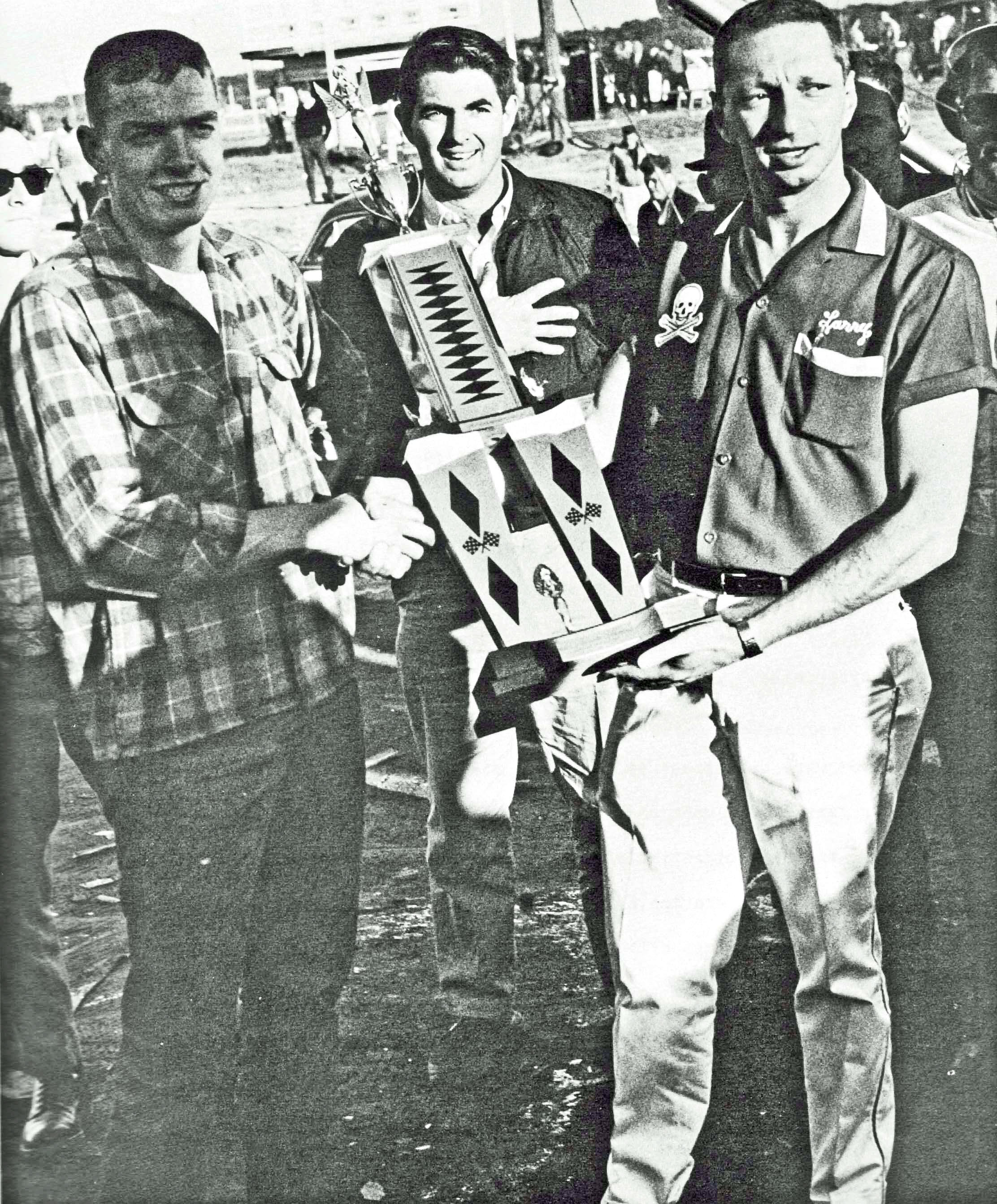 Courtesy of Paul Mascitti
A then – practically – unknown Don MacTavish is presented as
the 1963 World Demolition Derby Champion by Larry
Mendelssohn of Spectacular Promotions on ABC's Wide
World of Sports. Below – This is said to be Don's first
trophy, won at Norwood Arena in 1958.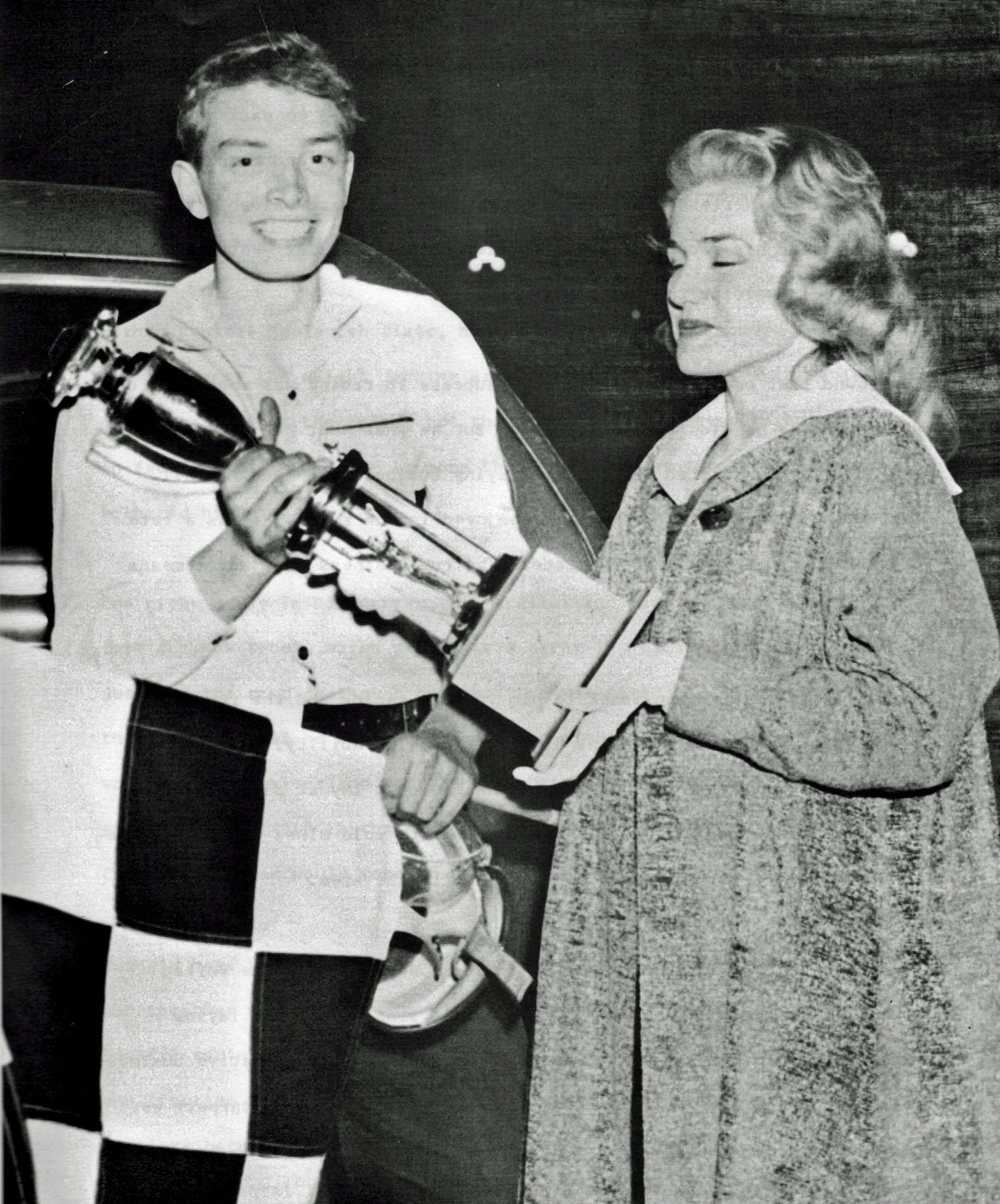 Courtesy of Paul Mascitti
The transition off the turns into the stretches was of particular importance to Squier, and Catamount's were the best. Apparently during that modified era of Catamount from 1965 to 1968 – a lot of teams noticed this. Also, Catamount was a logical stopoff after Utica – Rome or Albany – Saratoga, and just before any track running Sundays. It was a regular stop on a NASCAR modified tour of sorts for Cook, MacTavish, Stevens, Charland, Hop Harrington, Leo Cleary, Dick Nephew, Charlie Trombley, and dozens more. It was one of Catamount's high water marks.
Suddenly, during the 1968 season, the modifieds were gone from Catamount. When I arrived in Milton in August, they were gone [and I was distraught]. I think I know why: Squier could see that a future woith growth potential was not with modifieds – it was with late models. So, he took a chance, eliminating the highly prestigious mods and leaving only his numerous, but ragtag Flying Tigers. He would, of course develop them into late model sportsman cars by 1971.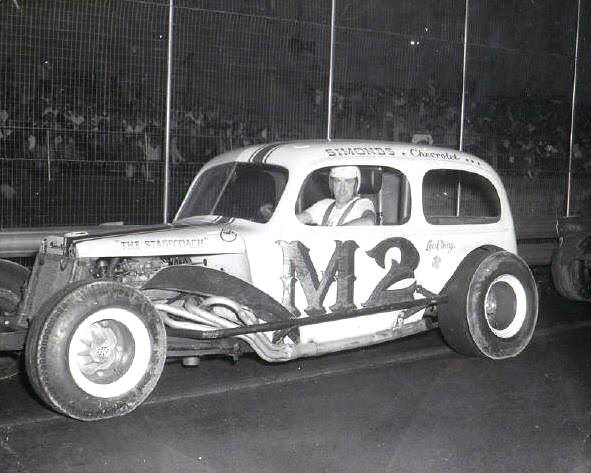 Courtesy of Ed Duncan
Gone were the modifieds like this one, driven at Catamount
by Leo Cleary [above] and Hop Harrington. Below – In,
were the Flying Tigers, like the hunk of loveliness driven by
1967 Tiger champ, Larry Demar.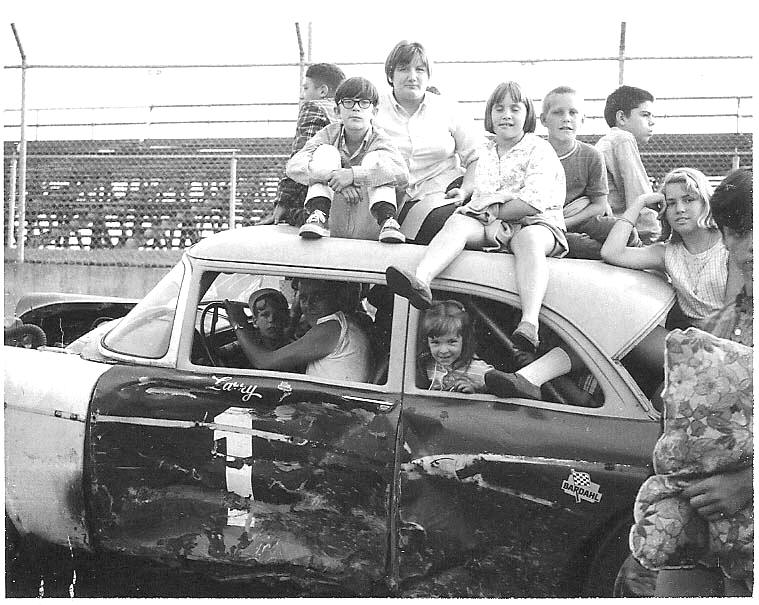 Courtesy of Steve McKnigh

The Squier decision notwithstanding, the excellence of Don MacTavish could be denied by anyone who knew anything about modified racing. Had he lived to race longer, it would be a huge and never – ending debate who was the greatest – him or Richie Evans [whose career was also cut tragically short]. MacTavish did not live long enough to enjoy that golden age of the NASCAR touring modifieds, as well as the big Martinsville shows or the later Daytona speedway mod programs.
I will attempt to sketch out what little I do know about the great MacTavish's career. I was first made aware of Don MacTavish thanks to the Wide World of Sports, ABC's sports olio program that encompassed everything from weightlifting, to demo derbies, to mainstream stuff like winter ski jumping events. ABC executive Roone Arledge, sensing the burgeoning auto sports phenomenon, had decided to air one of those "world championship" demo derbies Larry Mendelssohn was staging out at Islip in the '70's.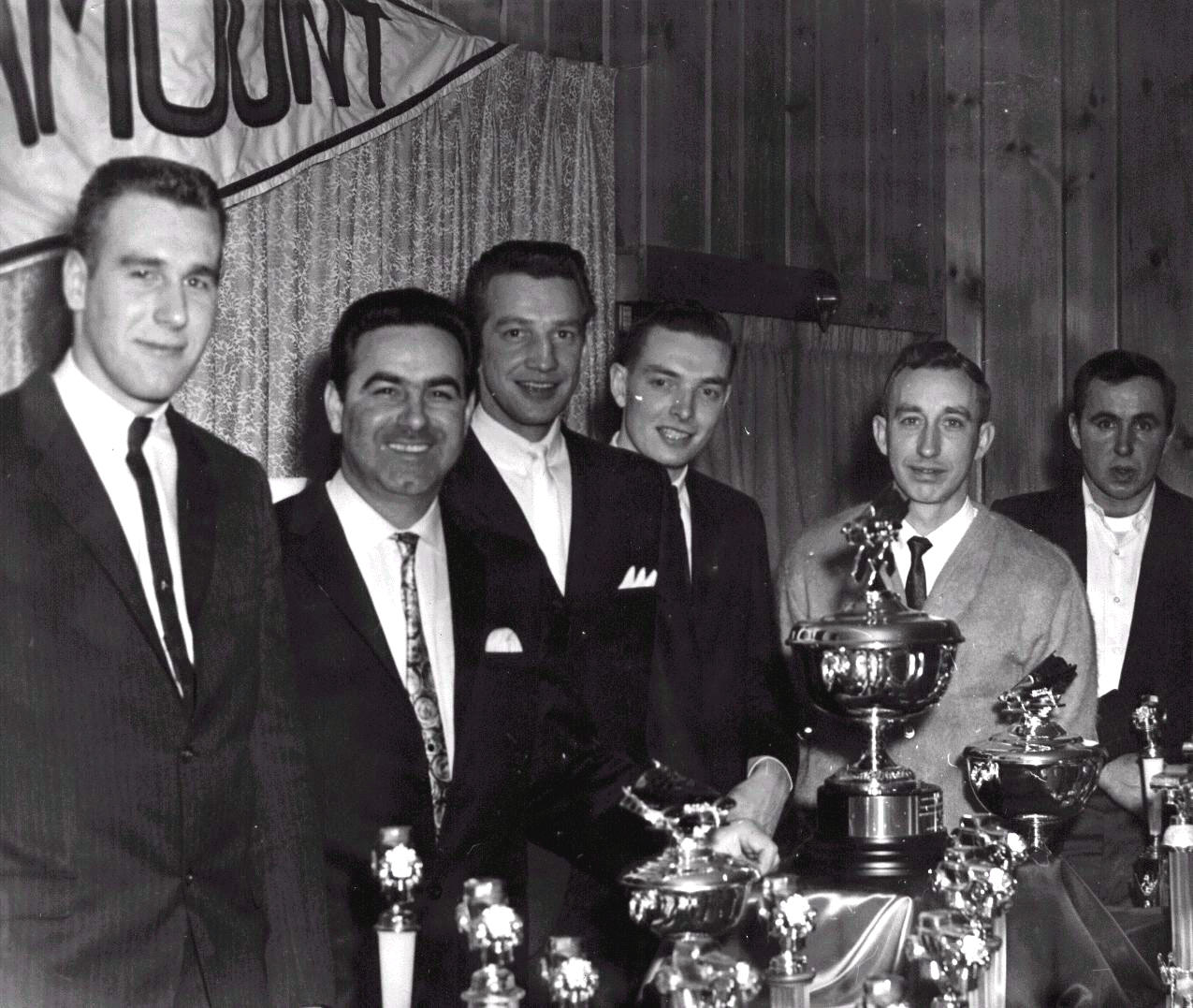 Ladabouche Collection
The Catamount connection is evident here, in this mid '60's Catamount banquet photo. MacTavish [center] is joined by Bobby Dragon, Andre Manny, Marcel Godard, Art Taylor, and Larry Demar. Below - It is said that a young Don used a full hood here to disguise triple carburetors on a Norwood hobby car back in the early days.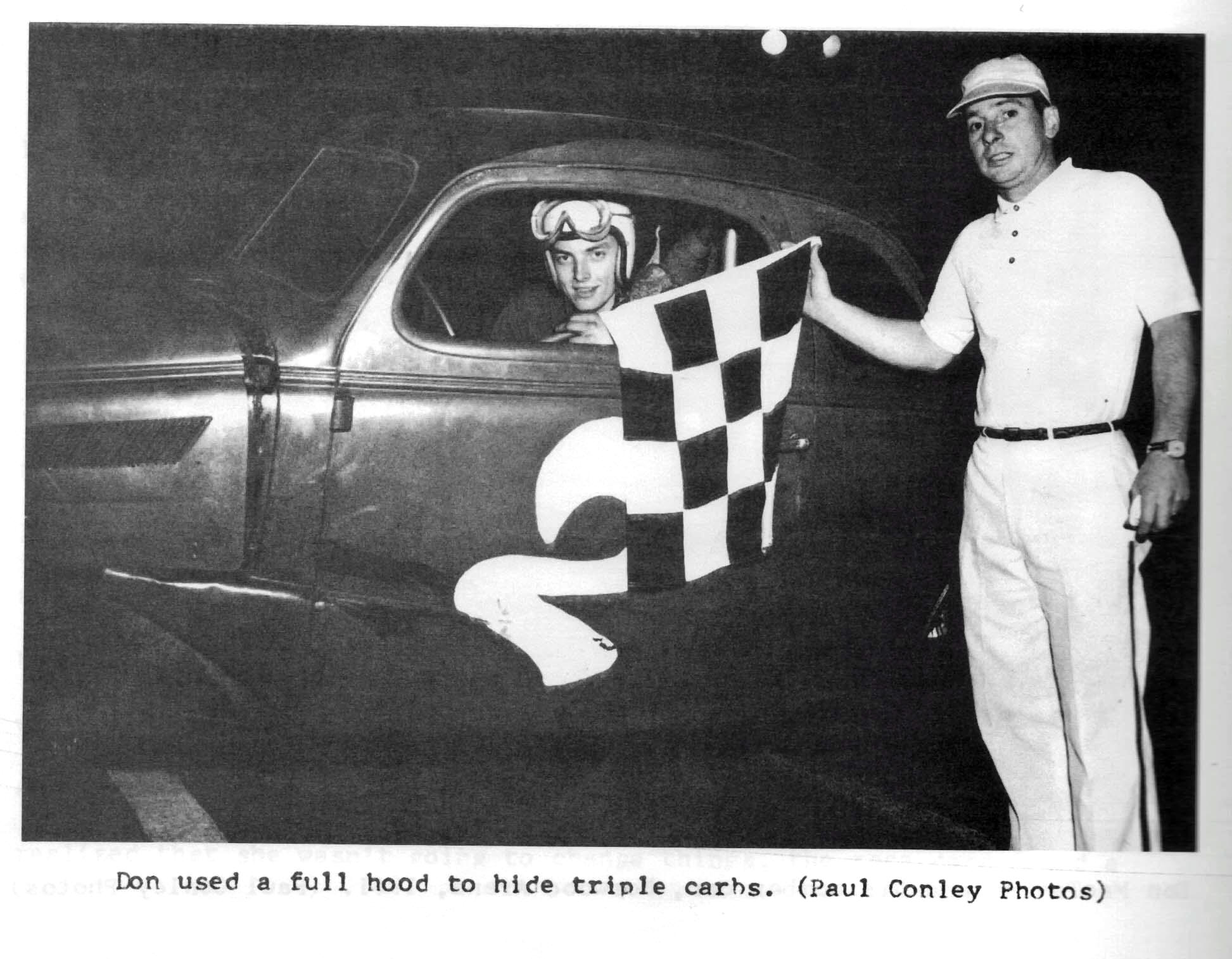 Paul Conley Photo
The derby I happened to catch one day was won by a young guy named Don MacTavish. Even though an ardent race fan, I had no idea that he was already developing a stock car career at places like Norwood Arena. We didn't have the constant flood of sports information that one gets today. This was likely a bit before the creation of Albany – Saratoga Speedway [associated with some of Islip's personnel] or Catamount – both of which were built in 1965. He had been running at Norwood having begun racing in his teens.
MacTavish knocked around in a number of support class cars and – eventually – showed strong enough promise in modifieds to begin landing better driving jobs. The first time I actually saw Don was at Fonda, around 1966 or 7, running the low – slung L&R car out of Lennie Bosley's Speed Shop in Malta, NY. MacTavish would also run Fonda at times with his own car, called Circle J. We won't get into what that supposedly stood for but it weren't no Boy Scout ceremony. The faux Trojan "Symbol of Safety" ad on the trunk lid sort of bore witness to all of this.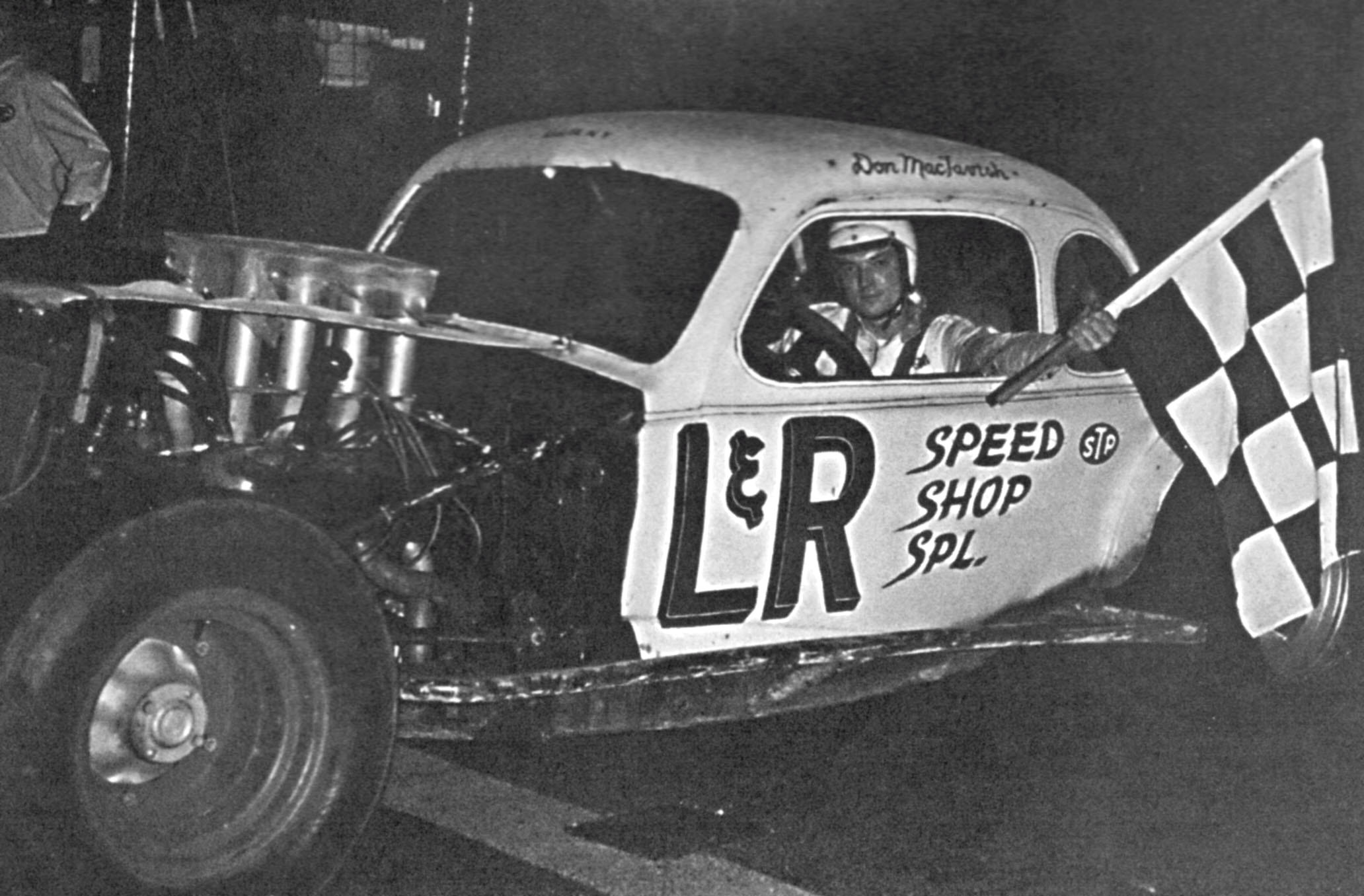 Russ Bergh Photo via Fonda Book
Don could be seen with the L & R on dirt at places like
Fonda Speedway [above] or on pavement at Catamount
or tracks like Albany – Saratoga [below].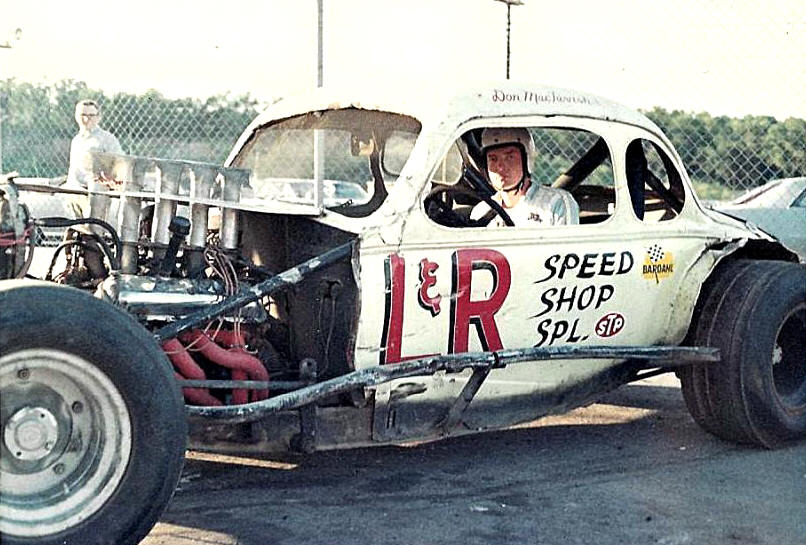 Courtesy of Mike Parenteau
I bought a small color photo of MacTavish at Russ Bergh's Checkerboard Photo Stand at Fonda. A college freshman, myself at the time, Don looked like one of us – clean cut and so forth. But, stories tell otherwise. Most of those touring stock car drivers had afew screws loose when it came to women, motel rooms,. Rental cars, family restaurants, and the like.
Actually during one particular night at Fonda, MacTavish [who would be that year's NASCAR National Sportsman Champion] would meet up with race against Ernie Gahan, who was to be the NASCAR National Modified Champion. Both came from a New England town named Dover: MacTavish – Dover, MA; and Gahan – Dover, NH. They had a pleasant discussion and went out racing. Gahan won later that year, and Don won one in 1968.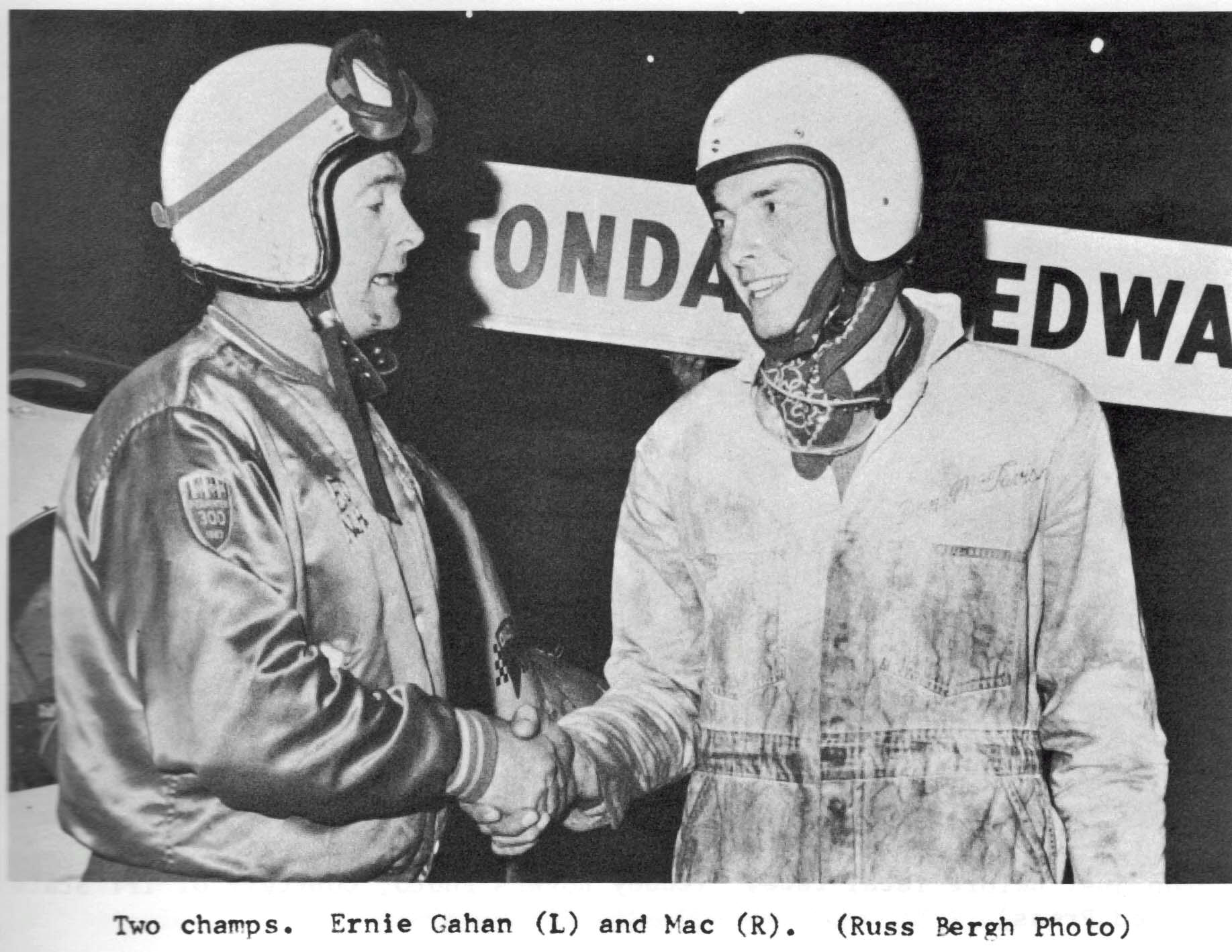 Russ Bergh Photo via Paul Mascitti
The famous 1967 meeting of "The Dover Boys" - national
champions Gahan and MacTavish – at Fonda. Below – Don
wins one at Fonda around that time at Fonda with the Circle J. At home on
either surface, he would have been a dream in the All Star League.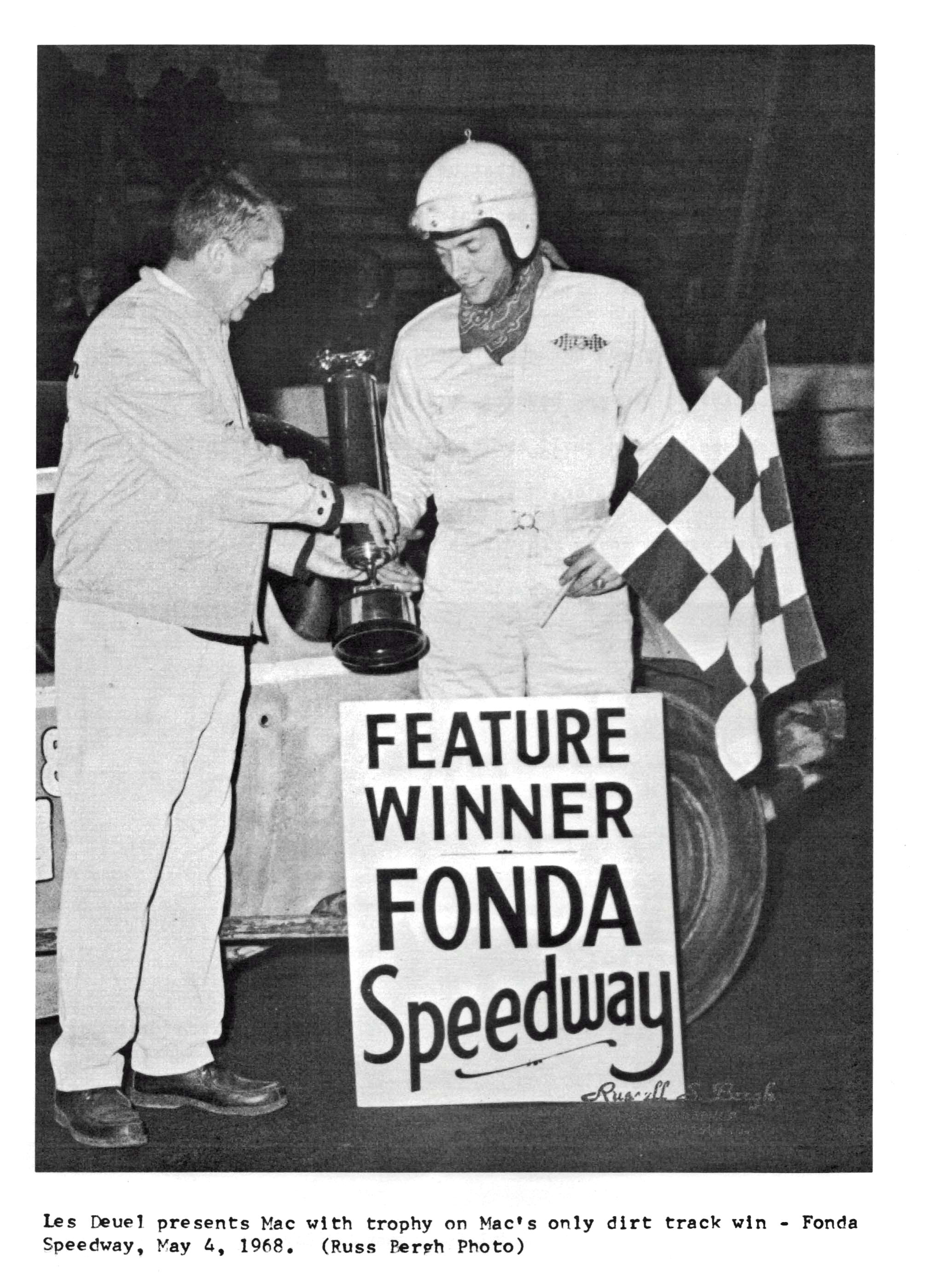 Russ Bergh Photo via Paul Mascitti
MacTavish was really turning heads by this time, also appearing at asphalt tracks like the aforementioned Catamount Stadium, Albany – Saratoga Speedway, Utica – Rome Speedway, Airborne Park Speedway [Adirondack Raceway for 1964], and even Devil's Bowl Speedway, which had been paved by 1971. It came to pass that he would assume the controls of a very potent asphalt modified soon.
Cliff Wright and Bob Zautner, owners of the very fast white #24's that had been driven mostly by veteran Ken Shoemaker since about 1965, were looking long and hard at Don. Shoemaker had gotten far more out of their equipment than previous drivers, but he was legendarily hard on equipment. The team had gone to lower – slung, fuel injected coupe which bore the same #24 but also had the new term "MO-A" on the side.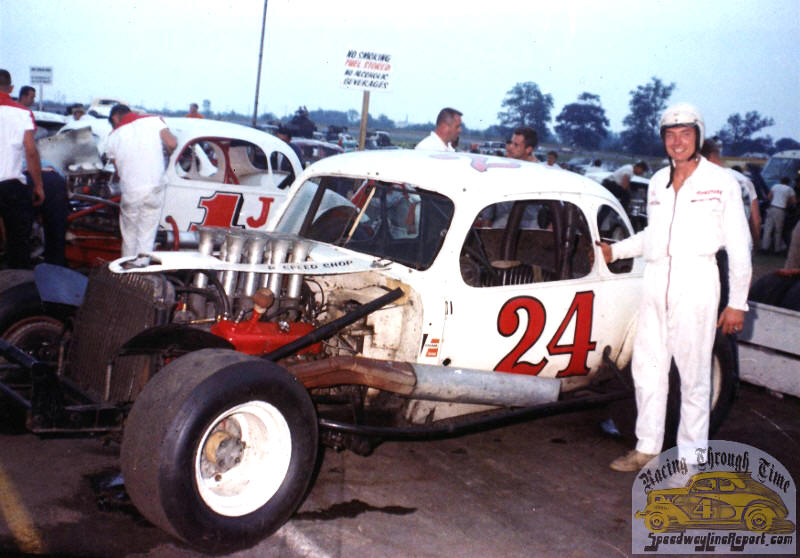 Fred Smith Photo via Paul Mascitti
Don, with the Cliff Wright / Bob Zautner 24, maybe at Malta.
Below – Don, with another modified he sometimes ran
nearer to home.
After a brief and unsuccessful run with Richie Evans, MacTavish was selected to run the car. He was a force to be reckoned with in the car – notably at Catamount, Airborne, and Albany – Saratoga. [And apparently the car didn't need to be put back together as often as before. During this run with the 24, MacTavish would be approached to run at Daytona Speedweeks – likely because of his national championship and all.
He came out with this 1960 – something Mercury Cyclone or maybe it was a Cougar. It was a good – looking car. I don't have much information about how he was doing on practice or qualifying speeds. I don't like to dwell on the rest, so this'll be brief. He lost control of the car at speed and had the misfortune of hitting off an opening in the wall, rather than a solid wall section. The car was torn off in the front and I think he was also struck by another car. At any rate, we lost him.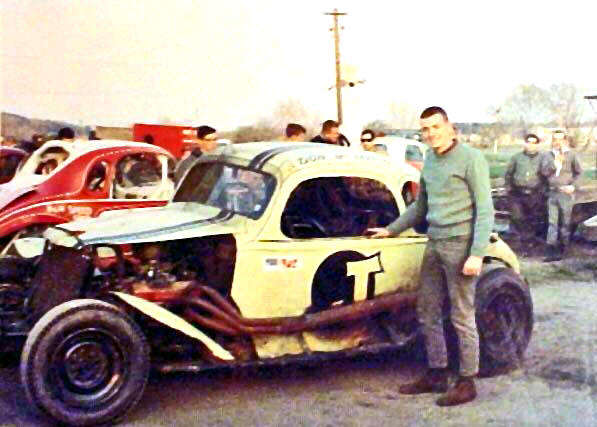 Russ Bergh Photo – Ladabouche Collection
Don, with the Circle J, at Fonda. Don't let the clean – cut
looks fool you. Below – Few ever wanted to show the
MacTavish Circle J trunk lid. Don't know why ! Can you
see the Symbol of Safety Ad ?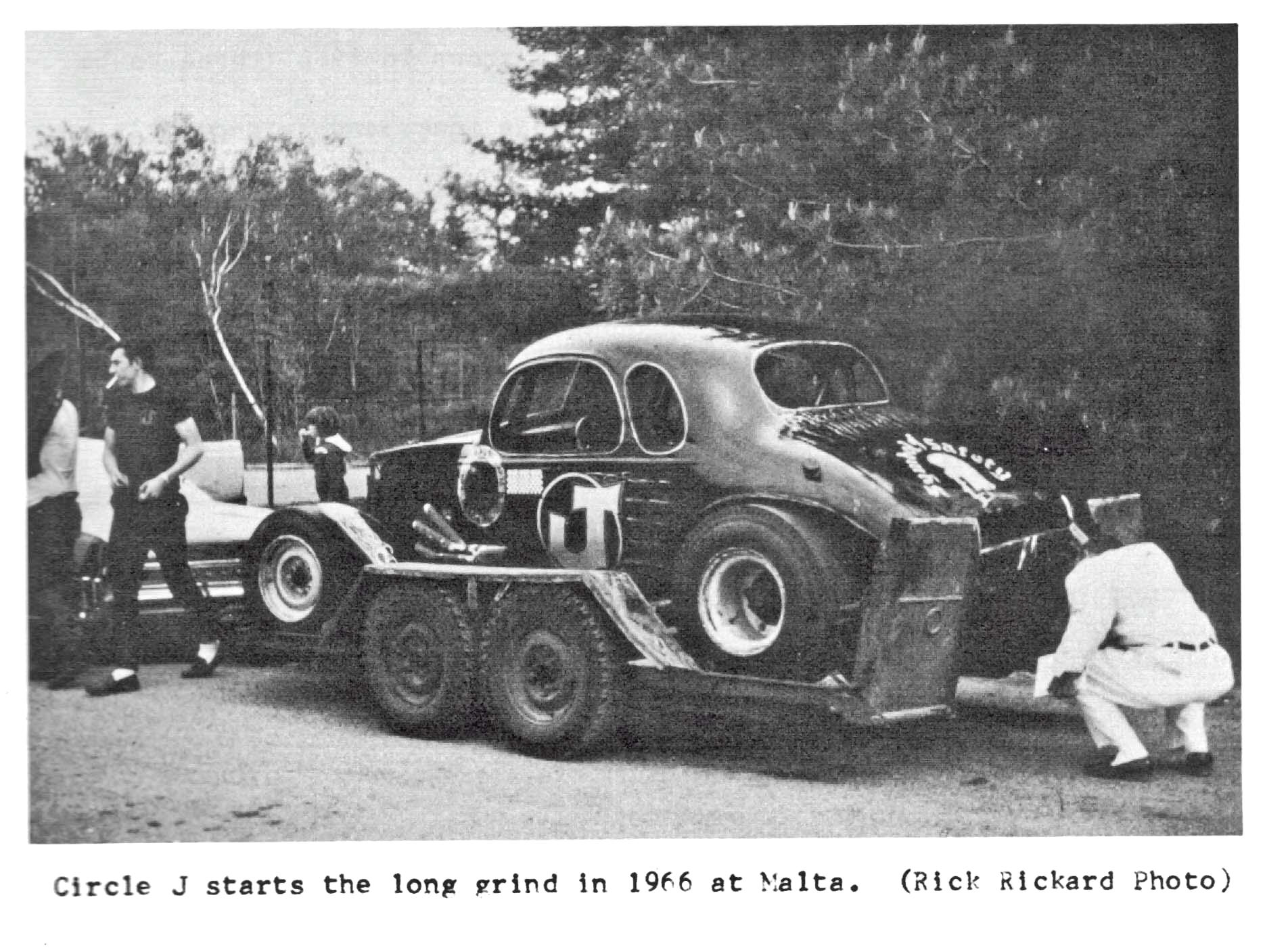 Rick Rickard Photo via Paul Mascitti

A heartbroken Cliff Wright decided, right there and then, he and Bob were done fielding the 24 any more. I know the town of Milton, Vermont was in mourning similar to what you would get if a local teenager was killed. The entire modified racing world was in shock. A few photos were released but most of us would not publish them – it was too painful. At any rate, the loss of this young star is what Ken Squier meant when he said we didn't get to where we wanted to be. Don MacTavish was that much of a hope for him. Today, the most prestigious award the American – Canadian Tour [and before that – NASCAR North] gives out is the Don MacTavish Award.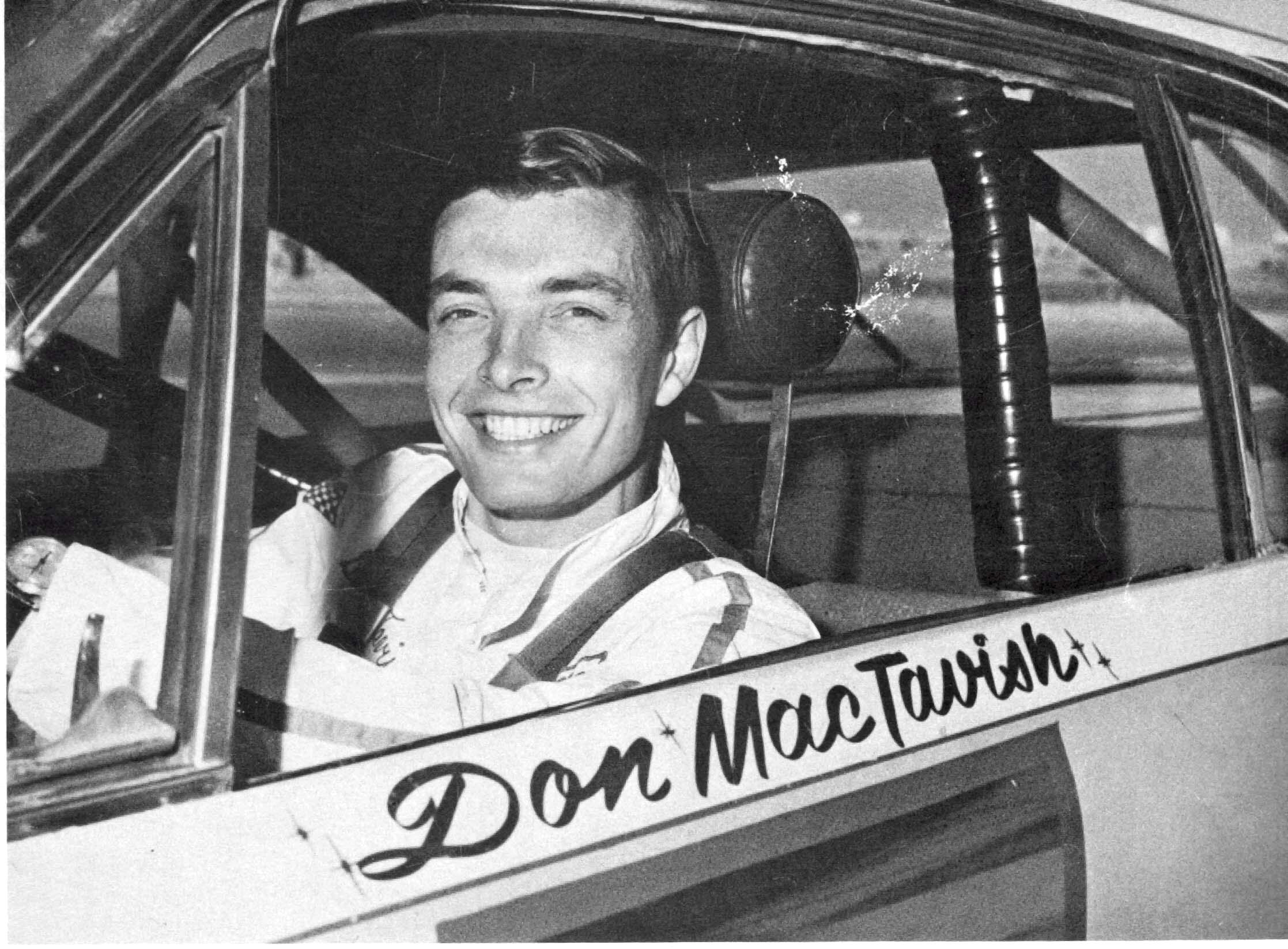 Dick Berggren Collection via Paul Mascitti
Don poses with the Mercury Permatex car in happier days.
Below – A poor but important photo shows the 24 team with
Cliff Wright [left] and the Zautner brothers.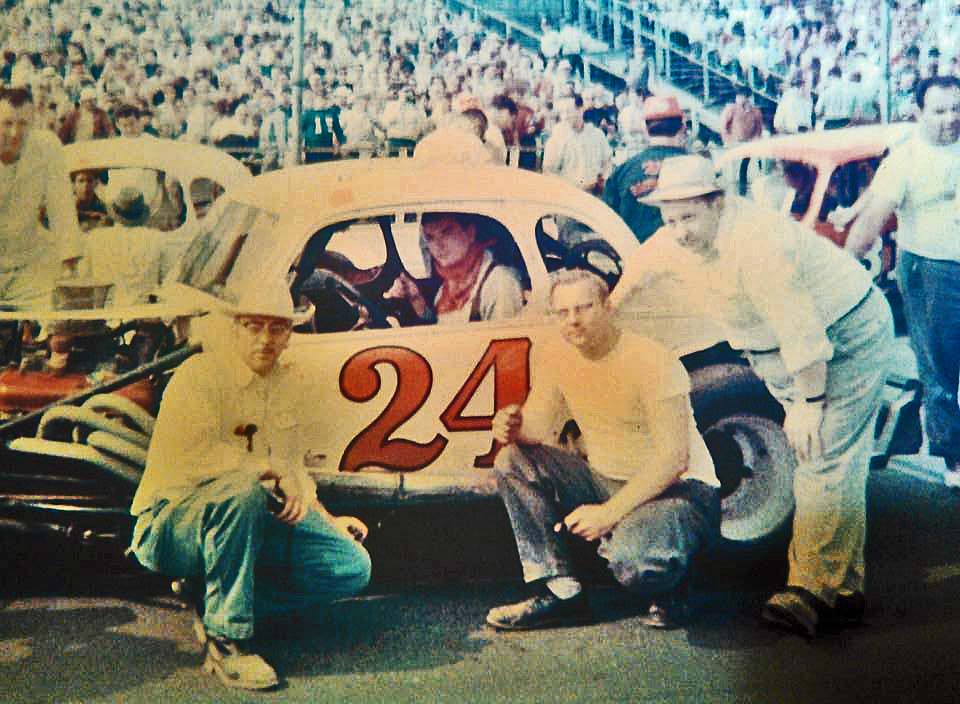 Courtesy of Sam Barlow
Please email me if you have any photos to lend me or information and corrections I could benefit from. Please do not submit anything you are not willing to allow me to use on my website - and thanks. Email is: wladabou@comcast.net . For those who still don't like computers - my regular address is: Bill Ladabouche, 23 York Street,Swanton, Vermont 05488.
AS ALWAYS, DON'T FORGET TO CHECK OUT THE REST OF MY WEBSITE
www.catamountstadium.com
Return to the Main Page
Return to the Main News Page
Return to the All Links Page
Return to the Weekly Blog Links Page