BILL'S [Somewhat] WEEKLY COLUMN/BLOG PAGE

BILL'S BACK IN TIME
By Bill Ladabouche
PAULY AND REX – A COMBO FOR THE AGES
When you bring up the name Paul Robar, in northern Vermont racing circles you're going to run into a small problem: there were three men, all with that name, and all at least somewhat near the northern Vermont racing scene in the 1970's. With a name like Rex Shattuck – not so much.
There was Milton, Vermont's Paul Robar, co – owner of the famous Beaver Dragon yellow 75's; there was Winooski, Vermont stone mason Paul Robar; and there was Pauly Robar, the second Paul's son. For purposes of this article, we are dealing with the last one.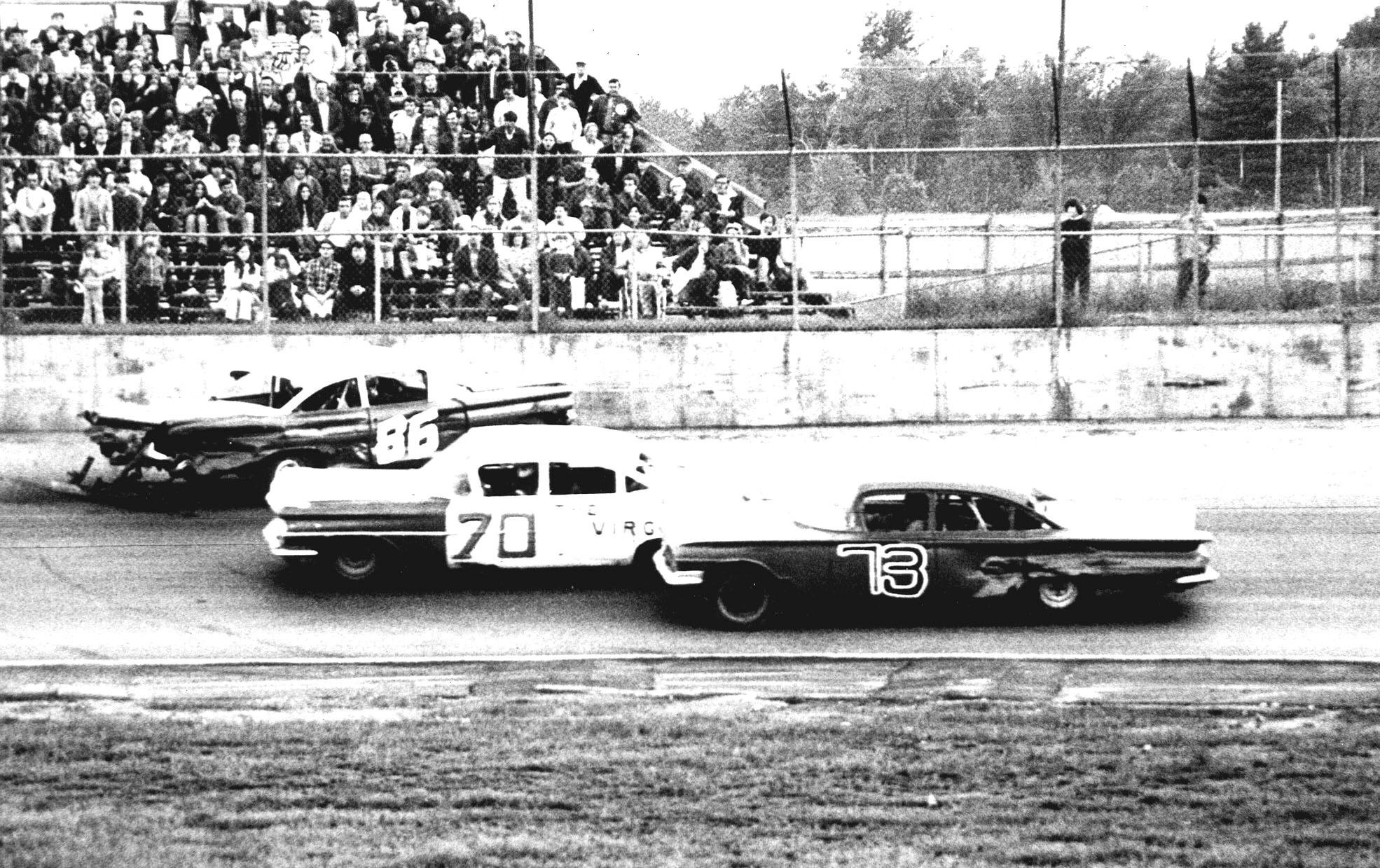 Ladabouche Collection
I planned on showing both racing Robars, but the publicity – shy owner of Beaver's cars never would allow himself to
be photographed at a racing event. Above is Pauly with the troublesome first Hurricane entry.
After the racing was done, Pauly Robar ended up owning at least two fleets of taxis in the Burlington, Vermont area. I recall him as a helluva nice guy. One time, when I was selling these quick – change message signs that you could pull from one location to another on the trailer they were mounted upon, Pauly bought one from me. As I was only a few hundred feet from the Robar garage, a huge gust of wins took the sign in the back of my truck and twisted the legs into a U shape. That didn't bother Pauly – he took it, paid in full, and had to do some welding to use it. A really good guy !
When Milton's Catamount Stadium had begun its march from a noted bastion of modified coupes to the late model sportsman scene, track management had elevated the Flying Tigers, the former support division, to the status of headlining class. After a year of this [probably 1970], it became clear to Ken Squier and Archie Blackadar that the track was not going to put on as good a show with only one division. So, Squier came up with a brainstorm.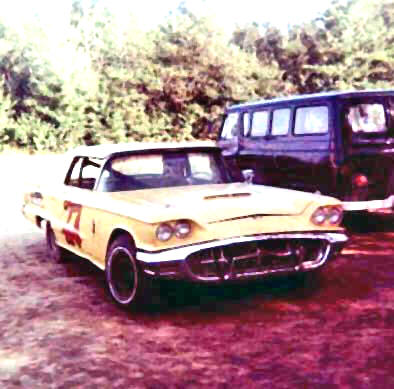 Cyr Family Collection
The first and best of the Night Rider / Hurricane class was Norm Cyr's Thunderbird, shown here at home with the headlights
still in and ready for use. Below – Most of the Hurricanes were larger cars, like this one of Richard LeClaire.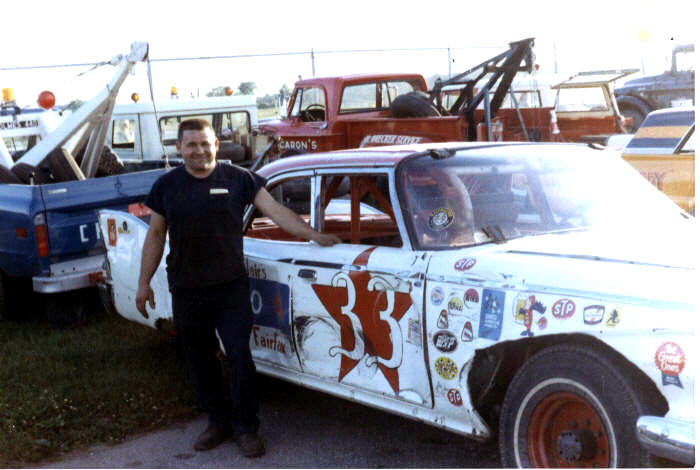 Courtesy of Jim Watson
The brainstorm was to have a new support division of full – sized, late 1950's American cars with automatic transmissions. Squier got a little carried away with the original plans for the class. First, he was going to call them The Night Riders and have them race on a dark track with headlights. Broken glass all over the third – mile paved oval put a stop to that in one night. Then came the name, Hurricanes; but, he was going to make them race around the track clockwise. That went over like a fart in church. Eventually, the behemoths simply labored around the track in the correct direction, bouncing through the turns on squealing tires and knocking each other around.
After about a season of watching some of his friends and neighbors out there making fools of themselves and running for glory, young Pauly Robar decided that this was for him. He came out with a huge 1960 two door GM car [Pontiac or Olds] and struggled around in the class like anyone just starting out. A number of the area's moist successful race drivers started out in the Hurricanes and talk about how hard it was to get used to the ill – handling beasts.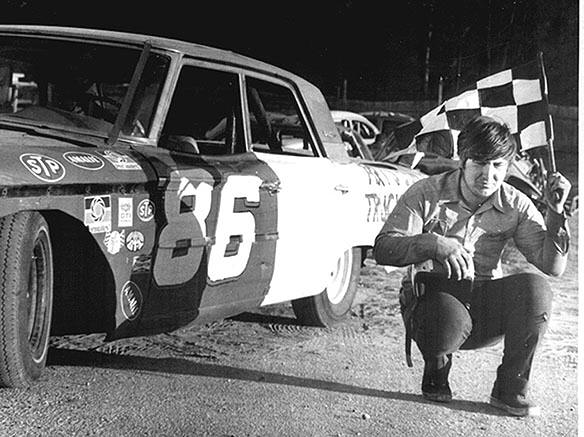 Courtesy of Cho Lee
Unused to the winning spotlight, Pauly self – consciously poses with a flag and the new Shattuck Ford. At this point, he had the
fancy Steck numbers, and the rest of the graphics were amateur. But the car was still in one piece.
Being a man of action apparently, Pauly realized he wasn't getting anywhere with this monstrous Ford, and the division around him was beginning to hone in the handling of their cars, having been given a few concessions by track management. These concessions, like some spring changes and safety hubs, were particularly necessary at the demanding Thunder Road track configuration. Enter Rex Shattuck.
90 year – old Jackie Peterson, who can accurately recount stories that happened in 1950's races, points out that Rex Shattuck had been around racing about one year less than he. He and Rex were among a small but sturdy cadre of northern Vermont racers that kept the sport alive and helped to lift it out of the dark ages of racing in that vicinity when a stock car race resembled a roller derby on wheels. Peterson has always spoken of Shattuck in positive terms, especially in regards to his mechanical expertise.
I knew Shattuck because I had two of his kids in school and worked with his wife.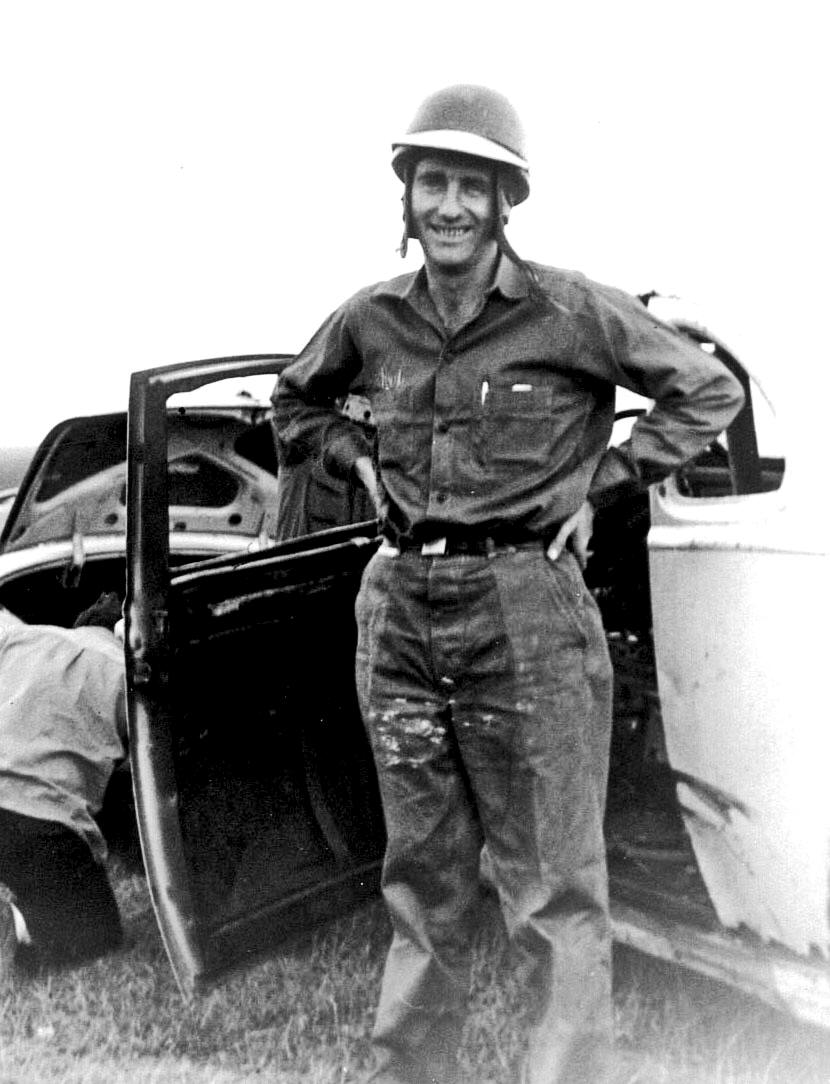 Courtesy of CJ Richards
Above – Rex poses with a very early race car. After "buying" his trademark #19 from Jackie Peterson, he was a successful campaigner in earlier – type stock car for over ten years. Below – Rex and wife, Peg, in Victory Lane with whom I assume is there oldest daughter. Peg drove school busses with equal spirit and energy.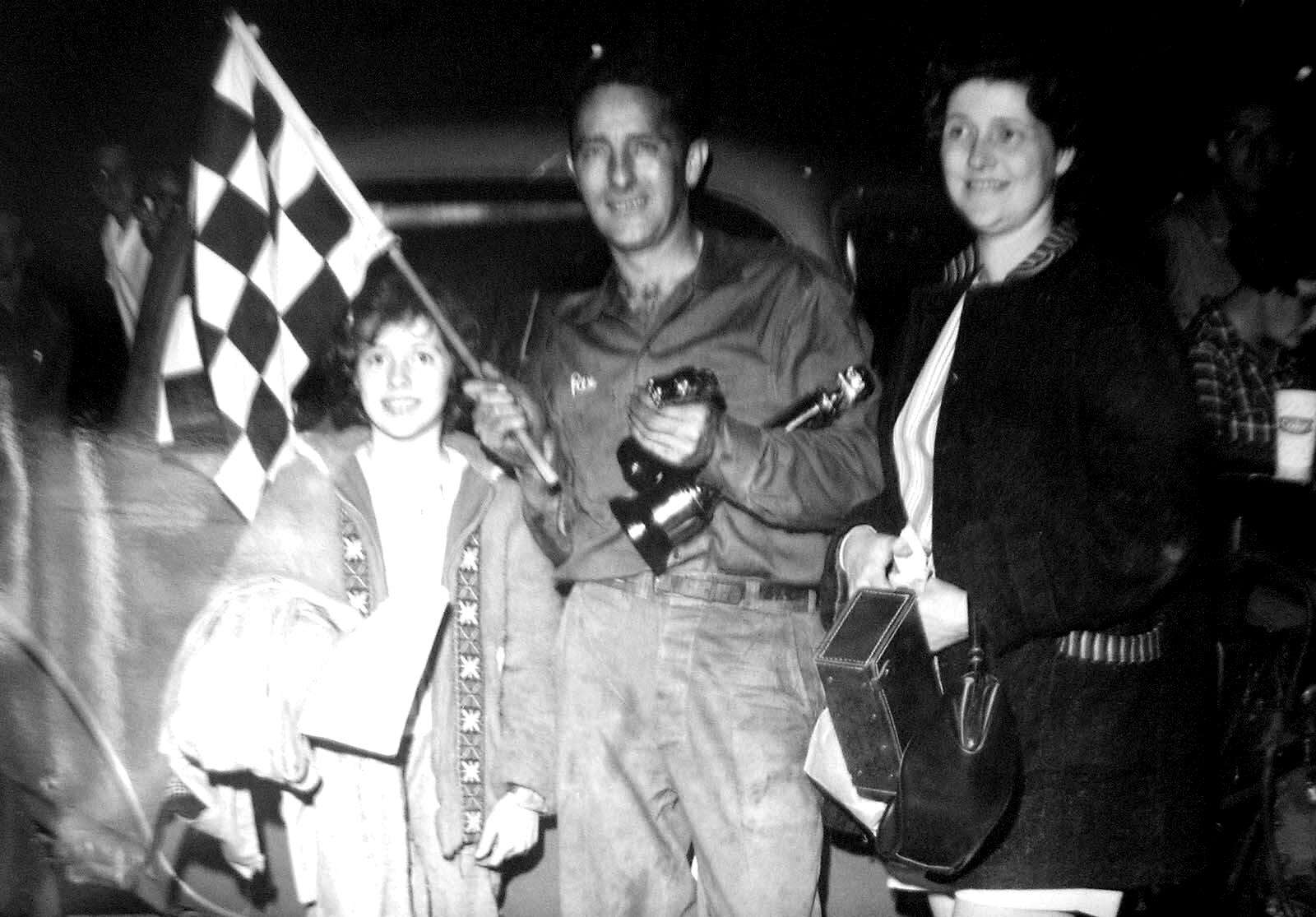 Courtesy of Cho Lee

It was a thrill for this long – time race fan to have some personal contact with one of the drivers who had distinguished himself in front of me in the years before I graduated college and went to work teaching in Milton [just because Catamount was there]. The only time I had gotten to see Shattuck perform was at the obscure and short – lived Otter Creek Speedway, outside Vergennes, Vermont, in 1961.
The Colchester Bayview Speedway [previously called Malletts Bay Raceway] had folded its tents around 1959, just in time for the opening of Ken Squier's high – banked paved quarter mile at Barre – Thunder Road International Speedbowl. Many of the drivers from the once – powerful Colchester, Vermont racing circle tried their hand at Barre; but, most were frustrated with the short, paved track and they were dominated by a strong contingent of New Hampshire drivers whose cars were more suited to the banked oval.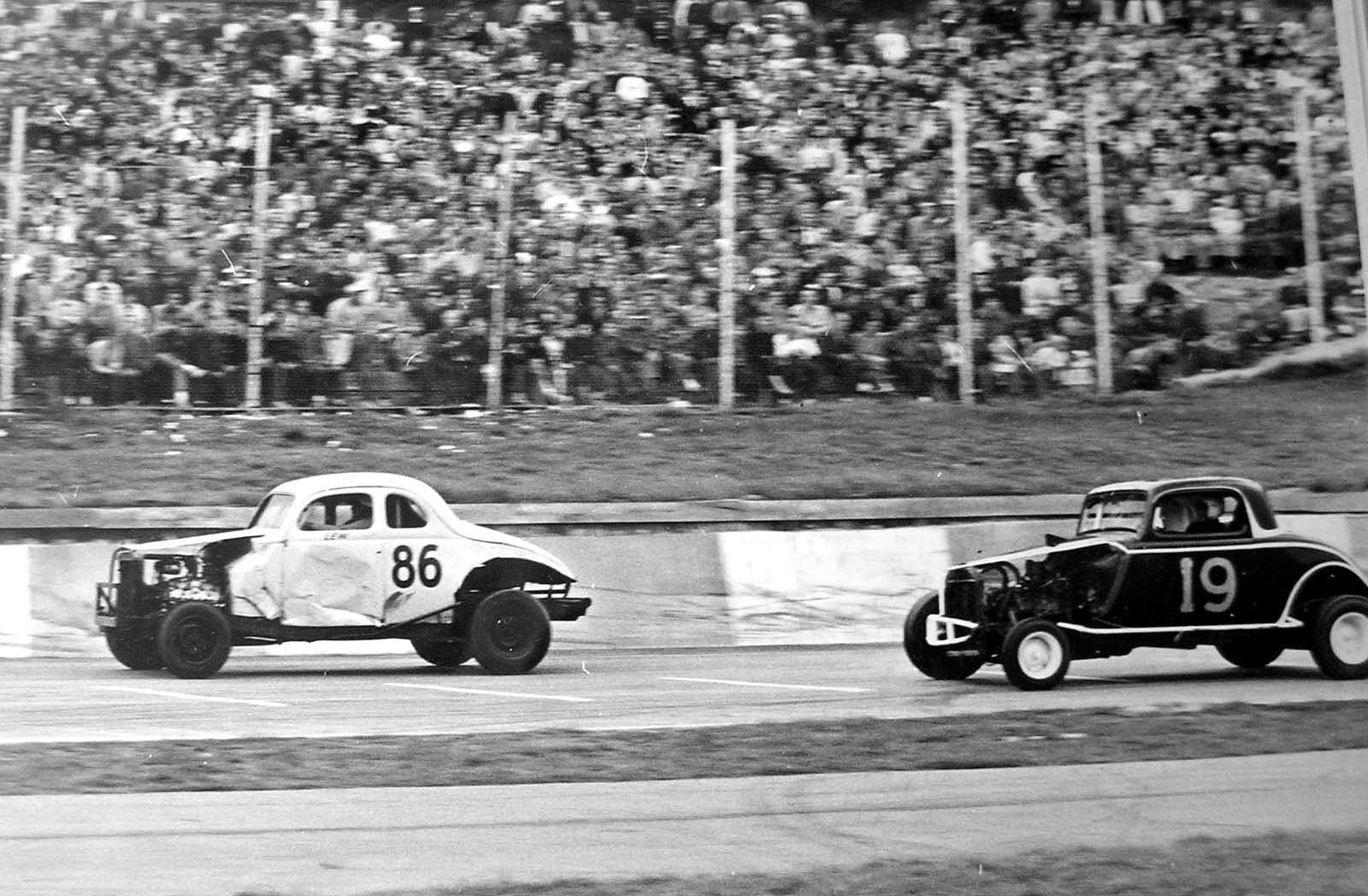 Courtesy of Cho Lee
Lee Carpenter, another of the old Colchester gang, leads Shattuck around Thunder Road in 1962. Ironically, Carpenter has the number Robar would use on the Shattuck Ford ten years later. Below – Rex, in his familiar 19, finds himself sitting on the lawn above the Widowmaker fourth turn wall at Barre. Only a few, including Rene Charland and Ronnie Marvin, have managed this.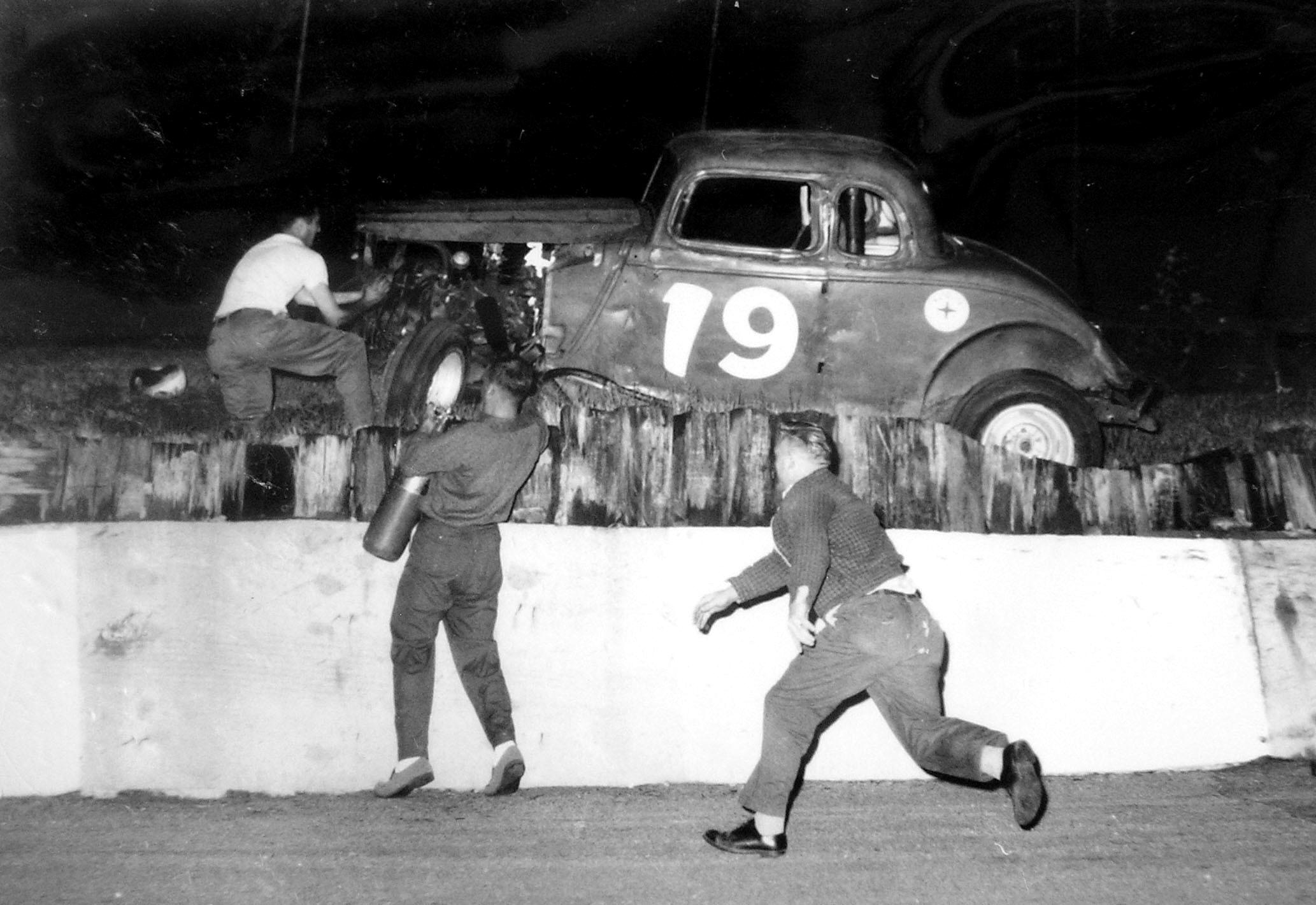 Courtesy of Cho Lee
Unlike most of the others from the Colchester scene [which, at one time or another had seen six tracks in operation], Shattuck did pretty well at Thunder Road. His red #19 coupes, some of which were his and some of which were reportedly belonging to Norm Cyr, won some races at T Road. So good was one car that Shelburne, Vermont's deep – pocketed racing entrepreneur Black Jack DuBrul bought it, dropped the 9, and ran it the Road and later, at Otter Creek as his first #1VT.
Anyway, Shattuck was running one of those red #19 coupes against his former car [with DuBrul] at Otter Creek when my uncle and I saw some shows late in the season in 1961. Shattuck, along with Ed Foley, DuBrul, Keith Ballard, and Bob Russell, were about the only "hobby" cars that could stay on the same track with the overhead V-8 NASCAR sportsman cars that ran there [in the same races]. Sometimes the under-powered flatheads like Shattucks would simply get around the corners better than the louder, faster sportsman cars, and would steal a feature. At any rate, after 1961, Shattuck had begun to fade into the shadows – until 1971.


Courtesy of Cho Lee
Rex is not in this 1962 photo of hobby action at Otter Creek Speedway, but his former car [shown as #1] with
Jack DuBrul is flying up through the field, having started last. The white coupe in second is Beaver Dragon.
After that frustrating beginning with his Ford, Pauly Robar not only noticed that the formerly retired legend, Shattuck, had built a Hurricane from a 1962 four – door Ford Fairlane; but, he also knew Rex [while flying around Catamount in the car] was rapidly losing interest in his racing comeback. Robar struck while the iron was hot and bought the fast Shattuck Ford before Rex wrecked it or sold it to someone else. Immediate transformation for Robar !
About a week later, Shattuck's primered 1962 Ford arrived, painted red and white and numbered with Pauly Robar's #86. His racing buddies from the Burlington / Winooski area just smiled; but, this was major news to everyone else. Robar immediately went out and blew away the field in his first race with the car. To the uninitiated in the stands, it seemed like the same old Robar car – if you didn't notice that the first one wasn't a four – door sedan. Pauly stayed flying for a while.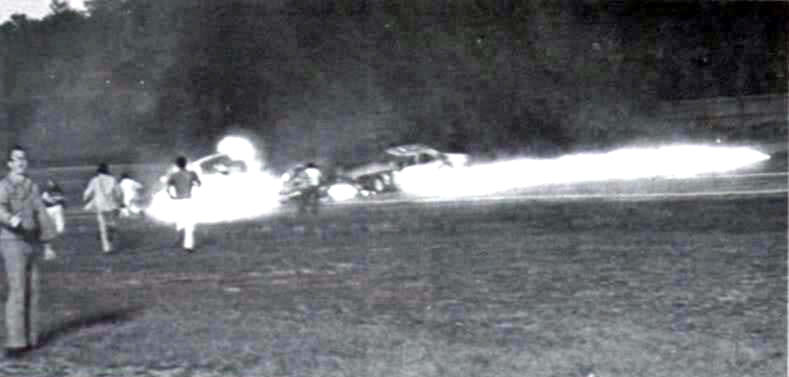 Courtesy of Andy Boright
Above – the fiery wreck at Catamount. I don't know who was involved with Robar in this accident. Below – My lettering is still recognizable, but Pauly's pride is a charred wreck.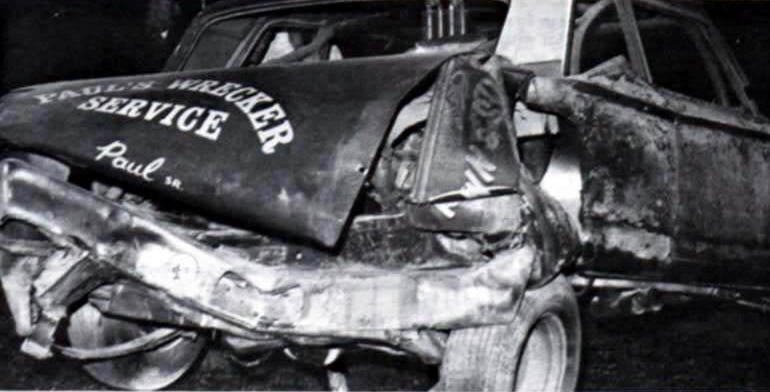 A few weeks into his hot streak, I got a call to go down to Winooski and put some signs on the Ford. I felt honored. Irving Stechler, a sign legend known simply as "Steck", had taken a few minutes to put the simple but well – done 86 on the car; but now, Pauly needed ads and such … and Steck could be pricey at times. So in came the new guy from Milton that Pauly had met in the Catamount pits – me !
I ended up having to put an ad on the trunk for Pauly's business at the time, a wrecker service. I painted another ad on the quarter panels. It was an adventure because Paul Sr, having finished his stone work for the day, was free to watch and well into his usual cups by the time I got there. Pauly watched me trying to letter, with a teetering man looming over me, when he quickly found something for Pop to do.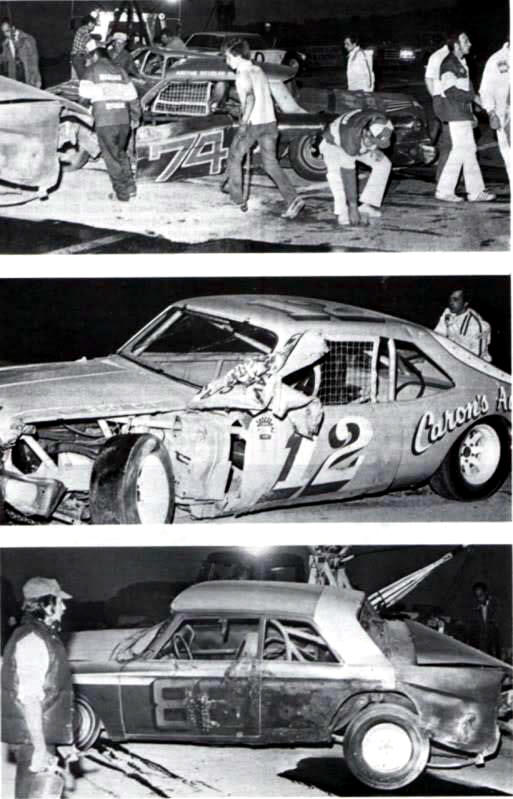 From a Catamount Program
Another look at the remains of the last car Rex Shattuck ever built [bottom photo].



Well, I don't usually think of myself as a jinx; but, it may have worked out that way for Robar and the fast Ford. He had about one good race with my lettering on the car before running into one of Catamount's relatively few fiery crashes. His car was burned to a crisp. I think that might have done it for the younger Paul Robar, as he was an astute businessman who was starting to look at other businesses and he knew being laid up with injuries from a racing division with notorious low payouts was just not in his plans.
The Hurricanes eventually morphed into the slick, four cylinder, standard tranny pony cars called Grand Americans. But, the Hurricanes, which had produced the likes of Richard Buzzi, Norm Andrews, Carl Nelson, George McRae, Jamie Aube, Larry Caron, Buzzy Lambert, and many others who had gone on to higher racing classes, always carried the lore of some of the class's noteworthy cars. By all means, one of those cars old hands like myself are not going to forget was the Rex Shattuck – built Hurricane Ford driven for that brief, shining time, by Pauly Robar.
We recently lost Pauly Robar [at way too young an age]. I had already written this column; but it is sadly appropriate now.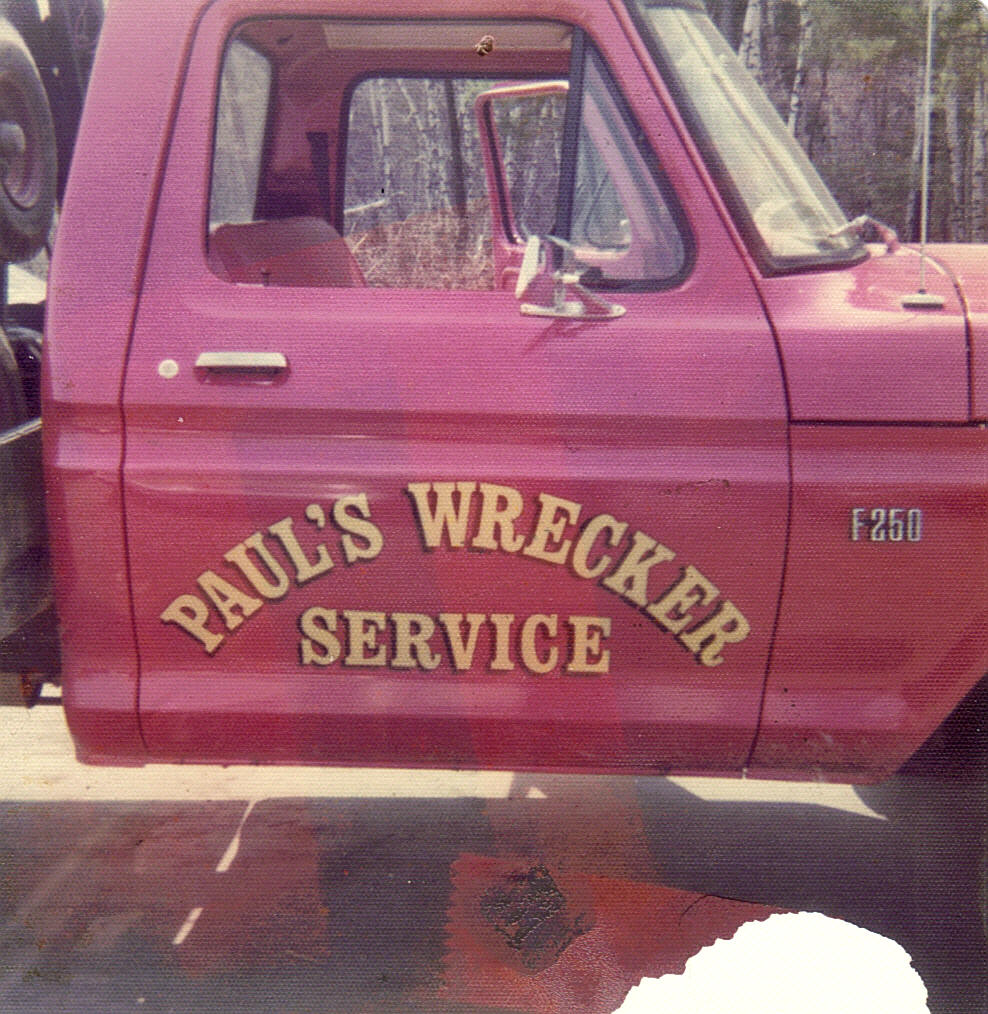 Ladabouche Photo

Please email me if you have any photos to lend me or information and corrections I could benefit from. Please do not submit anything you are not willing to allow me to use on my website - and thanks. Email is: wladabou@comcast.net . For those who still don't like computers - my regular address is: Bill Ladabouche, 23 York Street, Swanton, Vermont 05488.
AS ALWAYS, DON'T FORGET TO CHECK OUT MY WEBSITE
www.catamountstadium.com
Return to the Main Page
Return to the Main News Page
Return to the All Links Page
Return to the Weekly Blog Links Page