BILL'S [Somewhat] WEEKLY COLUMN/BLOG PAGE

BILL'S BACK IN TIME
By Bill Ladabouche
THOSE REMARKABLE AGAWAM SEDANS
I don't know whether I was first aware of Rene Charland or first aware of that interesting semi late model division at Malta's Albany – Saratoga Speedway. It had been fascinating to watch, first hand, the battle between two Northern New York drivers for the 1961 NASCAR Sportsman National Championship because the rustic Otter Creek Speedway [not too far from where I lived] was attracting prominent NASCAR sportsman teams vying for easy points.
Then, of course, this guy named Charland came along and put an end to any reasonable competition for the aforementioned national title for the next four years. I didn't pay much attention to Charland's steady climb in 1962 because we were very tied up in the re – opening of the very – nearby Fairmont Speedway, in Fair Haven, VT. But, when my uncle and I made our first trek to Fonda Speedway that season, the whole NASCAR sportsman thing was brought back into focus; and Charland was apt to appear at Fonda.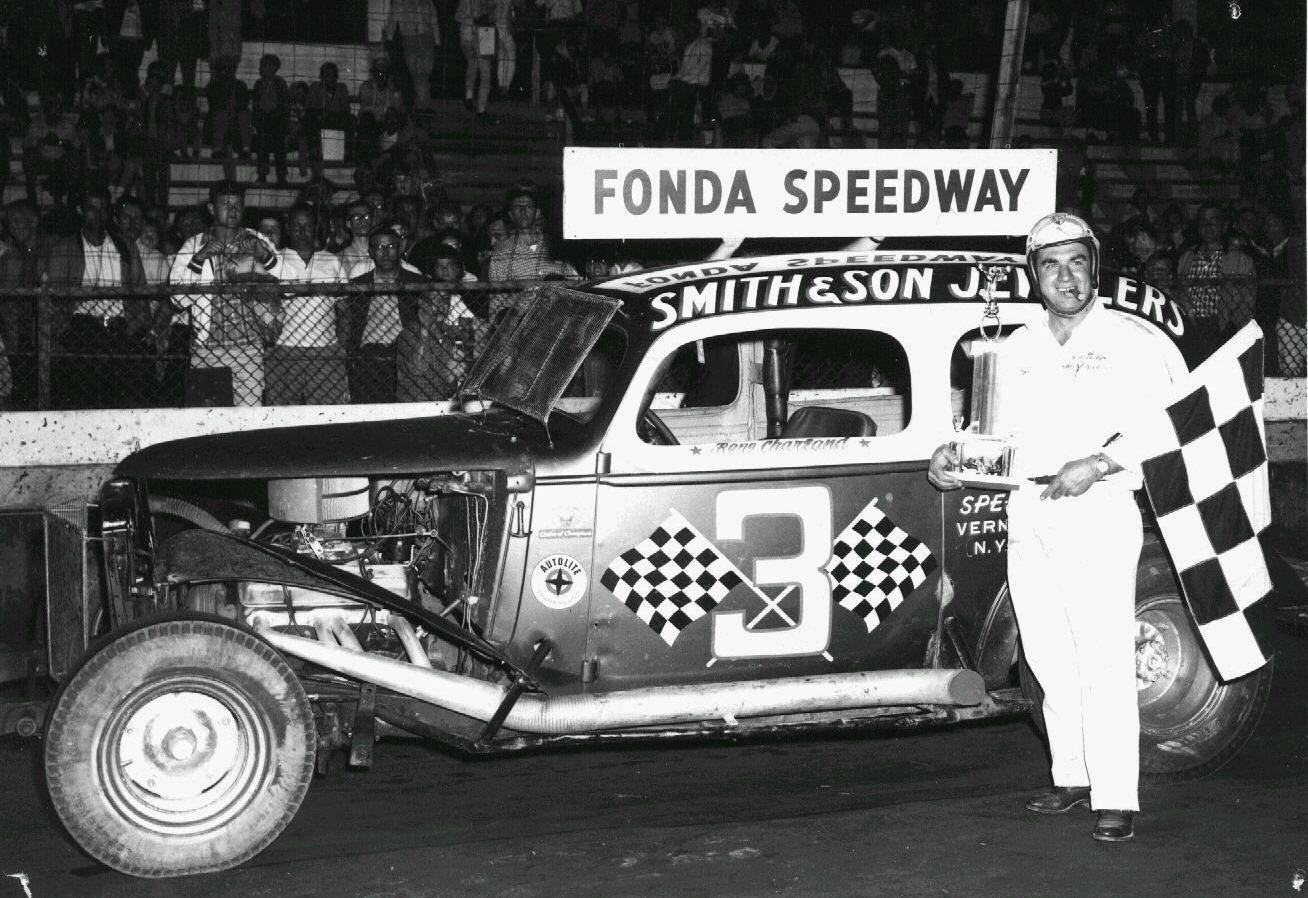 Ladabouche Collection
My attentions were on other things but that Charland guy kept popping up in the background. [Below] We saw more of
him in this familiar coupe in those days.


Ladabouche Collection
Charland's first appearances seemed to be with that white #3 MASS coupe with the checkered flags around the numbers. We know now that he drove a number of cars – at multiple tracks – to gain the huge points totals he amassed in winning those four titles; but, his appearances at Fonda in 1963 sometimes featured a gorgeous blue sedan that sported his familiar number 3. These particular cars, known as the Smith & Son Jewelers cars, were owned by Springfield, Massachusetts' Sam Smith. More importantly, they were produced by the up and coming [soon to be legendary] Fred Rosner.
Charland would eventually become just as known in cars like the Czepiel 888; but he was still often linked with that Smith car. The Smith coach went on to be renumbered 00 [probably in deference to Charland] and was then driven with reasonable success at places like Utica – Rome Speedway, Victoria, Fonda, Riverside, and more tracks by hired drivers Donny Wayman and Jim Luke. Both of those drivers were strongly associated with the glory days of Fonda; but, both had moved on to other venues as hired guns for various car owners.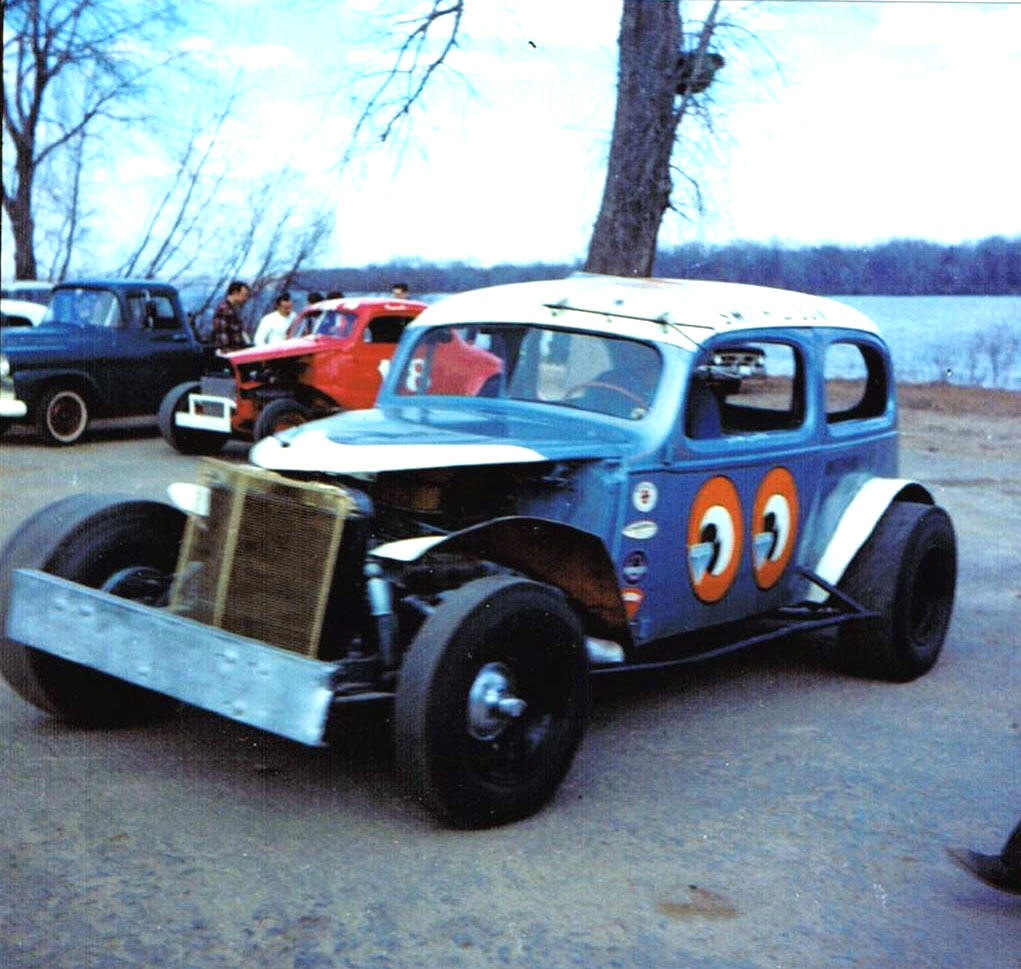 From the HAMB Website
Veteran Jim Luke has the Smith and Son sedan at Riverside Park around 1965. [Below] Don Wayman, in the same car, possibly at Victoria.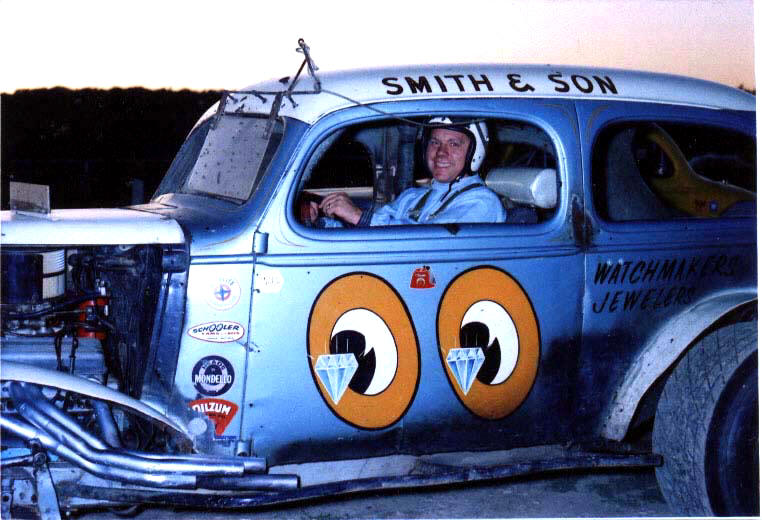 John Grady Photo
After this run with the two drivers, I have sort of lost track of the car. Smith may have continued to campaign a car – I just don't know. However, the coach may also have been sold to Godfrey Wenzel, who I think had had stints as Charland's crew chief. At any rate, Wenzel suddenly had two white, Rosner – built sedans, coming out of the Agawam area. The best – known Wenzel driver [usually driving the newer, lower – slung sedan] was the iconic Maynard "Cyclone" Forrette, the South Hadley Massachusetts man who was born near Airborne Speedway in Ellenburg Depot, NY.
The Wenzel cars sported the number 03, and seemed to always be sponsored by Reardon's Garage, from which Wenzel operated at the time. The seldom – seen, older backup car was, very likely, the old Smith & Son #3Mass. The Wenzel cars and the mercurial driver attracted considerable attention and won a fair share of shows. The team was once featured in Gator Racing News paper with Forrette speeding along, racing with someone like Irv Taylor in the backup car. They looked reasonably identical.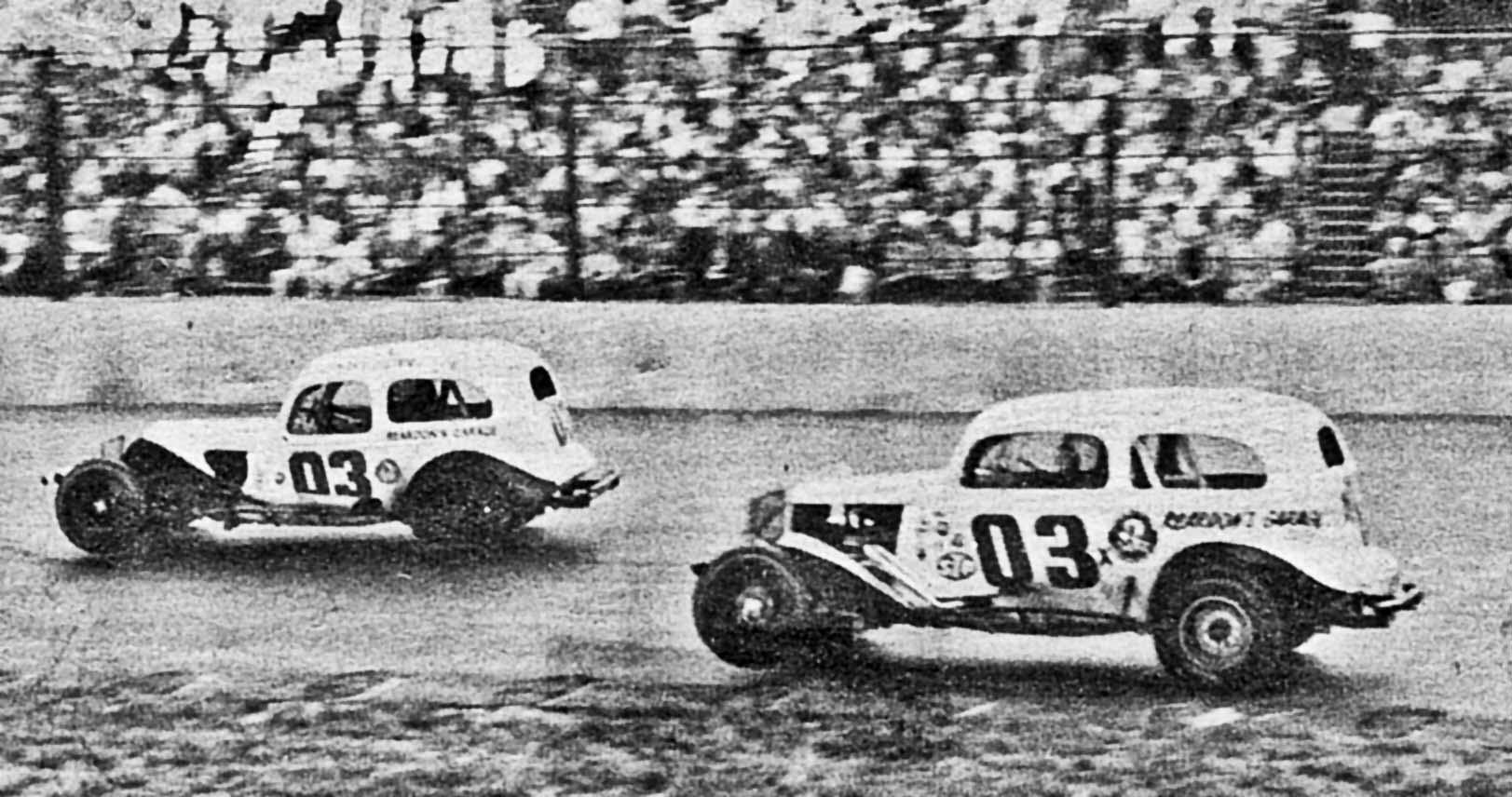 Gater Racing News Photo
Godfrey's cars, captured on the same portion of some speedway, with Forrette in the newer, lower car and
Irv Taylor torquing the other. [Below] – Maynard works the newer sedan, at speed.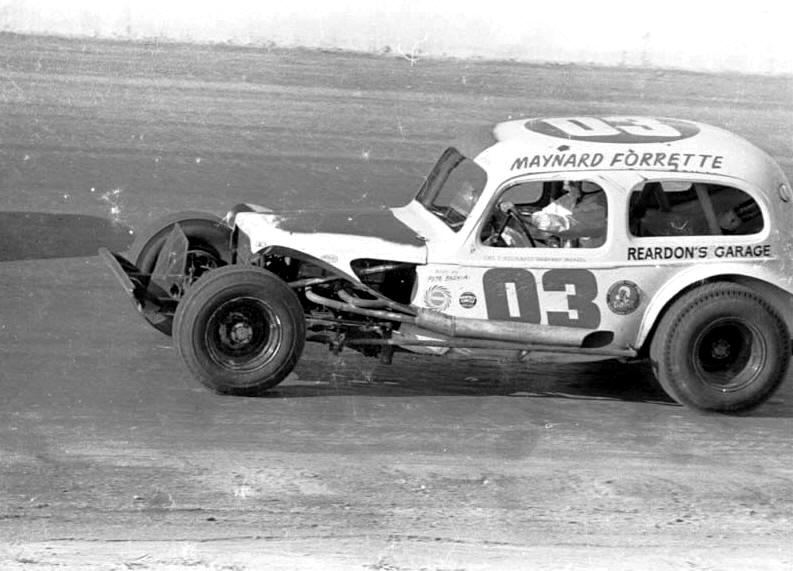 From the HAMB Site
Forrette would eventually hook up with the Round Lake, NY - based Roehrig brothers who had fielded their familiar gold #99's for Ken Platt for years. Cyclone raised hell with those cars for a few years before handing the wheel over to Charland, of all people. Wes Moody always had a grudging admiration for Forrette after subbing for Maynard once at Fonda. Slugger allowed it was the hardest car to drive he had ever sat in.
The Reardon's Garage sedans seemed to drift off into the sunset, although I think I recall a similarly – schemed coupe running somewhere in southern New England.
there also was a version of the white 03 sedans that ran on the dirt at Lebanon Valley with veteran Bob Tauscher. I am not clear on whether this was before, during, or after the Forrette era with the team; but there are a number of photographs showing this car running the high - banked track.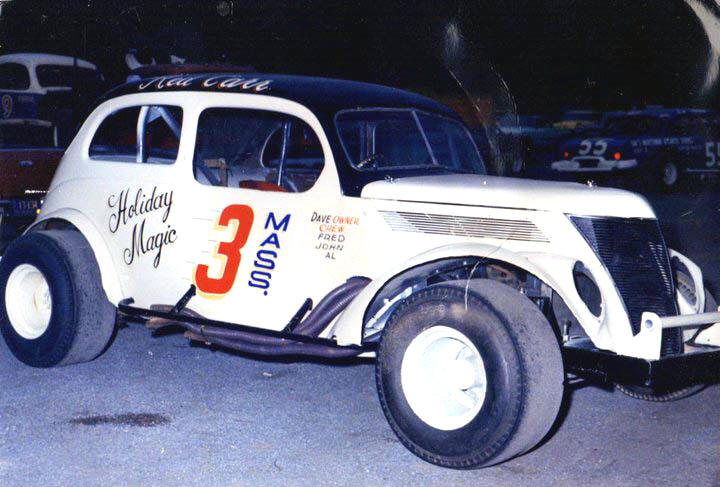 From the HAMB S
Al Fini, aka Red Carr, with the what I believe is the original Holiday Magic semi late model sedan.
[Below] George Rettew, in the other team car, the one Carr ended up replicating.


From the HAMB Site


The final remarkable Rosner sedans are cars I can now say, for sure, were not Fred's creations. Enter the Albany _ Saratoga semi late model class, mentioned in the opening paragraph. The SLM division was supposed to be primarily a reasonably – priced late model class; but, for some unexplained reason, they allowed car from the 1940's. This opened the door for John Lopardo, in Charland's shop in Agawam to build the Holiday Magic team. This was two sedans I really thought looked like a 1937 Ford and maybe a 1938 Chevy. Certainly, they were not much like the '55 Fords and Chevies trying to run against them.

I always thought the Holiday Magic cars were likely owned by Holiday Magic; but, Charland owned the #1 [driven mostly by George Rettew] and was actually a 1939 Chevrolet former police car. The other was a 312 C.I. - powered '37 Ford owned by driver Al Fini [known as Red Carr] and Dave Parent. I had seen both cars run at Malta, and I am sure that at least Carr also drove at Riverside Park. Holiday Magic, as it turns out, paid for the paint jobs and subsequent lettering only – no other sponsorship was forthcoming.

These Massachusetts sedans, as well as Norm Moyer's Oldsmobile, Gardiner Taylor's car, and Ralph Holmes' former Bernie Miller Olds really pushed the envelope on the rules of that division. I really think the host tracks [mostly Fonda, Riverside, and Albany – Saratoga] wated that classic kind of late model hobby car class like one would be seeing at Lebanon Valley, Fairmont, and other venues; but, with those older model coupes, it certainly appeared that hey had some sort of advantage. Probably in retrospect all these years later, it was the building expertise out of Agawam and Moyer's considerable budget that supplied the edge.


Racing Thru Time Photo
Maynard Forrette spent a little time, early in his career, in one of the former Holiday Magic sedans, confirming a close relationship with Charland.
This photo may show the car as a sportsman before Wenzel owned it.
[Below} The success of the Holiday Magic cars inspired the building of rockets, like Norm Moyer's car.


John Grady Photo



The Holiday Magic team seemed to be originally based at Riverside. The 3MASS was driven by a Massachusetts sod farmer named Red Carr [actually, Al Fini]; the slightly faster 1 MA was driven by Chicopee, Massachusetts driver George Rettew, who had campaigned a more standard 1956 Ford in that class before. [Actually Carr had also run a more standard Ford late model before, as well]. The team was so dominant and there was so much resentment that Oneida, NY's Norm "Moyer the Mover" Moyer blossomed out with a sportsman – like '48 Chevy coupe the following year, as did Gardner Taylor, Irv's brother. The class also expanded to Fonda.

All these changes apparently did not set well with the owner of Holiday Magic cosmetics because the cars were not seen much after that. Rene Charland eventually converted the 1MA car to one of the Reardon's garage 03's. Fini constructed an accurate replica of the Rettew car, which it ended up burning up with one of Al's farm buildings. After he read one of my Speedway Scene columns about the Holiday Magic team, he was inspired [along with good insurance payments] to restore the car, which he did beautifully. Fini even became the president of NEAR before health issues curtailed his activities a bit.


Al Fini Photo
Al Fini, inspired by his time with the team, restored the burnt – out replica of the Rettew / Forrette car. Below - The finished product.


Al Fini Photo




It is highly unlikely that Rosner produced more of his miraculous sedans out of Agawam. As he left Charland around 1967. I have seen guys like Fred DeSarro in Riverside cars that had that Rosner - influenced look about them, but John Lopardo may have been the architect. Rosner, of course, became very prominent in the NASCAR sportsman community with gigs such as the one he had in building Dave Lape's Chevy II – bodied Fonda car around 1965 or 66. I first got to see Fred's work quality close up, when he came north with the John Rosati Northern NASCAR late model program at Catamount and Thunder Road in the early 1970's.


Hertha Berberwuck Collection via Chas Hertica
Bob Tauscher often drove the second Wenzel sedan at places like Lebanon Valley.

Most of us will always have a soft spot for those Agawam coaches that brought a little challenge from Massachusetts to the intransigent and rough reaches of New York dirt tracks. Today, everybody has equipment built by someone other than themselves, but it just isn't the same. Now, Freddy is more interested in street rod [particularly rat rods, I guess]. I see him every year at the fairgrounds in Essex Junction, VT. I hope you had a chance to see one of his sedans in action – somewhere.
Please email me if you have any photos to lend me or information and corrections I could benefit from. Please do not submit anything you are not willing to allow me to use on my website - and thanks. Email is: wladabou@comcast.net . For those who still don't like computers - my regular address is: Bill Ladabouche, 23 York Street, Swanton, Vermont 05488.
AS ALWAYS, DON'T FORGET TO CHECK OUT THE REST OFMY WEBSITE
www.catamountstadium.com
Return to the Main Page
Return to the Main News Page
Return to the All Links Page
Return to the Weekly Blog Links Page