TREASURES IN THE ATTIC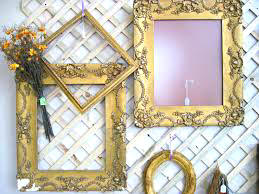 Curious Boys Photo
The page sounds like a hokey ad from Antiques Weekly; but, it isn't about your standard type of antique. I was rumbling around in my attic, searching one of my old White Owl Miniatures cigar boxes in which to ship something when I ran across a number of photos in one of the boxes. I know these were photos I had originally deemed unfit for the site [mostly due to poor quality or horrible centering]. I'm not so dismissive with racing photos now, because the importance of their content may outweight their artisitic value.
I will take each of the shots that can at least be recognized and add some background story to go along with them. This is a nice find and a fun page to do. I hope you enjoy it. As usual, if I get stuff wrong or if yoou have info to add, please let me know.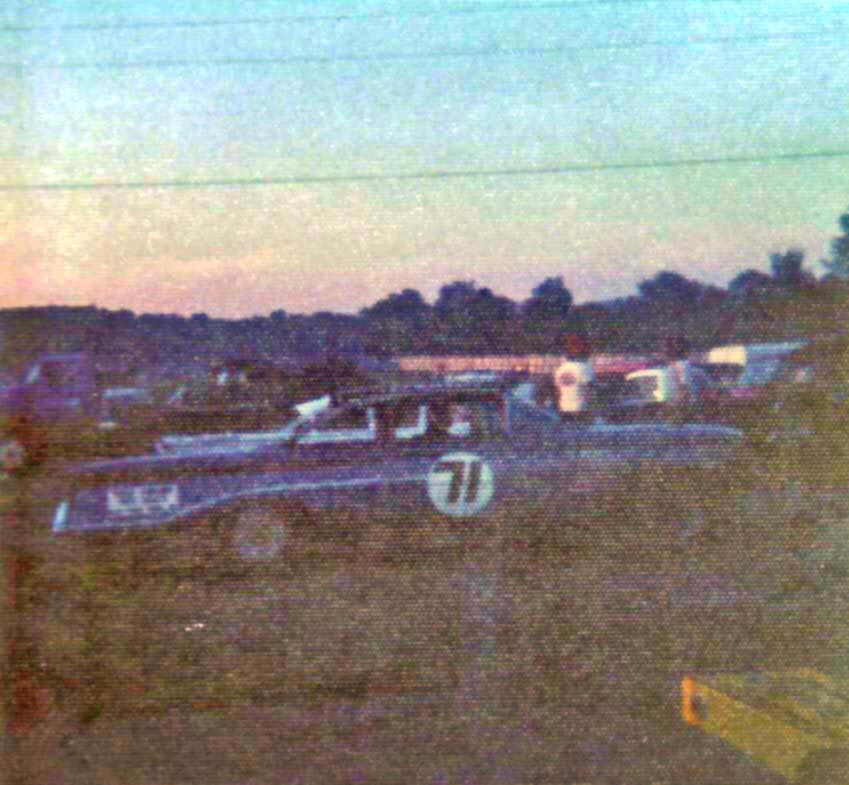 Ladabouche Photo [in damned poor light]
Al Maynard's Hurricane Division Olds sits in the Catamount pit area, around 1971, around twilight.

Al Maynard was descended from a family that played an important role in stock car racing in Chittenden County, Vermont in the 1950's. The Maynard brothers [all three] raced at tracks in the area Like Colchester Raceway, Malletts Bay Raceway, and the like. When Catamount Stadium instituted its automatic transmission Hurricane Division, Al saw a chance to do some racing of his own, affordably. He would race in the class, as would "Grampa" Jerry White, who I believe was Maynard's stepfather.



Ladabouche Photo
Perhaps the best car Al built for himself. Seldom do you see 1960 Chevies used as race cars.




Courtesy of Chris Companion




Al contends with strong Hurricane competitor Perry Poquette [32], as well as Luc LaFrance [26] and another car - at Catamount.




Courtesy of Cho Lee


Jerry White takes a Catamount win in
a car built by Al Maynard.



Courtesy of Jim Watson




Jerry White with his best car.
Besides the above Oldsmobile, Maynard would build two other cars - one Chevy which he ran himself, and another that White would drive after his own car was apparently no longer operable. White would be remembered as one of the better Hurricane drivers of the early years despite not beginning his career until age 50. Between the two, they would inspired two younger Maynards, Adam and Aaron of Milton, to race their own cars in the early 2000's. Aaron would go on to become the ACT announcer while Adam, a former student of mine, served in the military. Al Maynard really started something with that Olds.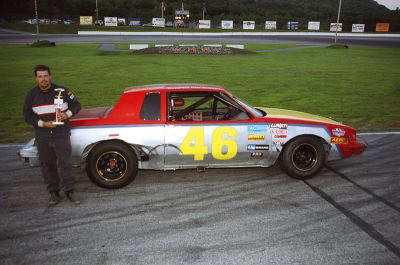 Ladabouche Collection
Aaron Maynard wins one at Airborne around 2005. Sorry, Adam, I don't have a shot of you yet.
_____________________________________________________________________________________________________________________________________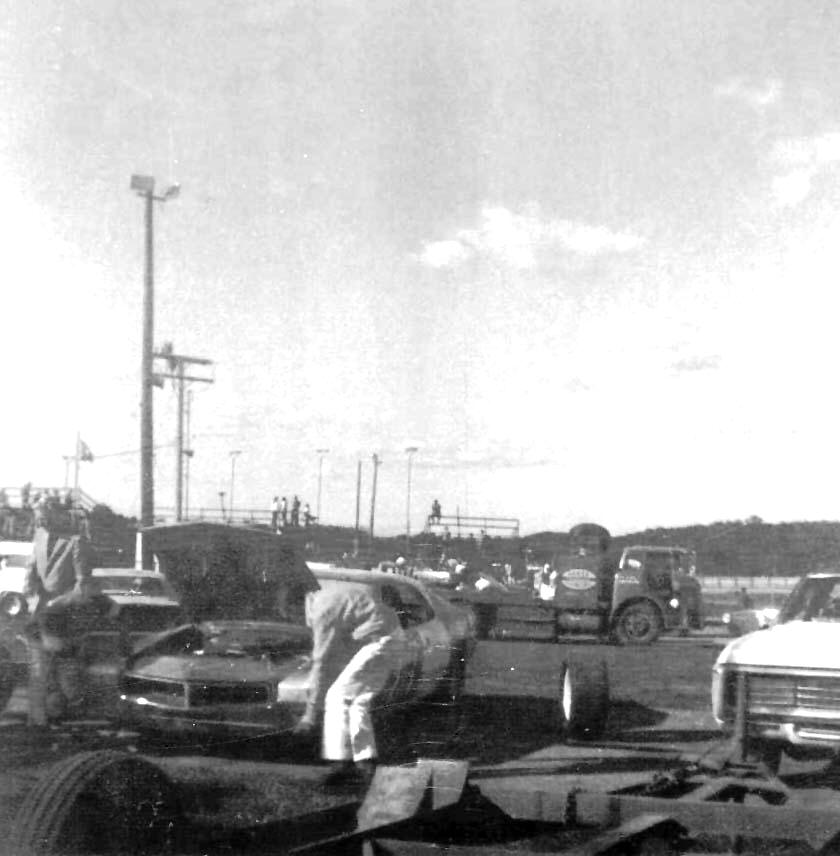 Ladabouche Photo [in damned poor light]
The Huggins Javelin - likely driven by Jim Paschal - sits in the pits at Catamount around
1970 as the NASCAR Grand Touring Division ran its first of two races there.
The NASCAR class called The Grand Touring Division was barely a year or two old when it booked a race at Catamount Stadium, in conjunction with a Northern tour of sorts much like its Grand National senior division used to do a few years before. Not yet very popular or well - known [perhaps due its rather un - NASCAR - like name], the class featured "pony cars" like the Camaro, the Mustang, the Javelin, the Barracuda, and the Cougar. To add to its odd beginning, it even had races where foreign cars were included: that was a no - no with most ultra - conservative NASCAR fans.
Just like its senior division, it didn't take long before the big money teams and the Grand National drivers who got the best equipment were dominating the shows. One of the first bigger money teams was the Huggins Javelin team, which featured Jim Paschal, a veteran who was shading towards the end of his Grand National career. Many of the Grand Touring teams showed up with very modest haulers; some even had open trailers. Huggins had the big cube van and the crew to go with it. Catamount would get [for the first time] to see Timy Lund, Paschal, and a few other name drivers to go along with the Frank Sesssom's, the Brewers, and the other lesser - knowns who populated the GT division.
Catamount's free - spending former owner, Jack DuBrul, would a Javelin of his own for the race while Catamount regular Tom Tiller drove a car for old friend Stan Starr, Sr. The GT/Grand American races were held for two years only at the Milton track. Later, the track would turns its thundering automatic tranny Hurricanes into a 6 cylinder, pony car Grand Amrerican division of its own.



Ladabouche Collection


This post card giveaway shows the Paschal.Huggins team setup and the mere existence of promo materials offers proof of a higher operating budget.



Courtesy of Dennis Andrews


This shot shows the earlier
Paschal car and crew chief.


Ladabouche Photo
Blanton's 10 and its modest
pit equipment was more typical
of hat showed up at the
Catamount shows. Note the Huggins
rig in the background.

Courtesy of Rich Palmer
Dubrul and his Javelin -
before he redid it as a
modified for another
special show.



Ladabouche Collection


Richard Buzzi and his Camaro
were arguably the best ever
in Catamount GA division.
_____________________________________________________________________________________________________________________________________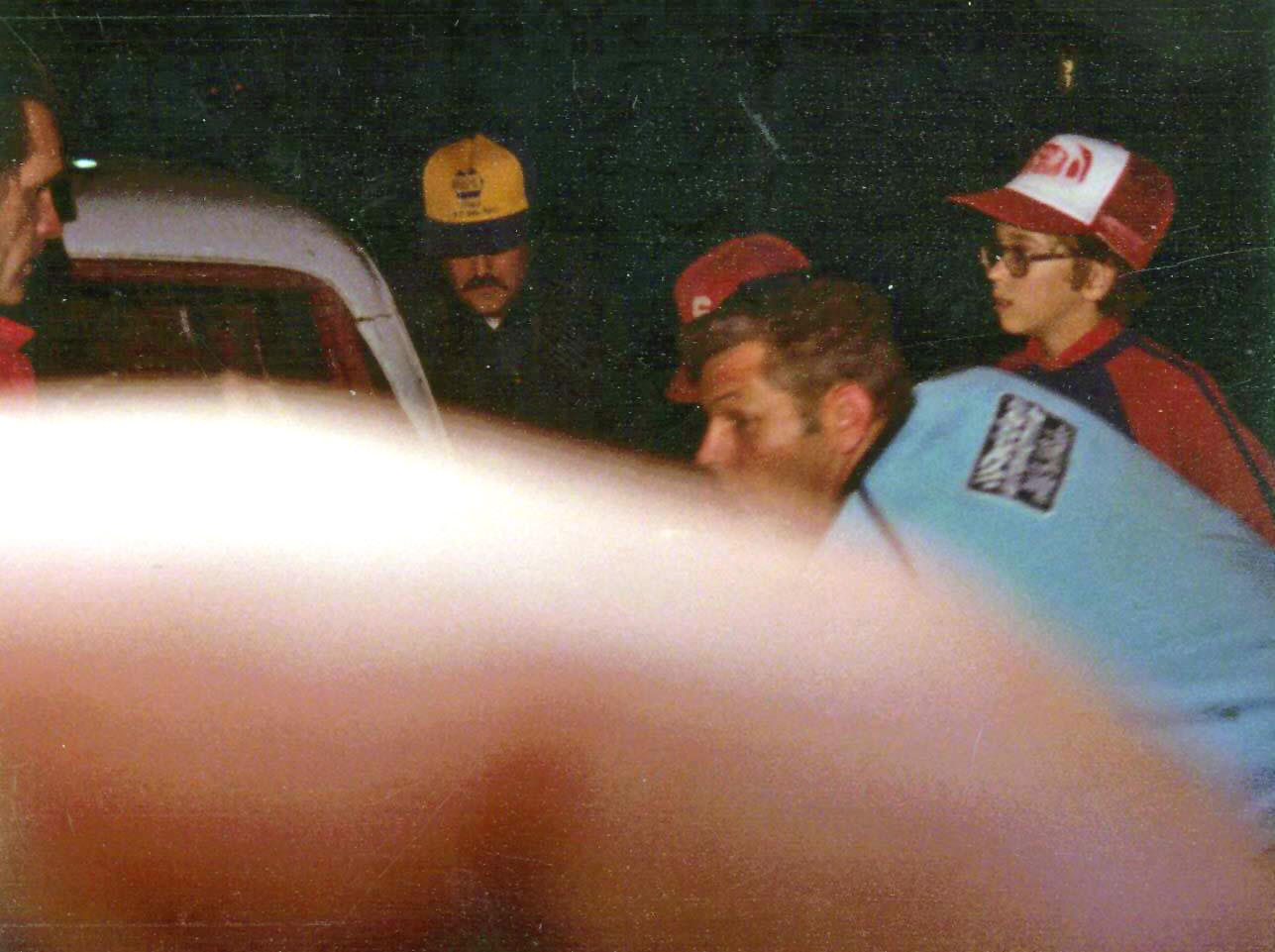 Ladabouche Photo
Wayne Hazlett looks in, to Butch Elms to find out what Elms has pitted in the middle of leading a feature at Bear Ridge Speedway.
Back in the 1980's, Bear Ridge Speedway was still being run by C.V.Elms, the elder, known as Chuck. His son, Butch was one of the track's best drivers. Butch was driving a coupe [ a very competitive one, at that] even though a few guys like Frank Keene and Bob Shepard were running Gremlins. Elms would eventually switch over to a state - of - the - art chassis, such as a Troyer or Olsen; and, before too much longer, he would be promoting and running the speedway by himself.
On this particular night, I had called ahead for press credentials, then writing for Speedway Scene. I loved the place, and I was treated very well by everybody. I took a few poor photos that night, and this one - while spoiled by some guy'g bald head - was still compelling.



Ladabouche Photo


The Elms coupe, as it looked
waiting for the feature.

Ladabouche Photo
The frantic pit stop continues
as a slow-leaking tire is changed.
This was early Bear Ridge - no air tools.


Courtesy of Cho Lee
C.V. "Chuck" Elms, flannked by
C.J. Richards and Bob Doyle.

Ladabouche Photo
Butch Elms talks with Devil's
Bowl car owner, Mike Richards.
Both are closely related to their track's
early owner and both either farm
or did farm.



Ladabouche Collection


Butch and his first
Troyer.
_____________________________________________________________________________________________________________________________________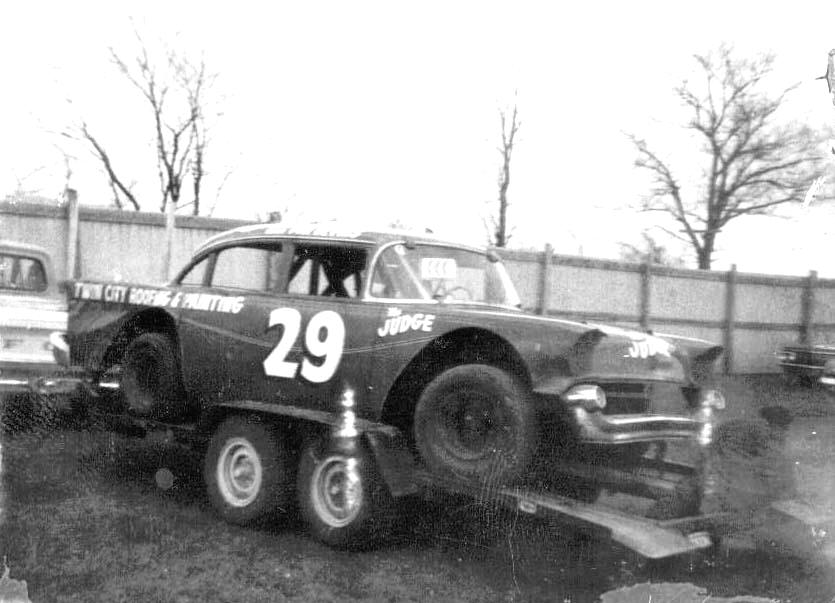 Ladabouche Photo
Don Bevins never had anything but a well -appearing race car. This one, his first, sits in the pits at Catamount around 1970 or 71.
Right around 1970, one of the custodians at my school in MIlton, VT. was always telling me about his son - in - law, who was building a race car for Catamount Stadium. Catamount was coming back into its prime after an unpopular decision to eliminate the modified coupes had cost it some support in 1968. The potential for receiving bullshit stories was great, and I didn't pay much heed to what Tracy was saying until I saw this really sharp - looking 1957 Chevy limited sportsman parked by his house, about two doors from the school.
Don Bevins was the son - in - law. He eventually turned the Chevy over to his younger brother, Gary and he - along with local salvage yard operator Gil Rhoades, built the most gorgeous dark purple 1964 Dodge late model sportsman you would ever hope to see. Bevins proudly agreed to bring the car to my school when my students were having a late spring model show there. It made the Burlington Free Press and was a huge hit.
Bevins would win one or two features with that Dodge [ironically, the first win was with the entire front sheet metal missing from the car like a modified. He would later develop a close association with Jean - Paul Cabana and end up driving two Cabana - built cars. The first, an unusual '64 Chevelle, would end up going through four car owners and would carry Bob Ellis to a very prestigious 1973 NOrthern NASCAR Rookie of the Year award. The car above appeared as #9 for Gary before he built his own Chevelle.



Courtesy of Rich Palmer


Gary Bevins with the Chevy
limited sportsman in a Catamount
lineup around 1971.



Courtesy of Rich Palmer


Don Bevins with the Dodge.


Ladabouche Photo
Kids and Dads alike admire
Don's car at the 1971 model show.

Courtesy of Chris Companion
Don with his second Cabana
- built Chevelle.

Courtesy of Cho Lee
Gary Bevins looks for room
through a Mopar mixup
around 1972.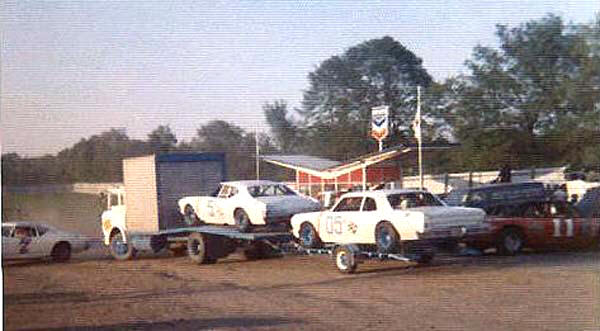 Ladabouche Photo
Cabana hauls in his Chevelle with the one he had built for Bevins behind. This is the one that went through Cabana and Bevins, Jack Dubrul, Austin Dickerman,
and ultimately Ray Richards [for Bob Ellis]. Few, except Cabana built Chevelles with that body style with the roof post. His onw car had one, and the #7 passing by
[Ronnie Bettis] was Cabana's old car and it had a post as well. JP told me why he did that, but I forget.
_____________________________________________________________________________________________________________________________________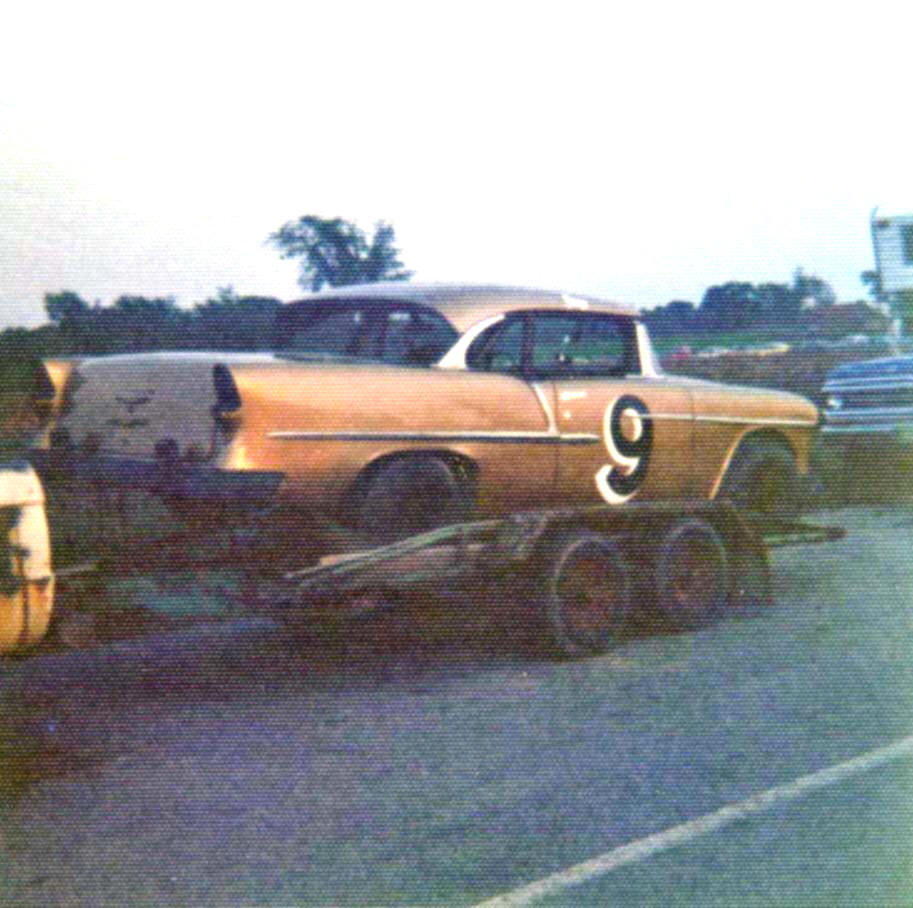 Ladabouche Photo
This shot goes under the "live and learn" category. In 1971, I was just beginning my sign painting career. This car, actually a Hurricane that looked more like a limited sportsman, was about my fifth job ever. The little weasel who had this car, a friend of the above Bevins family, never paid me despite continual flowery promises.
_____________________________________________________________________________________________________________________________________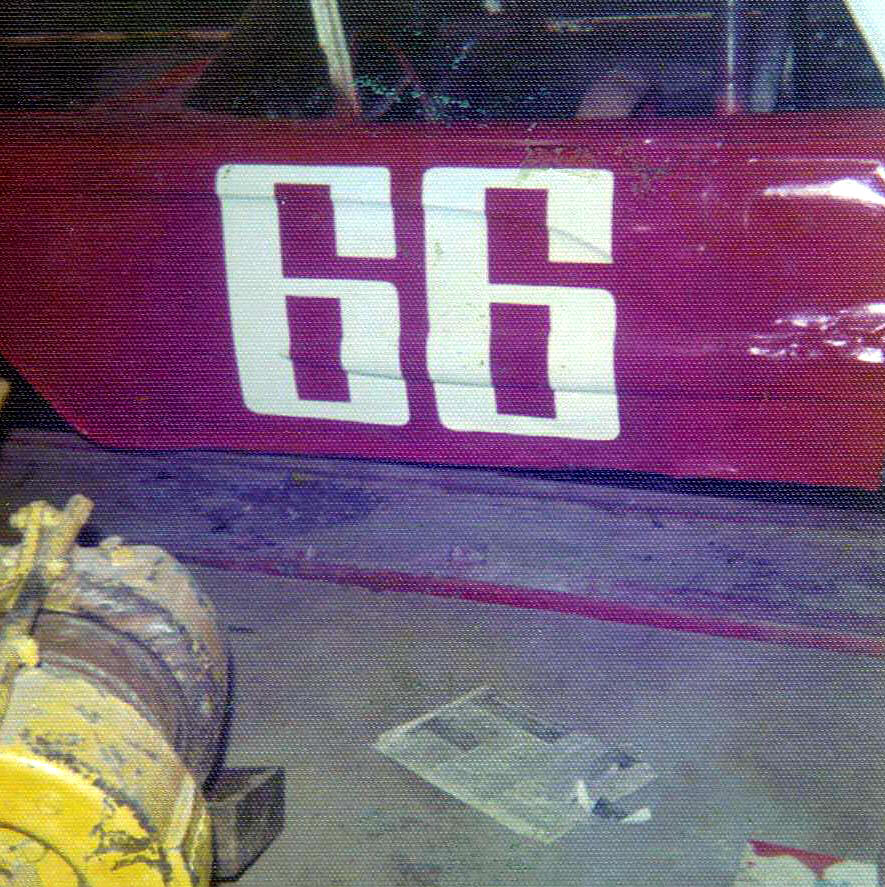 Ladabouche Photo
Again in 1971, I was just beginning my sign painting business. My good friend Don Turner had purchased the legendary Norm Cyr
Hurricane Division T - BIrd that had won almost every single race the first year of that class. He bought it for radio personality, Ernie Farrar.
I had actually lettered the Norm Cyr Thunderbird as what was officially my FIRST stock car sign job in 1970. I had no idea what I was doing and it was a real hatchet job; but I was proud of it. Later, a neighbor [and a real sign man] took pity on me and showed me real sign brushes and some technique. The above red 66 was the first job done with those brushes around 1972. I still have many of the brushes, although I haven't painted since 1983.

Farrar never really did much driving with the car. Turner went on to get a better Hurricane car and had some fun for aseason or two. Cyr recently told me the secret of his success with that first Hurricane. The Thunderbird had a passing gear that allowed it to be driven in that gear for long periods of time - which gave the experienced Cyr a real leg up on the competition [mostly lumbering behemoths of cars with no handling].
Cyr later tried killing himself in an ill - handling Chevelle before handing off the family driving reins to well - known son, Jean - Paul. Turner would finish up racing with the Dodge Hurricane that launched the career of Leon Gonyo. He would pass it on to son, Don, Jr. who has become better known as a poiitician in Montpelier. I went on to letter dozens of stock cars for Catamount. Farrar, who still appears daily on talk radio, never drove again.

Courtesy of Cyr Family
The Cyr T Bird around 1970. It still
has the headlights, as geniuses at the track thouoght they could actually race in the dark with lights at first.



Courtesy of Rich Palmer


One of many 1970 wins for Norm
in the hated T Bird.




Courtesy of Phil Butler


This shot of Lee Carpenter's Torino
shows the T Bird in the background,
when it was owned by Bernie Cardinal.

Courtesy of Andy Boright
Don Turner, Jr with the family's
favorite Hurricane car - origiinally
built by Leon Gonyo and Jim Cayea.

Courtesy of Chris Companion
Don, Sr with his over - heavy
Plymouth late model.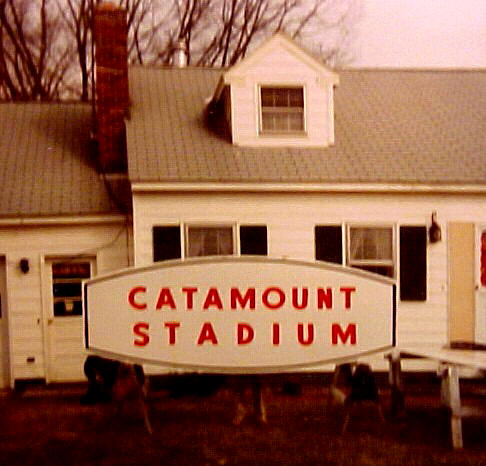 Ladabouche Photo
I eventually got better with the sign brushes and was once entrusted to restore the Catamount sign. My kids are in the back, holding it up as they often did.

_____________________________________________________________________________________________________________________________________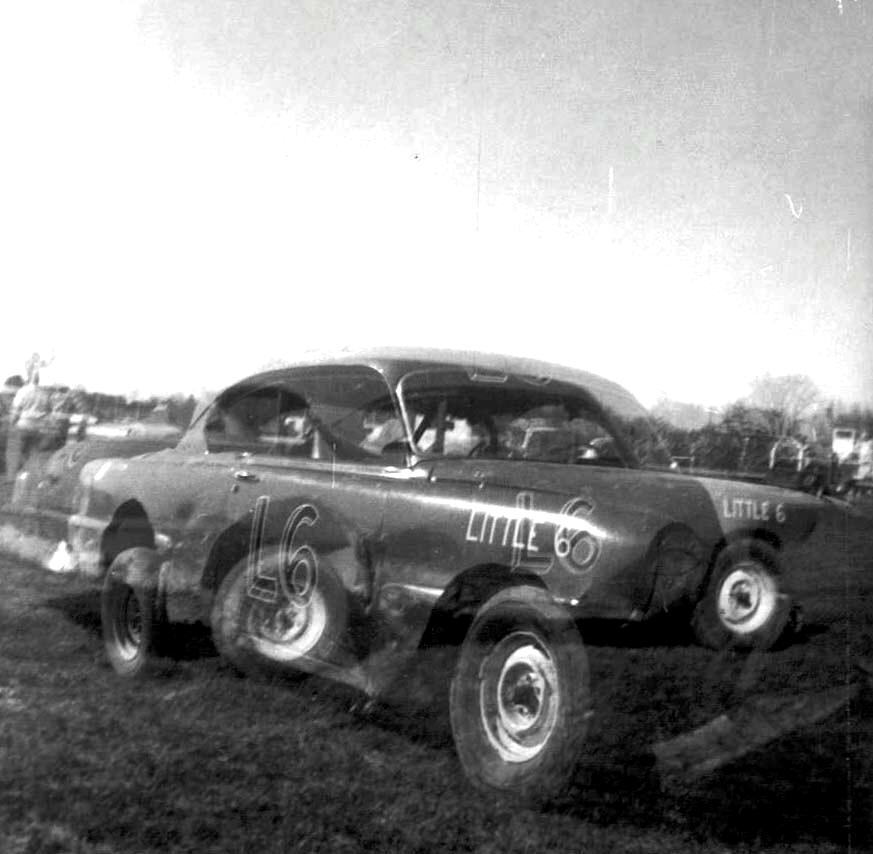 Ladabouche Photo
Louie Senecal's Plymouth is shown here, in 1963, in double exposure. I had taken hundreds of photos - but I screwed up this one. Bad karma !

When I was a junior in high school and going to the races at Fairmont Speedway, one of my Proctor neighbors, Louie Senecal,built this six cylinder 1954 Plymouth to try at the track's hobby division. I had recently reached the realization that I was fascinated as much by the numbers on a well - graphicked race car as by the speed and noise. Not even knowing the guy, I somehow wheedled my way into doing some of the lettering. Then I messed up my crowning moment by double exposing the photo.
Senecal knew right off a sputtering six banger running in with some sweetly tuned 283 V-8's wasn't going to work. He sold the car off to my friend Bob Allard who was going to put a tiny little man aptly named Clarence Short in as driver. We had changed the car to #16, but it never made it into an actual race. Louie would go on to a pretty good late model career at Devil's Bowl. Bob and I would go to races for several more years.
Senecal would go on to briefly promote - at the old site of the Otter Creek Speedway. He called it Rainbow Ridge Raceway, but had no luck. C.J. Richards, then running his Devil's Bowl on pavement, thought Senecal might do OK with a nearby dirt track and even backed him- but to no avail. I would do one more race car - for Charlie McMahan - before I was pretty much engulfed in the life at Castleton State College. As mentioned, I did a lot more sign painting about six years later.

Courtesy of Diana Peters
Louie Senecal left the Plymouth behind and had a good couple of years in the Devil's Bowl late model
division. A few "crewmen".



Courtesy of Diana Peters


An earlier late model.




Courtesy of Diana Peters


According to family legend, this is the conversation in which CJ convinced Sewnecal [right] to try running Rainbow Ridge.

Courtesy of Diana Peters
A 1970 view of Rainbow Ridge.

Ladabouche Collection
Charlie McMahan, with
my other teenaged lettering
job.
_____________________________________________________________________________________________________________________________________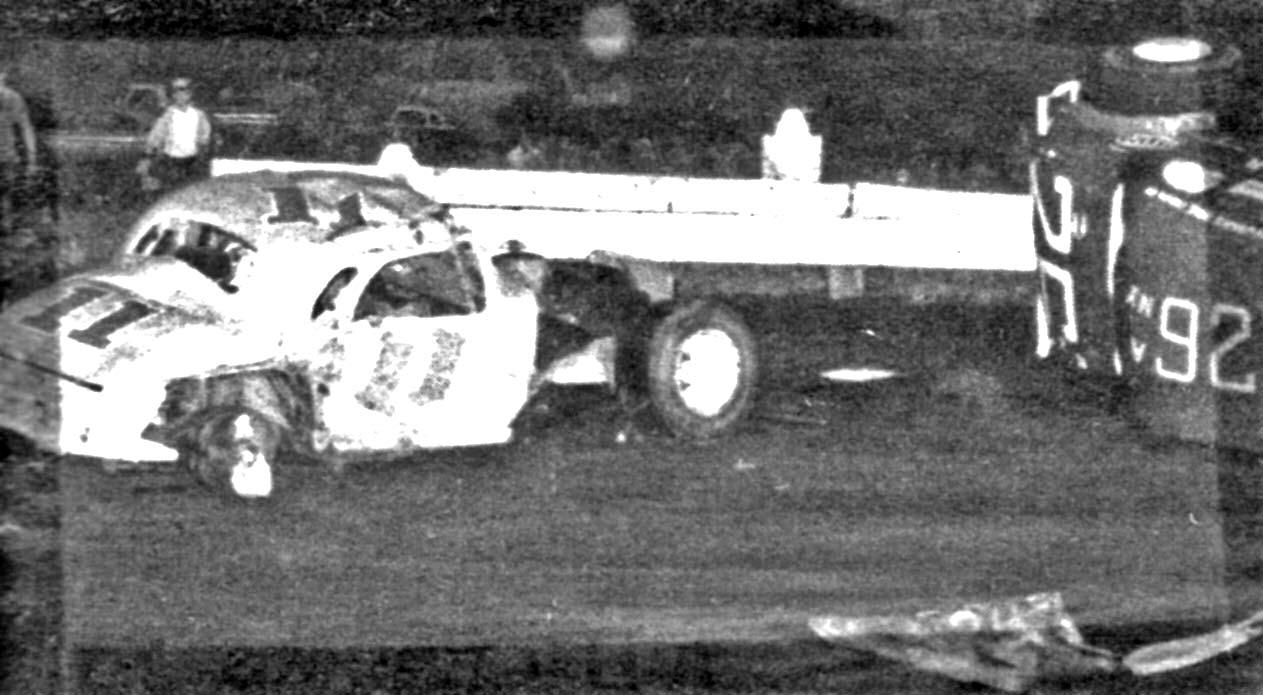 Gater Racing News - Ladabouche Collection
Jim Koehler's tan #11CT sits, wrecked on the Fonda Speedway straightaway. He obviously connected with Phil Becker's 26NY.
When I was a freshman in high school, a long drought of seeing stock car races ended when my uncle and I learned of a track that had opened near Vergennes, VT. It was Otter Creek Speedway and was the first version of that same track Louie Senecal tried promoting almost ten years later. The track, being NASCAR, featured a few pretty good sportsman coupes - all there looking for easy national points. One of the sportsman drivers whose name was unfamiliar to me was one Jim Koehler, from Coventry, CT.
Koehler had this brown #31 CT, and appeared to be somewhat competitive with the bigger stars like Ken Shoemaker and Dick Nephew. The next time I saw that car was at Fonda, the following year, when my uncle and I began infrequent pilgrimages to the Track of Champions. Koehler would also appear at our local track, Fairmont Speedway, which opened the year after Otter Creek did - 1962.
As time went on, Koehler would re-appear at Fairmont in various other cars, culminating in 1965 with a very spiffy, apparently - new tan #11 CT. Koehler, now a Saturday night regular at Fairmont would take the car to Fonda in 1966 and mange to wreck it badly enough to ruin his season. He would eventually become friends with the McMahans [Charlie and Dave] and garage the car with them until Dave bought it and ran it at Devil's Bowl around 1967 or 68.
A tall, blonde guy, Koehler always struck me as somewhat of a loose cannon, appearing in and out of tracks with his ever - present mechanic nicknamed Orchid. His l;ast car was a #9CT at Devil's Bowl. He had some effect on several local Rutalnd area teams, teaching them the Felmeke front end setup and other little tricks of the trade b efore disappearing back to Connecticut.

Ladabouche Photo
Koehler's familiar brown #31 CT
as it made a late season appearance
at Fairmont around 1963. That's Orchid by the front.

Ladabouche Photo
An outlaw rig Koehler
brought to Fairmont from
God knows where, It had the
beer keg gas tank.




Courtesy of

Ted Vogel


Another of Koehler's
non - NASCAR - legal
Fairmont cars.

Ladabouche Photo
The tan beauty at Fairmont,
in 1966, when new.

The last Koehler car
seen around 1969 at
Devil's Bowl.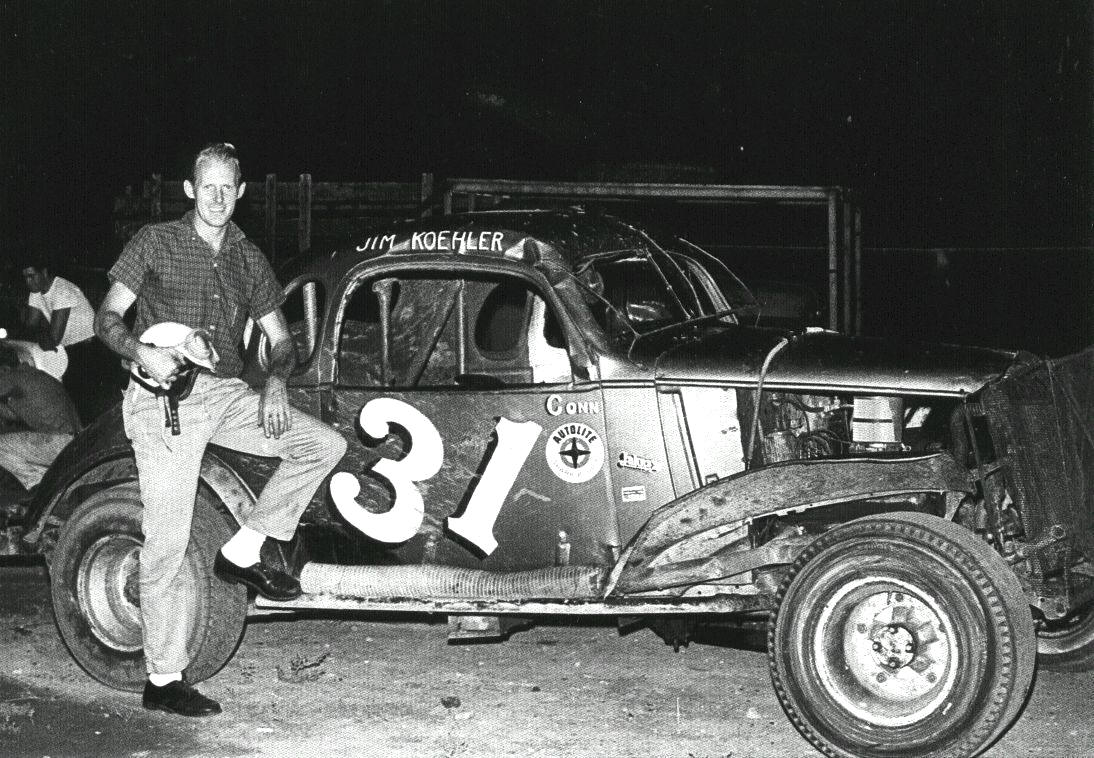 Courtesy of Bob Novak
Long tall Jimmy Koehler and that first sportsman coupe - at Victoria Speedway.
_____________________________________________________________________________________________________________________________________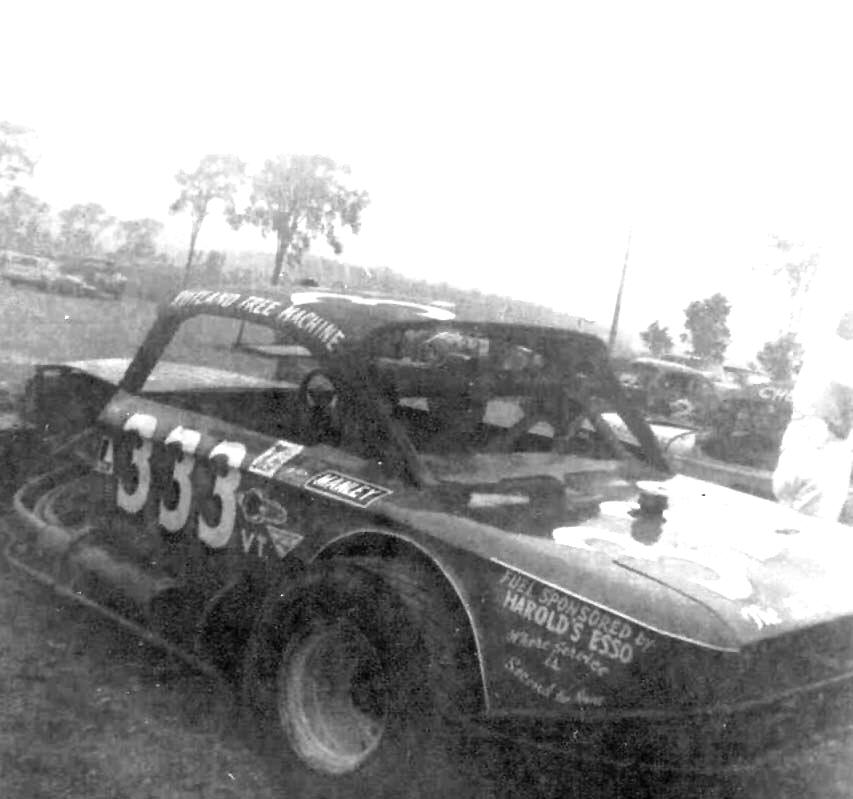 Ladabouche Photo
The Leo Vallaincourt - owned 333 Corvair, at Devil's Bowl around 1968. Sonny Rabideau was the driver at the time.
Leo Vallaincourt and the Rutland Tree Service team had come onto the scene at Fairmont Speedway around 1964. Sporting a car that was obviously of Claremont Speedway lineage and a driver named Howard Stevens who had been a a Claremont driver, the team seemed to be from Rutland in name alone. The orange early '30's flathead coupe with its neat homemade numbers caught my attention, while the team and driver turned out to be extremely personable to a pain - in - the - ass teenage kid who wanted to hang around them.
The following year, as Fairmont went over to the overhead V-8 sportsman car, the 333 came back with an overhead of its own and snappy professioinal lettering. Stevens was one fo the best cars there. Although now in college, I came up with an orange golf shirt like the teams' members had and had my mother do the same 333 on the back with my name on the front. I got to "help" every Saturday night. With Stevens leading the points race in midsummer, Vallaincourt sold the car out from under us - to Sonny Rabideau, a Claremont - based superstar.
I didn't get to as many races after that, with the demands [beer, girls, studies, beer] of college. When I took a trip over to Devil's Bowl, two years later, I into the pits and saw an orange #333 with the more modern Corvair body. I reached through the links of the fence and took the best photo I could. Most of the crew was new and took n notice of me, so I moved on to become a Wes Moody fan.
Rabideau and Vallaincourt teamed up for several more tries and a few more cars before packing it in. Rabideau still had some good years at Claremont, as well.

Ladabouche Collection
The first version of the 333. Stevens
had some good success with it in 1964.

Ladabouche Collection
The V-8 version of the car, which turned out to be a rocket ship. Note the shirt on the guy in the front.




Courtesy of

CJ Richards


One of Howard's wins
at 1965 Fairmont.

Ladabouche Collection


Cavalcade of Auto Racing


Rabideau at Fairmont,
in 1965, with "our"
damned car he had purloined.



Courtesy of Norm Vadnais


The Corvair in action
in 1968 against soon - to - be
track champ Vince Quenneville.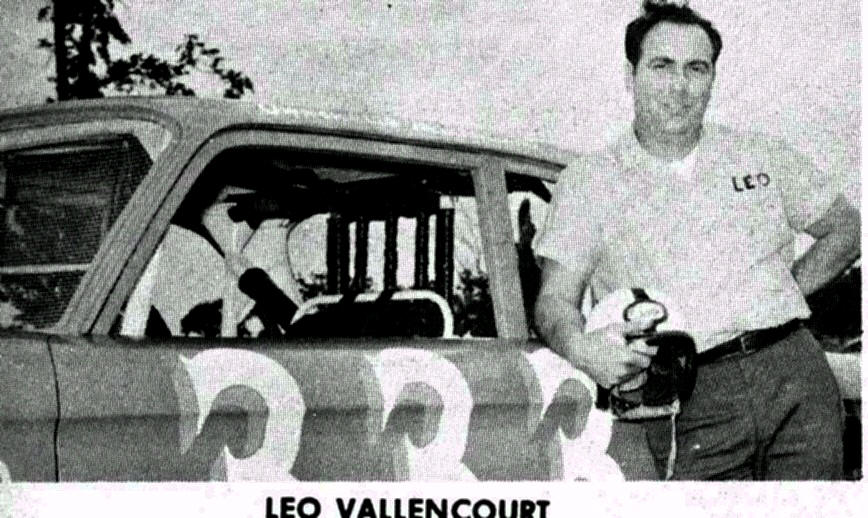 Ladabouche Collection
Cavalcade of Auto Racing
Leo Vallaincourt with his Falcon - either at the last season of Fairmont or the first at Devil's Bowl. Same shirt we all had.
_____________________________________________________________________________________________________________________________________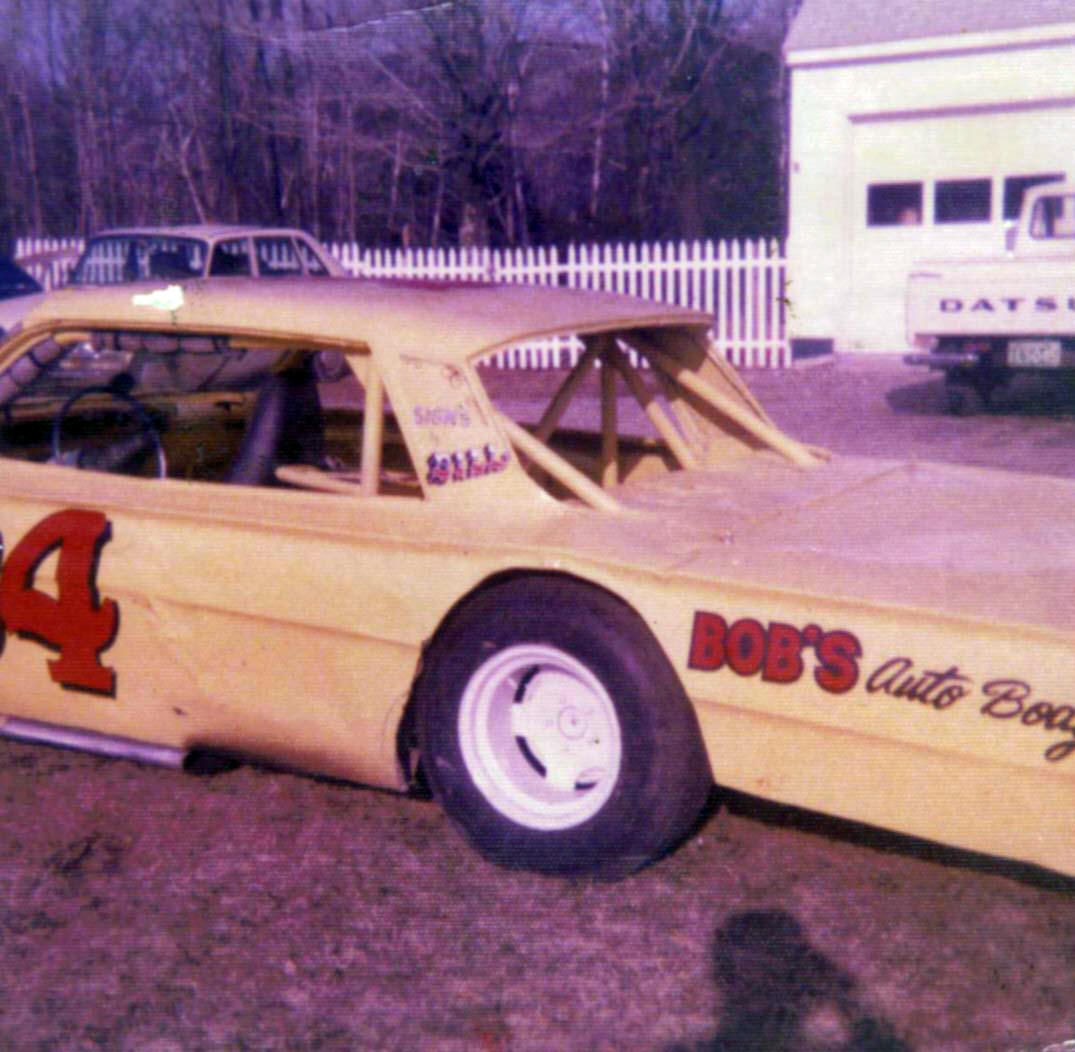 Ladabouche Photo
Brad Wright's giant '62 Chevy Hurricane sits in my yard after being lettered. There's my unusual little Renault 16 in the background and my Datsun sign truck.
The Hurricane Division began in 1970 at Catamount as the Night Riders, a name that lasted all of a week. Soon, the automatic transmission class had begu nto evolve into reasonably - handling race cars, once the guys got rid of the huge Buicks and Oldsmobiles in favor of smaller cars. The first good Hurricanes ended up being sold to new drivers by 1972 or 3 and one of these was Brad Wright. A tall, gnagly blonde huckleberry finn type of guy, Wright was one of the large contingent from Burlington's North End to race in the early 1970's. While fellow North Ender Buzzy Lambert turned out to be the best of the crop, Wright made his money years later with a boat dealership. He was always a riot - quick with a one - liner.
The Hurricanes would morph into six cylinder Grand American cars, and the combined classes produced the likes of Larry Caron, Richard Buzzi, Norm Andrews, Jamie Aube, and dozens of future stars. My Hurricane customers gave the experience needed to go on to lettering the top late model sportsman cars, as well as fire trucks, wooden signs, and the like. Brad tried one more car after this before hanging up the helmet. This one worked better for him.

Courtesy of Steve Pecor
The second version of the car.
1964 Chevy body.



Courtesy of David Tunrer


Brad winning a heat
with the second car. It
was much more
effective than the first.




Courtesy of

Cho Lee


Brad gets a photo op in the Catamount pits around 1972.

Ladabouche Collection


Courtesy of Randy Chapin


The new car headed off for battle.



Courtesy of Steve Pecor


Comin' atcha !.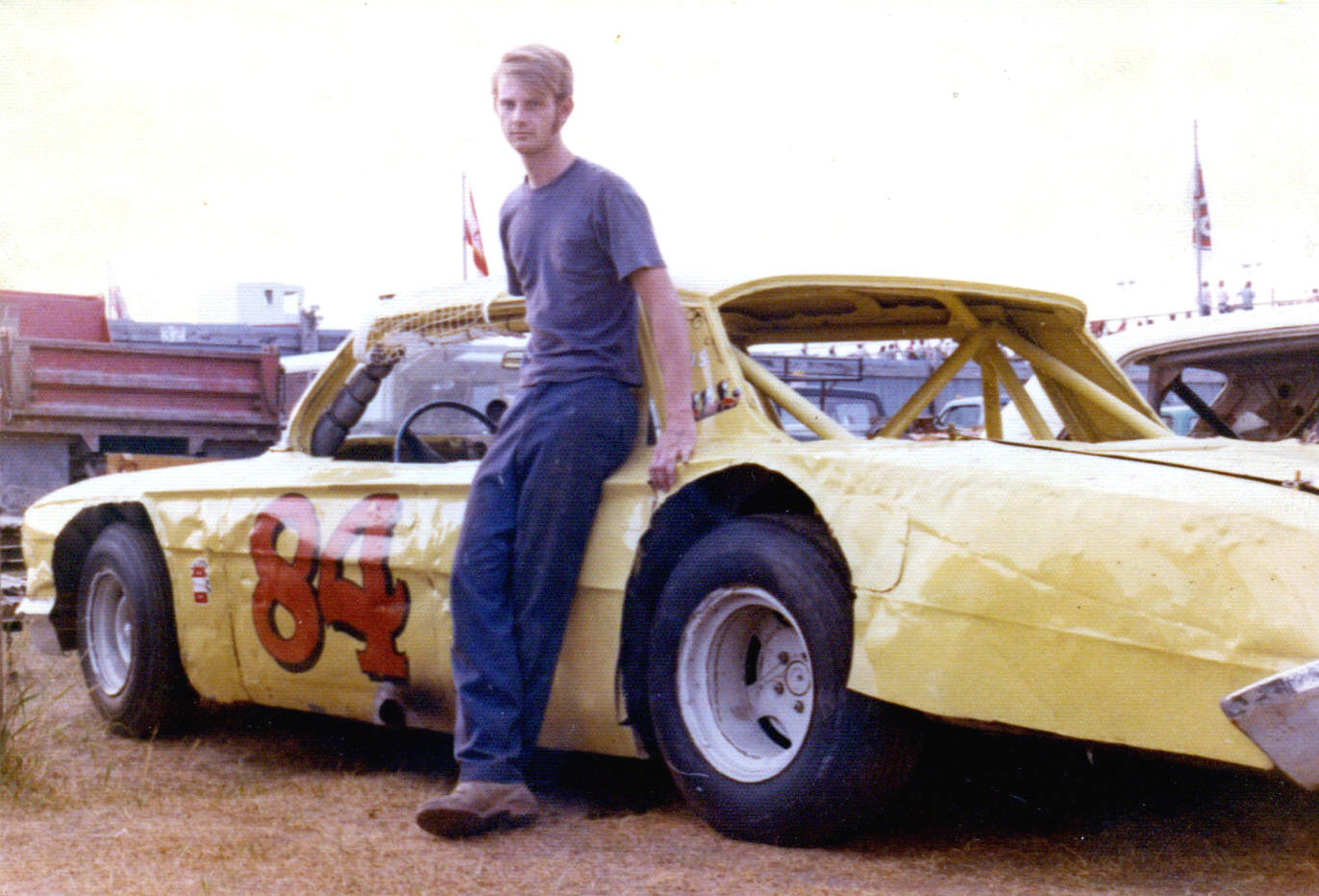 Courtesy of Steve Pecor
Brad and the first car - obviously second hand as this was his first week with it.
_____________________________________________________________________________________________________________________________________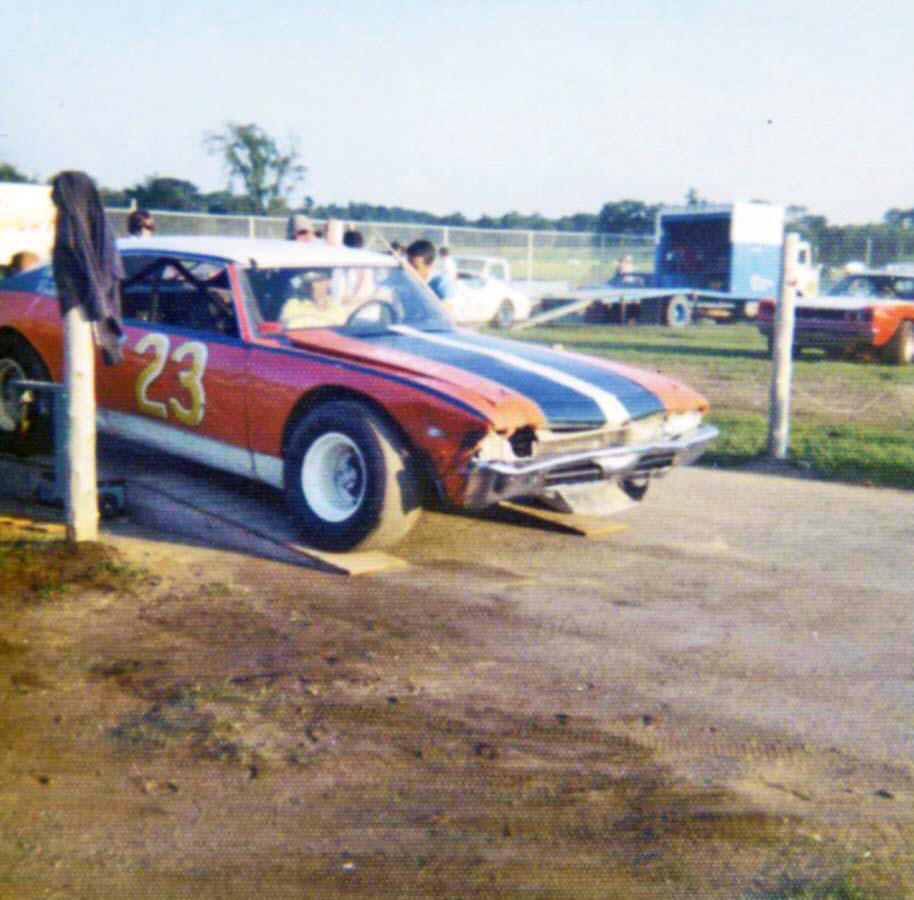 Ladabouche Photo
Massachusetts tire dealer and race car driver Dave Lind drives the Virgil Rendl '68 Chevelle off the scales at Catamount around 1973.

The early 1970's at Catamount meant the beginning of the late model sportsman era. lasted all of a week. This soon attracted a large contingent of Massachusetts NASCAR drivers to what appeared to be "the place" for this type of racing in the Northeast. Among the Norwood Arena teams that came were the orange and blue cars of Virgil Rend. Never a particularly high 0 running team, the 234 MA had driver Dave Lind in the '68 Chevelle and Rendl's brother - in - law, George "Skip" May in the '64 Chevelle.
Lind would transfer over to his own blue Fairlane 500, #41. May would seemingly disappear for years, returning in the New Flying Tigers with an absolutely gorgeous Camaro. Skip would race for a few years in the New Tigers before handing over the controls of family racing to George III, who still runs Tigers at White Mountain from time to time. Eventually, most of the Massachusetts teams had faded and returned to the Bay State, as racing costs soared. But, names like Rosati, Kourafas, Ruggieri, Karvonen, Melnick, May, and many more are etched in Catamount's history.

Courtesy of Skip May
The 1964 Chevelle of the Rendl
racing stable. This one was driven by May.



Courtesy of Skip May


The '68 car, which Lind drove.




Courtesy of Skip May


Skip, at Norwood with
the first Rendl car.

Ladabouche Collection
A beautiful May Tiger at Catamount.
That's May on the left.



Courtesy of kip May


Skip with a Tiger win.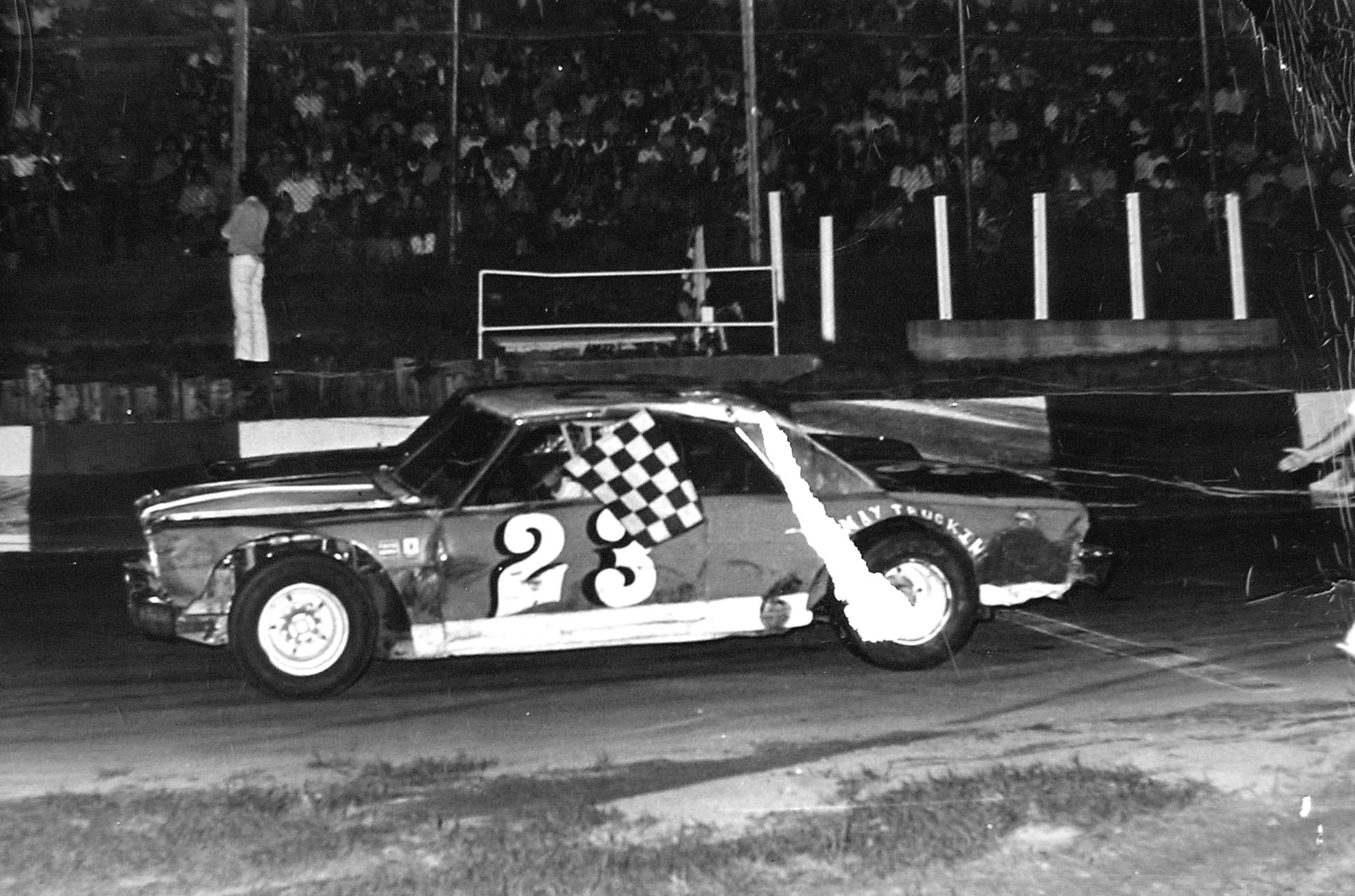 Courtesy of Skip May
Skip wins one at Thunder Road with the old Rendl car.

Return to the Main Page
Return to the Main News Page
Return to the All Links Page