The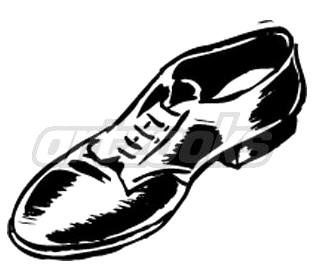 Ken Shoemaker
Hammer for Hire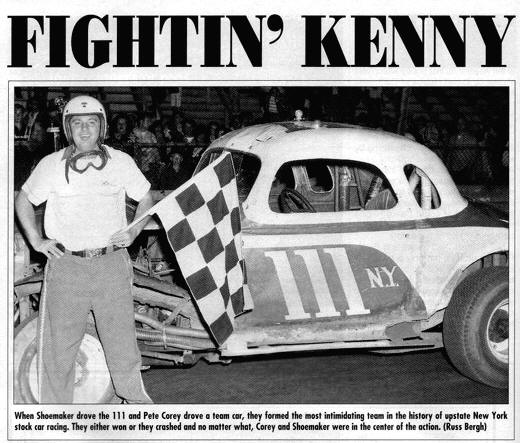 Courtesy of Pascal Cote
This shot appears in the biography of Shoemaker.
Many of our region's best - known earlier stock car drivers came right out of a post - WWII Capital District, New York [or very close thereof]. This is where we got Steve Danish, Jeep Herbert, Pete Corey, Howie Westervelt, Doug Garrison, Link Pettit, and dozens more. One such man was a young Pete Corey's bosom buddy, and one who actually started out supposedly sharing one crude stock with the fiery driver of Lebanese descent. That would be one Kenny Shoemaker.
Most likely, at some point way in the early family history, the family name was Schumacher - which very well could have been from rthe region's strong Dutch heritage. Shoemaker would not ever become a car owner of any note - much unlike his pal, Pete. Instead, Ken would turn out [along with the likes of Donny Wayman, Jim Luke, Jeep Herbert, and others] to be one of the best drivers - for - hire in the history of northeast stock car racing.
Besides a fierce competitive streak, what set Shoemaker aside from the crowd was his utterly pugnacious disposition. Not particularly impressive at first glance, with his chubby physique and short stature, Shoemaker was ready, on a moment's notice, to start throwing punches at the slightest perceived aggression against him. This was interesting because the old phrase "The Shoe never lifts." refers to his own hard -charging, rough driving style.
Given he didn't take very good care of owners' precious cars and he wasn't exactly a picture of physical fitness, Ken Shoemaker had a career longer than almost any other of his contemporaries except maybe for Cyclone Forrette. The portly truck driver finally did retire and was around for a few years of signing autographs at special shows at Fonda - after he had tried owning and promoting his own track for a short while. He has since passed away.
VERY EARLY YEARS
THE CAPUTO YEARS

Courtesy of Jo Towns
via Otto Graham
The Henry Caputo 111,
When first built.

From the Shoemaker Book
The Henry Caputo 111,
with the roof flaps, the
brake light, and a new
radio antenna.


Courtesy of Mike Watts
A very new - looking
111 at Airborne.

From the Shoemaker Book
Another win for the
Caputo 111 at Fonda.

From the Shoemaker Book
Proudly showing the
lethal new Caputo 111
at Fonda.

From the Shoemaker Book


The Henry Caputo 111,


wins another. That's Chet
Hames handing off the flag.
I judge this to be a Caputo
because the roof was still
clean of alterations.





From Keith Shoemaker


A Fonda pose with the NASCAR trophy one of these guys was to win in the late '50's.



Bob Farlee Photo


The 111, arriving at
Middletown. Ignore the
caption, the driver was
Shoe.



Joel Naprtek Photo


A win with the main
Caputo car. There are
claims that this is at
Monroe County.



From Keith Shoemaker


A different photo with
the close- to -brand -new 111.

From Keith Tesiero, Jr.
A later look at the original
111 - now well used.

THE DRELLOS YEARS
THE WRIGHT / ZAUTNER YEARS
THE LETO YEARS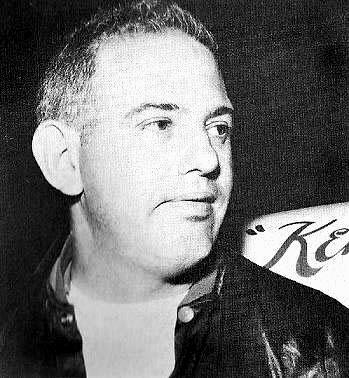 Cavalcade of Auto Racing Photo
FOR THE OTHER OWNERS
PERSONAL SECTION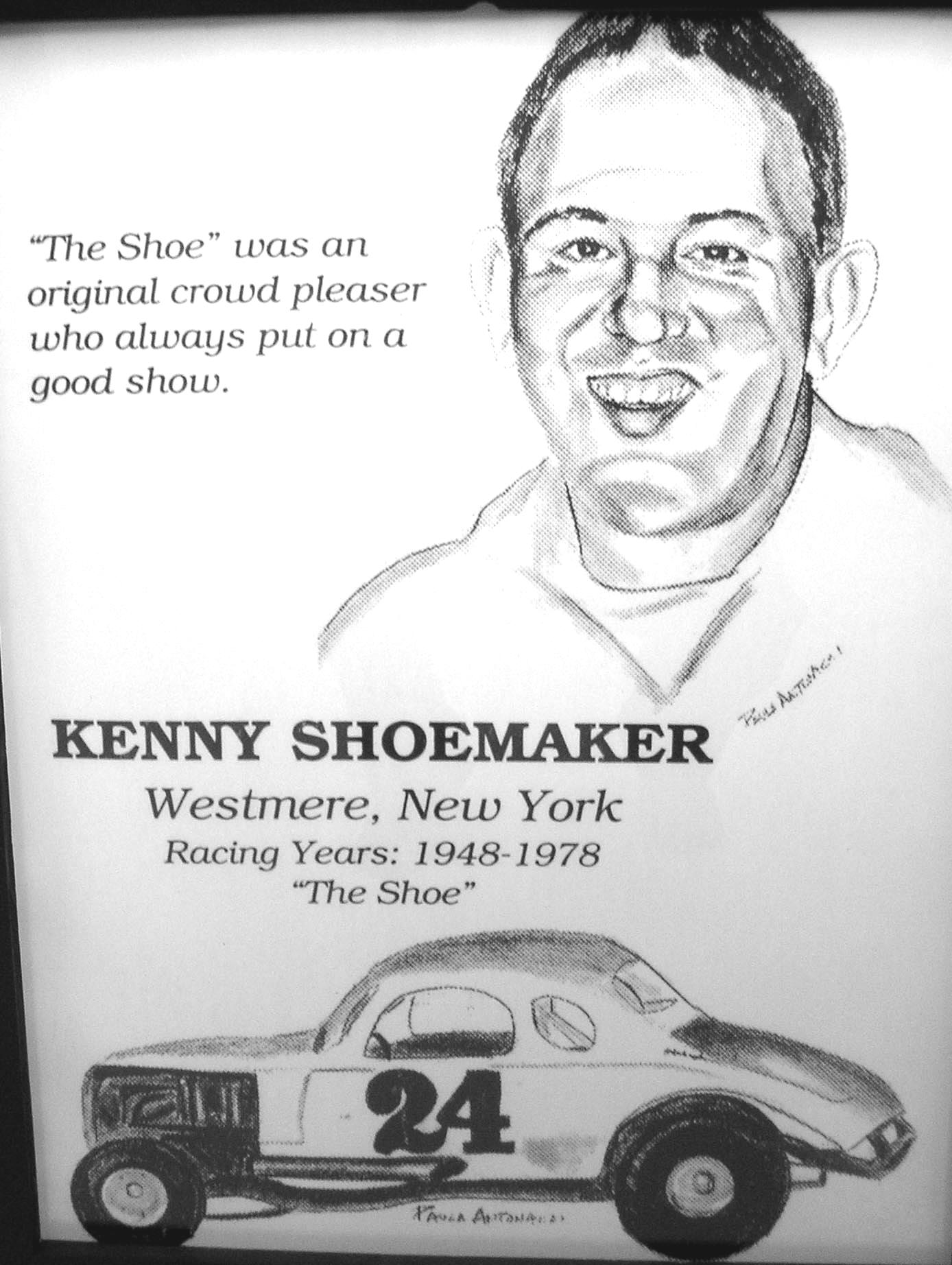 Ladabouche Photo
From Weedsport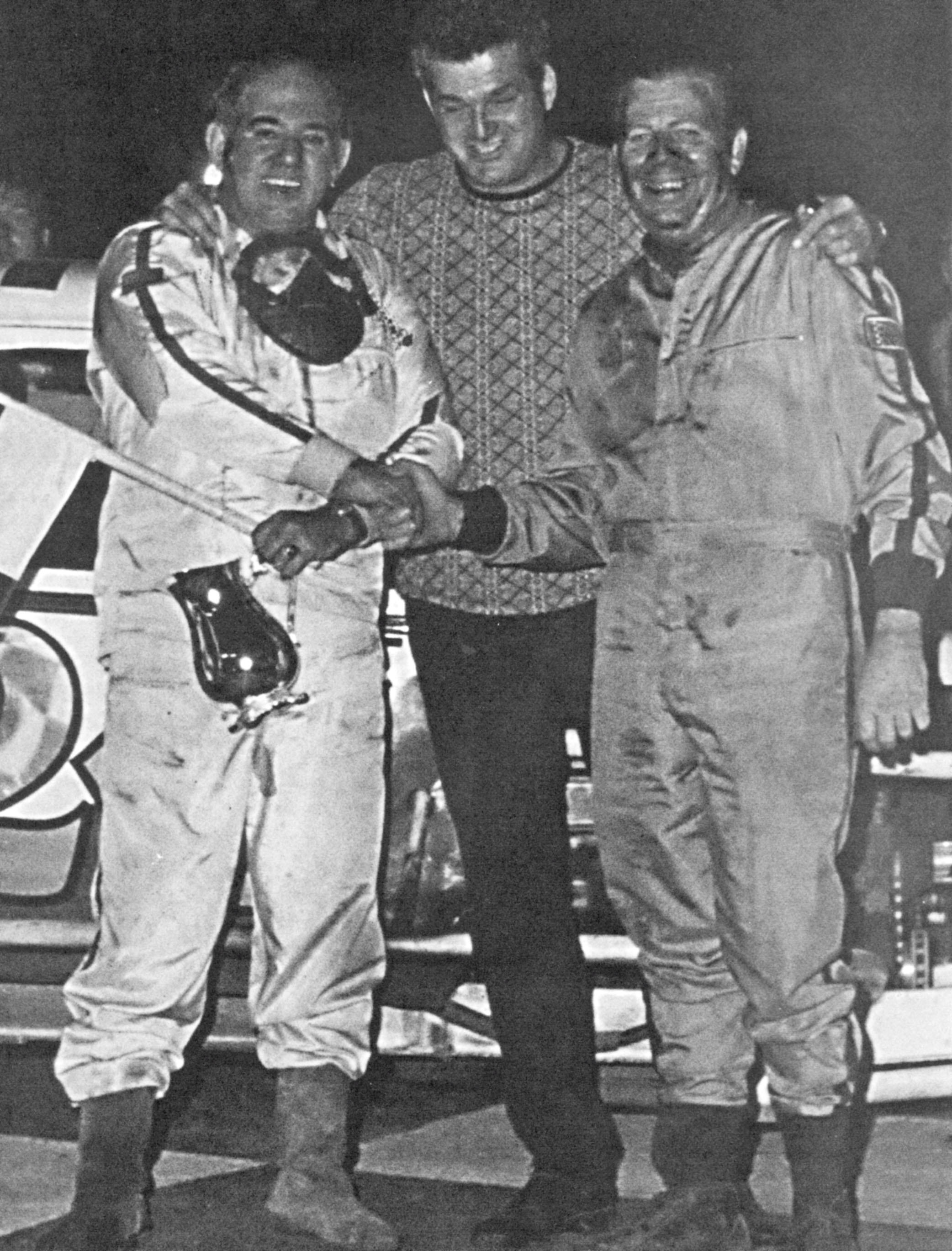 From the Shoemaker Book
In Fonda Victory Lane with Will Cagle after he took a Cagle car and beat Will. He did it again the next time, but Will wasn't celebrating that one.
Return to the Main Page
Return to the Main News Page
Return to the All Links Page