The Roger Dutton 657's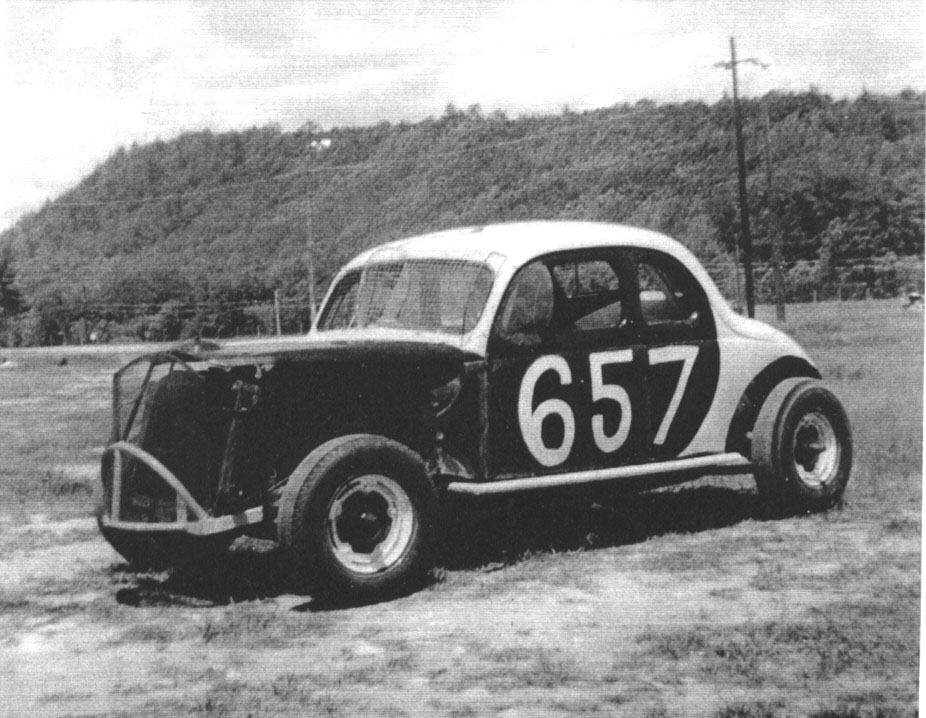 Photo Courtesy of Neal Davis
The"other 657" sits in the infield at Cheshire Fairgrounds.
In the first year of C.J.Richard's promotion of the re-opened Fairmont Speedway, a number of interesting cars and teamstried their luck at the half-mile, former fairgrounds dirt track. There were few cars any stranger-looking [or more successful] than Roger Dutton's 657, from Keene, NH. Probably a regular at Cheshire Fairgrounds and maybe Claremont, Dutton showed up at Fairmont in October of 1962, with the car loaded in back of a dumptruck. By the time the feature was over, he had won.
The 657, which I think came in at least two versions, was an odd, cutdown coupe. The way Dutton had modified it made it look like some of the earliest versions of British stock cars. Eventually, Dutton sold the Fairmont - winning car to Hancock, NH's Buddy Wilder, who changed the numeral to 57 [perhaps because DUtton was still using the 657]. Soon, the car was gone, but a restored version has re-appeared in Florida - at shows by the Living Legends of Racing club.
The following information was supplied to me - at Ronnie Bouchard's vintage get-together - by Archie Banks: The car that became the Wilder 57 was eventually found and bought by Archie Banks. He gave "a guy wearing rags" $50 for the car and another $100 for storage. It was sitting in an obscure junkyard in Sullivan, NH, among dirty winter snow and dog crap all over the place. Banks had it soldered, welded, and sandblasted - then leaving it in the care of a friend for the remainder of the winter. When he came back - it had been cut up and used in other cars.
The other 657 was kept longer by Dutton. It was bought by Banks as Dutton decided to live in Florida. Archie had it completely restored and bought a nice hauler to go with it. Once seeing again, Dutton re-purchased it and it is often paraded in events like that of the Living Legends of Auto Racing.

Ladabouche Photo
A Dutton crewman waits to
unload the potential winner.

Bob Frazier Photo
Courtesy of Norm Vadnais
Danny Rumpf awards
Dutton the checkers
in September, 1962.


Ladabouche Photo
Sonny Wilder with
the recycled 657

Bob Frazier Photo
via NH SHort Track Heroes
Site and Ed Wylie
A Dutton shot at Fairmont.

Bob Frazier Photo
via NH SHort Track Heroes
Site and Ed Wylie
A shot of Dutton himself

LLR Photo
The Dutton car,
restored in Florida.
Return to the Main Page
Return to the Main News Page
Return to the New Hampshire Drivers' Link Page