THE ROERIG BROTHERS 99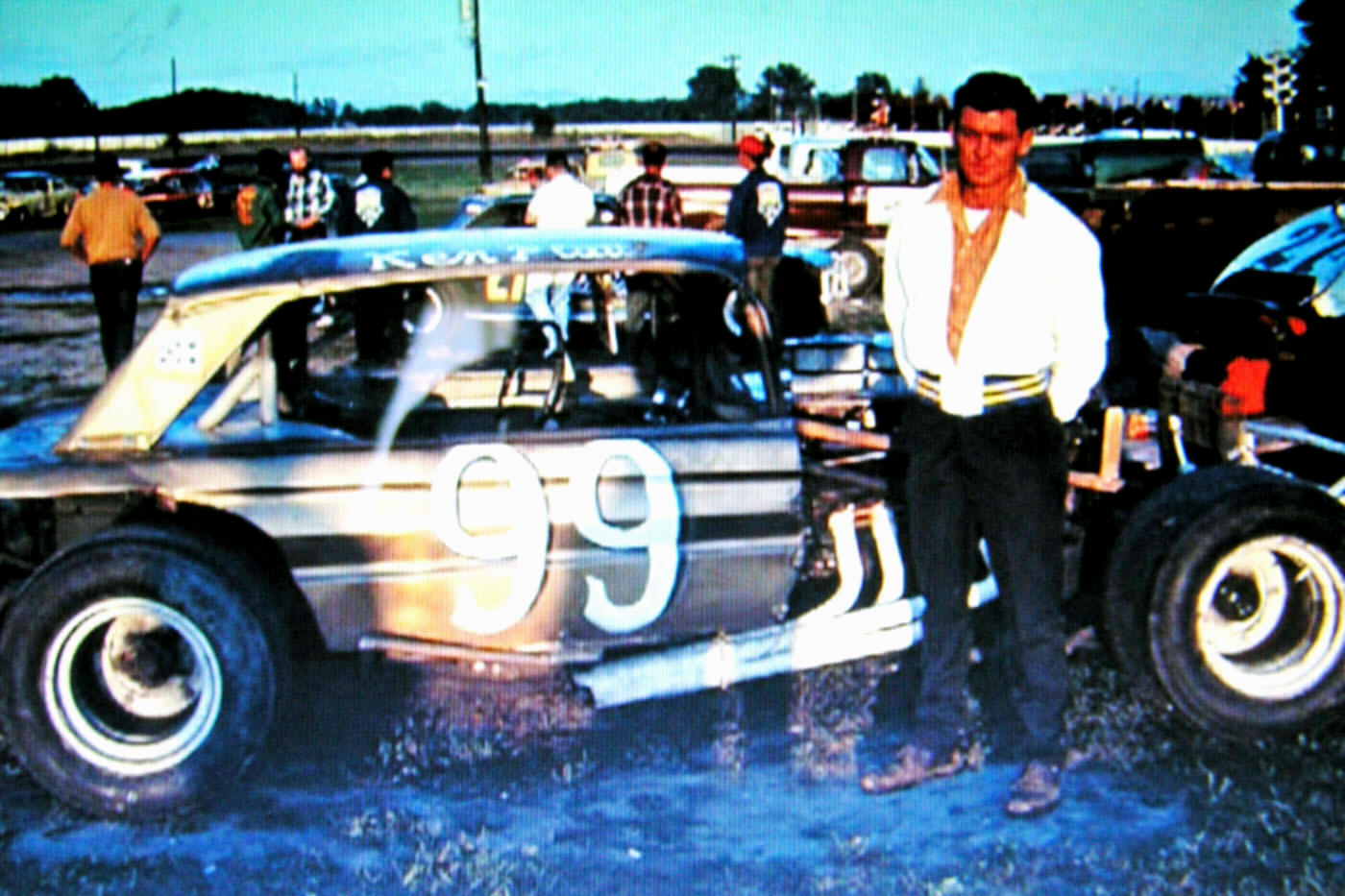 Bob Mackey Photo Courtesy of Mike Watts, Sr.
From the first time I got a ride to Malta as a kid, there has always been a gold #99 car running from the Round lake, NY area. In fact, veteran Don Antolick first brought a 1955 Ford to Devil's Bowl to run in the late model show there before I ever found my way to Malta. The names of the owners of this team have been massacred over the years by racing writers who are better at describing chassis setups than they are spelling. Roerig, Roehrig, and even O'Rourke have been tried when writing stories about the team which produced cars in several divisions for years.
In the Fonda history book, Boyd, Fusco, and Rigney went with the spelling - Roerig, and that's good enough for me. I remember having a photo or two that showed the Roerigs, who were alos proprietors of the Grand Prix truck stop complex, just off the Northway, in Round Lake; but, I am not sure if I can retrieve those. The team started out with Antolick as driver, spent several years with Ken Platt, and then had long stints with Maynard Forrette and Rene Charland. I can't seem to determine when they stopped fielding cars. It was apparently during my lengthy hiatus from racing from 1987 to 2005.
At any rate, I figured the team made enough of an impact in racing in their area to warrant a page. Besides, just surviving years of Cyclone and the Champ should have earned them something, if not a Purple Heart.



Ladabouche Collection




Ken Platt goes by a spinning Jerry




Pennock as former Roerig driver




Don Antolick pursues in his own car.


John Grady Photo


Ken Platt, with

another Roerig
entry. This one looks more like
it's meant for dirt.

Bob Mackey Photo
Courtesy of John ROck
Ken Platt, at Airborne, with
what might be the first Roerig
modified or sportsman car.

Ladabouche Photo
By the late 1960's the
team had secured Maynard
Forrette, who had some
tempestuous seasons
at Fonda and other tracks
with this little coupe. Here,
they arrive at Catamount
for an All Star League race around 1970.


Courtesy of Mike Pa
Maynard and the coupe.

Courtesy of Phil Butler
Forrette, at Airborne.

Chrome Horn Photo
Although it is still with the
coupe, this supposedly
Charland.

Courtesy of Mike Pa
Forrette with the coupe
at Riverside. Likely,
this is one of the All
Star League races.


Lebanon Valley Classics
Steve Luse had a brief
stint with the team, This
is at the Valley with that
same car.

Lebanon Valley Classics
Steve Luse had a brief
stint with the team, This
is at the Valley with that
same car.



Courtesy of Ron Wetzler


This may be the only shot that
shows the Roerigs. Clearly,
Charland had the coupe.


Joel Naprstek Photo
Charland, at Ken
Shoemaker's Cairo
track with the coupe.


Courtesy of Mark Charland
Moustache pose.

Courtesy of C.Hertica
Charland at Fonda
with the coupe.


Source Unknown
The Roerig Gremlin
in the Charland era.

Courtesy of Ron Wetzler
More champ.

Courtesy of Ron Wetzler
More champ.

Courtesy of Mark Charland
A feature win at
Fonda. Charland
still has it, at this
time.

Courtesy of Mark Charland
Some sort of an extra
award at the Fonda win .

Courtesy of Mike Pa
Gremlin pose. [And he


was

a gremlin !]

Return to the Main Page
Return to the Main News Page
Return to the All Links Page
Return to the NY State Drivers Linkpage