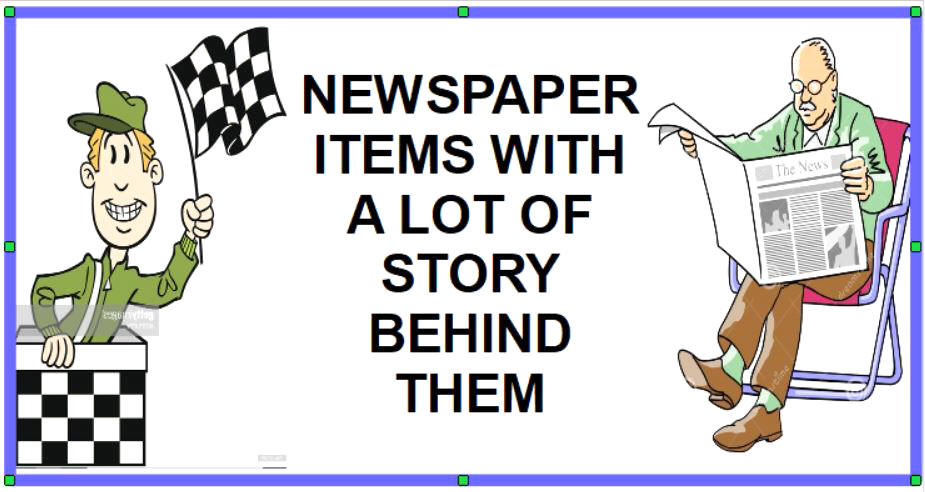 THE OPENING OF WALL STADIUM, 1950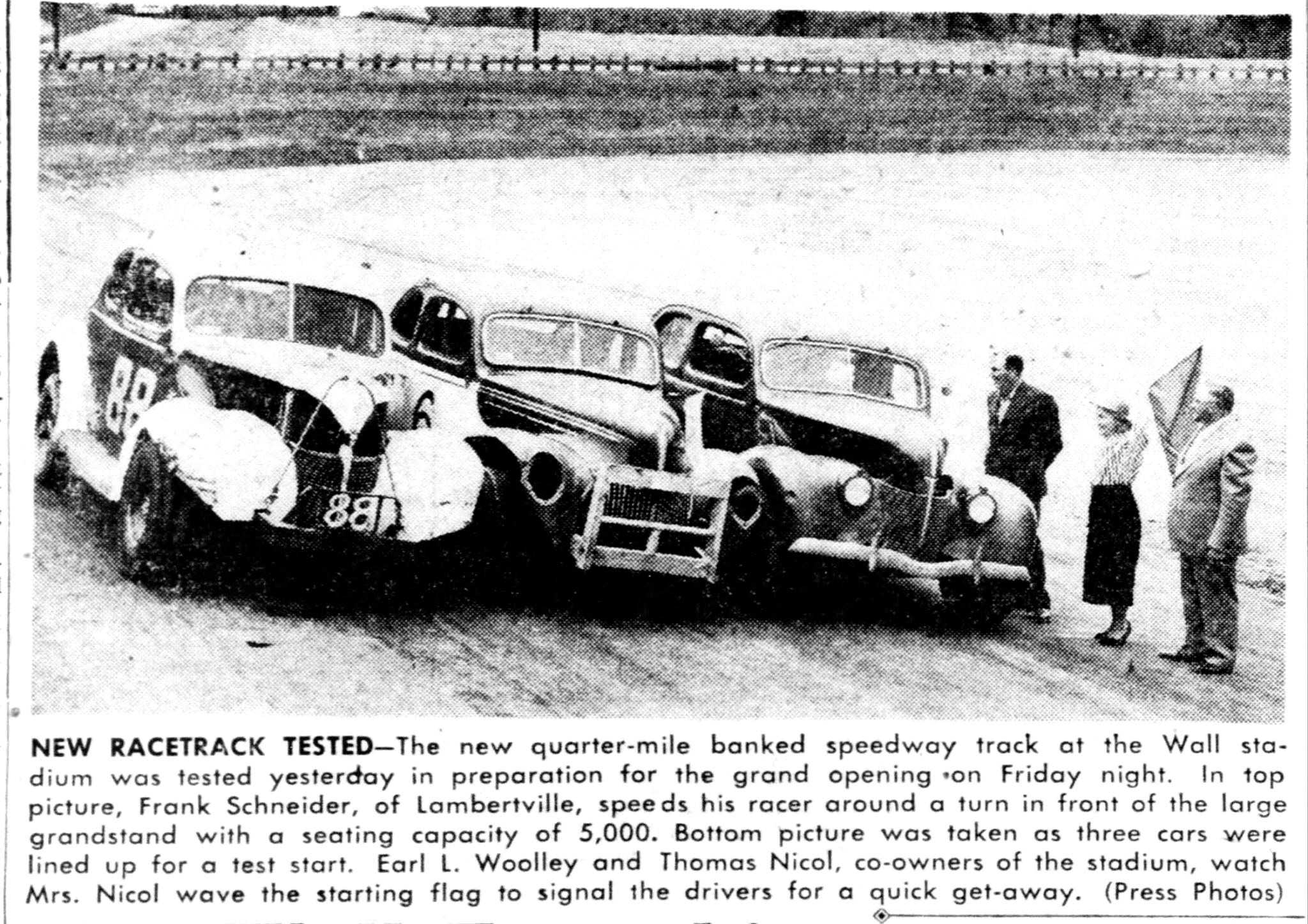 Courtesy of Edward B. Brown III
Wall Stadium was begun [in 1950] as a track somewhat ahead of its time. A quarter m ile banked paved track, it was distinctly different than many other tracks in that early period of racing. Most race tracks were either leocated at established fairgrounds or had been hastily scratched out in somewbody's pasture. The tracks tended to be closer to a half - mile layout, in most cases, and usually dirt. The inspiration for Wall Stadium came from co - founder Tom Micol having attended races at Long Branch Speedway. Nicol partnered with Earl Wooley to build the track in Wall Township, NJ. It has lasted for years, sometimes being home to some of the greatest modified drivers ever - and it was a charter member of the All Star Stock Car Racing League.



Courtesy of Edward B. Brown III




A select group of invitees looks on as Frankie Schneider tests out the new Wall track.


Courtesy of Edward B. Brown III


Action at the Long Branch Speedway.

Source Unknown


Not being from there, I would have to assume that Belmar is part of Wall Township or vice versa.

ASL Program Photo
Enormously popular Jackie McLaughlin
was on Wall's initial All Star League team back in 1973.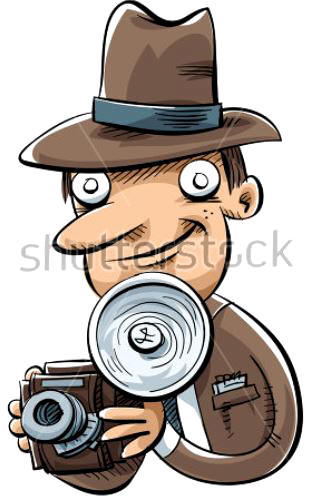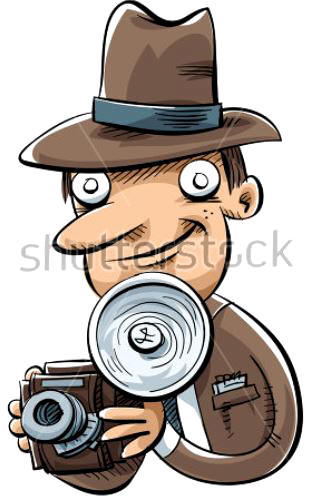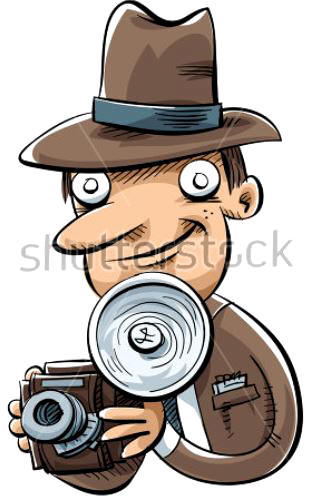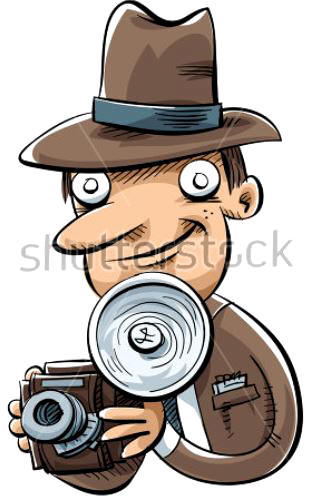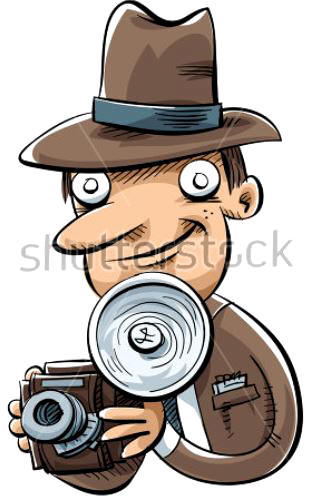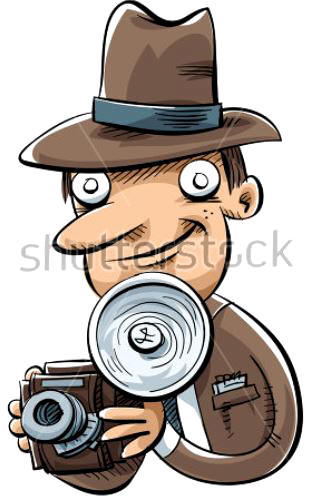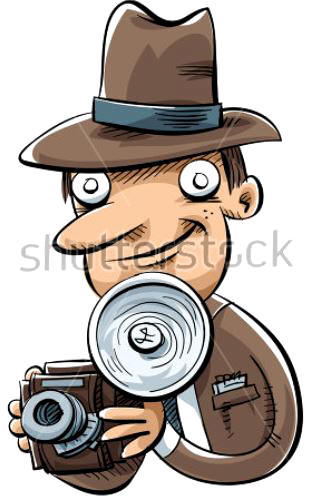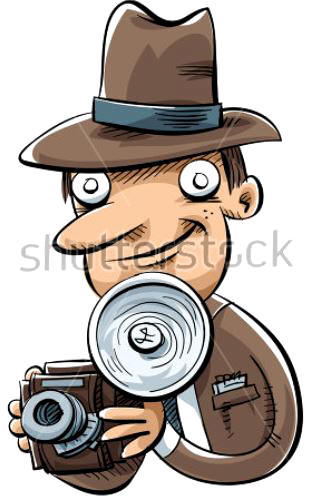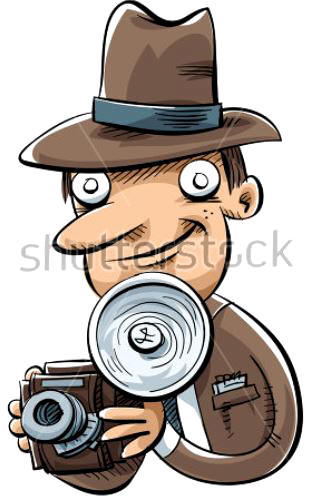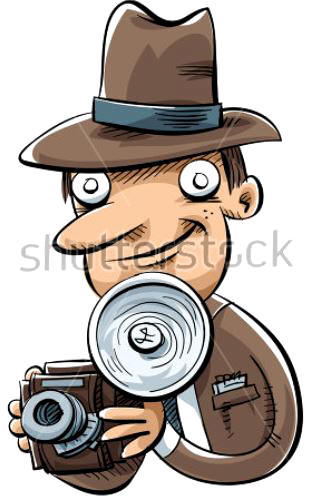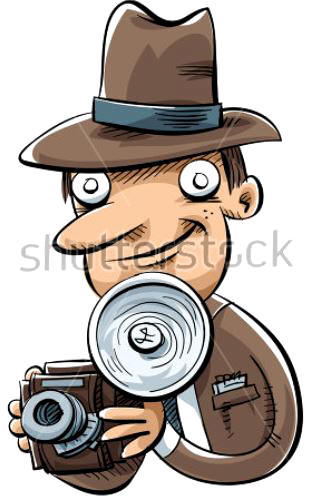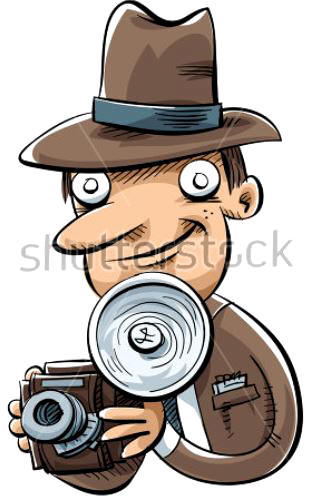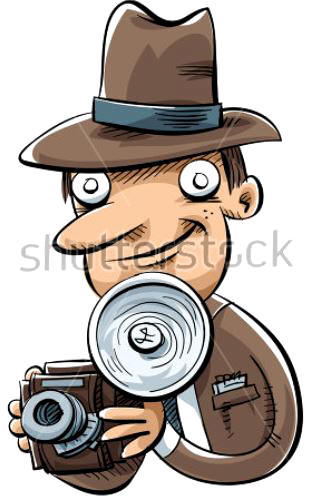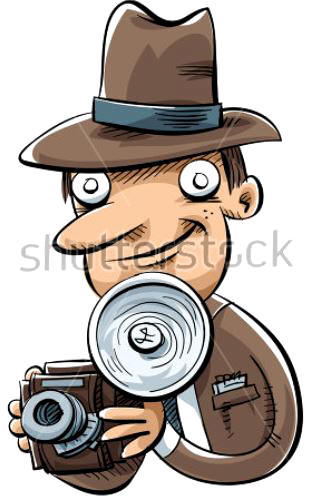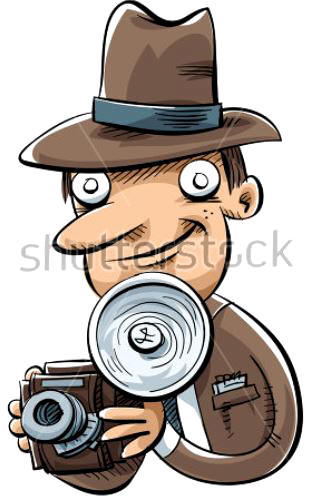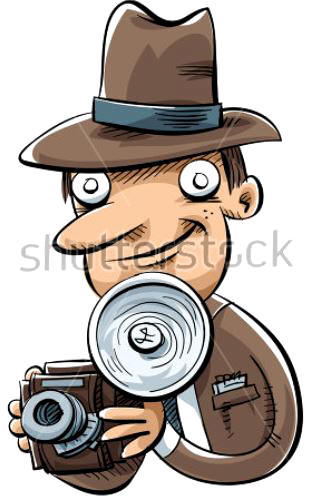 VINNIE'S INTRODUCTION TO THE WORLD OF FONDA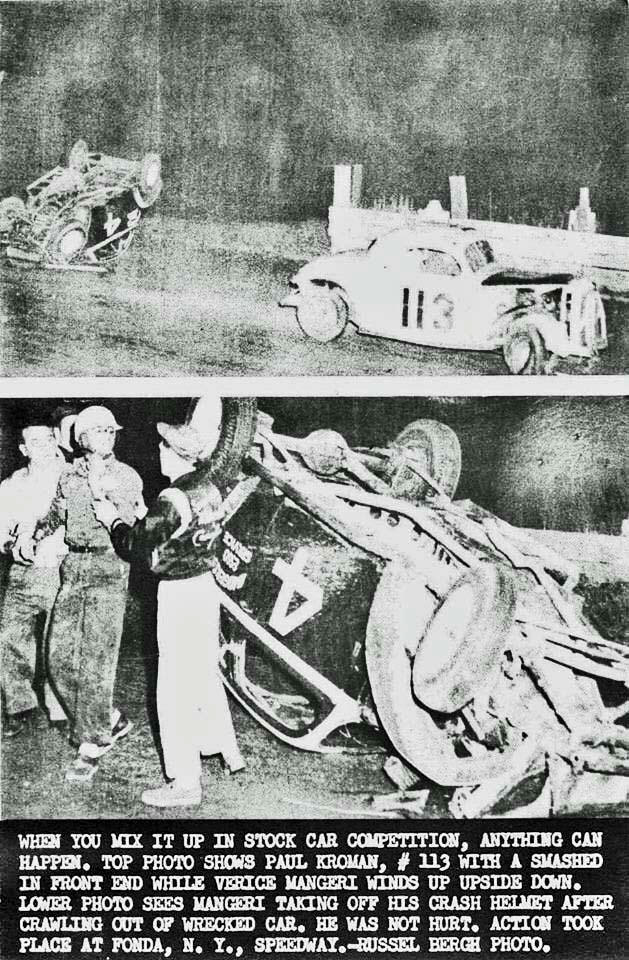 Courtesy of Lou Lazzaro
By the mid to late 1950's, Fonda Speedway was well on its way to living up to its ambitious moniker of "Track of Champions". Meanwhile, slightly to the west, a group of young Italians who gravitated around Vinnie Maugeri's auto repair shop were dabbling the sport of stock car racing - firstly at the lesser - known Brookfield track. Among the group of Maugeri, Jan Manazzi, Johnny Velletto, Junior Bianco, and Lou Lazzaro - Velletto and Maugeri had been the only ones either old enough or wanting to drive.
The above Illustrated Speedway News items shows what happened to Maugeri when he ran at Fonda with what looked like the car Velletto usually drove. To make a long story short, the controls were soon turned over to one of the younger members of the group - Lazzaro, and the rest is history. Louie, after a rough start, went to have one of the best careers in racing - period. His maroon and white #4's came from the old Velletto number and the colors of Proctor High School, in Utica. He kept that graphic combination pretty much throughout the long and storied career. Maugeri and Bianco would be his consistent support group.



Courtesy of Lazzaro Collection




Left - Lou Lazzaro, Johnny Velletto, Junion Bianco, and Jan Manazzi. The Maugeri ad is evident but he's not in this one.


Courtesy of Lou Lazzaro


Lazzaro didn't have much luck his first year at the Brookfield Speedway. Here he's toppled by Bill Bruschmitt. Below - the results.






Source: Lou Lazzaro


It didn't take long for proof Louie was something special with a race car. This first win is at Victoria. Apparently, he wasn't free to use 4 yet.

Ladabouche Photo
This would mean decades of arrivals at tracks and hundreds of wins. That might be Troup in the car; Blackie may not have been around yet.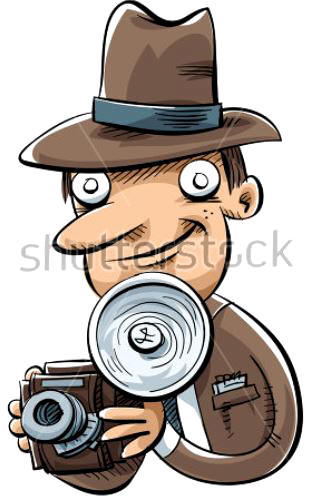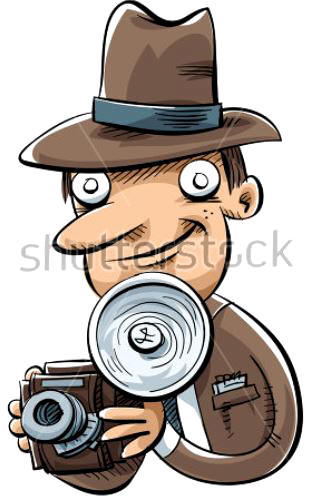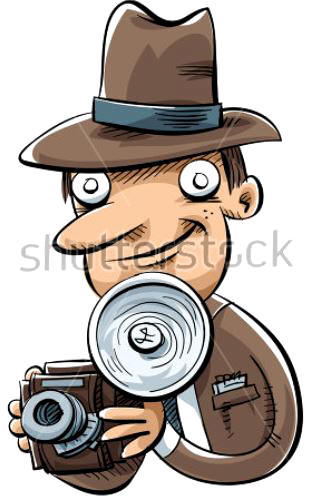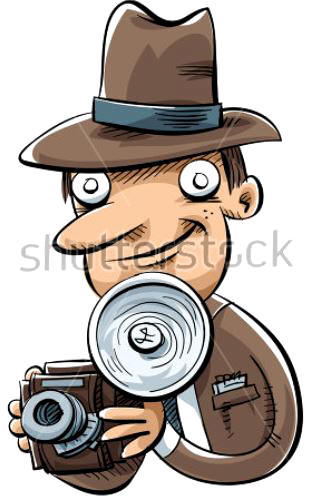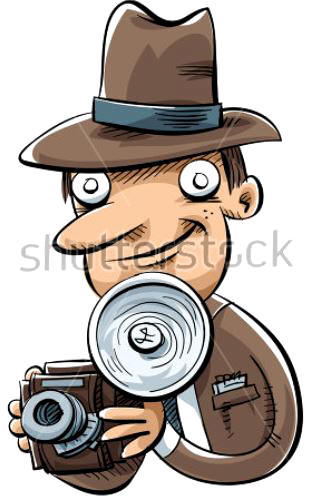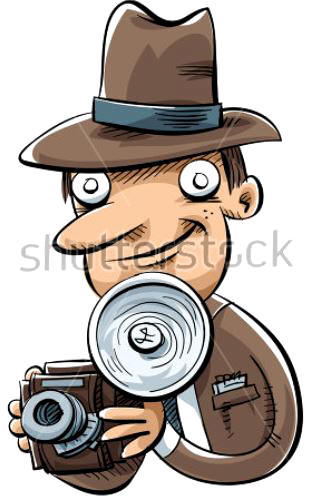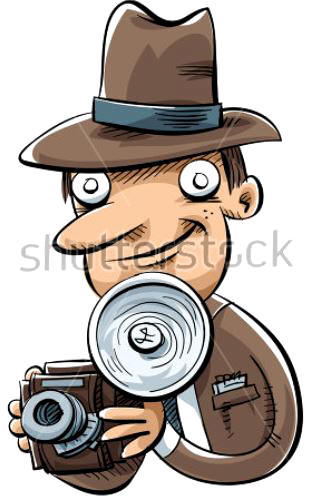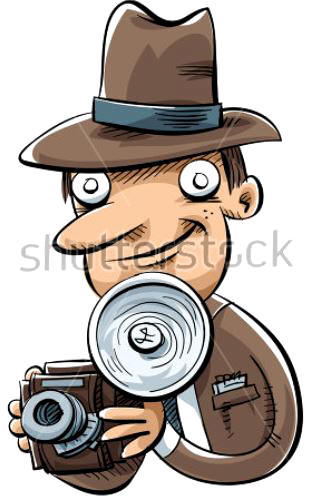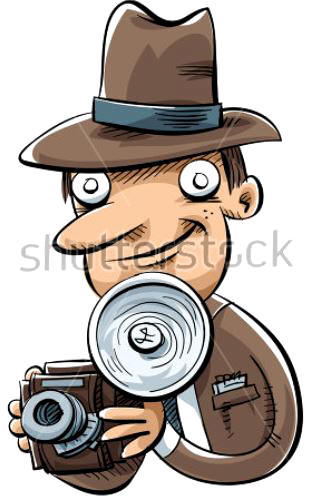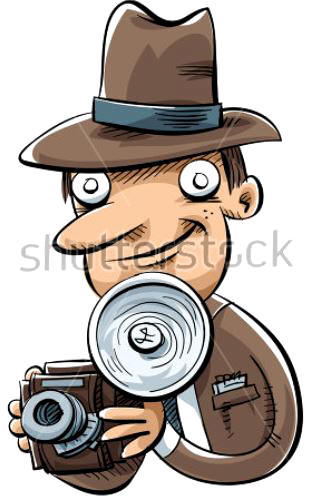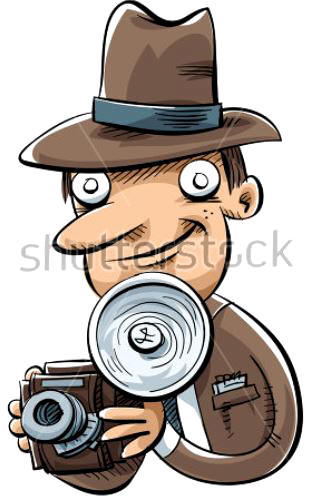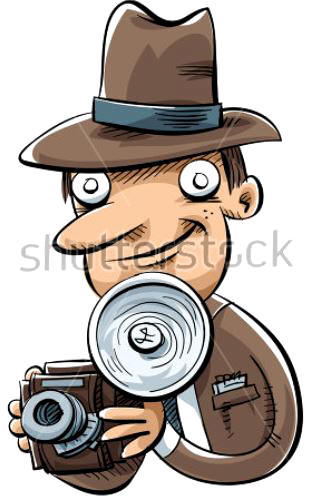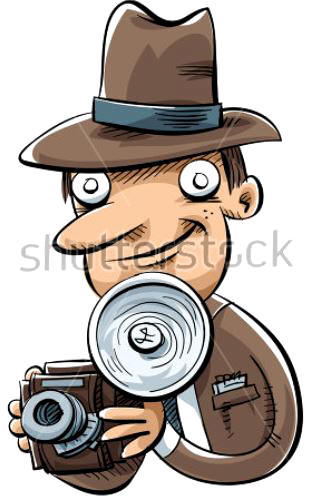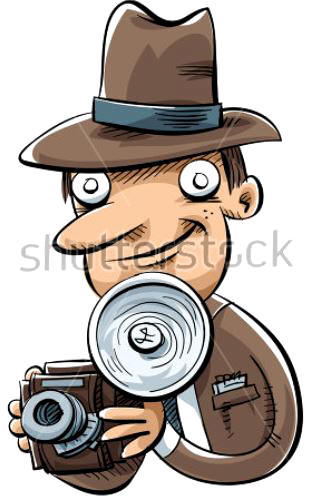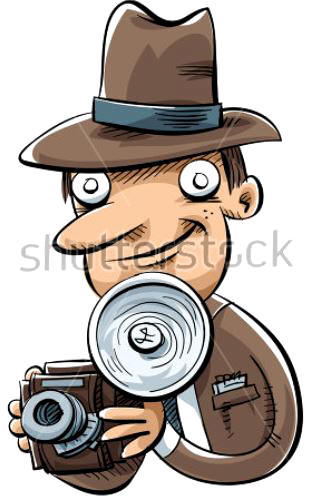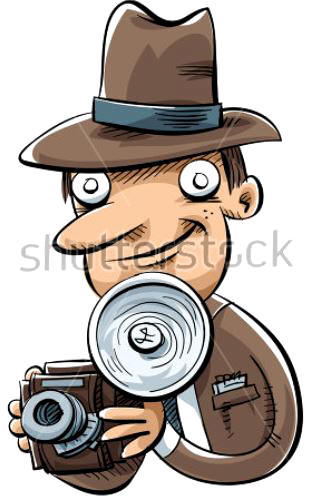 EMERGENCE...AND DISAPPEARANCE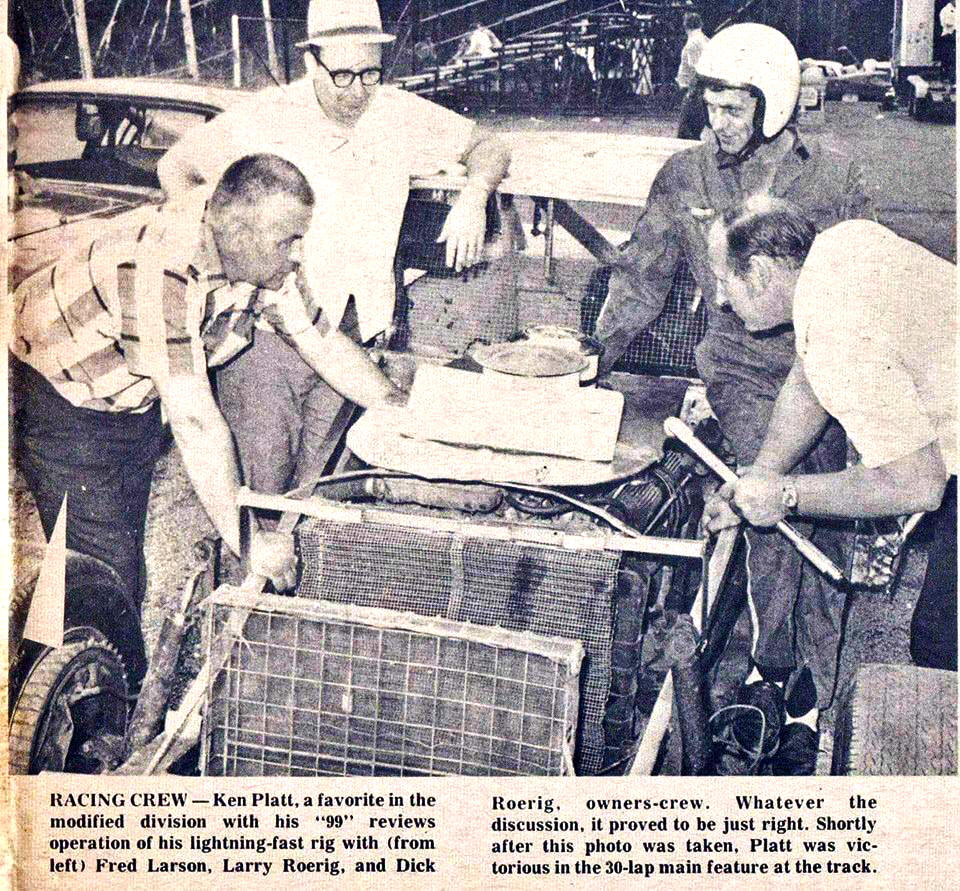 Courtesy of Scott Belknap
In the early 1970's my first wife and I used to to travel to her home town of Mahwah, NJ from northern Vermont a few times a year. One stop, without fail, the Grand Prix Restaurant, below Saratoga, on the Northway. Next to that eatery was a busy gas station then - it was run by the Roerig brothers. Not only had I seen them with their gold #99 race cars at Albany - Saratoga Speedway, but I had realized this was where Ken Platt's races came from. I had first seen that combination in the Albany - Saratoga Semi Late Model class [one of my favorite divisions] for a few years before these journeys with my now - growing family.
Becoming very good in the support division, Platt and the Roerigs had moved up a notch, building what was either a modified or sportsman Falcon [still gold #99]. The news photo above shows them and it, busy at Albany - Saratoga. They also raced at Platt's original track of Utica - Rome Speedway [ a sort of sister track to Albany - Saratoga] and further north - at Airborne Park Speedway. Platt seemed to be progressing along nicely when he disappeared from the racing scene. I was too busy dealing with Catamount Stadium to know why.
Meanwhile, the Roerigs' team continued along successfully, first building one or two Chevy coupes before moving on to Gremlins like everyone else seemed to be doing. They had Maynard Forrette in the saddle until the end of the decade and they also used Rene Charland, as well. Finally, I didn't see anything more of the gold 99 [and I hadn't heard anything else about Platts for years]. All of them played a big role in New York racing during their run.



Courtesy of BlackJack Racing




Like Richie Evans and others, Ken Platt started out in a support class at Utica - Rome Speedway..


John Grady Photo
Courtesy of Mike Cranston


This shot shows Ken with a Chevy. I recall him in the Semi Late Models with a Ford.






Source: Mike Cranston


Platt with the Roerig Falcon. They had more than one before going back to coupes.

Ladabouche Photo
The team arriving with the first coupe in 1972 for an All Star League show with Forrette as driver.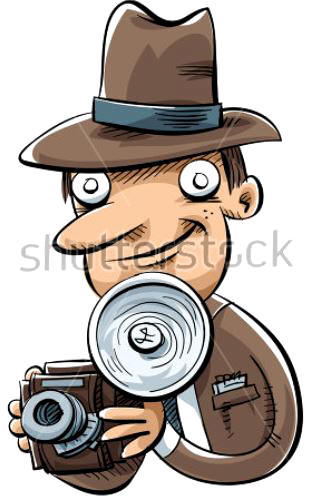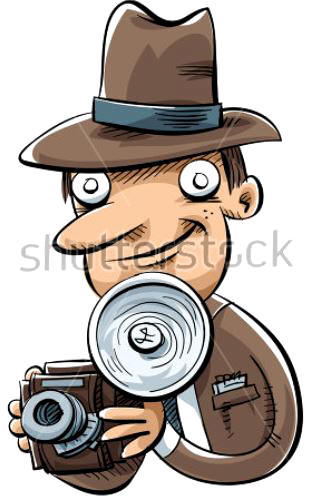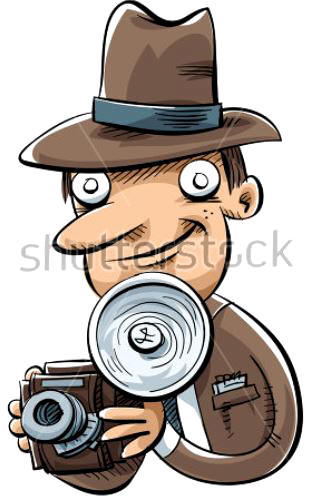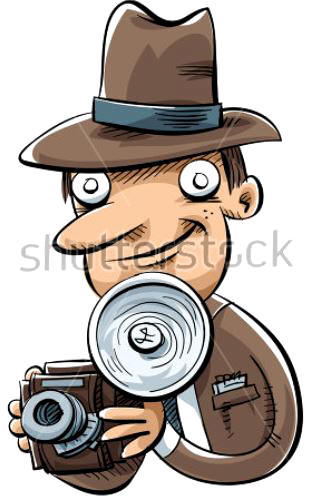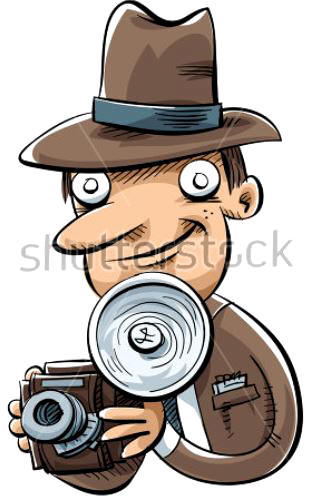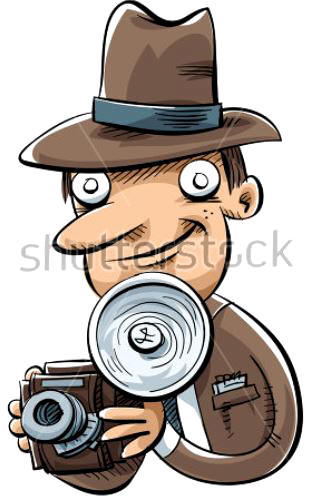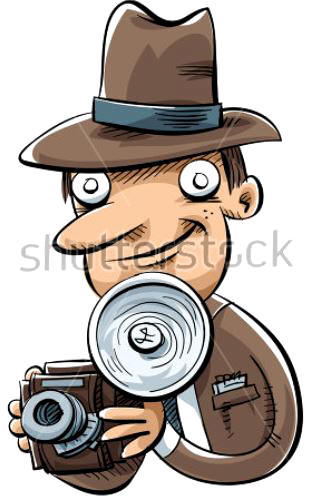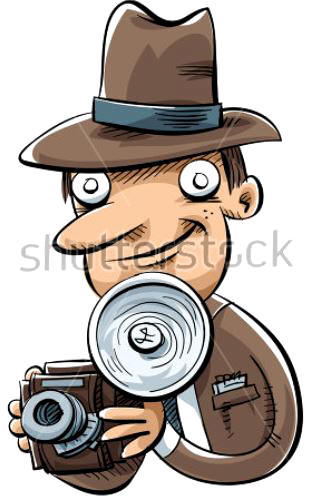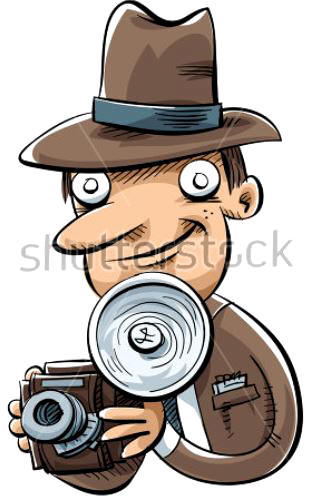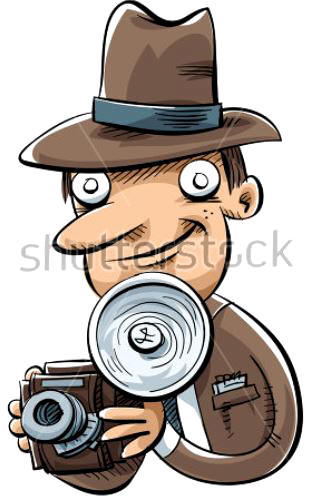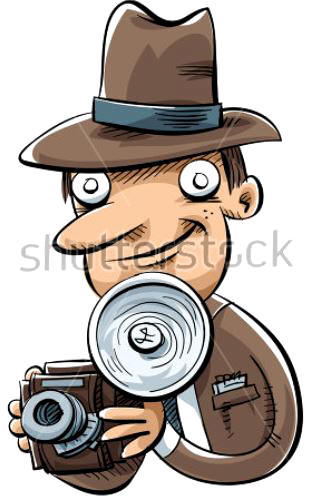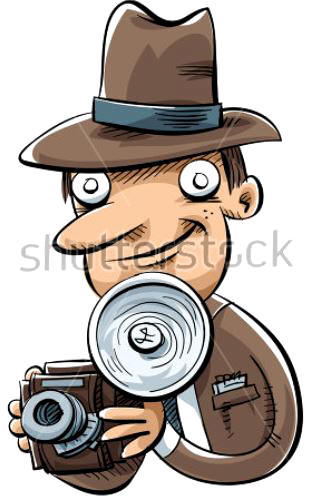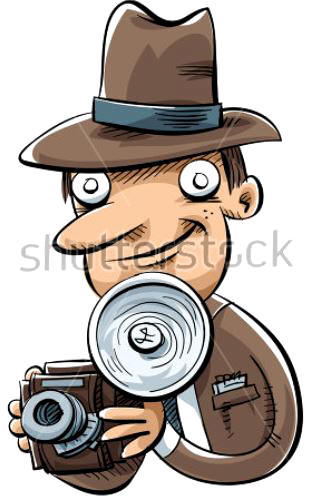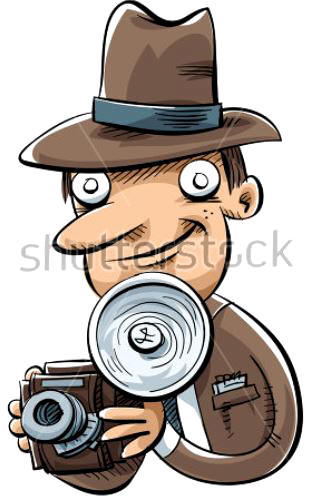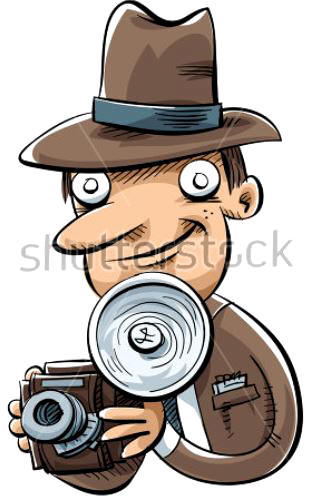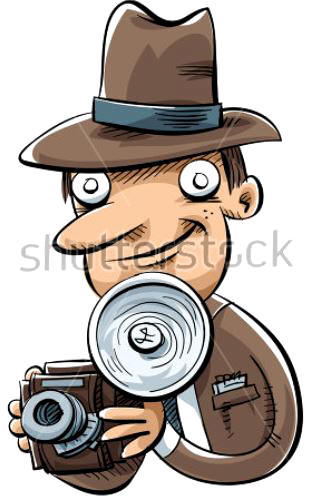 EMERGENCE...AND DISAPPEARANCE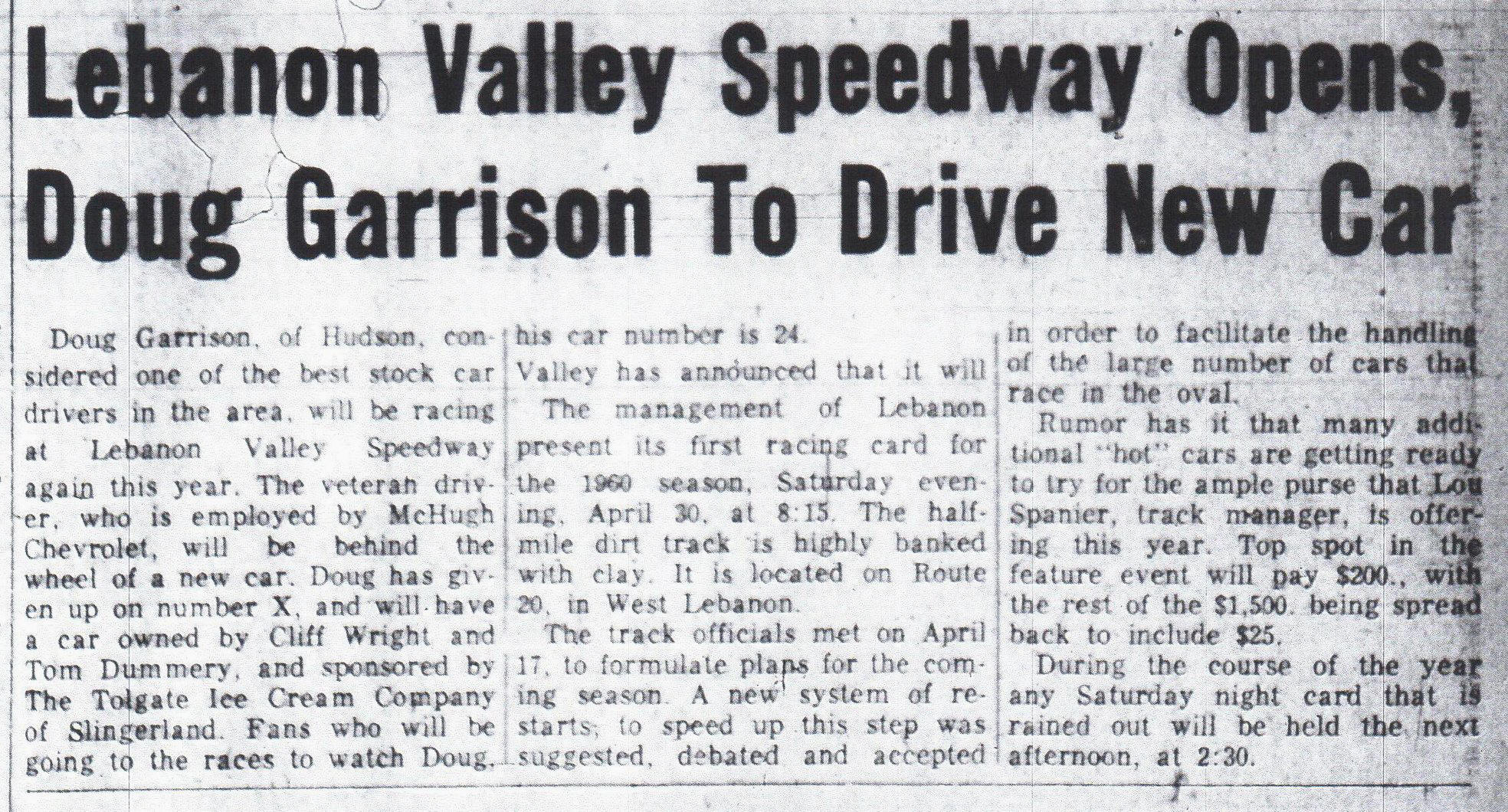 Courtesy of Chas Hertica
There was a ton 'o time in the 1950's when Doug Garrison was an impact driver in New York, particularly. He had his own #117, and had driven for some important owners like Barney Tompkins and his #99 at places like Rhinebeck and Stateline Speedways. Meanwhile, Martin Riiska, from Connecticut had been developing a team with yellow cars numbered "X" and adorned with little cartoon skunks looking out through the X. When Riiska and Garrison joined forces, Riiska was running a sedan with a crossfire engine. It usually either blew off the competition or crapped the bed. This article had to be printed after 1961 because I saw Garrison and the Riiska X at the Rutland fairgrounds then.
According to this article, [and yes it is hard to read] Garrison and Riiska parted ways, leading Doug to run a car for the combination of Cliff Wright [who was hooked up with the Zautner brothers] and Tom Dummery. The Tollgate Ice Cream #24 was a factor at race tracks in the eastern New York area. People were familiar with Wright / Zautner cars mainly due to the racing of Howie Westervelt. Garrison would later moved on to the Gordon Ross 19 before eventually buying that car and converting to his own tastes.
Cliff Wright, Ron and Bob Zautner et al would field cars with Donny Wayman and later with Ken Shoemaker. There was a lot of innovation in some of those cars. Their last racing was a pavement modified driven by Don MacTavish. The car was a rocket and MacTavish was exceptional. When he was killed at Daytona, the broken - hearted team no longer wanted to race and that was that. Garrison had also retired around that time. Riiska also continued for a time, primarily with driver Butch Jelley.



Courtesy of Arnie Ainsworth




Doug Garrison with the Martin Riiska Yellow X at the Valley around 1961.


John Grady Photo
Courtesy of Mike Cranston
From left - Cliff, likely a Zautner, and Garrison. Dummery is in front.



Source: Norm Vadnais


Garrison took the once - full - bodied Gordon Ross 19 and cut it down to a more competitive shape and weight.

Russ Bergh Photo via Race Songs
Ken Shoemaker with a Wright/ Zautner coupe that had many innovations, so they say .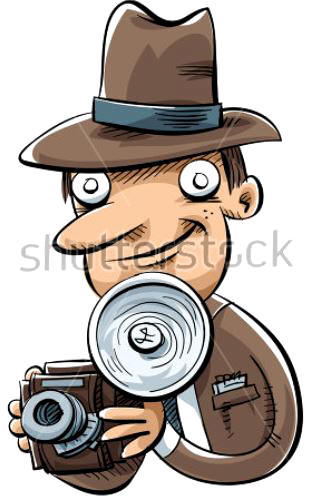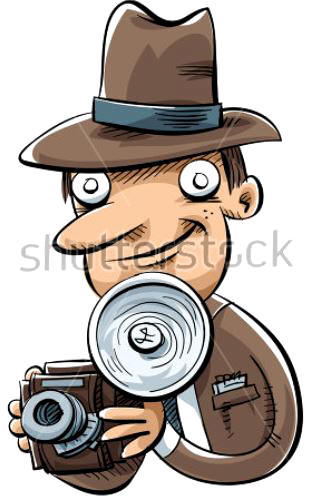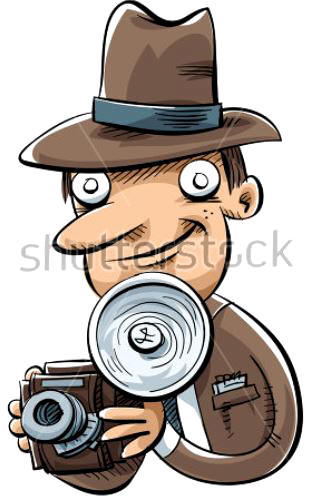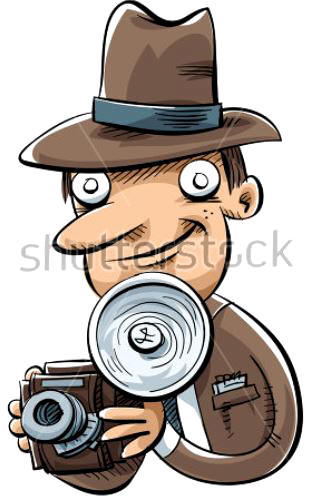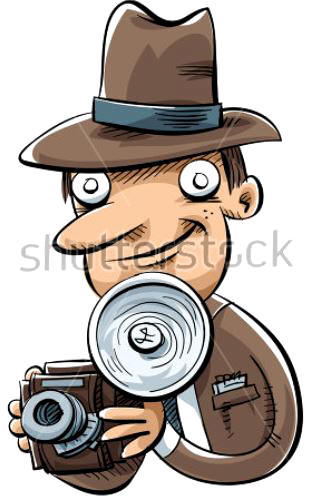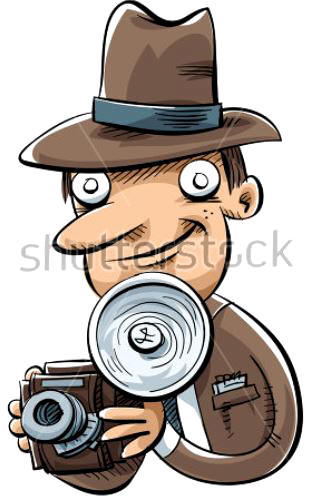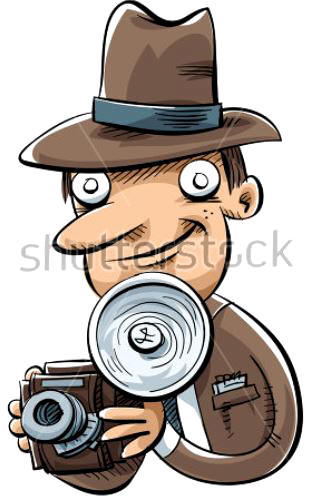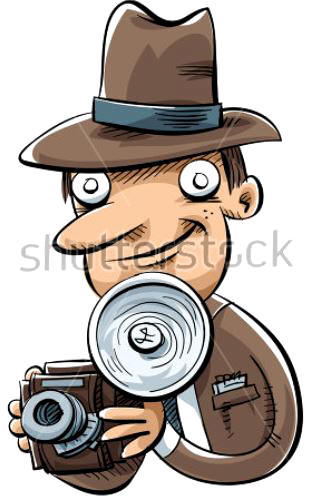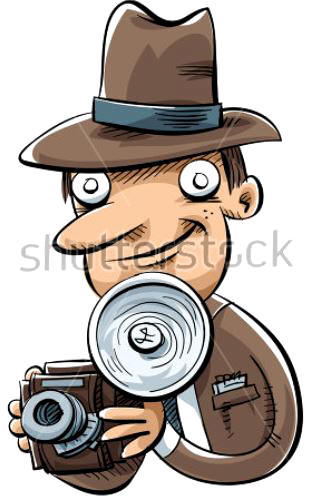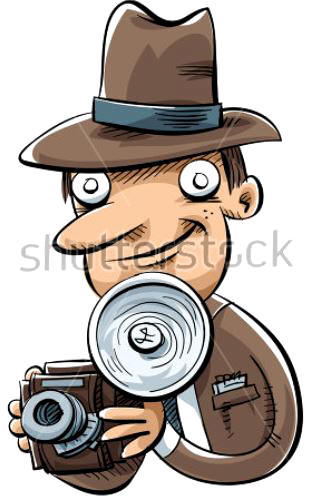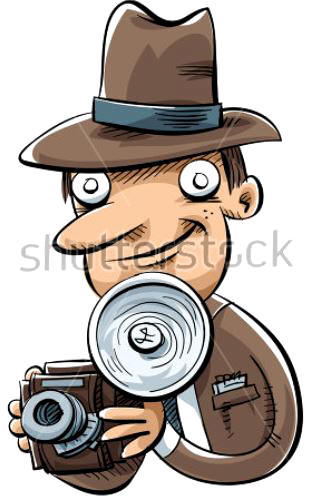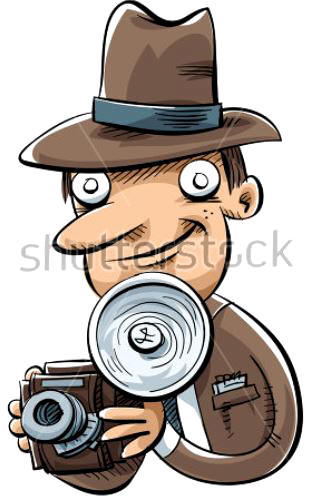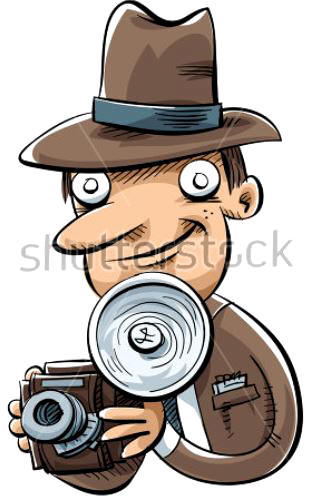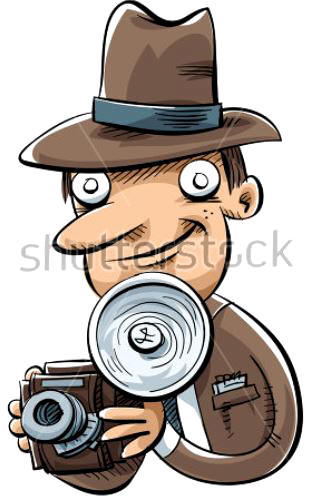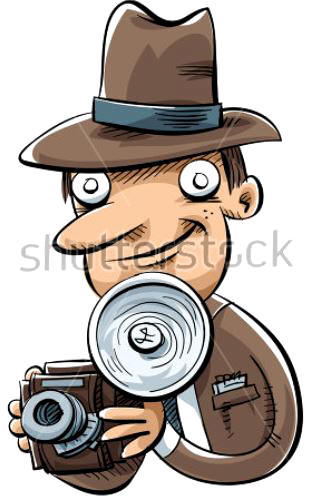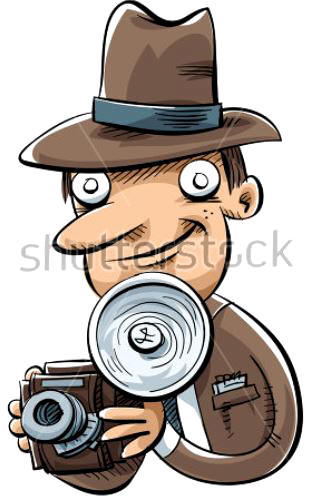 RAYMOND IN WONDERLAND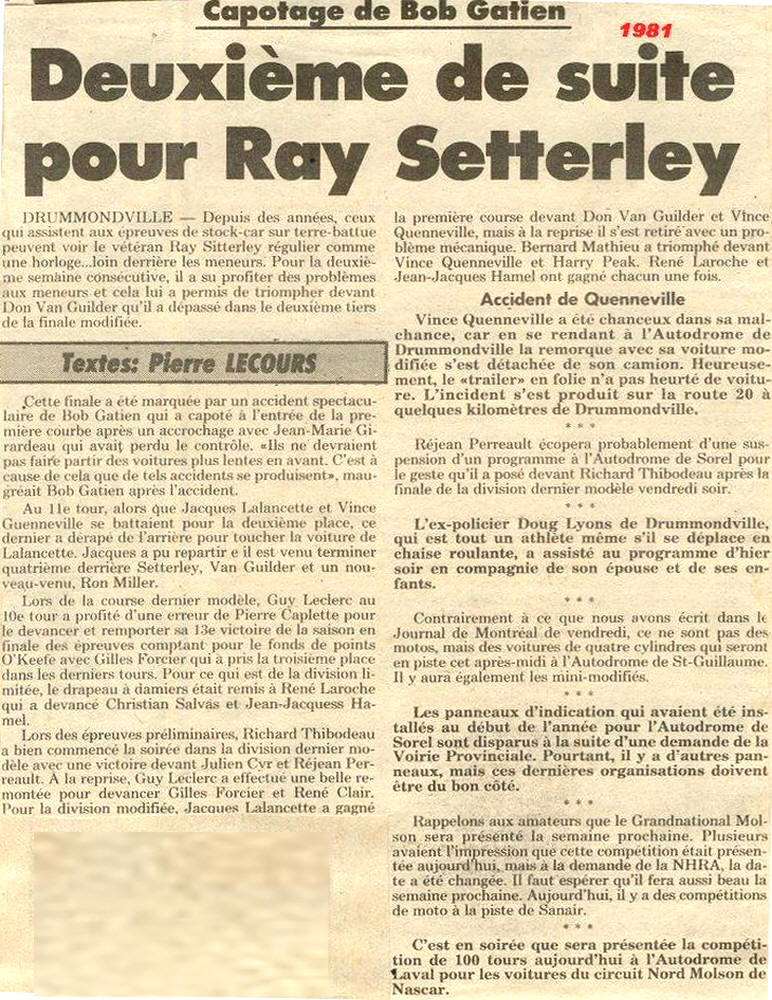 Courtesy of Pascal Cote
Whatsa matter? Can't read French ? I can, sort of. The gist of this one is that Ray Sitterly [Amsterdam, NY] won two in a row up there at Autodrome Dummondville, the second being after a few others including Vince Quenneville, Sr. had problems. Quenneville had the trailer unhitch from the truck and the car got damaged. Apparently a lot of U.S. drivers were going up there at that time. Sitterly, who labored at Fonda for years with only one win [at least that I know of] apparently was far more successful elsewhere. I am very pleased to say I was there at Fonda the night he did win !



Courtesy of Marc LeClerc




Ray, with a car I know he used in Canada. No idea if it is the one from the article. I think it is older.


Russ Bergh Photo
Ladabouche Collection
This is the car with which Ray won his feature at Fonda.



Courtesy of Don Van Guilder


Don Guilder, whom Sitterly is said to have outrun in the article. This is Devil's Bowl and likely it is an older car.

Quenneville Family Collection
Vince wins one at Drummondville with his own car He often drove up there for Canadian owners.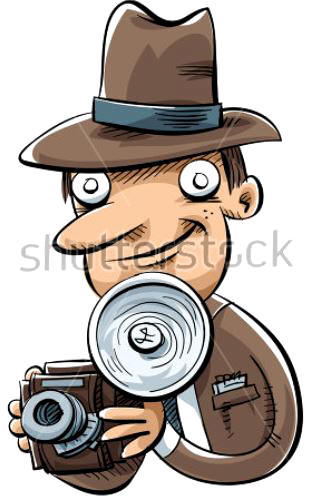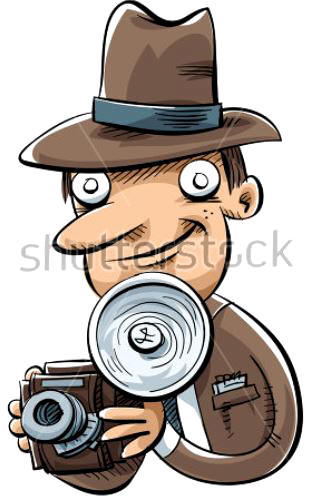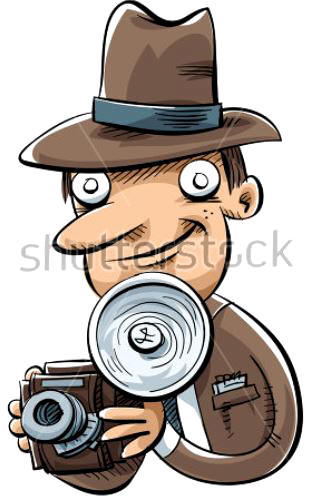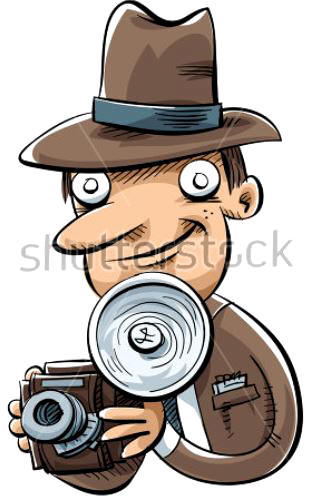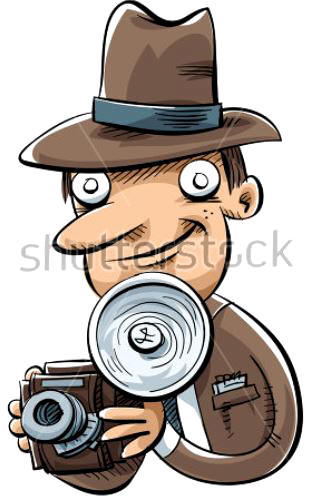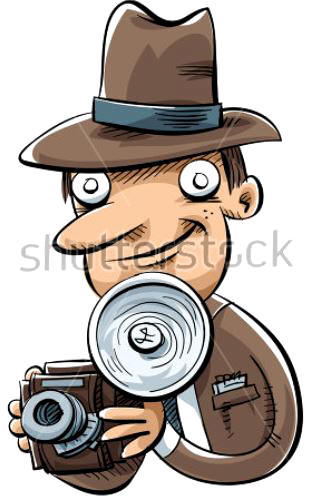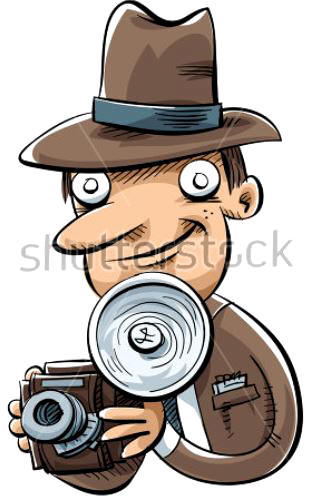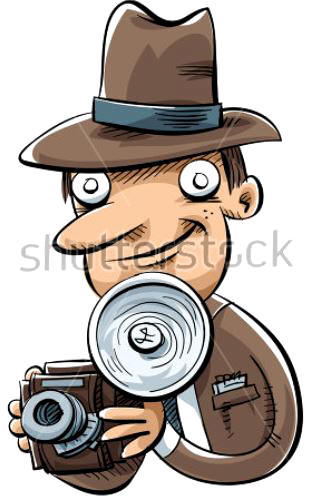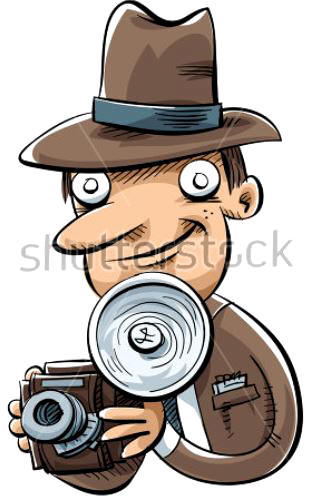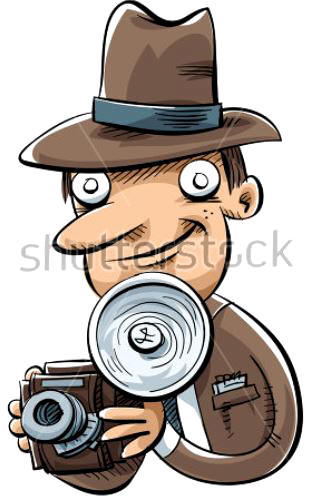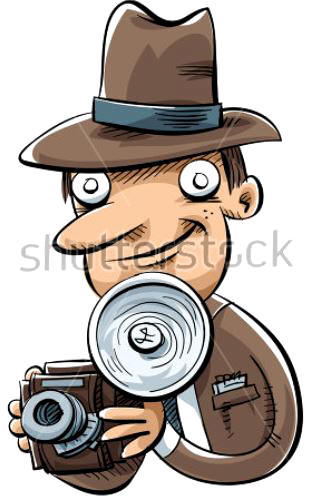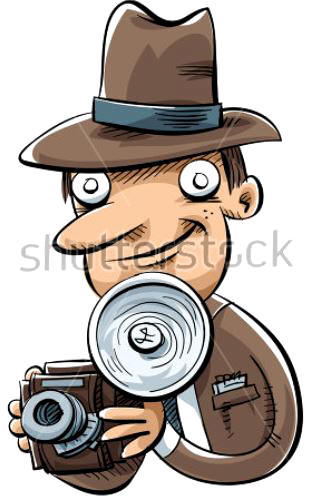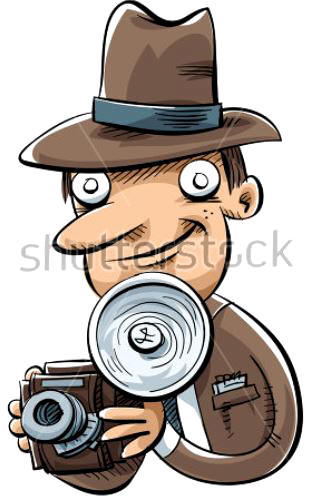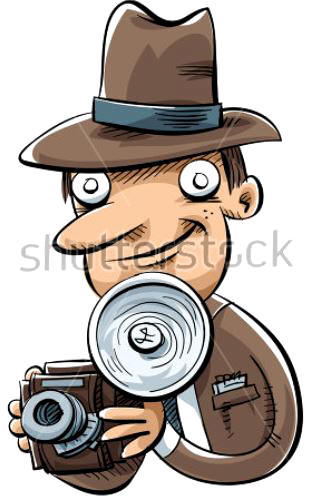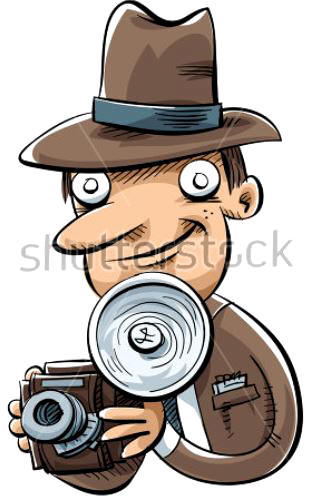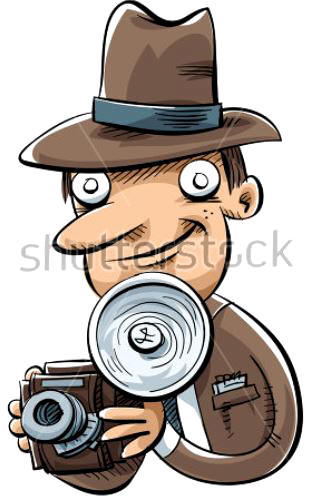 C'EST MOI CONTRE VOUS [IT'S ME AGAINST YOU]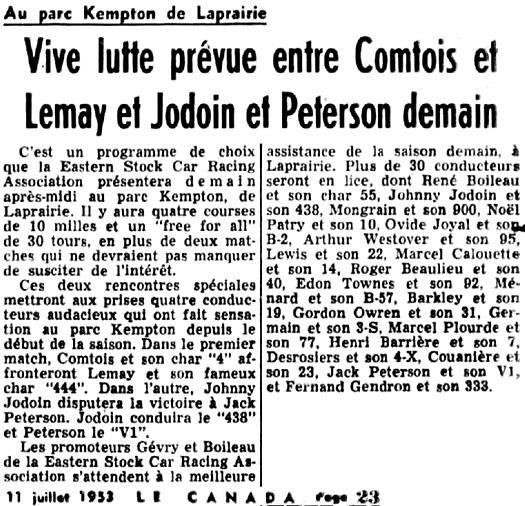 Source Unknown
Another article en Francais. Sorry. My old friend Jackie Peterson [now at least 97] is a former Vermont state champion who also drove sprinters in 1949. He told me he spent a lot of time racing in Quebec [good pickings, he said]. Sometimes he would attract other Vermonters to go up there with him. The Canadians were big, in those days, on putting on match races - and usually Peterson was the target. He even drove on at Richilieu Park [a horse facility] with his homemade sprint car in 1949.
Jackie has been more or less deaf since the age of eight. He tuned motors by feeling of them. In this article, he is set to drive a match race against someone named Johnny Jodoin. I notice that the article also mentions [misspelled] Art Westover, who came either from Alburg or Richford, VT. Also, Gordy Owen, another frequent Quebec flyer was there out of Williston, VT. It is sometimes hard to pick out the Americans, seeing as a majority of them on the Canadian border have French surnames anyway.
It was not uncommon, by 1954, to see hordes of Americans driving at tracks like Bouvrette Speedway, Kempton Park, Furey, and many more. These regularly included Bill Wimble [pre - Fonda years], Charlie Trombley, Bob Trombley, Dick Nephew, Peterson, and many more.



Courtesy of Peterson Collection




Jackie Peterson with the aforementioned V1 car.


Peterson Collection
This is the car with which Jackie raced at places like Richelieu Park, Sheldon, VT, and even at a track in Ticonderoga, NY.



Courtesy of the LaBreche Family


Jackie's car is second from right at Bouvrette Speedway, where they started each race with a jeep and a gate like is used for trotters at Saratoga.

Owen Family Collection
Gordy Owen and that same car 31 mentioned in the article at another Quebec track, Noel Raceway.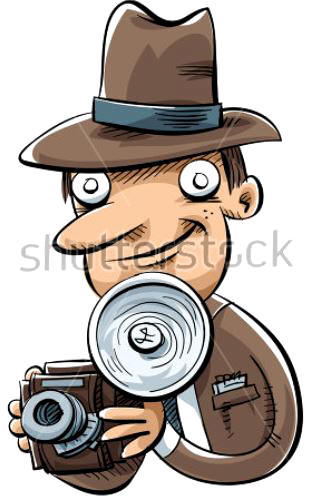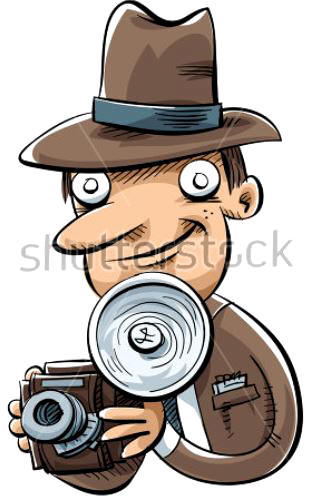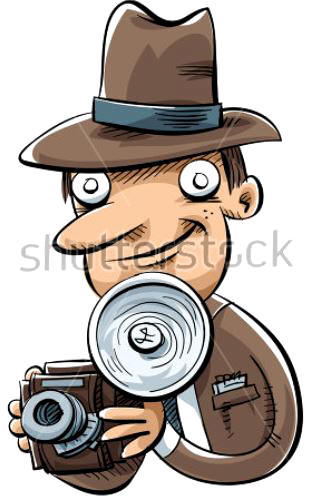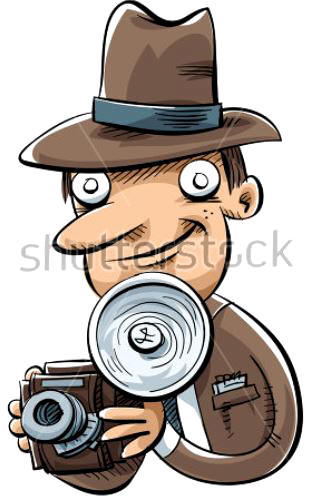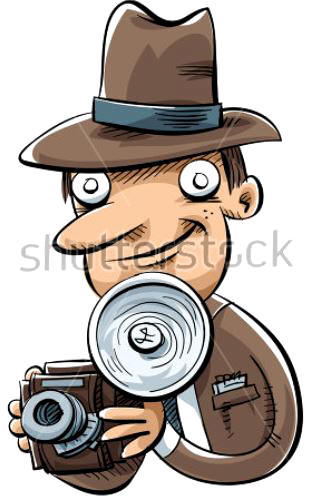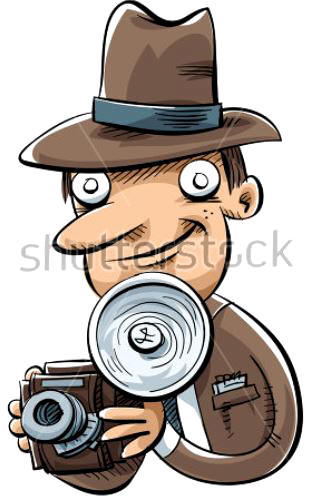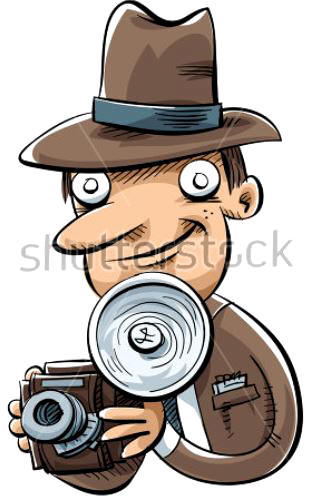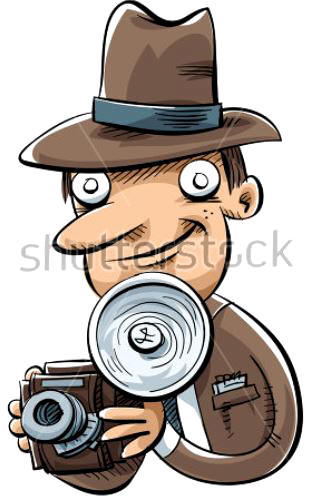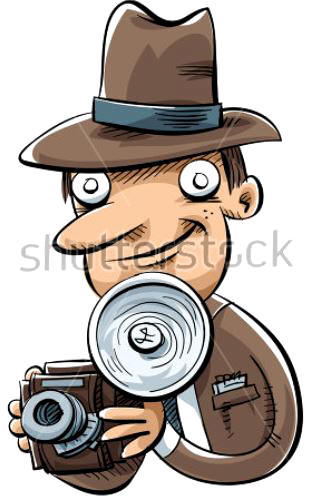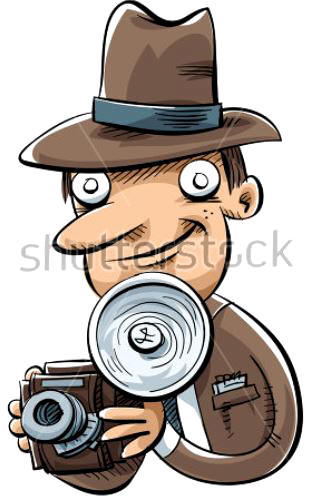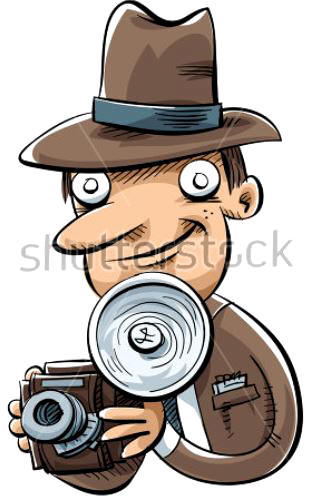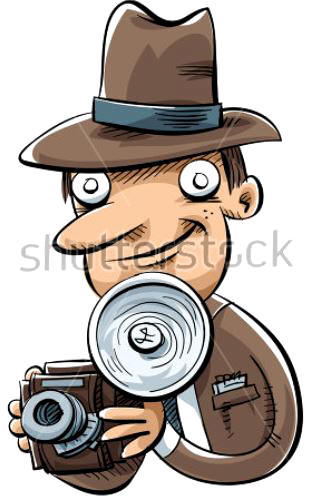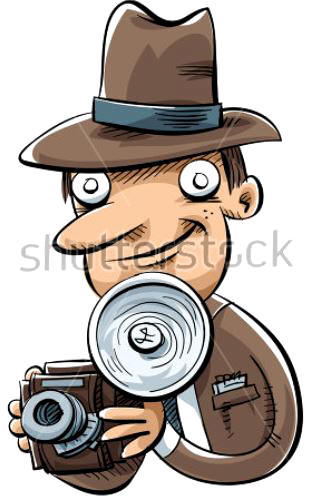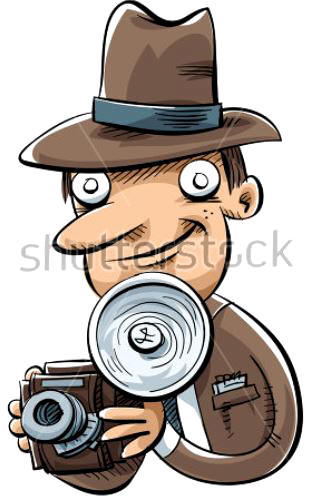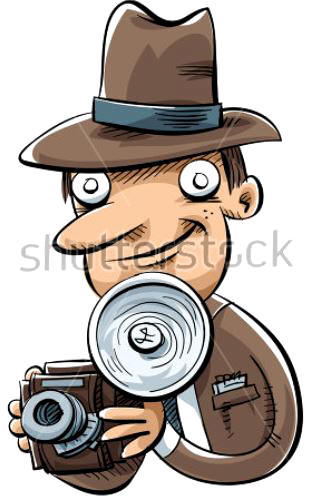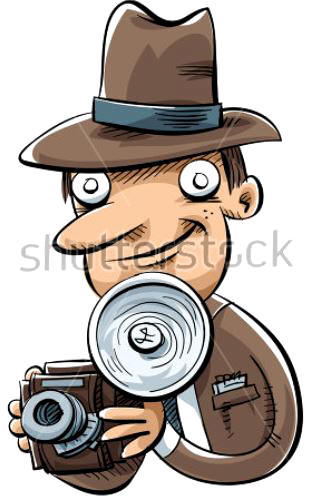 THE BEST LAID PLANS OF MICE AND MEN .......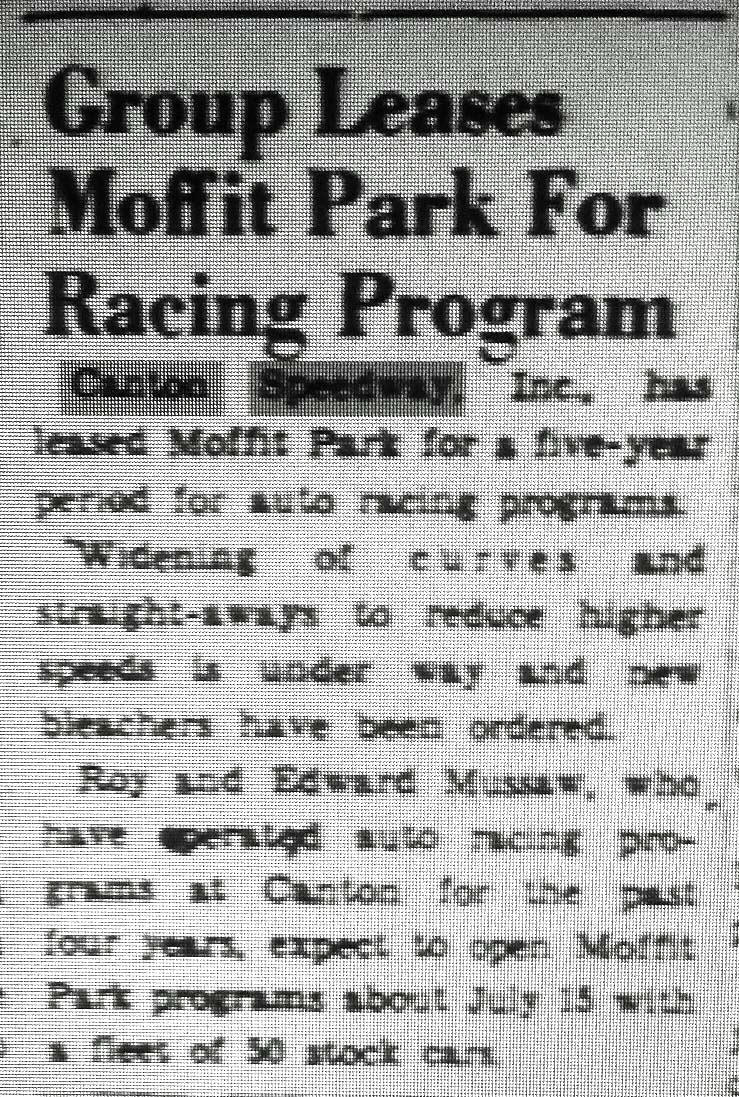 Courtesy of Robert New
This would have been 1950. Again, my old friend Jackie Petersonhad a hand in the lore of this track. He said he raced his open wheel car there around 1949. The track, located north of the city of Plattsburgh, had been a horse racing venue, followed by some mtorocycle racing and open wheel shows. The grounds were used for a brief while for the Clinton County fair, as well, having tempporarily replacede the old Bailey Avenue venue. There wer familiar names that appeared in news articles about Moffitt Park: Cliff Wright, Leon Shaw, Peterson [actually tgwo guys named Jack Perterson appeared there], Art Spoar, and a number of others guys who would end up fooling around with stock cars later. By 1953, it would trying running all stock cars under the name of Border Speedway.
This article must have been referring to the very early 1950's. St. Larwrence Valley Speedway at the old Canton fairgrounds was going well. It was the jumping off point for the likes of Bill Wimble and Buck Holliday. Nothing was ever done to the Moffitt Park track, as far as I can tell. Afte the the bried Border Speedway era, AIrborne Park Speedway opened on the other side of Plattsburgh and the Moffitt Park site soon folded. Some regulars from Canton did appear in early Airborne results, but it is not certain Moffitt Park / Border Speedway was ever going to get 50 cars. As far as I know, the Canton group never even got started there.



Courtesy of Historic Aerials. com


This is the only trace of Moffitt Park Speedway, amid the exit ramps for newly - built Interstate 87. Not one photo has been found.

Peterson Collection
Jackie Peterson plies his homemade sprinter at Green Mountain Speedway, Sheldon, VT. He says he raced this car a little at Moffitt Park.



Courtesy of the Peterson COllection


Phil "Squeak" Soper of the famed racing Soper family definitely appeared in results from Moffitt Park.

Bob Bushey Family Collection
via Jack Anderson
Rusty Reed is the only driver who I am sure raced at Moffitt Park in a stock car. His brother, Joe, had raced motorcycles there.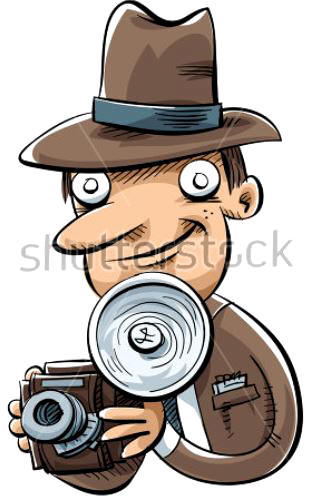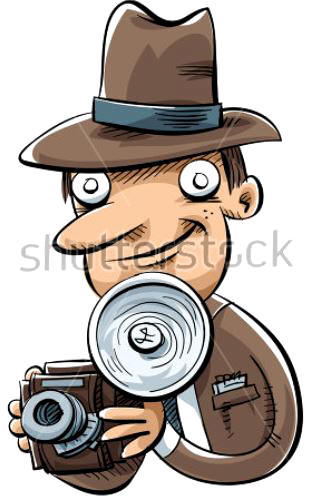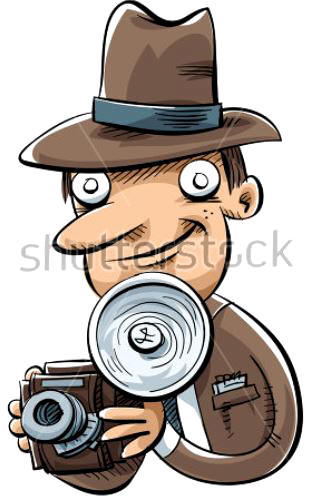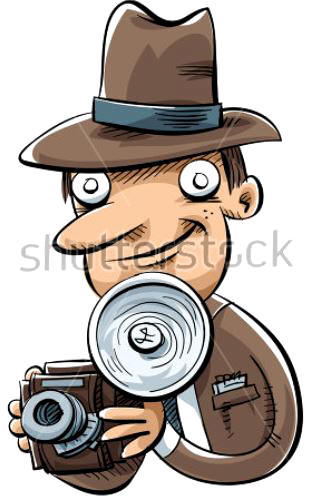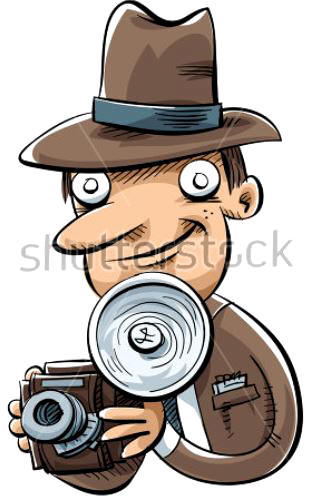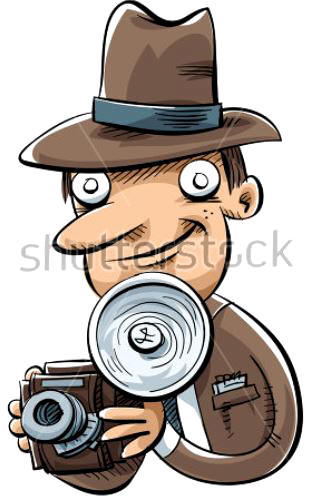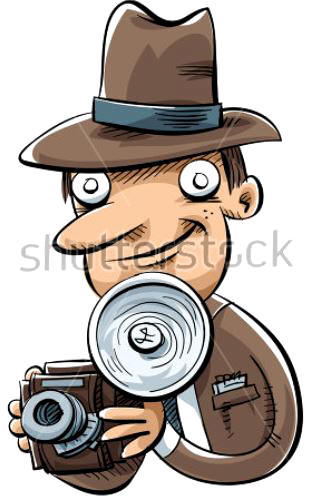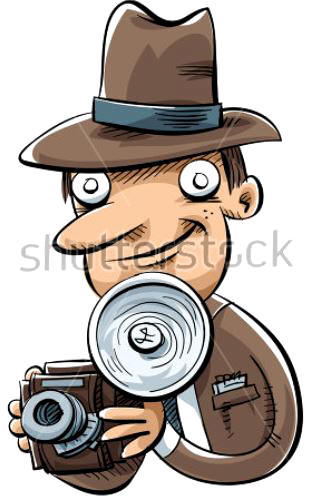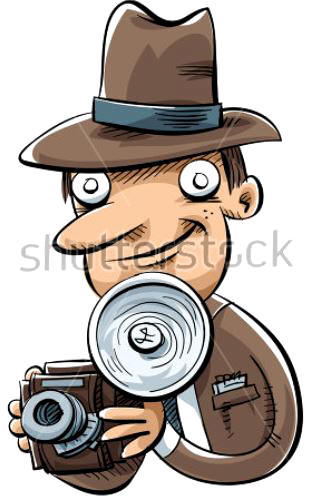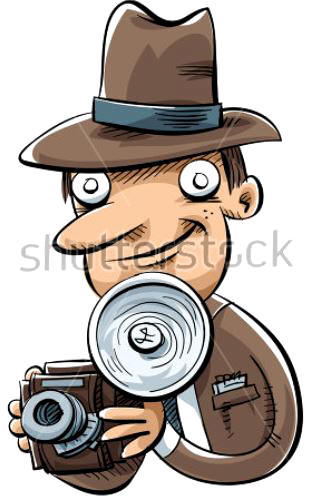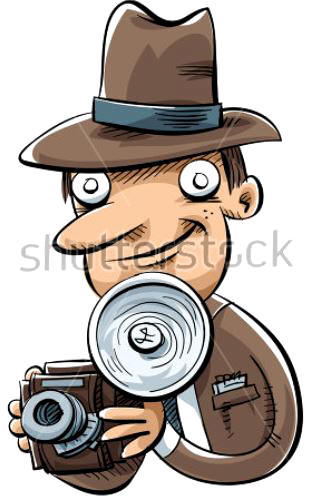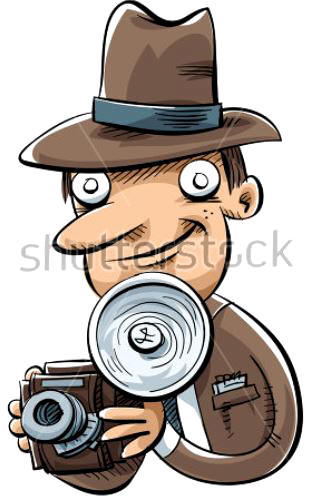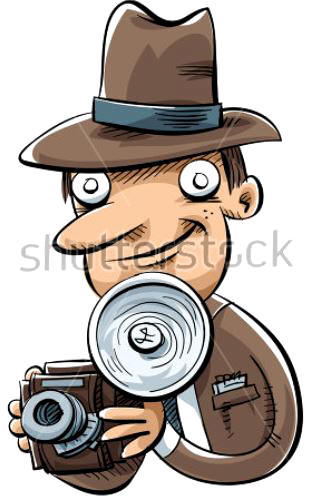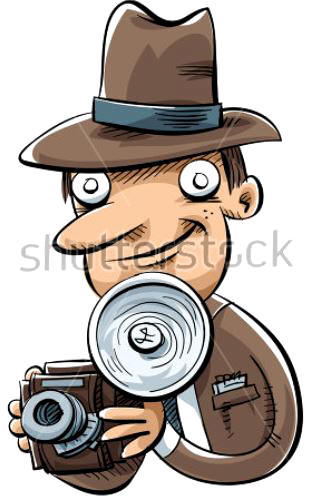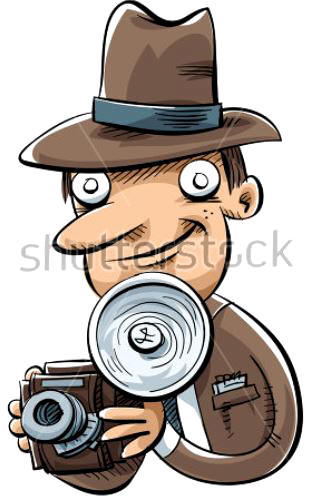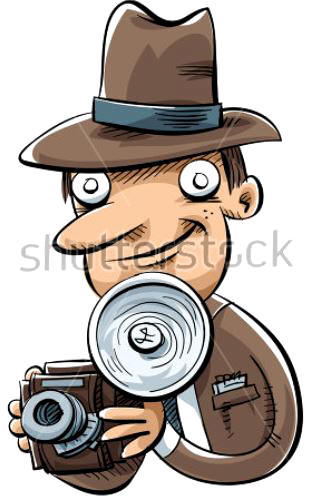 IMMORTALITY CAN BE A TWO - EDGED SWORD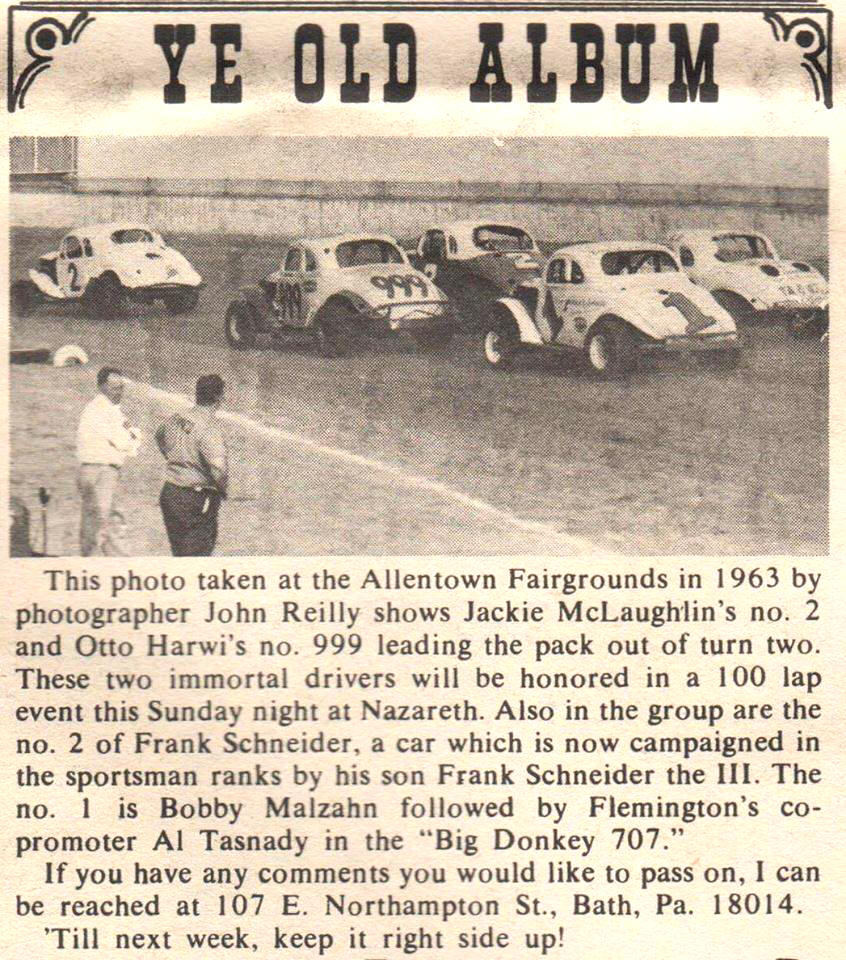 Courtesy of Edward B. Brown III
Obviously, the writer of this small article meant that Otto Harwi and Jackie McLaughlin were immortal in the sense that their records and accomplishments in stock car racing would allow their memories to last a long time. However, in McLaughlin's case, he was not immortal. His death in the familiar Budd Olsen - owned #83 broke hearts all over the racing community. He was popular, charismatic, and a very good driver who would also move up to sprinters. The fact that he is in the famed Lucky Jordan 2 in this photo is testimony to the esteem in which he was held.
The racing in his region of Pennsylvania, New Jersey, and the parts of New York closest to the other two states [I can't call it a circuit] was arguably the toughest there was anywhere in the Northeast. The subjects in this photo, alone, were like a Hall of Fme of dirt modified racing. McLaughlin, Harwi, Schneider, Tasnady, and Malzahn were the best of the best; but so, too were the cars. Deasey's 707, Jordan deuce, the Cope #1 were legendary. Schneider usually drove his #2's, which were iconic; I am embarrassed to say I don't know much about Harwi's car.
I do know this, when the All Star Stock Racing League was formed in 1967, tracks like Flemington, Nazareth, and Orange County made up 3/8s of the entire league. No other single entity held more than 1/4. Neither Harwi nor Jackie McLaughlin were included: Jackie had passed by then and Otto may have been getting along in age by then. Sadly, you have to look at immortality two ways inthe racing business and one's a lot more attractive than the other.

Joe Rahm Photo via Three Wide Site
Jackie McLaughlin.

Bob Pasquini Photo
Otto Harwi.



Courtesy of the Joe Cryan Collection


PA/NJ/NY tracks like Flemington, NJ would require the step up to manhood in a hurry. The level of competition was unreal .

Richard Tiely Photo
Frankie Schneider [2] and Al Tasnady put on a show at Allentown.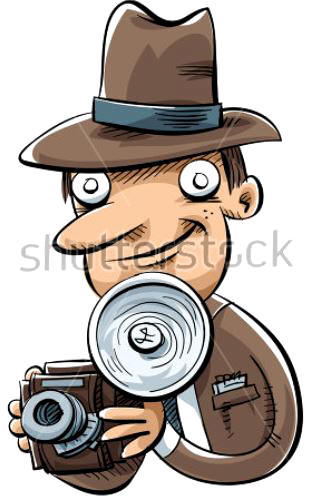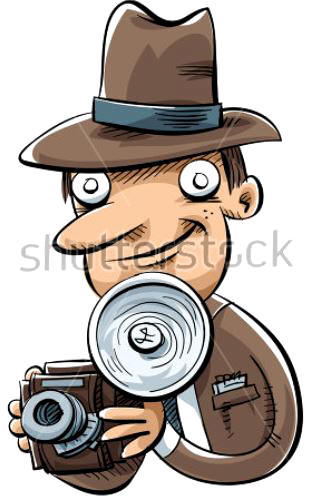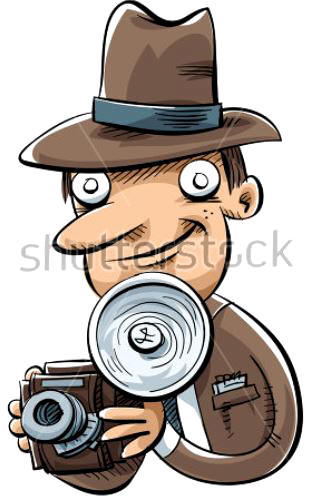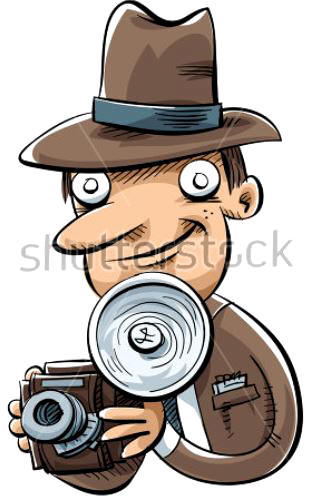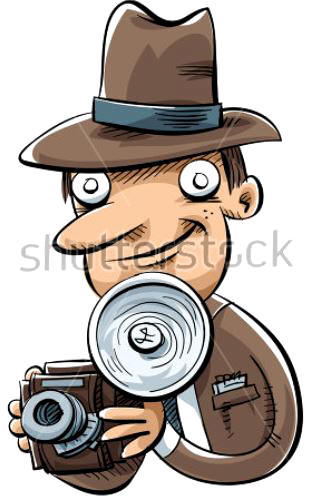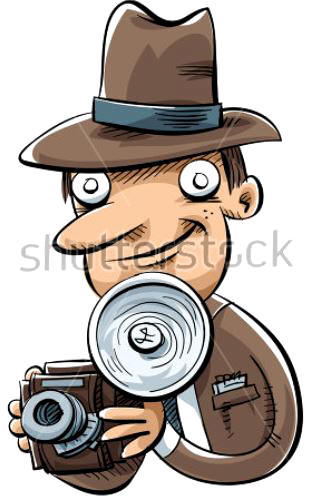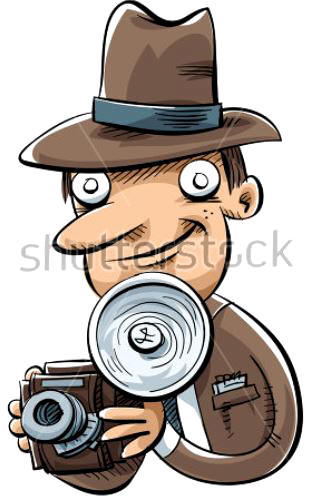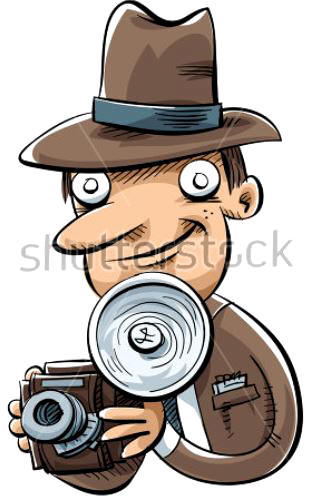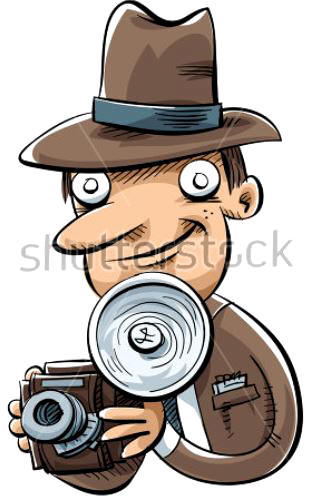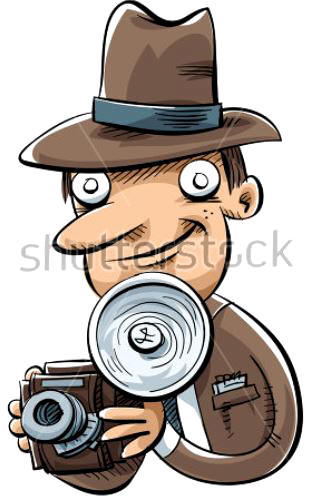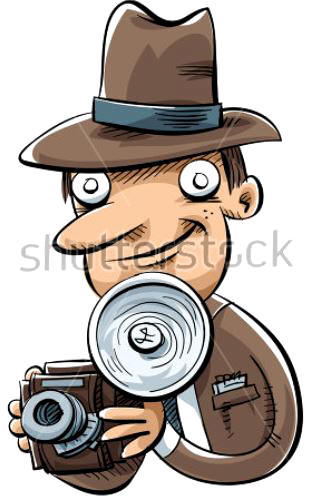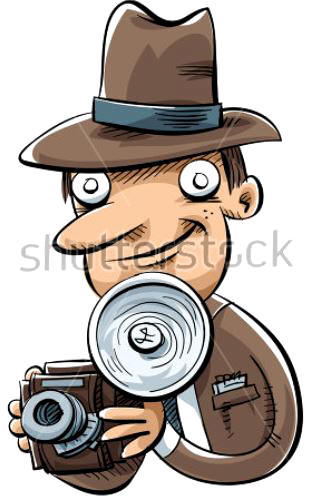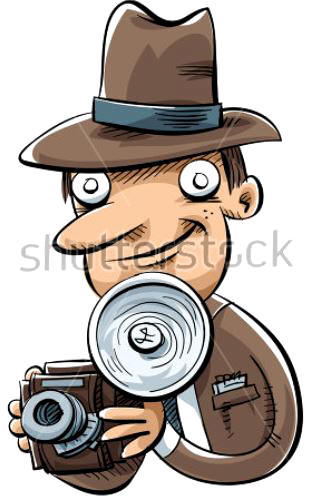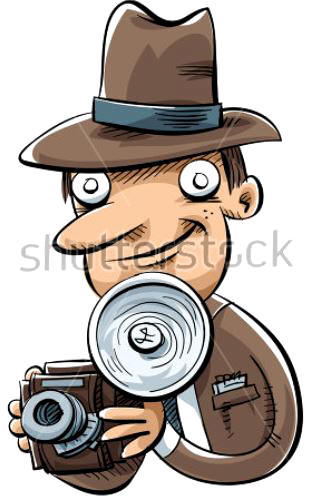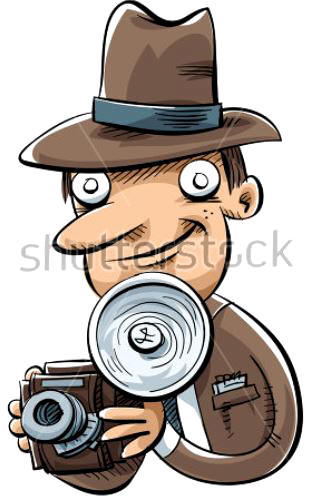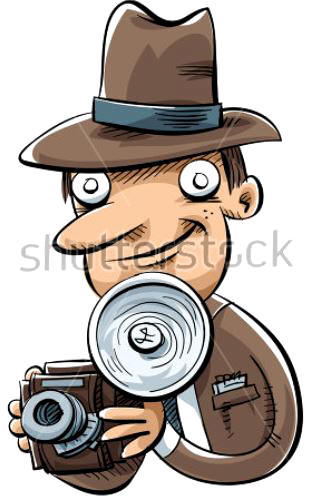 IT'S NOT WHAT YOU WOULDA THUNK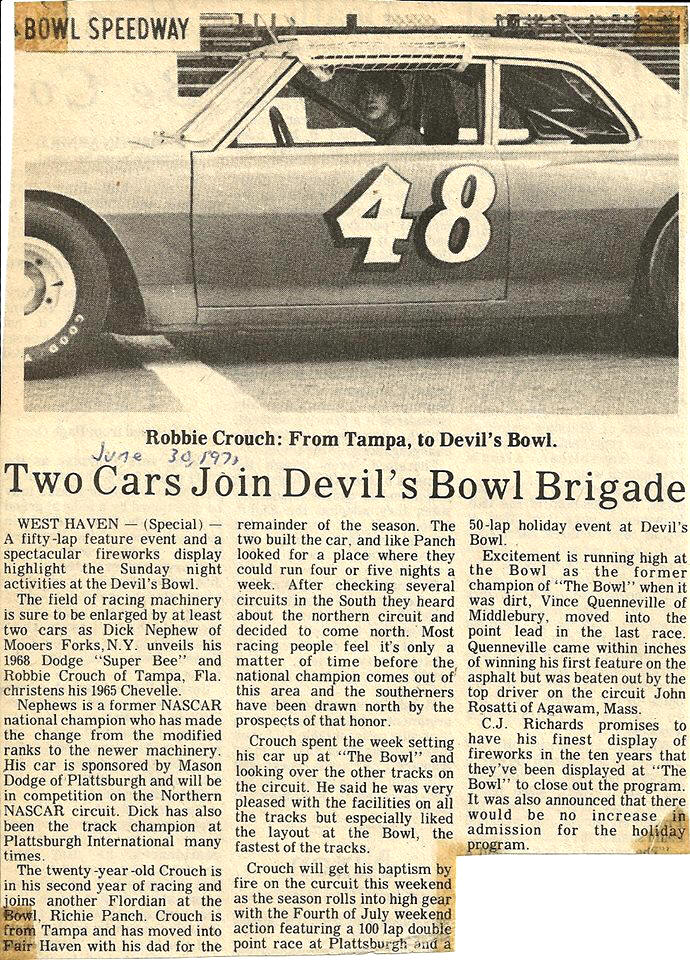 Courtesy of Marty Kelly, Jr.
This was around 1972, and Devil's Bowl was struggling mightily to right itself after having ade the unpopular decision of paving a track that had some of the best clay in the Northeast and had had some of the best dirt racing. Also, the resentful locals, many of whom had kinfolk who raced on that clay, stayed away in angry droves after the paving. C.J. Richards, after a very lukewarm year of pavement modified racing, had thrown his hat in with the burgeoning Northern NASCAR ;late model sportsman circuit to the north [Catamount and Thnder Road]. C.J.'s other track, Airborne Park Speedway would join them. So it was that he was always seeking positive publicity through articles like this.
At a glance, it would appear that the signing of the 1961 NASCAR National SPortsman co - Champion, Nephew would be the mamjor coup - not the unknown Tampa, Florida teenager. Never just glance. Nephew could never quite the hang of his big Dodge late model and soon slkipped off back to the modified coupes. Crouch, however, after suffering through being mislablled as Robert Gauch and Bob Crouch [to name a few], would become as instantly popular as his chain - smoking charismatic father Clarence [CA]. He would become steadily better and would up as the winningest driver on Ken Sqauier and Tom Curley's circuit by the time he slowed his career down, and took off for the NASCAR Busch Grand National North circuit around the early '90's. Ya never can tell !

Bob Frazier hoto
Robbie "Don't Call Me Bob" Crouch, in his first year in Vermont.

Bob Frazier Photo
Robbie Crouch, with his dad, CA - an absolute peach of a guy.



Bob Frazier Courtesy


Dick Nephew poses with starter Jim Frye and his reclacitrant behemoth of a Dodge LMS .

Bob Frazier Photo
via Ed Fabian
Vince Quenneville, Sr. was the first of CJ's dirt regulars to go late model - and he was definitely the most successful. He actually won a feature - no easy task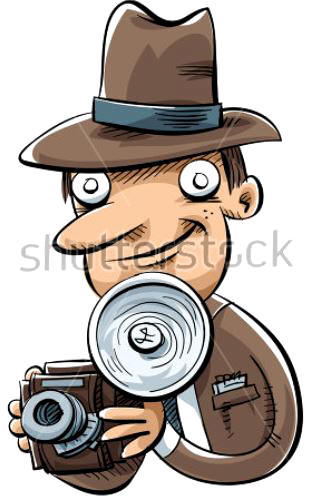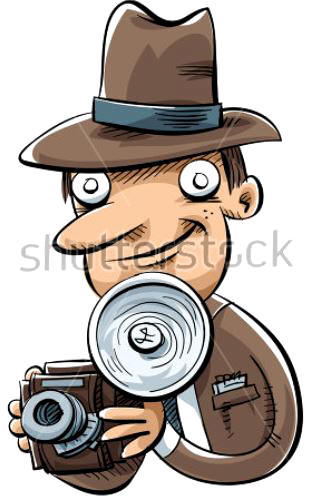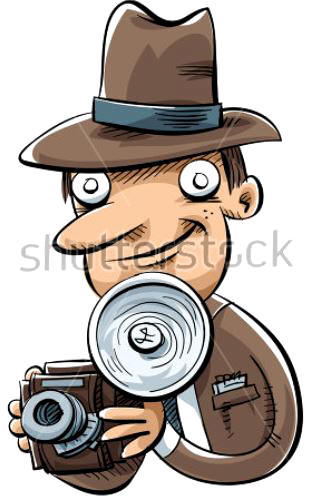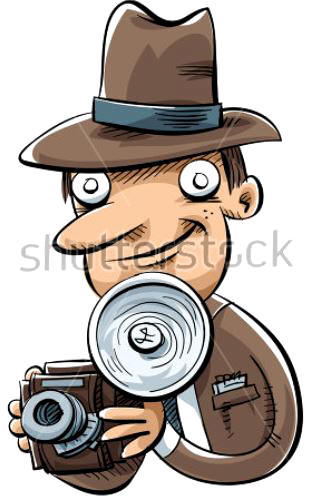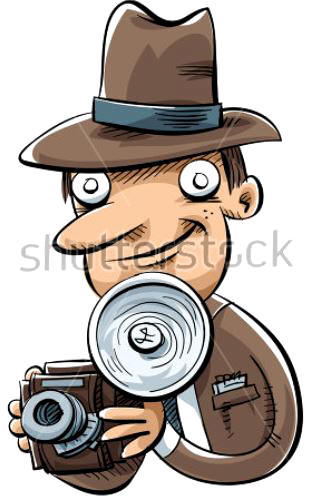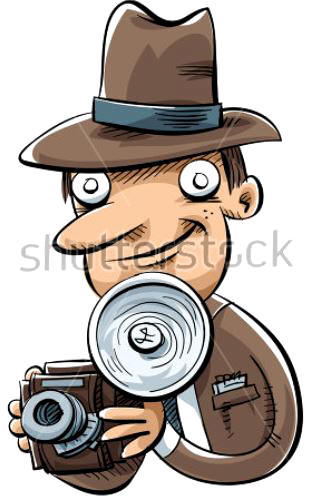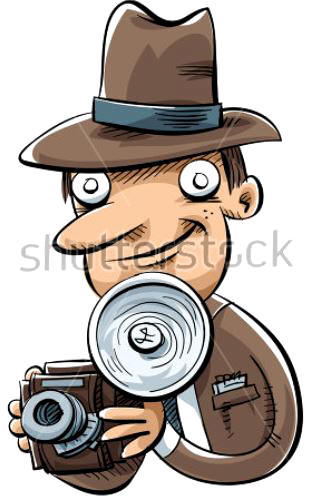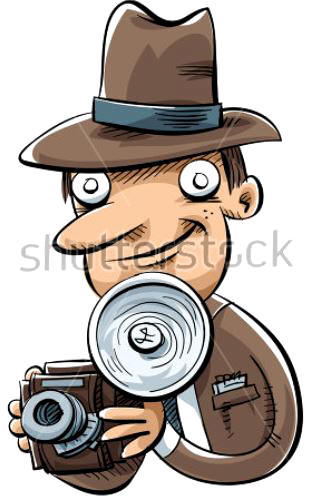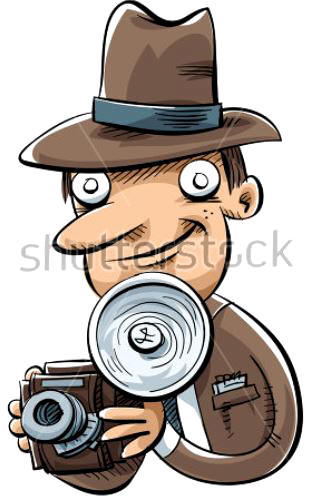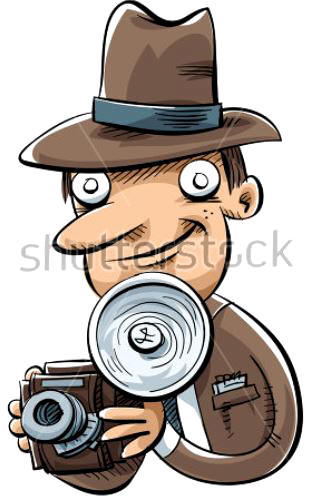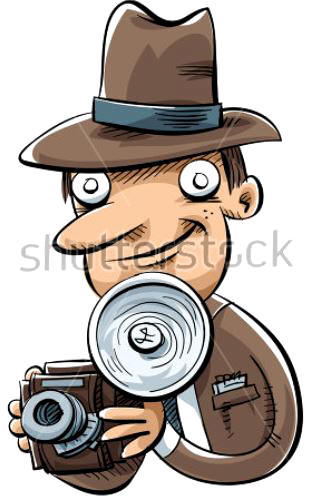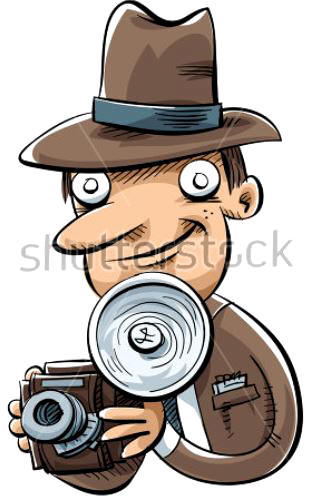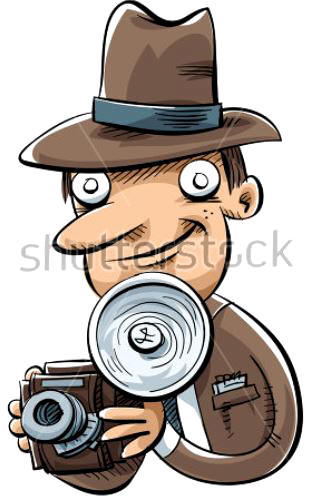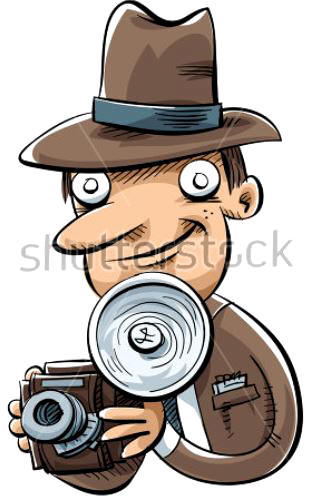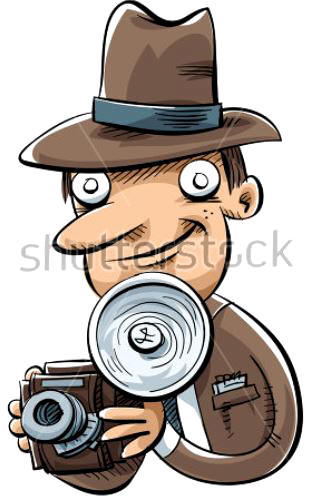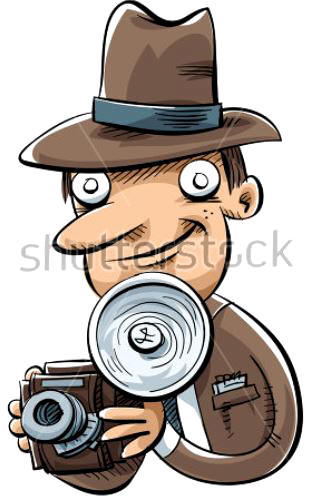 ONE THAT COULD HAVE COME OUT A LOT WORSE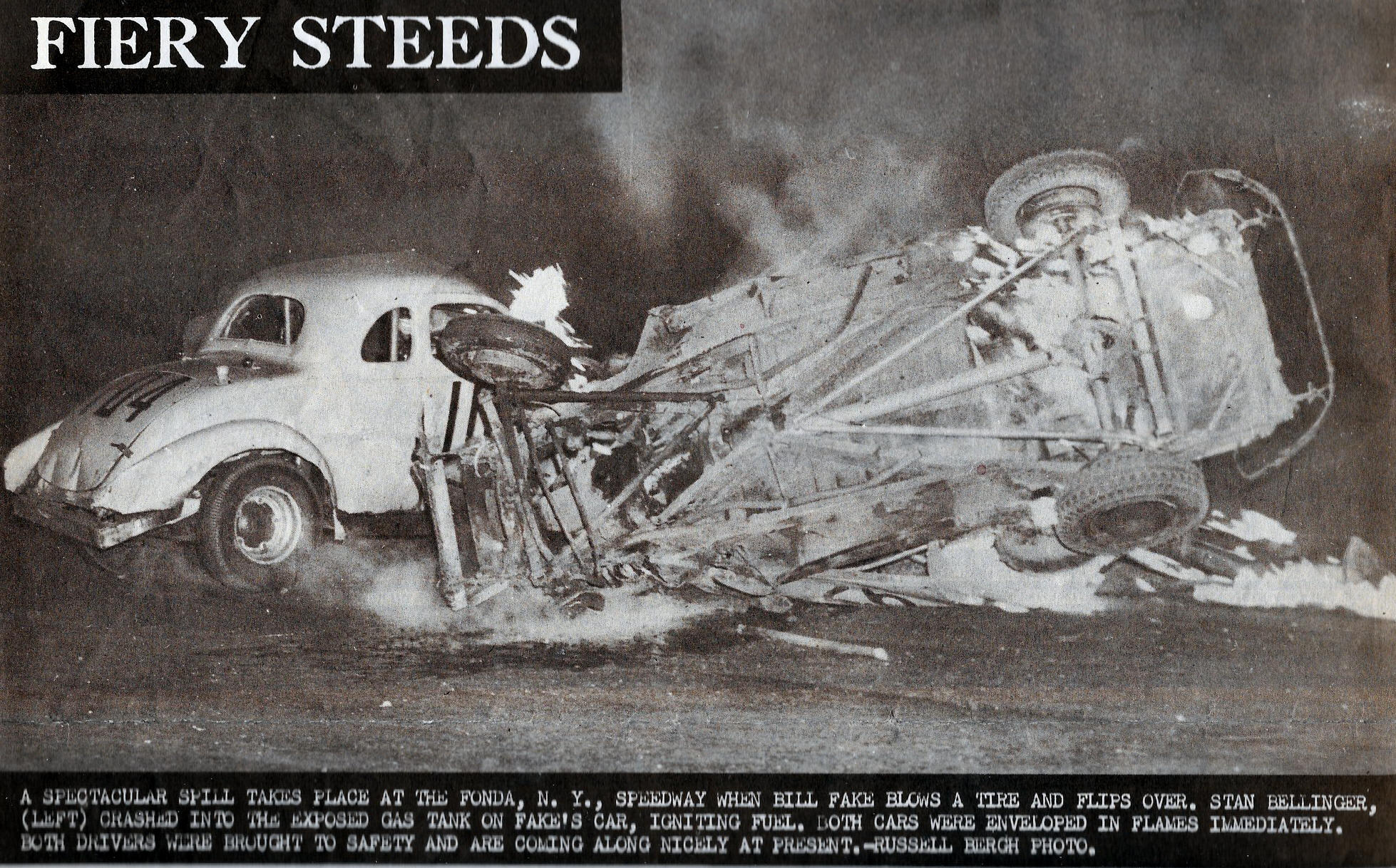 Courtesy of Marty Kelly, Jr.
I tried to get the photo large enough to read the caption, but it is fouling up the photo quality. This is the Stan Bellinger / Bob Fake [the photo caption is erroneous in calling Fake Bill] crash and fire - recognized as one of the worst disasters in Fonda Speedway history. Fortunately, no one died. Fake blew a tire and rolled, and Bellinger hit him right in the gas tank. From the Fonda book, I gather that the brave and qjuick actions of track official [and master car builder] Bob Whitbeck saved their lives - particularly Fake.
The Fonda book says Whitbeck not only reached into the flaming car and pulled Fake out but also extinguished his flaming clothes. The book says Whitbeck received the prestigious John Naughton Award for his actions. There is also a photo that shows Fake and Bellinger awarding Whitbeck a trophy. The Fonda book also says both Bellinger and his friend Jerry Jerome had premonitions about bad things happening at Fonda. At it turns out both of them made the "Worst Crashes" section of the Fonda book.

Russ Bergh Photo
Bob Fake [lft] and Stan Bellinger award Bob Whitbeck at Fonda.

Russ Bergh Photo
via Ed Fuez Collection
Not much left of the Bob Fake car.



Courtesy of Harold Weaver


Bob Fake, having blown the tire, starts to roll over .
c
Courtesy of Stephanie Lynn
Stan Bellinger.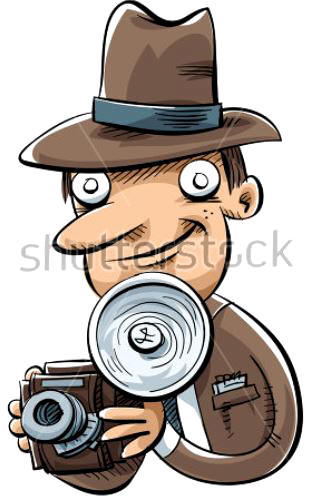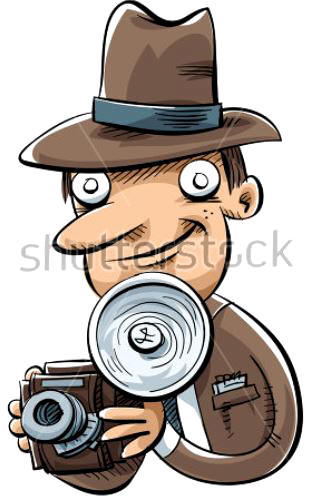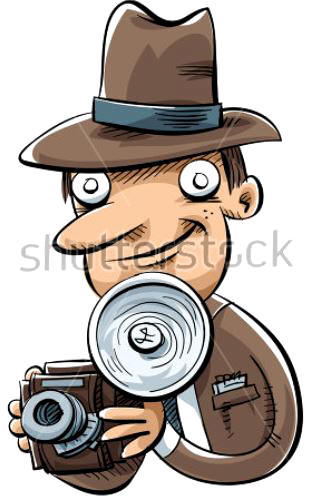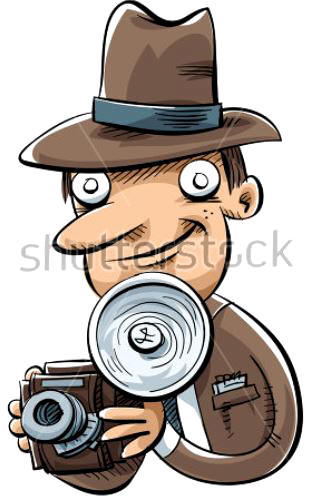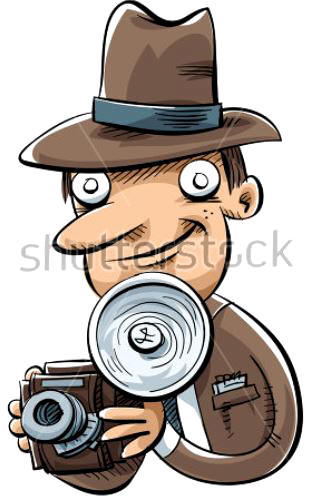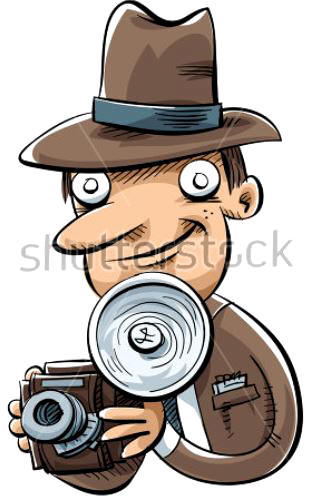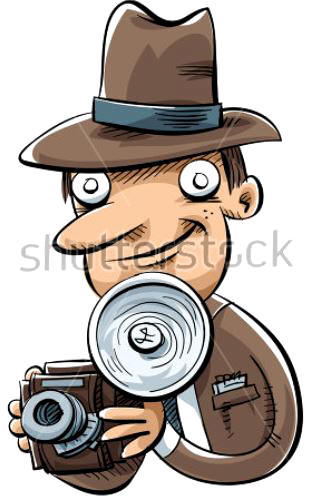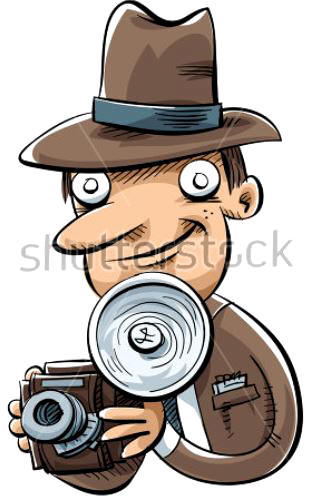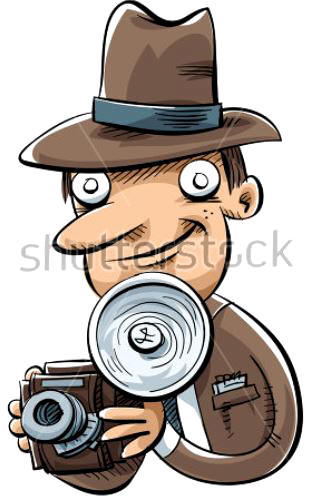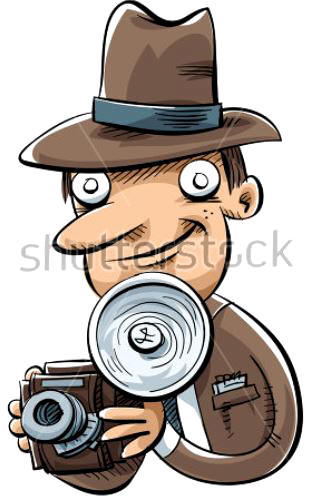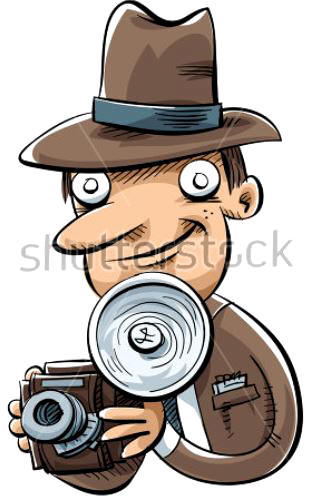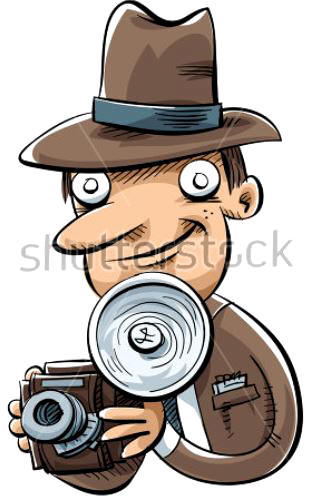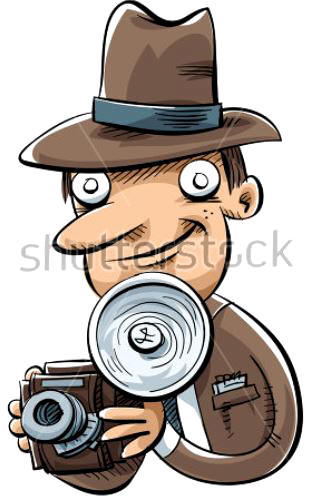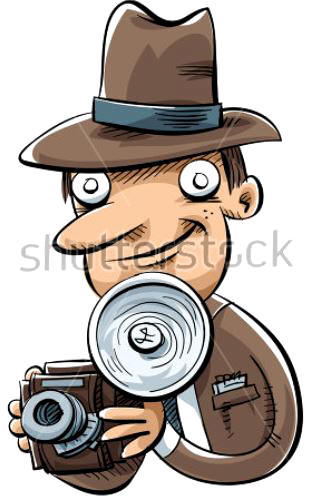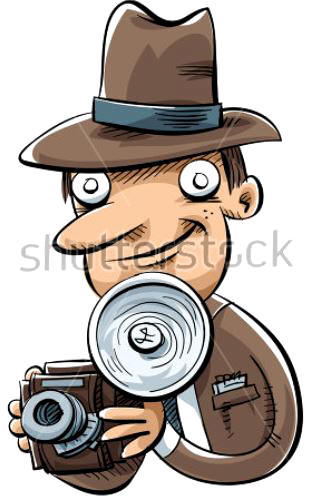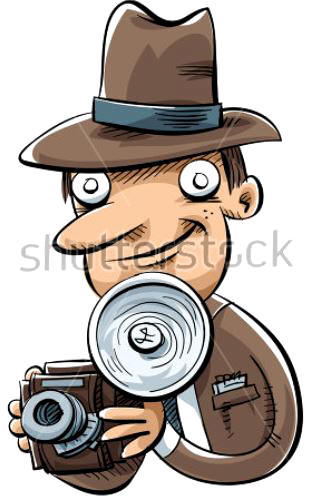 THERE'S MORE THAN ONE WAY TO SKIN A CAT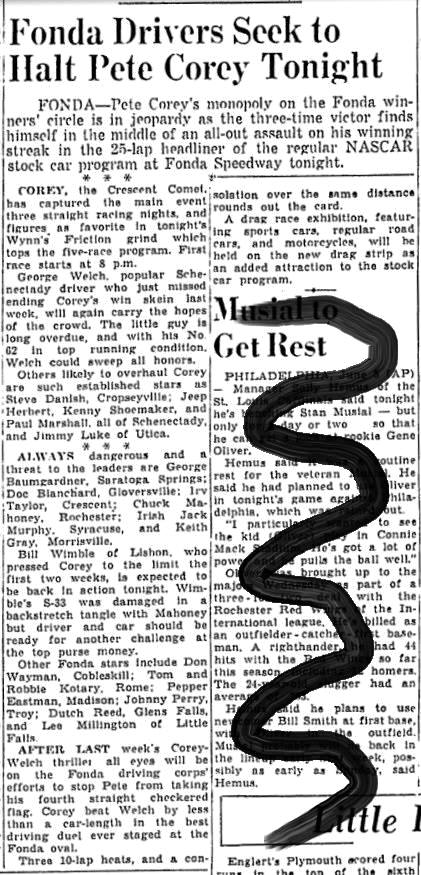 Courtesy of Marty Kelly, Jr.
The 1955 season at Fonda Speedway was a temptuous one. Before it started, there had been some car swapping between the Bob Whitbeck - built Kittler / Wolfe 37 and the Bob Mott #3. Jeep Herbert had taken over the 37, causing Pete Corey to move over to Mott. The Mott 3 was a rocket in the early races of the season, as the article above chronicles - 5 wins in a row. What the article doesn't get into is what happened next. The Danishes, the Lukes, the Wimbles, and all the other teams were still trying just as hard; but, something else derailed Corey.
Perhaps worried about Corey's monopoly starting to cut into fan interest, NASCAR and the track officals invoked a recent [but previously ignored] ruling that prohibited cars older than a certin date from running because those cars had been made with open spaces in the roof that were covered with wood and leather. Teams would weld a piece of sheet metal over the spot, but some drivers were flying out the roof during rollover. The famed D.D. "Rebel" Harris died that way.
Corey and Mott were incensed, but Fonda woouldn't budge. I imagine other cars got the boot as well but we don't hear about them because they hadn't won every race that season. Bob Mott would build a 1937 coupe and the team still had a very good year; but it became one of several chips on Corey's shoulder concerning Fonda.

Russ Bergh Photo From the Jo Towns Collection via Otto Graham
Corey strikes a pose at Fonda
duiring the 1955 win streak.

Herbert Family Collection
Jeep Herbert had a great year with the Kittler/Wolfe 37 at Fonda ,but he was even better at Stateline Speedway.



Russ Bergh Photo via NE Vintage Mod Site


Corey won this Fonda feature with the Bob Mott replacement car even
after he had just rolled it over.

Russ Bergh Photo Courtesy of Otto Graham
George Welch.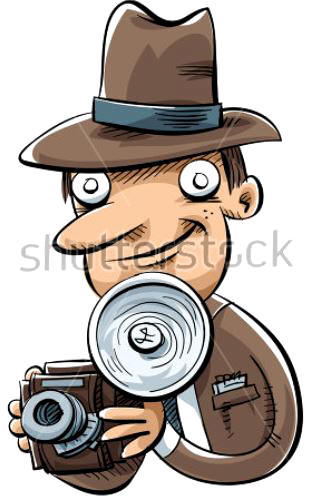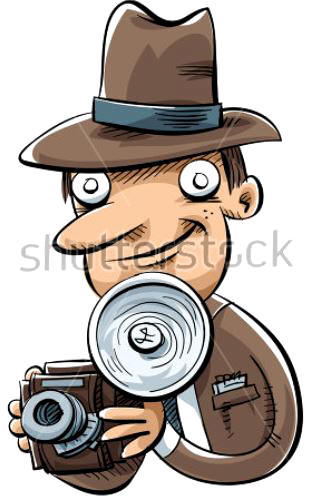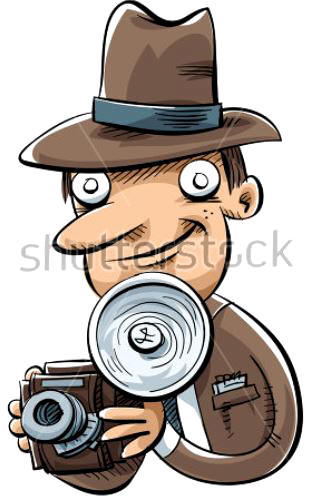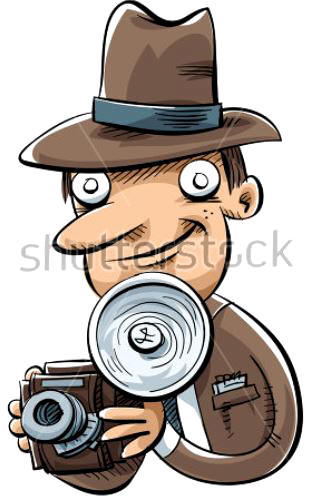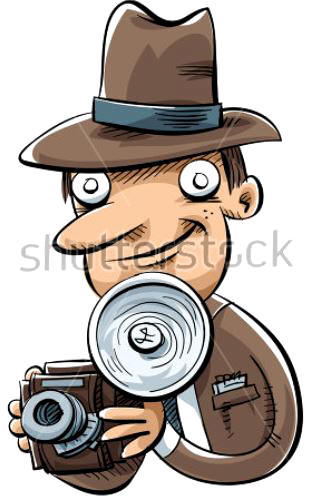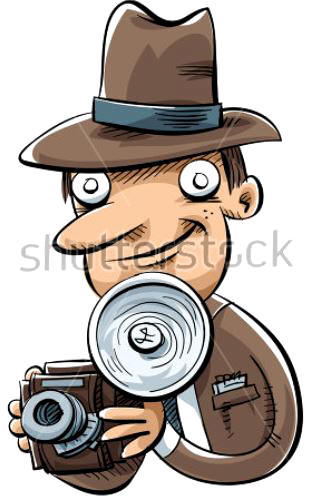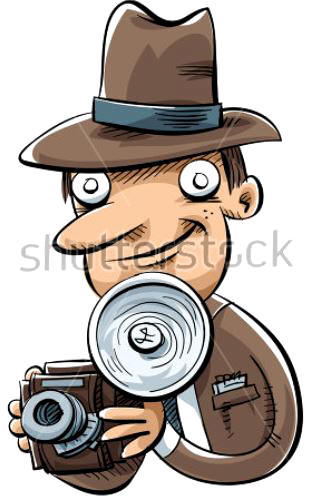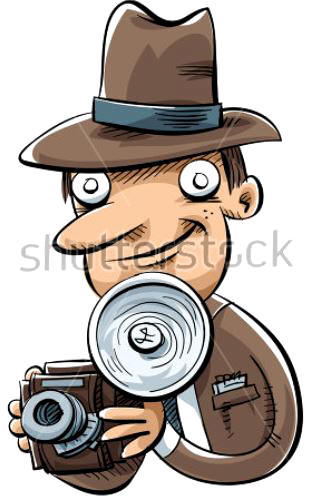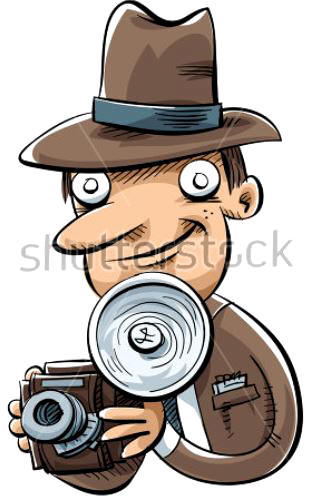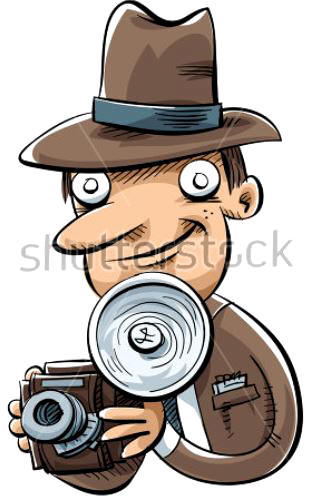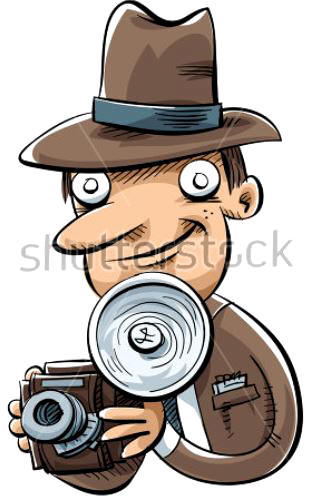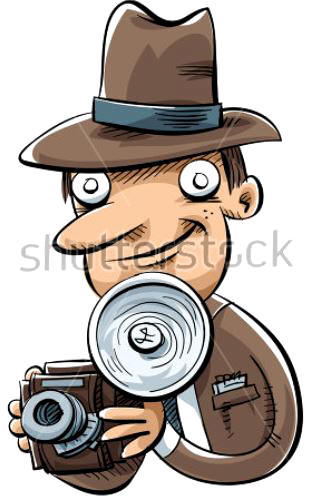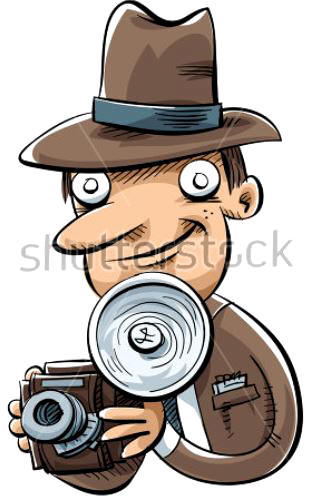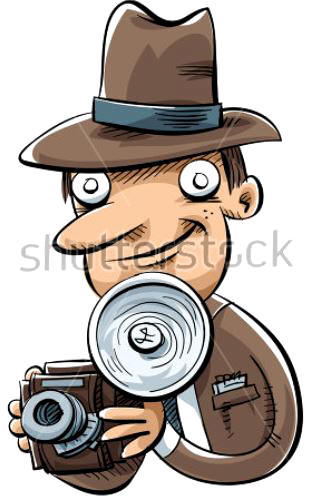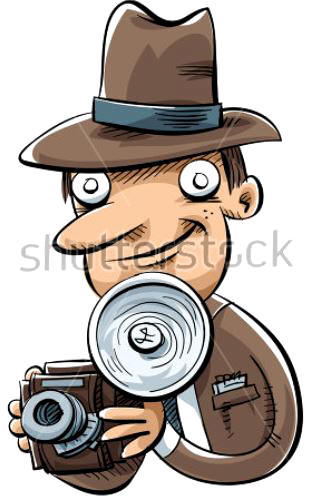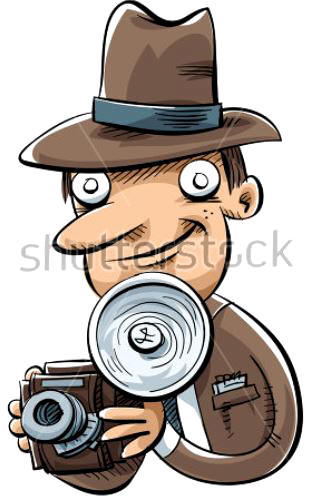 THE OPENING OF DEVIL'S BOWL 1967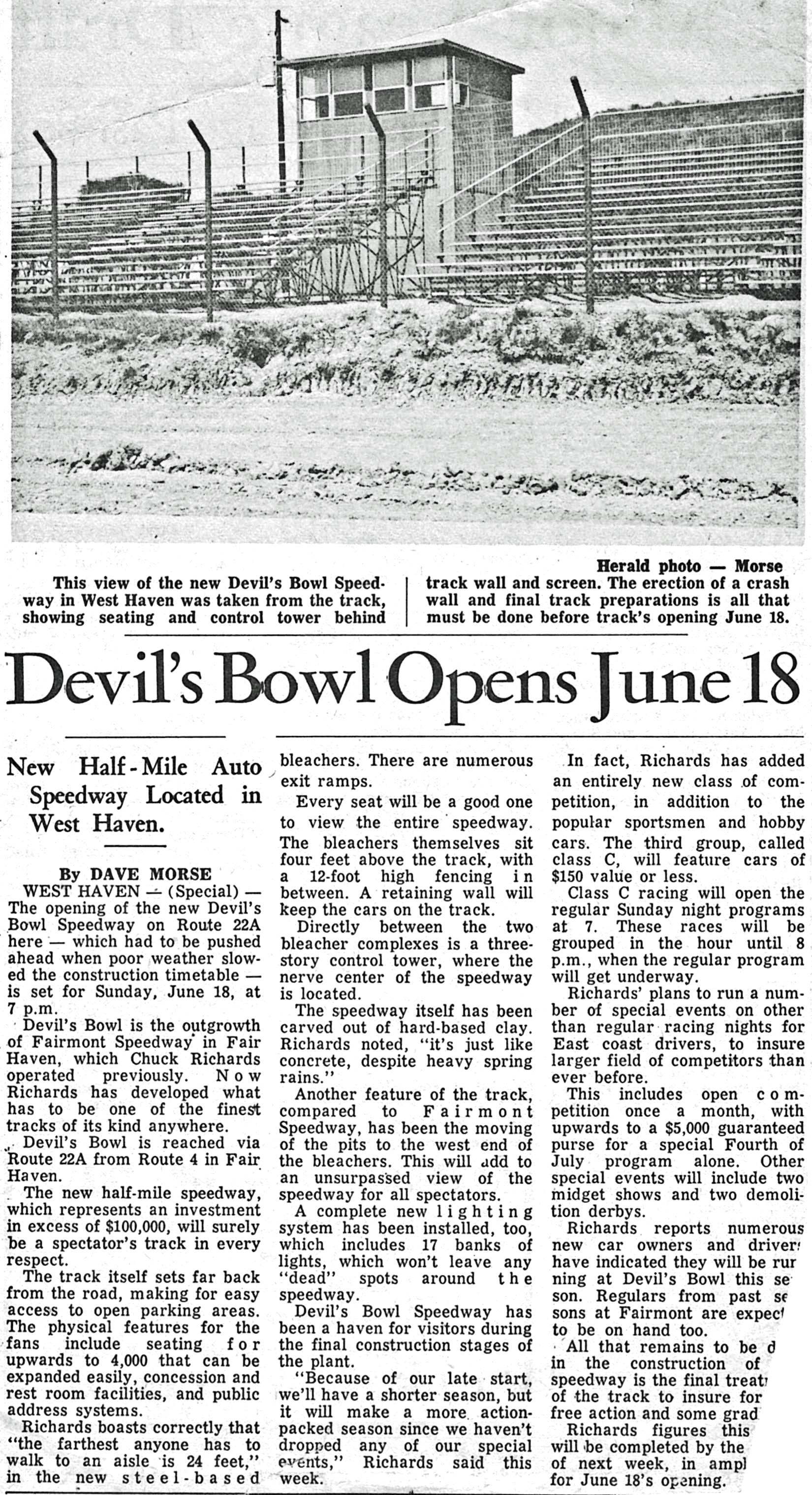 Courtesy of Mike Dundon
The 1967 opening of Devil's Bowl was eagerly anticipated ever since the town of Fair Haven had basically whined C.J. Richards out of town. Located on family land [not to the happiness of some of the Richards relatives], Devil's Bowl was sitting in some of the finest clay anywhere in the Northeast. He had built what certainly looked like a hiney of a little race track. A few troubles cropped up: 1.) the article says "The speedway itself has been carved out of hard based clay.". Trouble was, he did it before the frost came out of the ground. 2.) Those resentful relatives on neighboring farms would get even by spreacding manure on race nights and leaving dead cows by the race track fence.
Richards was smart enough to have his shows on early Sunday evenings so was to attract many Lebanon Valley and Fonda cars. There were significant track surface problems in early programs in 1967, but they were ironed out. C.J. did stage a good show most of the season, always complemented by his philosophy that a well - fed race was a happy race crowd. He soon realized that the large sheets of metal he had put on top of the walls that sat on the outside of the turns would have to go, but most other infrastructure has endured.

Courtesy of Dan Ody
Rumors were many during the 1966-7 offseason. This sign sort of
cleared them all up.

From Dan Ody's 8MM
Old Speedwways DVD's
The Rutland Herald's first photo of the opening show at Devil's Bowl Speedway featured Chet Doaner's Corvair [not this photo].



Bob Frazier Photo via Ladabouche Collection


This shot of Vince Quenneville, Sr with his former Dexter Dorr car captures all 3 DBowl divisions: VQ's sportsman, late model 224, and the dare devils in the upper lefthand corner. Note Jean Guy Chartrand in the background.
c
ePEd Johnson Photo Courtesy of Joe Cryan via Three Wide
Even the first year's championship was dramatic. Mert Hulbert won the title despite having his car burn up in the garage at midseason.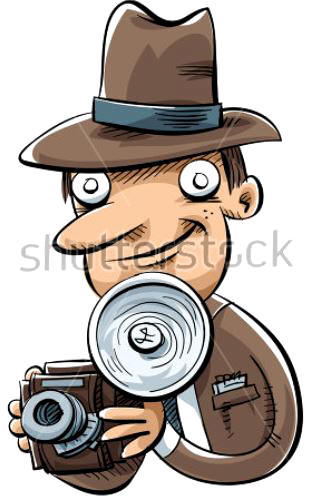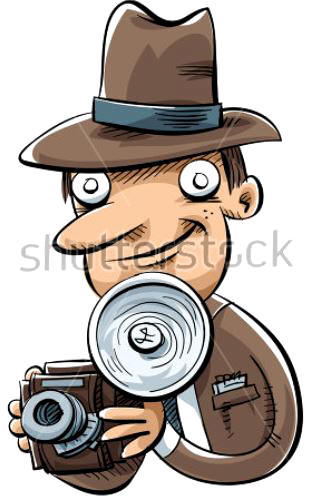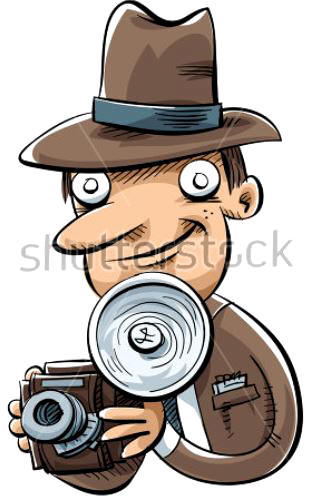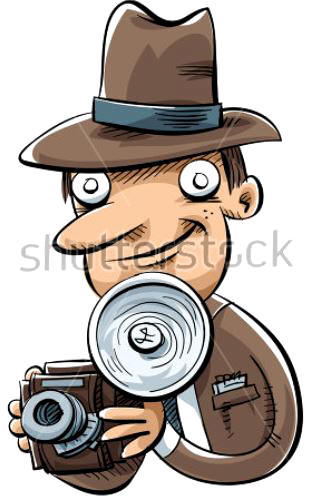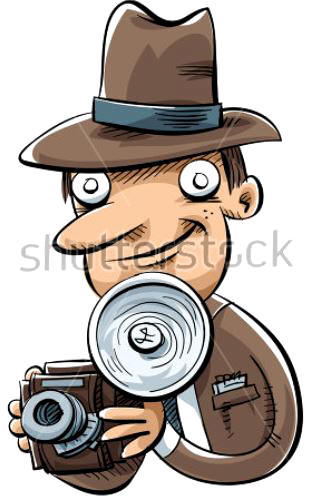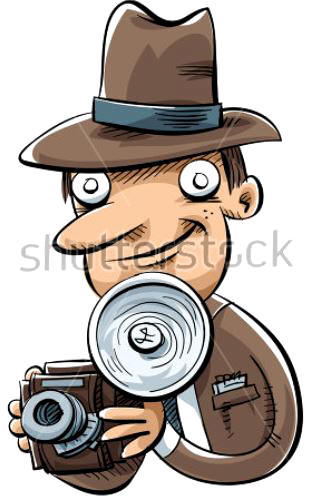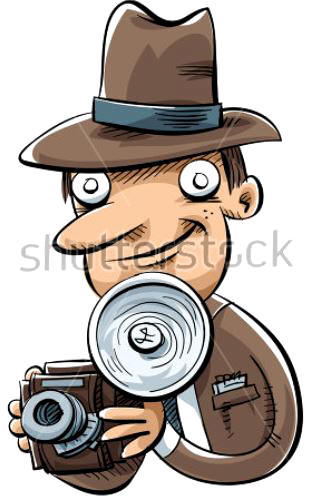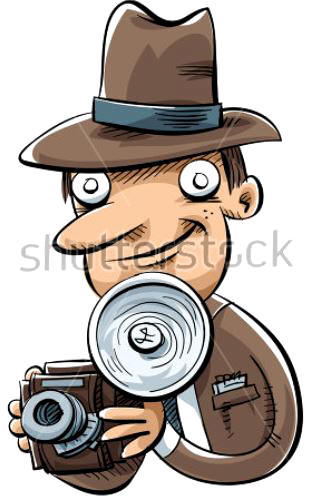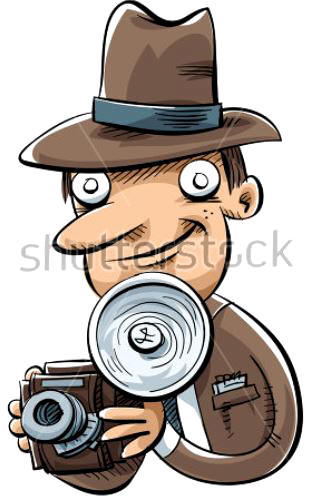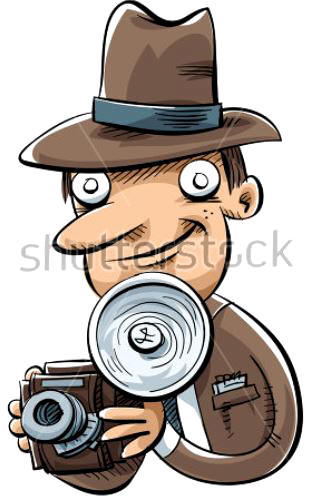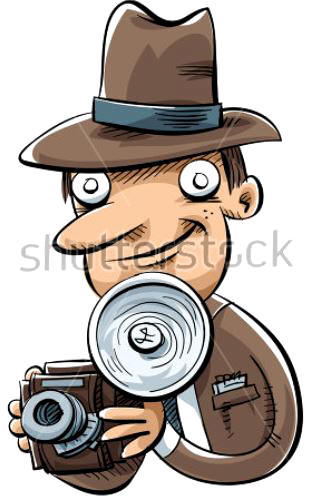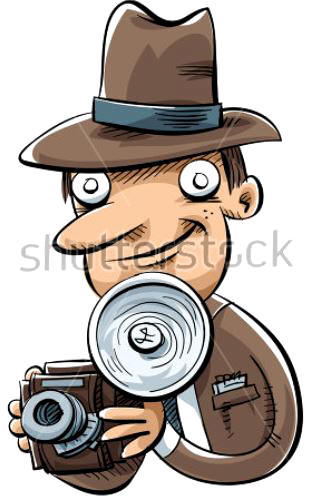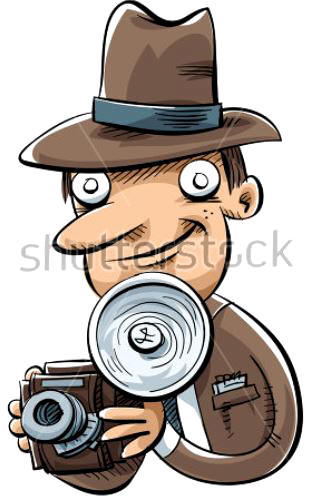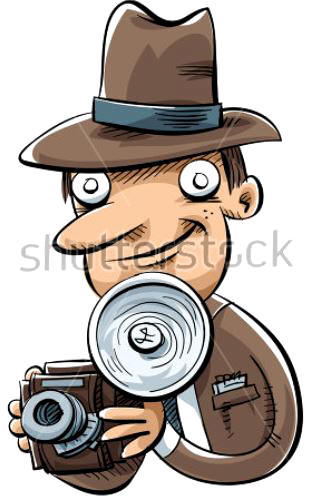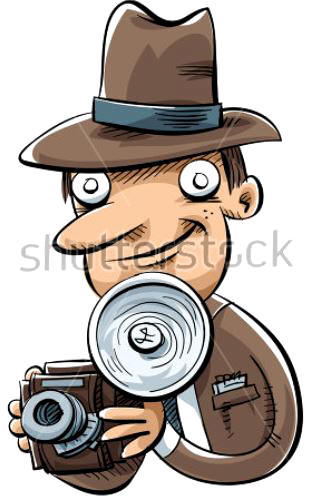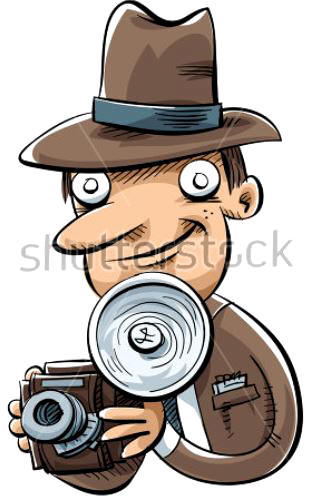 Return to the Main Page
Return to the Main News Page
Return to the All Links Page