---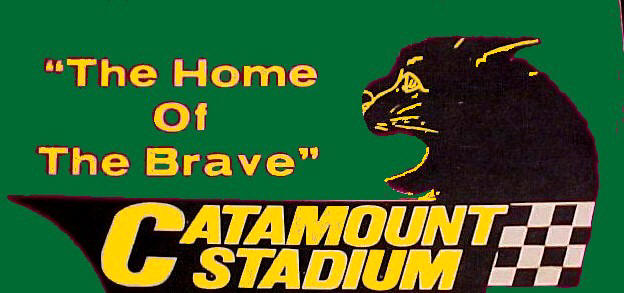 ---
wladabou@comcast.net
NEWS & UPDATES
May 5 - Happy Cinco de Mayo. Will archive soon. The month's first blog: Weekly Blog, May 5, 2013 is on the old race track at Northfield, VT.
May 6 - Archiving has been done. I know that is a tremendous relief to everyone :) I also added several Andy Ward photos from the mid 1980's dirt era to the Airborne Speedway page.
May 13 - The month's 2nd blog: Weekly Blog May 13, 2013, on Racing at the Champlain Valley Fair is on. Added some photos to the Announcers' Stands page, too.
May 19 - I did Additions to the Dragon Brothers page, the Ron Barcomb page, and the Later Late Model Competitors page. The later and earlier late models are getting kind of muddled together - sorry.
May 20 - Sorry about the blowup yesterday. Added some stuff to the Catamount Views page and one to Cabana's page. Wife's Honey Do list has put the kybosh to any more work for right now.
May 22 - The Later Late Model Competitors page and the Late Model Competitors Page have been added to.
May 23 - I stumbled across this interesting photo from Devil's Bowl, courtesy of Russ Farr. It shows The Champ, Rene Charland, with former CVRA drivers Jim Spaulding and Steady Eddie Allen. Neat shot. I don't have enough time, right now, to do a blog, but I am hoping to get one out soon.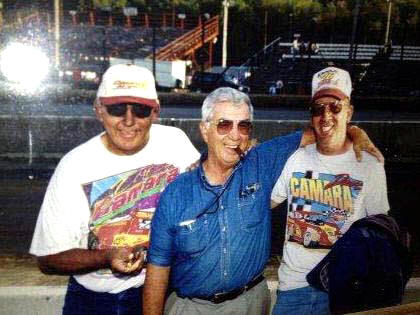 Courtesy of Russ Farr
Jim Spaulding, Charland, and Ed Allen had many common dealings.

Courtesy of Mike Richards
Jim Spaulding sometimes drove this Ray Richards -
owned car, the purchase of which was arranged in
Massachusetts by Charland.

Courtesy of Mike Richards
Charland, at Devil's Bowl, with his own modified
that was colored and numbered like his old ride,
the gold Roehrig #99.

Courtesy of Mike Richards
This Eddie Allen sedan was built in Massachusetts by Charland or Charland's associates and driven
by George Rettew.
May 24 - I have completed entering a large number of photos from Rich Palmer onto various Catamount - related pages. I think only the Grand American was not affected.
May 26 - I have added a new page called 'Portant Peeple". It features photos that show three or more significant racing people from the northeastern scene. I wish more of them were Maine and New Hampshire, but |my photos from there tend not to be group shots.
May 28 - I am currently unable to receive email. I will try to have one of the computer whizzes in the family rectify this. Anything sent to me recently is probably trapped out there somewhere in the ozone.
June 3 - I am still unable to get email. After years of no problem, the system wants my password and I lost since lost knowledge of what it is. I have spent the entire last week moving three different family members out of such places as Burlington, So. Burlington, and Boston - to three other locations. Not done yet. I will put a blog on soon, when we no longer are facing landlord deadlines. Soldiered along with no physical difficulty for four days until Saturday, when I aggravated my back trying to put a drawer in a file cabinet. Go figure. For my daily checkers - in and my regulars, I'm sorry.
For all 2005 News and Updates Archives - Click Here
For all 2006 News and Updates Archives - Click Here
For all 2007 News and Updates Archives - Click Here
For all 2008 News and Updates Archives - Click Here
For all 2009 News and Updates Archives - Click Here
For all 2010 News and Updates Archives - Click Here.
For all 2011 News and Updates Archives - Click Here

For all 2012 News and Updates Archives - Click Here
For all 2013 News and Updates Archives - Click Here