MYSTERY FAIRMONT PHOTOS
Some Have Led to Interesting Stories; Some Are Yet Unexplained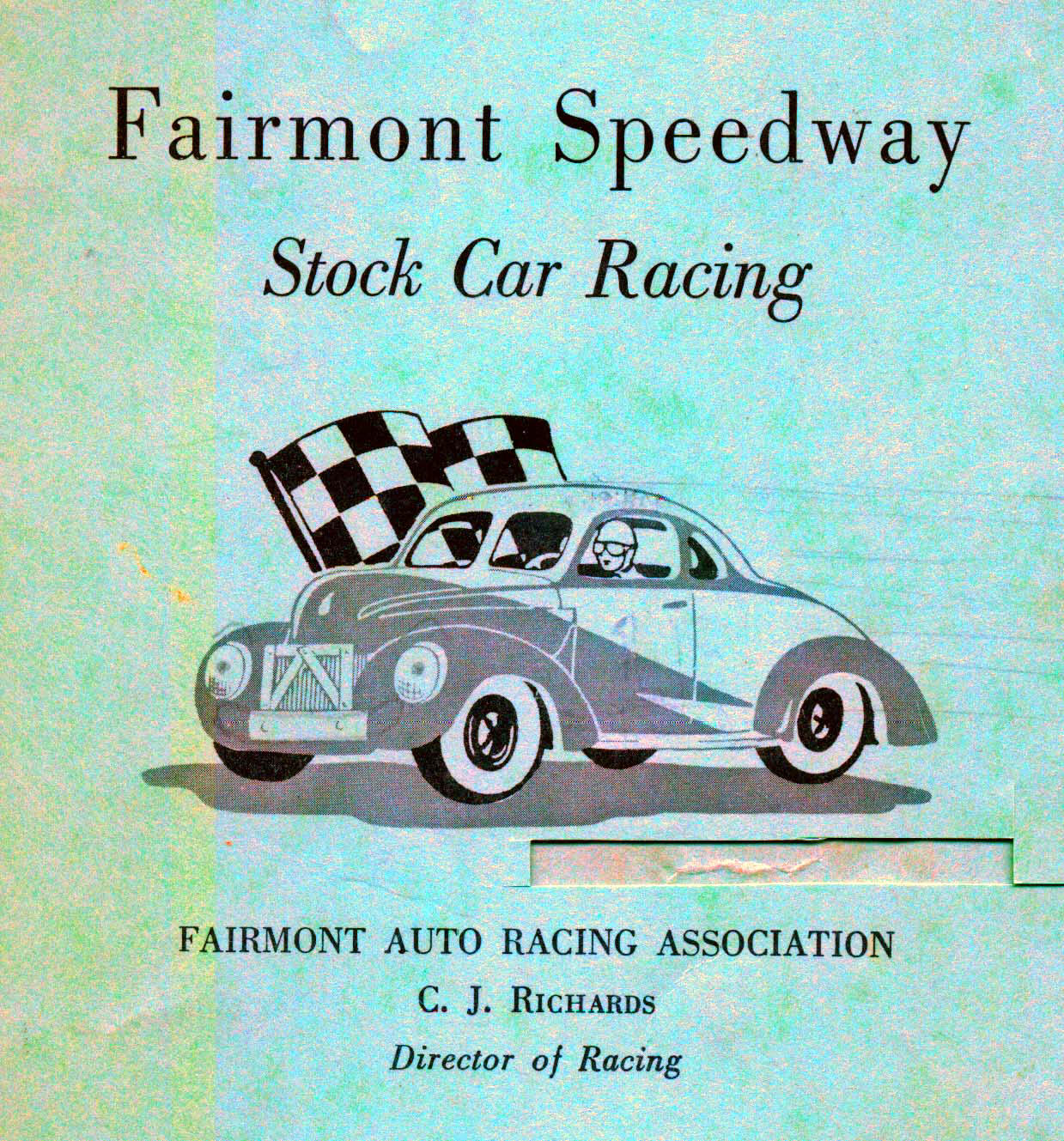 Ladabouche Collection
ALSO NOW FEATURING A FEW MYSTERY DEVIL'S BOWL CARS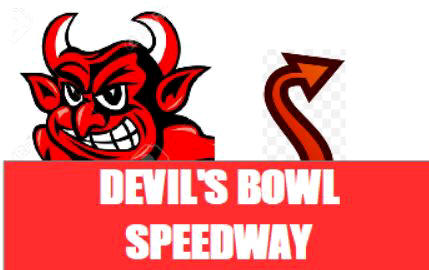 See Below
- - - - - - - - - PHOTOS THAT MAY HAVE BEEN EXPLAINED - - - - - - - - -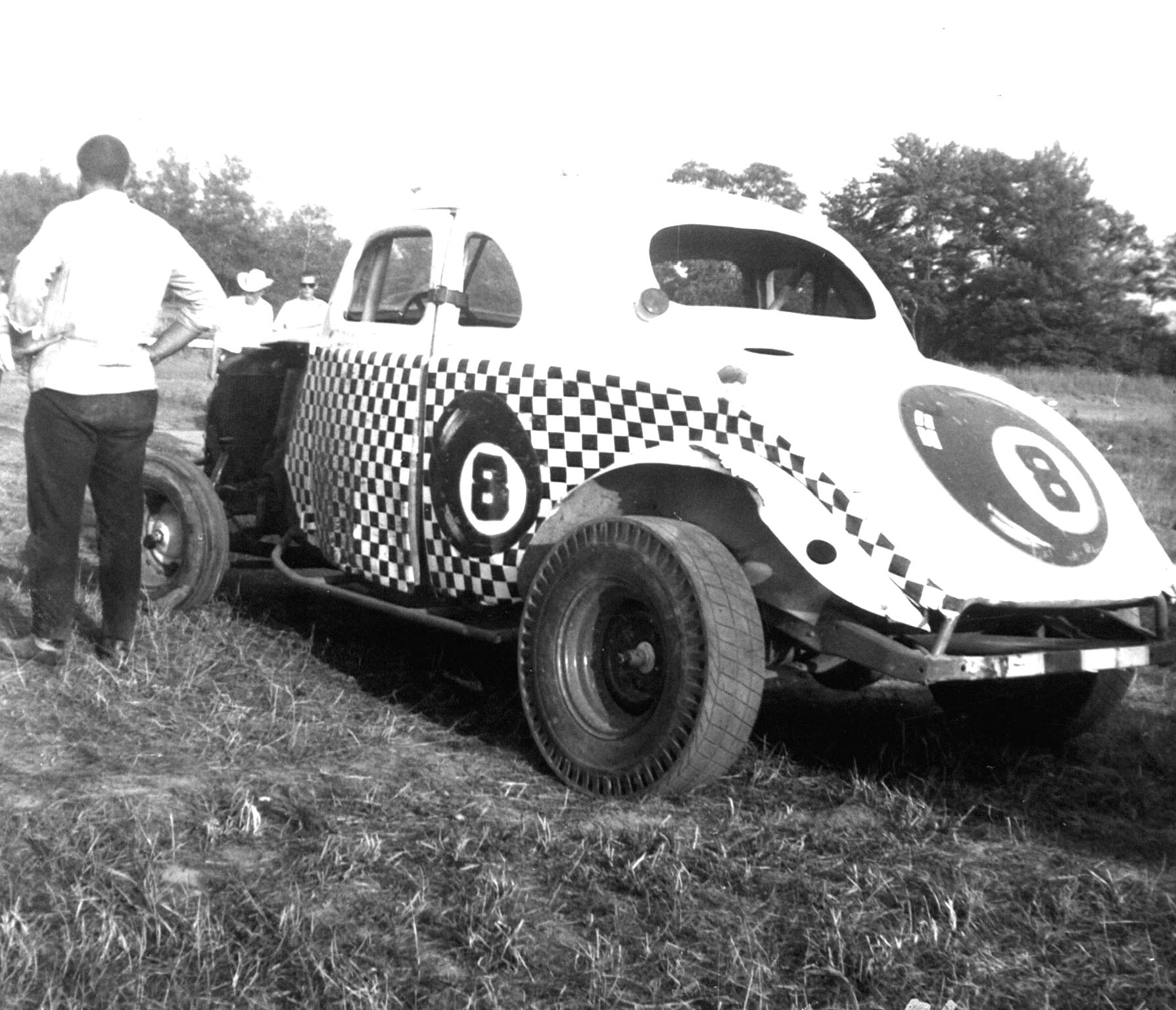 Ladabouche Photo
This shot, from midseason, 1963 shows one of the biggest mysteries for the longest time. The car, sporting a serious amount of professional
lettering and decoration, came only once and I didn't catch the name of the driver. It took until nearly the end of the 2014 season for me to meet
someone who was pretty sure they knew the car. Rick Hull seems to feel he car below was owned by Art Wilson of Chestertown, NY and was apparently
driven mostly at New York tracks by Roger Bolton. Took 51 years to solve.

- - - - - - - - - - - - - - -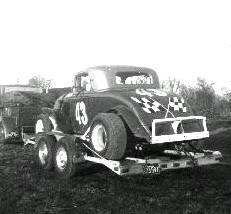 Ladabouche Photo
This shot, from midseason, 1963 shows a one - time visitor to the track. I think the owners had one of the track regulars such as Sonny Rabideau drive
it that day. I surmised - from its similarity to cars like Lou Searing's and Ralph Chittenden's, that it was a Lebanon Valley car. I still don't know who owned the car.
I did realize it ran at such places as Midstate in Morris, NY and - at one time - was piloted by Don Wayman, of Cobleskill [below] . I'd like to learn more about it.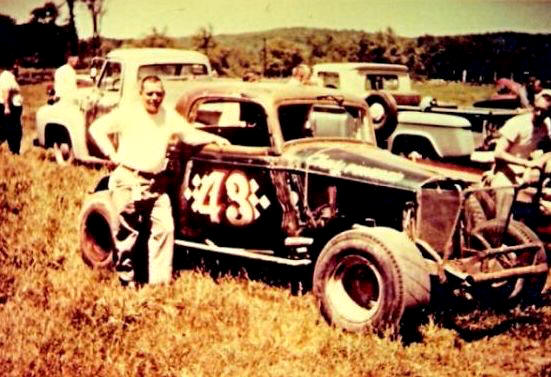 Mel Ogden Photo
- - - - - - - - -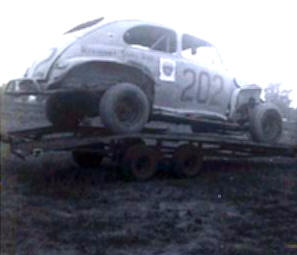 Ladabouche Photo
This shot came from another one - visit car. I think I can remember Bill Barsalow announcing the driver as Bob Ridgeway - from somewhere around
Schenectady or Troy. I have never seen or heard another thing about that name or the car, so I still consider it a mystery. The car looks like it could be
a Pine Bowl car, or maybe even a refugee from the Empire Raceway. Hard to tell.

- - - - - - - - -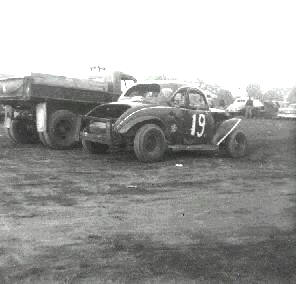 Ladabouche Photo
This shot came from another one - visit car. I think I can remember little except thinking I heard the announcer say it was "Tom Bennett, from Malletts Bay".
With help from Ralph Palmer, it turns out that the car was from Warrensburgh Speedway and that Tom Bennett, while an active driver at the track,
usually drove other cars than that one. It's likely Bennett's dump truck but George Dalby's car.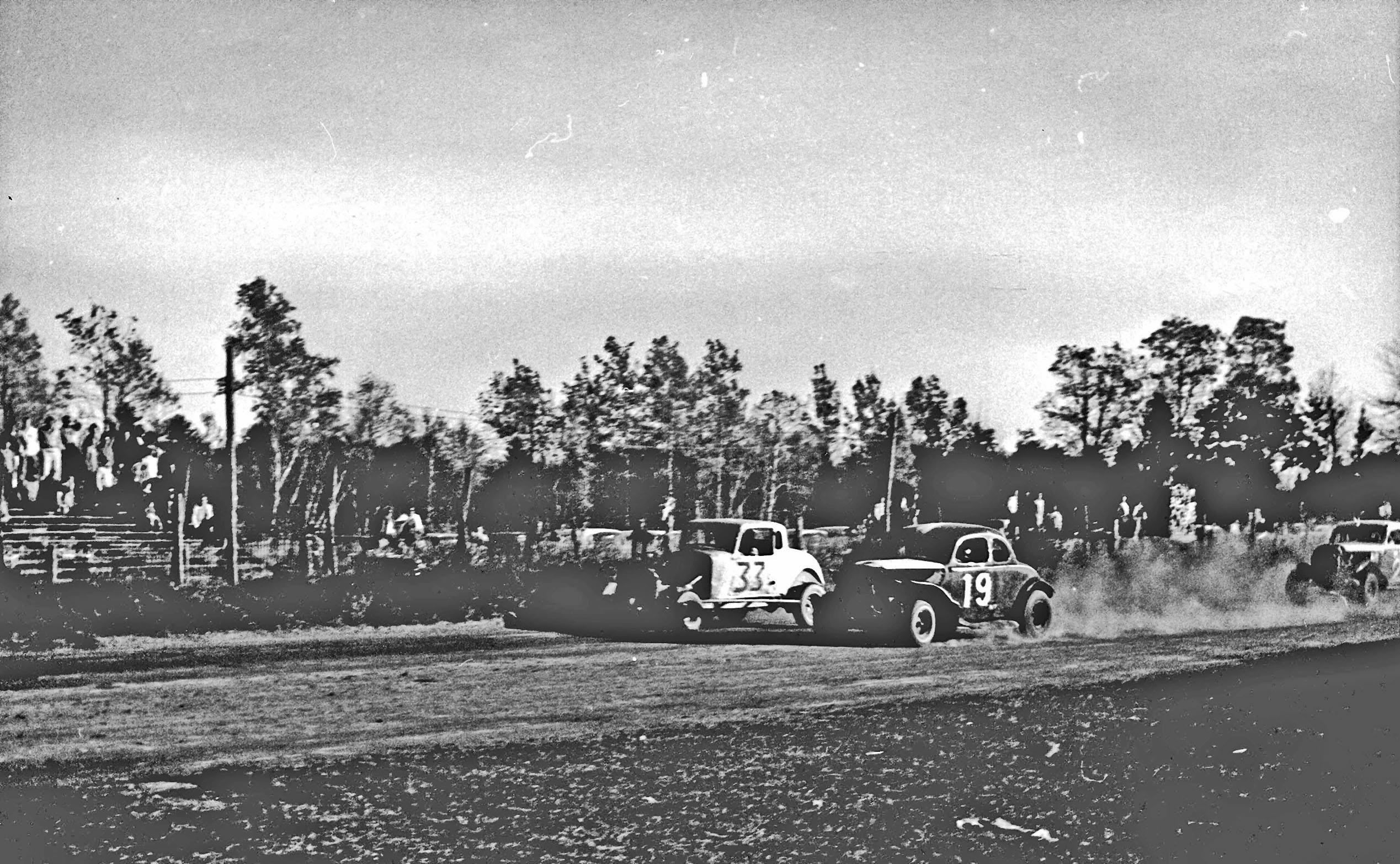 Photo Courtesy of C. J. Richards
The 19 in action on its only visit to Fairmont. Ironically, all three cars shown are Warrensburgh cars.
- - - - - - - - -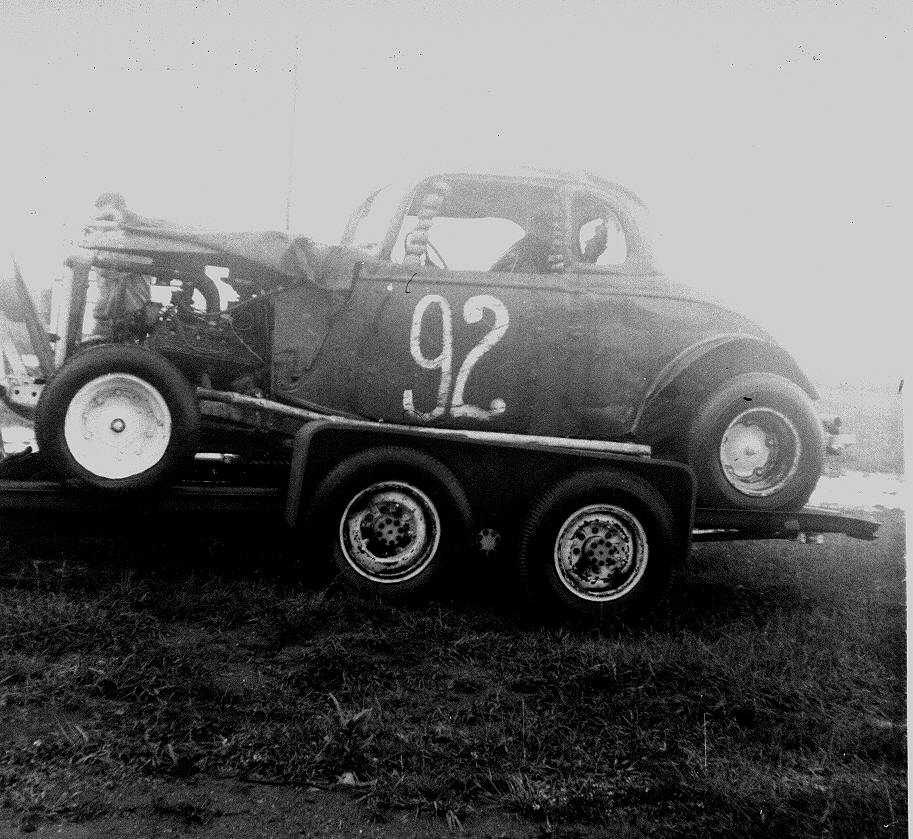 Ladabouche Photos
I had caught the announcement that this was a "Russ Blake, from Pittsfield, Massachusetts"; and that's how it stayed for years. Later, Russ got ahold of me through
email and explained the significance of my second photo of that car - on the one days they raced at Fairmont. The shot below shows Russ being assisted by Bo Green,
an important pioneer in racing. Bo [shown at left] was only one of two African Americans racing in that area of the country. [The other was Johnny Kettell].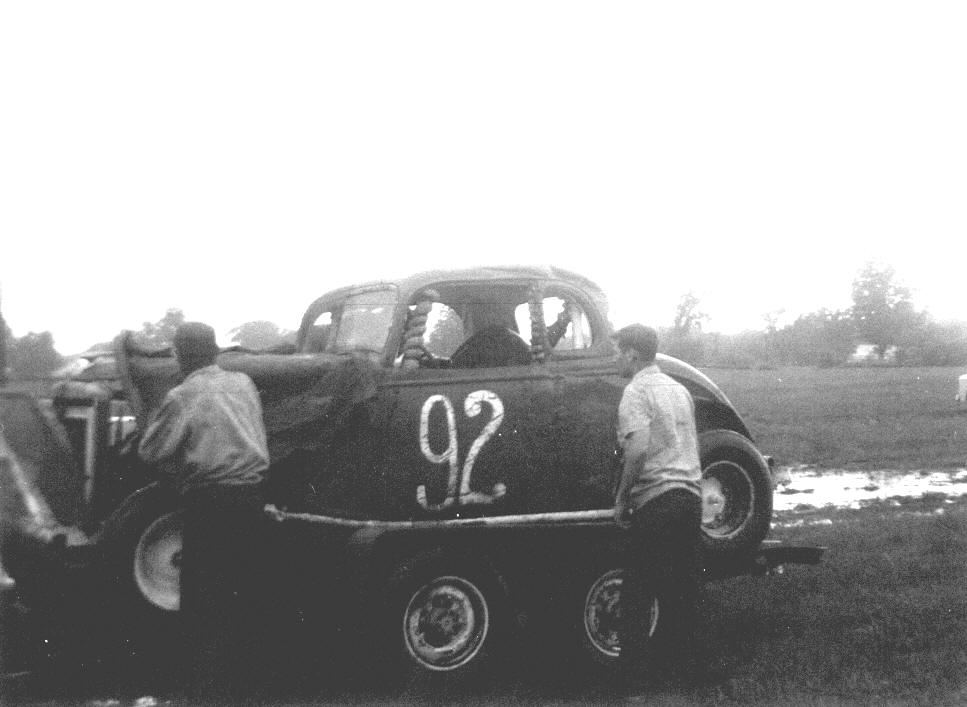 - - - - - - - - -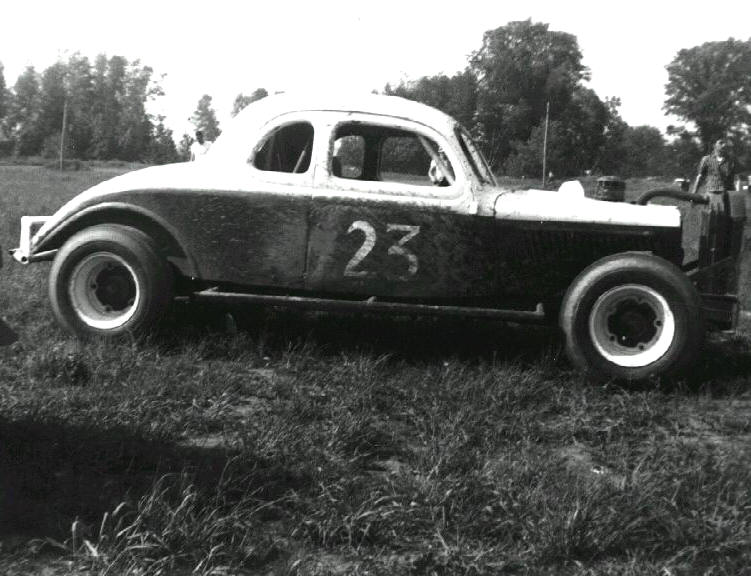 Ladabouche Photo
The car didn't show up at Fairmont very much. It was identified as Bruce Carman, from Shaftsbury, VT. I didn't think anything about it for years until I learned what
an esteemed car builder Bruce had become. Upon meeting him, he told me he didn't have a photo of his first car, and was very glad to get this one. I believe since I may
have seen glimpses of it in one of Dan Ody's Old Speedways 8MM videos of Fairmont Speedway, but I can't find that DVD any more.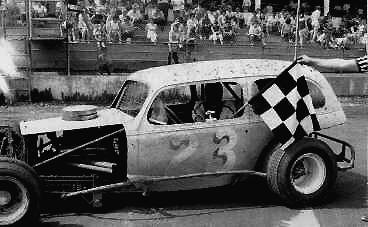 Source Unknown
Mert Hulbert - a Carman sedan - either at Lebanon Valley or Lakeville.
- - - - - - - - -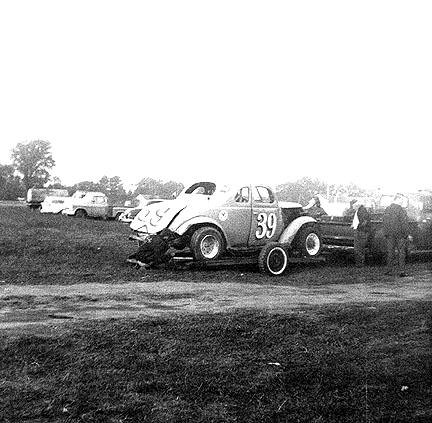 Ladabouche Photo
This car showed up at Fairmont all of once. I thought Bill Barsalow said it was Ed Zackenback, from Schenectady. It turns out
there was a driver of that name, but not with this car. The blue car, which I almost think had a US Air Force reference on it, was
brought to Fairmont by familiar Valley runner Jim Langenback, who would later suffer fairly serious burn injuries in it at some other venue.
Jim had the misfortune at C.J. Richards' other track, Devil's Bowl of being the guy who ran into CJ's Plymouth SuperBird pace car.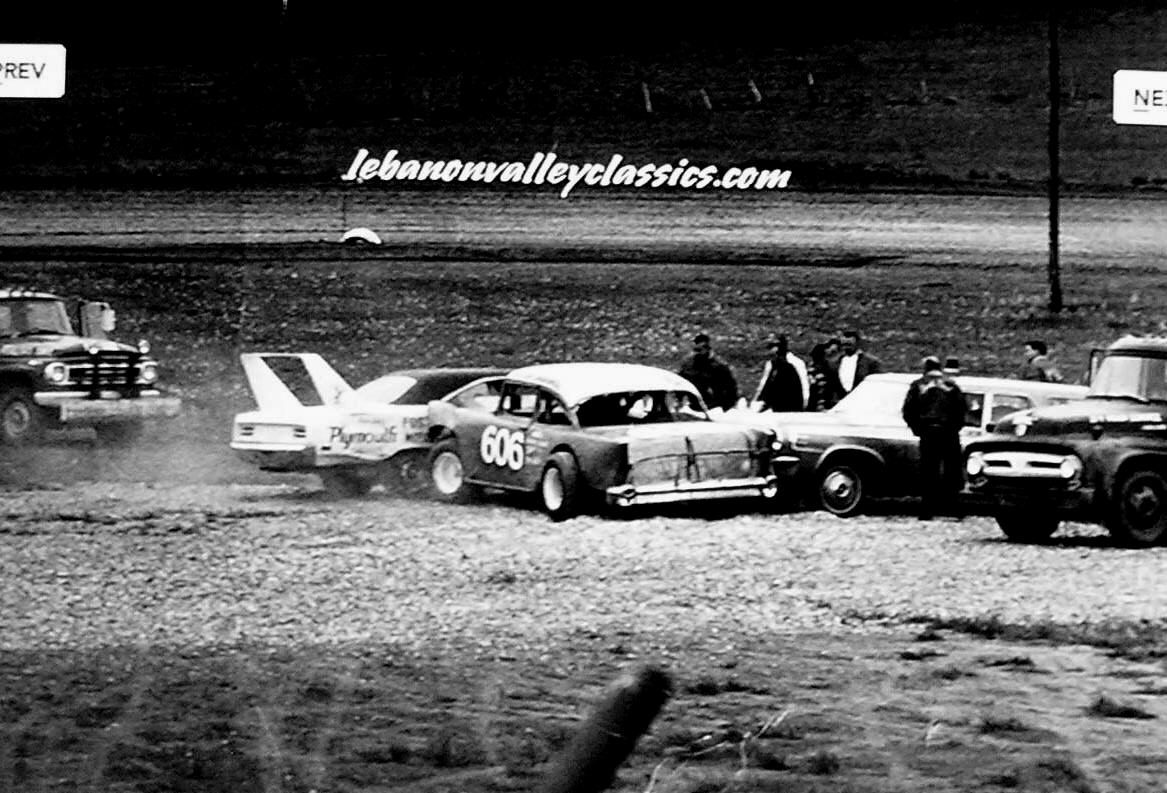 Bob Frazier Photo via Lebanon Valley Classics
- - - - - - - - -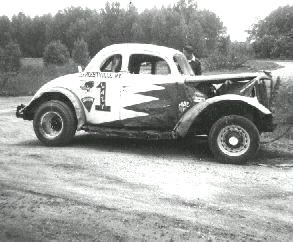 Ladabouche Collection
One of my friends [can't recall who] took this one week at Fairmont when I couldn't go. When I began my history work in 2005 I eventually found this to be the
Lazy 1 of DeFreestville, NY's George Gowie. [Not to be confused with the Goewy's or Cliff Goewey]. George was apparently a respected runner at places
like the Valley, The Pine Bowl, Route 66, Burden Lake, and maybe Whites Beach.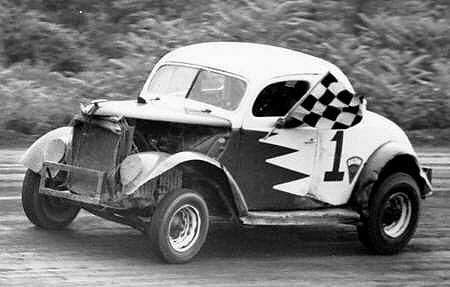 Ladabouche Collection
- - - - - - - - -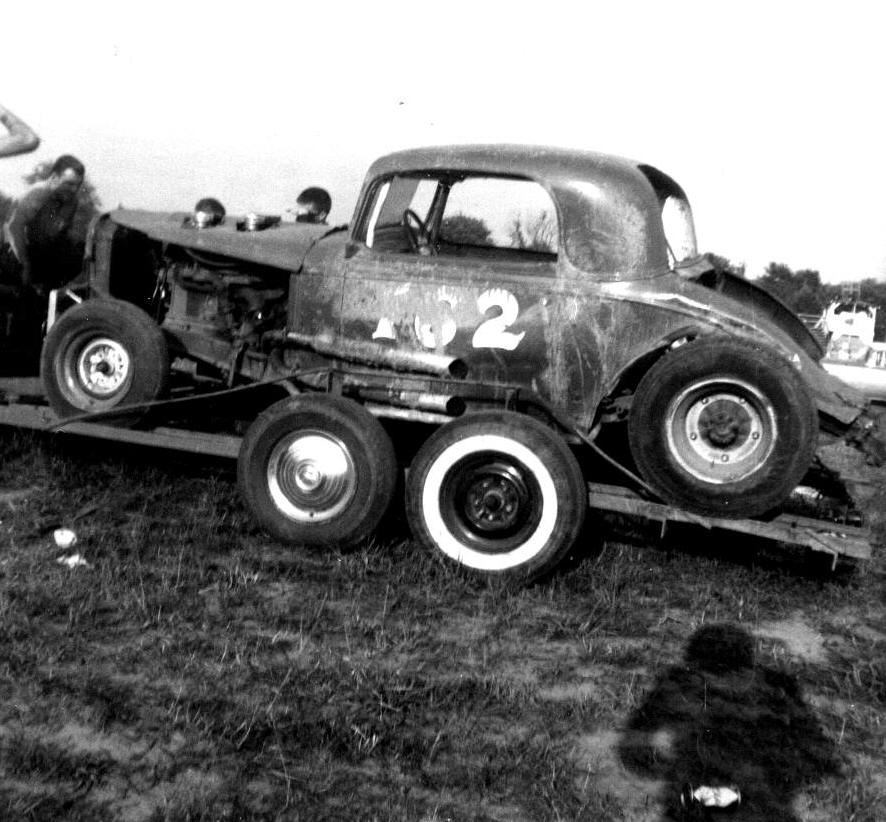 Ladabouche Photo
If you look at the shadow at bottom, you can make out the intrepid photographer hunched over his Brownie Hawkeye box camera.
This turned out to be Connecticut's Jim Koehler, arriving with a car very uncharacteristic of his usual NASCAR - legal
sportsman coupes. He must have been doing a favor for someone. Like an old cutdown from the '50's, this thing had a
beer keg for a gas tank.
- - - - - - - - -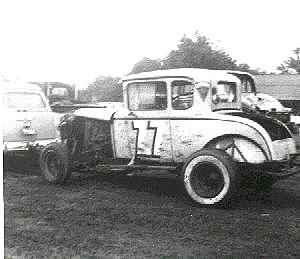 Ladabouche Photo
One time, in 1963, this strange pinkish-purplish car showed up. I clearly heard the driver was Rosie Rosendahl, and I thought it was said the car came from nearby Rutland, VT. Never saw the car again; it sputtered and skipped its way around that day. The next Spring, a Proctor neighbor of mine bought a similarly numbered 27 from somewhere, although - if it had ever been a five window coupe, the smaller windows have been cut out of this guy's car. Later in my research, I did find out some of the early tracks in
new Hampshire did have a Rosendahl whose car was that odd color. Never found out much more.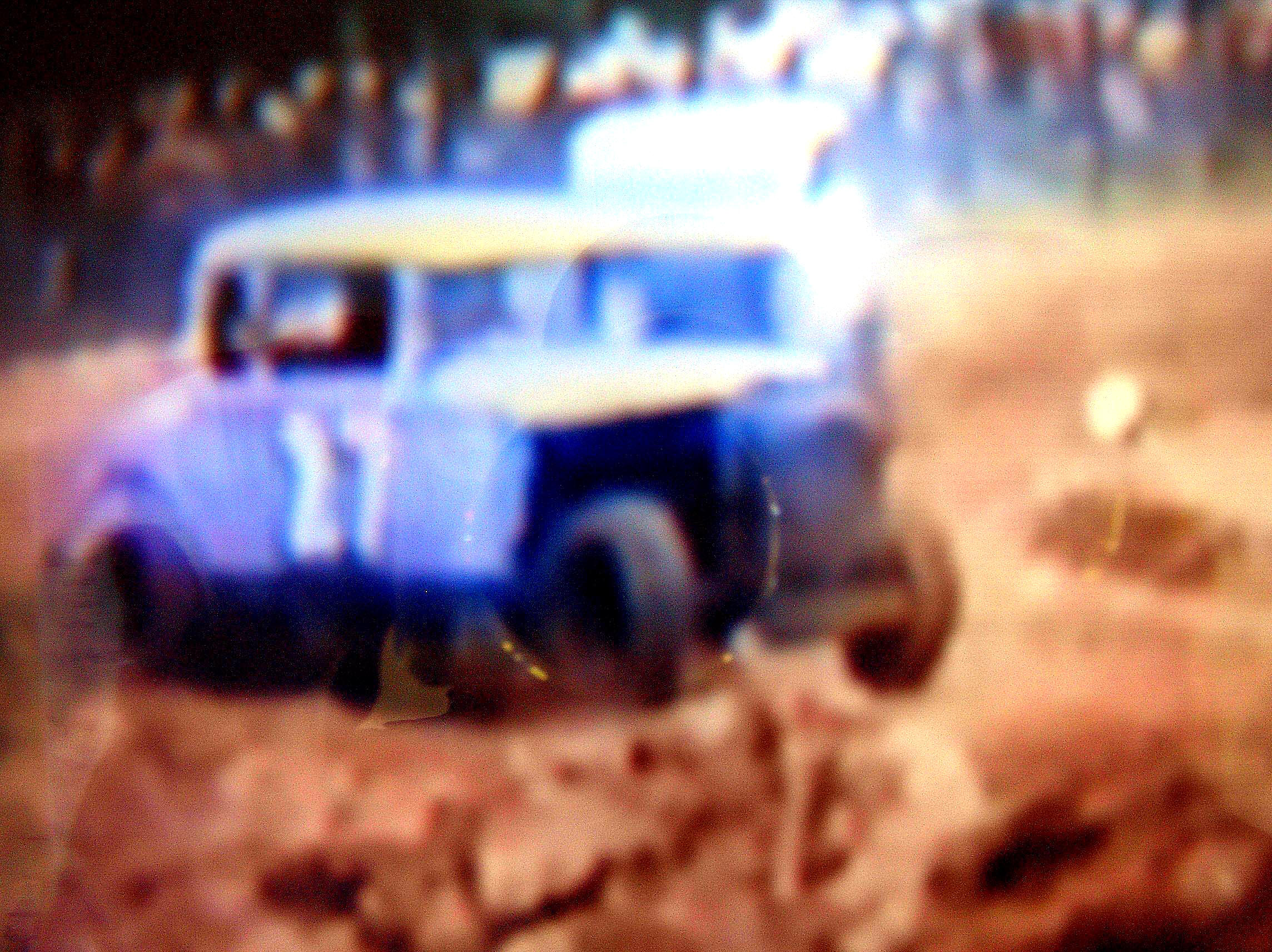 8 MM Frame Courtesy of George Hill
Rosie, at the Legion Bowl Speedway.
- - - - - - - - -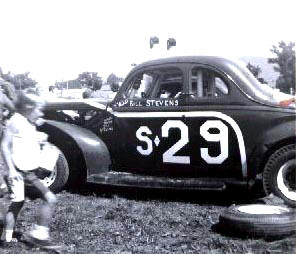 Ladabouche Photo
The daughter of Bill Stevens, from West Sand Lake, NY helps put away cans of oil after the races at Fairmont in 1962. Stevens appeared at C.J.'s first races but never
stayed out in a race for long. I really think he didn't want to get the car dented. Eventually the car re-appeared re-numbered as X-9, with the Hoffer family of
Argyles, NY and was promptly dented just fine in its first race. Never saw it again. The daughter, Connie, provided the next photo.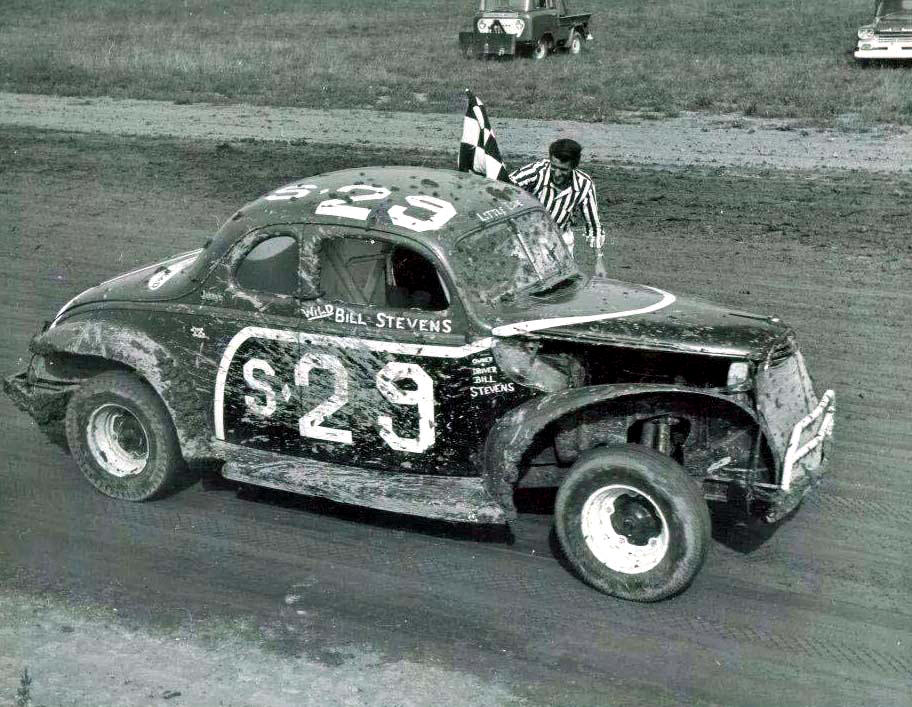 Courtesy of Connie Stevens Sanders
This great shows Stevens as a heat winner at the Otter Creek Speedway, near Vergennes, VT - one year before.
- - - - - - - - -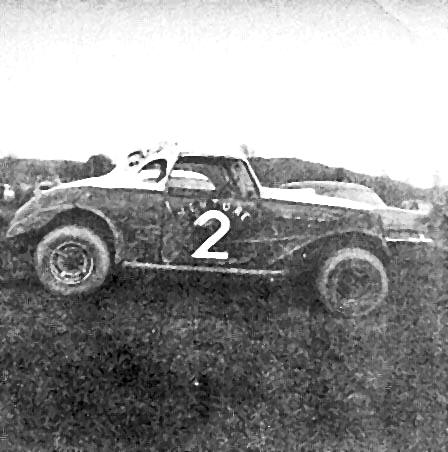 Ladabouche Photo
A battered Venture 2 car sits in the failing light at Fairmont at an Autumn Sunday afternoon show. C.J. kept the car listed in the program for at least a season with no one
ever seeing it. Finally, in early October, it appeared. It was listed as driven by Wayne Strong and later Jerry Pennock; but I have no idea if either one of them was
at wheel for its one lackluster showing at the track. Never saw it again. Part of the large Glens Falls corps of low - buck teams that had run at places like Whites
Beach and Warrensburgh, it likely had been pulled out from behind someone's gas station and never really been prepped for action.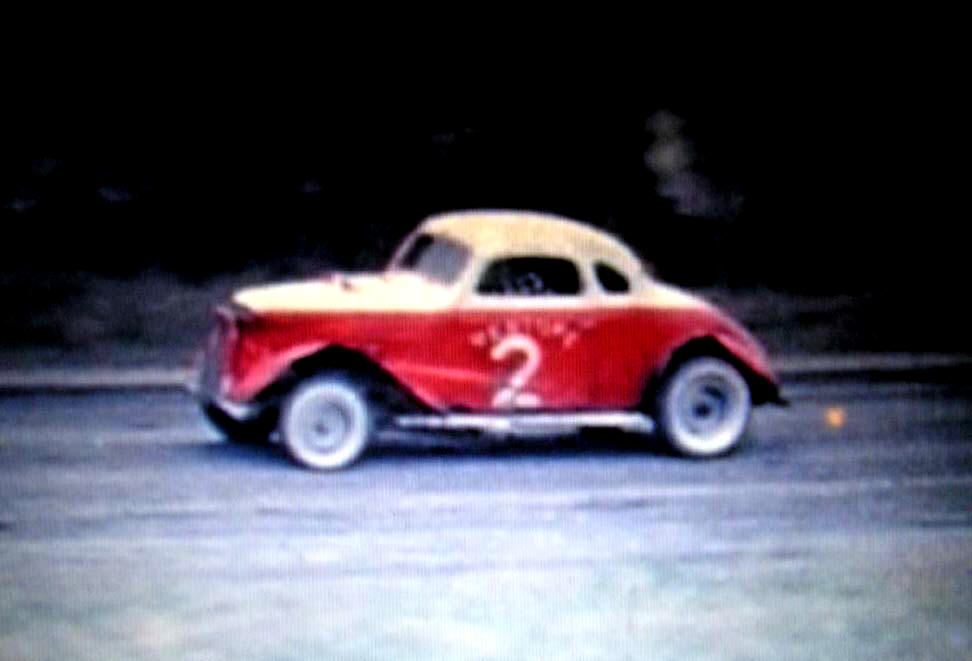 From Dan Ody's 8 MM Old Speedways DVD
The Venture 2 plying turn two at Fairmont.
- - - - - - - - -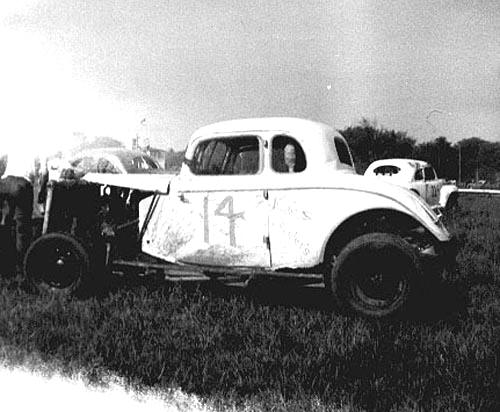 Ladabouche Photo
Former motorcycle racer [and likely roadster driver] , Leon Shaw of Corinth, NY ran this car at Fairmont for two seasons, off and on. One time, it appeared"with "dualies" -
two ordinary wheel welded together on each side for a wider racing base. A Shaw was said to have run at Warrensburgh and was rumored to have been sold to Earl Maille,
the Glens Falls driver who ended up having his career cut short in that car at Warrensburgh. It sure wasn't this one - years after that other track closed.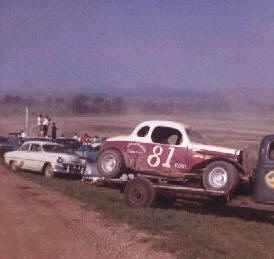 Ladabouche Photo
For the longest time, I didn't know this was a mystery photo. I had snapped it as the team had left it at the top of the hill at Otter Creek Speedway. Apparently, they
did not make the show, for whatever reason. I thought I heard it was "George Stevens" and obviously it was from Connecticut. In 2014, at the Lost Speedways
conference at the Saratoga Auto Museum, Andy Fusco was showing photos of Stafford Springs when it was still in the dirt era. This car appeared. It turned out
to belong to John Narducci, Ron's father, and was driven by Iverton, Ct's Joe Tiezzi. Looks like a pretty low budget operation. That took 51 years to find out.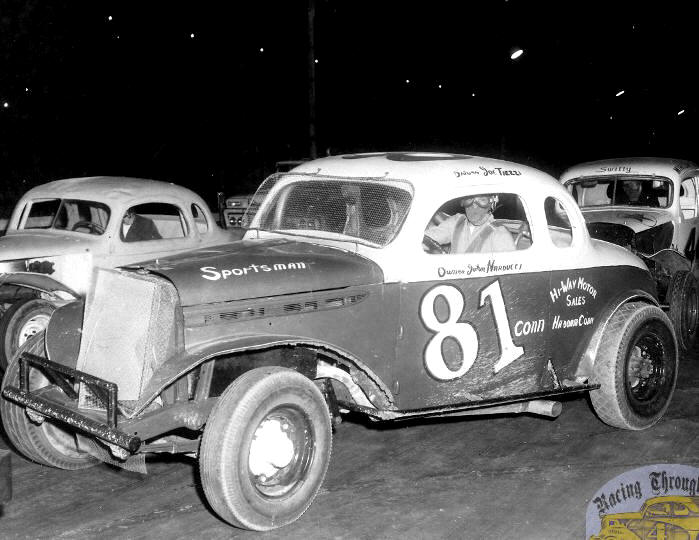 Shany Lorenzet Photo via Dave Dykes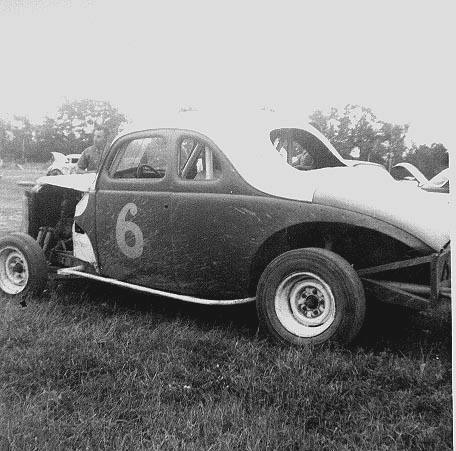 Ladabouche Photo
This car appeared twice at Fairmont - first in July of 1963. We knew the driver was Bucky Dragon [no relation to the Catamount Dragons]. What I was amazed to find out, years later, was that the car, which was also tried at Thunder Road on the pavement [below], belonged to my good friend Norm Cyr [father of late model star Jean - Paul Cyr]. He says he gave the excitable, unpredictable Dragon a pretty wide berth.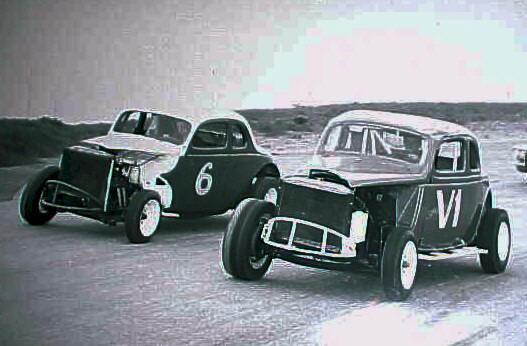 Courtesy of Cho Lee
- - - - - - - - -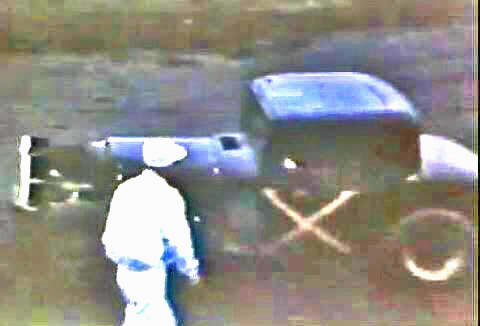 Courtesy of Bud Brooks
This car was a previously unknown in some 8MM footage supplied by Bud Brooks, of Manchester, VT whose father, Dave was a 1950's star around Vermont.
Looking back at some old notes from Jackie Peterson, a legend in early racing, I now conclude this is the very famous Wally LaBelle of Glens Falls in
"The Little Black X" out of Glens Falls. According to Peterson, LaBelle got hurt at Airborne in this car and JP is the one who struck him.
- - - - - - - - - PHOTOS THAT ARE MOSTLY UNEXPLAINED - - - - - - - - -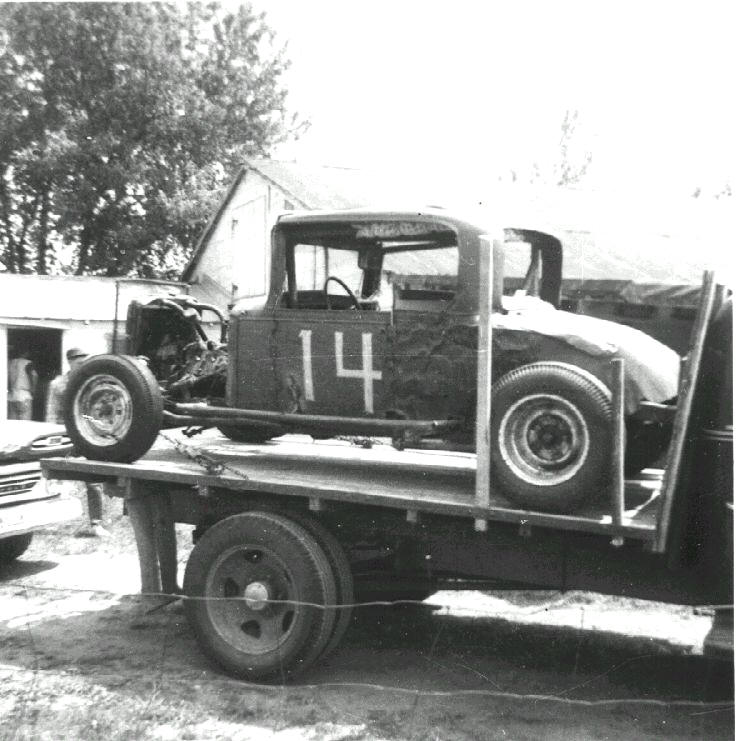 Ladabouche Photo
This one showed up at Fairmont in June of 1963. I don't recall seeing it on the track. It may have failed inspection. It looks like a New Hampshire car.
Ed Ryan [below], a Dog River Speedway [Northfield, VT] driver, had similar number style, but it is doubtful because of body differences.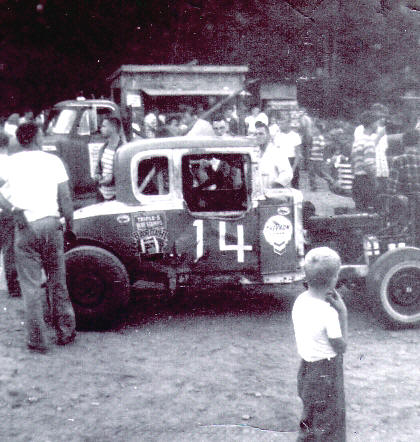 Courtesy of Mike Gilbert
- - - - - - - - -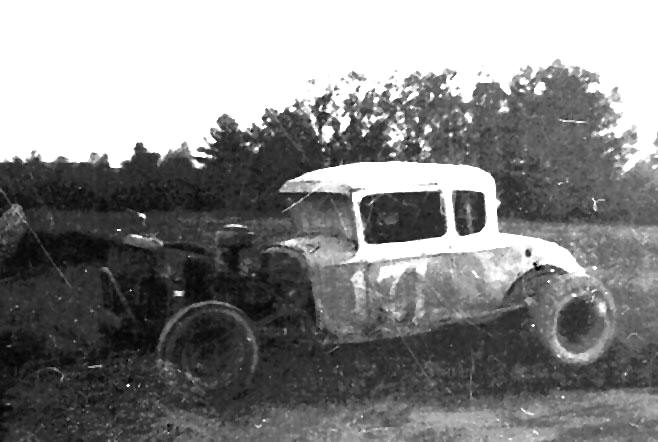 Ladabouche Photo
This car also appeared once in June of 1963. There is a faint suspician it might belong to Ronnie Woods. Nothing else known.
- - - - - - - - -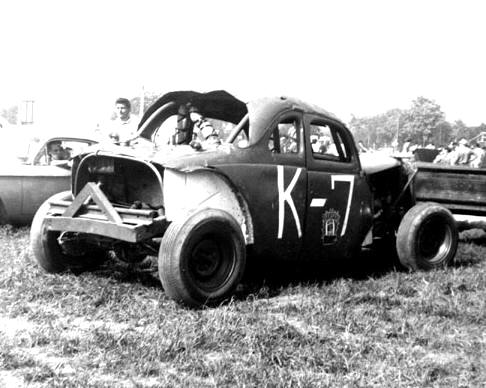 Ladabouche Photo
This marvel of engineering also appeared once in June of 1963. Later, it came back as #OK-71. Some other lucky guy, no doubt.
That immense rear bumper must have been the only weight available for traction. It might have been a car someone took
that had been badly rear - ended before and put out to pasture.
- - - - - - - - -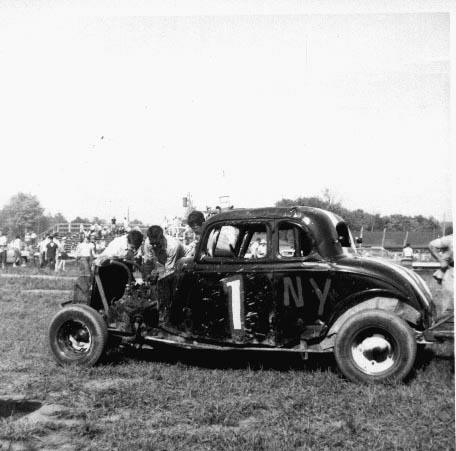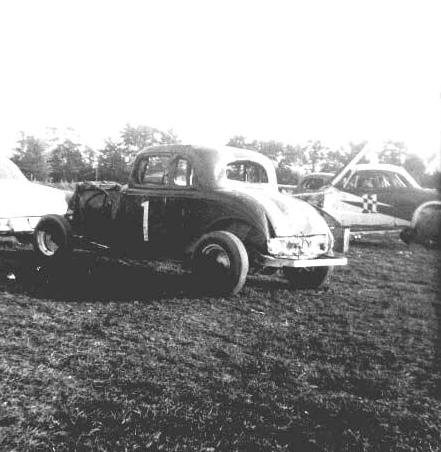 Ladabouche Photos
This car came in October of 1962 and re - appeared in June of 1963. Although I thought the guy was identified as Ray Sutliffe, from NY, none oft he old hands who
know most of those old drivers from the Warrensburgh. Whites Beach circuit recognize that name [and they know some obscure ones]. To be fair,
there is a Ray Sutliff [sic] mentioned in the often - inaccurate driver roster of Fairmont's 1963 program. Anyone have an idea ?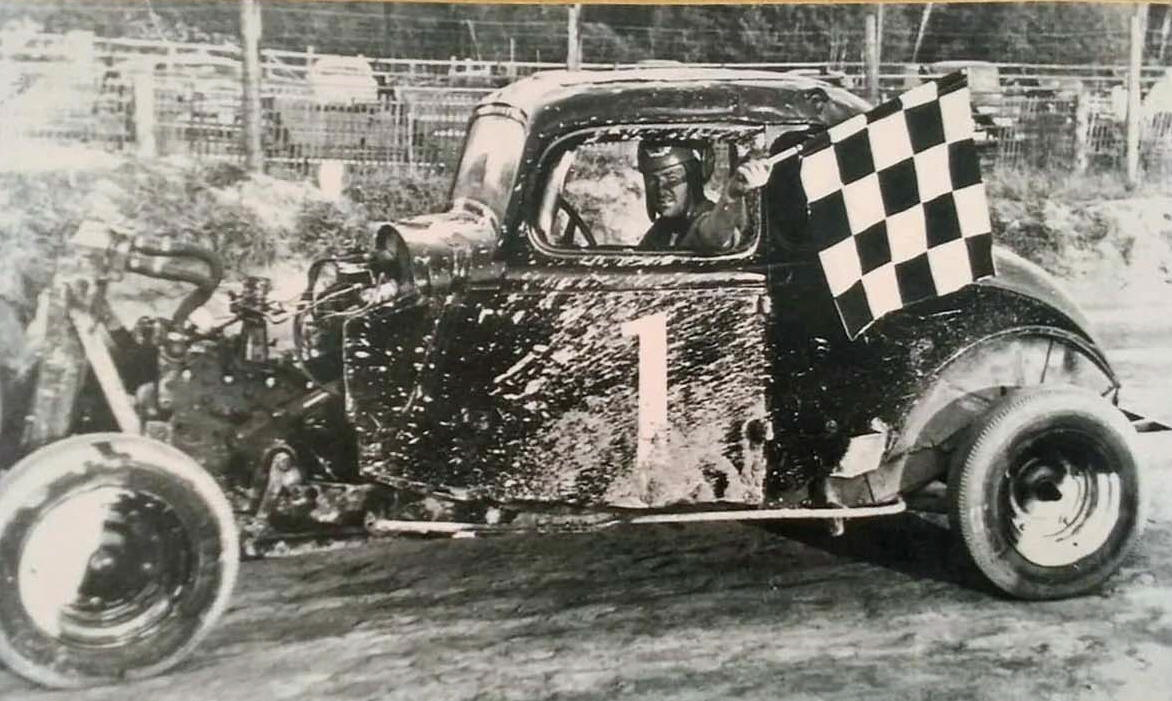 Photo COurtesy of Ronnie Caisse Hunt
This recent acquisition shows veteran driver Skip Wilcox in the car. He must have driven it at Fairmont a few times, at least.

- - - - - - - - -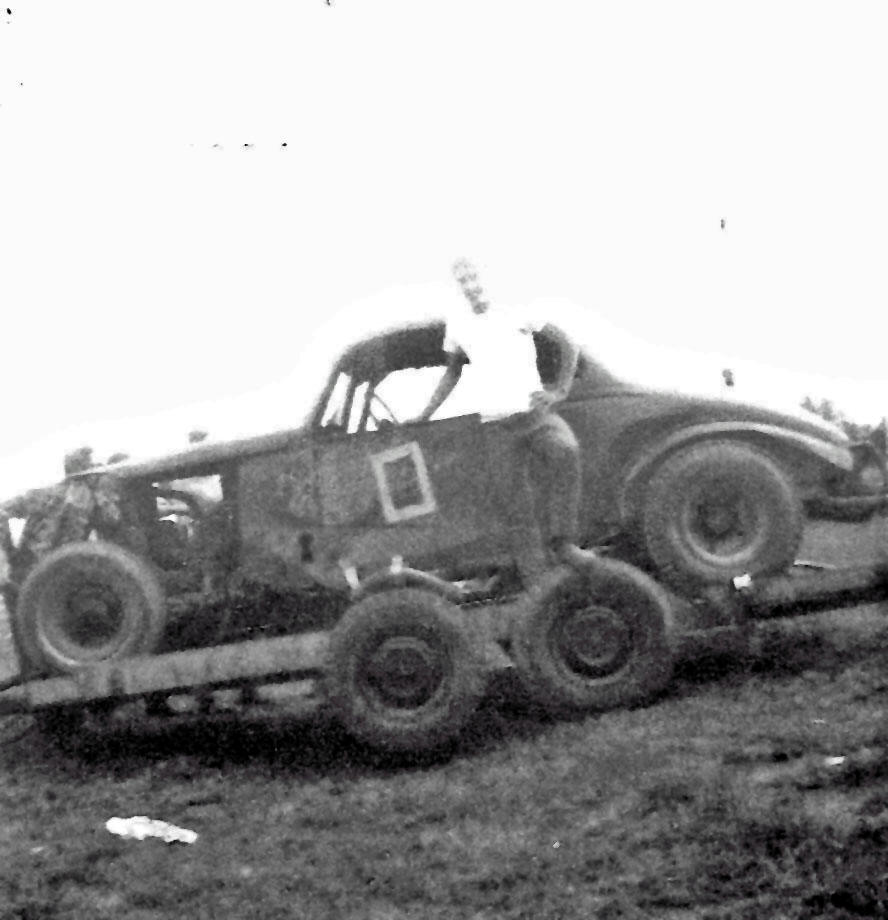 |
Ted Vogel, Jr. Photo
Ted Vogel snapped this guy at Fairmont around 1964 or 65. It looks like a Lebanon Valley car. No idea. Wild guess would be John Ryan.
- - - - - - - - -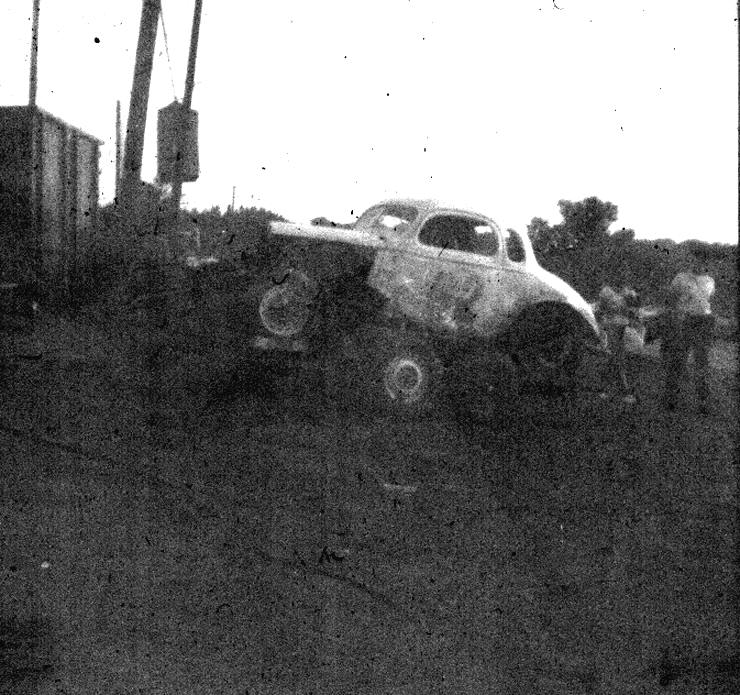 Ladabouche Photo
Taken in failing light at Otter Creek as the final fans were filing out, this car seems to be in primer. The number looks somewhat like a Frank Trinkhaus
62, but he seldom ran cars in primer. Frank would disguise his cars for Victoria Speedway, but Otter Creek was a NASCAR track. The car shows
up in one more shot - a backstretch mixup at Fonda Speedway, where most of Otter Creek's sportsman cars ran regularly.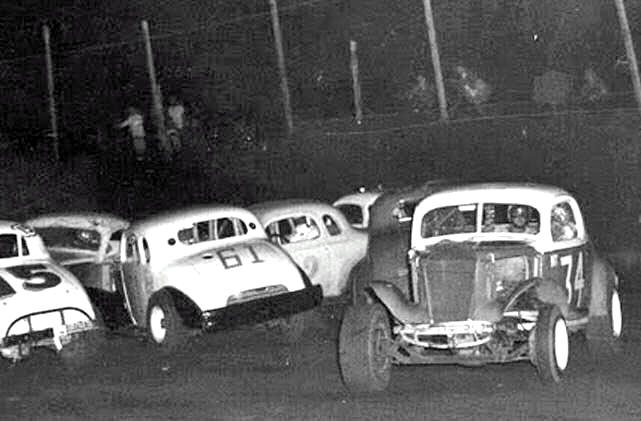 Ladabouche Collection - Photographer Unknown - Probably Russ Bergh
- - - - - - - - -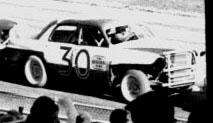 Courtesy of Norm Vadnais
This rig showed up at a couple of C.J. 's races later in 1962 and then disappeared. I thought it was Ansel Quitin, a Charlotte driver who had raced at Otter Creek.
Quintin [uncle to the Mopar drag racing Quintins] had a similar car, but this isn't he. I have no idea. I'd love some help.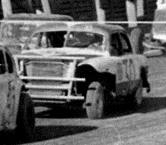 Courtesy of C.J. Richards
- - - - - - - - -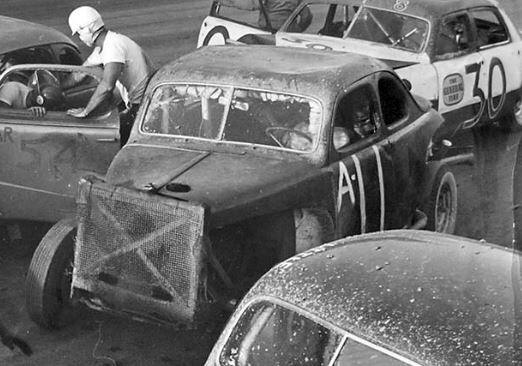 Courtesy of Tom and Mike LaFond
Car A-11, shown in the midst of the first big pileup of C.J. Richards' 1962 fairgrounds show, is totally unidentified. The presence of the A infront of the number might vaguely
suggest it could be a former Warrensburgh Speedway [Ashland Park Speedway[ car - and maybe from Pottersville. One person thought it was from "Glens Falls somewhere".
I never saw it again. It now turns out the driver was future star Lennie Woods, and the car was from Sunderland, VT.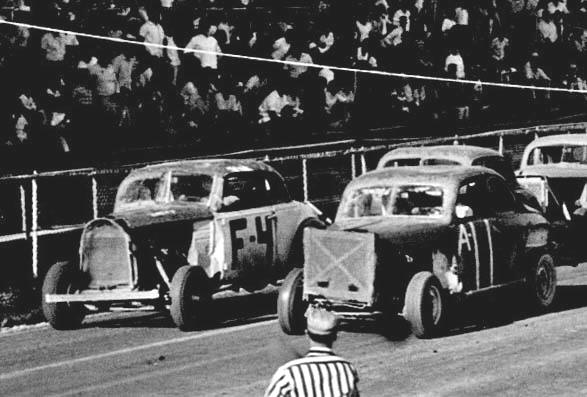 Courtesy of C. J. Richards
- - - - - - - - -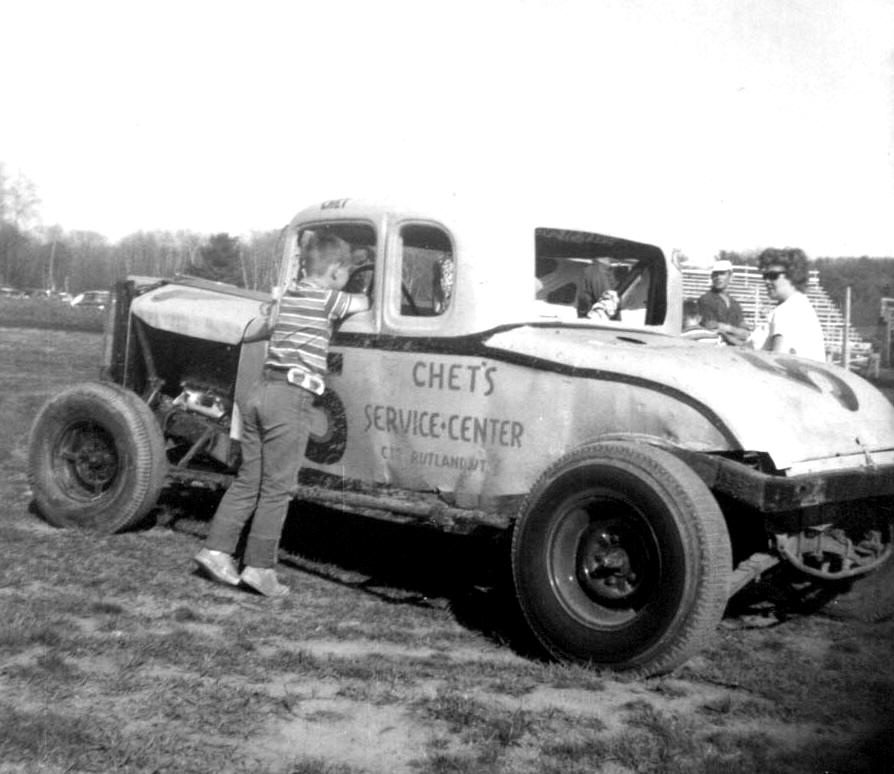 Ladabouche Photo
Future star Chet Doaner, from Rutland, appeared in 1963 with a car he bought at the Claremont Speedway, whose cars were running
roughshod over the locals at Fairmont. He kept it a season and then it disappeared. It re-appeared in the hands of Bob Taylor,
from Chittenden before it was wrecked. I never even saw a photo of the Taylor version.....until February of 2016 [below].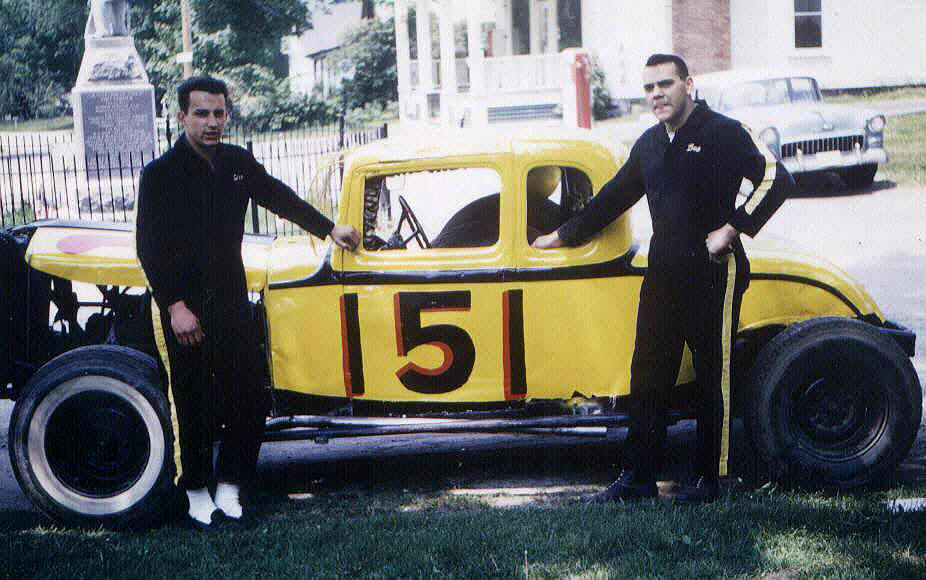 Courtesy of Woody Woodbury

- - - - - - - - -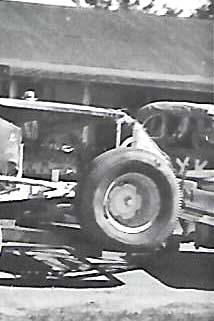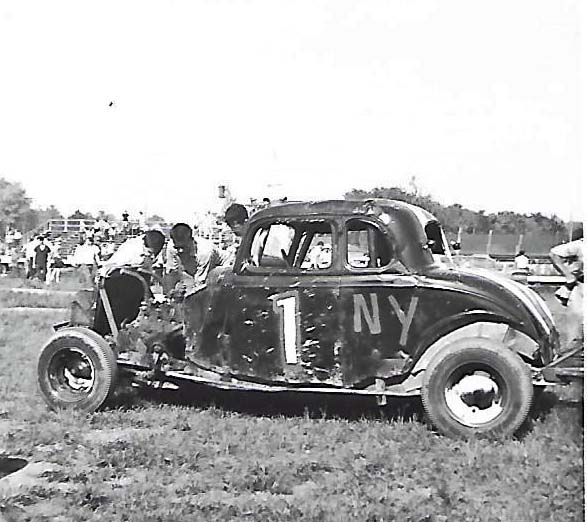 Ladabouche Photos
A guy named Irish Ed Kelly, from Granville, NY came in to Fairmont in 1963 with what I believe was the old ray Sutliffe 1NY. Look carefully
in the cropped photo at right and you'll see Kelly's XK. After trying another XK later, Kelly came out with a very good - looking
'40 Ford numbered 22. He rolled it in the first heat of its life and we never saw Ed or the pretty Ford again.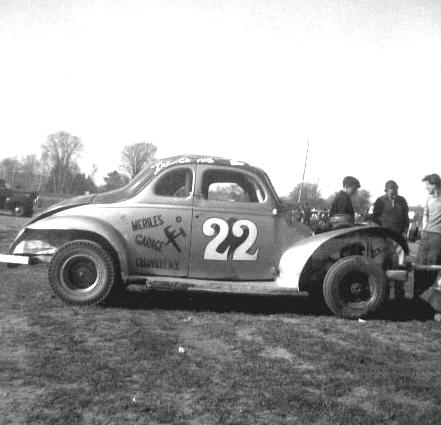 Ladabouche Photo
Irish Ed Kelly [far right] looks in disgust at his beautiful new Ford coupe after it had been rolled in its only race.
- - - - - - - - -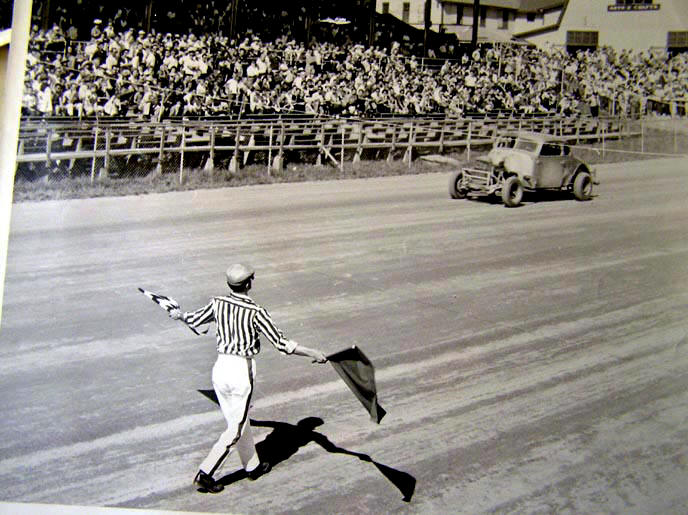 Bob Frazier Courtesy of Norm Vadnais
When photos started cropping up for the big 1962 Vermont State Fair race show, I had no idea who this heat winner was.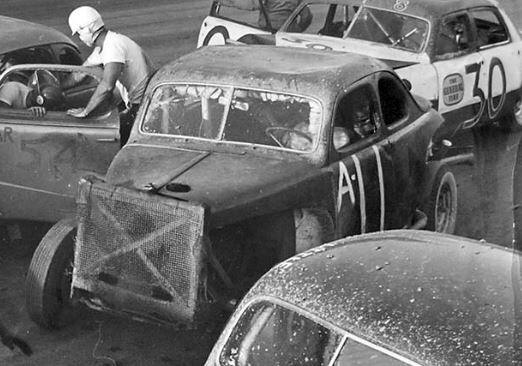 Bob Frazier Courtesy of The LaFond Family
A later photo from the same event revealed this was the "Car 54 Where Are You ?" car from Whitehall, NY.
Possible drivers include Ken Delong, Sonny Greenwood, or Cliff Batease. At any rate it rear-ended the
P61 of Bob Loomis and may have been ruined.
SOME MYSTERY CARS FROM DICK BRITAIN 1964 PHOTOS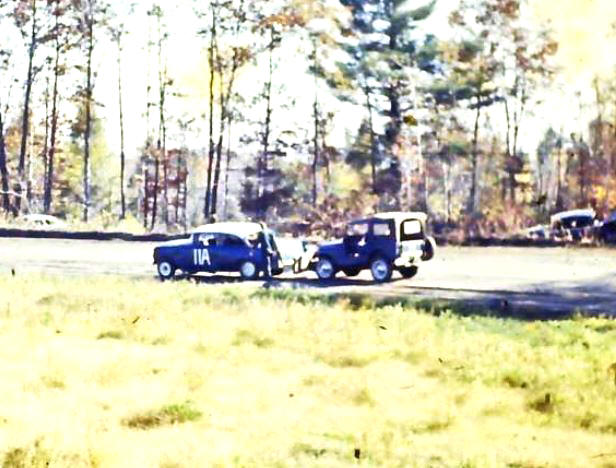 Dick Britain Photo
This unidentified hobby class 11A came at the end of the year. My THEORY is it is Dale Provencher,
whose father, Tony raced at the track in 1951 and used number 11A.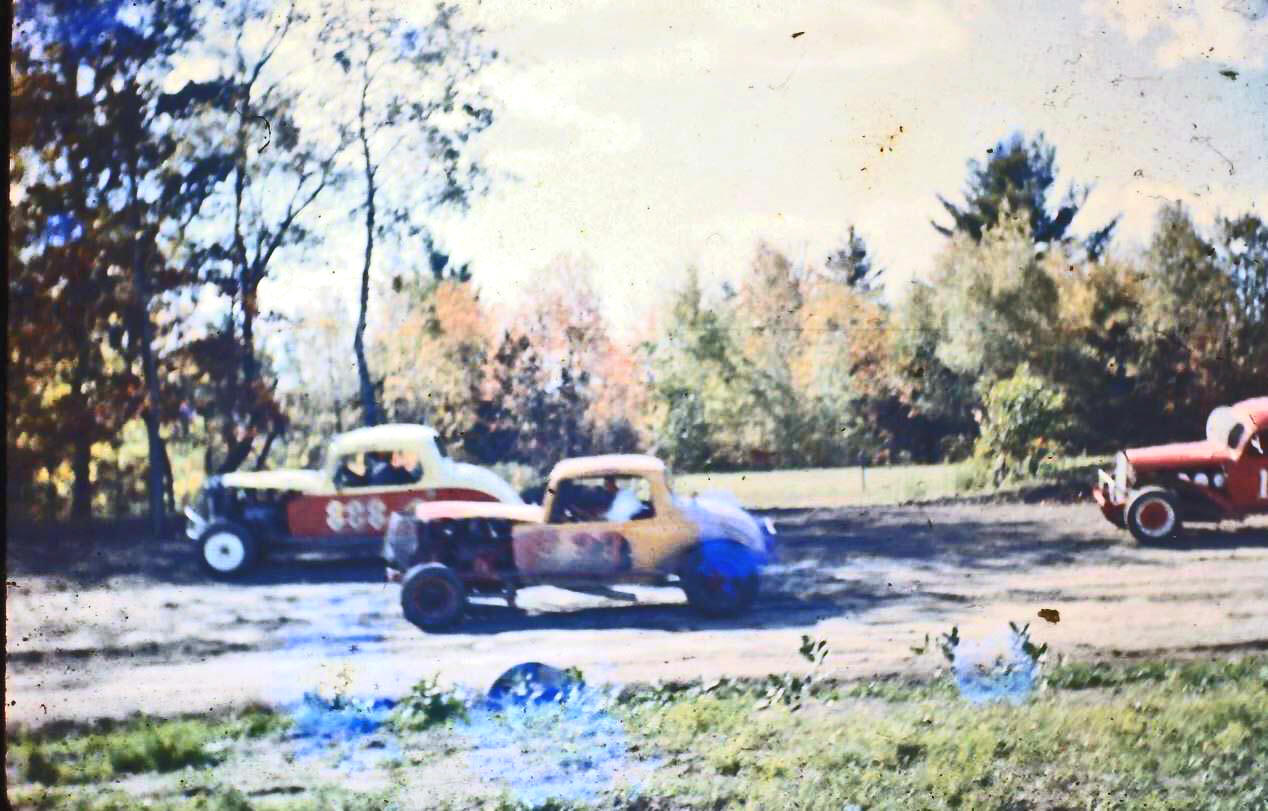 Dick Britain Photo
The car running beside Cecil Bosworth's 888 did not look familiar, although the color was. Clearly it's not Art Cody's five windown coupe.
However, my THEORY centers around the fact that there was a three window coupe which pretty much stayed around the hometown of"Cody's car owner, Henry Merrow. It started with Henry Abbott, then went to Weston's Harry Hale briefly. Merrow may have bought it, painted it yellow, and added #33. But, it seems like another car altogether.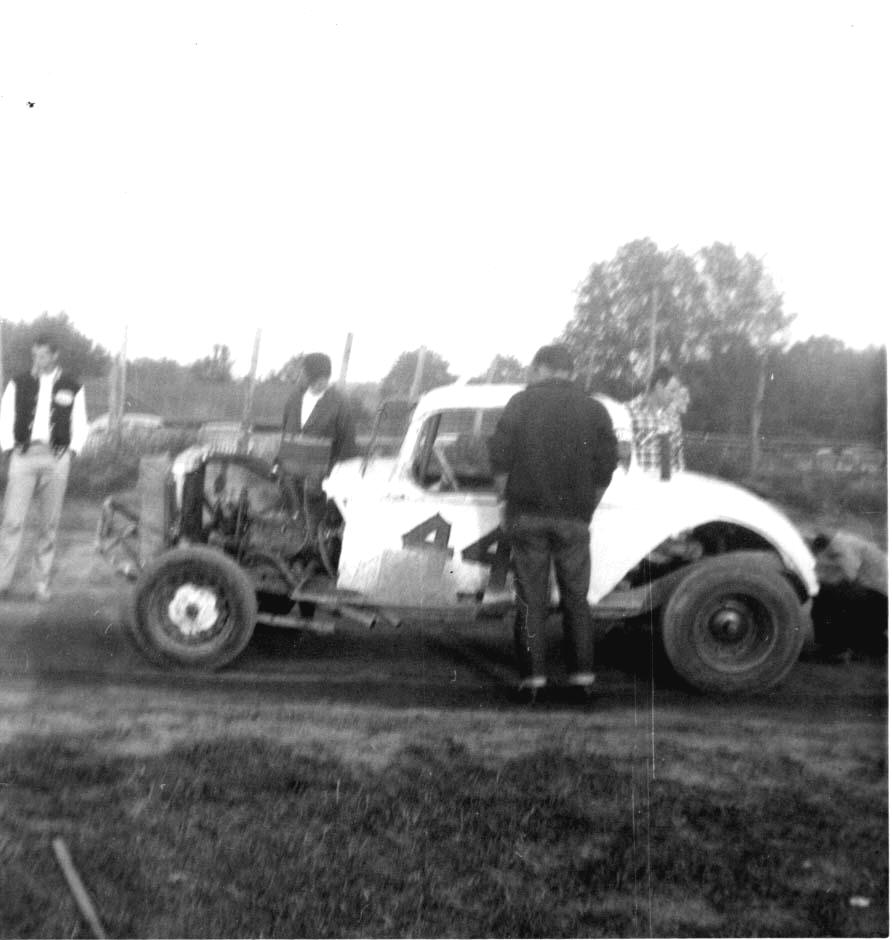 Ladabouche Photo


Dick Britain Photo
Car 7, on the inside pole, was not an entry I saw at Fairmont with any regularity. It bears strong resemblance to the
#A3 of Pottersville, NY's Jack McClure. No definitive proof of that car or who had it by 1964.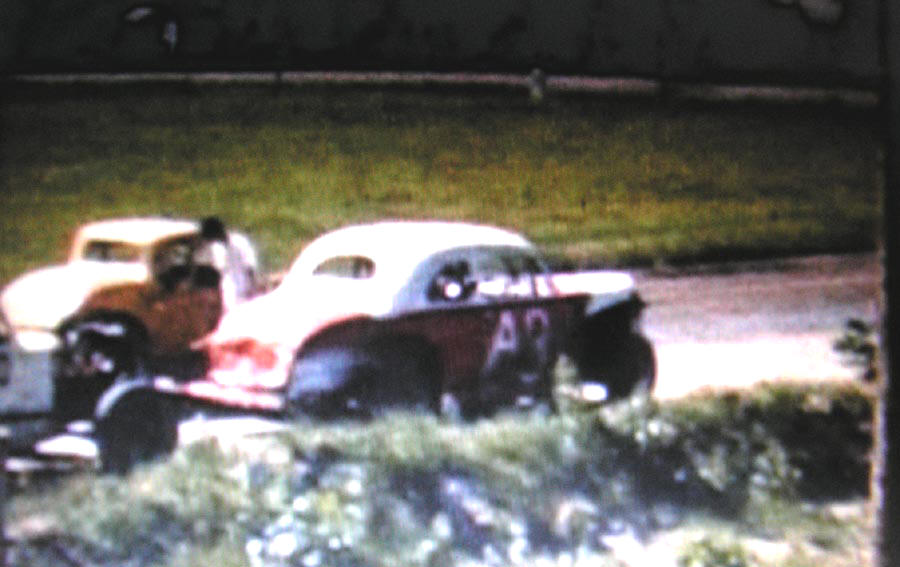 From Dan Ody's 8MM Old Speedways DVD's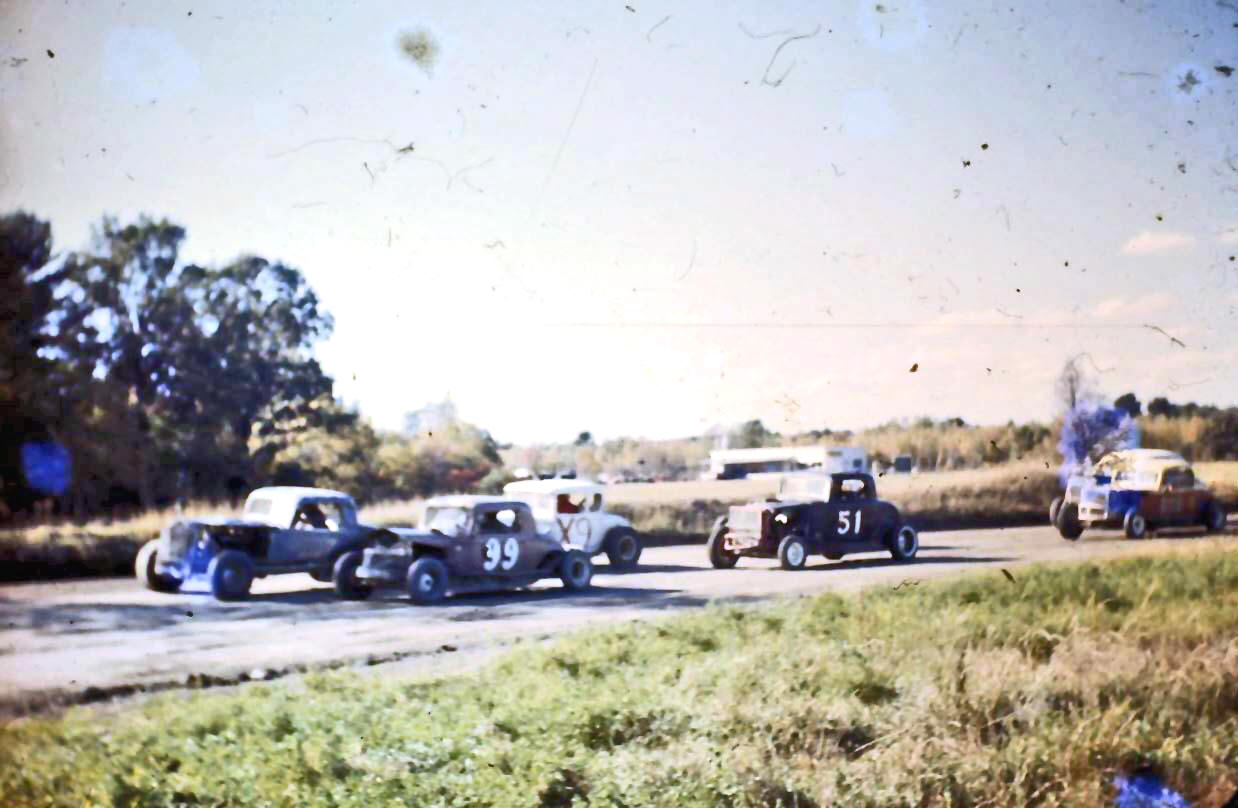 Dick Britain Photo
Lowslung Car 99 most likely came out of the Claremont, NH area, but I have no idea who it is.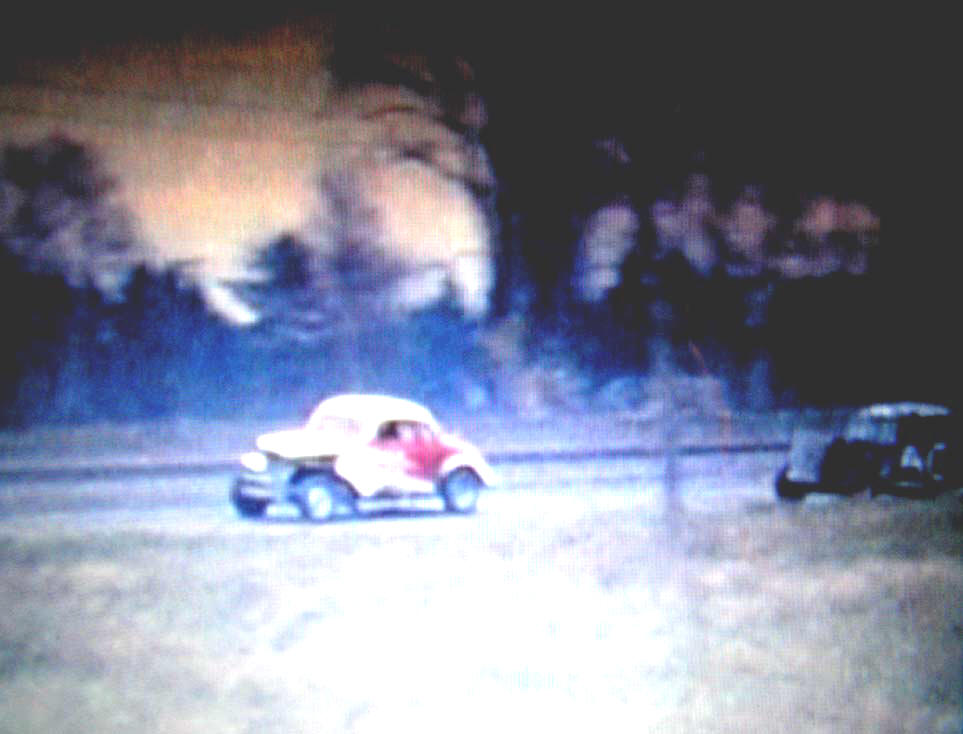 From Dan Ody's 8MM Old Speedways DVD's
A shot of Art LaBelle leading a car #AC. I kind of bleached out Art to show AC better.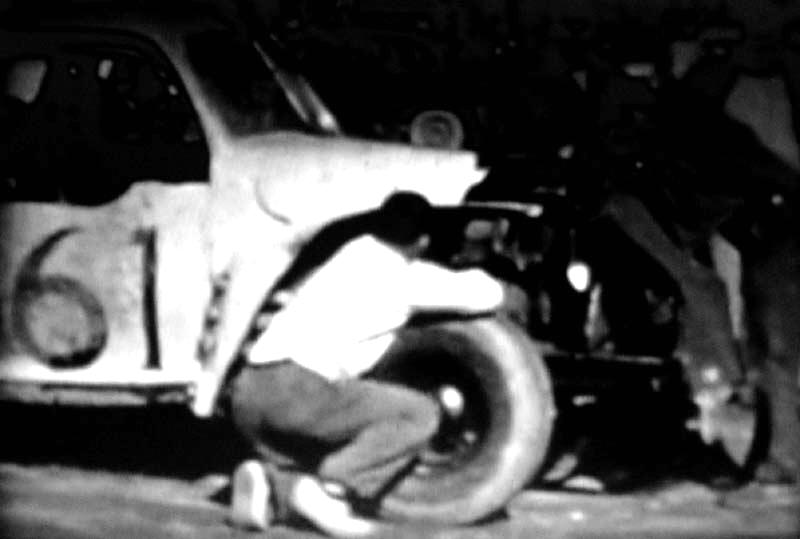 From Dan Ody's 8MM Old Speedways DVD's
In 1963, when Fairmont first had the hobby class, they had a few late '40's sedans that more resembled the lead class. This car
661 ran at least once. No idea who it was. The other two sedans were run by Ronnie and Lennie Wood. Below Another look at it.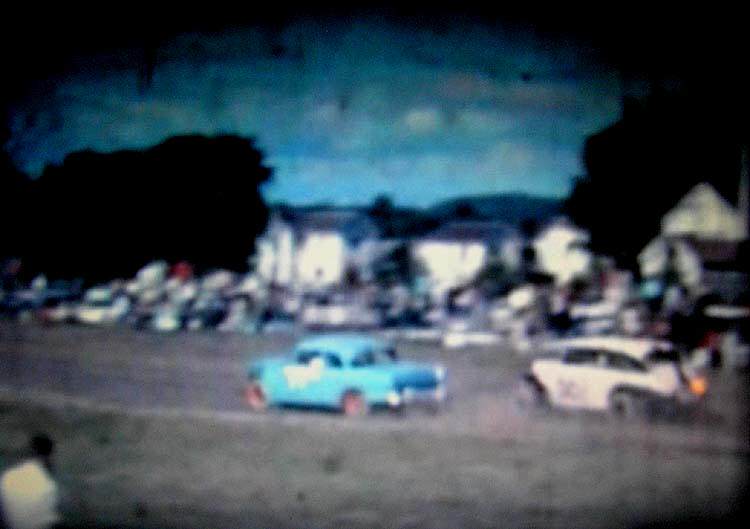 A FEW DEVIL'S BOWL MYSTERIES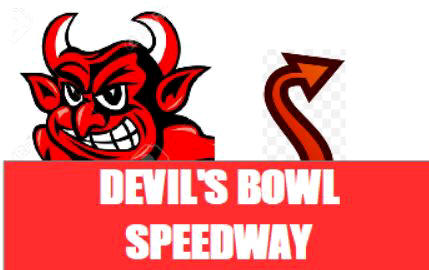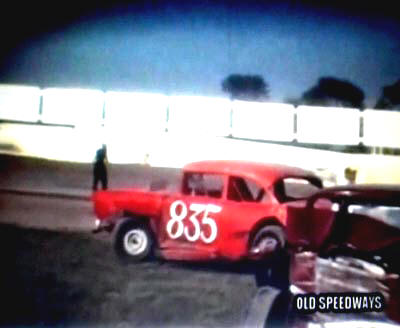 From Dan Ody's 8MM Old Speedways DVD's
A Lebanon Valley late model sits with a bent front end at D Bowl in 1967.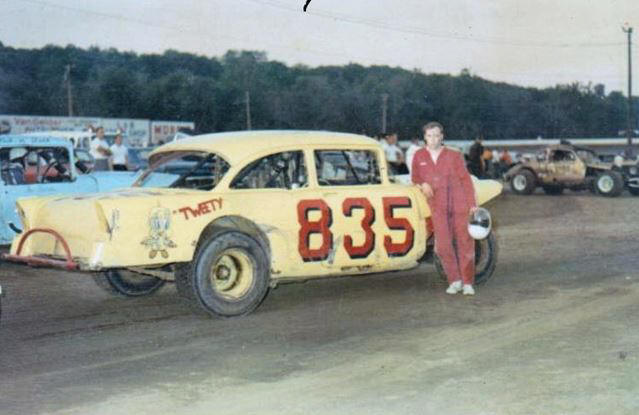 Lebanon Valley Classics
With what we know now it was probably associated with the Albright team, which started out with #834's.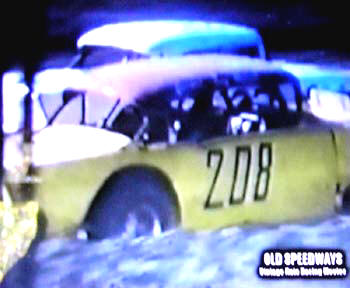 From Dan Ody's 8MM Old Speedways DVD's
Likely, another Lebanon Valley late model - this car is prominent in a number of 8MM passes. No clue.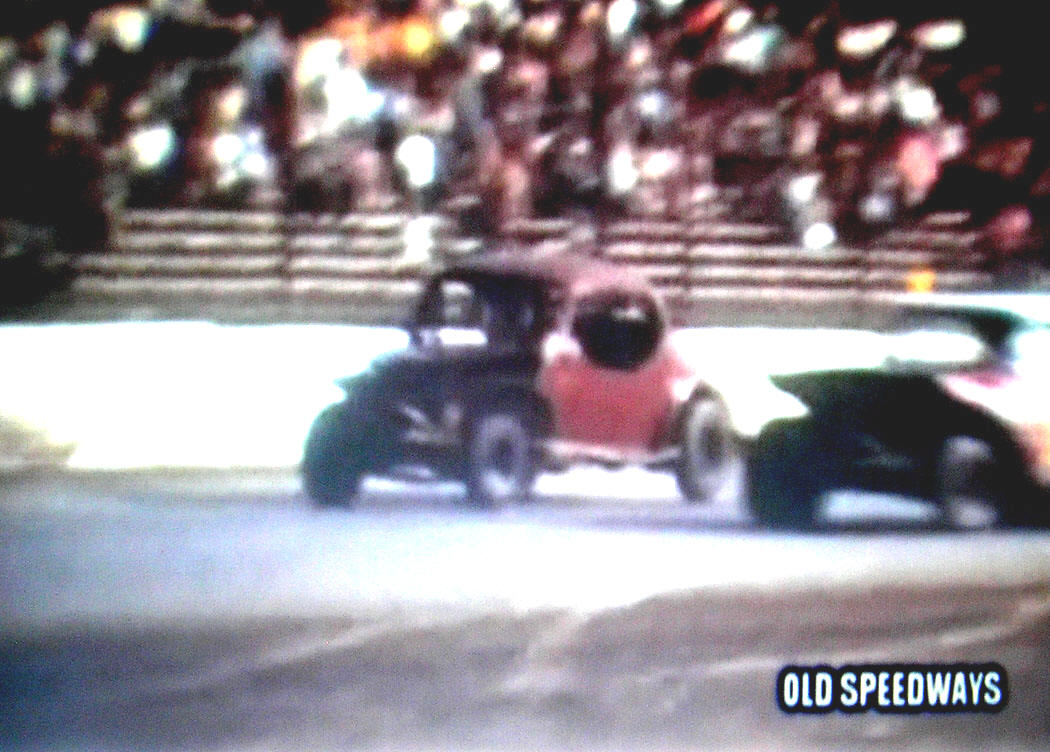 From Dan Ody's 8MM Old Speedways DVD's
At D Bowl in 1967, CJ "grandfathered six cylinder and flathead cars in with his late models. I don't recognize this one.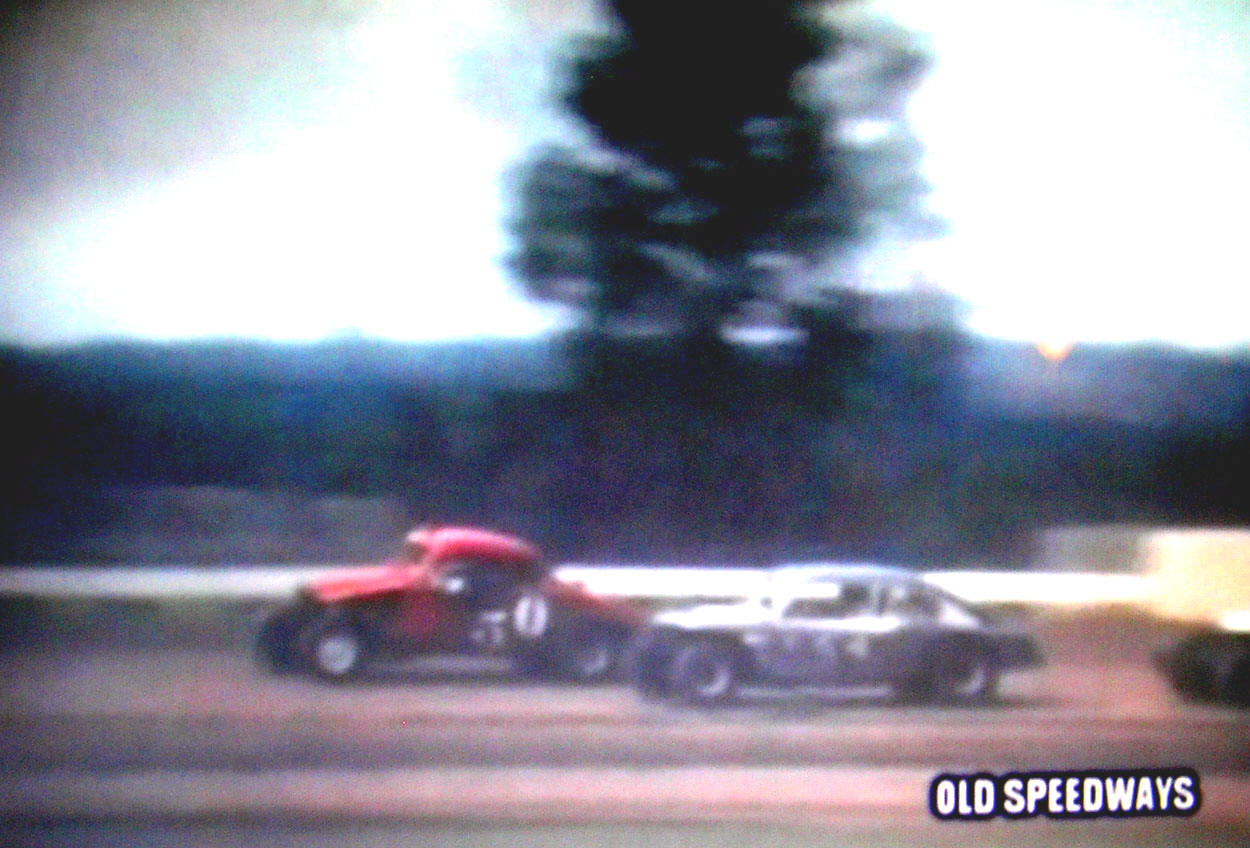 From Dan Ody's 8MM Old Speedways DVD's
Charlie Laduc's iconic Henry J chases an unidentified sportsman coupe #50. No clue.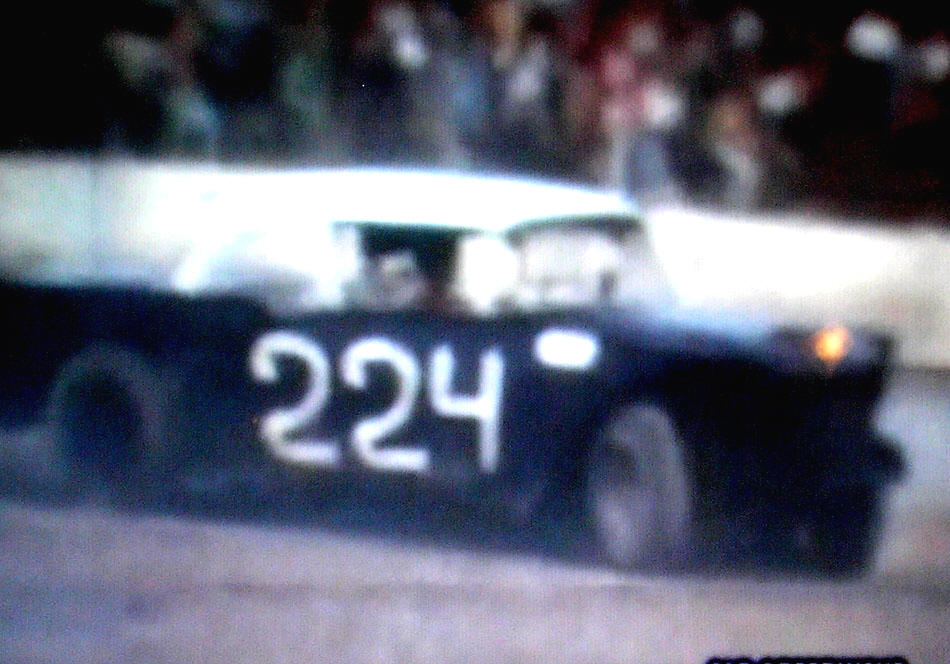 From Dan Ody's 8MM Old Speedways DVD's
There are many photos in whuich this car 224 is in the background. Anyone know who it was? It think it was local.
Return to the Main Page
Return to the Main News Page
Return to the All Links Page