THAT MYSTERIOUS LITTLE FORD - 04
Recent visits with Del Thompson at Thunder Road yielded some new information and insights into a car that almost everyone remembers, despite the fact that neither it nor the others from the same racing team ever amounted to much. When the first 04 showed up at Spring Green practice at Catamount, it was around 1973. The owners had picked former State Champion Johnny Gammell [now in the last of his career] to drive. I don't recall much about it except it was a Ford [they all were] and it was a car they had bought from someone.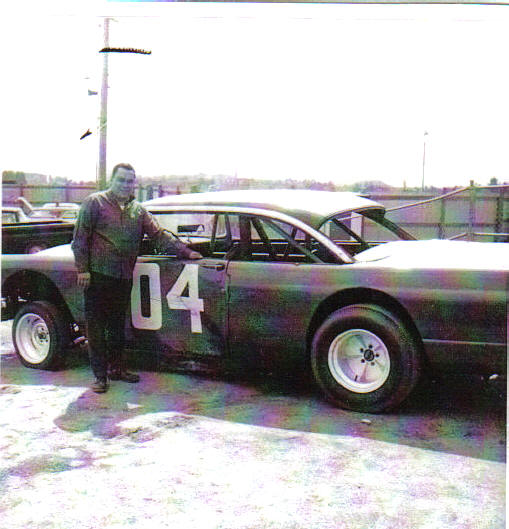 Ladabouche Collection
This could be the car Norton bought first, explaining where he got the number 04 from. This is not Paul, however.


The following year, they showed up with a 1965 Ford, built so high off the ground Johnny couldn't even get it up to a competitive speed.
"Poor Johnny," said Norm Cyr sadly, "I guess he'll drive anything now."
The lumbering behemoth didn't last a whole season. Gammell eventually disappeared into the sunset pretty much for good, but not before the team built another - seemingly more effective car. Apparently the team was owned by a man named Paul Norton, who operated a lumber - related business out of Hancock, VT. Norton, along with sidekick Art Newell had returned with "the 04", the car most folks remember. It was a spiffy - looking red, white, and blue Fairlane 500.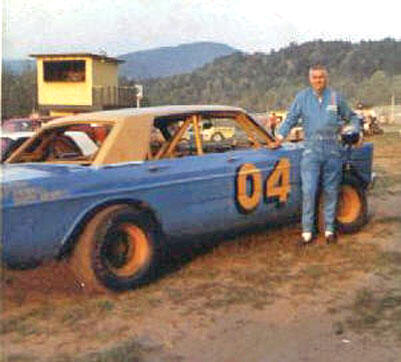 Ladabouche Collection
Johnny Gammell with the 1965 Ford high rider.

Word was out that Norton had secured a Holman and Moody engine for this car; but, having built it like a tank again, it was too heavy even with all that power. Gammell may have actually driven the little once or twice; but, soon the driver's seat became a carousel of guys desperately looking for a ride [they just ended up not needing one that badly]. After Gammell, Beaver Dragon - who was just returning from a self - imposed exile down at Devil's Bowl - tried it out with no success. Dragon was followed by Ford fanatic Larry Demar -and even he could not get anywhere with it. Finally, Clem Despault took at turn in the car after having been released as driver of the equally - heavy Bob Pratt Chevelle.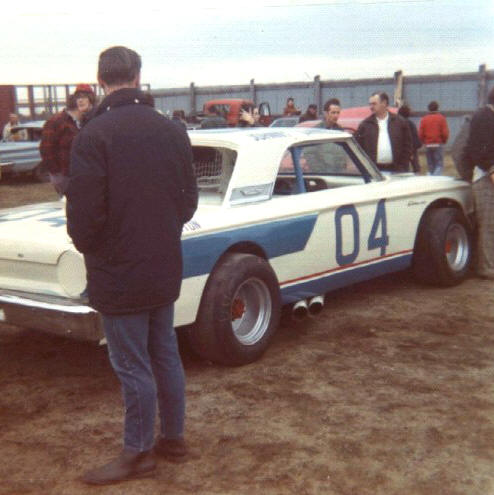 Ladabouche Photo
Former Catamount driver Ron Wells talks with whom I believe is Art Newell [open brown jacket]. The Fairlane 500 is new here -
for Gammell. Below - Gammell poses with one version of the Holman Moody car [probably nearly finished].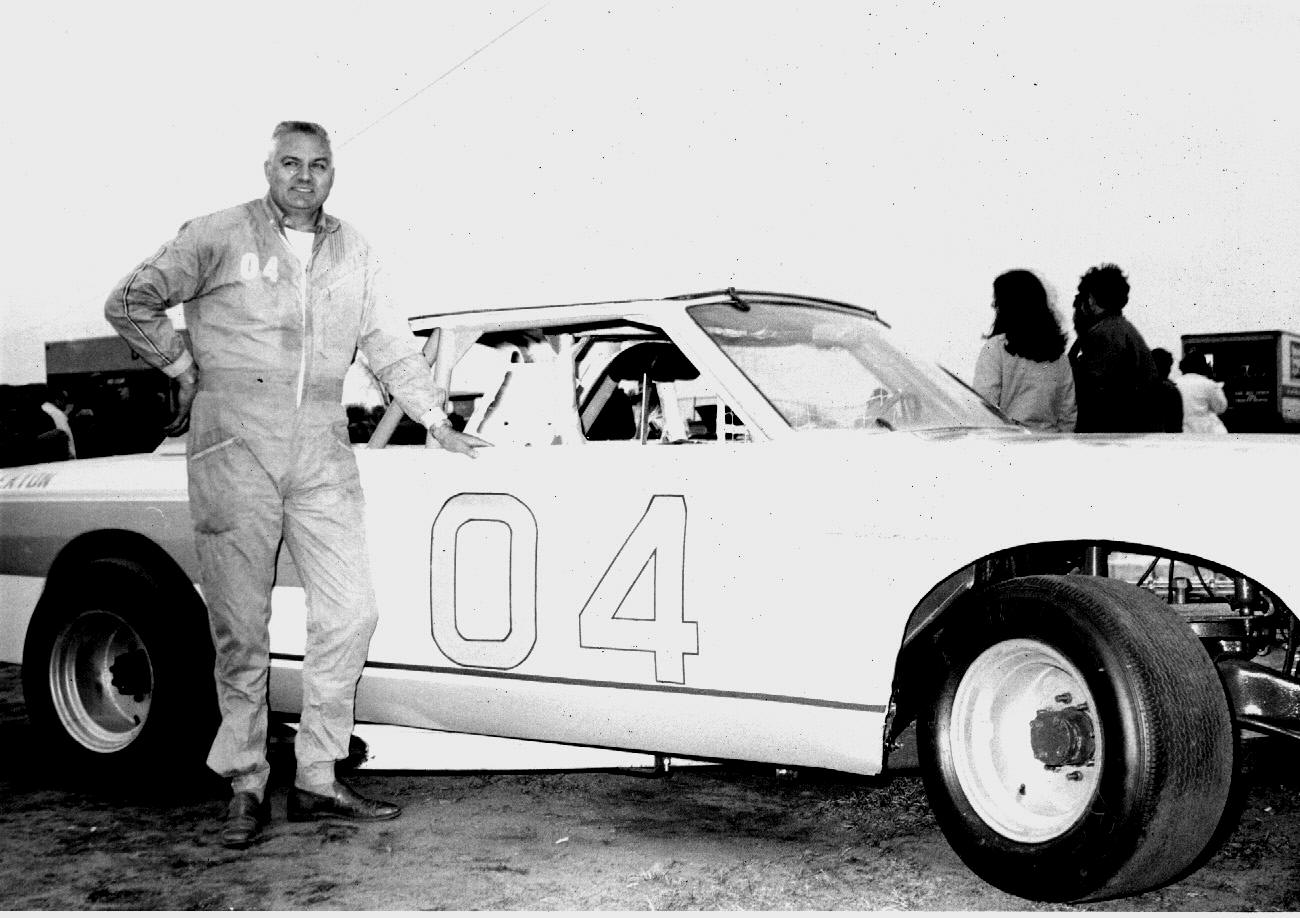 Courtesy of Chris Companion

Del Thompson got to know Norton. He says Norton was about the toughest man he ever met. Paul was on the pit bleachers at Catamount in the '80's when they collapsed. He suffered a punctured lung, but refused medical attention. In fact, he continued to work on the car and returned to work the next day. Thompson relates, in hushed awe, how Norton explained a missing finger to him. It had been injured and was getting in his way, so Paul cut it off himself. Sheesh !
|
From the Devil's Bowl Program
Beaver Dragon, during his brief stint with the car.

Ladabouche Collection
A look at the car when either Demar or Dragon were driving.

From the Catamount Program via Wayne Bettis
Clem Despault in the Ford, looking for room
around a spinning John Rosati.

Courtesy of Chris Companion


Clem chases Fadden by Jerry Young. I'll give him credit - the car seldom passed anything.


John Wright Photo
Del Thompson ended up with the car [and the number] but had no more luck than anyone else.

Thompson would end up buying the Ford and keeping the 04 number, eschewing the #39 he had started with. That's how Del became associated with the #04. We never heard from the Norton team again.