---
FRANCOIS CHAUSSE

"The Beaver Dragon of Quebec"
---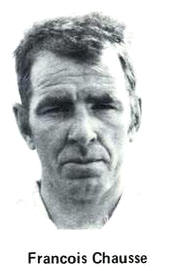 The term "The Beaver Dragon of Quebec" is something I came up with after looking at how many victories Francois had in Quebec. Like Beaver, many of his victories are not widely - known; and, also like Beaver, he was not always lucky enough to have the best equipment. But, when he did, he made the most of it.
We Catamount fans never saw the real Francois Chausse. Firstly, the only car I can remember his having to drive at Catamount was the B45, a 1964 Chevelle that was not up to par with the late models at Catamount in that era. Chausse did drive some quality equipment for the likes of Claude Aubin and others; and he did participate at Martinsville, in the Golden Era of late model sportsman races down there.
Chausse passed away in 2006, and I was honored to have his son, Andre, call me to personally inform me. God Speed, Francois. You spoke no English but your driving did the talking for you.

Catamount Program
With the Beliveau brothers
B45, somewhere in the
U.S. in 1973.


Andre Chausse
The Beliveau brothers
B45

Andre Chausse
With the Beliveau brothers,
somewhere in Quebec.


Andre Chausse
Later in his career,
a beautiful LMS


Pascal Magnum Site
The Chicoine LMS,
formerly driven by
Andre Manny. This is
at ChampionSpeedway


Pascal Magnum Site
Starting up front at
Quebec Moderne
Speedway.



Pascal Magnum Site
An early coupe. This is a
small photo - not a
thumbnail.


Andre Chausse
He drove this one
for a while, too.


Pascal Magnum Site
Probably at Riverside

Pascal Magnum Site
An article about Francois, when he was still driving for the Beliveau brothers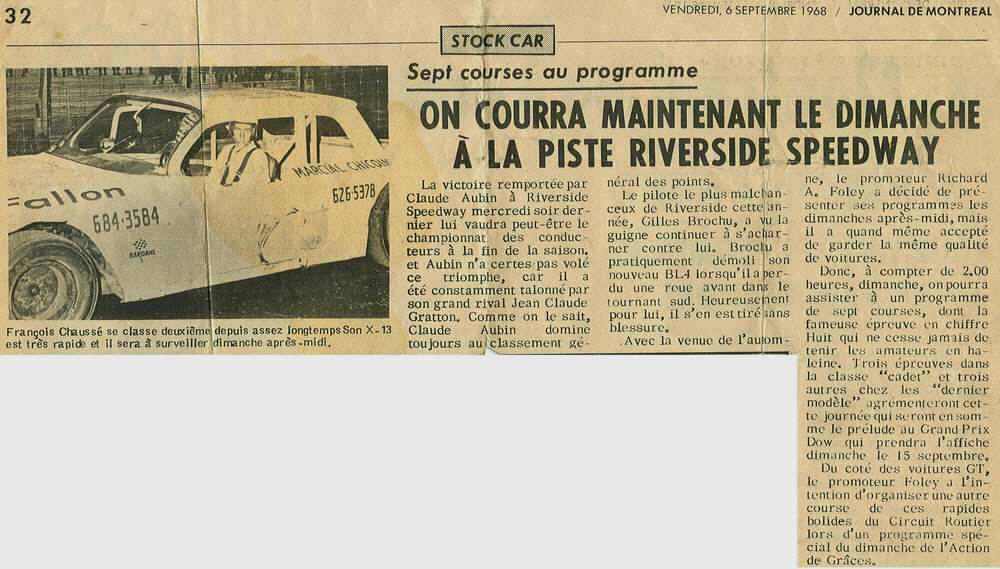 Pascal Magnum Site
Chausse won a ton of races with this old Chevy.

Source Unknown
In some pretty impressive company in this Martinsville promo.

Return to the Main Page
Return to the Main News Page
Return to the Canadian Drivers Linkpage