The Long, Circuitous Story of the Yellow and Black 37 NY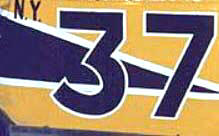 In some cases, an iconic, identifiable car number has gone down through the years, always with the same driver or team. A case would be such as Steve Danish and the 61 NY, Frankie Schneider's #2's, or Bob Dragon and the trademark 71 VT with the crown over the 7. Other times, a number is begun by one builder, owner, or driver and continues on - passing among as many as three or four teams. Yet, that number remains as a trademark of sorts - the changes often going unnoticed by much of the fan base. Such a case is the number 37 NY, which ran at such widely - ranging venues as Stateline Speedway, North Bennington, VT; Airborne Park Speedway, South Plattsburgh, NY; Fonda Speedway, Fonda, NY; Victoria Speedway, Dunnsville; and Fairmont Speedway, Fair Haven, VT.
The original 37 seems to have been built by the legendary and prolific car builder Bob Whitbeck, of Canajoharie, NY. Around 1953, Whitbeck [himself a veteran of early roadster racing] set out to build a competitive ride for the up and coming driver Pete Corey to use at the newly - opening Fonda Speedway - an irregular old horse track on the banks of the Mohawk River at the Montgomery County fairgrounds. This Ford coupe featured a body that was drilled full of holes to lose weight. Beginning as #70, it ran in 1953 with Whitbeck registered as driver; but, it was soon turned over to Corey.
In 1954, Whitbeck built another holey Ford coupe, with a lot of special attention to any advantage he could build into it. Corey was frustrated with the car, perforning well but not winning. This car, now painted yellow and black and sporting the number 37, started the line. A disappointed Whitbeck sold the car off to Jerry Jerome at season's end. Tiring of the expense, Whitbeck convinced the due of meat dealer Sam Kittler and diner owner Gibby Wolf to take over the team, thereby footing the bills.
Kittler and Wolf, for whatever reason, decided against retaining Corey and went with the veteran Howard "Jeep Herbert. Corey would take over Herbert's vacated seat in the Bob Mott 3 and proceed to go on a winning tear at Fonda that was halted only when NASCAR outlawed the pre 1936 body on the car. The new 37, was a 1937 Ford Coupe sometimes referred to as an "opera coupe". The yellow color was retained, albeit a toned - down hue, but the other color on this car was to be a brown. Herbert was particularly good at Stateline with this 37, and he did run at places like Airborne Park Speedway. Apparently, the team did OK at Fonda, but they were contending with the streaking Corey and perennial force Steve Danish.

The Kittler/ Wolfe would also be driven, particularly at Fonda by Ken Shoemaker. There are photos to prove both he and Herbert did win there. Various photos seems to show that, at some point, Herbert was moving on and the car seemed to change to #87, suggesting it may have been sold. The ownership pair of Kitler and Wolf definitely sold the team [at some point] over to body shop man A. C. Caprara. Caprara had a new, more standard '37 Ford built and began with a combination of his brighter color yellow and numbers similar to the Kittler/ Wolf style. Using Shoemaker at first, the car hit some high spots such as winnng the 1958 New York State NASCAR sportsman championship.
It has been written that Shoemaker finally irreparably wrecked that car, and a new one would be built. Shoemaker had moved on to the Henry Caputo team out of Hudson Falls. Caprara went back to Pete Corey, who drove the car up to 1960, where he infamously had the wreck at Fonda that cost him his leg. Caprara's next coupe would have the more familiar color scheme of yellow, with black that included a projection off the hood that went through the number 37 like an arrow. Most of the black was outlined in white. By 1961, Corey was back running the 37. Caprara seemed to use Corey mostly, but Ed Pieniazek, Corey's protege, was also seen in the car at times.
It appears that Al Caprara retained the car until at least near the end of the 1962 season. In the program for the big extra - lap race at Fonda in August, Tony Villano, Sr. of Schenectady is listed as the owner. I strongly believe that it was Villano, who brought the car to Fonda in late 1962 for a special race, using journeyman Wayne Coon as driver. At the time of the big extra distance race in August of 1963, Pieniazek was listed as driver, the car having rather modest points in the season standings. This leads me to believe it wasn't running every week. With Corey off for a short - lived ride with the Chris Drellos team, Villano would spend the next few seasons having musical chairs with various drivers.
The 37 remained a top half performer in 1965, and on into the late 1960's. Villano would field a 1937 Ford with Jeep Herbert circa 1964. We saw this car at Fairmont at least once with Dutch Reed driving. When Herbert got his last big chance with the Hammond/ Strong #56 CT, Tony fielded a couple of coupes. One, seemed to be a sportsman; the other [at some point] was a modified according to the NASCAR press guide]. His drivers were son, Junior and a young Jack John son - fresh out of the service. Villano replaced the coupes with a Falcon that still exists today under the care of Rick Parry. The Falcon [kind of an icon although it only won once] was driven by the likes of Jerry Pennock. Jack Johnson, and Ken Shoemaker [the one who won with it].
| | | |
| --- | --- | --- |
| Herbert Family Photo | | Scott Belknap Photo |
Some time early in the '70's the team was sold over to Hank Spetla, and I don't know much more. Jay Bleser recently added that the last time the actual "team" fielded a car it was owned by Diane and Joe Tidball, in 1974. They used some unknown named C.D. Coville as driver :)
ROGUE'S GALLERY



Feuz Collection


BOB WHITBECK


Frank Simek Photo
PETE COREY

Sam Kittler & Gibby Wolfe




No Photos




Source Unknown


JEEP HERBERT



Courtesy of Chris Massey


A.C. CAPRARA

Frank Simek Photo
KEN SHOEMAKER



Herbert Family Collection


TONY VILLLANO
Maybe

Russ Bergh Photo
EDDIE PIENIAZEK

Fr

om Scott Belknap


JUNIOR VILLANO



Rick Parry Collection


JERRY PENNOCK

Ladabouche Photo
1964: Fairmont Speedway.
Dutch Reed [90A jacket], Tony, and Roger Gauthier [helmet]

Jo

hnny LeClaire Collection




WAYNE COON
SOME FAVORITE PHOTOS OF THESE CARS

Courtesy of Jay Mooney
The Whitbeck/ Corey connection began with
Pete driving Bob's roadster
at West Perth in 1949.



Courtesy of Rick Parry


Corey, with the first Whitbeck car, as 7, before Fonda made him change it to 70.

Courtesy of Herbert Family
The second Whitbeck
coupe - perhaps at Bob's
garage in Canajoharie.

Ladabouche Collection
Jeep, with the Whitbeck -
built Kittler/Wolf car,
in Vic Lane at Stateline,
as was often the case.

Courtesy of Jo Towns
Courtesy of Otto Graham
Shoemaker, with the Opera
coupe at Fonda.

Ladabouche Collection
By now, the car is owned by A.C. Caprara. If Whitbeck
built this car, he innovated, putting the driver in the back seat and moving everything back. The caption is erroneous: he was hurt in the car in 1960, and the next one didn't look like this.


Courtesy of 8MM Film
maybe via Dan Ody
Pete at the first Daytona
superspeedway races, when they still aloowed coupes in the modified / sportsman race.



Ladabouche Collection


Pete with the Caprara car
he was badly hurt in.

Caprara kept much from the Kittler / Wolf graphic scheme but he opened up the numerals.


Shany Lorenzet Photo
via Andy Fusco
Ken, at Stafford Springs [dirt version] with the Caprara car.

John Grady Photo
Pete, with the newer Caprara car, built after the leg accident.

Russ Bergh Photo
Ladabouche Collection
A photo that would be repeated many times.
Pete, around the time when
the team was switched over to Villano, with that characteristic pose to get weight off his prosthesis.



Courtesy of Black Jack Racing
An extremely rare photo of Paul Marshall with the Caprara/Villano car. Why the black flag ? no idea.

Russ Bergh Photo
via Dan Ody
Jeep in the Villano '37 Ford in the Fonda infield. I think I blurred it getting it from Danny.



Dick Britain Photo
via Dick Britain
Dutch Reed in the Villano '37 Ford, on an Autumn Sunday afternoon at Fairmont in1964.

Frank Simek Photo
Obviously
Jeep in the Villano '37 Ford
at speed at Fonda.

Russ Bergh Photo
Ladabouche Collection
My favorite Jack Johnson
photo. Probably 1966.

Russ Bergh Photo
via Dave Dykes
Jack Johnson with the
popular Falcon.

Russ Bergh Photo
via Rick Parry
Jerry Pennock wins
one.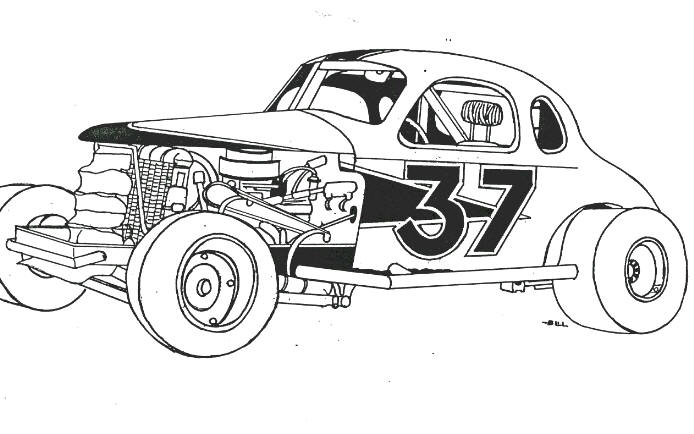 Ladabouche Drawing
---