---
---
EARLY CATAMOUNT & OTHER NASCAR TRACK POINT STANDINGS

This Also Contains Non - NASCAR Points
---
I have obtained some NASCAR points information from Catamount and Thunder Road - for the year 1965. As a leadup, I also have standings from the other NASCAR track that led into Catamount - Otter Creek Speedway near Vergennes, Vermont. I hope to look at these standings and the men in them - and offer some thoughts about the significance of the whole thing. Since I first began the page, a few years ago, some non - NASCAR points results have also been made available. I sincerely hope people who were "in the game" at that time will contact me and offer corrections and additions to the thoughts. wladabou@comcast.net
1952 - TRI - CITY ASSOCIATION POINTS
Tracks like Stateline, Empire Raceway, and Pine Bowl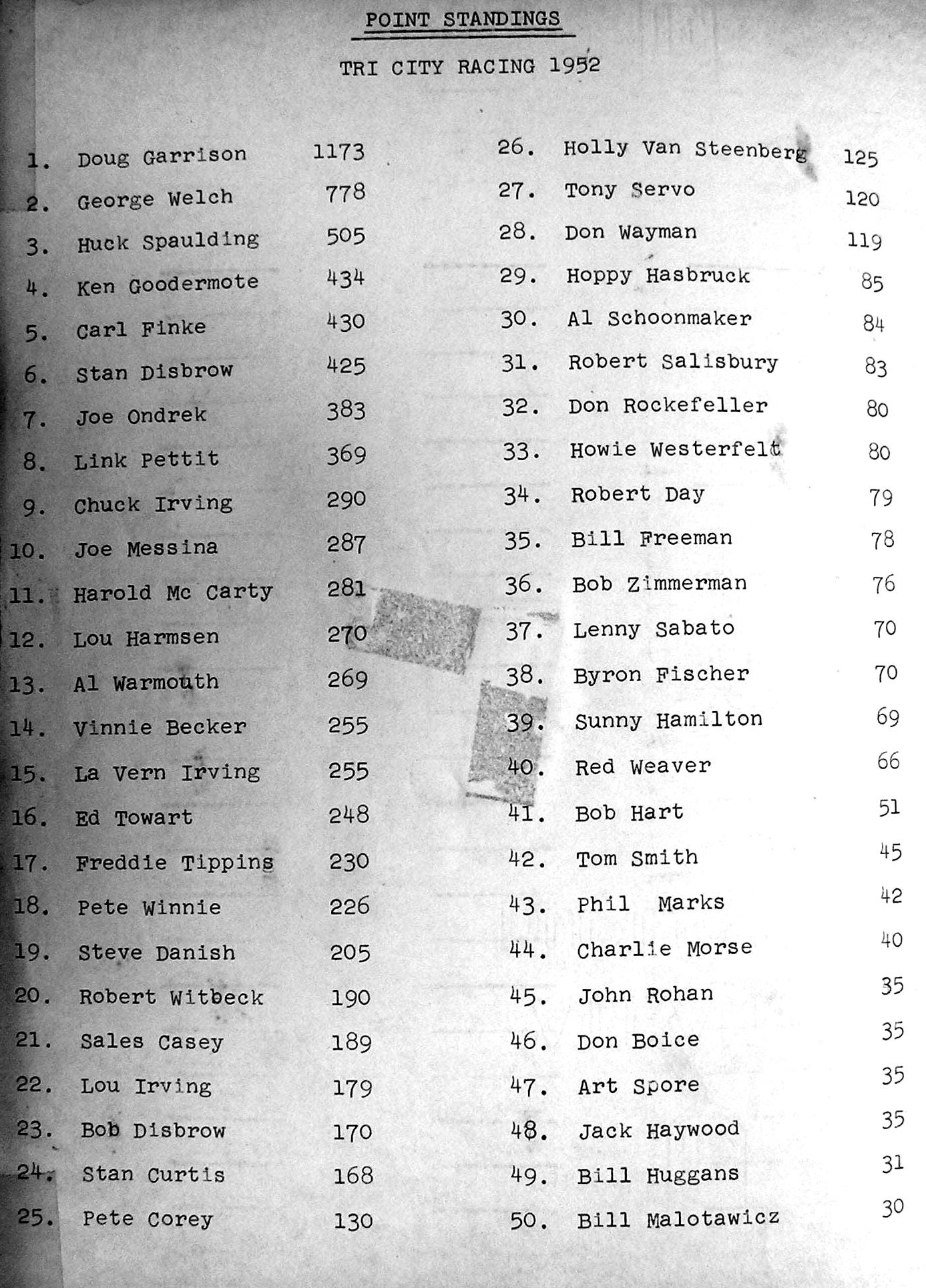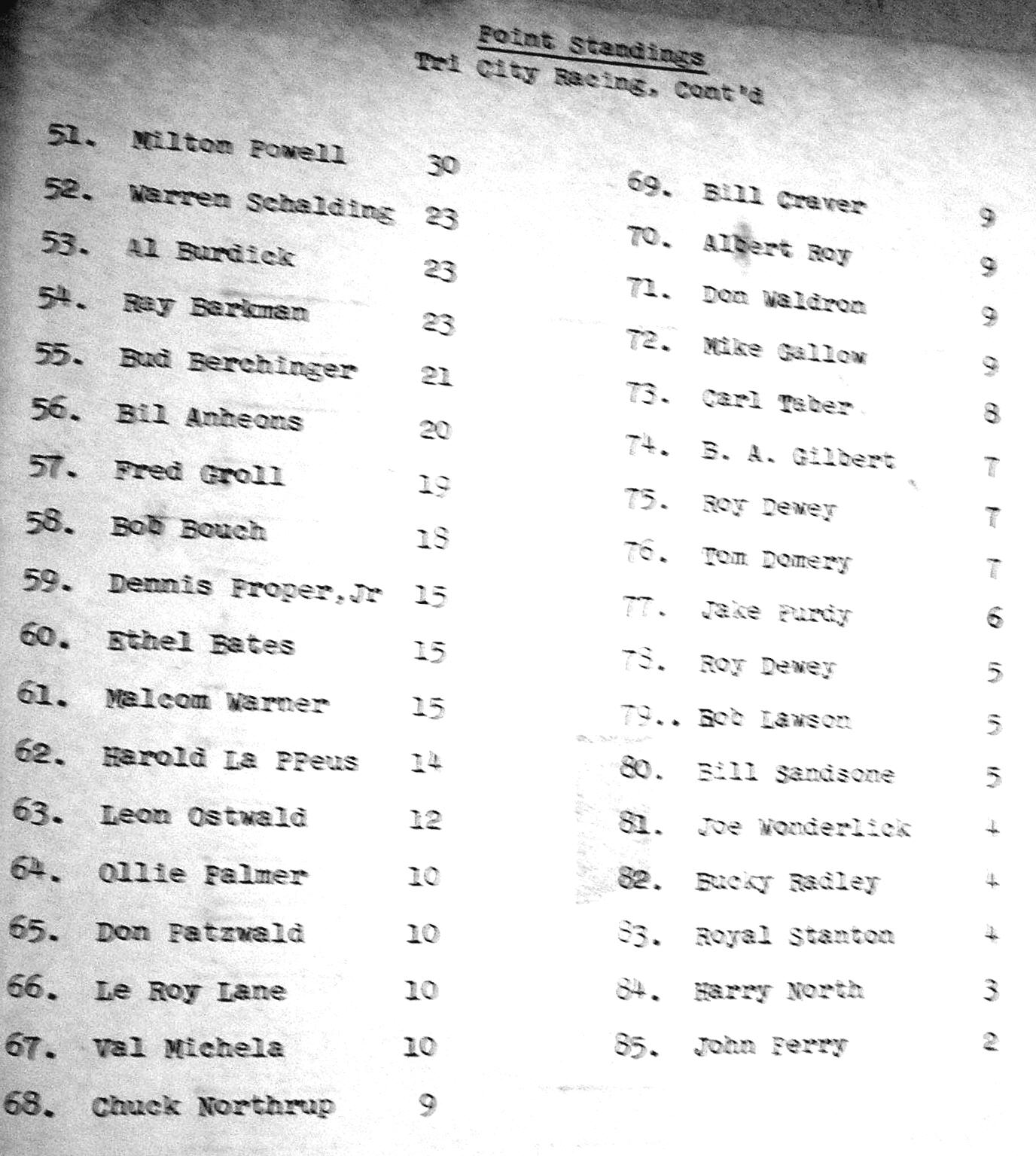 Courtesy of Link Pettit
Two things are obvious: 1.) Doug Garrison and car owner Barney Tompkins not only got around more than most teams, but they were were very successful on a regular basis; and 2.) the Tri - City Association had to have multiple tracks in order for Garrison to earn that many points. I doubt this was a final standings. These are courtesy of 8th place finisher Link Pettit. I apologize for the terrible photographs, but it was not well lit in that room at the museum. We see future hall of fame calibre drivers Garrison, Pettit, Steve Danish, Pete Corey, Stretch Van Steenberg, Howie Westervelt, Joe Messina, Sayles Casey, Chuck Irving, Ken Goodermotte, Schootch Schoonmaker, Charlie Morse, and Donny Wayman. We also note future hall of fame calibre car owners such as Bob Whitbeck. I see other car owners suich as Harold McCarty, Art Spoar, and Bob Zimmerman. Notice the 60th place finisher was Ethel Bates. A few lesser drivers I recognize include Jollie Ollie Palmer, Johnny Perry, Joe Wunderlich, Carl "Leadfoot " Taber, the Disbrows, John Rohan, Carl Fink, and many more.
1953 - RHYTHM INN SPEEDWAY POINTS
Millers Falls, MA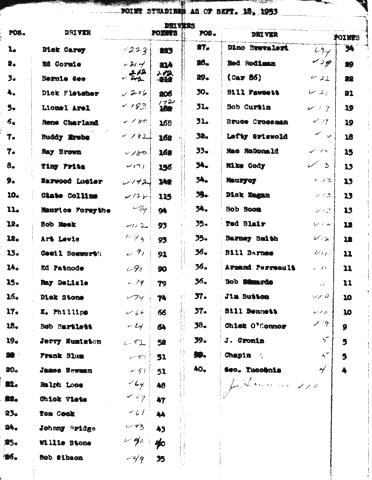 Courtesy of Chip Cormie
This point standings list from Chip Cormie only gets more blurred if you blow it up larger. Chip's father, Ed, took second place overall that year. I can see a number of familiar names both who excelled primarily in the 1950's and those who went on to stardom in the later decades. Local, '50's stars included Cormie, Lionel Arel, Morrsi Forsyth [who we think is Pappy Forsyth], and Cecil Bosworth. Drivers who went on to more prominence on a bigger stage include four - time NASCAR National Sportsman Champion, Rene Charland; Buddy Krebs, Ed Patnode, and Dizzy Delisle. I am sorry it is so blurry. The Champion appears to be Dick Carey.
1955 - AIRBORNE PARK SPEEDWAY
South Plattsburgh, NY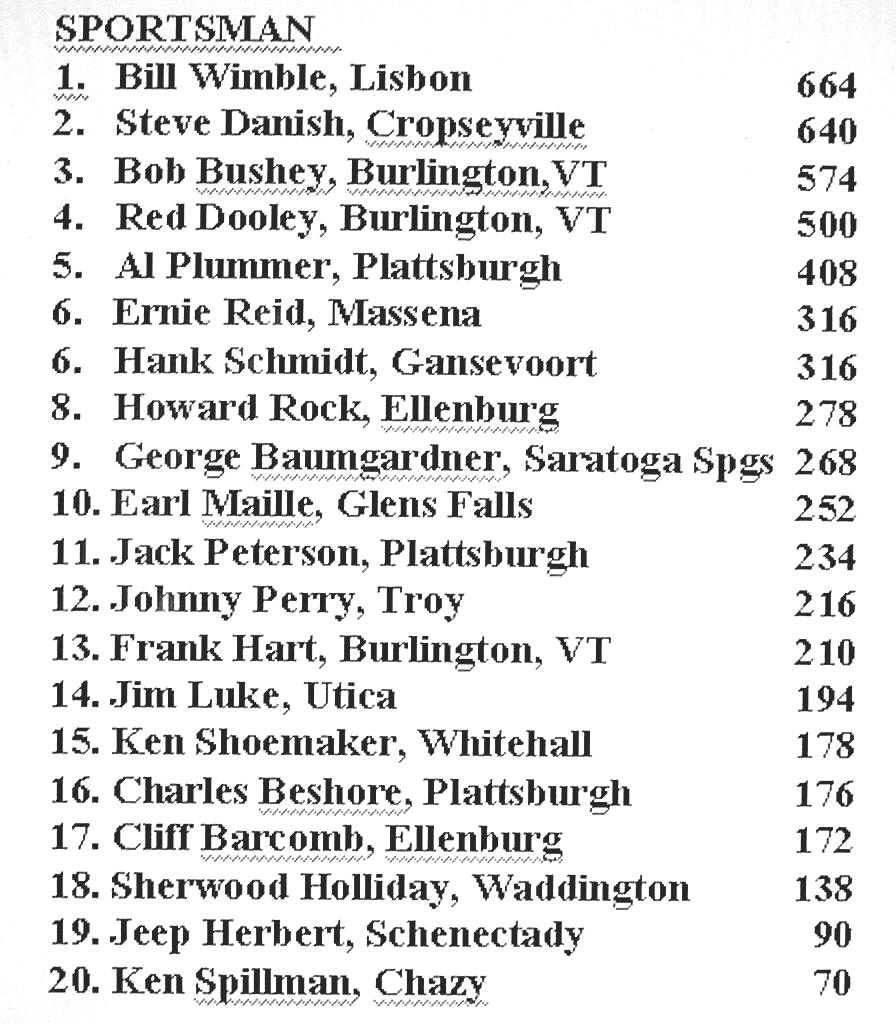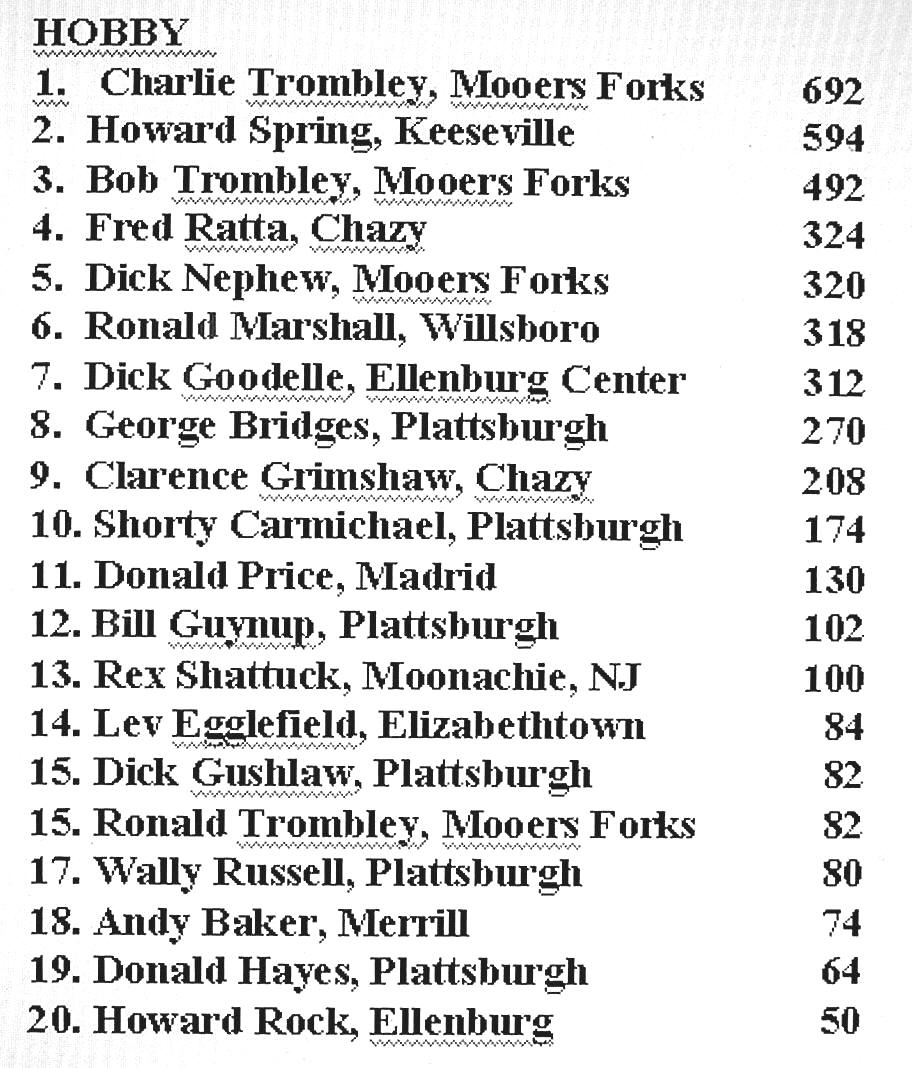 Ladabouche Collection
When Plattsburgh, New York businessman Maurice Broderick teamed up with Burt Blake and Lyman Burnelle to establish Airborne Park SPe4edway, south of Plattsburgh, the group was just getting in on the unbelievable boom in the area due to the on-going construction of the massive Plattsburgh Air Force Base in the early '50's. While the track began in 1954, 1955 was the first truly credible year, as evidenced by the number of future track champions, national champions, and hall of famers whose names are seen in the final 1955 points standings. Airborne was not yet NASCAR in 1955, but most of its competitors were already members.
1961 - FONDA SPEEDWAY POINTS
Fonda, NY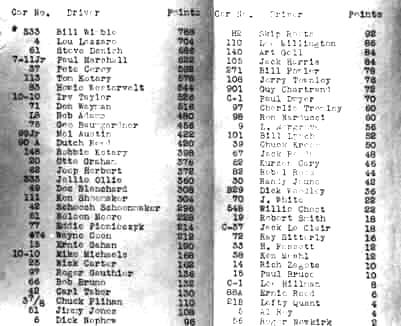 Courtesy of Rick Parry via Otto Graham
1962 - OTTER CREEK SPEEDWAY
Waltham, Vermont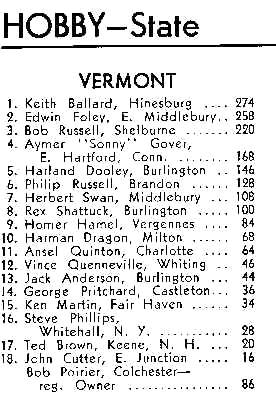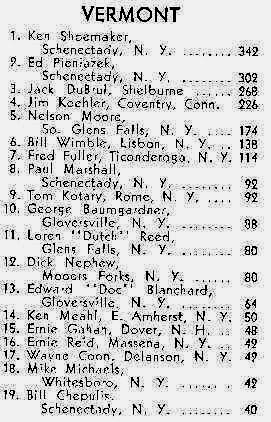 Courtesy of Gary Nephew
Hi Monroe and Lee Tucker ran the Otter Creek Speedway, on the Monroe farm in tiny Waltham, near Vergennes, Vermont. These "hobby" drivers were the track regulars - local drivers from the immediate area, from the Malletts Bay Speedway, from Thunder Road, and a few from other nearby tracks. It would appear as though the sportsman drivers put in more laps than the hobbies, but the reverse is actually true. It must be that the hobby boys didn't earn as many points for the same time spent on the track as the big guys primarily from New York.
This is the second year of the track's operation. In the Hobby Class, I can clearly remember Dooley, Gover, Ballard, Foley, the Russells, Ansel Quintin, Jack Cutter, and maybe even Beaver Dragon from that first year; but, Martin, Quenneville, Pritchard, and Brown may not have put in much time at Otter Creek in the first year - 1961. No - namers like Ollie Wescott, Don Smith, Billy Bigelow, Jimmy Saltus, Howie Miller, Harley Chamberlain, Dick Hawkins, and several more ran almost every week at the new track in that first year. I will try to find a record book from 1961.
I honestly do not remember Shoemaker, and most of the other big name New Yorkers spending enough time at the track to earn over 300 points. They must have run double point races - or even more - because I can clearly recall the surprise victory by Meahl, driving for the young teenage car owner Jerry Cook..... and Meahl has only those 50 points. Perhaps there were other places to earn points, but I sincerely doubt it. These guys were the ones I saw at the "special Shows" at Otter Creek.
Go to the Otter Creek page to see pictures of many of these runners.
1962 - FINAL NASCAR SPORTSMAN NATIONAL STANDINGS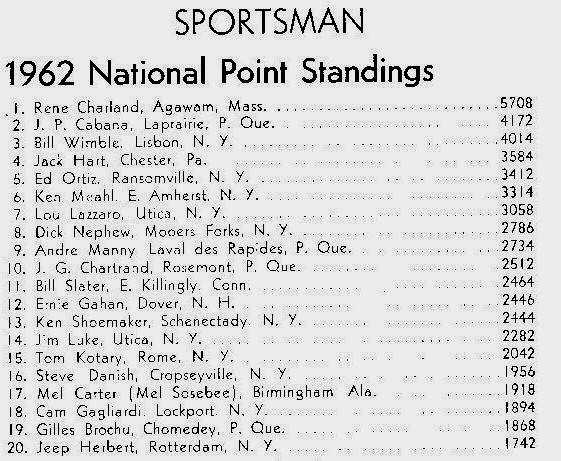 Courtesy of Gary Nephew
1962 - RIVERSIDE SPEEDWAY POINTS
Laval, Quebec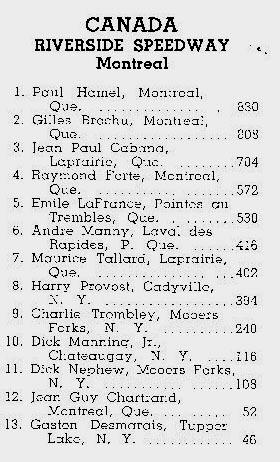 Courtesy of Gary Nephew
1964 - AIRBORNE PARK SPEEDWAY LIMITED SPORTSMAN POINTS
So. Plattsburgh, NY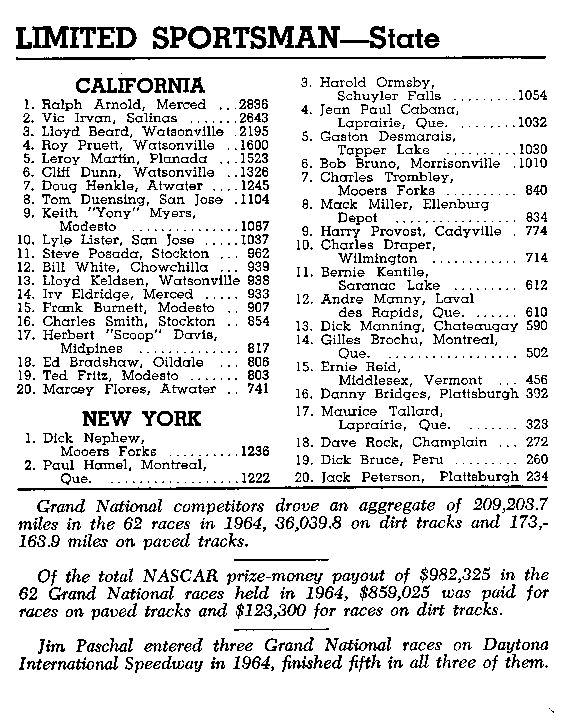 Courtesy of Gary Nephew
The basic difference in the sportsman classes with NASCAR was engine size. Airborne stuck with the limited sportsman class, running them in with the standard sportsman teams that would invade from further south in the state. This worked with Airborne, in conjunction with smaller tracks like Otter Creek Speedway in Vermont and Sranac Lake Speedway in Lake Clear. By the time Catamount Stadium started up, I think most of the Airborne teams [many of whom are in the list above] were full sportsman.
1965 - CATAMOUNT STADIUM
Milton, Vermont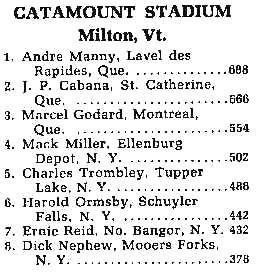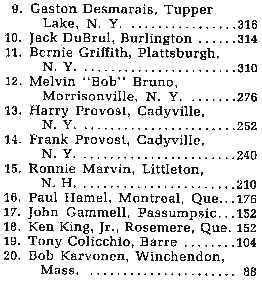 Courtesy of Gary Nephew
When the small consortium of Ken Squier, Jack DuBrul, the Cooley brothers, and Gordon Fitzgerald finished the rather speedy construction of their classy third mile asphalt track in the Northern town of Milton, Vermont, they were wise enough to follow Otter Creek in their membership with NASCAR. The new track had a tough time attracting a decent - sized field of sportsman coupes. Sometimes, the same cars would have to run more than one qualifier, just to fill out the program for the crowd.
Given these problems, listed above are the drivers who managed to spend the most time earning points at snazzy Chittenden County oval. Canadian veteran Andre Manny managed to comfortably outpoint a younger Jean-Paul Cabana and Cabana's team mate, former Canadian Champion Paul Hamel. Marcel "Mr. Clean" Godard, finished right behind Cabana, and then six New Yorkers who were regulars at Plattsburgh, New York's Airborne Speedway finished fourth through ninth before there finally placed a local Vermonter, Jack DuBrul, from Burlington.
Mackie Miller's fourth place accomplishment is somewhat of an upset because Miller never had as much equipment to work with as did other Northern New Yorkers like Reid, Nephew, Bruno, and Trombley. Ron Marvin, Johnny Gammell, and Tony Colucchio represented the Thunder Road drivers who were still running flathead Fords. Most of these runners can be seen on the Catamount Stadium Coupe Competitors page.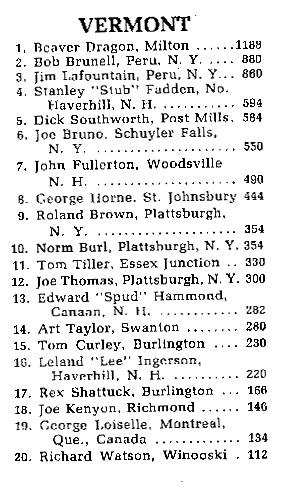 Courtesy of Gary Nephew
Many of these hobby division drivers went on to stardom - even hall of fame careers. Track chamions included Beaver Dragon, Tom Tiller, Jim LaFountaine, Art Taylor, Stub Fadden, and Lee Ingerson. Dragon became a NASCAR late model sportsman series champ, while Curley became a famed promoter and track owner.
Return to the Main Page
Return to the Main News Page
Return to the All Links Page
Go to the Main Competitors Page