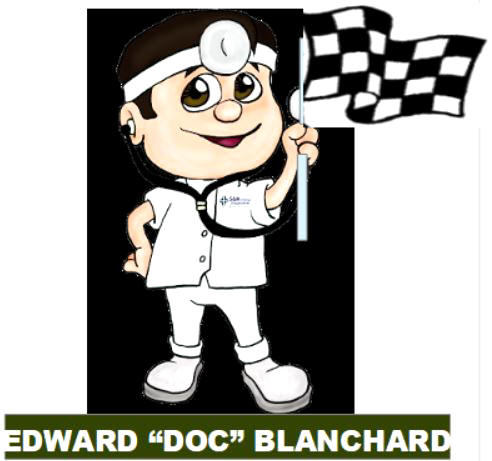 Like so many other young men at the time he was growing up, Edward Blanchard was nicknamed for a famous football player (in this case, a World War II era Army college player). Coming from a region of New York [ the Gloversville / Johnstown area ] that was just teeming with young men who loved anything to do with racing, he naturally gravitated towards stock cars and the Fonda Speedway. At different times, being involved with such as Herb Roots, whose son Skip would race in the 1960's - and sometimes fielding his own cars, Doc Blanchard raced his way around the sport for decades.

Courtesy of the Starin Family
Doc had taken over Herb Roots' 271 car in 1958. . He was involved in a bad wreck at Fonda with a Roots car numbered H2 in 1958. Skip Roots would go on with the H2 number and apparently Herb had Doc drive another, similar - looking 2 car
at Rochester.

Courtesy of the Starin Family
Doc was involved in the serious Jerry Jerome wreck at Fonda and wiped out the old Herb Roots car 271 [now called H2] for good in 1958. I haven't ever seen what was considered Doc's first ever car.
.
When we lost Doc in 2018, he had been a fixture at legends' nights at Fonda after having raced dirt sportsman coupes, pavement coupes, and his well - remembered pavement Valiant at places ranging from Fonda, to Victoria, to Albany - Saratoga, to Vermont's Otter Creek Speedway and many more venues. One high point was making the cover of Stock Car Racing magazine, running alongside Don Diffendorf at some big racce like Trenton, Langhorne, or the like.

Courtesy of Gerry LaVallee
Doc got a ride, fairly early on, in the Bob Miller
robin's egg blue Studebaker sportsman.

Courtesy of Rick Parry
Supposedly a former Ray Vine car, this must be an early car for Doc. Notice the connection with other Johnstown / Gloversville racing folks with that Dostal Brothers ad.
.
I first saw Doc running a silver #95 at Otter Creek Speedway in 1962, having seen my first NASCAR sportsman coupes there the year before. Doc was joining the likes of Ken Shoemaker ( Drellos' 111 ), Tom Kotary ( Romano's 97 ), Ed Pieniazek ( Welch's 77 ), George Baumgardner ( Vine's 75 ), Paul Marshall ( Swears' 51 ), and more at that pasture track where NASCAR national points were easy to gather. It would inspire us to get to Fonda for the first time that same season.

Russ Bergh Photo Courtesy of Bob Novak
Doc drove this sportsman in 1962. I am not clear if it is a former Vine car that ended up with Trinkhaus or a
former Trinkhaus car Doc ended up with.

Courtesy of Ron Wetzler
An early 49. No idea if it came before or after the other
49's shown in sections below.




From Dan Ody's 8MM Old Speedways DVD's
Doc Blanchard never won any track titles or anything like that, but he was a well - thought - of competitor who wasn't out there causing problems for others. He was part of that huge racing community in J'town and the Glove City that includes the Roots, Bruce Dostal, Red Knoblauch, Tony Achzet, the Starins, Ray Vine, the Romanos, and countless others. Much like the Whiting, VT group that kept Devil's Bowl in racers for decades, this core of enthusiasts were the heart and soul of earlier Fonda Speedway. And Doc was the heart and soul of racing, if there ever was one.

John Grady Photo
Doc with a nice little sportsman coupe at Fonda
around 1963ish. It's probably olderr than one above.

Source Unknown
Another 49, that looks like it sitting on pavement.

Doc's Valiant deserves a section of its own. It's most peoples' favorite Blanchard car.

Source Unknown
The Valiant came upon the scene around 1970. I saw it
at Devil's Bowl, when the track was paved the first time.
it ran against Andy Romano's Galiant Valiant there.


From Jalopy Journal
A different view.

Courtesy of Michael Cranston
The Valiant on the trailer.

Courtesy of Michael Cranston
The Valiant on the trailer. A little later version, I think.


Courtesy of David Kilmartin
A good look of Doc in the Valiant.

Ladabouche Photo
Doc, at an All Star League race at Catamount Stadium,
taken by yours truly in crappy light.



Mike Richards Photo
Doc, at an All Star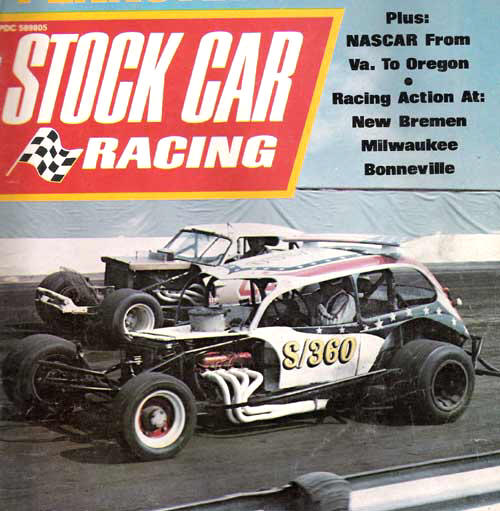 Ladabouche Collection
TA defining moment for the Valiant on the cover of SCR.
A FEW MORE SHOTS

John Grady Photo
A closeup in the Miller car.

Russ Bergh Photo
This coupe got a lot of photo attention.

John Grady Photo
A pose next to friend Johnny Kollar's first
car, the former Spence Parkhurst coupe.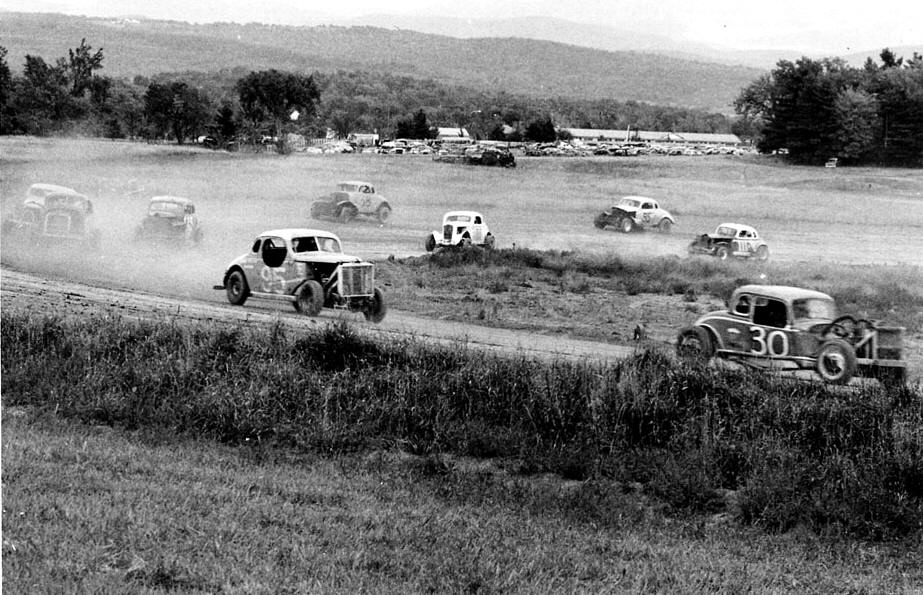 Bob Mackey Photo via John Rock
Doc is seen in the rear of this race, as the sportsman cars always started behind the hobbies at Otter Creek Speedway.
This is 1962. Others in the photo are Future Devil's Bowl and Valley star Ed Foley [30]; Vince Quenneville, Sr. [2nd from left];
Bob Bruno [all white coupe]; Ken Meahl in Jerry Cook's 38 [outside of Bruno]; and Ken Shoemaker [111].

Courtesy of George Kollar
Doc, in the Johnstown, NY - based Red Cromer car.

Bob Frazier Photo
Doc, in a scrum at Devil's Bowl around 1968.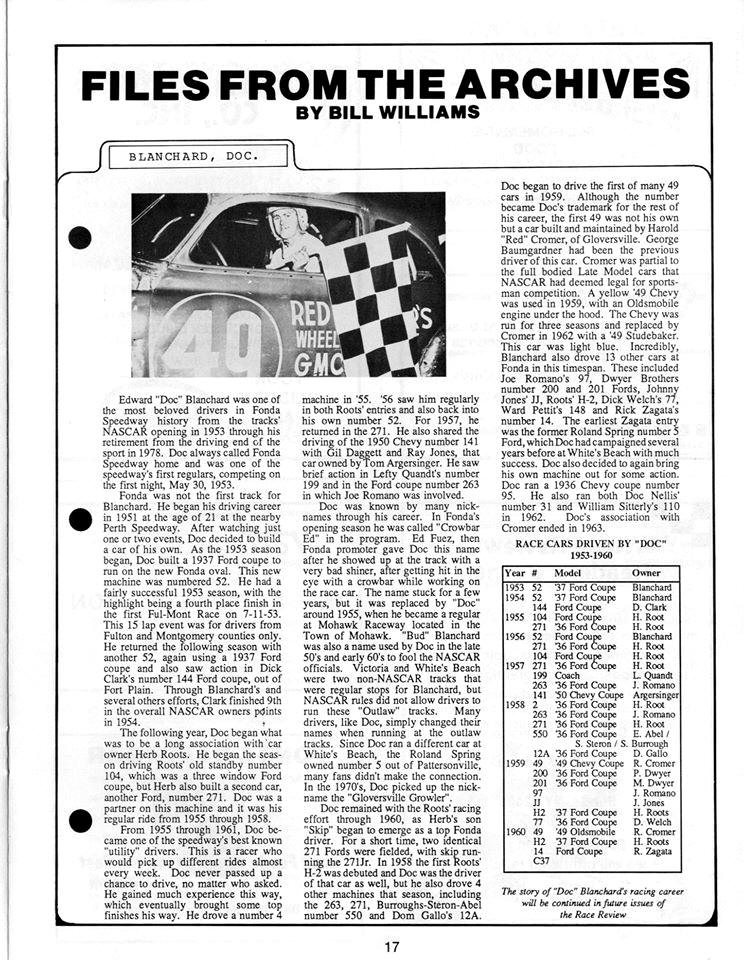 Courtesy of George Kollar
An article about Doc.
Return to the Main Page
Return to the Main News Page
Return to the All Links Page
Return to the New York Drivers' Link Page