The BOB CURTISS PAGE
The Invaders from Plympton, Mass.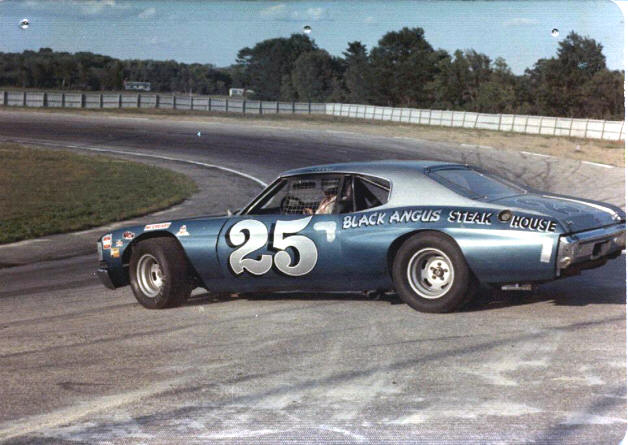 Bob Doyle Photo Ladabouche Collection
Robbie Crouch, in his only year of driving for Curtiss, heads out, onto Catamount.
This car was one of my best lettering jobs.
By 1973, Catamount Stadium had survived its 1968 dropping of the prestigious NASCAR modifieds and had, once again, established its own slate of familiar heroes. The new heroes were in the NASCAR late model sportsman division, and that had grown out of the track's onetime rough and tumble Flying Tiger division. The NASCAR points points that were put out every winter, following the end of the season, were now showing names like Beaver and Bob Dragon, Ron Barcomb, Bob Giroux, and Stub Fadden - all of whom had moved up from the Tigers.
The track had begun to attract some big - dollar teams from Southern New England, spearheaded by the 1971 arrival of Little John Rosati. SInce Rosati's arrival, the ranks had been swelled by Fast Eddy Ruggieri, Jerry Driscoll, Bob Karvonen, and others. When just another Norwood Arena showed up at the pit gates after the 1973 season had begun, no one took much notice. A well - used maroon 1968 Chevelle, numbered 25, and driven by someone named Paul Rogers [a name totally unknown in Vermont, although very familiar at Norwood].
The driver, while unknown, was much better known than the owner, a soft-spoken, standoffish young man named Bob Curtiss, who had run his shoestring race operation out of his mother's home in Plympton, Massachusetts for the past few years. Curtiss and Rogers were highly successful, despite the fact that Bob was so underfunded that he actually once stole one of his mother's aluminum salad bowls to help construct that '68 Chevelle.
I quickly became familiar with Curtiss and the very young driver he had picked to replace Rogers [who didn't want to travel to Catamount every week]. I was to letter the car for Curtiss to get his new sponsor, the Black Angus Steak House on the car. It wasn't a very talkative time, even the car was often headquartered at my sign shop, in my house. Neither Curtiss nor his long-haired teenage driver, Joey Kourafas were much for talking. Bob and Joey went on to make a huge dent in our racing world, including winning the first- ever Oxford 250. I never see Bob any more, but I thought he deserved a page of his own.

Ladabouche Collection
The last Curtiss car, driven
by protege Randy Corey

Ladabouche Photo
The Crouch - driven Curtiss car,
at my house after lettering.


Denis LaChance
The last Curtiss car, driven
by protege Randy Corey.
Another Bill lettering job.

Ladabouche Photo
The Crouch - driven Curtiss car,
at my house after lettering.
This is two years after the
first blue version.


Jim Watson Photo
Kourafas had the Black
Angus deal before Curtiss..

Courtesy of Chris Companion
Kourafas won a Governor's
Cup for Curtiss.

Courtesy of Chris Companion
Corey pulls out of a Governor's
Cup race towards the end of
the team's life, when funds were
running out.


Courtesy of Chris Companion
Corey wrecks the car
during one of Catamount's
Friday night shows around
1979.


Catamount Progam Photo
Bobby Healey, an old
Norwood pal, drove for Curtiss
for one year.


Ladabouche Collection
The Crouch version again.

Jim Watson Photo
Robbie, before the car
was re-painted and
re-numbered.

Ladabouche Collection
Paul Rogers, Curtiss'
original driver, at
Norwood Arena.
Return to the Main Page
Return to the Main News Page
Return to the All Links Page