<![if !vml]>
<![endif]><![if !vml]>
<![endif]>
<![if !vml]>
<![endif]>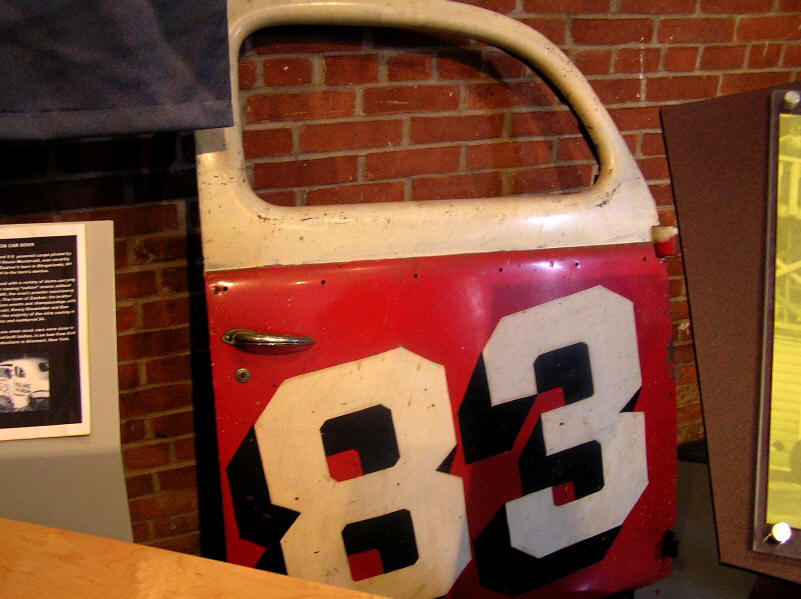 Ladabouche Photo
The door off one of Howie Westervelt's earliest Wright cars,
as it sits at the Saratoga Automobile Museum.
Starting in the 1950's, Cliff Wright developed a name in the New York State racing community, mostly as a car builder and owner. Throughout much of the years that Wright had highly competitive coupes, he was partnered with sponsor, Tollgate Ice Cream - from Slingerlands, New York. Toll Gate owner Ron Zautner and Wright were familiar figures at tracks ranging from the Pine Bowl, to Fonda, to Lebanon Valley, to Stateline Speedway.
The team had anywhere from one to as many as three cars during various time periods in the 1950's into the early '70's. Perhaps, the team reached its highest point of success in the later 1960's when they fielded the modified #24, driven mostly by Kenny Shoemaker, from Westmere. This car ran roughshod over the competition at major league tracks like Fonda and at smaller venues like Victoria.
I feel privileged to have met Wright and Zautner at the once-monthly breakfast meet in Watervliet.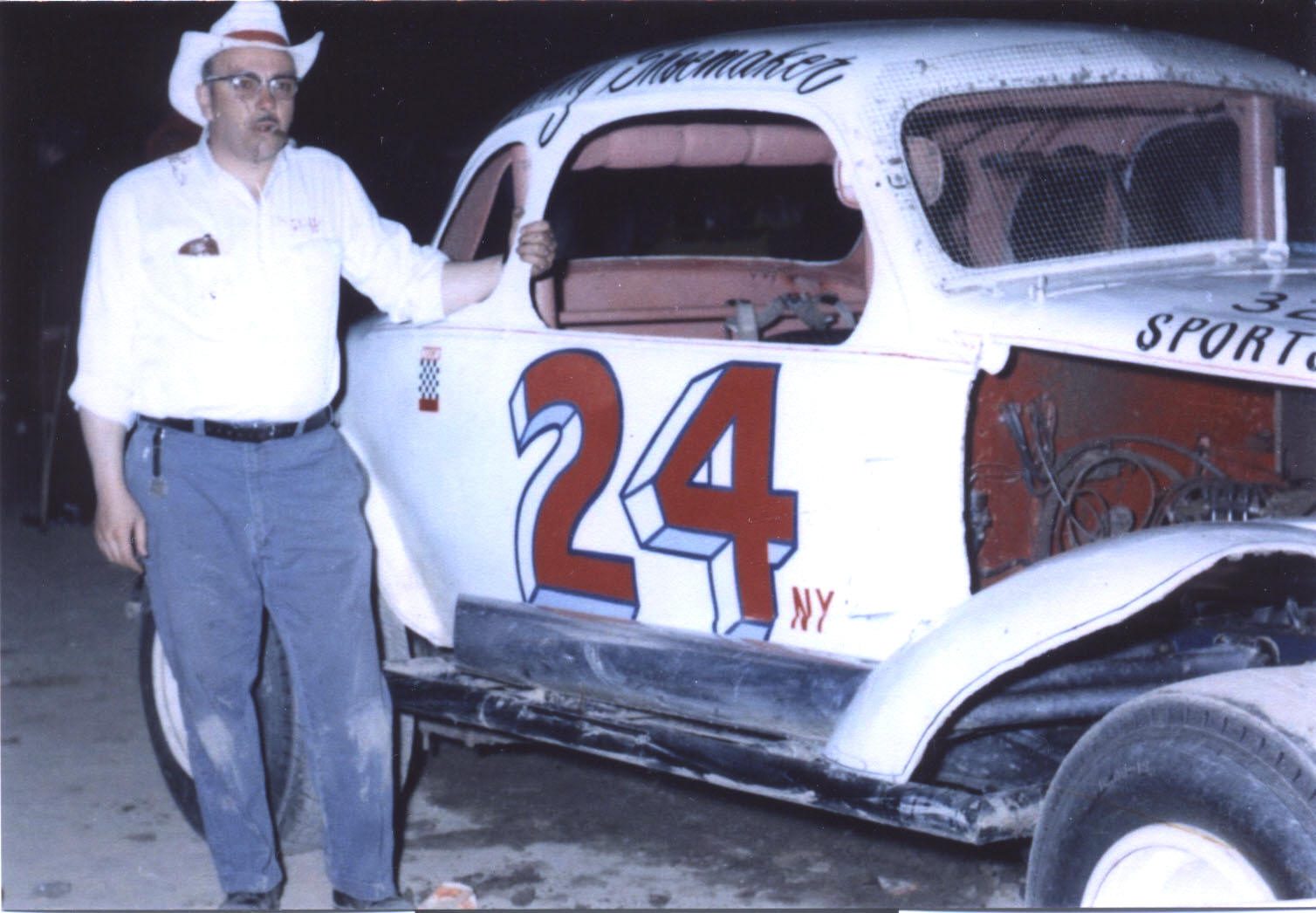 John Grady Photo
Cliff Wright poses with his potent #24 around 1966.

Gene Strenkowski Photo
Howie with an early
Wright/Zautner 83.

John Grady Photo
Howie with the same
car, the source of the
door at Saratoga.


Joe Connors Photo
Doug Garrison,
Wright, Zautner, and
a very similar car.



Photo Source Unknown
Howie with an early
victory, with the whole team.

Photo Source Unknown
Howie


From Racers Bored Site
Stretch Van Steenberg,
with what I believe to be
a Wright car.

Arnie Ainsworth Photo
Howie and Stretch
in Pine Bowl action.

Photographer Unknown
Howie with one of
the team's earlier cars,
at Pine Bowl.


Photographer Unknown
The car is beginning
to have that familiar
Wright / Zautner look-
particularly the roof light.



Russ Bergh Photo
Similar car, with more
refinement - at Fonda.

Conde / Parry Site
Donnie Wayman,
Cobleskill, NY
with a car very similar
to the one Westervelt
poses with above.


Otto Graham Site
Schenectady Collection
Howie Westervelt,
Ravena, NY
at Fonda

Ladabouche Photo
Wright [ black hat]
Zautner to his right
The monthly Watervliet
racing oldtimers' breakfast

Ed Fuez Collection
Westervelt

Ray Williams Photo
Westervelt against
Van Steenberg at
The Valley.
LATER CARS

Russ Bergh Photo
Ladabouche Collection
Donny Wayman,
Cobleskill, NY
A circa 1964 version
Wright car - one of
last Fords

Russ Bergh Photo
Ladabouche Collection
Donny Wayman,
Cobleskill, NY
A circa 1965 version
Wright car - one of
first Chevies.
The one Shoe would drive.