A Little - Known, Big Contributor in Early Racing
Bob Pratt came from a large family in Milton, Vermont. Always interested in cars and racing, he had the occasion to be in the military service for a while
with Richard Petty. Upon discharge, he maintained a long - distance friendship with the Pettys, which afforded him some great tech advice and some apparentl access to racing parts that some others in the Northeast did not have. I only go to know Bob by 1968, when I moved north to Milton to teach in the publica schools there. In the 1950's, from what little I have been able to learn, Bob played important roles in race efforts for Williston's Gordy Owen and helped Royce Tucker to construction
sportsman coupes out of the Heil Northeast garage in South Burlington.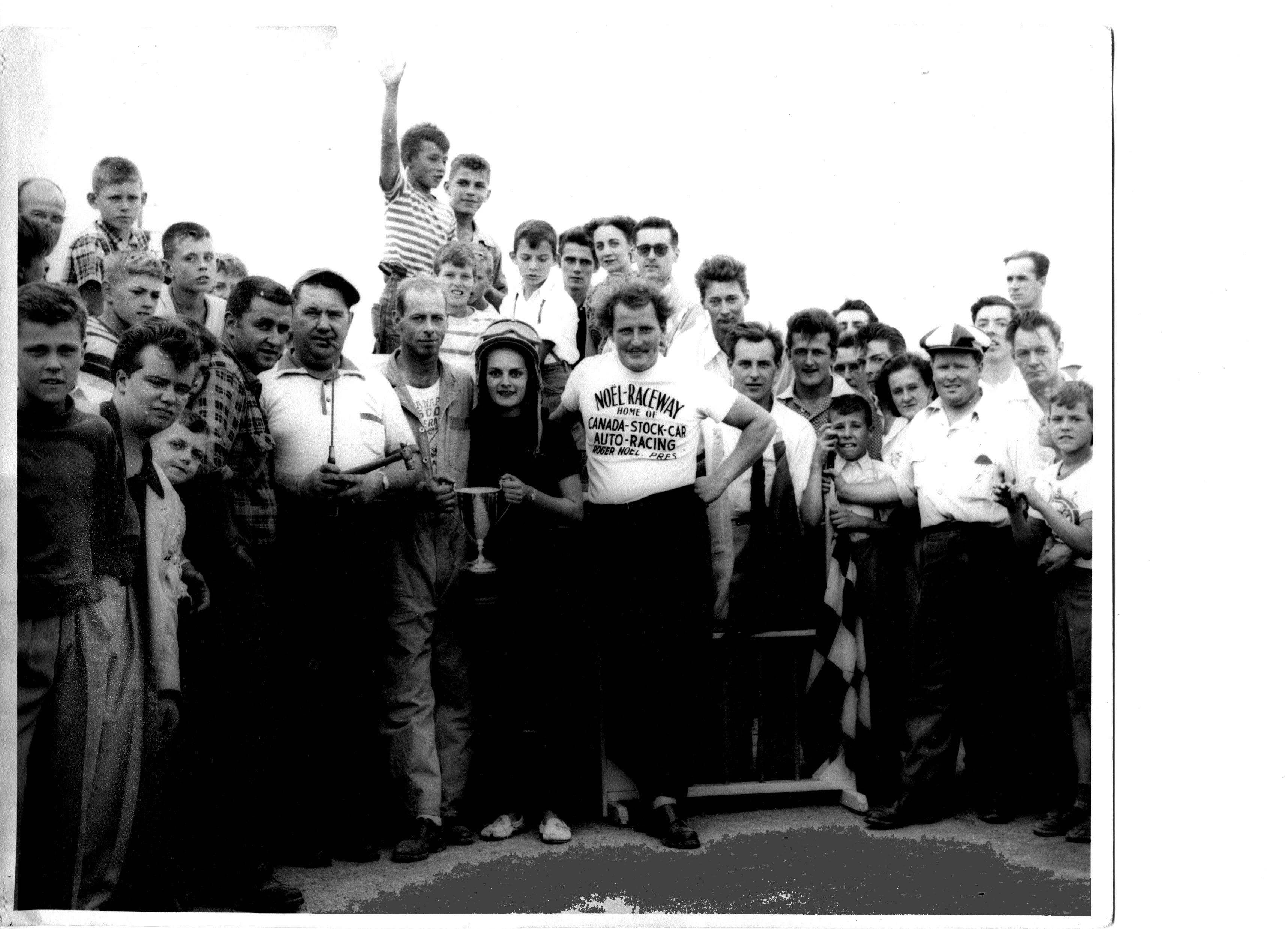 Owen Family Photo via Cliff Owen
A 1940's trip to Noel Speedway, outside Montreal. Bob appears in this photo 4th left from Mr. Noel [with the Noel Speedway T shirt].
To Bob's left is Ralph Bushey, owner of many of Gordy Owen and Bob Bushey's winning race cars. Owen is the man between the trophy girl and Bushey.
As the 1960's ushered in, Pratt had attended the new Thunder Road track in Barre, but was not totally involved to the extent he had been before. Then, in 1961, Otter Creek Speedway opened up near Vergennes, and Lee Tucker [brother to Pratt associate Royce Tucker] was heavily involved. A number of men and teams Pratt was familiar with had tried their hand in the hobby division at Otter Creek, while Royce Tucker was fielding locally - made sportsman coupes. In 1963, when the track held a
special NASCAR sportsman show, Pratt showed up with the unlikeliest of entries, a former Permatex Pontiac. The heavy car [which had been gone from Elmo Langley, to Jean - Paul Cabana, to Jack Dubrul, and then to Bob] was way too heavy for a dirt bullring. With Gordy Owen driving, the big car would spin the wheels all the way down the stretches and labor through the corners. That was Bob's last race with it; it was sold off to Plymouth, NH and was again used at Daytona.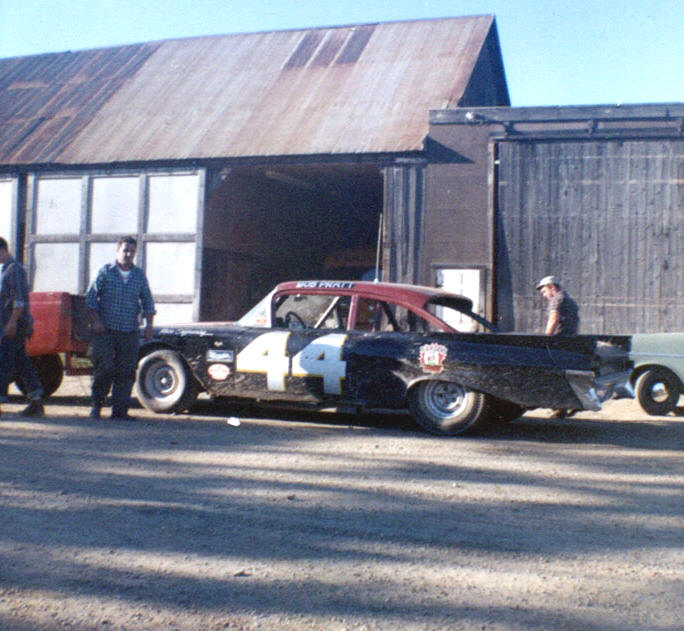 Ladabouche Photo
Bob waits patiently while I snap this photo of the Pontiac. Doubtless, he was discourged by the end of the program. Traces of the graphics Jack
Dubul used are still seen on the front fender.
During Catamount Stadium's original Flying Tiger era, Clem Despault had a highly - effective 1955 Chevy which he tells me Bob Pratt had a lot of
involvement in the construction and dssign. Clem also says Pratt was able to get a few trick parts from the Pettys for the car. Clem ran the car from around
1967 through the 1970 season [a season in which the tracks were running a limited sportsman car]. Clem won a track championship and many features with the car. Further success may have been limited by Desapault's always - shoestring racing budgets.

Courtesy of Rich Palmer
Clem, with what looks like a
brand new Chevy.

Courtesy of Andy Boright
Clem gets by a crashing Bobby
Giroux.

Ladabouche Collection
Free Press Photo
Tom Tiller, already on his second car of the season,
bumps Clem at T Road.

Ladabouche Photo
Clem obviously had not done much to thecar after the
1969 season. This is arrival for
Spring practice in 1970.

Courtesy of Chris Companion
This wreck at Catamount made
Clem decide to cash in the
'55 Chevy for good, finally.
In 1975, Pratt built a Chevelle and tooki on old buddy Clem Despault [who had been out of racing for a year or two] to drive. The Chevelle was a head turner, with its sharp body work that included flared fenders. But its considerable weight was alsways a problem. The team struggled mightily with the car. Teachnology had moved ahead, and most of the competition was now driving Allisons, Banjos, and other professionally - built chassises.
Despault, usually a pretty rough-looking character when he drove, appeared the Spring Green practice at Catamount with a snazzy new driver's suit and goggles - both of which he never had used before. The Pratt crew was new, but it included a mix of young guys and some of the old hands from the Malletts Bay Speedway days. It promised to be interesting. The Pratt/Despault pairing did not produce results, andthe team acutally stopped showing up much after the middle of the 1976 season.
The following year, Pratt returned with family friend and second generation driver Cliff Owen, the young son of former Malletts Bay and Airborne great Gordy Owen. Owen did not have much more luck with the obviously - heavy Chevelle; and eventually the team sold the car to up and coming Hurricane star Mike Barry.
Barry, with his diminutive crew chief Randy Chapin, began carving weight off the car, and returned with a bright red paint scheme and the number 8. Barry, who was destined to be a n Oxford 250 winner later in his career, had a respectable season with the car before eventually upgrading.
The Bob Pratt Chevelle always had a soft spot in my heart. While sluggish, it was at least very good to look at. Being a sign man, myself, I always loved the look. I don't know what happened to it after Barry first upgraded to a later body Chevelle and ultimately went on to drive for big dollar operations like Remo Pizzagalli and Phil Gerbode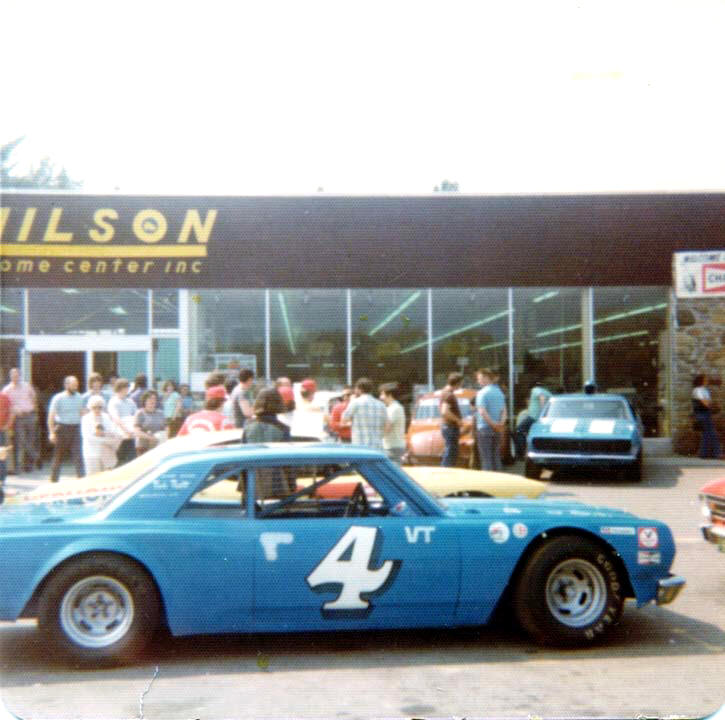 Photo Courtesy of Bob LaLancette
The fancy Chevelle drew more than a few stares at the 1976 Zayre car show.
It could hold its own with its next door neighbor, the beautiful Beaver
Dragon Vermont Mack car, one of the show winners that year.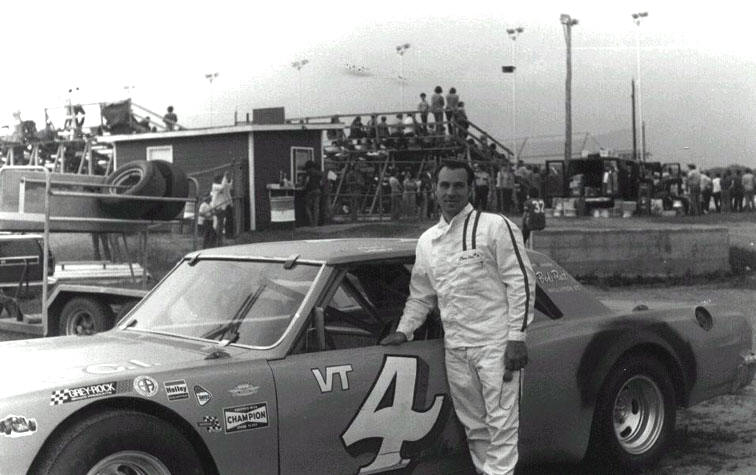 Ladabouche Collection
A snappy - looking Clem Despault at Catamount. Obviously the fender flares
were already catching hell. This is a great view of the pit
snackbar, loading ramp, and older pit bleachers.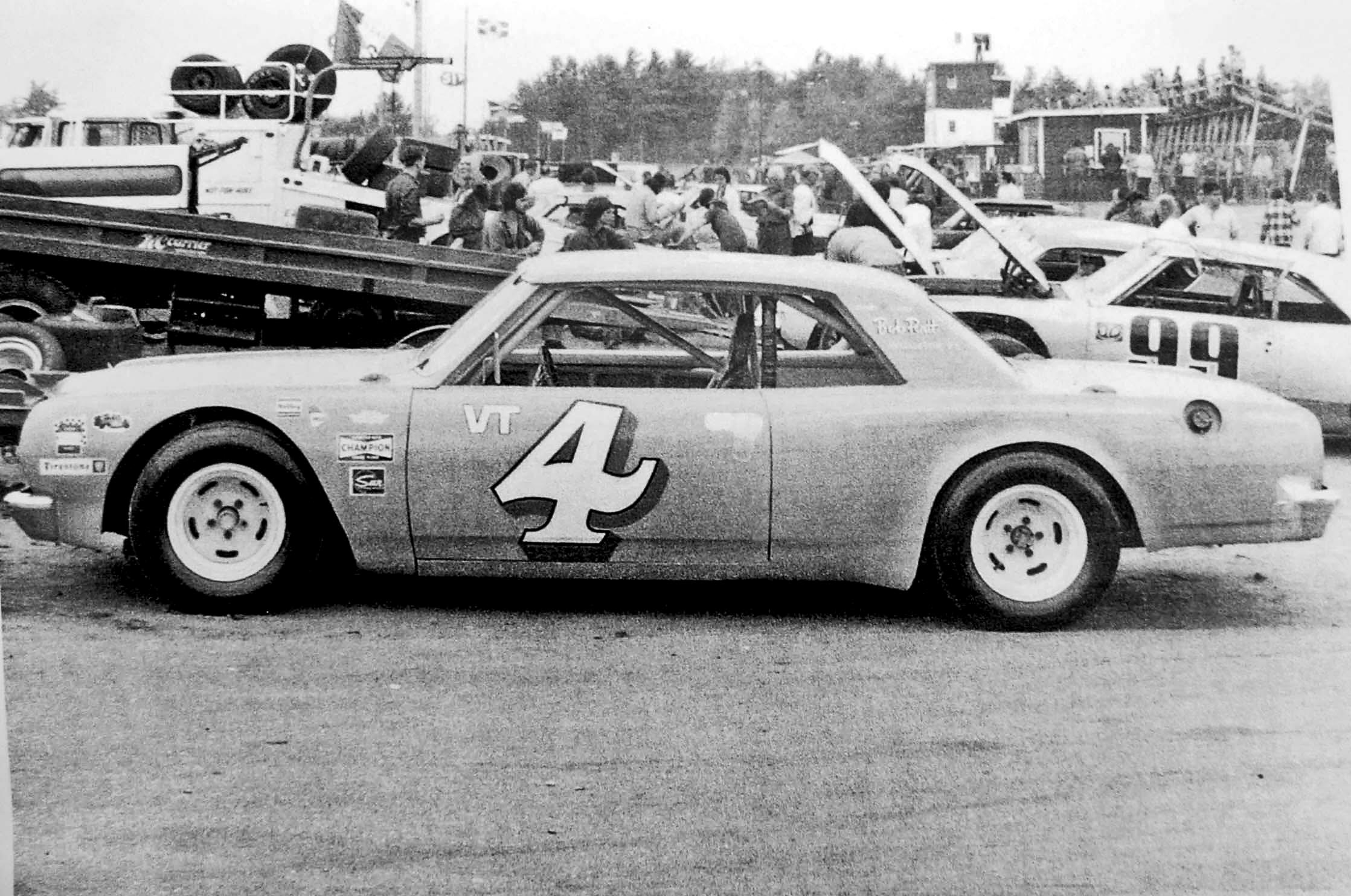 Courtesy of Cho Lee
Another black and white shot of the car.

Denis LaChance Photo
Clem heads out for practice with the Pratt Chevelle.

Courtesy of Andy Boright
More of the Pratt Chevelle,
in Catamount pits.

Courtesy of Andy Boright
Mike Barry's version of the Pratt Chevelle, on Catamount pit ramp.

Denis LaChance Photo
Barryheads out for practice with the former Pratt Chevelle.

Source Unknown
Barry in action.
Return to the Main Page
Return to the Main News Page
Return to the All Links Page