BILL'S [Somewhat] WEEKLY COLUMN/BLOG PAGE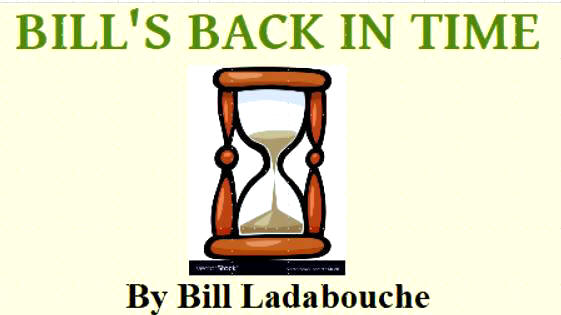 FINALLY GETTING BACK TO AL

I first ran into Al Fini when I was writing columns for the long – departed Speedway Scene newpaper in the 1980's. He had contacted me, then the president of New England Antique Racers [NEAR] to let me know I column I had written [yes, written in those days] had inspired him to take a race car of his that had been burned in a fire and restore it. He also shared that he was, in fact, the same Red Carr, whom I had frequently referenced in the column.
I was discussing one of my favorite racing divisions, the Albany – Saratoga Speedway Semi Late Model class, which ran for a number of seasons before being displaced by the Chargers. It was a kind of remarkable class, with cars ranging from the typical '55 Fords and Chevies, to some body types that had been slipped in through a loophole in the rules – pre WWII sedans, for instance.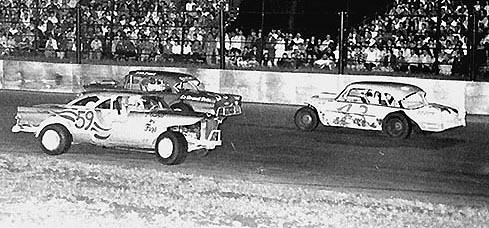 Ladabouche Collection
The Albany – Saratoga Semi Late Models were, in fact, mostly
cars like these – Jerry Pennock [59], Don Antolick 43, and
Ken Platt [99]. But the Holiday Magic team of older sedans got in
under the rules, too somehow.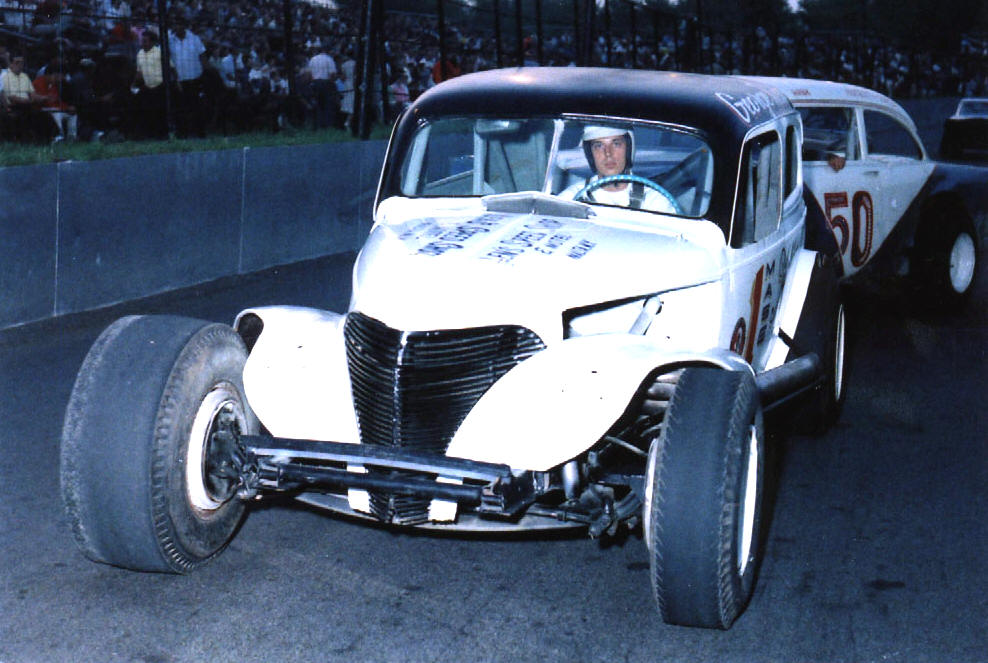 John Grady Photo
The Albany – Saratoga Speedway [or Malta, as most call it] had begin in 1965 and was running a successful slate of modifieds due to the connections promoter Joe Lesik had with Utica – Rome Speedway and an apparent good link as well with places like Riverside Park Speedway in Agawam, Massachusetts – the birthplace of the controversial Holiday Magic sedans.
In the first season or so at Malta, the SLM class went along without those sedans putting in an appearance. At that time, with the stars of the class being names like Tommie Corellis, Mechanicsville, NY [Jokko Mutterer's #10 Ford]; George Rettew, Chicopee, MA [#60 Ford]; Ken Platt, Taberg, NY #99 Roerig Bros. Ford]; Lucky Sutton, Rome, NY [#82 Oldsmobile – the former Bernie Miller car]; Norm Moyer, Oneida, NY [#56 Olds]; and Don Antolick, Stillwater, NY [#43 Ford]. During that period, Riverside Park, home track of Rettew, also featured an up and comer named Red Carr.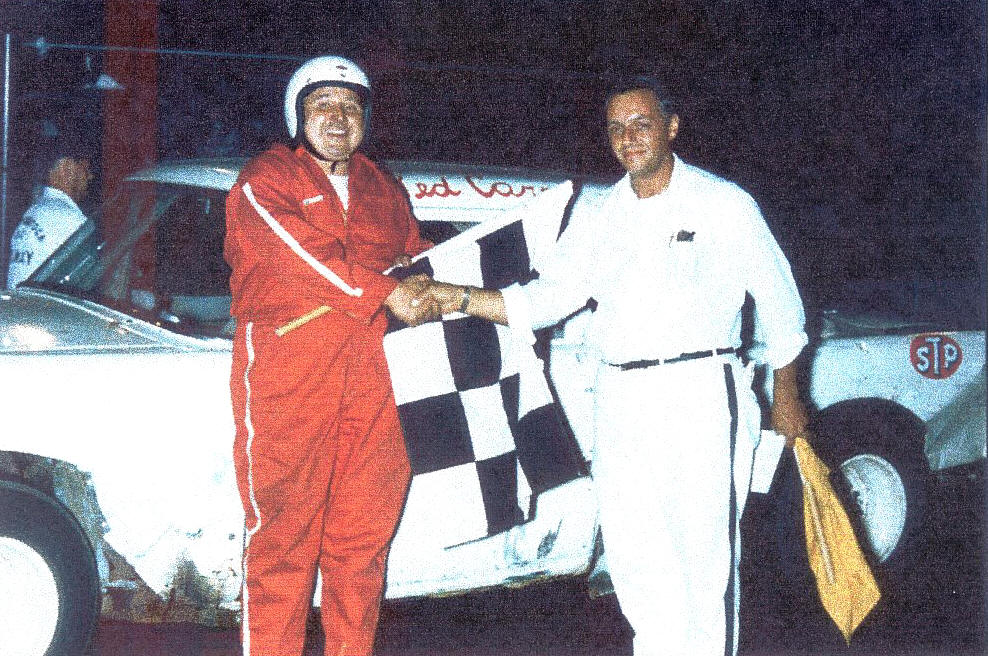 Courtesy of Al Fini
Red Carr takes on in a more conventional late model car at Malta
around the mid '60's. He is seen with starter Johnny Telleni.
Columnist Joan Secor, then writing for Gater Racing News, did a great article on AL Fini [Carr]. Despite the fact gater covered mostly New York, Secor realized that Fini was racing now regularly at Malta and had her "opening" to do the piece. Fini then of East Longmeadow, MA, had not been racing long and was using a couple of racing pseudonyms because he wasn't sure how his wife would like the idea. The Finis' Old Country Farms operations was one of the largest retailers of fruits and vegetables in the region; therefore, it could be thought he had no business risking himself in a stock car.
While finding out she was OK with the racing, he raced under using Red Carr as his name from then on. Fini had been exposed to racing through his uncle and had been involved as a mechanic until heading off to college. Once graduated, he and a friend had a chance to get a race car for the princely sum of $50, and it was Al who ended up in the driver's seat. He ran both that first both at Riverside and later at Malta. He states in the Secor article he liked the more stringent safety requirements at the NASCAR track as compared to the Harvey Tattersall – promoted, United Stock Car Racing Club – sanctioned Riverside Park.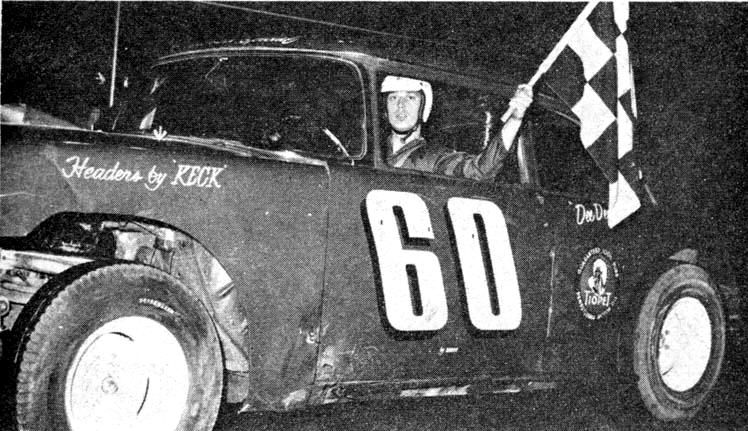 Cavalcade of Auto Racing Photo
Fellow Bay Stater George Rettew was a rival of Fini's until they became
teammates in the Holiday Magic cars later. Below – Red Carr, as seen
at in trouble Riverside Park somewhere during the big Malta season.
The car number is changed to 03, which ironically became the number used with the similar Godfrey
Wenzel sedans later. Someone like Wenzel or Fred Rosner definitely had a hand in building
the Holiday Magic cars.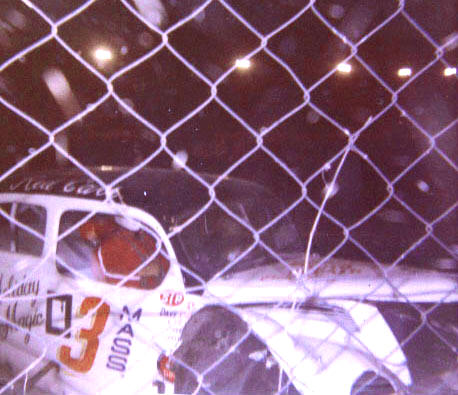 Courtesy of Al Fini
Fini managed to finish in second place with a '56 Ford he ran at Malta in 1965. Then, in a very unusual step he returned to Tattersall to run in a USCRC Grand American event at Eastern States Expo in West Springfield, not that far from home. Tattersall's GA division was a poor brother to NASCAR's Grand Nationals, featuring a few newer later model cars and a bunch of field fillers run by some of his loyal drivers. Fini would be a filler.
In the Secor article, Al says: "I drove a Late Model reace last yeat at Eater n States. Of thirty – three starters, I was able to time trial fifth... with my little '56 Ford sitting around all kinds of '65 and '64 Fords, Dick Dixon, Roy Haloquist, and Don MacTavish were all right around me and I'm sitting right in front of them... I was running a beautiful fourth until about thirty laps from the end when the rear end blew. I would have finished fourth, I think." [I would add to this that I had seen that division at the Rutland Fair a year or two before that and some of the guys like Hallquist and Mal Delameter did nothing but run that class. Hallquist always had brand new Fords.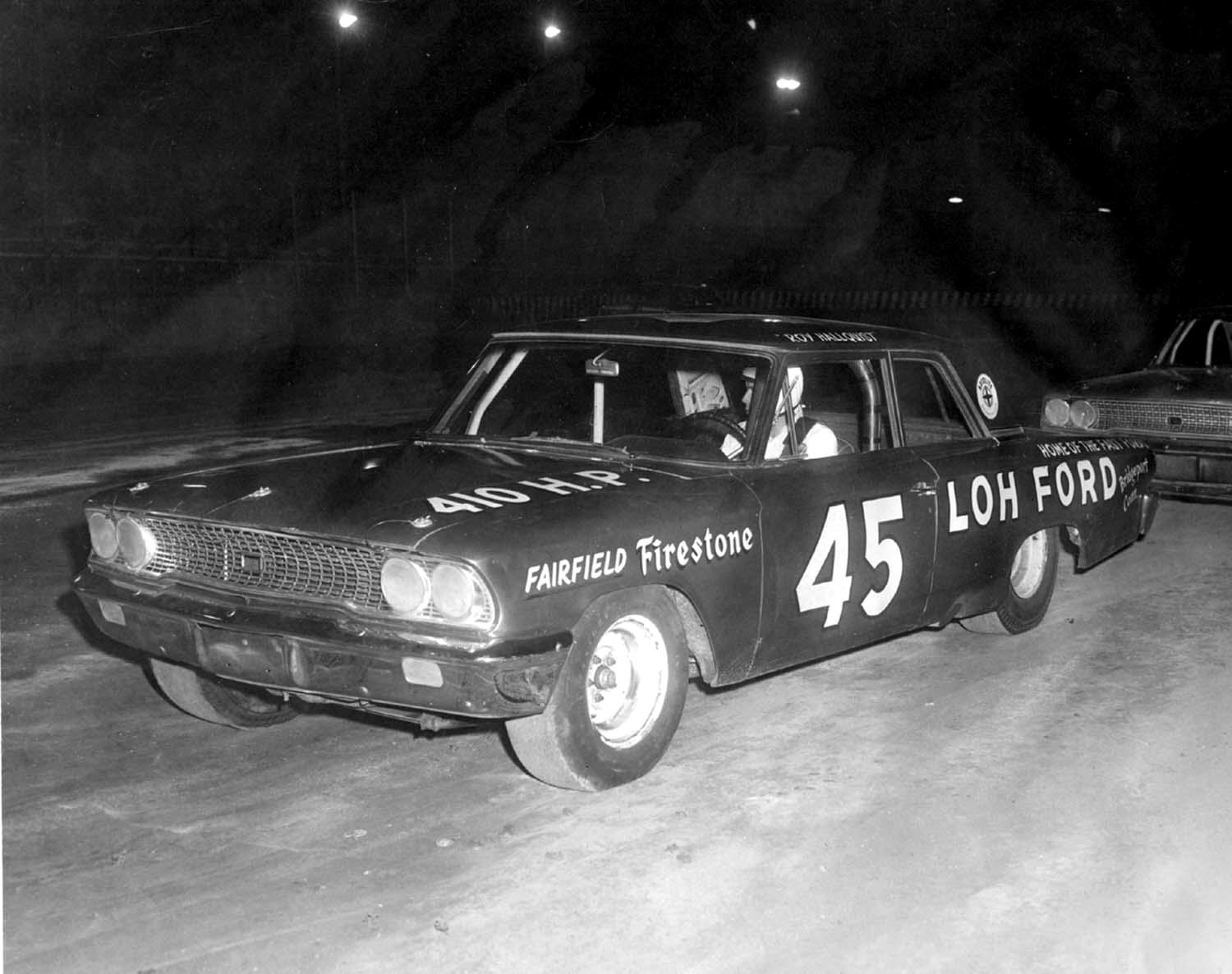 Courtesy of Cho Lee
Grand American regular Roy Hallquist always had new Fords
to competed against a Grand American field that was usually
populated with less – than – new equipment like this old
mopar of Buddy Krebs [below].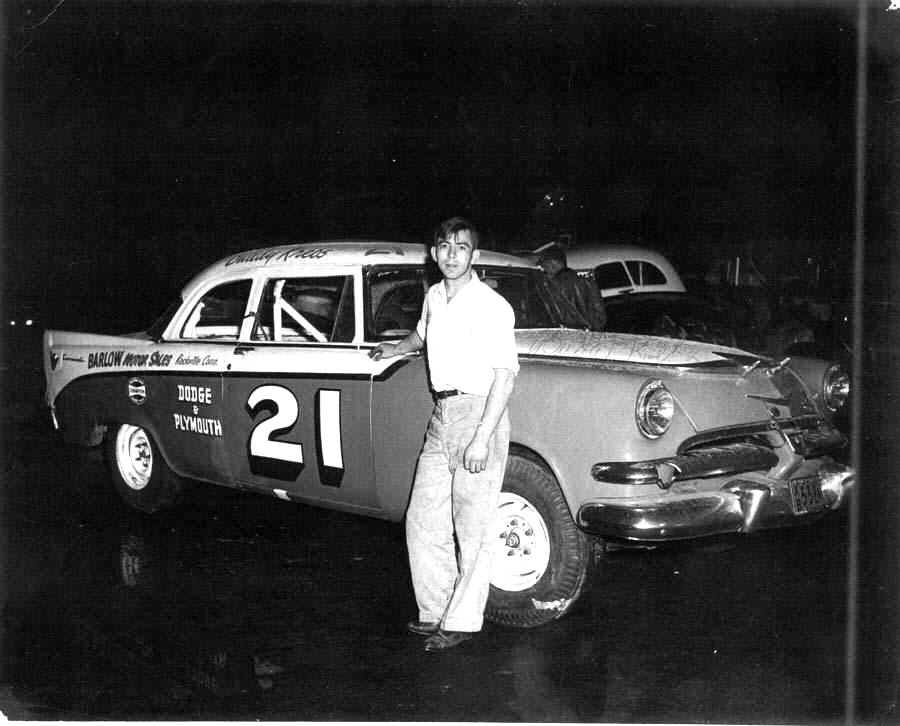 Courtesy of Cho Lee
In the Secor article, Al gives little info about the Holiday Magic sponsorship or the construction of his Ford and Rettew's Chevrolet sedans. He does mention a Dave Parent as the owner of his car at the time of the article. He says the Ford had a 312 C.I. bored and stroked motor. He makes a vague reference to a $150 car and how there is no way he could race a multi – night schedule. He also opined that, even in the mid '60's, he felt the sportsman division was being dominated by professionals like Rene Charland and Ed Flemke.
I get how he didn't feel he wanted to compete with guys with big sponsors and full time mechanics; but I also have serious doubts the Holiday Magic cars were worth $150 either. Along with the well – heeled Norm Moyer and Roerig brothers cars, the Holiday Magic cars were the class of the field. Rettew, the Malta champion, Fini [2nd], Moyer, Platt [Roerigs' driver], Don Antolick, Sutton, and a few others had a big edge over the rest of the semi late model field.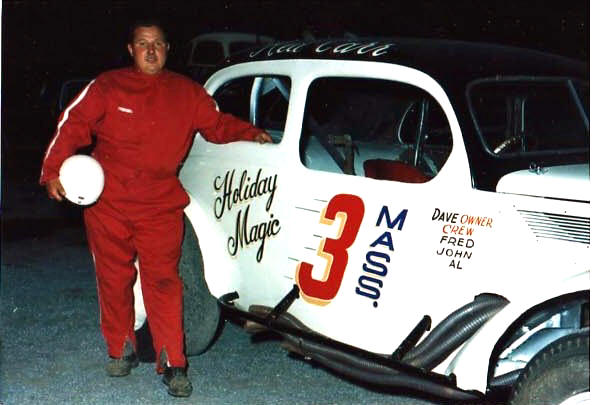 John Grady Photo
The two Holiday Magic Cosmetics cars, at Malta.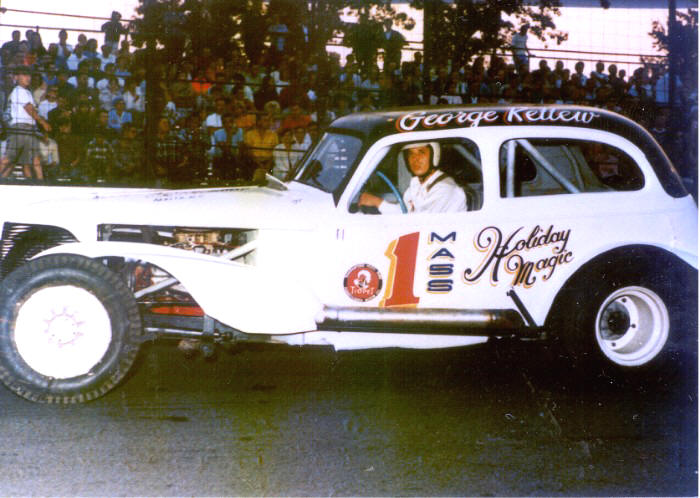 John Grady Photo
Al gives huge credit to Charland for advising him and teaching him about a successful race car operation. He also made it a point to give credit to Bill Wimble, a sportsman star at Malta and another former NASCAR National Sportsman champ for giving him a lot of pointers on setup and driving patterns. He also points out how frustrating the sport can be, citing one race that he led, time and time agin only to be set back by one thing or another. He never did mention if he won or not.
Eventually, by around 1970, the Semi Late Model division was phased out in favor of lower budget, automatic transmission Charger cars. The class would produce some of Northeast racing's biggest names. Fonda had begun a late model class and was stealing many of the Malta cars like Moyer, Antolick, and others. The Red Carr article came before that, so I can only guess that the demands of running a huge truck farm and the fact that his division was disappearing led Al Fini to hang up the helmet.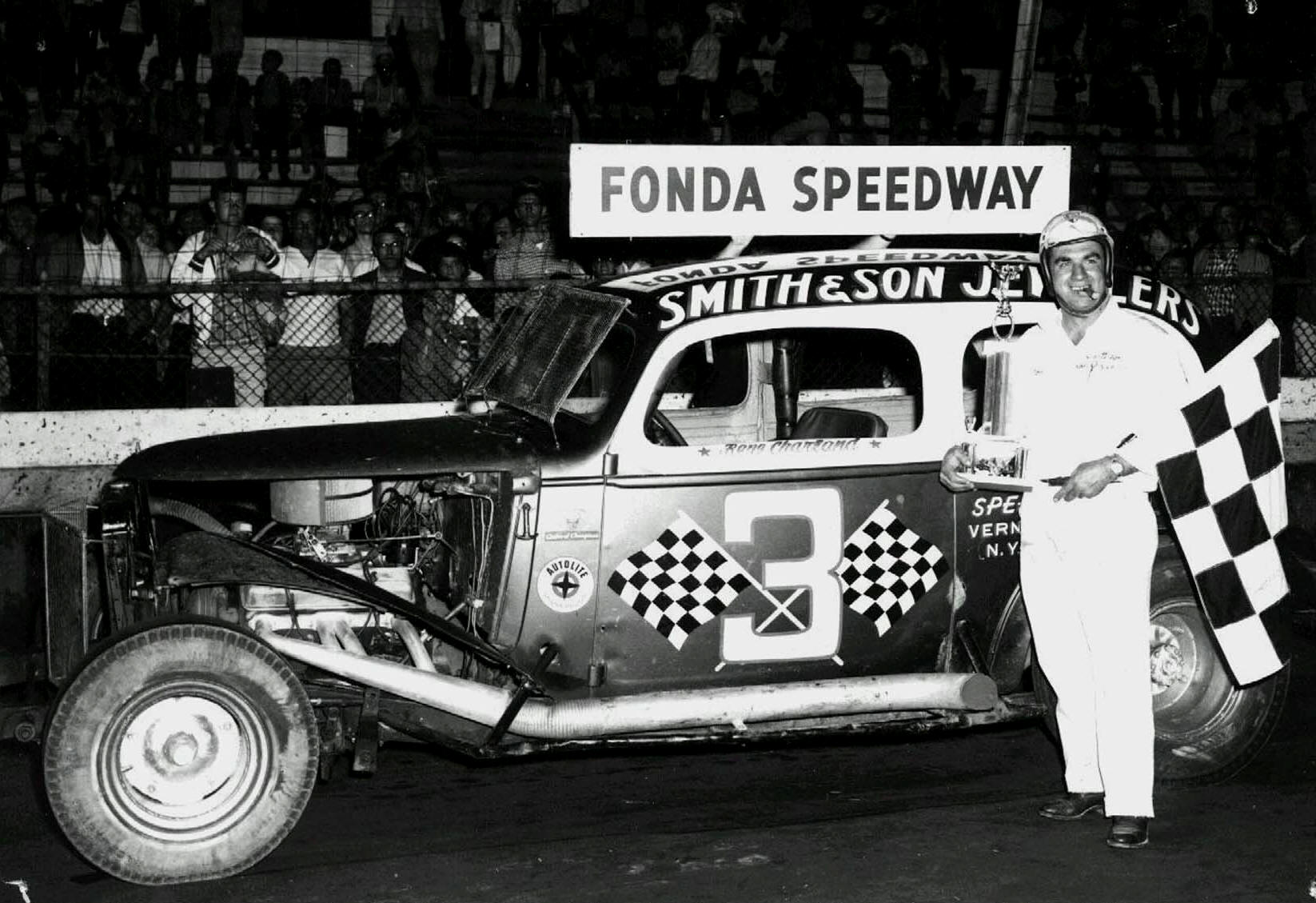 Russ Bergh Photo Ladabouche Collection
Rene Charland poses with the checkers at Fonda in the midst
of his four consecutive NASCAR National Sportsman championships
with the Rosner – built sedan. Below – The 00 sedan appears at Riverside Park, then driven by
Jim Luke. Further below – The earlier Wenzel 03 – here with Don Wayman.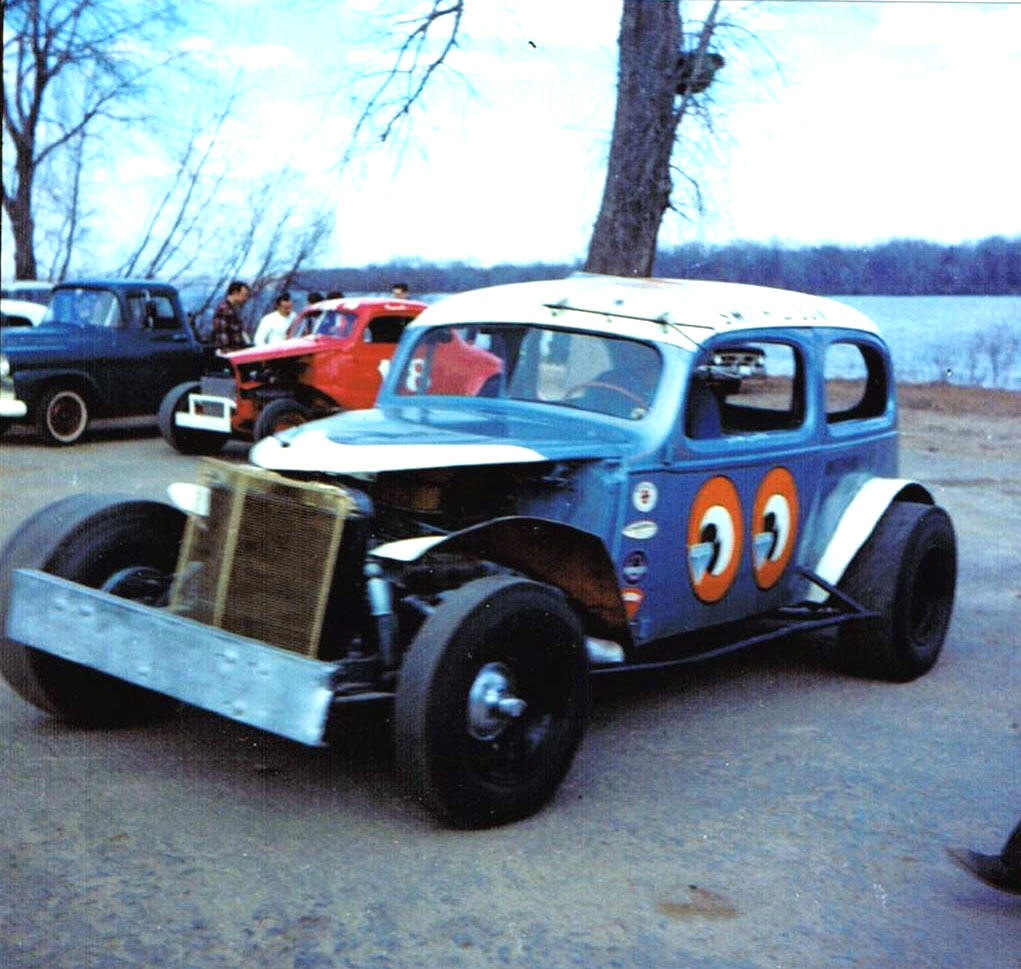 HAMB Chat Site Photo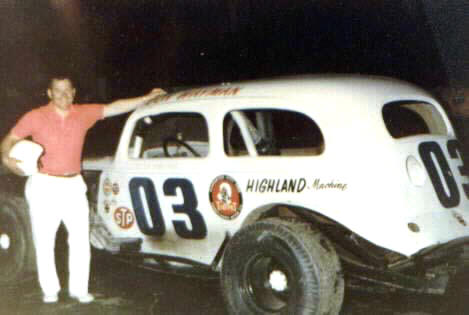 Conde and Parry Site Photo
In the earlier 1980's, I had heard from Al after writing about that beloved SLM class at Malta. He apparently no longer had the Ford sedan he drove but had acquired the Chevy Rettew had driven. Rettew had tried modifieds and late model sportsman racing by that time. The Chevy burned in one of Fini's barns. After reading my article, he told me he was moved to restore the car. He was to appear at a NEAR meet at the Claremont Speedway and he was going to let me drive the car around the track a bit.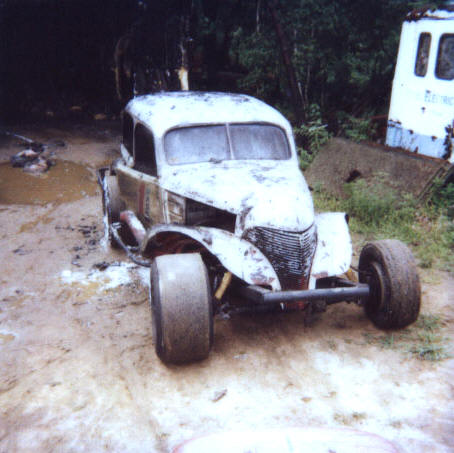 Courtesy of Al Fini
The burned Chevy sedan at Fini's. Below – the restored car
at the NEAR show at Thompson somewhat later. Notice the
Holiday Magic ads are represented by the similar Magic
Memories reference.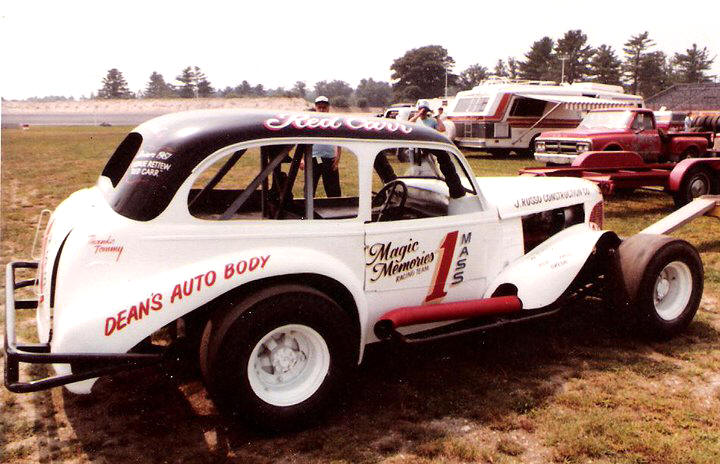 Courtesy of Crystal Snape
Well, things happen. The NEAR meet got rained out. Al became occupied not only with Old Country Farms but as president of NEAR. Then there were health problems to overcome. I only got to speak with him briefly at one NEAR banquet. A car very similar to the Holiday Magic Cosmetics #1 Rettew Chevy came out in the Godfrey Wenzel stable later. Starting with the sedan Charland had used as 3 MA in his national title runs, it had kept the Smith and Sons Jewelers sponsor and was now numbered as 00 [with diamonds in the zeroes]. Then, Wenzel introduced a second 03 sedan... and that one looked just like the Rettew 1 – only more powerful, I am sure.
I take some satisfaction in finally getting this article done. Only took about 35 years. Then it was misnamed and it took another year or so to find it, Sorry Al.
Please email me at wladabou@comcast.net if you have any photos to lend me or information and corrections I could benefit from. Please do not submit anything you are not willing to allow me to use on my website - and thanks. For those who still don't like computers - my regular address is: Bill Ladabouche, 23 York Street, Swanton, Vermont 05488.
AS ALWAYS, DON'T FORGET TO CHECK OUT THE REST OF MY WEBSITE:
www.catamountstadium.com
Return to the Main Page
Return to the Main News Page
Return to the All Links Page
Return to the Weekly Blog Links Page