BILL'S [Somewhat] WEEKLY COLUMN/BLOG PAGE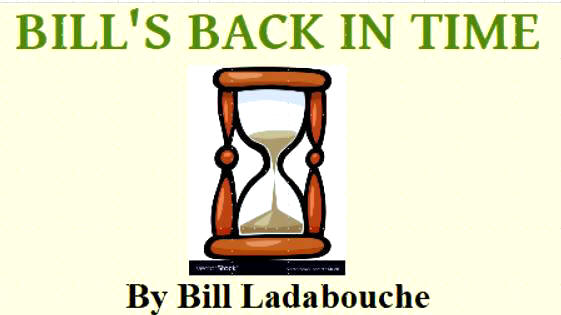 PROMINENT QUEBEC CARS WHOSE IDENTITY WAS NOT WITH A NUMBER
There have not been a ton of cars over the years whose identity with the fans was not based on connection to a particular number, or series of related numbers. Guys like Will Cagle are almost totally connected to a number [24, in his case], while others – like Vermont's Beaver Dragon spent most of his career between #7 and #75' but he ended up being just as remembered for 91.
The you have cases where there was not really a number at all. Pine Bowl Speedway had a car simply lettered up as One Lap Lena. It probably got scored as #1. Oxford Plains Speedway's Stan Timberlake, a former baseball legend driving in the Chargers in 1969, used the "Big Red Apple" [literally a picture of one] as his ID. It probably was scored as 0.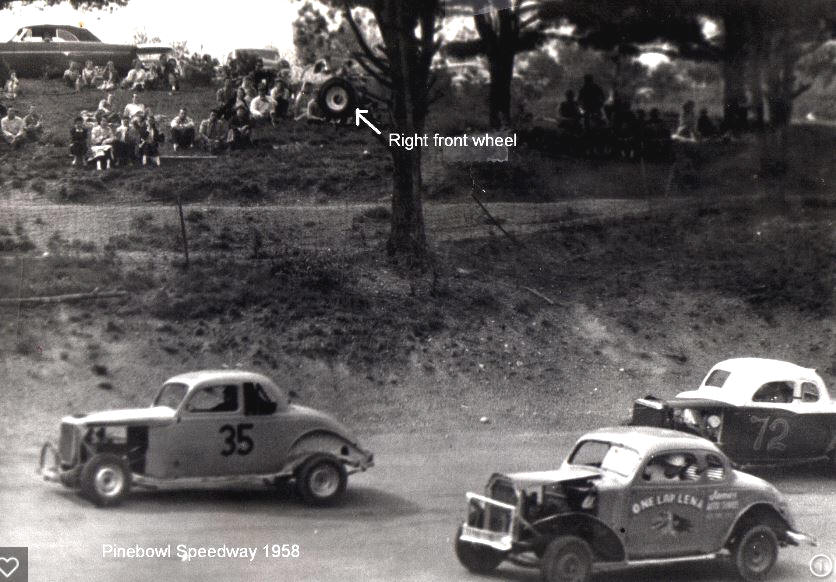 Courtesy of Ken Gypson
John Knighton guides One Lap Lena around Nels Grignon
at Pine Bowl Speedway after the latter loses a wheel.
In Quebec, particularly in the 1960's, there were three prominent racing teams whose number [when one was even used] was very secondary to the name on the side. These cars, while performing most of the time in Quebec at various of the dozens of tracks operating up there, did also make appearances in the U.S. - particularly in Vermont and New York.
The first such car came out of the Montreal area. I was told once who owned the cars, but I nothing to write the info down and it is lost in the aging gray matter. If I had to guess, I would say the same person who owned the Candiac dealership; but, I really am not sure. Most of the time these cars, which were driven by some of the best drivers Quebec had to offer, simply were lettered up as "Mohawk Chief". I don't any idea of someone with that team actually had a connection with some faction of the Mohawk tribe; it seems as though there has to be something that would cause them to come up with that moniker.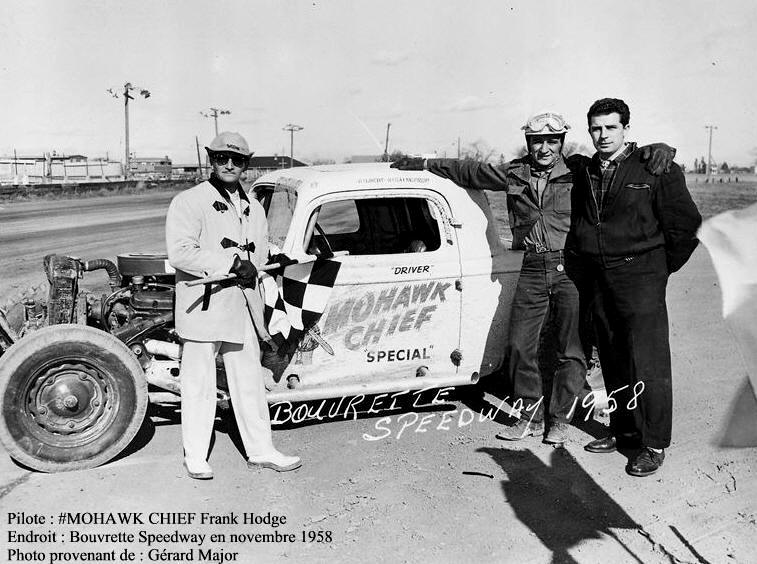 Courtesy of Gerard Major
Frank Hodge, the first driver of the Mohawk Chief, at
Bouvrette Speedway in 1958. The man seen with Hodge is clearly
the owner as he is also seen in other photos.
Below – A "newer" version on the trailer.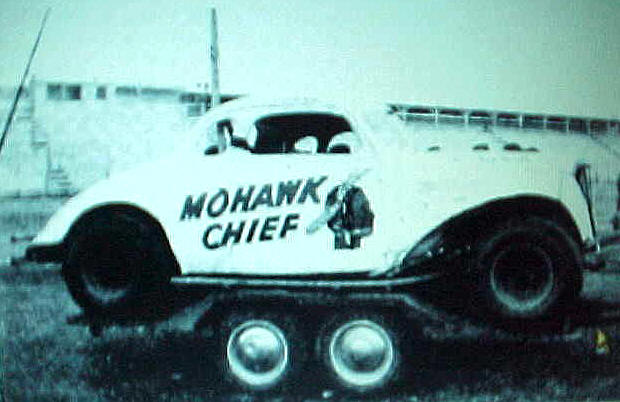 Source Unknown
It seems as though the initial driver of the potent white sportsman coupes was Frank Hodge, a man less know in the U.S. Than the other drivers of that car. Hodge, best known for his long time in the Lucky 7 cars, appears to have driven a Mohawk Chief entry at Bouvrette Speedway. And, while most of the equipment run at that track was pretty rudimentary, the Mohawk Chief car looked to be pretty professional. I have no idea how Hodge fared at Bouvrette. I only saw him once, appearing at Fairont Speedway in 1965 with a car he bought from Vic Wolfe, and which still bore the Wolfe paint job and number 66.
The next [and best – known] driver was legendary Jean – Paul Cabana. Known, himself, for driving cars numbered 5A, he drove the Mohawk Chief before he began to field his own equipment. In the latter part of the 1950's, there was some good [often NASCAR] racing going on at such tracks as Riverside, outside Montreal, Fury Speedway in LaPrairie, and some othe venues. Joining a wealth of Canadian talent was a contingent of Americans such as New York's Dick Nephew, Bill Wimble, and Dick Goodelle.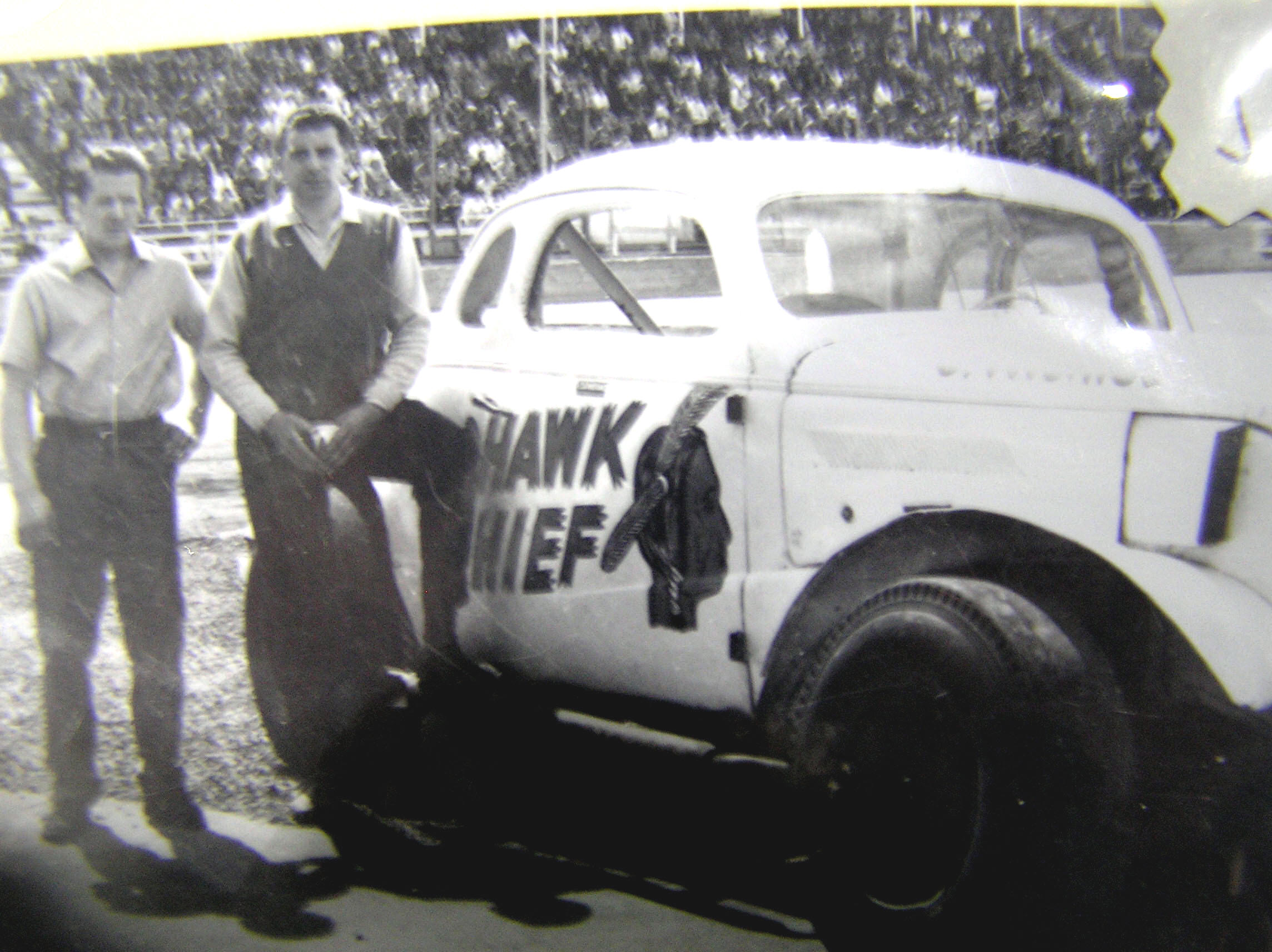 Courtesy of Gary Nephew
A young Jean – Paul Cabana stands with the owner at Riverside
Speedway. Below – This grainy 8 MM movie frame shows
Cabana passing another car somewhere in Quebec.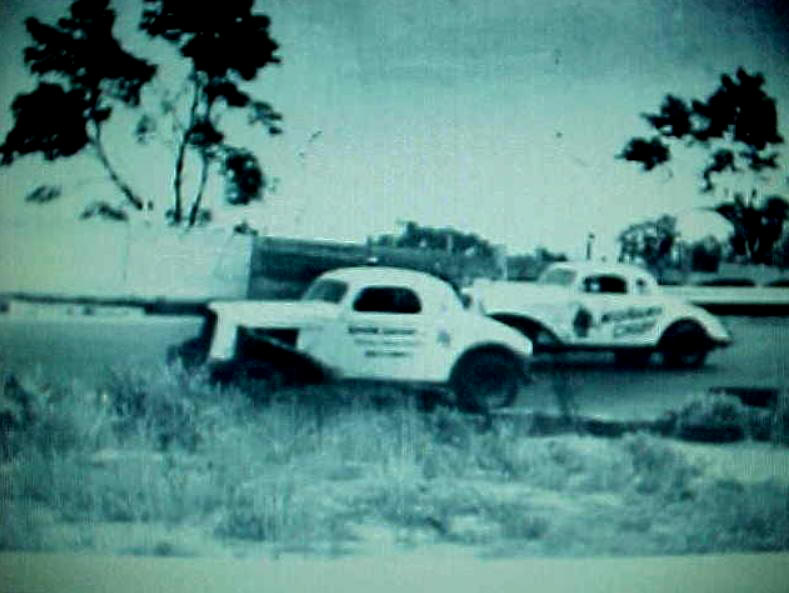 Source Unknown
Most of these northern tier Empire Staters had already run at the stately old Bouvrette Speedway in St, Jerome, a horse track at which owner and promoter Gustave Bouvrette started his races with that gate truck he also used for horses. Joining Nephew, Wimble, Goodelle, the Provost brothers and others was Vermont native Jackie Peterson, who had first run an open wheel car at Richelieu Park in Montreal in 1949.
Cabana is shown with the owner of the Mohawk Chief in very early photos, as is Paul Hamel, Cabana associate and another big Quebec star, The car made some appearances at Airborne Park Speedway near Plattsburgh, NY and it may have run briefly at the Colchester – Bayview Speedway in Colchester, VT. While Cabana raced sportsman and modified cars for years under his 5A banner with head wrench Claude Faniau – he made considerable laps for the Mohawk Chief group, as well.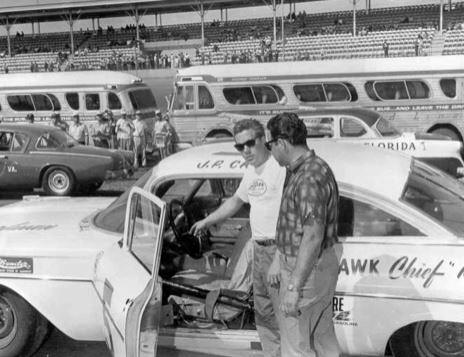 Courtesy of Pascal Cote's Website
Cabana, with the owner, at Daytona around 1960. Note the Mohawk
Chief reference on the side. That must have been unique down there.
Below – This shot accidentally labeled in Cavalcade of racing as Paul Hamel, is actually
a win at Quebec Moderne Speedway with Cabana.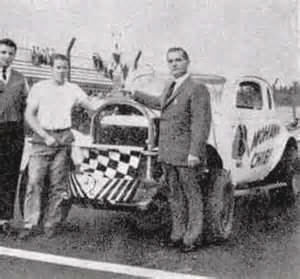 Cavalcade of Auto Racing
Cabana, in fact, made a trip down to Daytona around 1960 with a 1959 Pontiac that had been built for Grand Nationals by Elmo Langley's team. Running the all white car as number 5 [the autocratic NASCAR would not allow letters], Jean – Paul had Mohawk Chief prominently displayed on the rear fender which suggests that the owner of the modifieds must have been footing the bills for Cabana's Permatex effort.
According to local lore, Cabana could not, for some reason, get the car across the border into Canada and ended up selling it to flamboyant Shelburne, VT racer and entrepreneur Black Jack Dubrul, who tried it at Speedweeks two years in a row. He did OK. After a brief stint with Burlington, VT area race mechanic Bob Pratt, the Pontiac finished out its life belonging to Plymouth, NH trucking firm Mosely's Express. It was driven a bit at Catamount but was too heavy. Harold Hanaford won a race with it at the Bryar Motorsports Park road course [by attriion according to Harold]. Tragically, it somehow ended up in the crusher.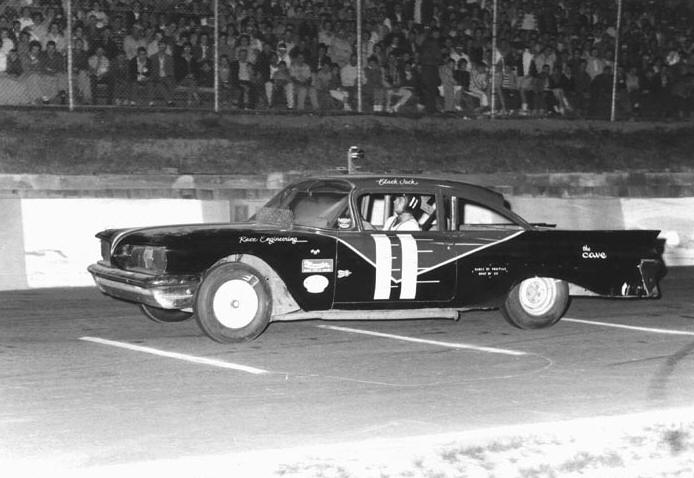 Courtesy of Cho Lee
Jack Dubrul displays the Pontiac to the fans at Thunder
Road in Vermont. Below – The Mosley – owned Pontiac
in the race Hanaford won at Bryar Motorsports Park.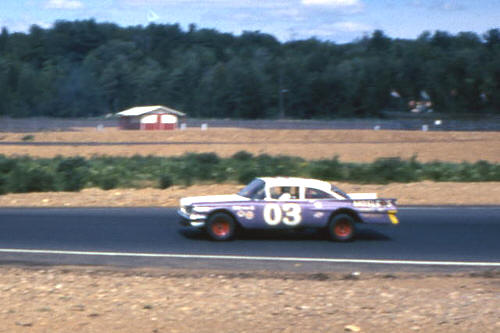 Courtesy of Richard Dawes
The Mohawk Chief seems to have continued past Cabana with Paul Hamel ,who eventually drove a Cabana team car. The last driver I know anything about was Maurice Tallard, a Quebec City native who – by that time – was driving something akin to a Falcon – bodied car in Quebec and at places like Albany – Saratoga Speedway in Malta, NY. They may have tried Catamount Stadium, as well.
The second team did have numbers, but the cars were largely recognized by their names. The first and best – know car was "The Canadian". Apparently owned by M. Paul LaBerge, wealthy owner of the huge LaBerge Foundry in the Quebec City area, the first cars in he team used the number 35. Marcel Corriveau, another Quebec City native, is best the best – known driver of 35 The Canadian white coupes. These cars came after the Mohawk Chiefs were being to be discontinued; and, while most of the Mohawk Chief cars were standard upright coupes, the 35's were in that next generation lowered style.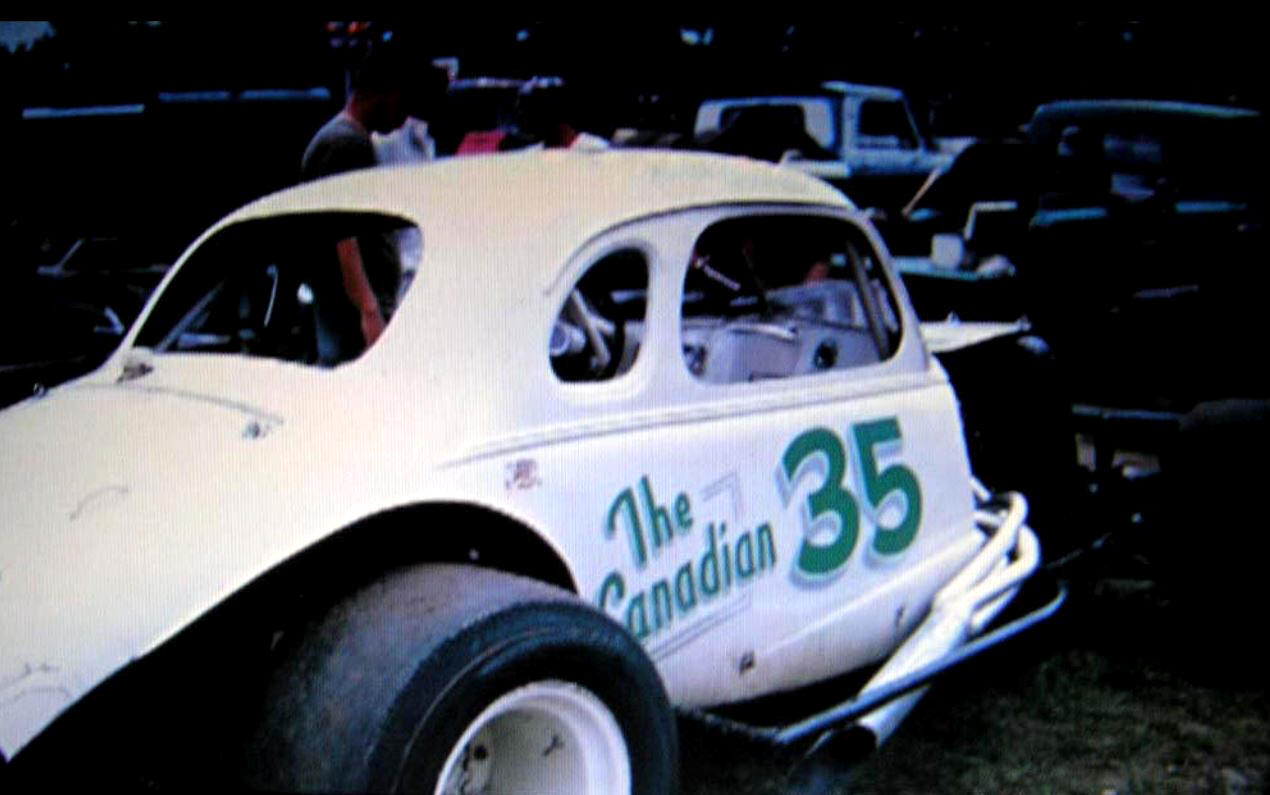 Bob Mackey Photo via John Rock
The Canadian, at Airborne Park Speedway, around 1970. Corriveau would
be driving it here. Below – Corriveau with checkers at Malta.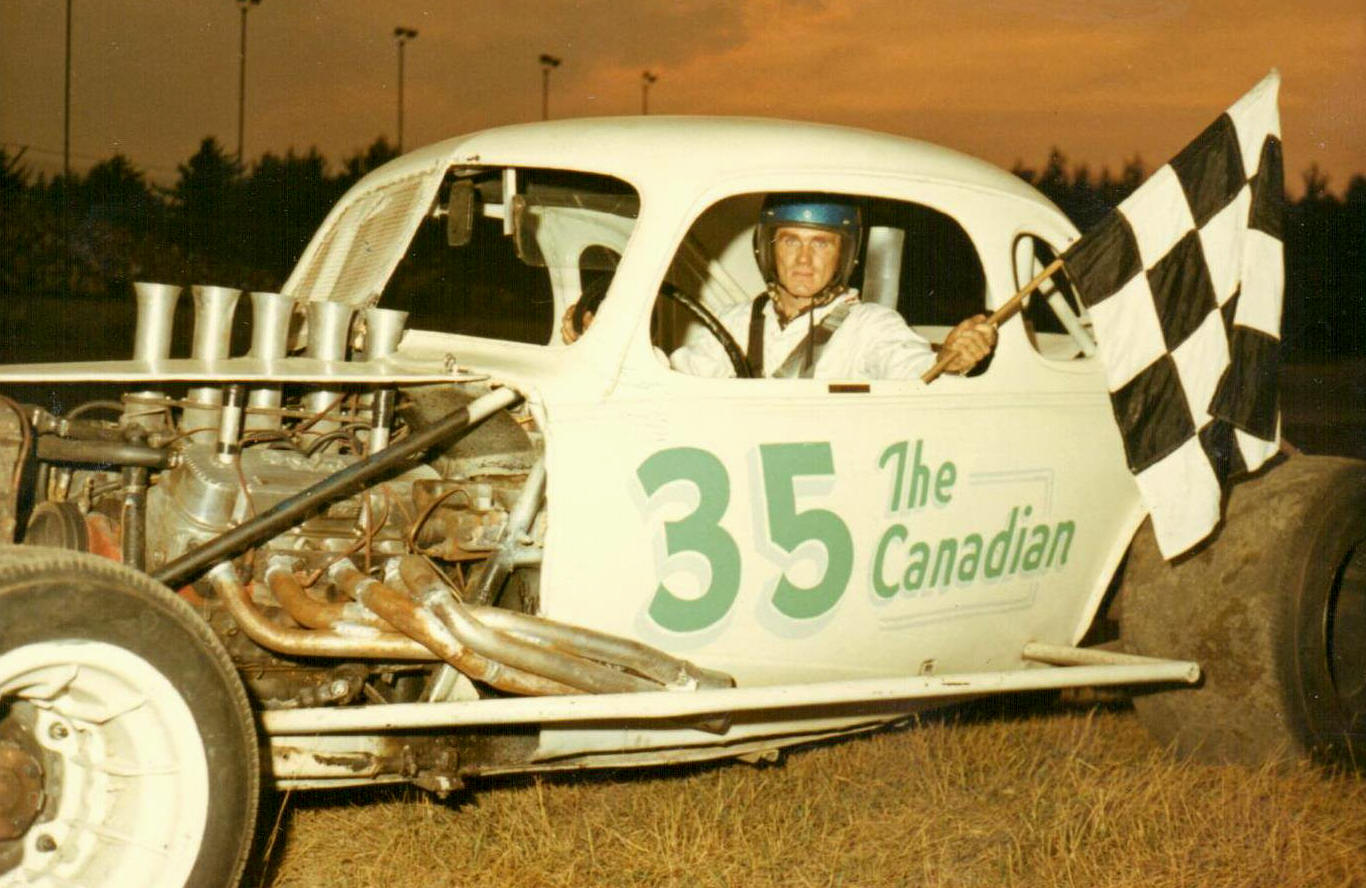 John Grady Photo

When the Corvair bodies briefly became all the rage, the LaBerge team came out with one made from the earlier Corvair style and it was driven by another regular around Quebec City tracks – Serge Giguere. I believe the Giguere car even appeared at Martinsville. Sometime along the way, it appears that a second car was unveiled for Corriveau - "Le Quebecois" - perhaps in reaction to increasing Quebec provincialism. The Quebecois car was numbered 40, and seemed to be driven mostly by Corriveau.
At some point along the way, 35 The Canadian was taken over by Jacques Lessard, yeat another familiar figure at Quebec City area tracks like Autodrome Ste – Therese and Quebec Moderne Speedway. Much like the Mohawk Chief, the LaBerge team began to shift gears. Corriveau showed up at Catamount in 1972 wit ha late model sportsman numbered 40; but, there was no Quebecois mention on the side.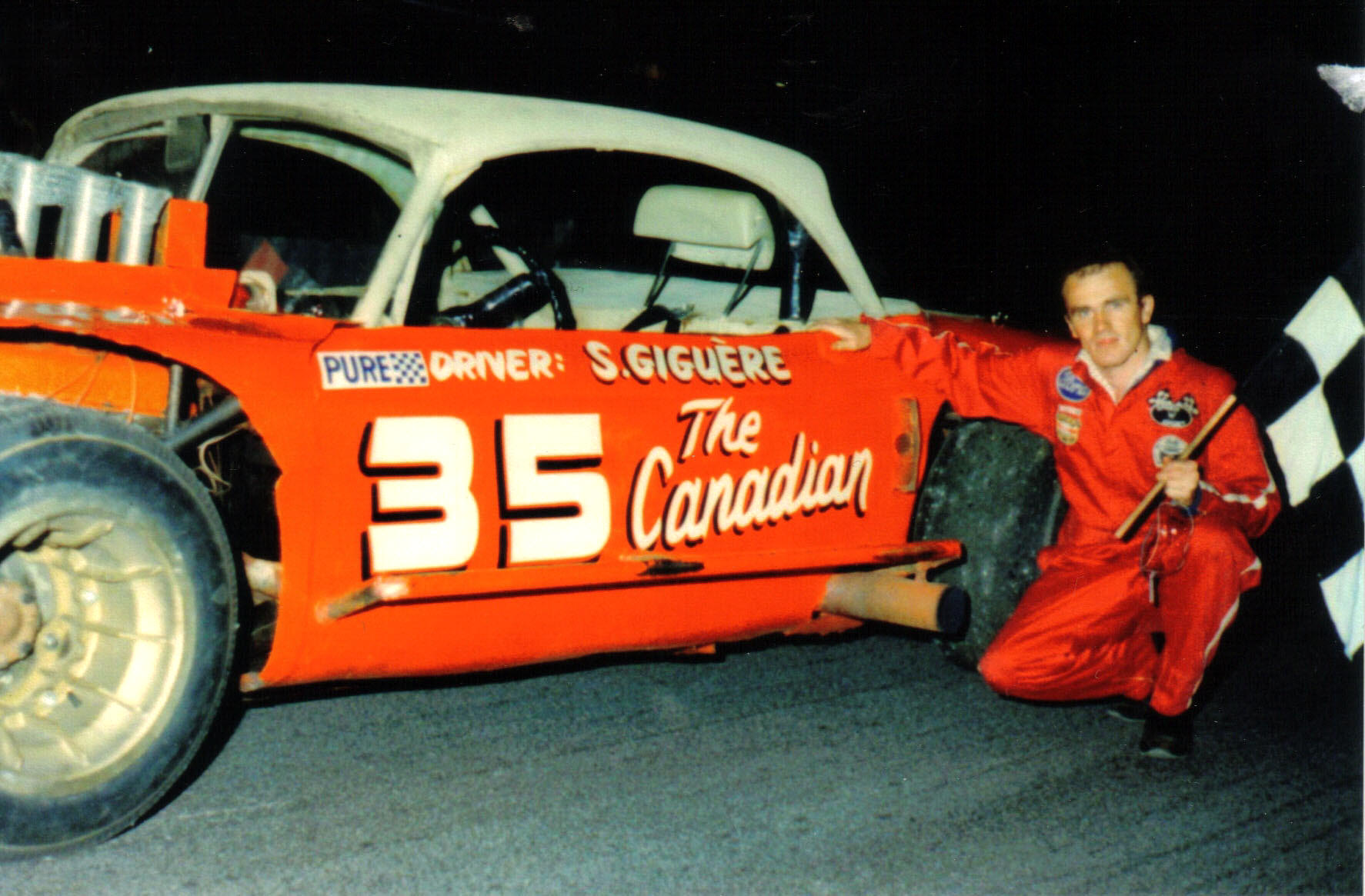 Bob Mackey Photo via John Rock
Serge Giguere with the Corvair at Airborne circa 1971. Below -
Langis Caron, said to be bound for Martinsville in this shot.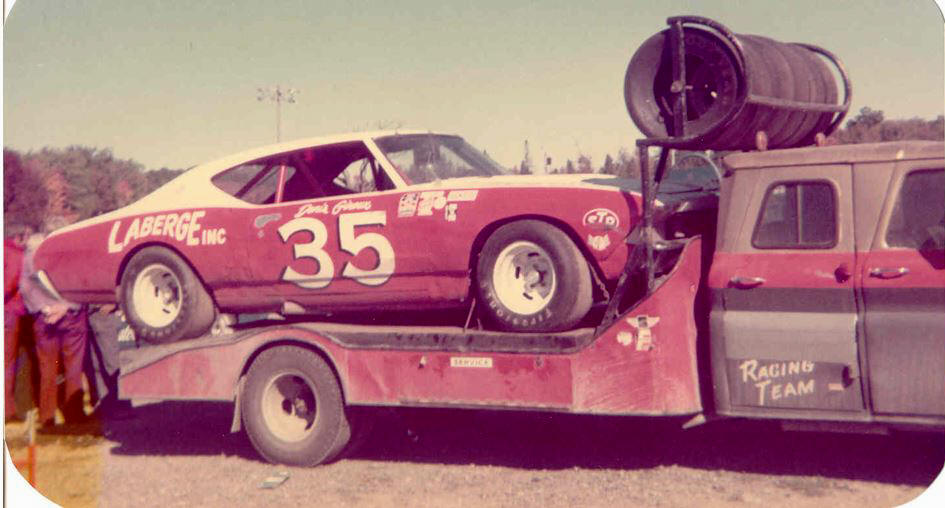 Courtesy of Pascale Cote

The team did not fade. It took a huge turn when it turned to Quebec City native Langis Caron. After first running support classes in Quebec, Caron showed up at Catamount with a #35 Chevelle with a nice hauler and "LaBerge" prominently displayed on the sides. The following season, Caron came back with a top drawer Chevy Nova, painted in deep blue and maroon, still numbered 35 and still sponsored by LaBerge. He became one of the major stars on the very competitive NASCAR North circuit.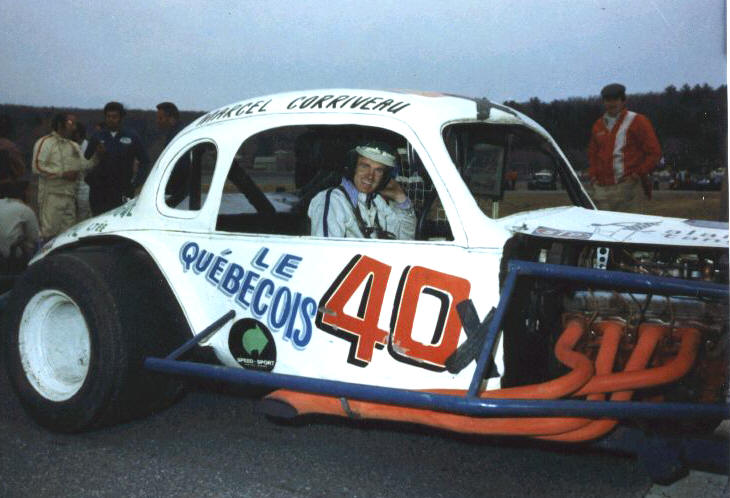 Courtesy of Pascal Cote's Website
The Le Quebecois #40 of Marcel Corriveau.
The third team is the least easy to figure out. There were some orange late model cars that ran almost exclusively in Quebec that, at first, were simply identified as "Beaver". Later, these cars would usually have a supplementary number X2 [although one was #32]. I think that the 32 probably came from a situation where letters were not allowed in the car's number.
The team started out with big old '57 Chevies driven by Georges Loiselle. Loiselle, who alternated with driving his own #95, a Ford late model. Loiselle is often photographed in #X2 cars; some of which bore "Beaver" somewhere on the side. The only other driver I have seen pictured in a Beaver car was Paul Hamel. Like so many cars in Quebec, the team name succumbed to a number of factors including NASCAR's hatred of letters in car numeration. The X2's carried on for more years.
I miss the days when you could have a little variety in the product put before the fans. Not much of that any more.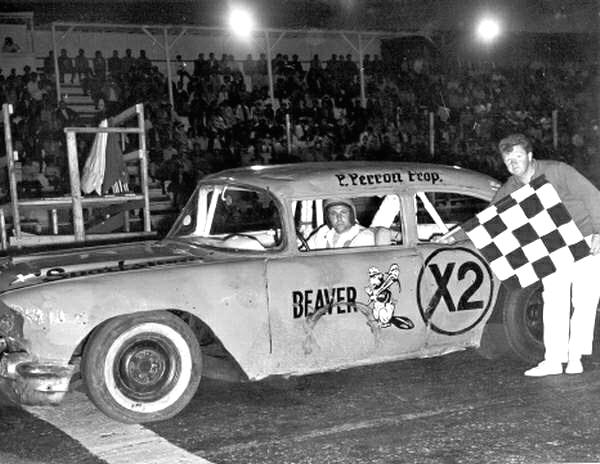 Courtesy of Pascal Cote's Website
Georges Loiselle with an early Beaver car. The man said to be
the car's owner is E. Perron. Below – Paul Hamel
with a newer Camaro version of the Beaver car.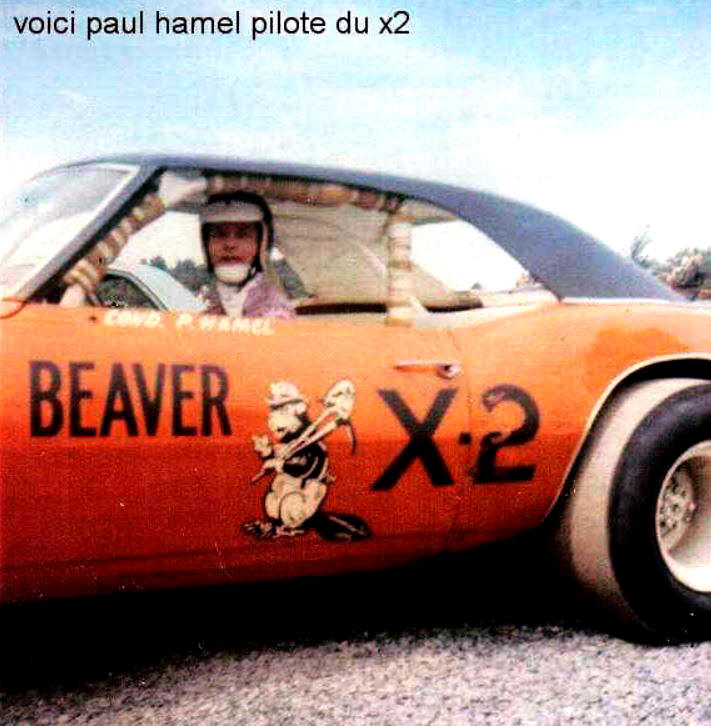 Courtesy of Gerard Favreau via Pascal Cote Website
Please email me if you have any photos to lend me or information and corrections I could benefit from. Please do not submit anything you are not willing to allow me to use on my website - and thanks. Email is: wladabou@comcast.net . For those who still don't like computers - my regular address is: Bill Ladabouche, 23 York Street,Swanton, Vermont 05488.
AS ALWAYS, DON'T FORGET TO CHECK OUT THE REST OF MY WEBSITE
www.catamountstadium.com
Return to the Main Page
Return to the Main News Page
Return to the All Links Page
Return to the Weekly Blog Links Page