BILL'S [Somewhat] WEEKLY COLUMN/BLOG PAGE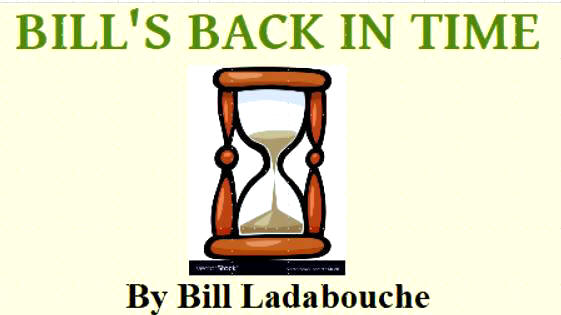 YOU'D THINK THERE WOULD BE SOME CONNECTION, AFTER ALL !


Milton, Vermont certainly does not hold that much of a distinction for having two racing facilities that operated simultaneously - within some of the same years. Neighboring Colchester, with its hamlet of Malletts Bay, saw five tracks run from 1950 to 1959; and as many as three ran at the exact same time. Heck, even tiny Franklin County town, Sheldon, saw two tracks running at once in 1950.
The thing is, in this case, was Milton Speedway [the first race facility in town] was a drag strip; and Catamount Stadium, the higher – profile venue – was a paved stock car third mile oval. From 1965 [Catamount's inception] to around 1971, the two race tracks co – existed: the drag strip, on the north / side runway of the defunct Milton airport; and Catamount, sitting on land that had once been envisioned as the site of an IBM plant, just inside the town's southern boundary with Colchester.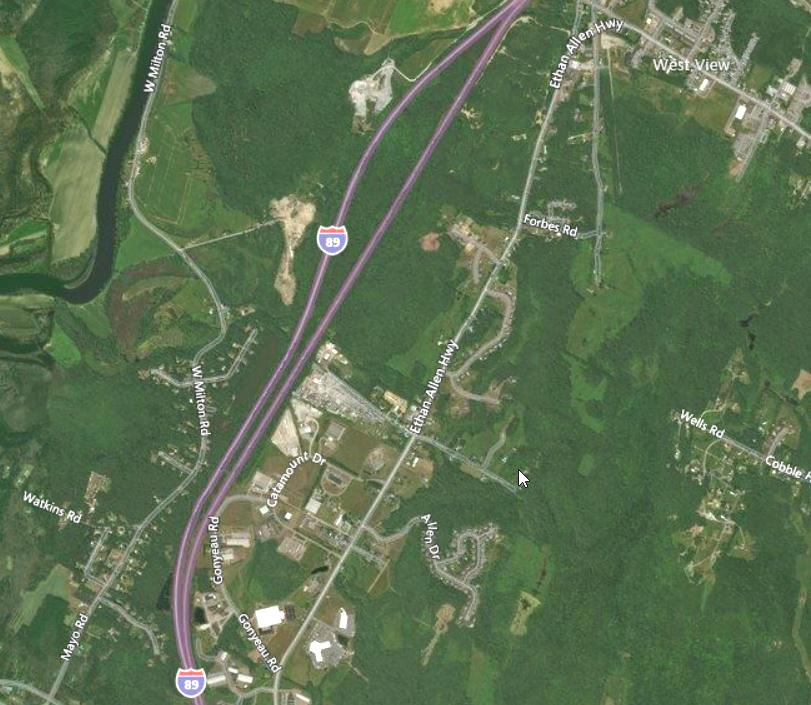 Bing Maps
This modern aerial shows how close the two race venues were: Catamount was about where it says "Catamount Drive" and the
dragstrip is seen as a faint straight line running up from the curved label "Ethan Allen Highway" up past Forbes Rd, to the right.

My personal perspective comes from having elected to sign a teaching contract in Milton in 1968 because Catamount was located there. I would travel right by the drag trip as it was setting up to operate on a Sunday afternoon, on my way to Catamount. I never saw a race there. However, there were [and still are] a number of Catamount figures who had strong ties to – or experience at – Milton Speedway.
The most recognizable link to the two tracks came in the form of a two – story building, painted completely in a red and white checkerboard pattern. Catamount had been built with a very Moderne – style Chevron gas station in the pit area. In the early 1970's, after years of guys climbing onto it to see the races better, the largely aluminum Chevron station collapsed. Ken Squier decided to replace the building [not the pumps] by moving that checkerboard announcer's stand from the then – closed drag strip to Catamount to be used as the handicapper's headquarters. It was there until the track was razed in 1987.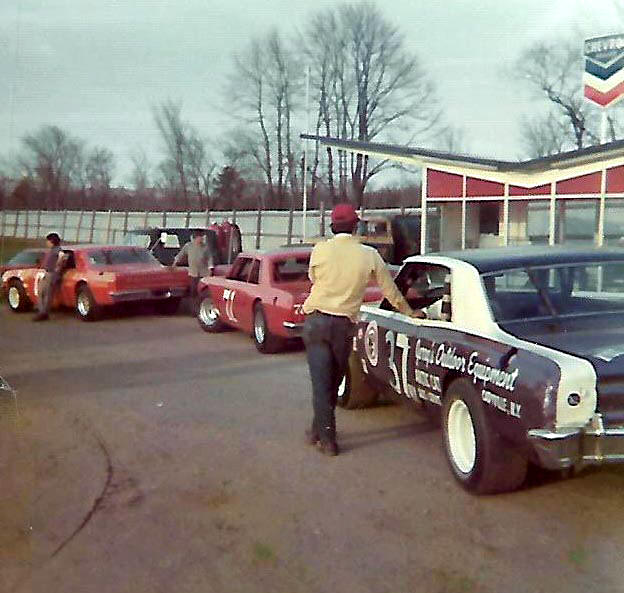 Ladabouche Photo
The Chevron gas station is seen as Chevelles line up for practice
in 1972. Below - The checkerboard handicapper stand, as it
looked at Catamount around 1979. Further Below – That same
tower, at the Milton Speedway.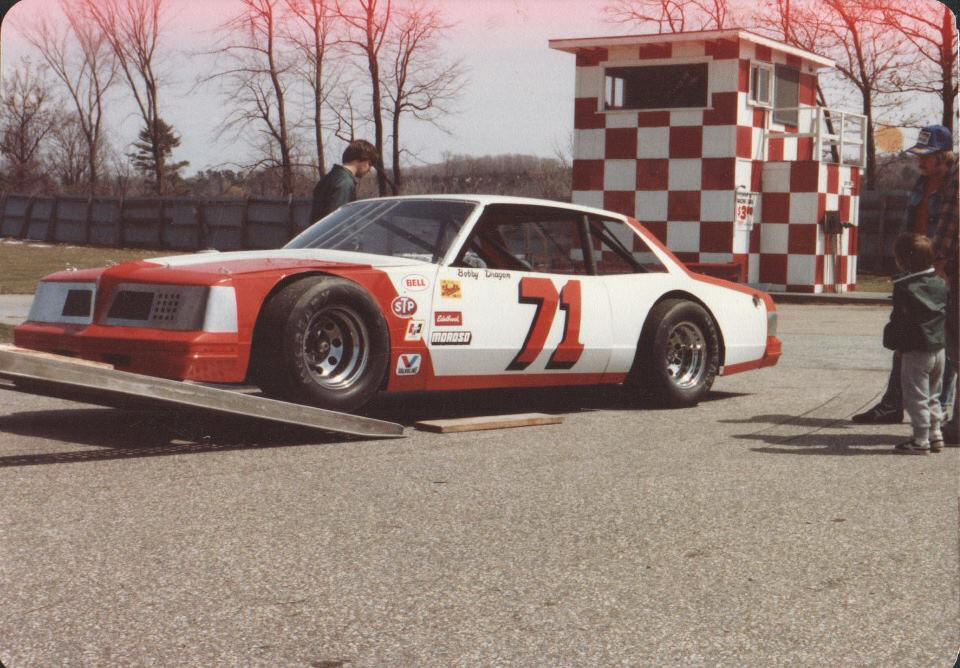 Courtesy of Andy Boright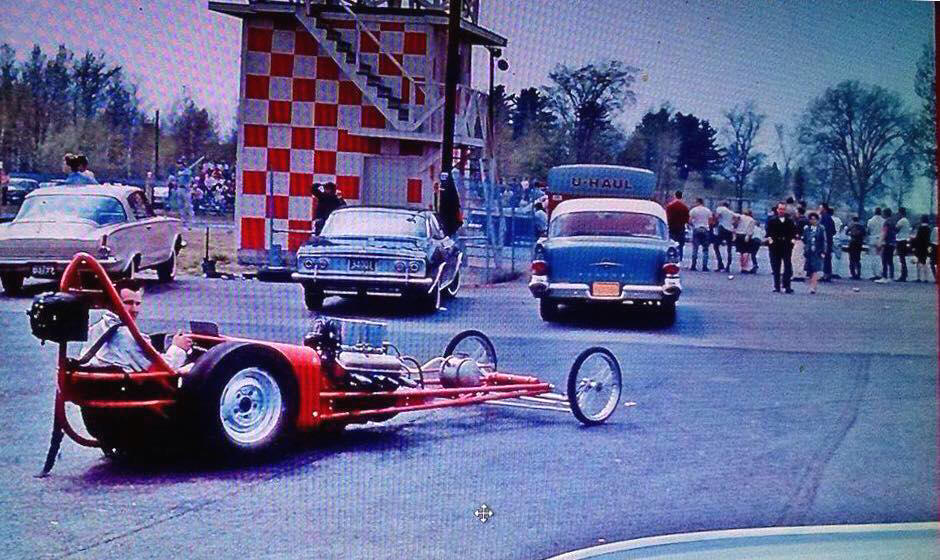 From Milton Speedway Facebook Page
As I began to take an interest in the history of the drag strip, I was amazed at the number of people who either began their racing – related careers at the strip or who may have participated at both venues at once. When I wrote the book on Catamount hero Harmon "Beaver" Dragon, he filled me in on how he would race the "family car", a rather potent Pontiac Chieftain, at the drag strip. That sort of tailed off as his stock car career blossomed.
Beaver's younger brother, Bob, relates how he owned a 1940 Ford sedan [no doubt the former family car of some older Milton resident] and how he would run that flathead – powered car at the drag strip. Bob says he was the class of the division because he was often the only car in whatever class that was. Then he managed to inflict damage to the front grille, which necessitated his running the car without a grille from that time on. The strip now viewed the old Ford as a "modified" and Bob was thrown in with some pretty high calibre competition from then on. It didn't matter. After a brief stint having to work his IBM job in Fishkill, NY, he came back and began what would be a fabulous stock car career that of course began at Catamount.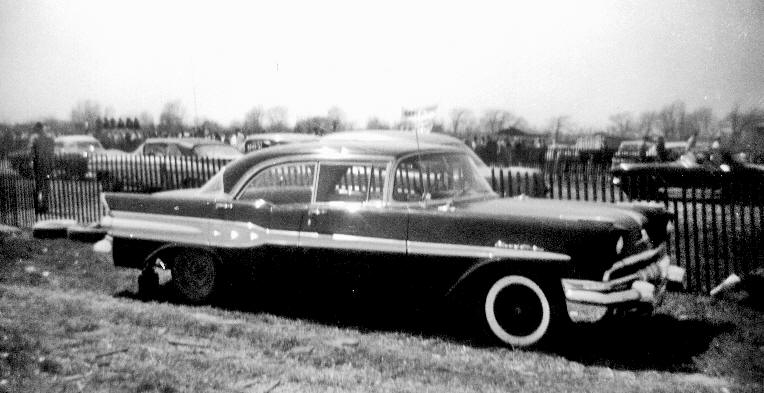 Dragon Family Photo
Beaver Dragon's family car / dragster, in the early 1960's. Below -
Future Bob Dragon engine builder John Keefer, with his driver – future
Dragon crewman Frankie Woodard, directs the Vermonster to
the starting line at Milton.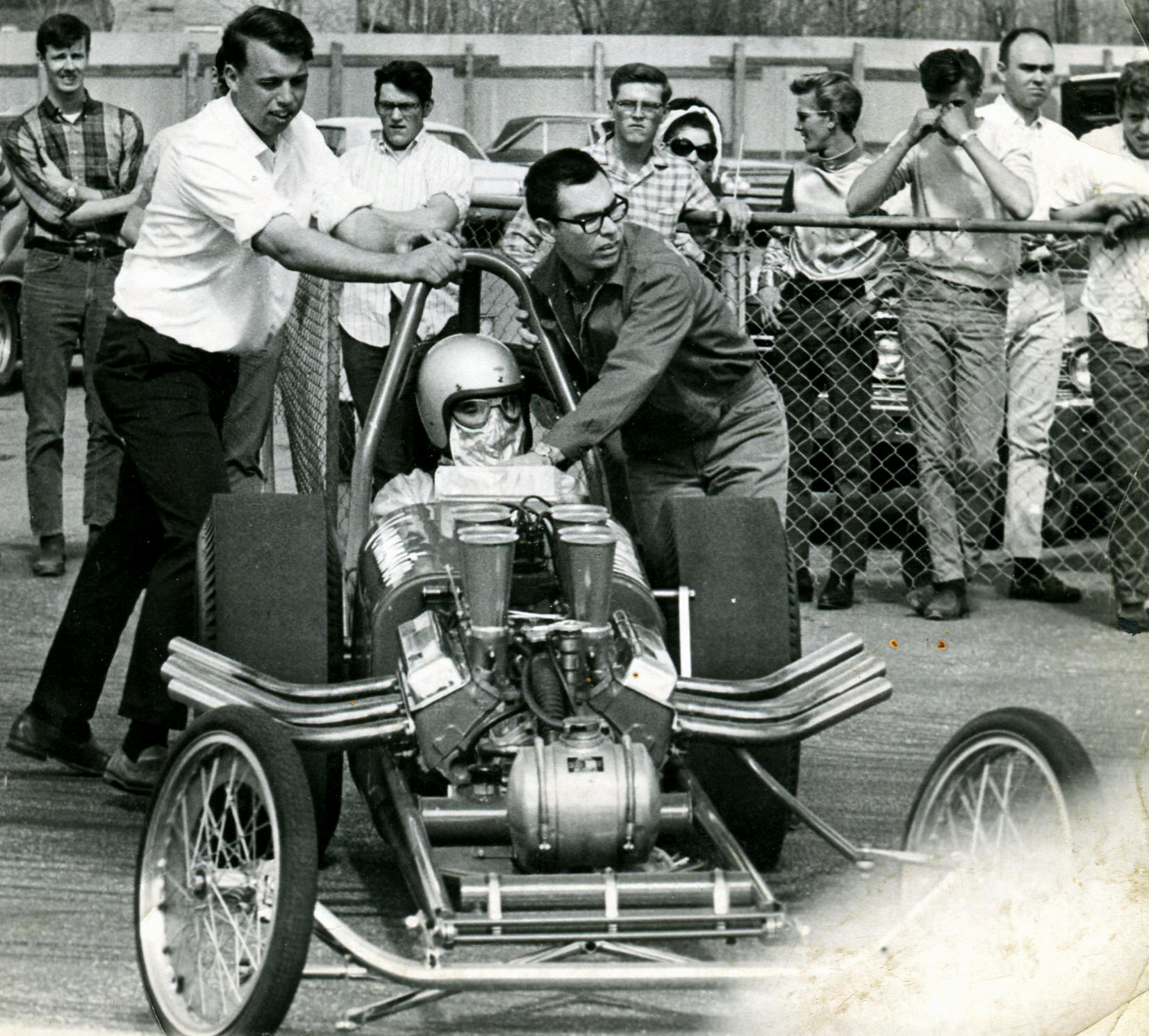 Courtesy of Del Masse

Bob's crew was nearly as famous as he became. A lot of the Dragon success came from the work of engine builder John Keefer. Keefer, who operated a garage in Burlington for many years, had begun competition not with the Dragon Chevies but with a notorious rail dragster known as "The Vermonster". Keefer's little dragster was the old school type, with the engine in front of the driver. It would not only rule the roost at the Milton strip, but would raise hell in places like Napierville, in Quebec.
Another Dragon – related connection came in the person of Keefer's daring driver of the Vermonster. Frankie Woodard came out of the tiny town of East Corinth, in central Vermont. Sitting behind that roaring engine with a drive shaft running just about between his legs, Frankie would get the most out of that dragster anyone could. He would also join the Bob Dragon #71 crew by the late 1960's and would still be working on race cars as recently as 2016.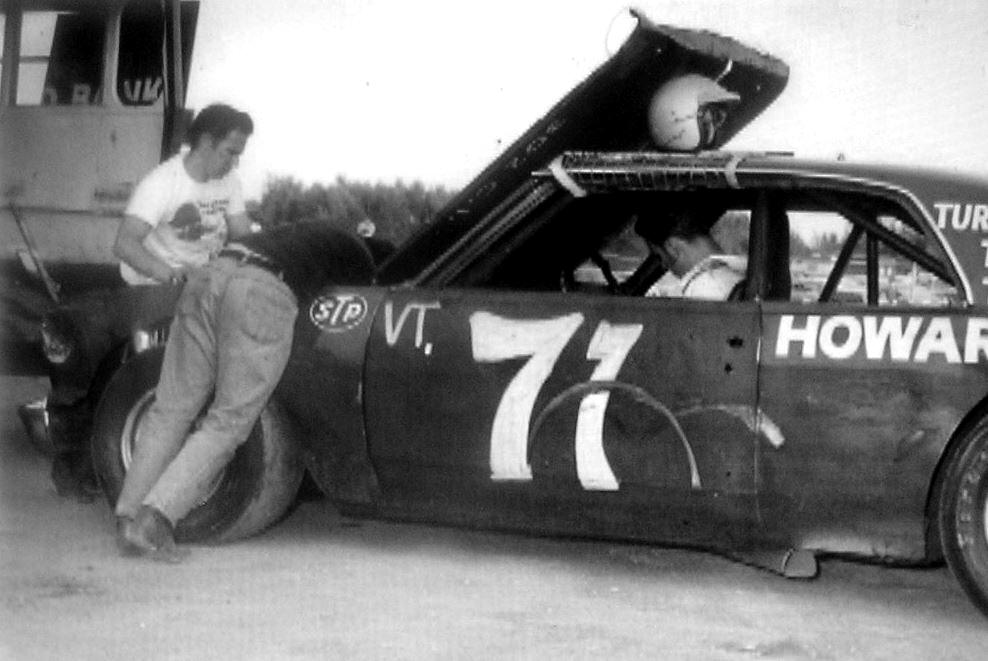 Courtesy of Dave Brown
Frankie Woodard [far left] hustles to get Bob Dragon's battered
Chevelle out during the stressful 1973 season. Below – The Bob Dragon
brain trust during those heady 1970's. Frankie Woodard is nearest camera;
Keefer is 3rd from right. Others include Billy Tower, Gary Desranleau, Veronica Dragon,
Steve Hibbard, and Bobby Clark.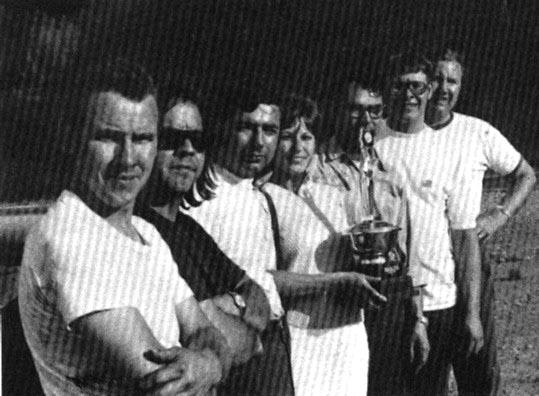 Source Unknown


When I began my writing career around racing, I did so with the Catamount Stadium program. A wonderful publication the track had adopted during Northern NASCAR's relationship with C.J. Richards, the program was prepared in Chittenden County, Vermont and printed by an organization that was associated with Oswego Speedway near Syracuse. The program was essentially directed by South Burlington couple Rene and Linda LaBerge.
I came to find out that the LaBerge's were key figures at the drag strip before anyone saw them at Catamount. Rene ran a number of cars at Milton Speedway and I am pretty sure Linda joined Shirley "Cha Cha" Muldowney as one of the strip's female competitors [at least sometimes]. The Laberges would eventually divorce, their wisecracking teenage son, Rene would grow up and become a chef, and I would drift off to start writing for Speedway Scene. I have always credited my time with the LaBerges as helping develop my writing career.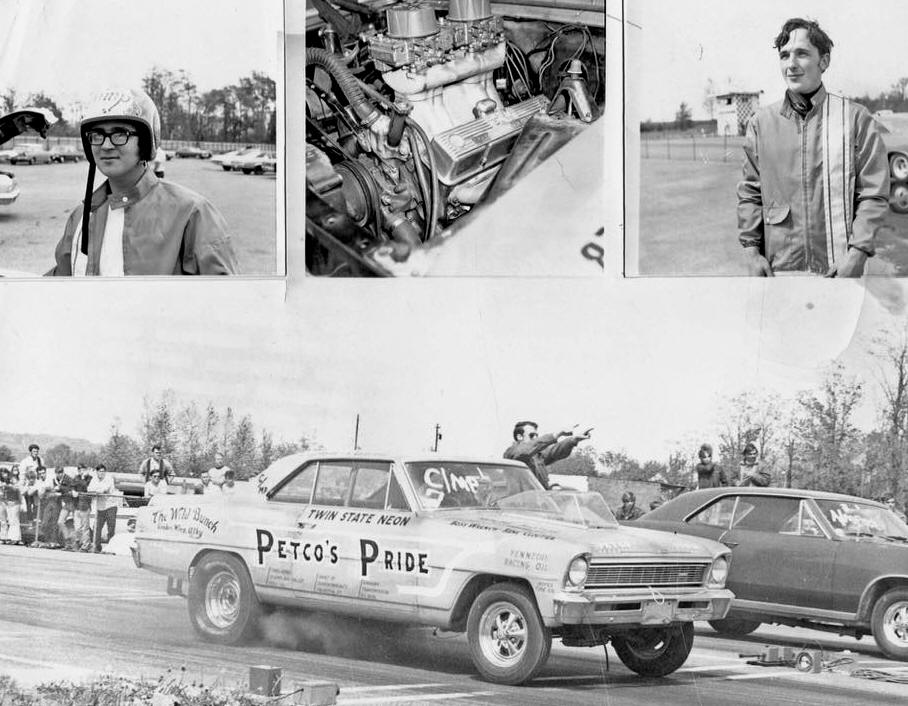 LaBerge Family Photo
Rene LaBerge [upper rightthand corner] with his Petco Pride car.
Below – Linda LaBerge clowns it up at Catamount.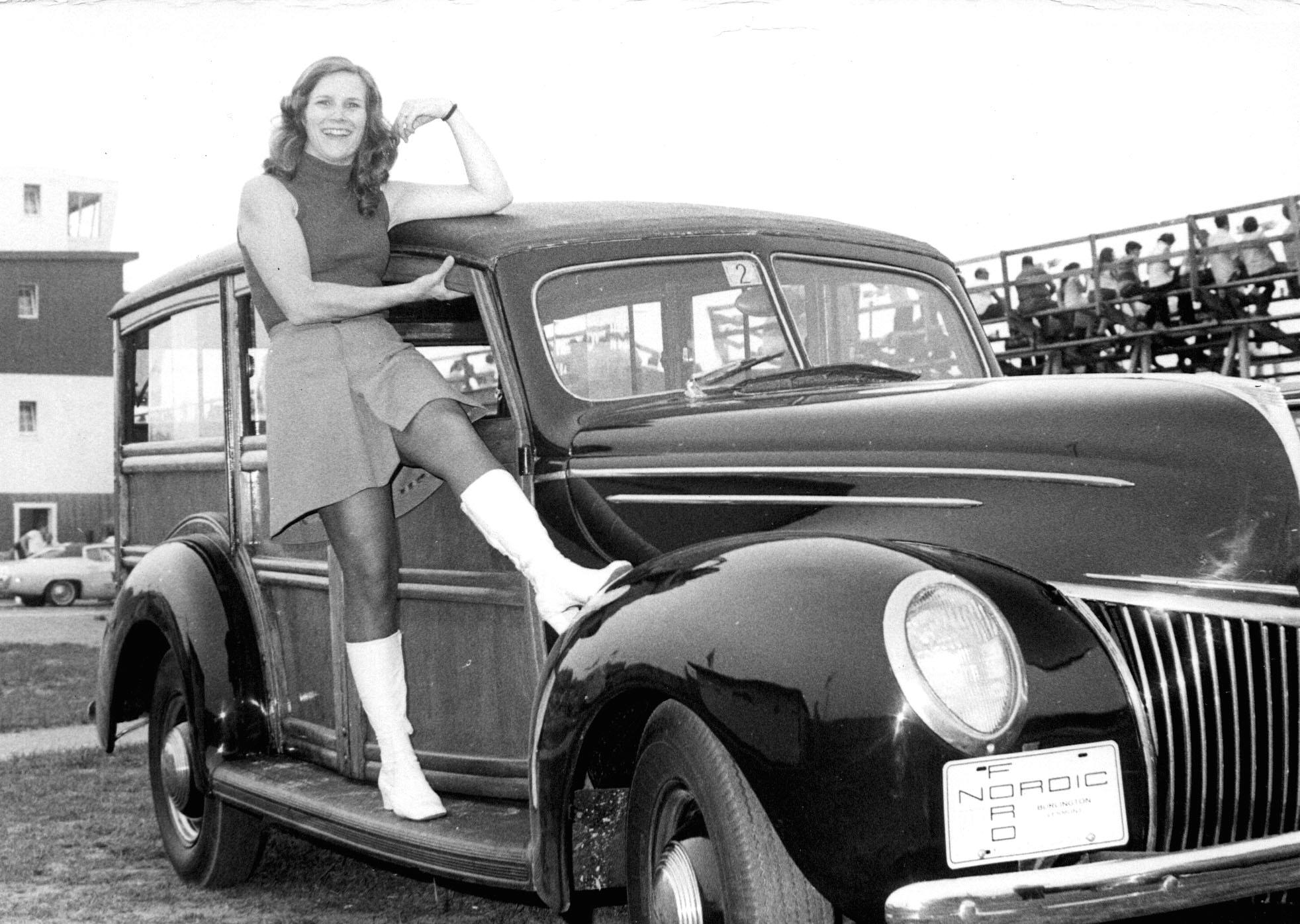 Courtesy of Chris Companion
Back around 1970, Ken Squier realized that the track was not going to benefit from having only one division. To let newcomers develop their techniques and to offer a more affordable class to race in, the automatic transmission, nearly stock Hurricane Division was started. It's regular developed fast and, by about year three, the cars had been refined to a point where their tires no longer even squealed going around the banked turns at the track.
Somewhere in that third year or so. A black 1963 Chevy began to appear, running out of Vergennes, VT. Ray Ringer, you might have thought, would have had some background at the track that once ran in that town, roughly from 1961 to 1970; but, he did not. Ringer ran drag cars at Milton Speedway, apparently deciding to try the circle track for a year or so by 1974. Ringer's distinctive flaming #23 graphics, and his ability to run competitively with a very limited budget, gained him notice in the brief time he was at Catamount. He did try a little Pro Stock racing at Devil's Bowl, as well.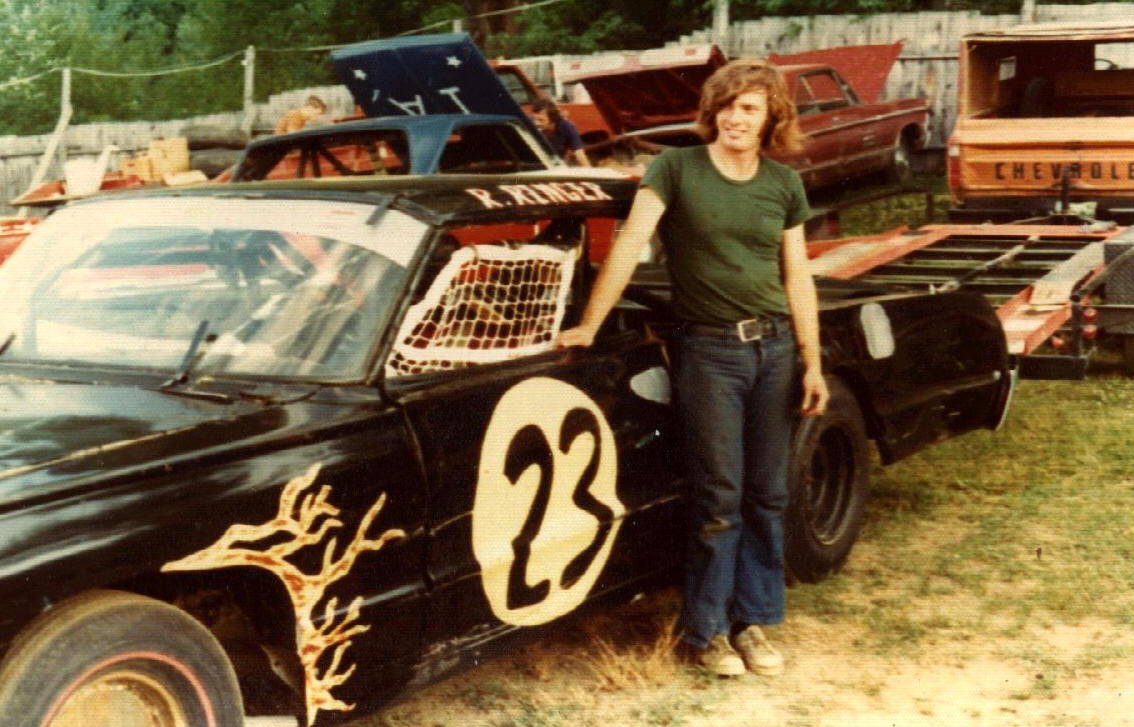 Courtesy of Andy Boright
Ray Ringer, with his distinctive Chevy Hurricane. Below – Jack Dubrul
displays his dragster for the fans at Thunder Road around 1961.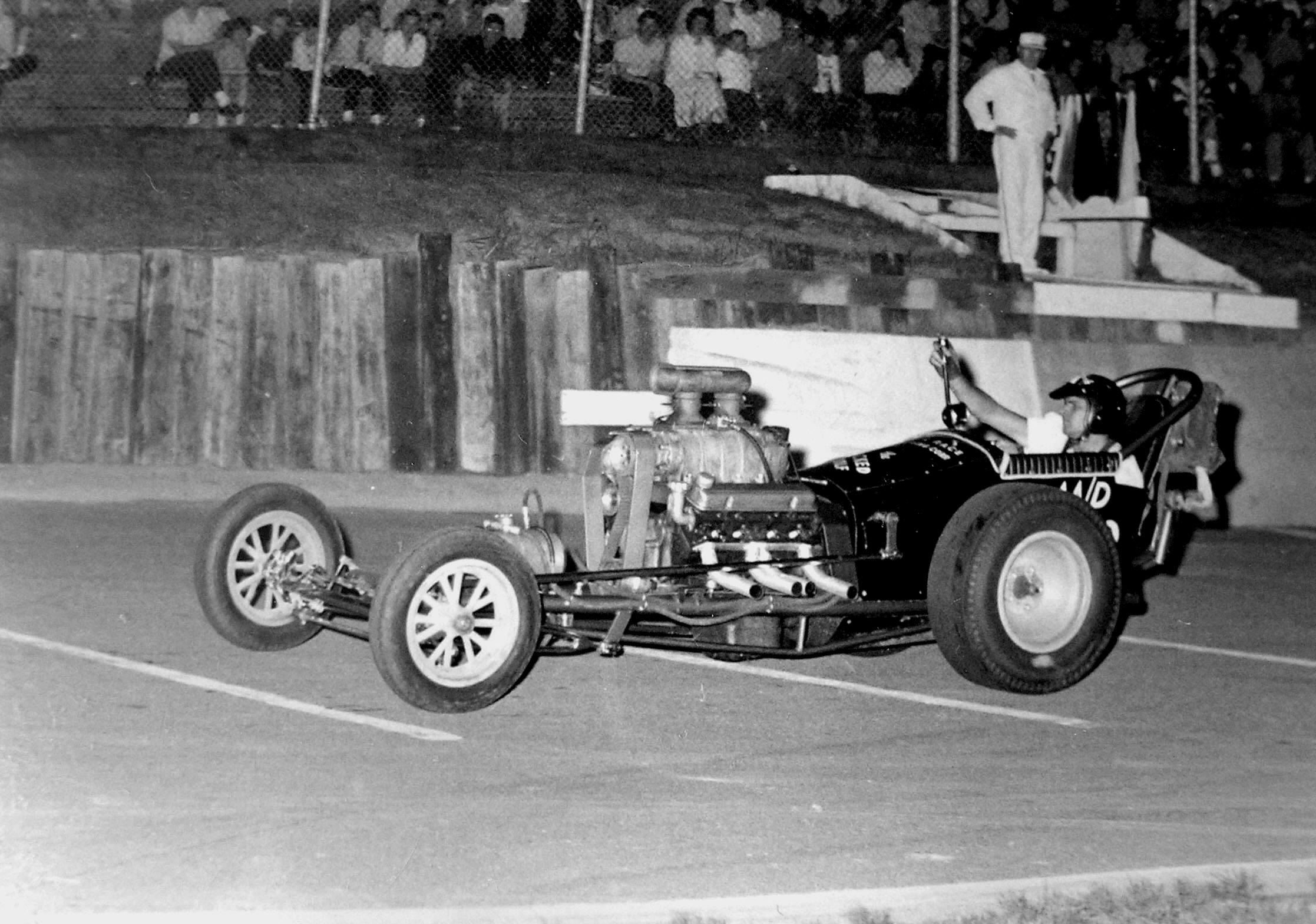 Dubrul Collection

Shelburne businessman and lover of anything to do with motor racing, Jack Dubrul, was one of the founding ownership group that built Catamount Stadium. He had raced in several forms of motor sports, and competed a bit at that old Vergennes track and at Thunder Road. Dubrul had a NASCAR sportsman coupe built and, running as the flamboyant "Black Jack" Dubrul, spent a couple of years around 1962 – 64 running in the difficult New York state sportsman was at places like Fonda Speedway and Victoria Speedway.
While choosing to sell out of Catamount after a short stint, Dubrul would race occasionally in modified coupes, hill climbs, and other types of racing. But he is perhaps just as well know for having a rail job similar in class to Keefer's. I don't know who drove the car when he didn't, but Jack Dubrul was a regular figure at the Milton Speedway in parts of the 1960's. There are photos somewhere of his and Keefer's dragsters running against one another.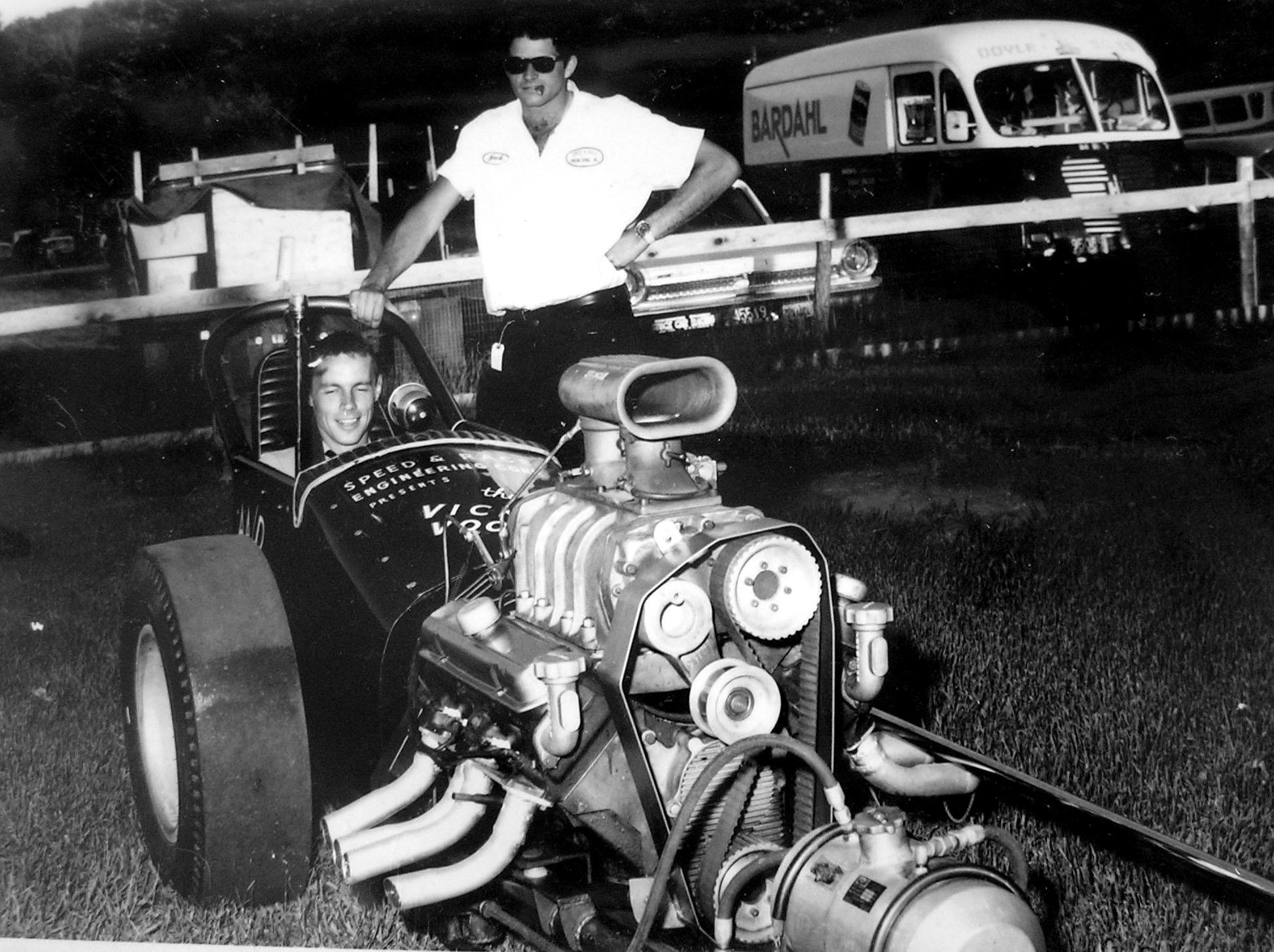 Courtesy of Cho Lee
Jack Dubrul, with his driver – at the dragster. Below – John
Casey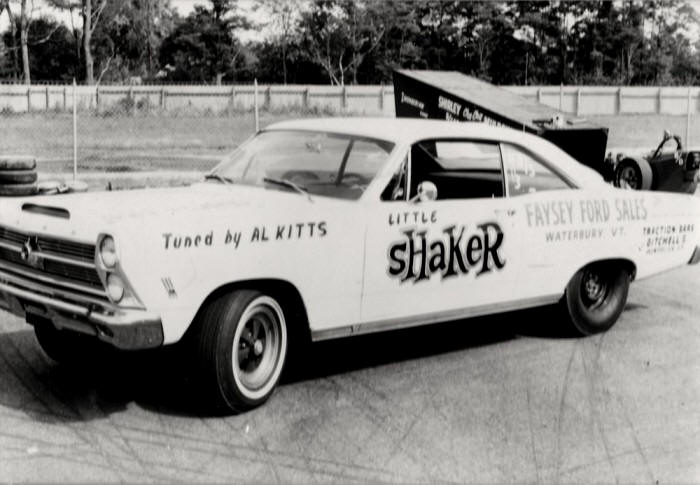 Courtesy of Hemmings Motor News Site
I recently found out that John Casey, known at Catamount not only as Mini Stock driver Danny Casey's father, but also as a business manager of sorts for the high powered 91 Pepsi team of Beaver Dragon is said to have run a drag car at the Milton Speedway known as The Shaker. Ray Lepage, perennial tow truck driver at the track as well as father to Kevin and Rick, built and ran a Volkswagen drag car for the Milton dragstrip, as he worked for the local VW dealer.
There was a ton of other people who had some role in both of Milton's race tracks, but I don't know of them yet. My late friend Terry Hill, who built up a good trucking business now owned by Bellavance Trucking out Barre, owned a retro dragster rail job long after most of that class had moved to rear engined cars. Terry would scoff at my stock cars, calling them "roundy round cars". Ironcially, not only did he never get to run at the old drag strip, but he ended up constructing the Terry Hill Trucking headquarters just off the former backstretch at Catamount. I never got to give Terry crap about that.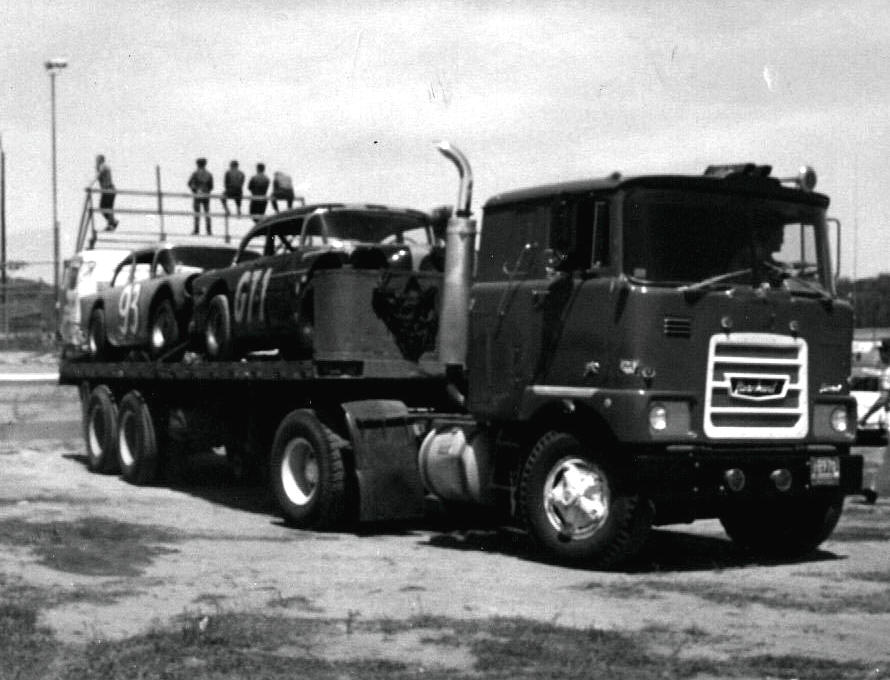 Courtesy of Cho Lee
Ironically, Bellavance Trucking, which has built a terminal nearly on
the backstretch, used to haul Barre – based stock cars to Catamount.
Below – That cement loading pad is about all that is left of the pits.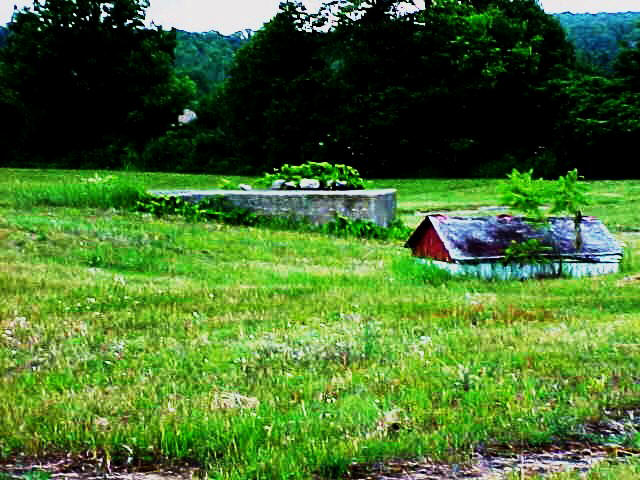 Ladabouche Photo
Sadly, now the town that is so into racing no longer has either track still operating; and Vermont being the way it is, there is snowball's chance in hell that another track will ever be built in the state. Hell, we might endanger the nesting grounds of the great spotted whooping toad or something.

Please email me at wladabou@comcast.net if you have any photos to lend me or information and corrections I could benefit from. Please do not submit anything you are not willing to allow me to use on my website - and thanks. For those who still don't like computers - my regular address is: Bill Ladabouche, 23 York Street, Swanton, Vermont 05488.
AS ALWAYS, DON'T FORGET TO CHECK OUT THE REST OF MY WEBSITE:
www.catamountstadium.com
Return to the Main Page
Return to the Main News Page
Return to the All Links Page
Return to the Weekly Blog Links Page