BILL'S [Somewhat] WEEKLY COLUMN/BLOG PAGE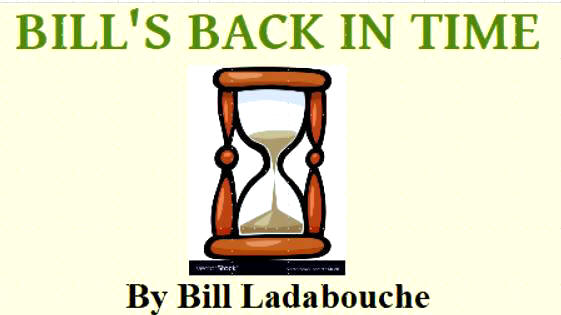 A TALE OF TWO RICHIE'S

It's not a tale of two cities or a rags to riches tale – it's about two young men named Richie, coming from polar opposite backgrounds, and having one thing in common – they were both real wheelmen, the true sense of the word. One is still around; one no longer with us.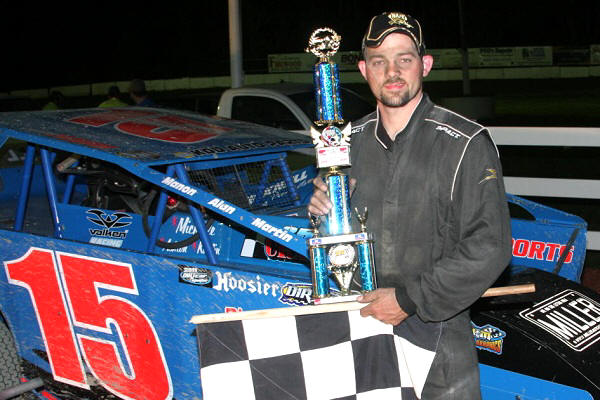 From VT Motorsports Magazine
A wheel man could take a wheelbarrow and probably make it
handle. Bear Ridge's reknowned third generation driver
Adam Pierson is such a person.
I got the inspiration looking through the largest and most ungainly of my 47 images folders on this poor ol' computer. Along near the bottom, there came up first, Richie Panch, and then Richie Turner. I don't usually deal with people Turner's age, but his roots go back to a place I often work with – early Milton, VT racing.
Richie Turner's father was not very old when Richie Panch was brought up to Vermont by his famous father. Marvin, to begin his racing career. Richie Turner, Sr. was a kid I had in school [around fifth grade or so] when Panch arrived at Catamount Stadium with an Allison Chevelle, a paid crew, and a sponsorship from a young entrepreneur named Thomas "T Bone" Curley [who would be running the racing show by the time Richie Turner Jr arrived].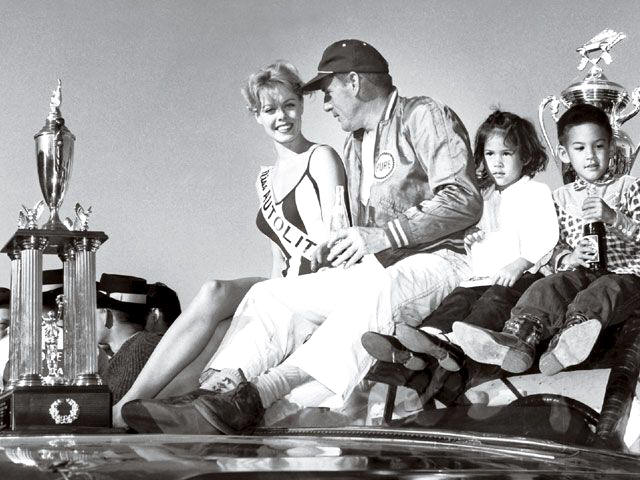 Panch Family Photo
A very young Richie Panch is seen, with dad and his sister, Marvette
after one of Marvin's victories. Below – Richie, upon arrival in
Vermont, with the car and a pretty advanced hauler for the time.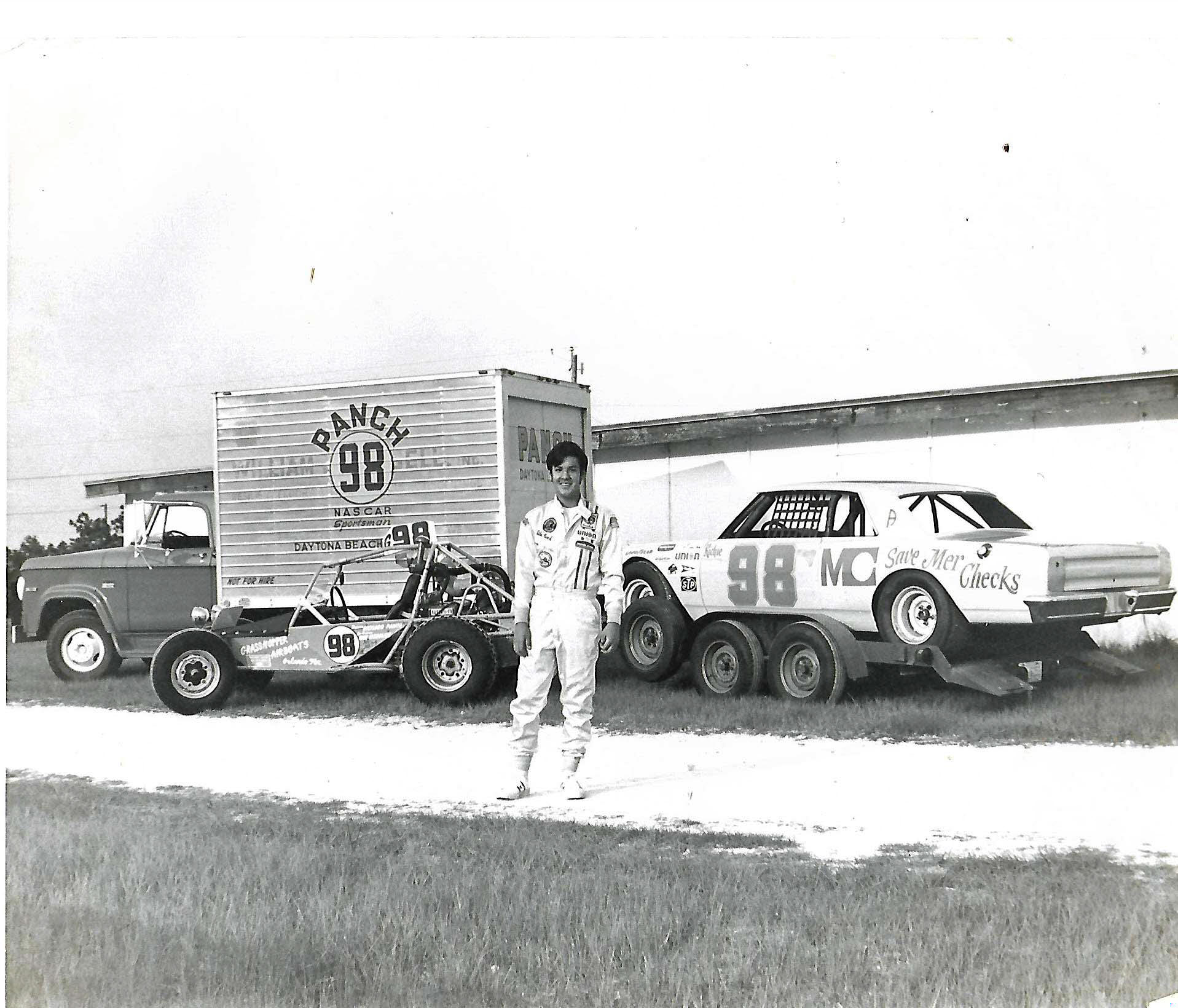 Courtesy of Terry Osterman

Marvin Panch, of course, was the famed NASCAR Grand National driver who was arguably as famous for being rescued from a fiery crash as he was for winning many races. Marvin and Bettie famously lived on Pancho's Rancho and that second marriage for Marvin had two kids – Richie and Marvette. Richie was turning 16 by 1972 and Marvin apparently knew Ken Squier and was familiar with the latter's burgeoning Northern NASCAR circuit.
So, plans were put in place. The Chevelle would be bought from the Allisons; a first rate hauler was bought; Vermont native Kenny Bucklin was hired on as crew chief; wherever Bucklin went, so did crewmen Phil Bowler [ renegade IBMer] and Terry "Ox" Osterman [ a professional hoof trimmer and awesomely strong man]; Squier had made arrangements with Curley's MerCon, business, an S&H green stamp – like affair; and further arrangements were made for the young Panch to live with the family of Catamount regular Kentuckian, Tom Tiller.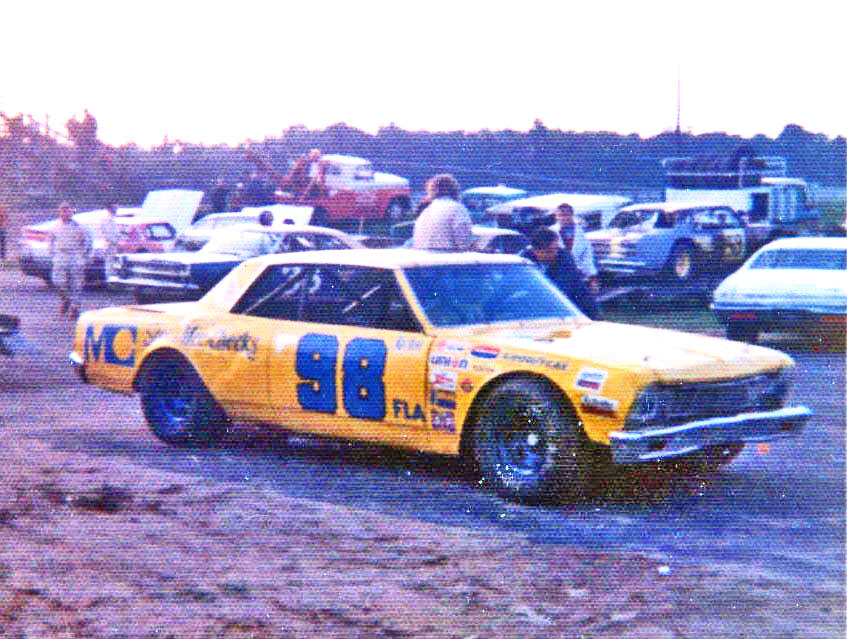 Ladabouche Photo
Richie in the pits at Catamount with Ox in the background. Below -
In an interesting irony, Richie discusses his motor with Tiny Lund,
one of the men who saved Marvin's life in 1963. Also there are
Ox [right] and Tom Tiller [far background].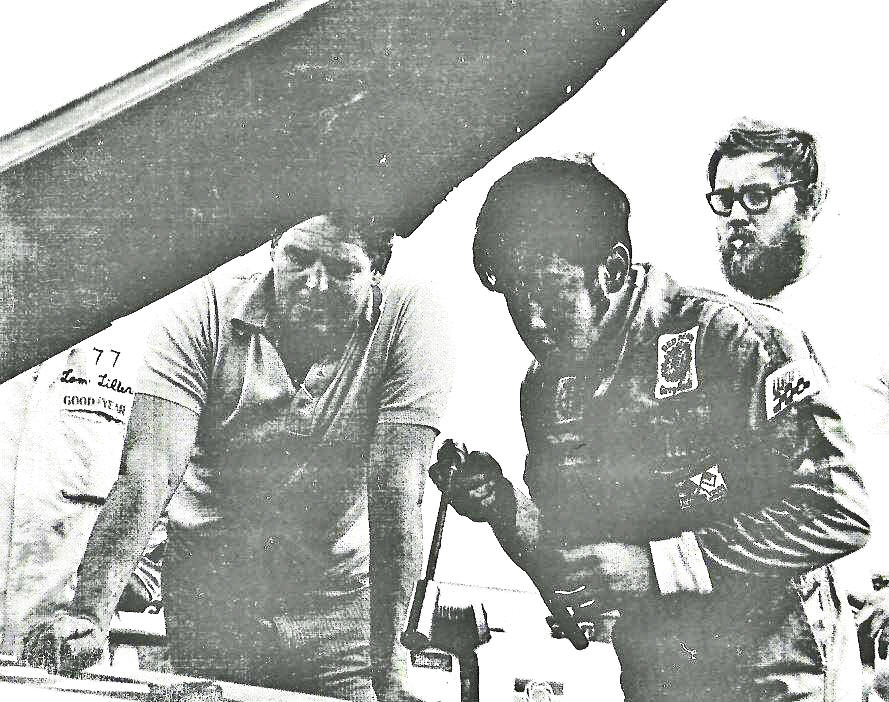 Courtesy of Terry Osterman


Everything was planned out and in place. All Richie had to do was drive the race car and behave. He did both. By all accounts, he was an absolutely nice kid. He was essentially one of the Tiller kids who didn't turn badly either. [In fact Tom, Jr. was once president of Polaris]. The young Panch soon got to where he was wheeling that yellow #98 Chevelle very well and was really well liked in the pits at Catamount, Thunder Road, and Devil's Bowl. I believe Airborne [then Plattsburgh International Speedway] was also on the schedule.
Richie Panch and his hired crew stood up to the challenges of running T Road Thursdays, Plattsburgh Fridays, Catamount Saturdays, and the Bowl on early Sunday evenings. He managed a win at Devil's Bowl, which was a very popular one. He managed to keep the well -handling, former Donnie Allison Chevelle fairly free of major damage most of the time. He managed to finish fourth oin the Devil's Bowl final standings, and well at the other two Vermont tracks, as well as Plattsburgh. Panch finished 10th in the Vermont NASCAR late model sportsman standings in 1972 as host "dad" Tiller finished first [and 6th in the national standings].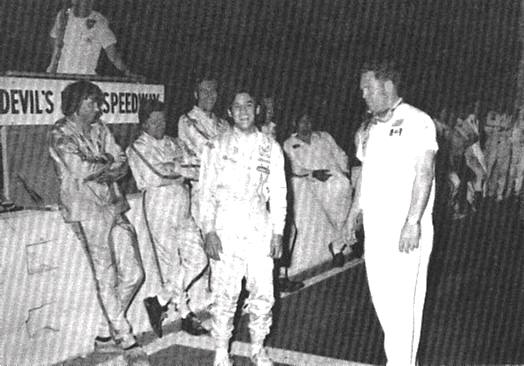 |Bob Frazer Photo Source Unknown
Panch's immense popularity is evident here at Devil's Bowl [his
best track]. Below – Richie is given the trophy after the race by
promoter C.J. Richards.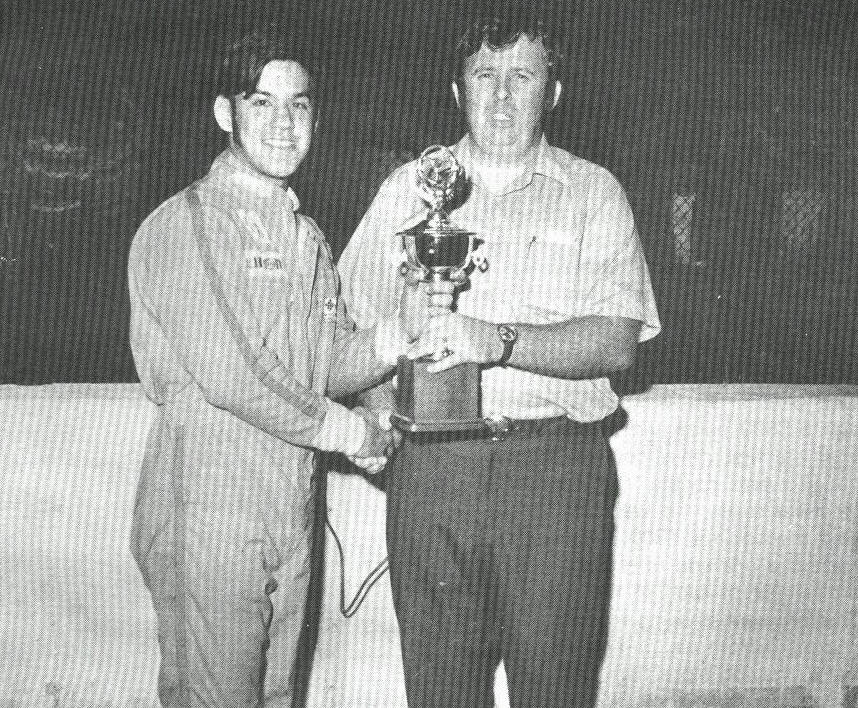 Bob Frazer Photo Source Unknown
I recall two things about the Panch adventure – not much more because I was involved in the beginning of a sign painting business, trying to help out Beaver Dragon where I could, and still teaching school. Firstly, it seemed that Bucklin was forever sitting in the car before practice – rhythmically and gently revving the engine, over and over. Never knew why. I also recall the somewhat shy Panch being often besieged by young female fans and not looking 100% comfortable. Well 16 isn't very old, after all and he was a long way from home.
After what had to be considered a very successful rookie seaon, Richie was packed up and sent back home to start in with the Grand Nationals. The Allison Chevelle was sold off to a grateful young Steve Poulin, who had success with it before selling it off to Montreal's Claude Aubin [who also did well with it]. Richie Panch would be put into a red, white, and blue #98 for that 1973 season.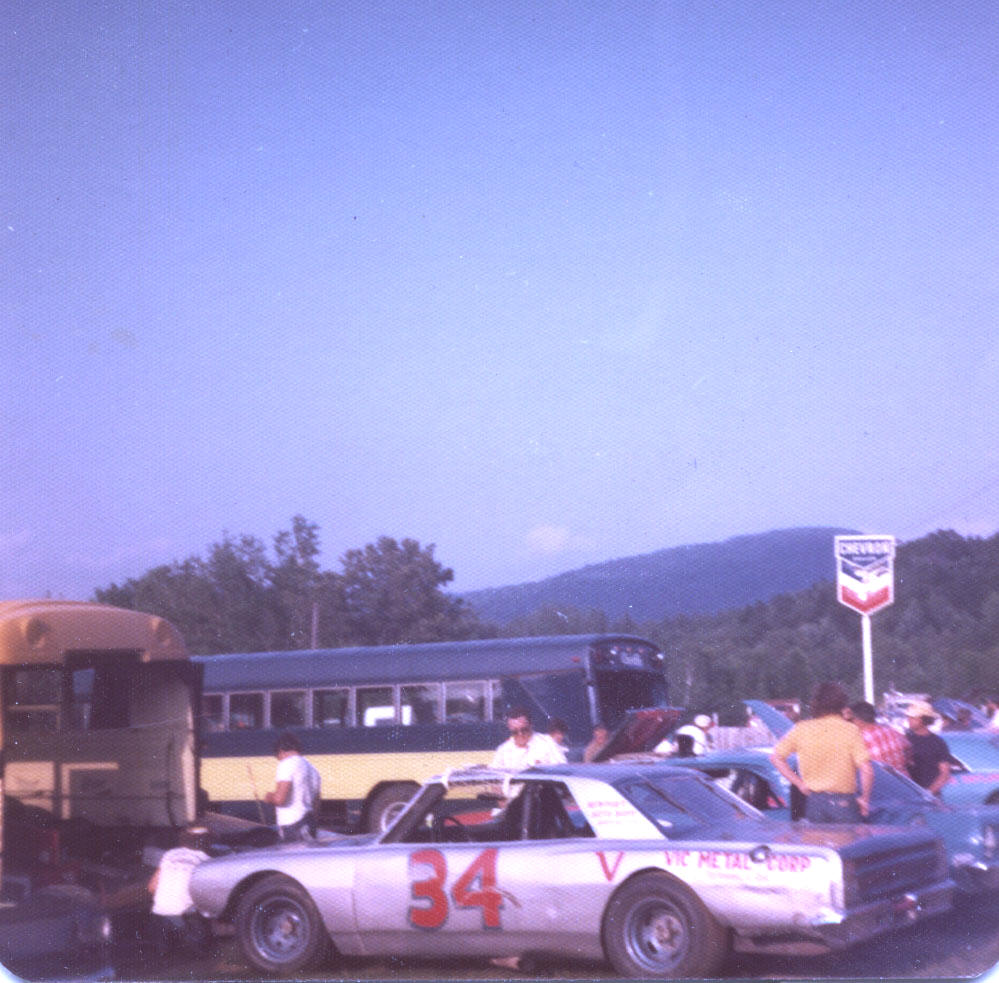 Ladabouche Photo
Steve Poulin gladly had Richie's fleet Chevelle by the 1973 season.
Below – One of Richie's Grand National rides.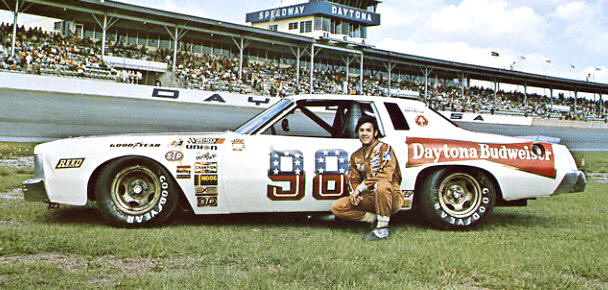 Stock Car racers Reunion Photo
What we would always hear was two things about Richie Panch: 1.) If you wanted someone to run a car as hard as it could be run but weren't so sure about its dependability – Richie Panch was your guy. 2.) We were also hearing that he was having a hard time with his vision at those increased speeds. It seems like those factors may have combined for a perfect storm as he was killed racing down South. It saddened all of us up here who felt like we had lost a sort of young relative of ours.
Our other Richie will likely never get a chance to drive in a Cup car, but he sure as hell can wheel an automobile – almost any automobile. When Catamount opened in 1965, three of Harold Turner's four sons decided it was time to build Flying Tiger cars and get on down to that track to race. Donald Turner [the known as The Flying Milk Man] would be the most visible and most successful of the brothers.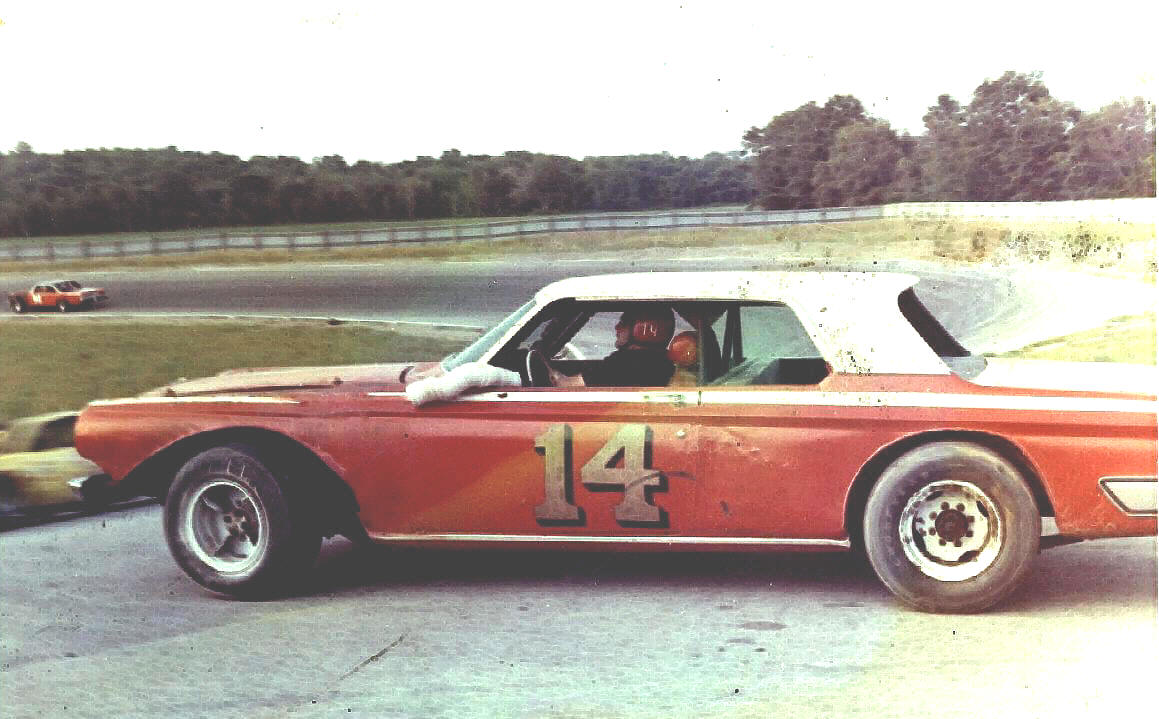 Denis LaChance Photo
Don Turner enters Catamount with his home – built Dodge
late model around 1972. Below – Ernie Turner campaigned this
Ford until he decided racing was getting too expensive.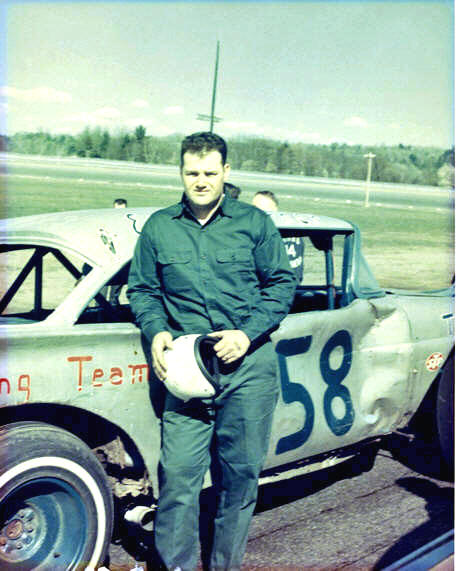 Courtesy of Rich Palmer
Don first ran a silver car, like both of his brothers, because the paint was the cheapest. He would go on to try late model racing and eventually fall back to the less expensive support divisions before briefly handing over the reins to son, Don, Jr. Junior never amounted to much with the car but has gone on to be the minority leader in Vermont Legislature.
Brother, Ernie, unlike his sibs, fielded a 1958 Ford [silver, of course]. He would run up to around 1968, also having wife, Margaret throw in for a few powder puff events. The last brother, Ira, is the source of our article. Called "Big Iree" by Donald, he could lift two full milk cans at once, and wheeled his ungainly silver #15 around Catamount for a few seasons before deciding he didn't have the money for it.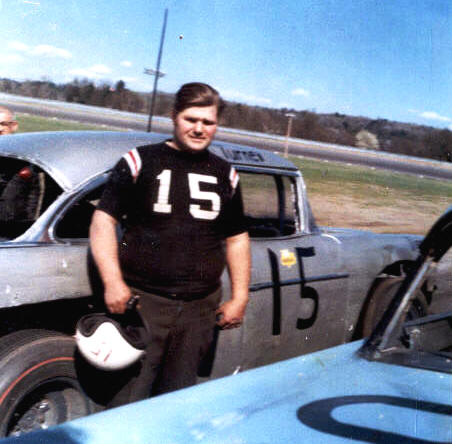 Courtesy of Rich Palmer
Big Ira with his car at Catamount. He once single handedly held
up a full rear end so his brother, Don, could wrench up the U bolts.
Below – Ira's almost totally – stock car at home around 1967.
I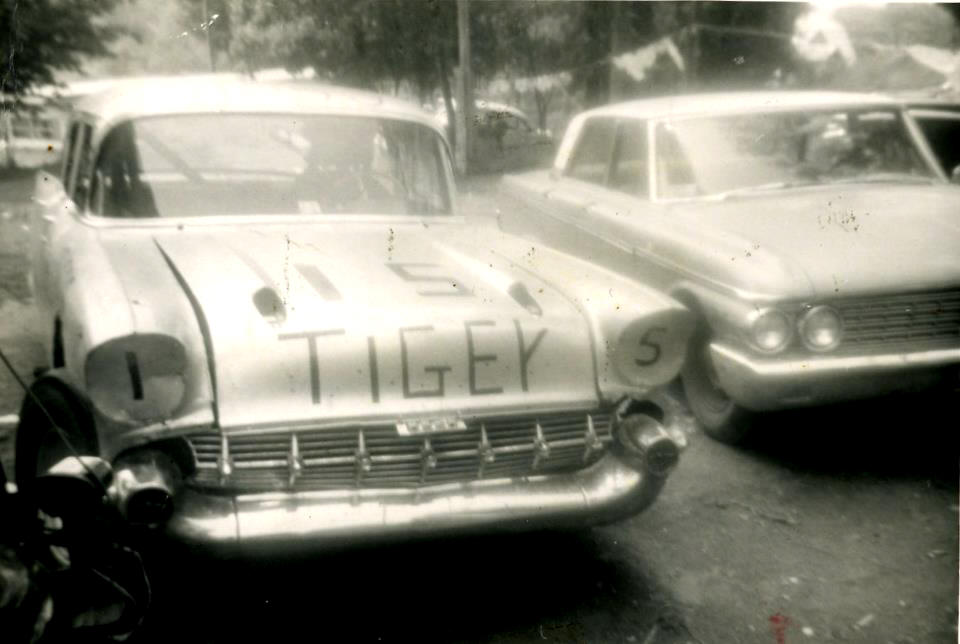 Courtesy of Andy Boright

Ira would have a number of kids including Ira, Jr., Dan, Doug, Cindy, Patty, and the sometimes a little hard to manage Richie. Richie never had much to do with racing, at first, but was a natural around cars. He would have his time at tracks like Airborne, in Plattsburgh, NY; but, he never developed much of a liking for autocratic promoter and director Tom Curley. Richie, Sr. stayed at Airborne when Curley departed and that track to field the first cars for his son, Richie.
I was not around racing when Richie, Sr. raced or when junior began, but young Richie was running a very worn – out Tiger Sportsman when I began to go back over to Airborne in 2005. He was always a contender in what then was still a very competitive and viable division. Richie, Sr., now realizing his old teacher and general friend to the Turner family was there, filled me in on the history of the tired Tiger and how badly it needed to be replaced.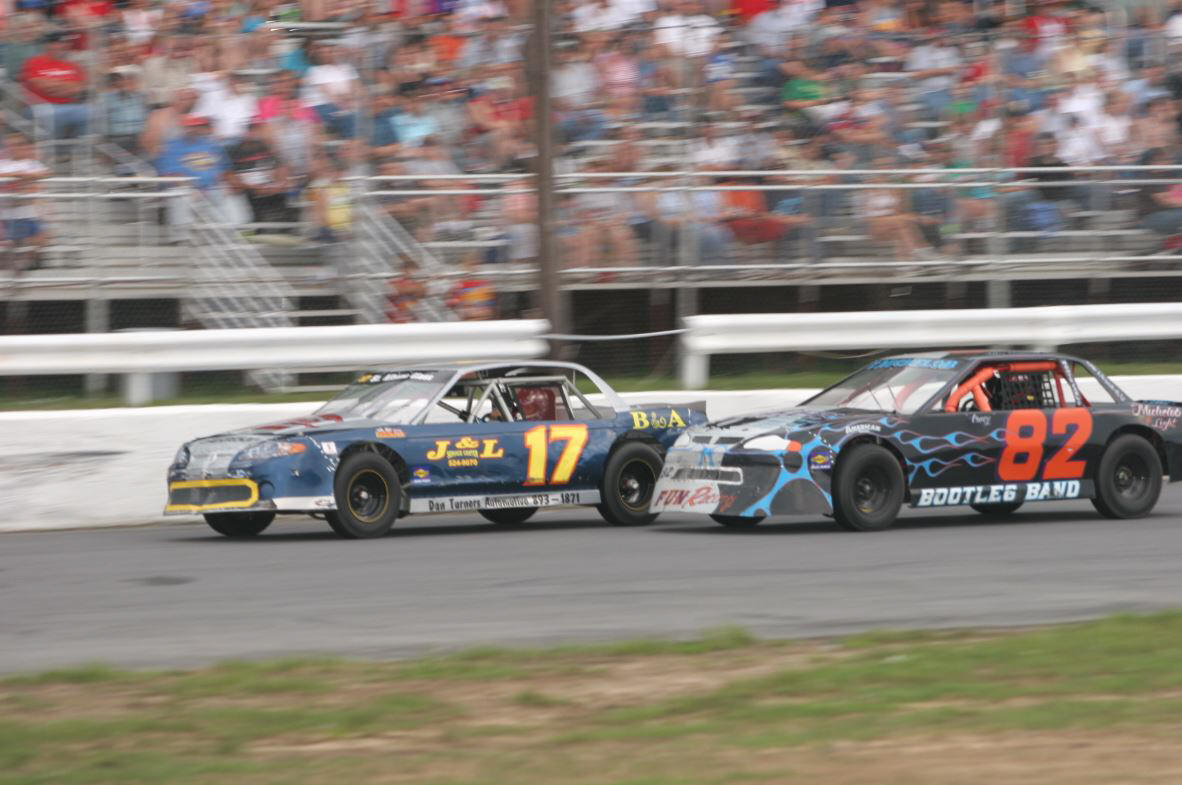 Mike Watts Photo
Richie Turner was always in the running at Airborne, particularly
before his car got to be pretty old. Here he runs against Tiger Sportsman
rival Toby Ebersole. Below – The Turner gang celebrates a feature
win.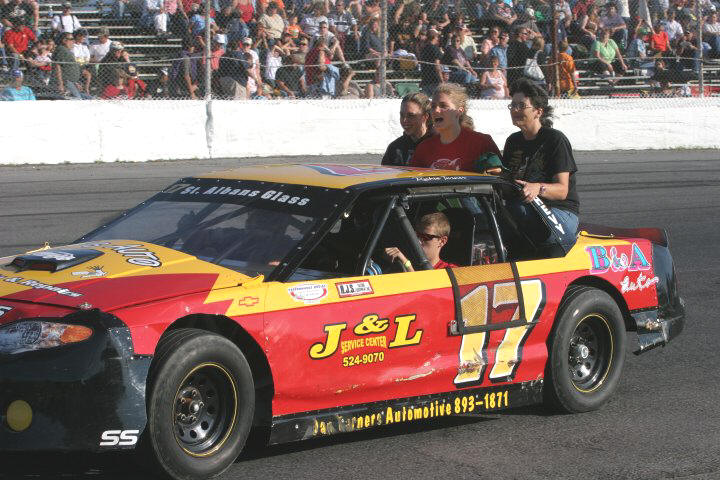 Dave Brown Photo

But two things entered into Richie Turner's career that never did to Panch's. Firstly, the division he was racing in was beginning to deteriorate by around 2009 or 2010, and they were losing car after car. The Renegade class, just below the Tigers, was far more popular and still going strong. Secondly, Richie Turner had one more wreck and his father announced the poor old car simply coul not be glued together one more time. And even thirdly, there was the all – too – familiar getting married factor.
Richie Turner could [and can] drive damn near anything; but, unlike other young potentials like Jessey Mueller who had near unlimited financial backing, Turner seldom could find anyone who wanted to [to could afford to] put him in a car. The two Richies tried fielding a Renegade for a while, getting far more out the half – shot car than anyone else would have. Richie also fielded a small enduro car until tracks told him not to show up any more because no one else seemed to be able to win if he was in the field.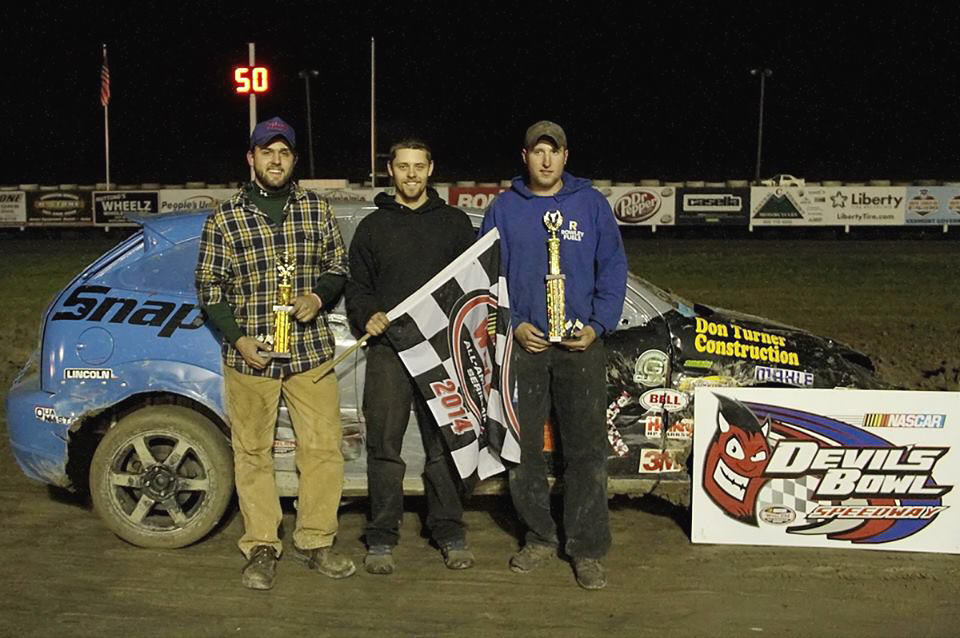 Courtesy of Justin St. Louis
Richie [center] with the enduro car he ran until most tracks
didn't want to see him any more. Below – Richie, in a pose
with the Tiger Sportsman he ran 'til it dropped.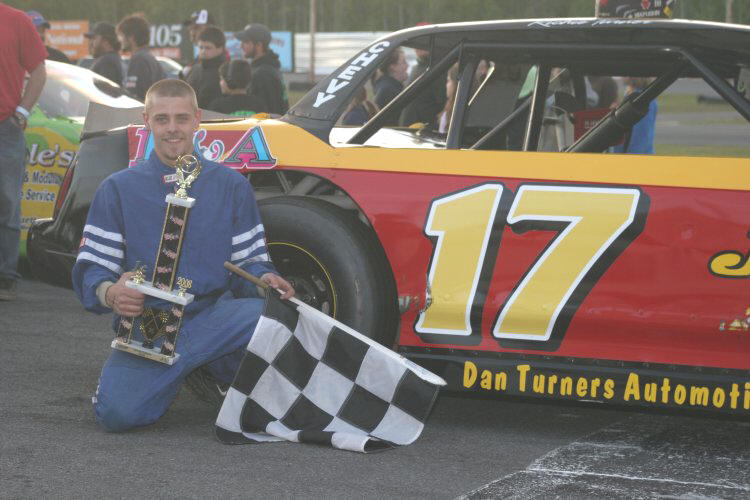 Dave Brown Photo
Thus, while many other, much less talented, drivers are out there every week plying tracks like Devil's Bowl, Airborne, and even Thunder Road – Richie Turner seems destined to sign in the pits and watch from the sidelines. I don't know if he has ever considered becoming a crew chief, but that doesn't seem in the cars for someone who only wants to climb in a race car himself and charge through the field.
More than many other sports, it seems like relative wealth [or lack thereof] int which you are born, often plays an inordinately large role in how your racing career is going to go. Too bad we couldn't jump into the time machine, go back to Catamount Stadium 1972, and place Richie Turner in that professionally maintained Allison – built '64 Chevelle. Could have been very interesting.
Please email me at wladabou@comcast.net if you have any photos to lend me or information and corrections I could benefit from. Please do not submit anything you are not willing to allow me to use on my website - and thanks. For those who still don't like computers - my regular address is: Bill Ladabouche, 23 York Street, Swanton, Vermont 05488.
AS ALWAYS, DON'T FORGET TO CHECK OUT THE REST OF MY WEBSITE:
www.catamountstadium.com
Return to the Main Page
Return to the Main News Page
Return to the All Links Page
Return to the Weekly Blog Links Page