BILL'S [Somewhat] WEEKLY COLUMN/BLOG PAGE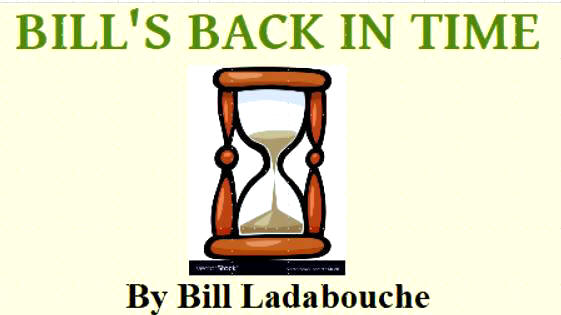 ALL THOSE LONE WOLFES

The Many Former Vic Wolfe
Cars All Over the North Country
I was actually writing a blog about Canadian cars in the 1960's when an idea for another piece dawned upon me. I must have seen photos of at least three cars which used to be Vic Wolfe – built, Bob Bruno – driven white 66 NY's. When one considers how well the cars were built and how well the team did, it is no surprise. Vic Wolfe was not one of those brilliant builders who feared letting anyone see his work; he was a prolific provider through selling off used equipment from his base in Plattsburgh, NY.
The 1950's were a time of exciting change for the northern New York small city of Plattsburgh. Before the '50's, it's only real claim to fame was that a pivotal battle took place there during the War of 1812. But, in the early 1950's Plattsburgh somehow won out to get a Strategic Air Command air base located there. It would profoundly affect the community in that the SAC base would define the place until its closure.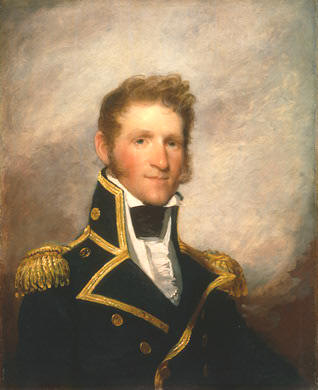 Art Experts Website.Com
Until Vic Wolfe came along, the most famous man around
Plattsburgh was Commodore MacDonogh, hero of the Battle
of Plattsburgh. Below – A view of the Dutcher Constructionheavy equipment site, during the
construction of the air base. Note the race car sitting around. Hmm!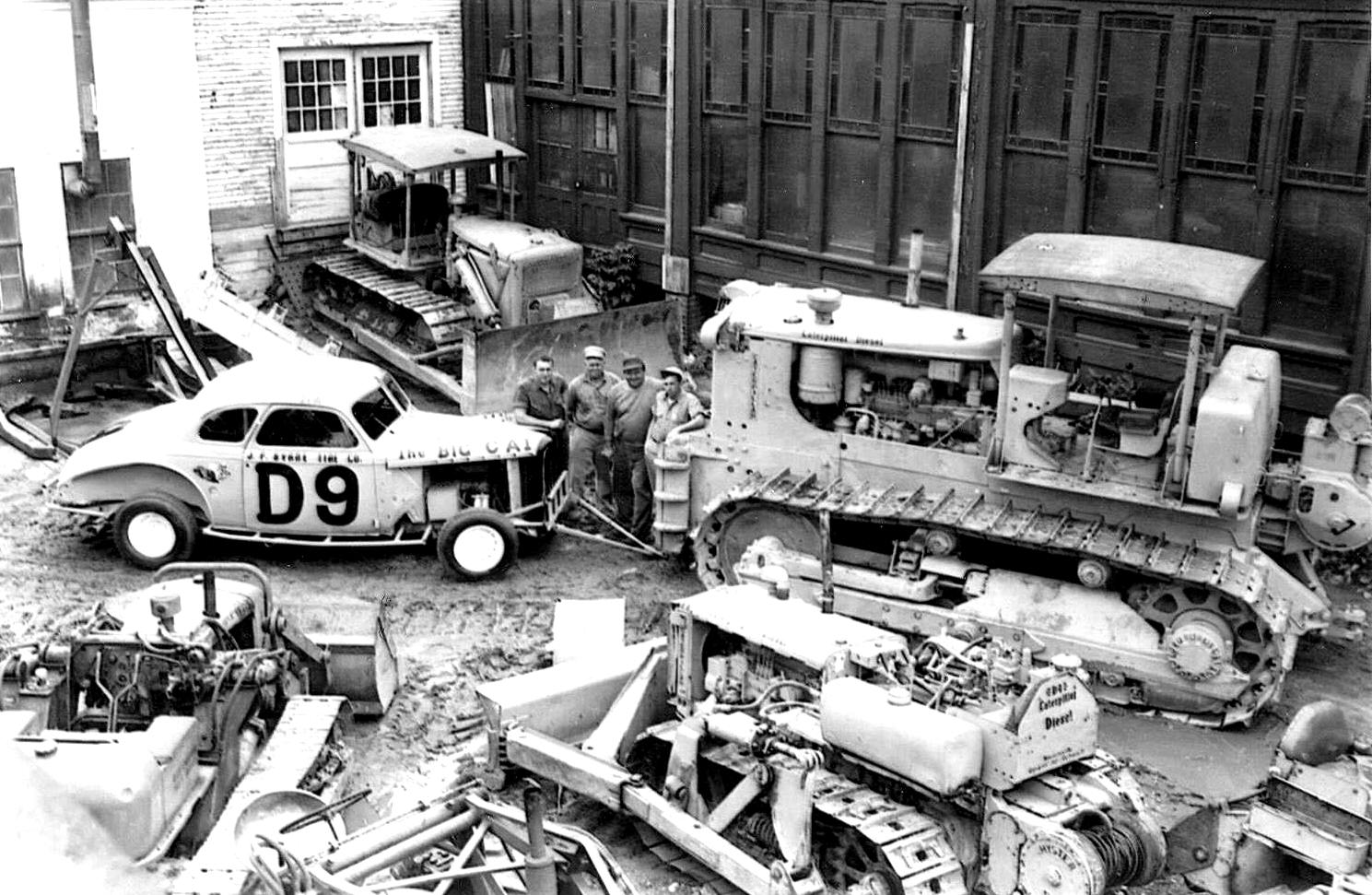 Courtesy of Rick Reome
However, the construction of the base also affected racing in that region, indirectly- as well. Opportunities for racing in the immediate region had been very limited before 1954. There had been roadster racing down at Champion Speedway in Ticonderoga, and Moffitt Park Speedway, north in the Town of Plattsburgh, had feature some open wheel cars and motorcycles – turning to stock cars as Border Speedway in 1953. Any other racing carried you all the way ojut ot Canton, NY or across Lake Champlain to a number of tracks in Vermont.
Perhaps due in part to the huge increase of construction in the area with the coming of the air base, three local men decided to put a new race track in South Plattsburgh in 1954. Maurice Broderick [the best know partner], Bert Blake, and Lyman Burnell established Airborne Park Speedway [obviously trading in on the excitement around the air base]. First dirt, the track would end up being paved and would also join up with NASCAR by 1960 or so.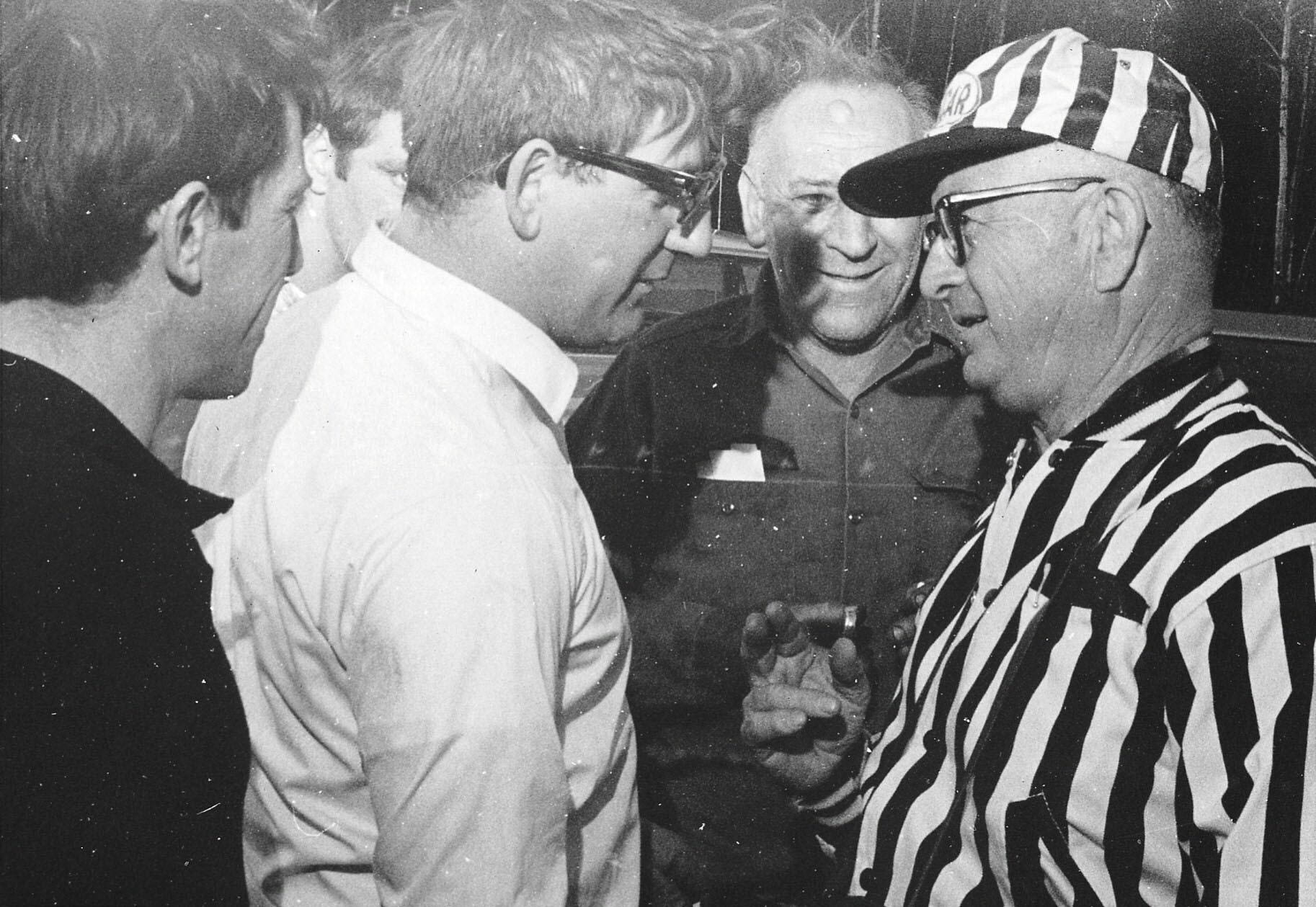 Bob Mackey Photo via John Rock
Maurice Broderick [right] talking to Marcel Godard, one of his
Canadian drivers. Below – Burt Blake [rt] awards a trophy to
Bud Besor, one of the men who had a former Wolfe car.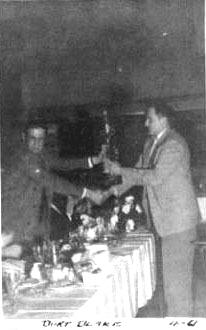 Bob Mackey Photo via John Rock

One of the hundreds of men who came into the Plattsburgh area to work on the construction of the air base was one Vic Wolfe, a transplanted Southerner whose skills made him very desirable to the bid construction firms like Dutcher, who were brought in to get the job done. Wolfe, who was not only particularly adept with Dutcher's heavy equipment, was also a very intelligent man who would make astute real estate purchases. He would end up buying former farm property from a woman that ended up becoming the Champlain Centres North shopping mall.
Wolfe would set up shop by a small trailer park he was operating on his new property off NY Route 3. From a small garage there he began building his trademark white mid thirties Chevy coupes for local driver Melvin "Bob" Bruno. Bruno, a renaissance man of sorts, was a local educator and a politico, as well as a fast – developing stock car star. The Wolfe team's basic core include Vic, Wesley Mischler [a man of enormous strength, Dannemora prison guard Jack Rugar, and Bruno.
The Wolfe – built all white #66's with red numerals became a familiar sight in Victory Lane, particularly at Airborne and at the rural Saranac Lake Speedway in Lake Clear. In fact, so successful were they at Saranac Lake that the very respectable, proper Bruno was made into an arch villain there. He once told me that, while being made the bad guy was a left - handed compliment, he really didn't relish it.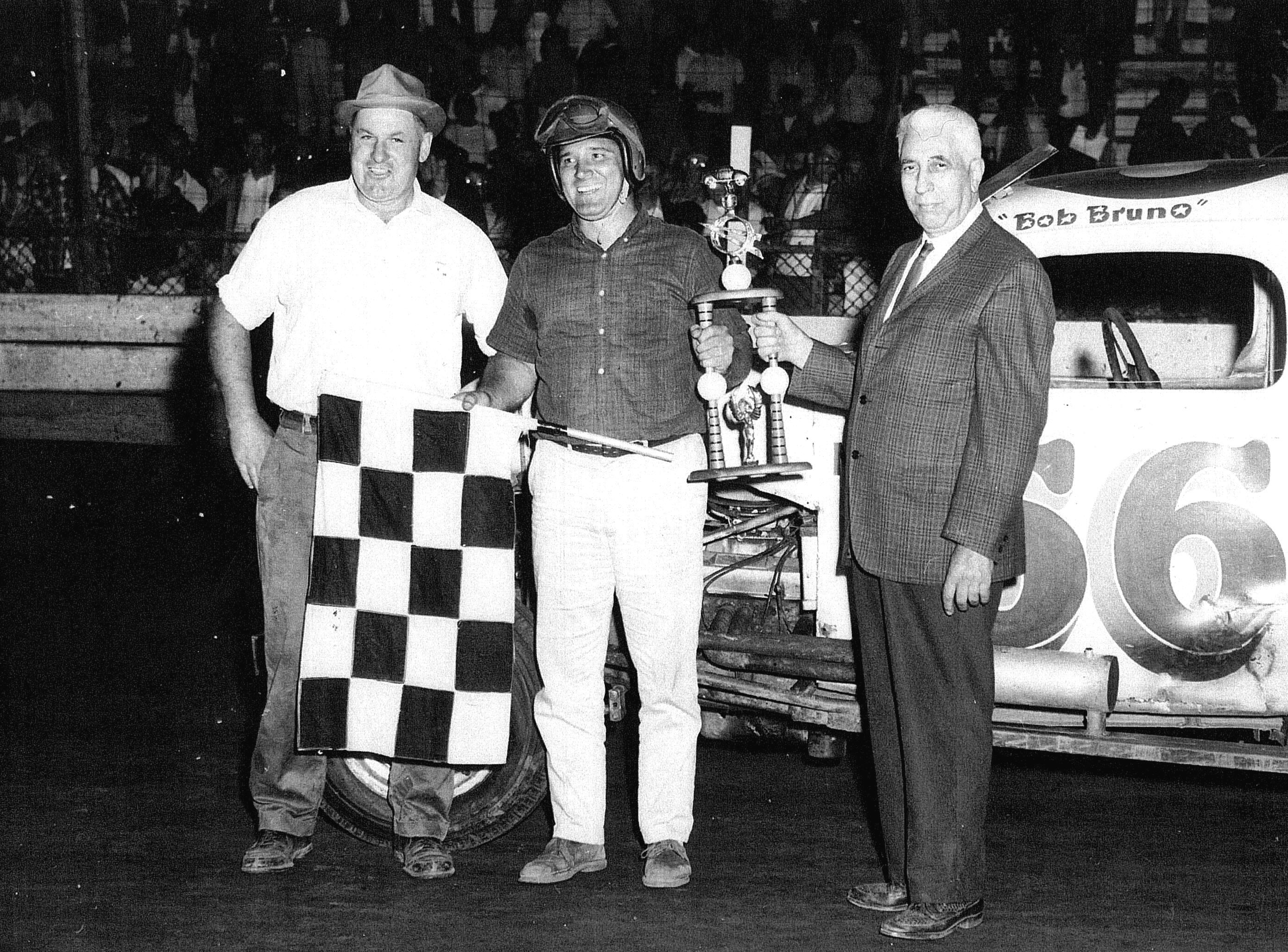 Russ Bergh Photo
A rarely photographed Vic Wolfe is seen with Bob Bruno after
their impactful Fonda feature win in 1965. Below – This staged shot
shows the core of the Vic Wolfe racing team. Wolfe [far left], Wesley Mischler, and Bruno in the car.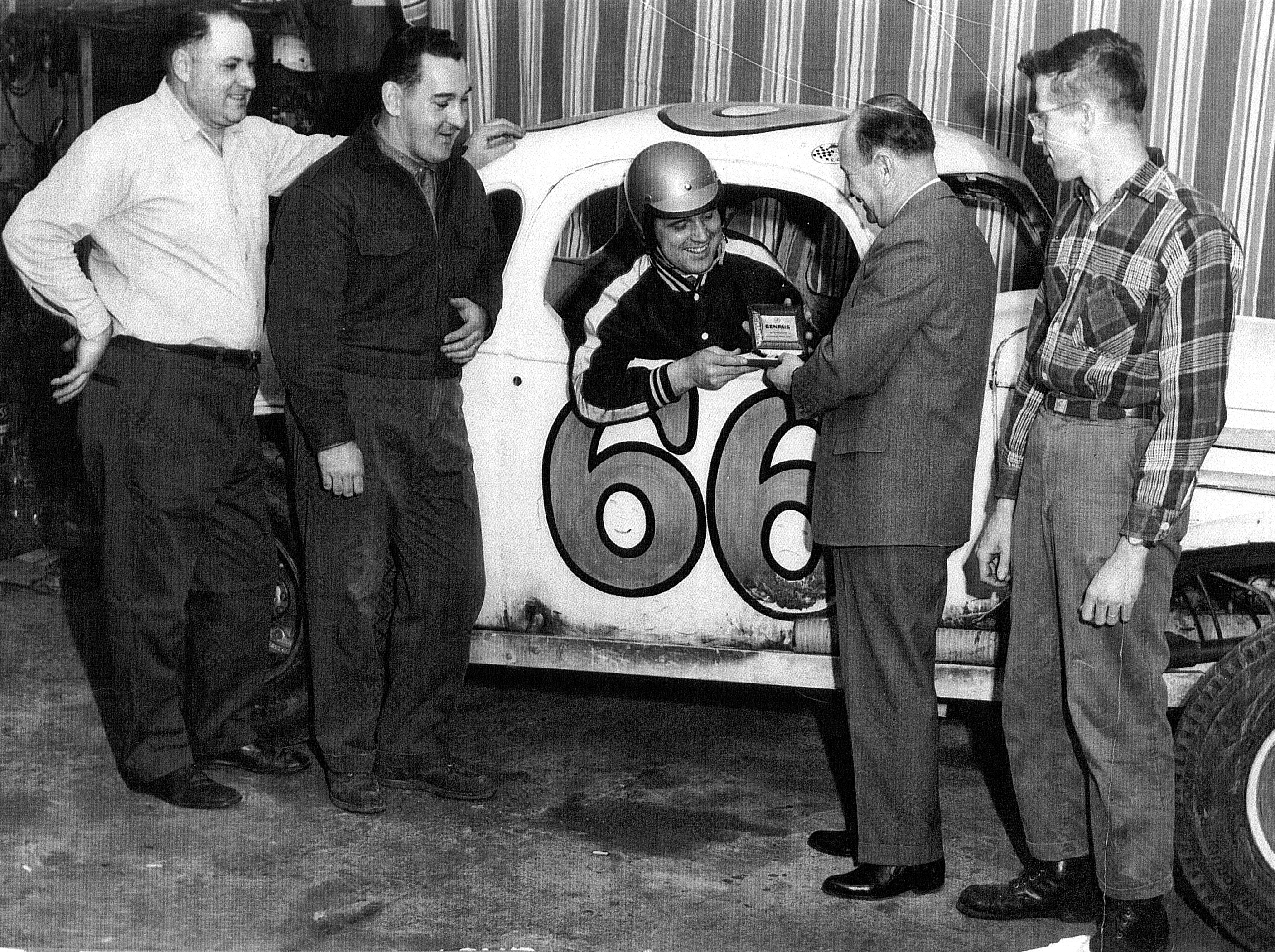 Bob Bruno Collection

Wolfe's car, with Bruno in Victory Lane, actually made the cover of the NASCAR monthly newsletter around 1960. The team would run the car as a limited sportsman up to 1961 or so. I recall Bob not being able to keep at the old Otter Creek Speedway near Vergennes, VT because the long, dusty, bumpy oval was strictly a horsepower track. By 1962, they were running a full -fledged sportsman. In 1963, Bruno finished sixth in points at Airborne, and the team never looked back.
All around the region, people began to take notice of those immaculate and fast white coupes. It didn't hurt any when, around 1965, Wolfe built a potent sedan and proceeded to go down to Fonda Speedway [that bastion of NASCAR sportsman super stardom and a place where they hated outsiders] and won the feature. Seeing as Wolfe liked to refresh his equipment regularly, inquiries were put out as to what he was going to do with the old cars. The first really good #66 coupe was destroyed in a fire at Syracuse or Langhorne when track officials left the stalled car on the track and it was collided with.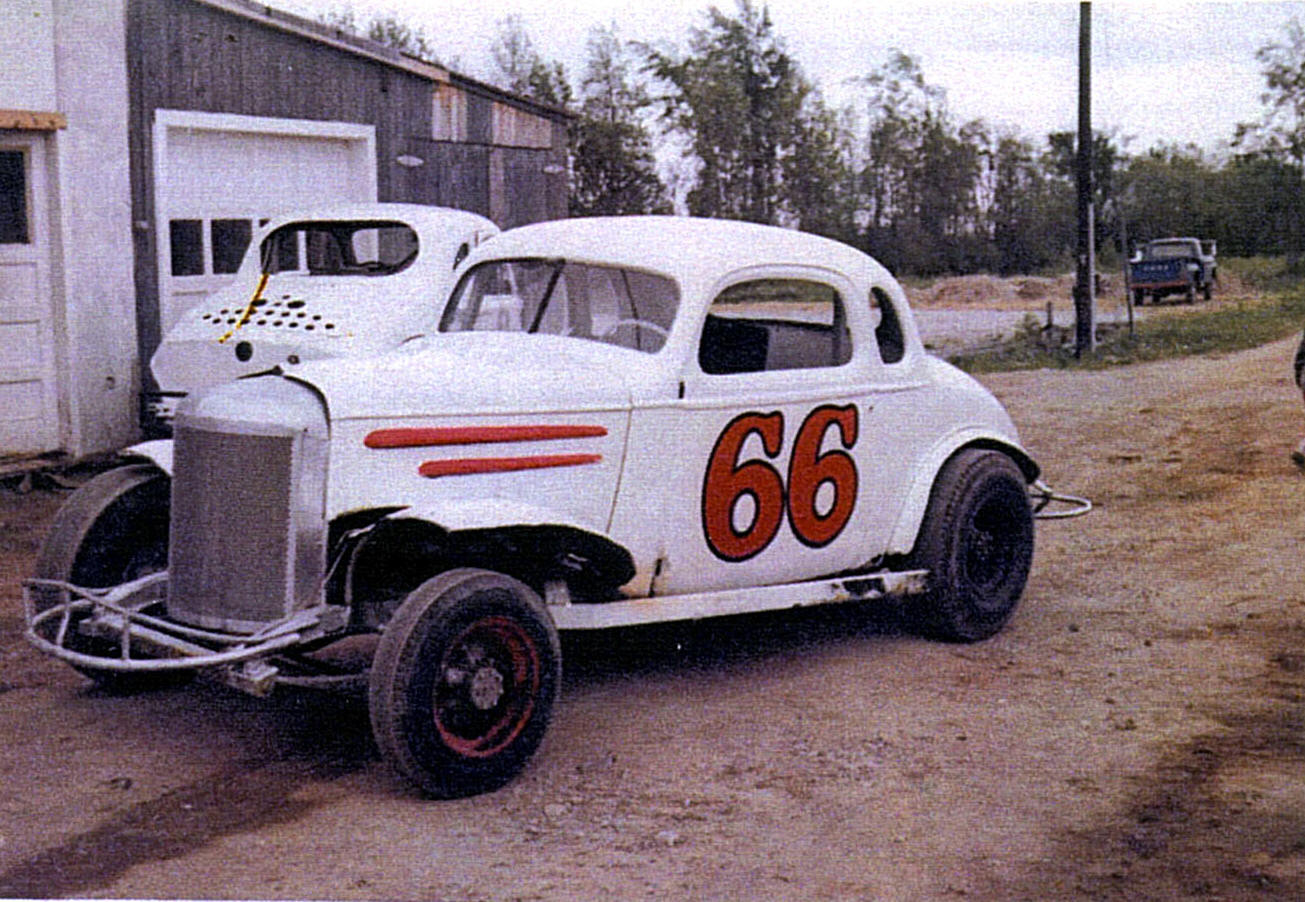 Bruno Family Collection
What is likely the first Wolfe coupe sits outside the team's
shop around 1960. Below – An early Wolfe car sits, burned
out, after the unfortunate wreck. The Wolfe trailer park
is seen in the background.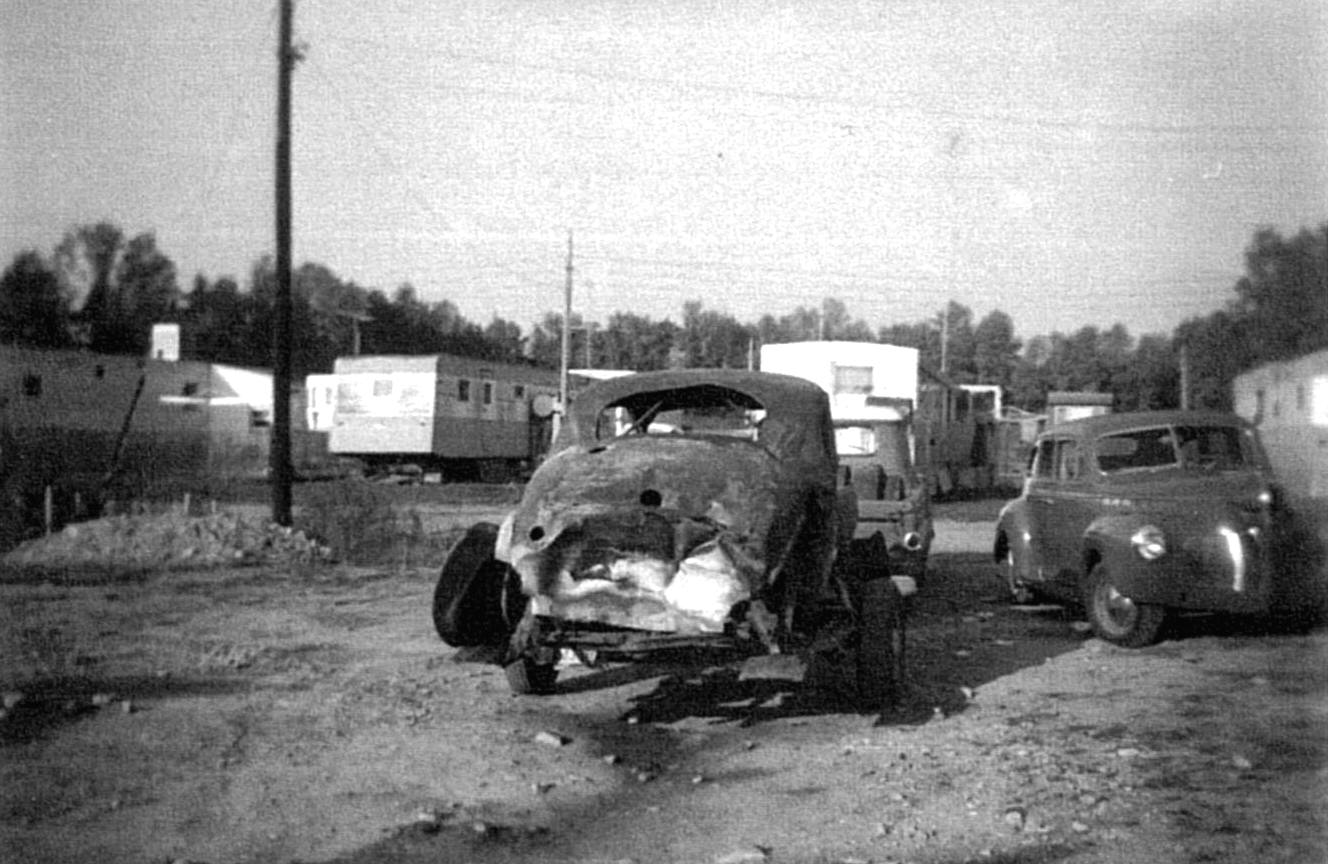 Bruno Family Photo

When Wolfe decided it was counterproductive to destroy his used cars, he made them available to the discerning buyer. One such car was one he had been providing for Airborne regular Bud Besor, a man he knew from the Dutcher Construction days. Besor's car was the 50NY. According to what I was told, it was later sold to Harold Healey, who ended up fielding two cars that were b oth Wolfe cars. Besor got the 50 and drivers like Ernie Reid and Jim "Sapphire" LeClaire got to drive the #70. Reid started with the car as 66A and it made a number of appearances in Canada, where it was noticed.
Again, around 1965, Wolfe sold another car to Canadian veteran Frank Hodge. Hodge first ran the car as a white #66, just adding his sponsors to the scheme. Later he would convert it to the "Lucky 7", a very well recognized car number around Quebec. I recall Hodge towing down to Fairmont Speedway, in Fair Haven, VT because C.J. Richards had upgraded his lead division to the overhead V-8 sportsman that season. Running by himself with no apparent crew, Hodge kept having his carburetor start on fire.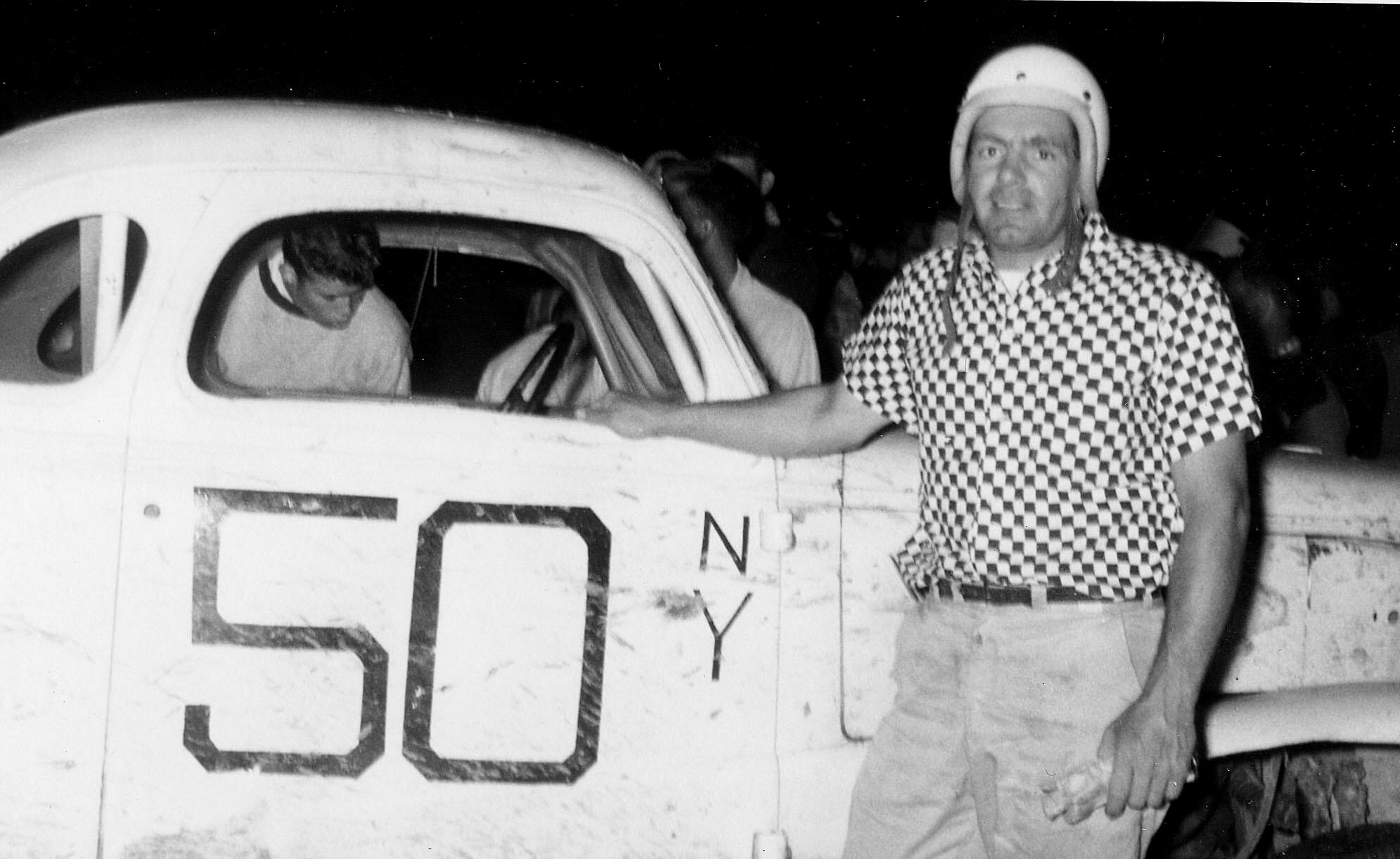 Bob Mackey Photo via John Rock
Bud Besor with what might have been the first Wolfe car to
be sold off. Below – Harold Healey and Sapphire LeClaire
look at the wrecked 70 at Devil's Bowl. Vic couldn't make
them wreck proof.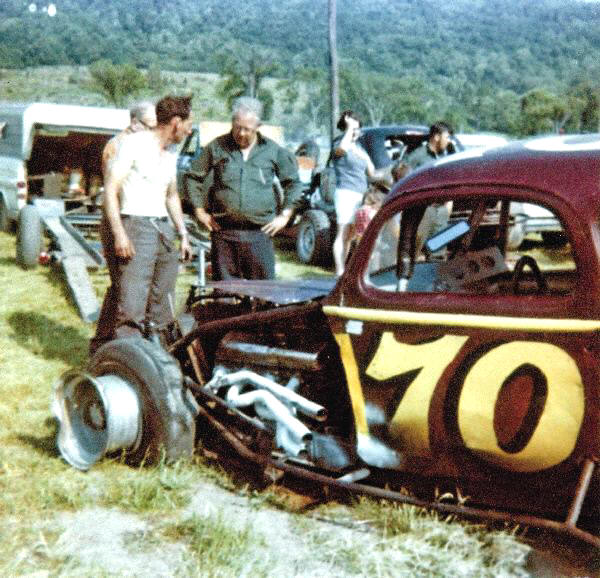 Photographer Unknown
He would take a few laps in the race, dive into the infield pits, jump out of the car, beat out the flames with a rag, jump back in, and do it all over again. After a while he simply threw in the towel [or the fire rag, as the case may be]. The next time I saw the car in a photo, he had converted the sign work to "Lucky 7", a car number that had begun at the old Bouvrette Speedway in St. Jerome and was used for many years in Quebec. Hodge would re-appear, one last time, with that former Wolfe car in 1967 at Devil's Bowl as the Lucky 7.
Around the end of the 1960's and the beginning of the '70's, northeastern sportsman teams went through a phase of running GMC snub – nosed cab - over hoods on their sportsman cars. I believe this is something Vic Wolfe started. Actually , the fad went away as fast as it came because the damned things were always causing overheating problems. At any rate, Wolfe had been running this particular snub nose coupe with Bruno when he was approached by Jack DuBrul, the Vermont racer and businessman who had been in on the creation of Catamount Stadium in 1965.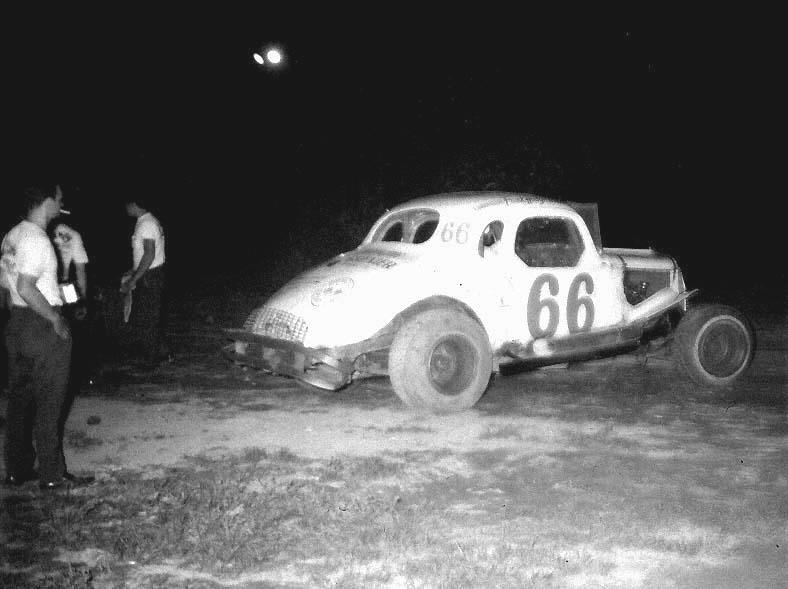 Ladabouche Photo
Frank Hodge's car at Fairmont, in between carb fires. Below -
This shot of the same Hodge car shows how much it looks
like most earlier Wolfe coupes.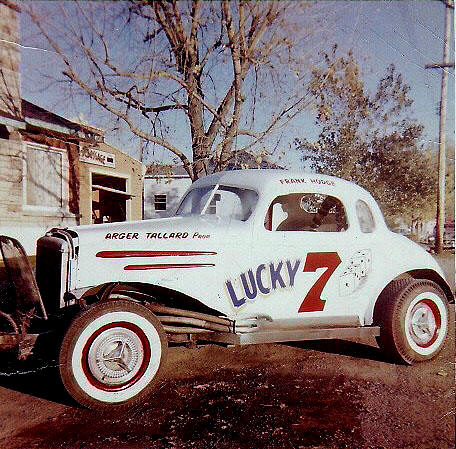 Courtesy of Gerard Major
Dubrul appeared with the snubnose car, all decked out in his characteristic black color scheme, the Speed and Race Engineering ads, and so forth. I would dare guess, by this time, Wolfe was already done with that innovation. Dubrul would run Airborne and Catamount with the car but, like with most of his cars, he soon tired of it and I think he sold it to Poultney, Vermont millionaire Dooger Jones. Jones would re- number it as 8VT and use local drivers Russ Shaw and Nelson Moore in it.
I am reasonably sure other Wolfe cars were sold off [and most of the buyers were very happy with them]. The Healey 70, in particular, ran at a number of tracks such as Airborne, Devil's Bowl, and Catamount with LeClaire and Reid at the wheel. It did pretty well. I recall it showing up at Catamount in the early '70's for one of the All Star Stock Car Racing League shows. Also, the Hodge coupe lasted a long time and I think it was hot property in Quebec.

Dubrul Collection
Black Jack Dubrul with his former Wolfe snub nose
modifed at his own Catamount Stadium track. Below -
This after – dark shot shows the Healey 70 arriving at
Catamount for the All Star League show.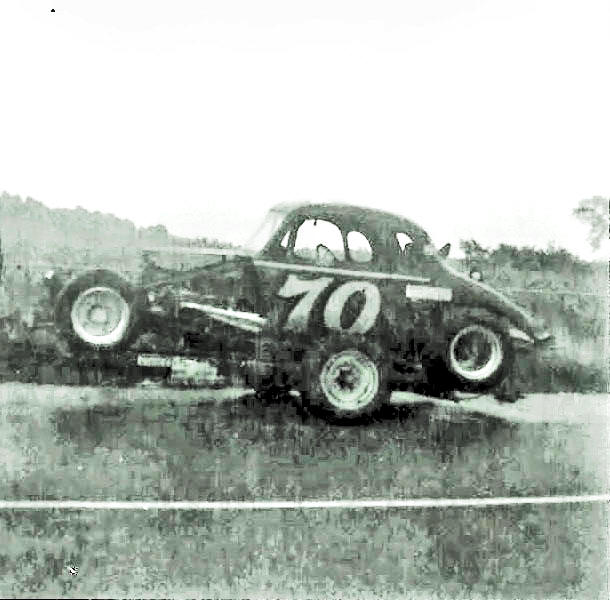 Ladabouche Photo
We didn't lose either Vic or Bob Bruno until well into the 2000's. Both were huge losses to the racing community although few people really knew how accomplished Vic Wolfe really was. The last Wolfe car was a more modern Pinto style modified and was driven by Joe Thomas [not to be confused with New Yorker Joel Thomas]. The restored Pinto was brought to Airborne once on a legends night abut I haven't seen it since. With Wolfe's Trailer Park morphing into Champlain Centres Mall, and most of the cars gone, Vic Wolfe is – sadly – a niche memory now, but his accomplishments will always stand.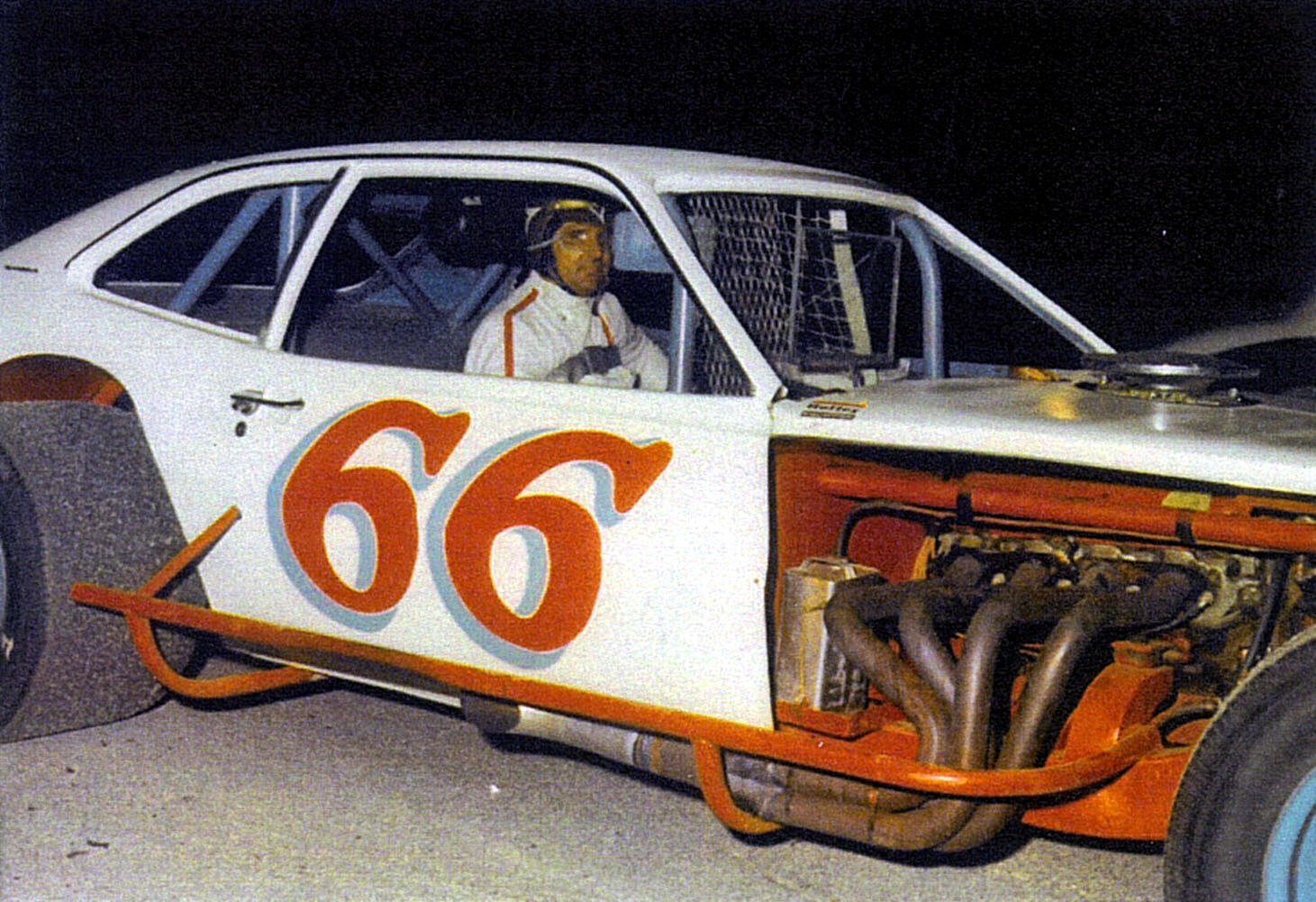 Bruno Family Collection
Bob Bruno with the last Wolfe car. Below – This Corvair – bodied car driven by Joe Thomas featured a Vic Wolfe portrait on the side.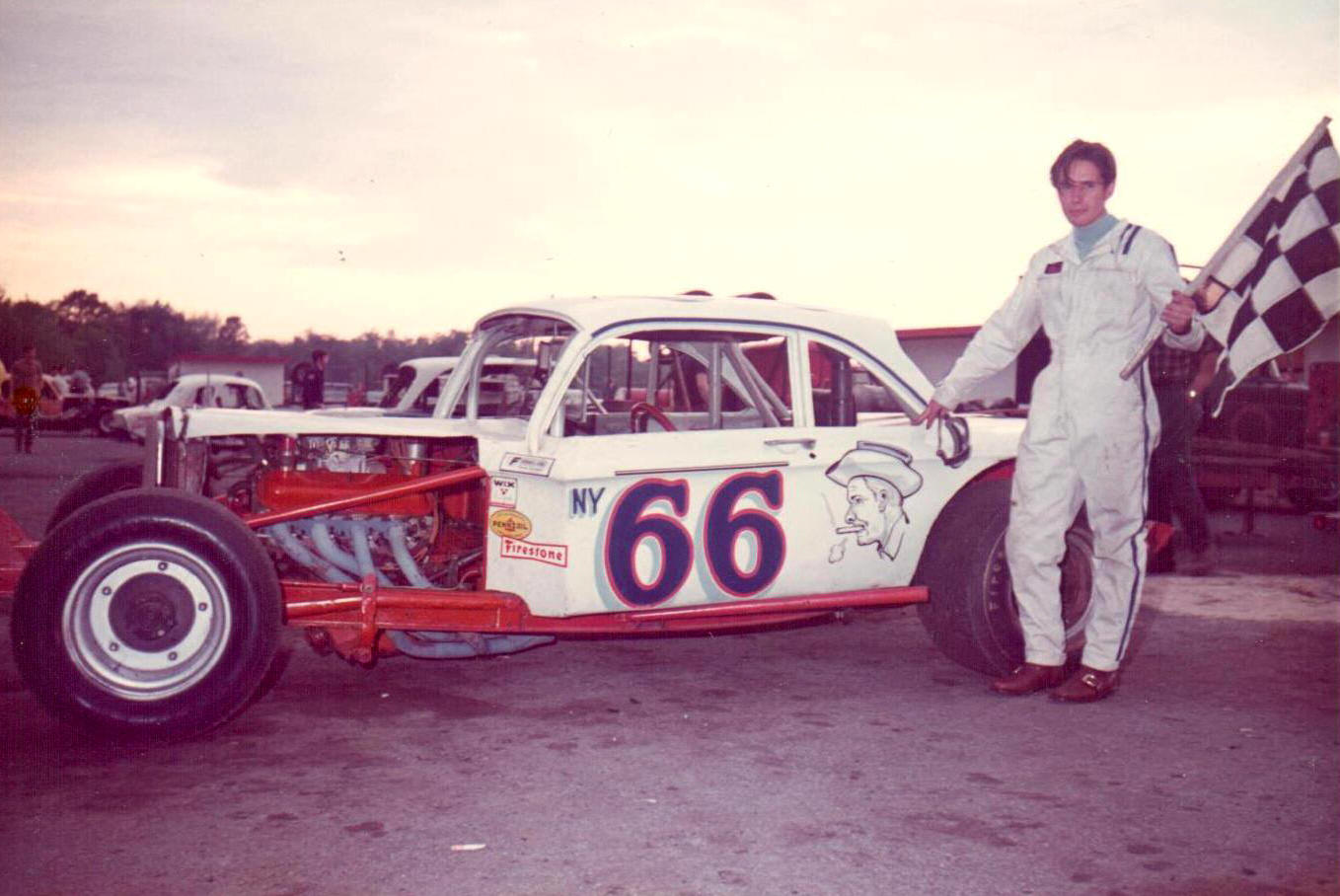 John Grady Photo Courtesy of John Gallan

Please email me at wladabou@comcast.net if you have any photos to lend me or information and corrections I could benefit from. Please do not submit anything you are not willing to allow me to use on my website - and thanks. For those who still don't like computers - my regular address is: Bill Ladabouche, 23 York Street, Swanton, Vermont 05488.
AS ALWAYS, DON'T FORGET TO CHECK OUT THE REST OF MY WEBSITE:
www.catamountstadium.com
Return to the Main Page
Return to the Main News Page
Return to the All Links Page
Return to the Weekly Blog Links Page