BILL'S [Somewhat] WEEKLY COLUMN/BLOG PAGE

BILL'S BACK IN TIME
By Bill Ladabouche
THE TIME I GOT TO SEE REBEL, IN JOEY's CAR

After having had three tracks arguably within our area [and several more if you count the likes of Stateline near Bennington, the track in Claremont, NH, and the track in Brattleboro – we were not hurting for places to attend stock car races back in that period when the sport was burgeoning and tracks popped up all over the place. But then, as is true with most gluts, the bubble burst and wee proceeded to drop to no track within a comfortable driving distance by 1955. With Pico's failed attempt to re-open in 1955 with Carl Roupp's Tri City group, it looked pretty much over.
One of the few oases during that horrible racing drought was the Vermont State Fair, at the fairgrounds in Rutland, Vermont. The place had [and still has] a typical paper clip – shaped half mile track made expressly for horses. The surface was never good clay; the fences were always a dangerous, flimsy wood; and the grounds are not far from residential areas.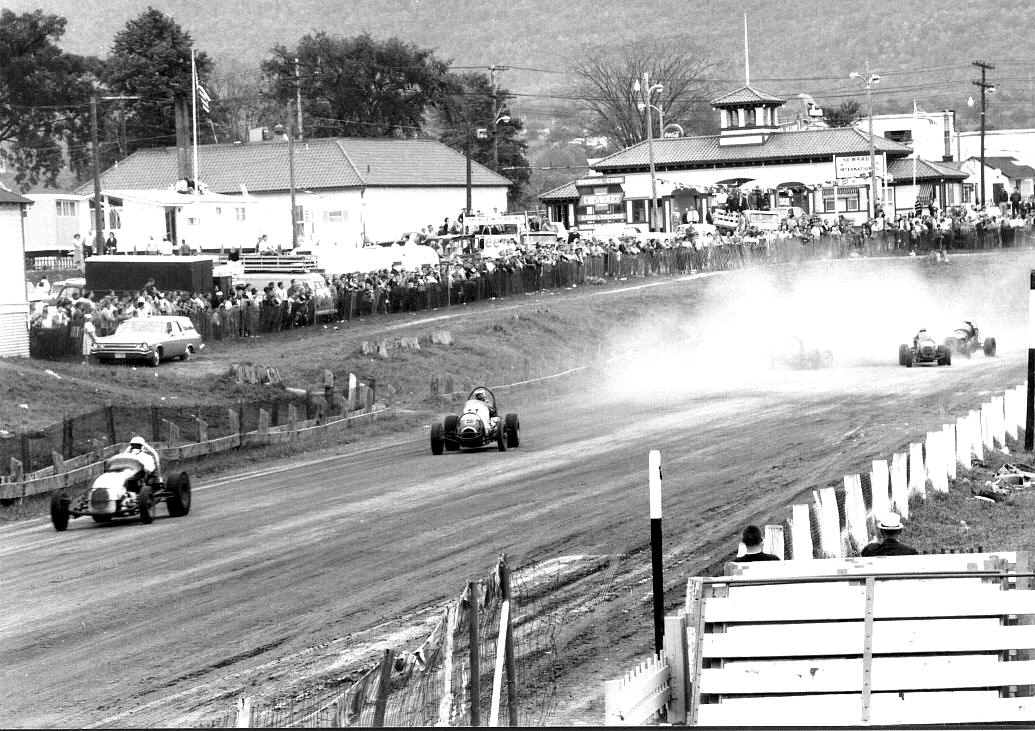 Courtesy of Cho Lee
Sprint cars come out of turn four at the fairgrounds track in Rutland – around 1960. Below – The start of the SCODA race at the fair in 1957.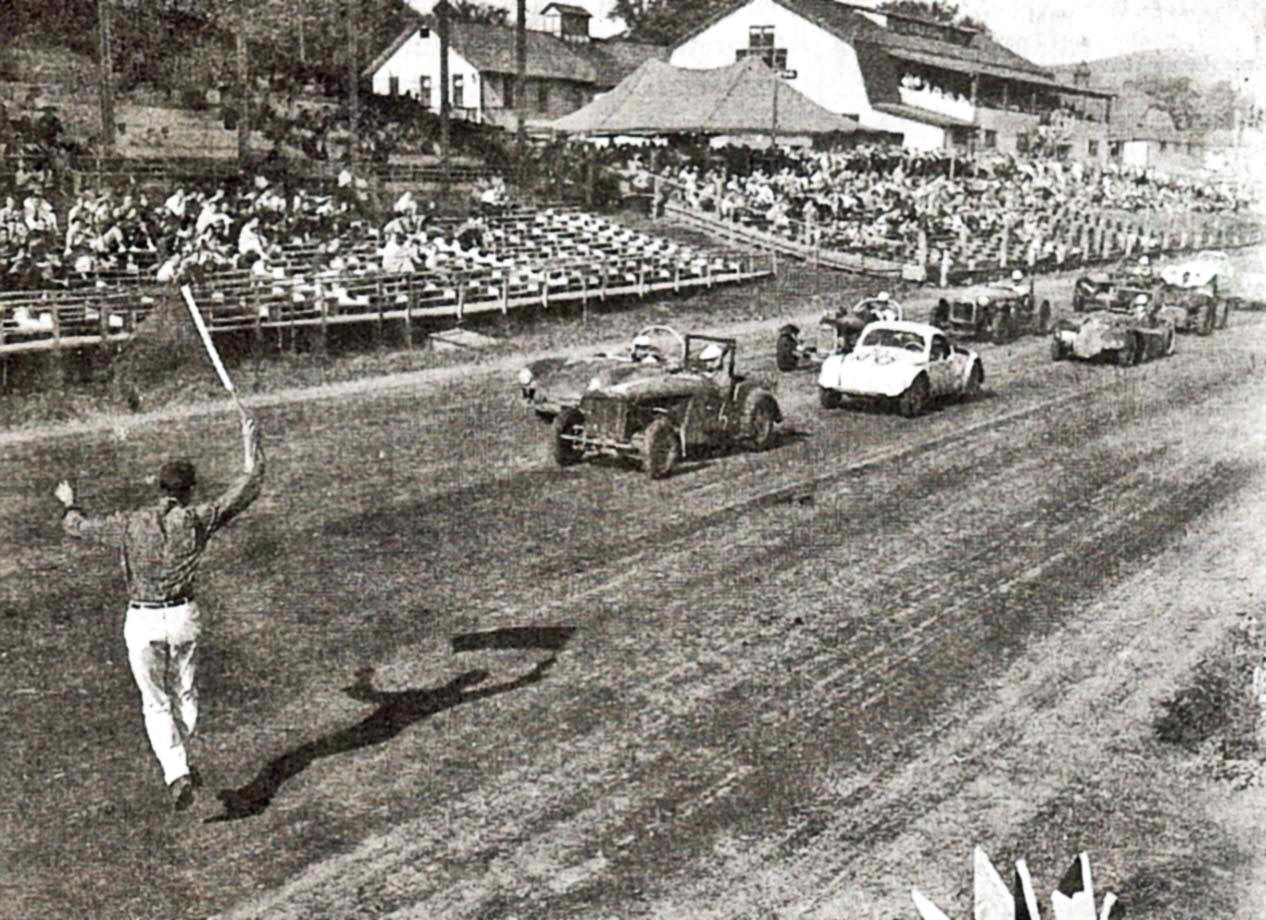 Aldo Merusi Photo Courtesy of Rutland Historical Society


The fair staged typical open wheel races almost every year. While midgets were the usual fare, I did get to see some sprint cars one year – including a few Vermont drivers. In 1957, the fair dug up a show with the Sports Car Owners and Drivers Association [SCODA]. Somewhat resembling stock cars, these cars were a bastardized form of sports car that used any parts available; and their appearance was not much like the more elite sports car clubs.
But SCODA did come and put on a pretty good program, considering, the track always sucked for auto racing and the grossly inadequate water truck could not keep the dust down on a sunny Sunday afternoon in early September. I recall walking among the mostly black primer cars after race and marveling as to who want to sit in some of them – let alone go fast on a cramped, unsafe track. The star I recall was a guy named Jay Jacobs [although he didn't win].
There wasn't a lot more to see at the fairgrounds until 1961. My uncle and I had stumbled upon a race at Weissglass Stadium on Staten Island when my aunt was visiting relatives [that might be another blog another time]; and we had made a trek up to the Colchester – Bayview Speedway in Malletts Bay around 1958 – but that was the whole enchilada. Naturally, we were pretty glad to here that actual stock car racing would be held at the fair in 1961 – during fair week.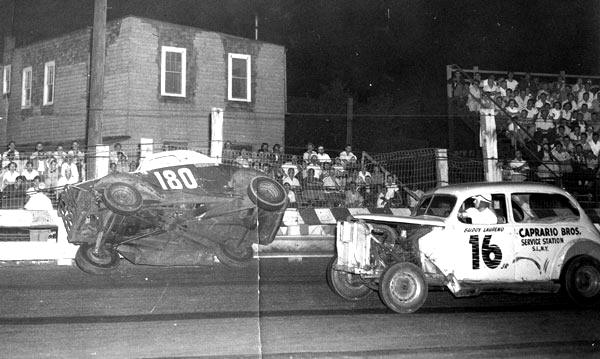 Charles Zullo Photo via Ken Edsell
The unique inner city setting of Weissglass Stadium is readily evident in this shot"of local star Buddy Laureno [16].
The Depression era stadium actually had to use the lot of a next door Chrysler dealer as part of its pits.
Below - Cars including Wayne Chandler's 3Jr Hudson and Pat McGraff's 37 take off at Colchester – Bayview Speedway.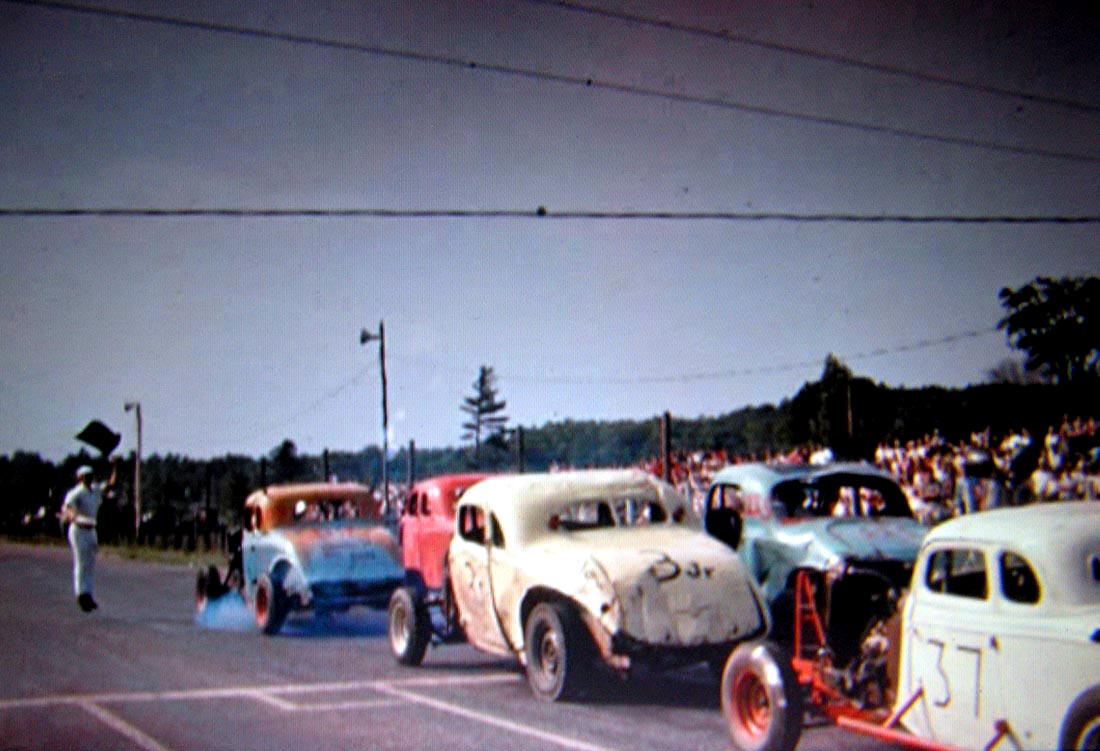 Bob Mackey Photo via Mike Watts Sr.

As it turned out, the Lebanon Valley Speedway would be staging this race, and seemed to count towards the other races in their program, if I interpret material in one of Uncle Art Stuarts' book correctly. This was before the legendary Valley open shows, and the track was still somewhat playing a support role to Fonda Speedway [although they shared no competitors].
The program was extremely entertaining, made even more so by the vocalizations of Valley announcer Uncle Art Stuarts, who let us in on all the drivers little interesting stories. Now, it is widely debated whether the race was genuine or whether the outcome was pre - decided due to the obviously unsafe track conditions. The field [and it was a good one] was almost completely comprised of Valley regulars, whose dislike of interlopers was legendary at that time.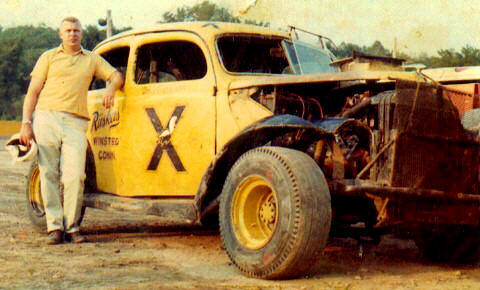 Courtesy of Arnie Ainsworth
Doug Garrison and Martin Riiska's sedan were one of the highlighters at the 1961 Vermont State Fair show.
Below – Stretch Van Steenberg, Valley 1960 champ in a sedan, ran this late model in 1961 at Rutland.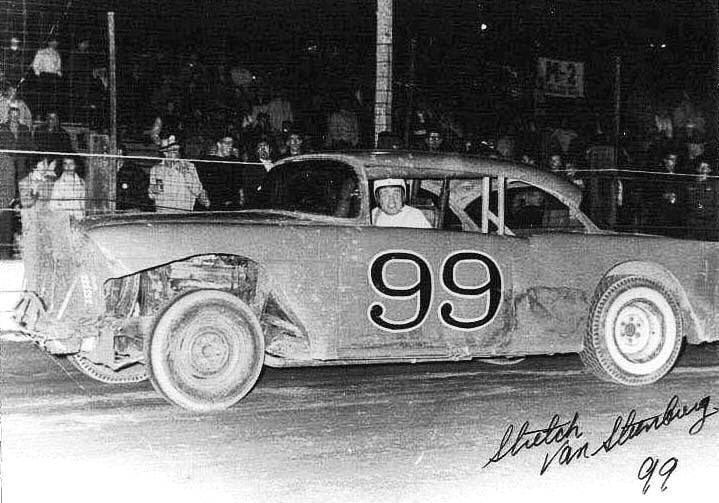 Courtesy of Arnie Ainsworth
If I understand it correctly, at that time, Valley teams ran flatheads or six cylinder powerplants. However, a little like the NASCAR experiment, they could use an overhead V-8 if they ran a heavier, late model body such as a 1955 Chevy or Ford, for example. In those days, you'd be apt to see a Valley star in one photo with a '55 Ford, and he might be in a coupe in the next shot. I guess some teams had both.
The list of names that day was unbelievable: Doug Garrison, with the Martin Riiska Yellow X out of Winstead, CT; Stretch Van Steenberg, from Saugerties, NY with a late model Ford; Clarence "Butch" Jelley out of Pownal, VT with Ed Winn's Y car; Don Rounds, from Warwick, RI with the beautiful blue 101 with the pirate flag flying; Howie Westervelt, from Ravena, NY with what I think was another late model Ford; Neal Dunstan, from Voorheesville, NY had another Ford; Fred Searing [by then a veteran of many years] came out of Oak Hills, NY with a team car to Johnny Flach, who started the prominent Flach family of racers; and Joe Messina – who won the race however that was managed, was there with his trademark Hudson.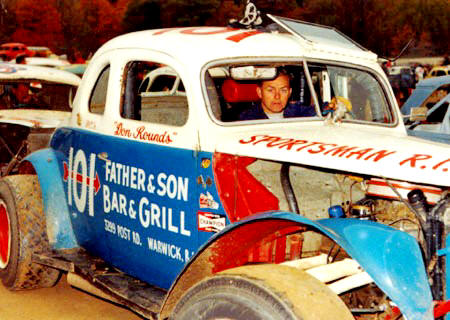 Ladabouche Collection
Don Rounds in his long – lived Ford coupe out of Rhode Island. Below -
Butch Jelley, who would star the next year at Fairmont Speedway, ran this
coupe at the fair show. He claims the show was rigged; Rounds angrily denies that.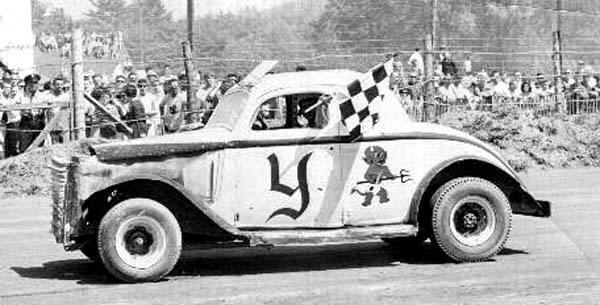 Bob Frazier Photo Ladabouche Collection


That was just a few of the stars who attended the race that day. A team from Claremont Speedway decided to crash the party, although it may not have been a good idea. Frank "Stroker" Smith, of Keene, NH fielded a cutdown Ford coupe numbered 311. His driver, Moran "Sonny" Rabideau was an accomplished machinist at Angell Automotive in Brattleboro by then, as well as a champion many times over. For his troubles, he ended up stuffed under the rail off turn one, just mere feet away from the propane tanks of the Roxie's French Fry stand. The 311, being very lightweight, could have caused some real problems that day for the heavier Valley car; but that was taken care of.
However [ with the possible exception of Rounds' car] the car I remember the most was a somewhat beatup – looking plain colored '56 Ford, the driver of which was described by Art Stuarts as "Rebel" Harris. As it turns out, according to the Uncle Art Stuarts Record Book, Harris was the high points man that year at Lebanon Valley; and that was no small accomplishment. The car, uniquely numbered as "AAA", flew around the track, attracting a lot of attention from the crowd while not winning.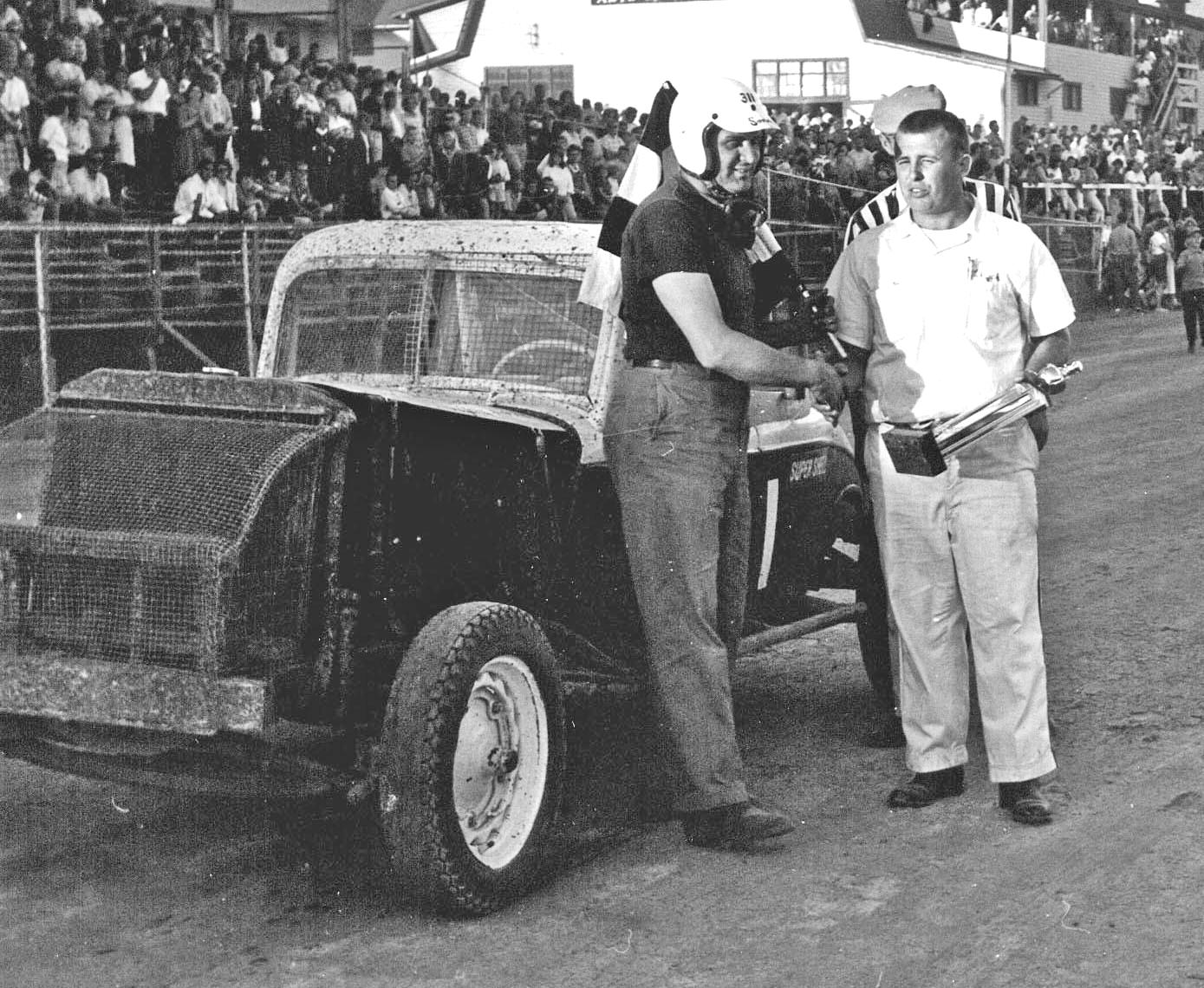 Courtesy of C.J. Richards
After being crammed under the fence in 1961, Sonny Rabideau won C.J. Richards' big race in Fall of 1962 at the fairgrounds.
Below – The Lawrence – wrenched Rebel Harris car, as it was featured as 1961 Valley champion, in Uncle Art's annual book.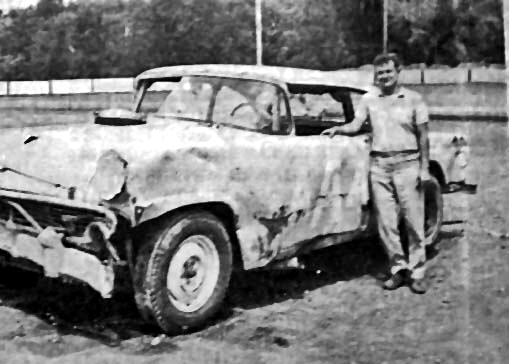 From Uncle Art Stuarts' Book
Between the catchy – looking Yellow X, the speed of the AAA, Rounds' great – looking car with the pirate flag,and the overall quality of the program, it was one of the most satisfying events I attended – even years after. The combination of Daniel Duncan "Rebel" Harris and his young mechanic, Joey Lawrence was the stuff racing legend is made of. But, in those days, owners and ace mechanics were seldom mentioned much by track announcers like Mike Valchovic of Fonda, Art Stuarts of the Valley, and others like them.
Thanks to excellent source work from people like Jeff Ackerman and Chas. Hertica, I now know a lot more about D.D. Harris and Joey Lawrence. The teenaged Lawrence had gotten hooked up at an early age with the older Harris, who had already raced at places like Arlington Airport Speedway, Rhinebeck Speedway, Onteora Speedway, Riverside Park Speedway, and more for years. By the beginning of the 1960's He and cohort and fellow driver Danny Mitchell had gotten in with New York's Jim Reed, an early star in NASCAR's Short Track division.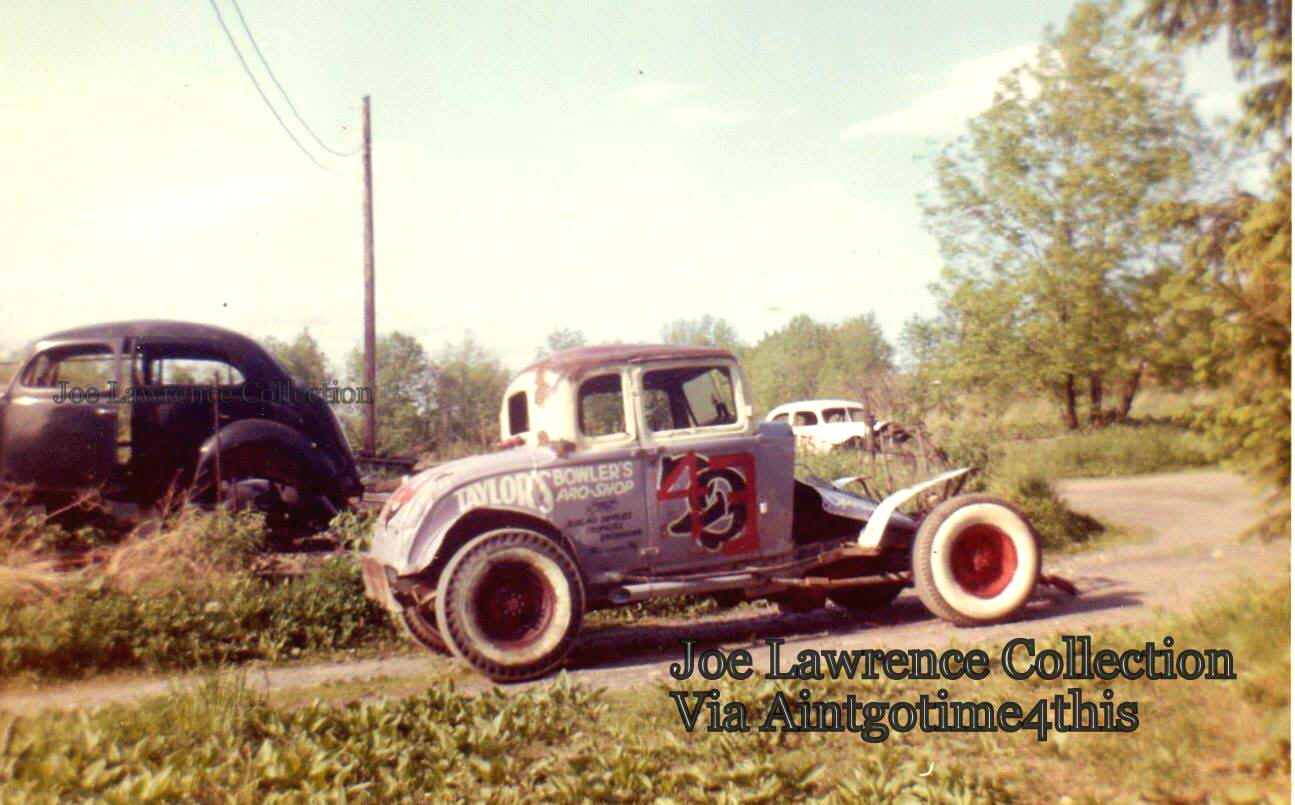 Joey Lawrence Collection via Chas Hertica
Danny Mitchell's powerful coupe would end up with his buddy Harris and
with Joey Lawrence. Below - Jim Reed, from the same region as Harris and Lawrence, made prime Ford equipment available.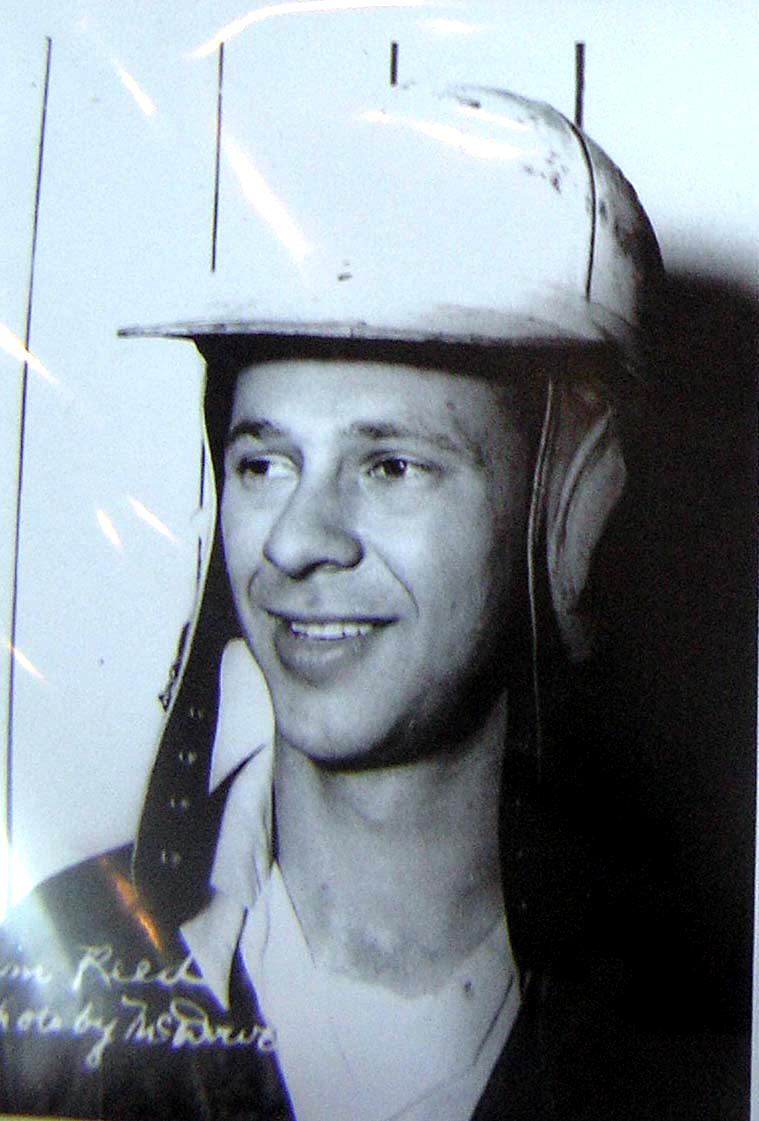 McDowell Portrait via Ken Gypson


The three ended up in Daytona in 1961 with Reed, who had just switched from running Ford equipment to Chevrolet. To make a long story short, Lawrence, Harris, and Mitchell ended up scoring a good buy on all Reed's Ford stuff. They had taken some of this equipment and assembled that '56 Ford Crown Victoria from a car with which Reed had won a race at Darlington earlier. The effort seemed like a no – miss deal, with Harris, Mitchell and Lawrence being helped by advice from Reed and help given by prominent car owner Gordon Ross, as well. The AAA number came from an aluminum business Harris had.
Harris was a rocket, winning all over at tracks like Arlington, the Valley, and Onteora. The motor was from a former Ford engineer named Bollander, and had many special components. The team actually had two of them. Lawrence's brother worked at an auto plant where he had access to Holley carburetors [before they were a widely – know item]. The car was even impressive at Middletown, arguably the top of the NY modified world at that time. As a matter of fact, Mitchell had run a flat top coupe at Middletown with another Bollander motor. Harris and Lawrence would eventually buy that car, which became one of their famed AAA coupes.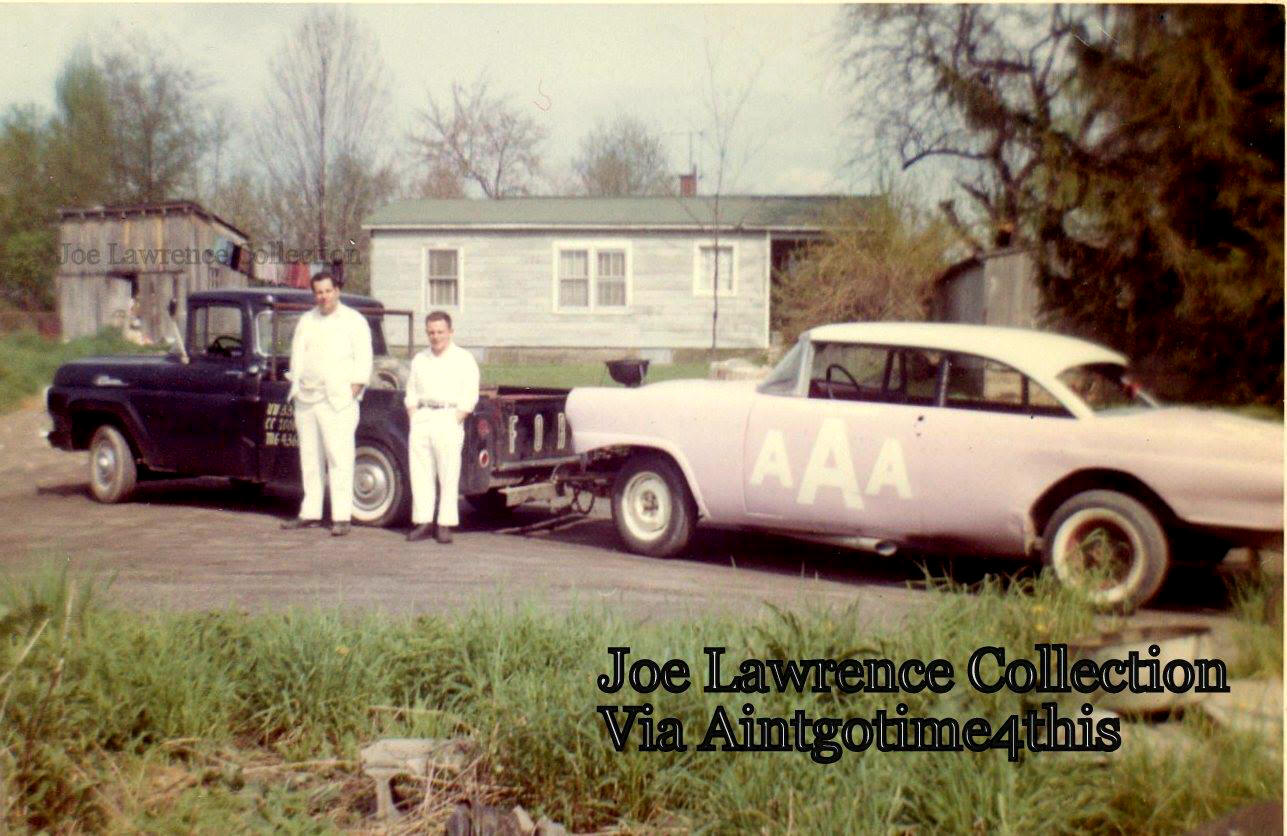 Both Photos: Joey Lawrence Collection via Chas Hertica
The Ford Corwn Vickie, at the Lawrence house in Newburgh, NY, before the body got so beat up. That's the sizable Danny Mitchell
with the much smaller Joey Lawrence. Below- The Ford heading out for practice at Langhorne in 1961.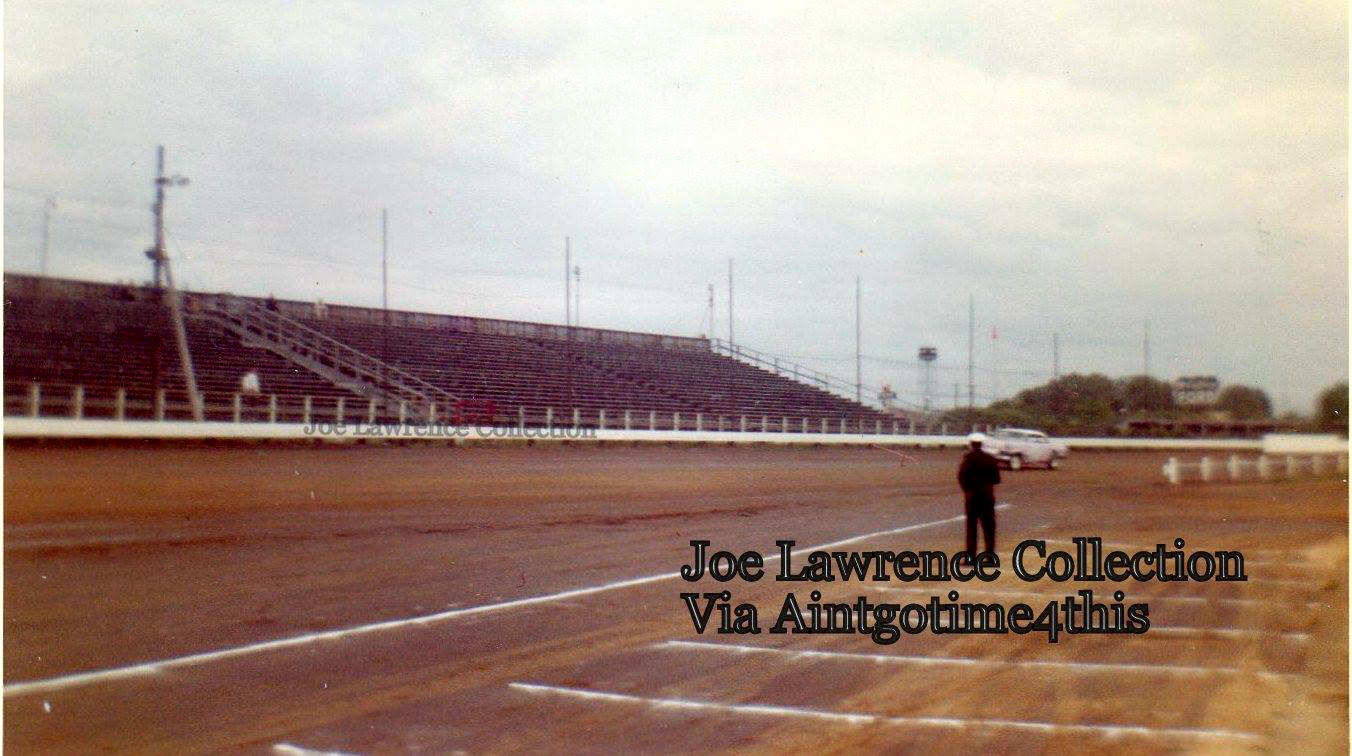 At any rate, I went on to view racing at Otter Creek Speedway in the northern part of Vermont before C.J. Richards re – opened Fairmont Speedway in Fair Haven, VT – which gave me a weekly track to attend for the first time in my life. Harris and Mitchell had parted ways, but the still – young Lawrence would team with Harris for two or three more seasons, first running that ex – Mitchell car. The Mitchell car was first called aaa, as Joey's mother had chosen to letter it; so, they decided this better be aaa Jr.
Eventually, the aaa Jr was purchased by the Mueller brothers, who owned Albany Pork Stores in the area. Harris still drove and Joey still wrenched, but some of the financial stress was removed. Before this, Joey had depended on some support from a local Oliver Tractor dealer to keep his operation going, seeing as he was not yet 21 and had limited funds. Eventually that car was sold to a local racer named Dink Davis, who hired Valley regular Jimmy Markle to drive. Lawrence spent some time in the military around this time.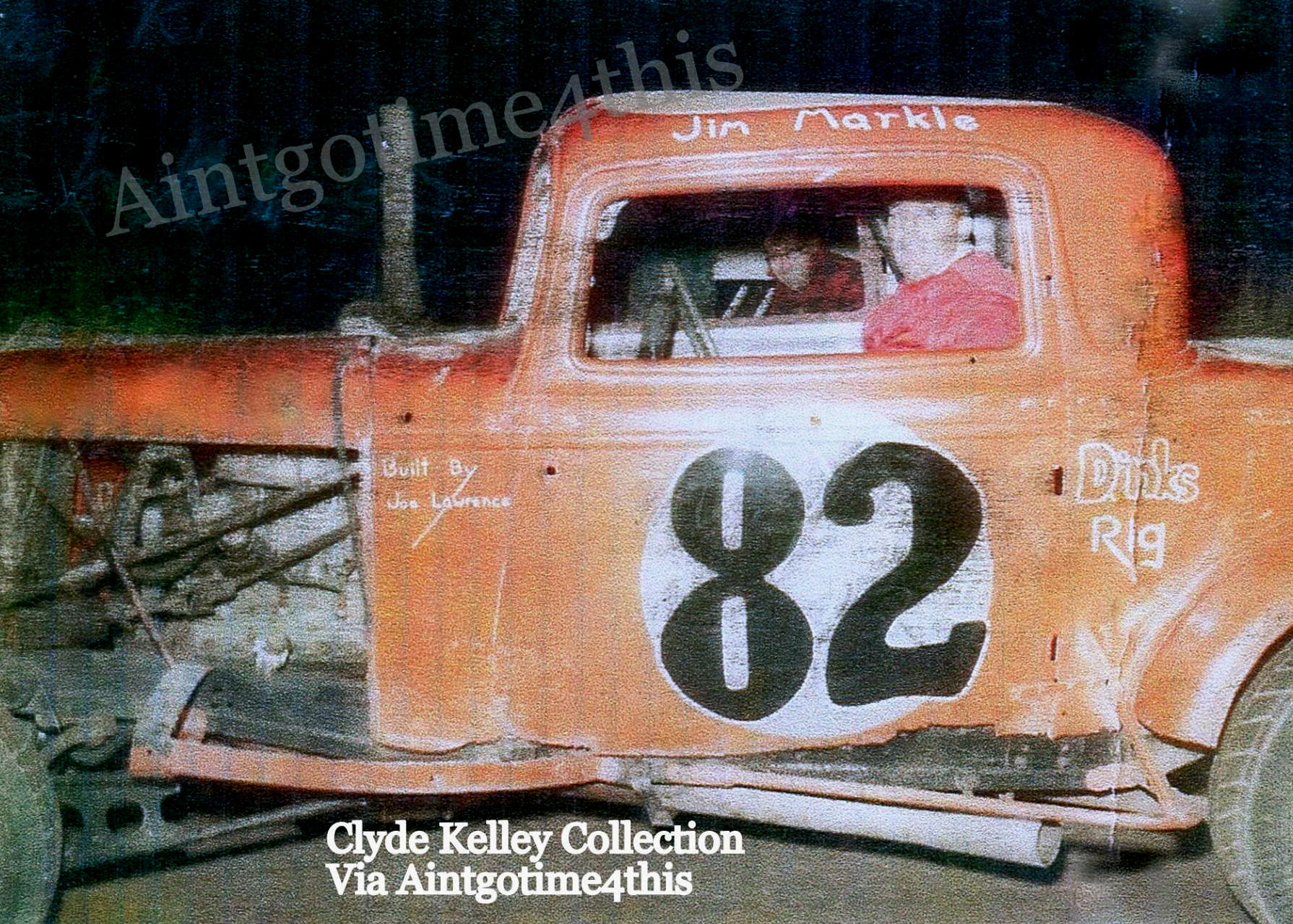 Courtesy of Chas Hertica
Jimmy Markle winning at the Valley with the Lawrence – wrenched Dink Davis 82. Below – The better, faster
[more familiar] AAA coupe with Rebel Harris and a then – 22 year – old Joey Lawrence. The siding business
run by Harris is advertised on the side.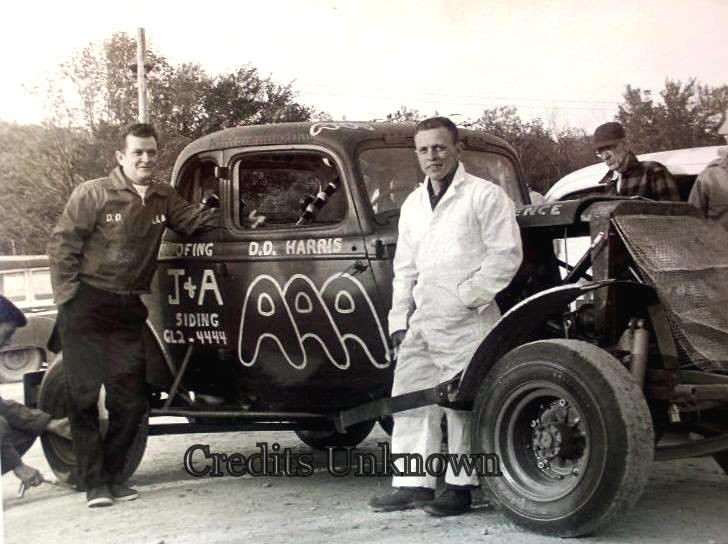 Joey Lawrence Collection via Chas Hertica
Later, a better and faster AAA coupe would be built and run successfully – especially at Onteora Speedway, in Olive Bridge, NY. The two would have more success with this car. Harris had tired of the military – style, uncomfortable seats most stock cars were using, settling for a seat out of a Pontiac Bonneville. He also refused to use the harness belt setup similar to Grand National cars that Joey had gotten to keep him safer.
The body, being a pre- 1936 coupe, had that hole in the roof where the original car would have a wood and leather – covered roof opening that teams usually plugged with welded tin. In 1963, at Onteora, Harris was flying through the field when he hopped someone's wheel and went airborne. The car hit the track with a terrible force and Harris was ejected. He would not survive the trip to the hospital, suffering a punctured lung.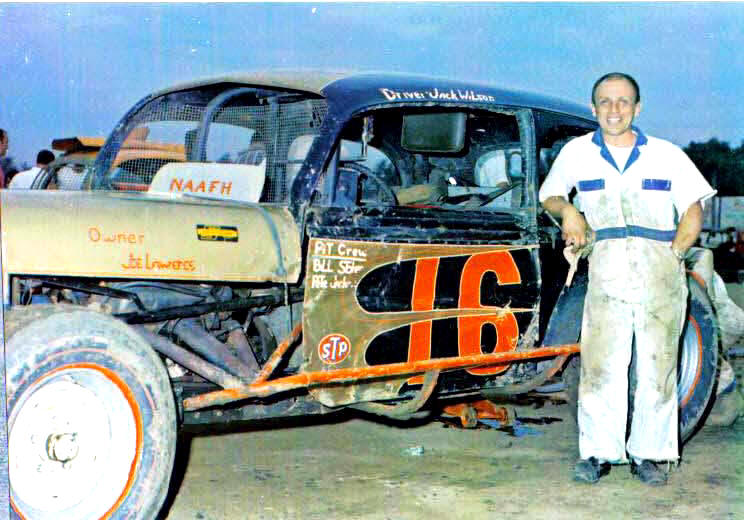 Courtesy of Arnie Ainsworth
Now it was Joey's turn to be the elder team member. Below – A young Jackie "Whistlin'" Wilson with a Joey Lawrence sedan.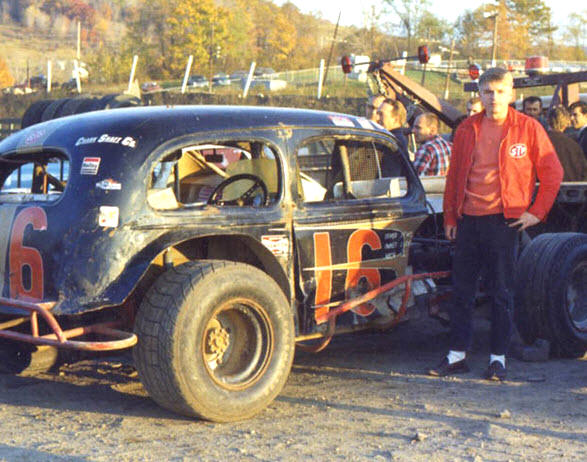 Courtesy of Chas Hertica
A heartbroken Lawrence would finally return to racing, running cars numbered 16, and have a fantastic second career with young driver Jackie Wilson, from Fishkill. Now it was his turn to be the elder member of the tema. Joey would also, at one time or another, have hired drivers like Jan Opperman, as well as many stock car stars like Jimmy Markle, Rene Charland, Dick Hanson, Mike Grbac, Rich Ricci, Bob Malzahn, Roger Laureno, Chuck Ciprich and Ernie Marshall. One of the really cool stories is that of Dave Buanno, of the Fort Johnson, NY trucking family. A perennial backmarker at Fonda , Buanno got behind the wheel of Lawrence's tubular – chassised Mustang at Fonda and won a feature with it.
Old photos show us that D.D. Harris had a big career before he hooked up with the young Lawrence. But, that afternoon in September at the fairgrounds in Rutland, we all got to witness, first hand, how good that combo was – particularly in 1961. Joey Lawrence, a diminutive man, was one of the most accomplished builders and owners in the Northeast for years. Sitting in those old covered grandstands, watching those cars struggle at high speed around that dusty track, we spectators seldom get to know the story behind the car whizzing by us.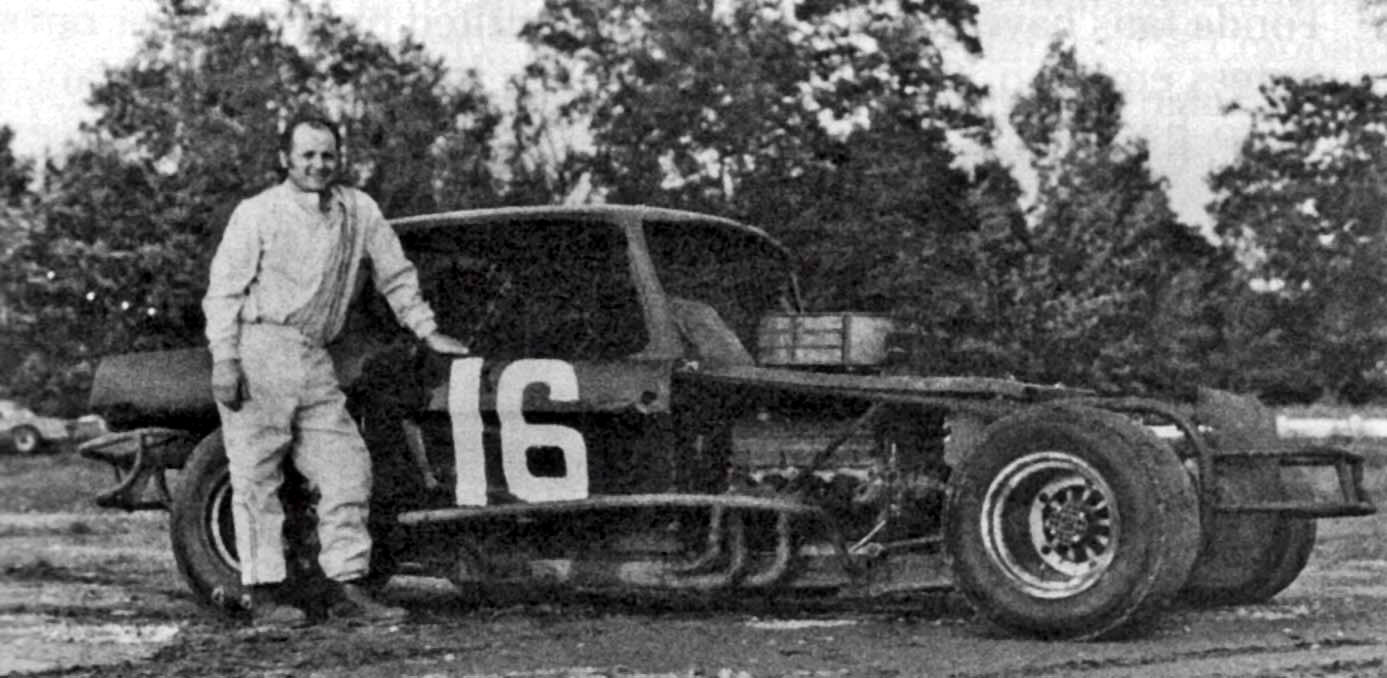 Gater Racing News Photo
Dave Buanno, with the Lawrence Mustang. Having a tubular chassis, the car was leading edge at that time. Before that, he ,may have been most know
for landing in the Mohawk River in his own #36. Below – Joey Lawrence sees to adjustments for Jan Opperman at the 1974 Syracuse race.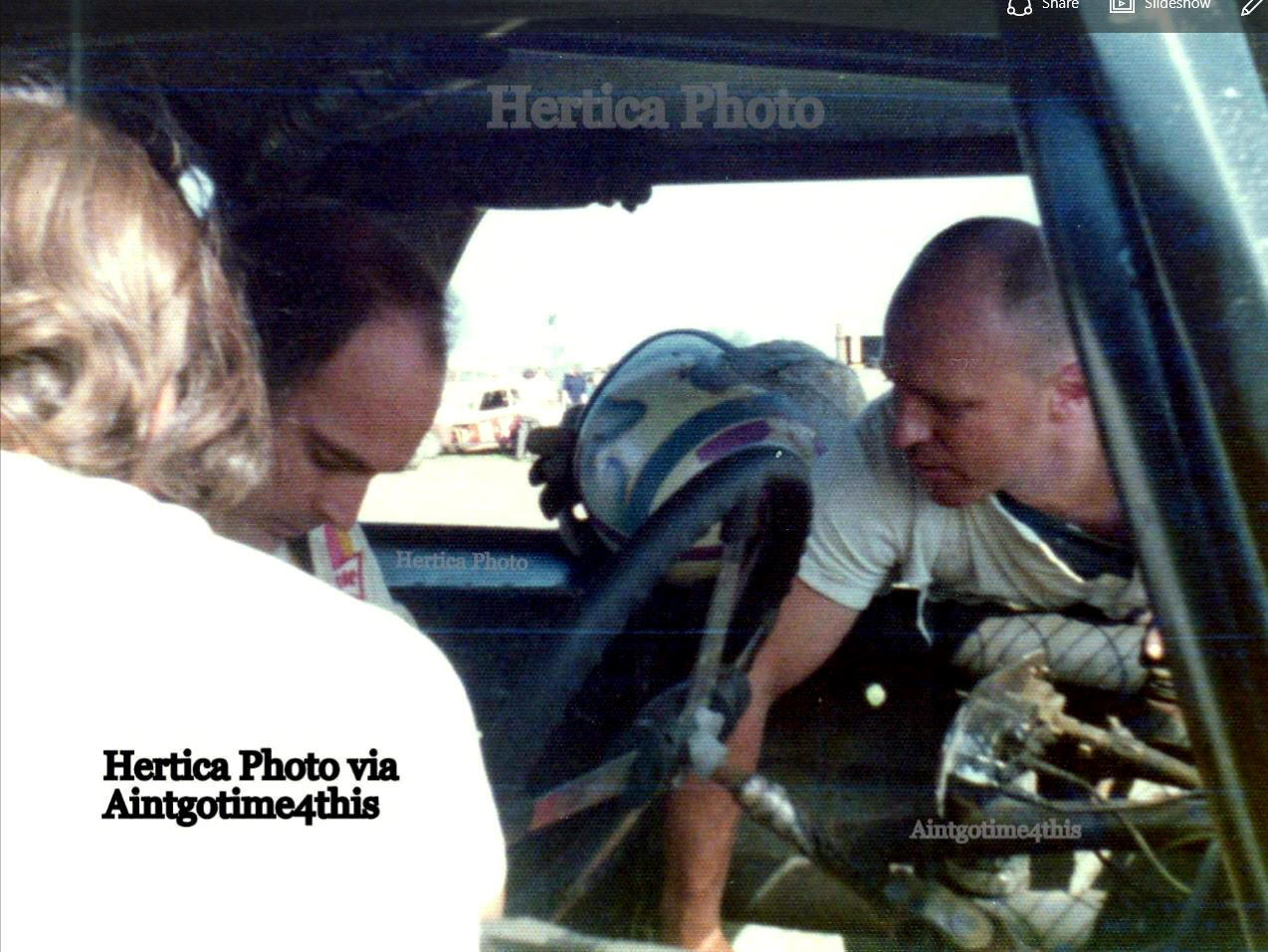 Chas Hertica Photo
Please email me if you have any photos to lend me or information and corrections I could benefit from. Please do not submit anything you are not willing to allow me to use on my website - and thanks. Email is: wladabou@comcast.net . For those who still don't like computers - my regular address is: Bill Ladabouche, 23 York Street, Swanton, Vermont 05488.
AS ALWAYS, DON'T FORGET TO CHECK OUT MY WEBSITE
www.catamountstadium.com
Return to the Main Page
Return to the Main News Page
Return to the All Links Page
Return to the Weekly Blog Links Page