BILL'S [Somewhat] WEEKLY COLUMN/BLOG PAGE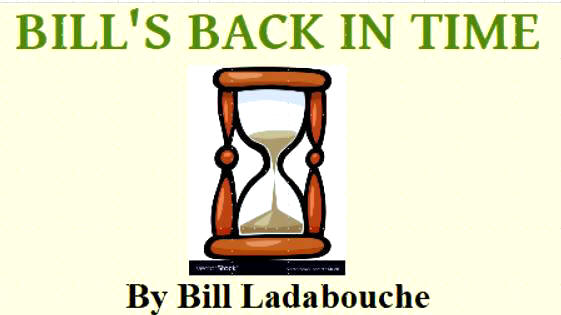 That Was Quite a Photo !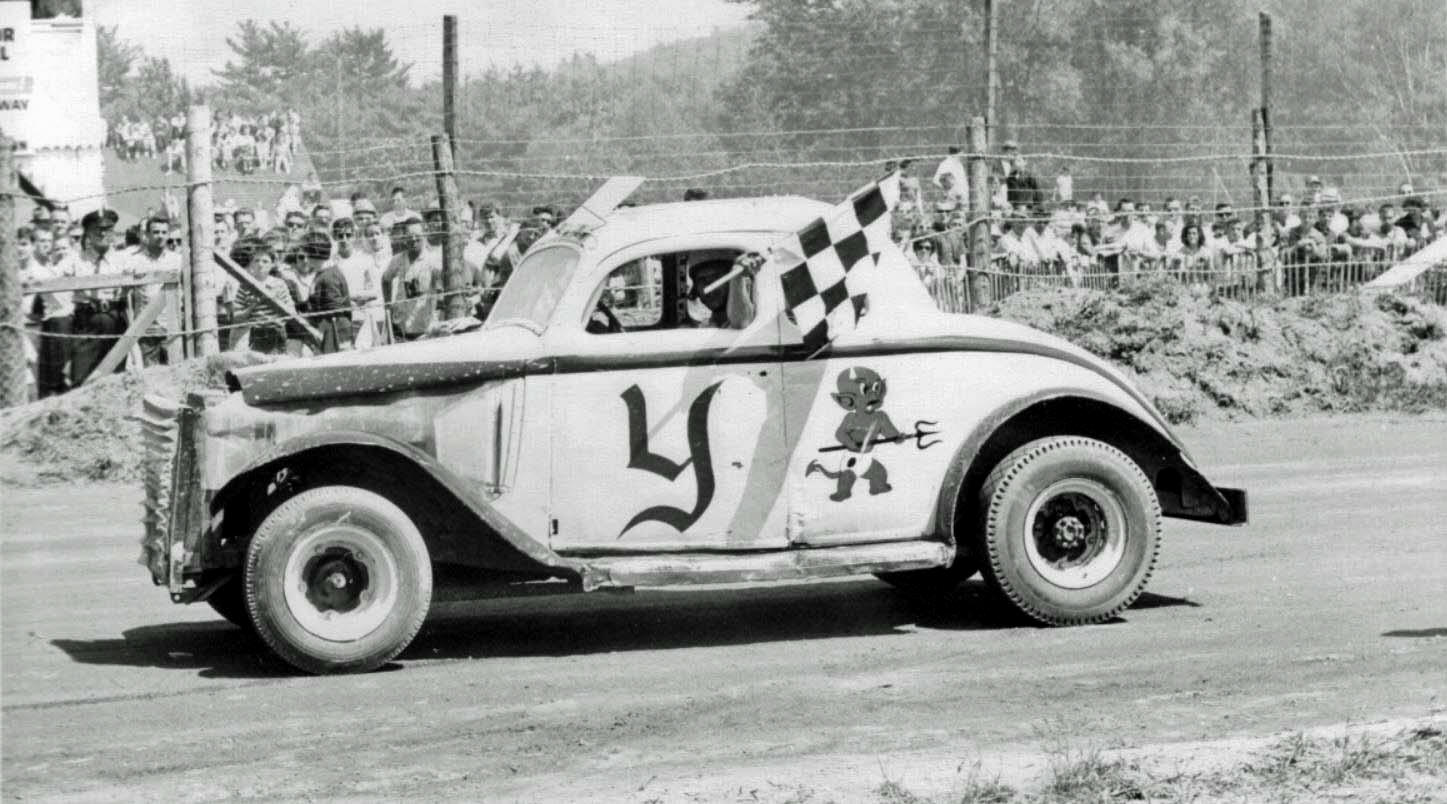 Bob Frazier Photo

I decided to take another look at one of my favorite photos I ever purchased. It is a Bob Frazier shot of Butch Jelley, sitting with a checkered flag, on the track surface at the old Fairmont Speedway in Fair Haven, Vermont on Memorial Day, 1962. There is so much behind that photo.
Firstly, we had heard about somebody starting up races again at "Fair Haven", and that turned out to be a young area native named Charles "CJ" Richards. "Fair Haven" as my uncle called it, had once been a nice little fairgrounds horse with covered grandstands and all.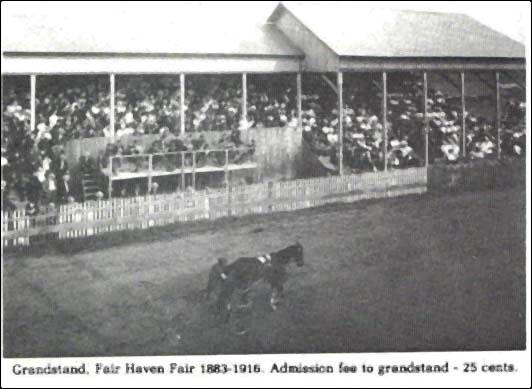 Courtesy of Dorothy St. John via Russ Farr
These old covered grandstands filled with race goers in their Sunday best,
were gone by the time Hugh Young staged car races in 1949. Goodthing – it probably would have scared
them to death. Below – Some race activity during the Hugh Young tenure of Fairmont Park Motor
Speedway. New Yorker Hank Schmidt [F40] and Local runner George Rogers.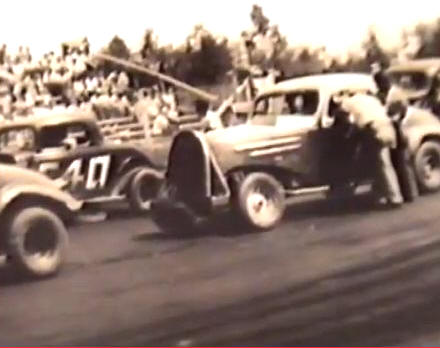 Courtesy of Bud Brooks
Around 1949, local businessman Hugh Young had begun to stage car races at what was then called Fairmont Park; he called his track Fairmont Park Motor Speedway. Gone were the nice covered stands; in fact, little of the old fairgrounds infrastructure was still in place.
Young pulled the plug on the place by 1951, considering strong competition from the newer, flashier Pico Raceway in Rutland and because of the death of Marty Vinci, a local man who had sneaked into trees near the track and hit by an errant wheel. Young had seen a season of New York – style roadsters and then one or two seasons of early stock cars. Despite the fact he attracted the likes of Steve Danish, George Rogers, Spence Parkhurst, Dave Brooks, Gene Tetreault, and more – he had had enough.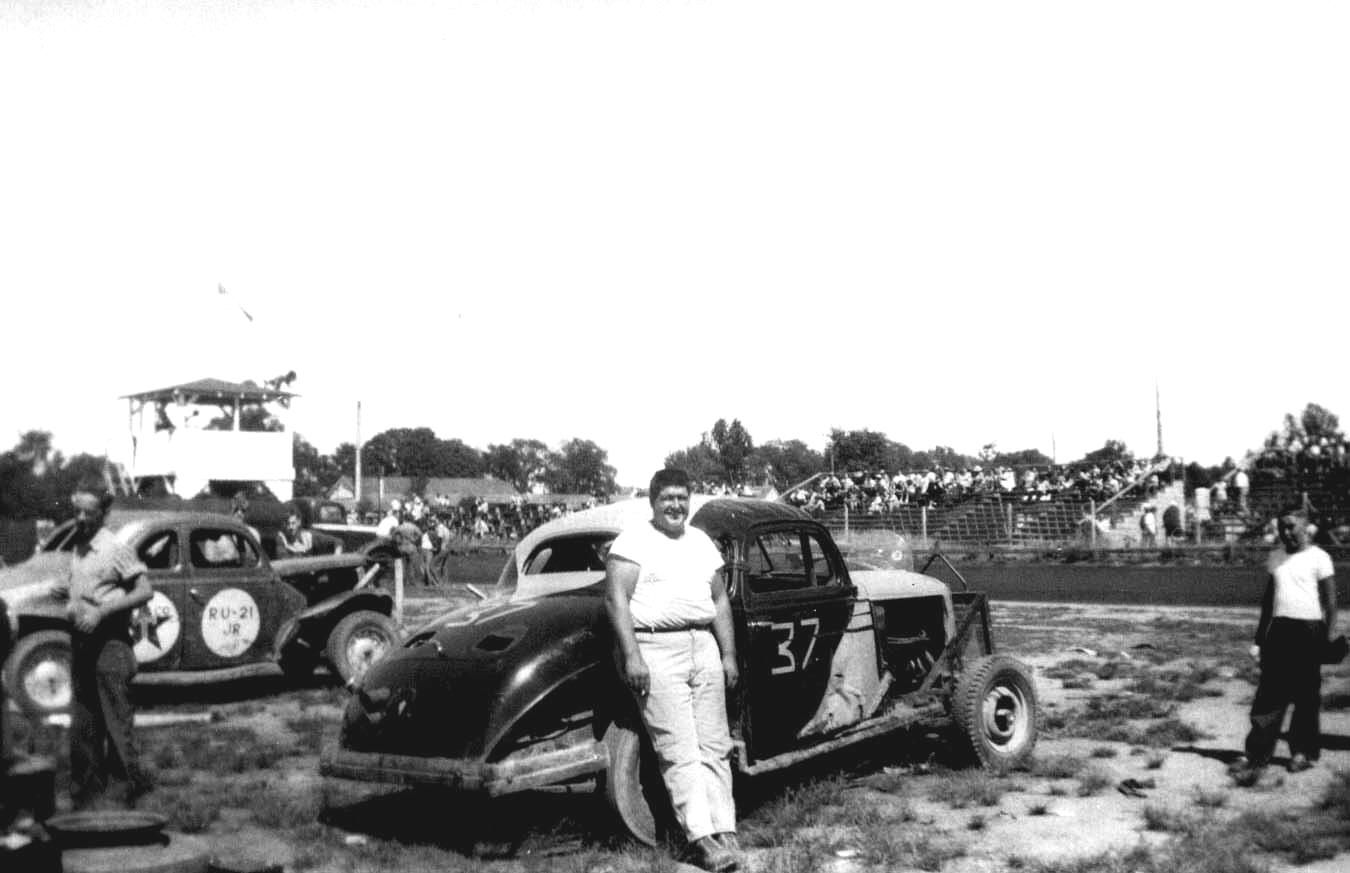 Courtesy of Mark LeFrancois
This 1950 shot shows the announcer's stand in the infield. Below -
This victory shot of George Rogers with Richards' starter Danny
Rumpf shows where Richards located the same stand.|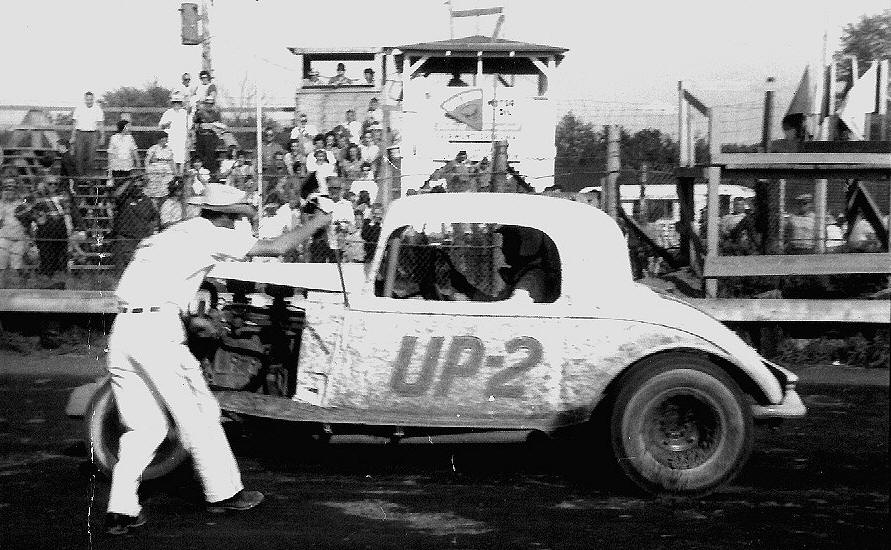 Courtesy of Chris Companion

Ten years later, a young Richards would move the judges' stand from the infield to the spectator area, bolster up the old catch fence, learn [well] how to grade a race track, and plan his first program for Memorial Day, 1962. He had run radio ads and had put several hopeful – sounding articles in the Rutland Herald about his venture. I am also convinced he had a lot to do with the stock car that the Lebanon Valley group staged at the Vermont State fairgrounds in Rutland in 1961 – a show which certainly re-awakened interest in the area.
Area fans got a real good look at stock car racing at that Lebanon Valley show at the Vermont State Fair in 1961. Despite the fact that the old horse track was clearly not suited for stock car racing, the Valley put on a good program. Some of the best non - NASCAR teams in the Northeast were on display - and the field included both the standard pre - WWII sedans and coupes, as well as the special Valley late model bodies which [because they were heavier] had overhead V8 motors. Richards followed this up with a photo in the Rutland Herald, promising that Valley star John Flach would attend his opening race at Fairmont.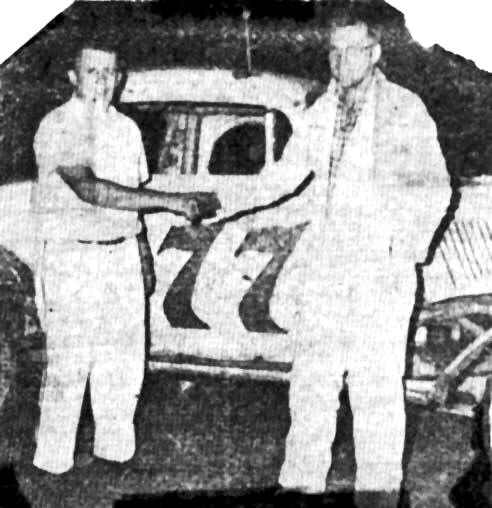 Rutland Herald Photo
C.J. Richards wasted no time in parading out John Flach as a potential Fairmont runner.
Below - C.J. with the sign for his new race track. Further Below – The small corps of original
Fairmont officials was a little overwhelmed that first Sunday.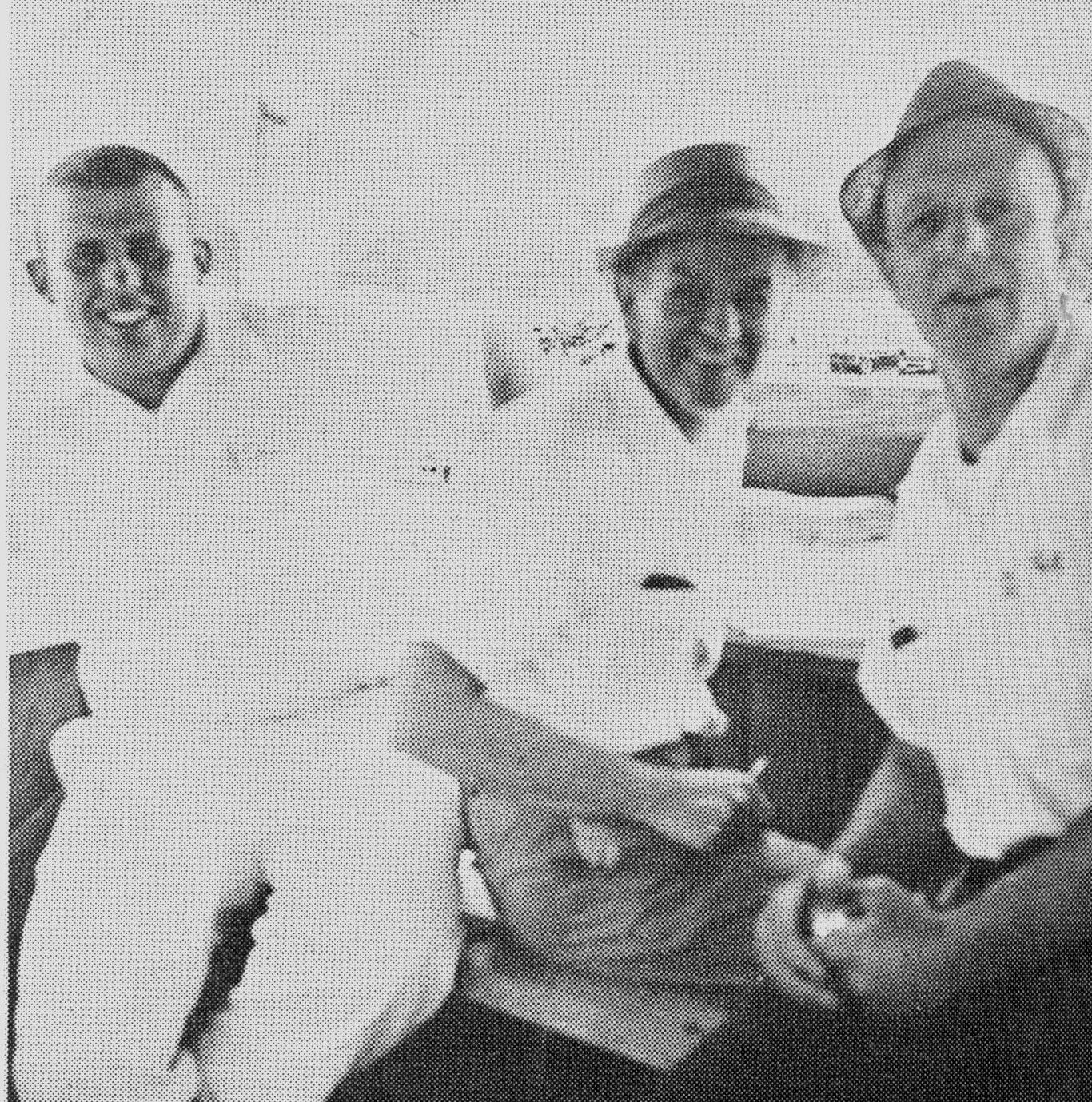 Bob Frazier Photo via Cavalcade of Auto Racing
Richards promised that a number of big stars would attend that day. While Lebanon Valley star Johnny Flach was a no – show, Valley standout Clarence "Butch" Jelley, then from Williamstown, MA, did come. He brought with him team mate Frank Hatch, from Pittsfield, Mass.. Jelley's Y and Hatch's M2 made up the Ed Winn Racing team in those days. The talented Winn and the old vet Hatch were very instrumental in bringing along a future hall of famer in Jelley.
The race program was an adventure for both the Fairmont management and the fans, alike. Richards was lucky to have nice weather, but many more fans showed up than were expected, forcing many to either stand by the old catch fence or clamber up onto the roof of the old stable building behind the stands. A couple thousand fans baked in the increasing sun and heat, listening to a record of John Philip Sousa marches, over and over again as Richards' inexperienced staff struggled to get races and handicaps together, having virtually no knowledge of the diverse group of race teams that had arrived.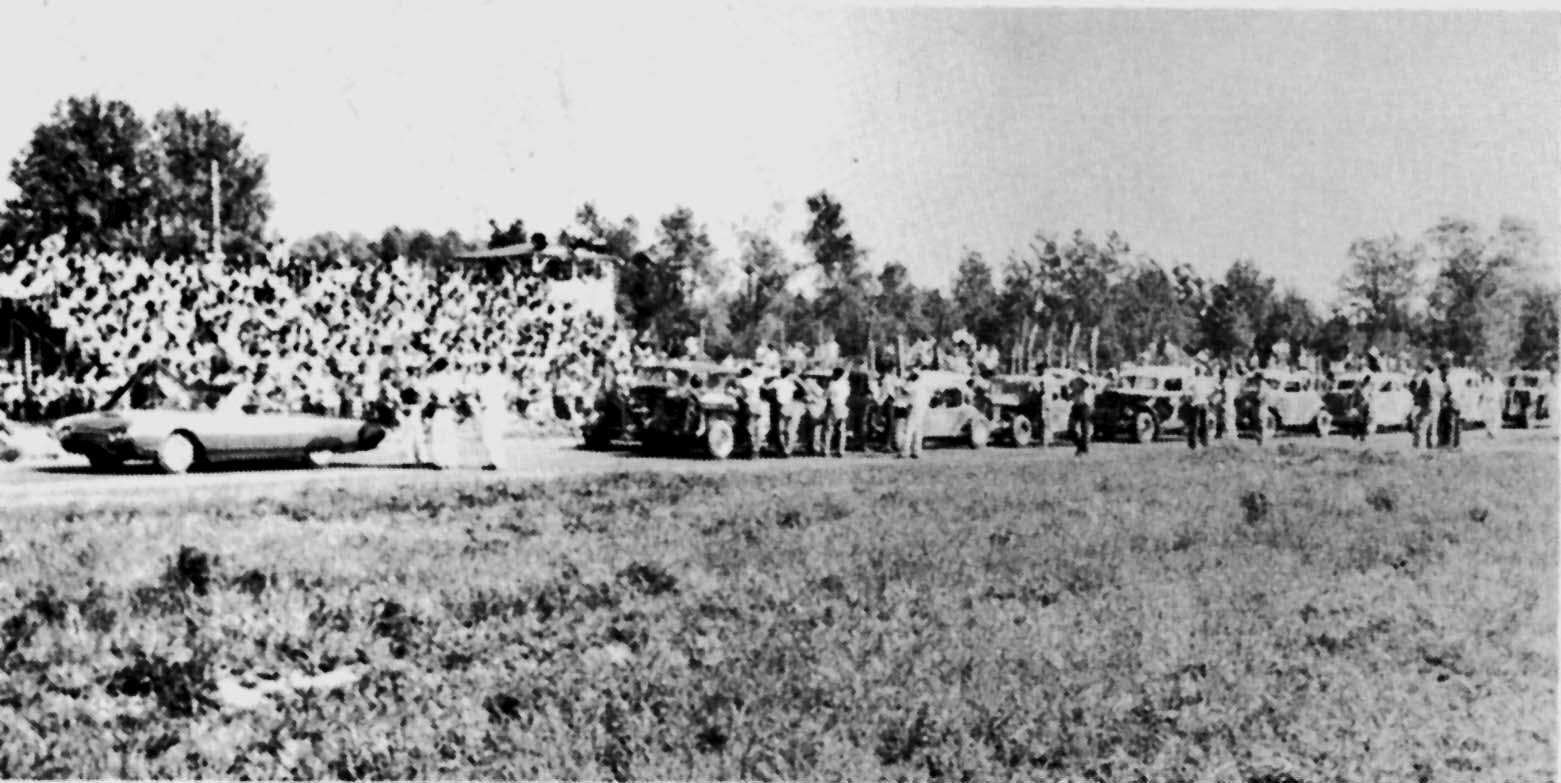 Bob Frazier Photo Courtesy of Norm Vadnais
The opening feature lineup, as it finally got on the track. It still
took a long time to actually get under way. Below – Frank Hatch,
Jelley team mate and winner of the first ever high handicap
heat, won a race later in 1962. You can see the modest extra bleachers
erected in the background and the fact that no one was sitting on the
stables roof any longer.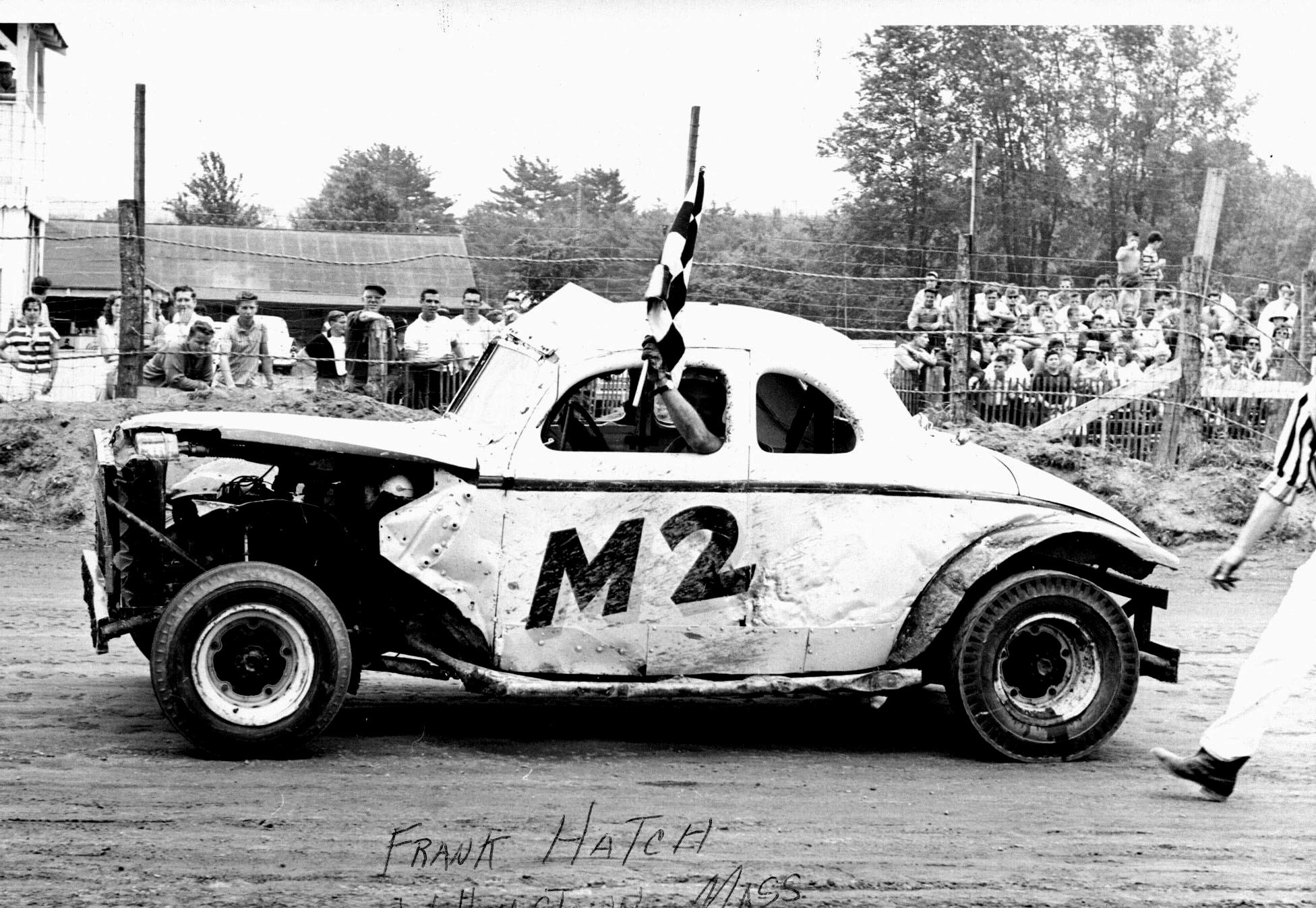 Bob Frazier Photo via C.J. Richards
In addition to a few local teams, Richards had to figure how how to handicap cars from Lebanon Valley, cars from the recently – closed Warrensburgh [NY] track, cars from New Hampshire's Claremont Speedway, and even a few from the NASCAR – sanctioned Otter Creek track north near Vergennes, VT. A lot of times they had to handicap based on reputation alone.
Finally, when the large crowd was near mutiny, practice was announced and the freshly – painted '40 Ford sedan of Joe Spellburgh, a Whites Beach Speedway regular, rumbled out first. I recall the car having a Beep Beep Roadrunner cartoon on the side, and the roof shuddered, as most of the old interior supports were gone. An old refurbished Warrensburgh car, it would be a good entry all year long. As is true with any dirt track, practice was a brief four or five lap affair but the crowd had now seen action.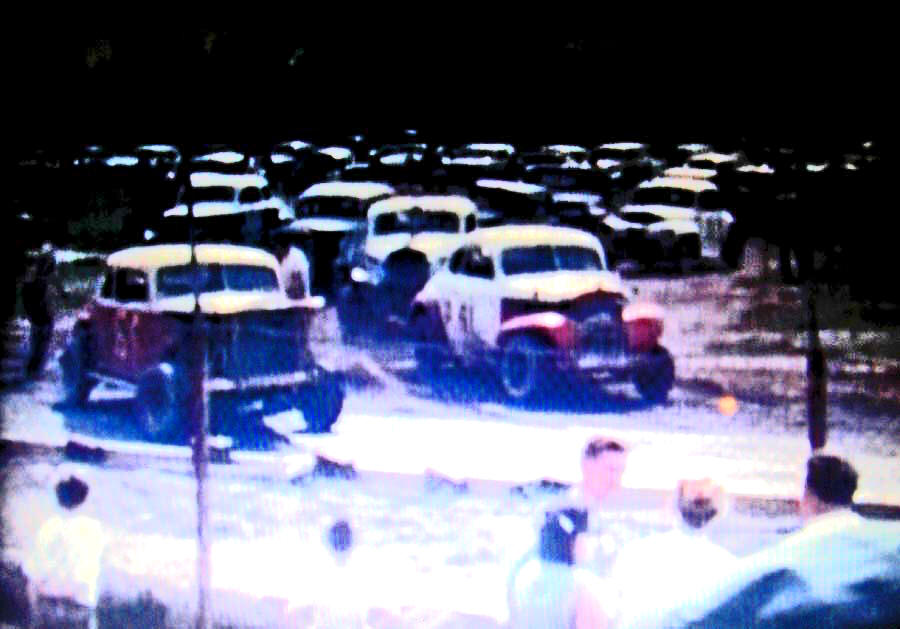 From Dan Ody's 8MM Old Speedways DVD's
A 1962 race lineup comes out of the infield pits. Polesitters Bob Loomis [P61] and John Ballantine [61]
were present at that first race show in May. Below - This shot of a Fairmont qualifier in 1962 gives evidence
of the strong Warrensburgh presence at the track. Red Smith [33 1/3], Tom Bennett [19] and the Baker
Me2 were all refugees from that closed track.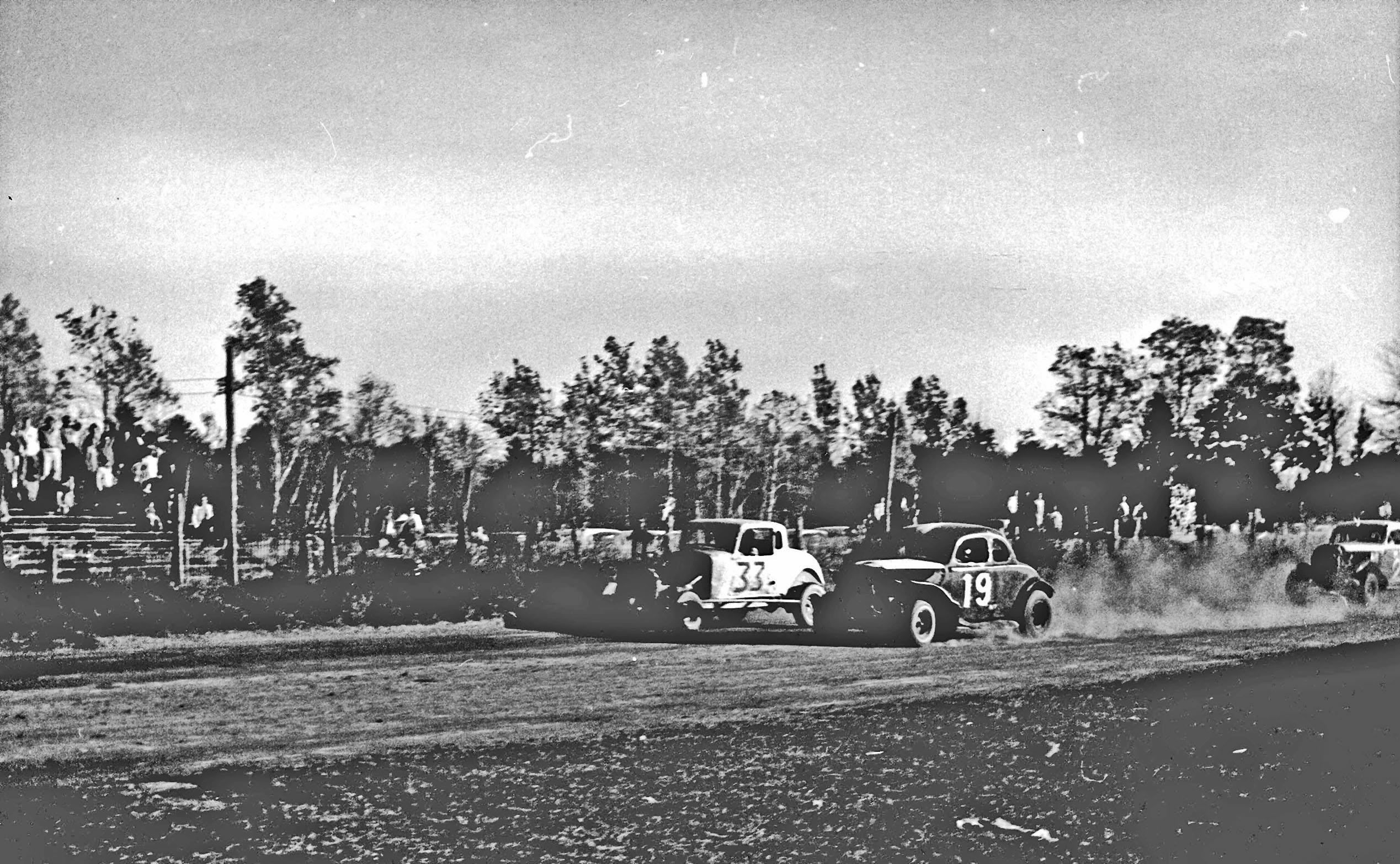 Bob Frazier Photo via C.J. Richards

The Cream yellow and white Y of Jelley had the crowd abuzz. Butch explained, almost fifty years later, that it had a unique exhaust system that not only formed a Y [hence the name] but gradually increased in diameter of the pipe as it went farther back. This created a Venturi effect and it also allowed for flames to belch out of the two football -shaped exit holes in the trunk lid. It made a big hit with the crowd.
The qualifiers were held, as much as could be determined, in low handicap, middle handicap, and high handicap classes. While several of the name cars were entered in the last race – Claremont regular Walt Brown, Jr. won the first race held at the Richards Fairmont track. I don't recall who won the second race, but Frank Hatch won the high handicap heat, delighting the crowd by honking a horn as he left off the checkered flag.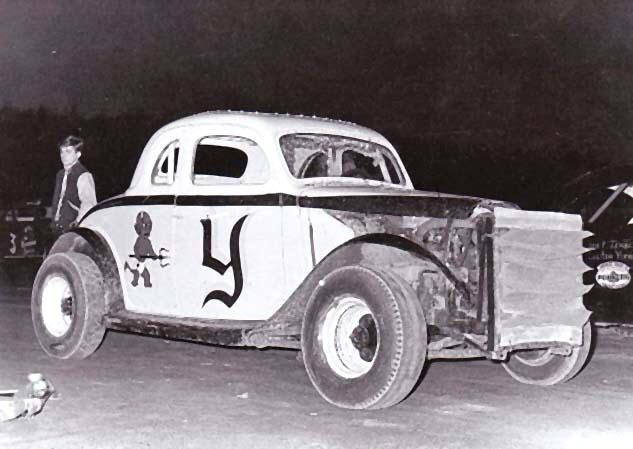 Courtesy of Arnie Ainsworth
Butch Jelley and his good – looking Ed Winn Y were a hit. Below -
C.J> didn't end up with many big stars at the first race. Some
overmatched local cars like John Ballantine's 61 filled the fields.
The day belonged more to the New Hamphshire lightweight cars.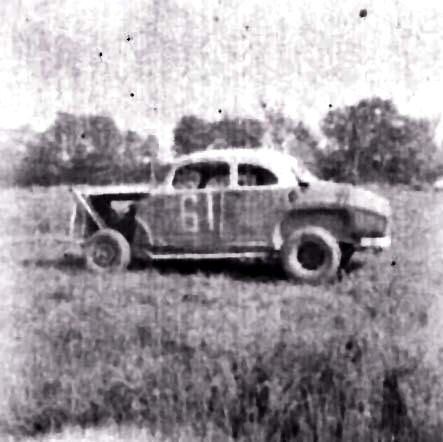 Ladabouche Photo From a Reversed Negative scan.
More long delays as officials tried to digest the qualifier results and while Richards had the sunbaked track watered again [fruitlessly]. Cj shared with me how his water truck, which had to go down into a swale to load up with water, would lose about 30% of it getting up the bumpy incline to the track. It is about here that the photo comes into play. He was, however, selling cold drinks, popcorn, and hot dogs at a record clip.
Very likely, handicapping was very difficult. His officials had either never done it or had not done it in a long time. Then, too there was the total unfamiliarity with the field, as it compared to one another. You had cars from New York tracks like Whites Beach, Warrensburgh, Lebanon Valley and more. You also had a good - sized New Hampshire contingent with entirely different cars. On top of all that you had a number of new local cars. It must have been a little science and lot of guessing in laying out the first race fields.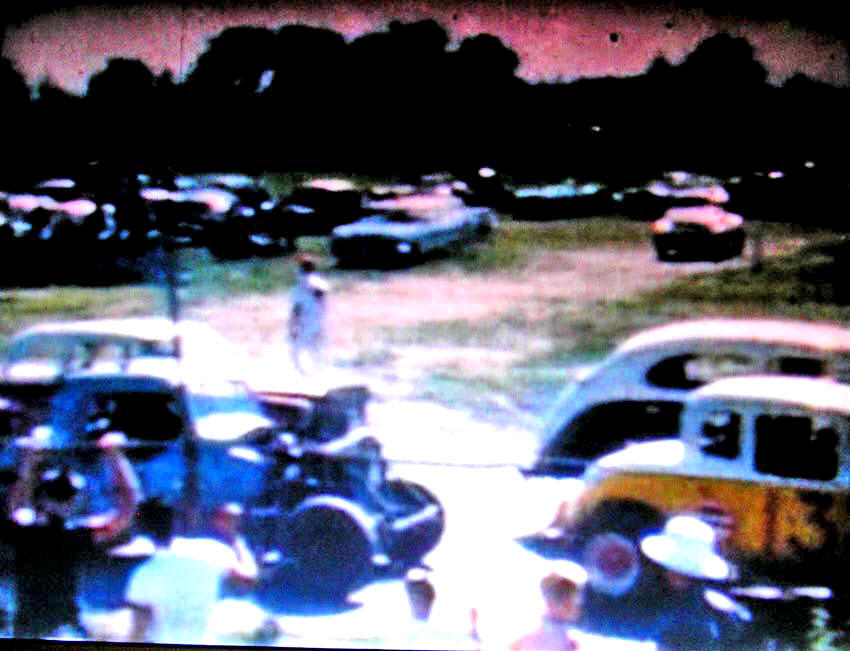 From Dan Ody's 8MM Old Speedway DVD's
This 1962 8MM shot shows two key figures from the first show:
Buddy Bardwell [NH], the feature winner in his #13 and the
black and white Joe Spellburg [NY] '40 Ford sedan behind Buddy.
Below - This shot of a 1962 high handicap heat shows New
Hampshire cars of Art Cody and Bardwell along with the New York
cars of Ed Baker and Red Smith.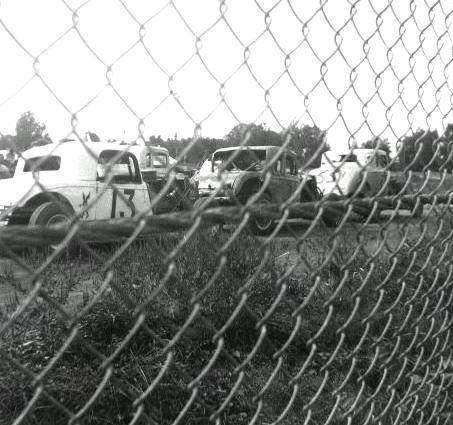 Ladabouche Photo
Not having qualified in the third heat, Jelley was clearly the best car in the consolation race after the lengthy intermission. More roaring and belching flames soon quieted any discontentment in the stands. He ran away with the consolation and collected checkers from Richards' starter, tall, skinny Danny Rumpf from Saratoga Springs, NY. Rumpf had been trained by another Saratogian, the flamboyant Chet Hames, popular flagger at Fonda Speedway. Hames had flagged in Vermont in the 1950's and many in the crowd saw Rumpf's strutting and showmanship as vintage Hames.
So the photo was snapped by Bob Frazier, that opening day, as Jelley was coming back to give the flag to Rumpf. You can see a lot in that shot. First, the overflow crowd is very evident. People are lined up, three deep, all along the frontstretch fence – far from an ideally safe situation. I can even make out people from my home town of Proctor, VT, including Sanborn Partridge, a member of one of the most powerful Republican families in the state. Knowing Sanborn, he had brought along a number of Proctor boys with him and now they stood, getting very hot and dusty next to an ancient rent – a – cop by the gate.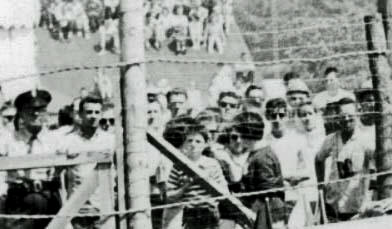 Bob Frazier Photo
Sanborn [right with binoculars] with a bunch of my
hometown boys. Not a one ever went back [just me].
Below – Danny Rumpf would meet Jelley again many times
In Victory Lane. Here, at Devil's Bowl he joins Jelley [center],
C/J. Richards [far left], and Johnny Spafford, all of whom
were involved in that first Fairmont show. Only Martin Riiska
[2nd from left] was not there in 1962.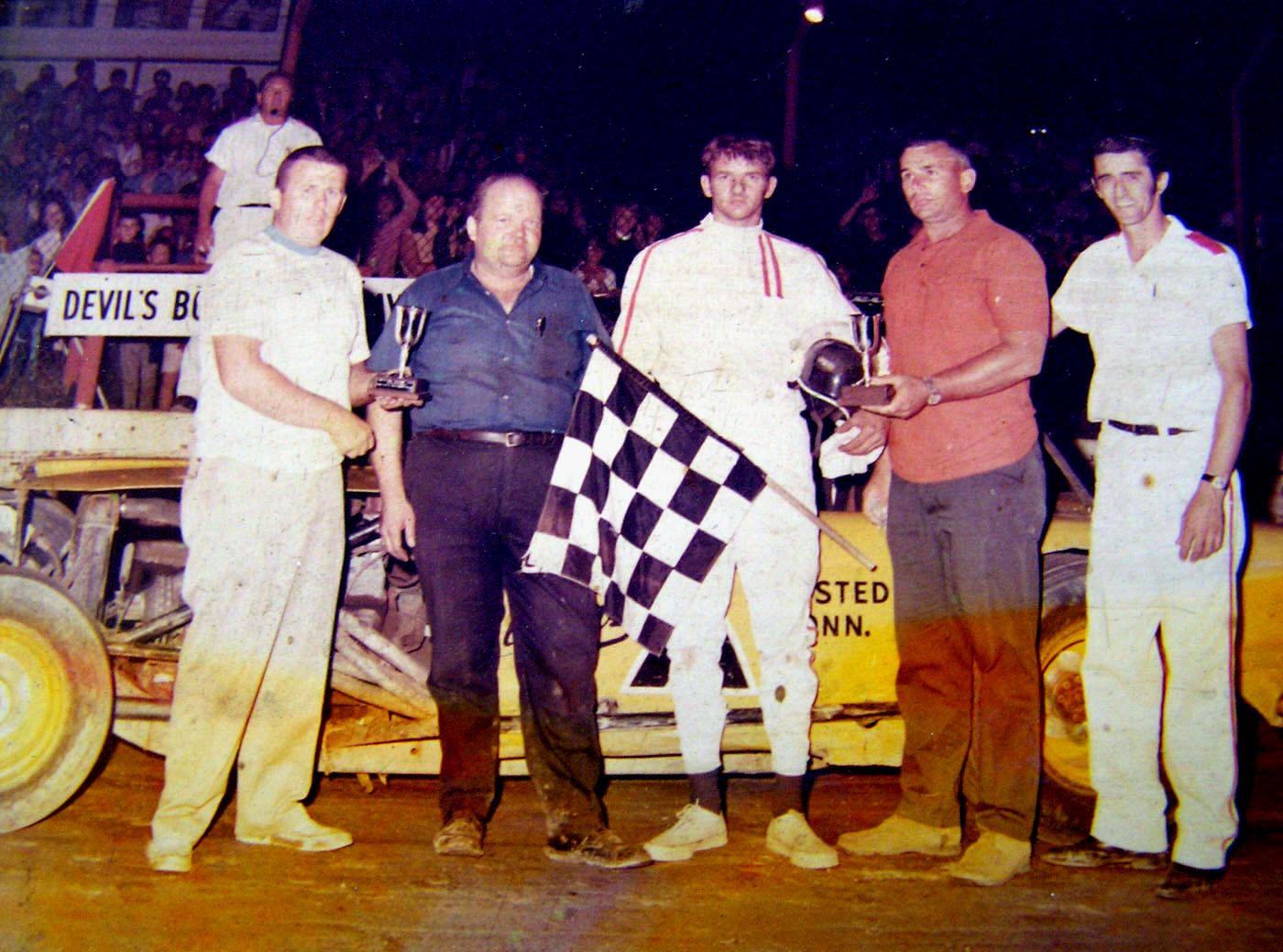 Bob Frazier Photo Courtesy of the LaFond Brothers
Behind the fence spectators, you can see people sitting on the roof of that old paddock or stables building, left over from the days of Fairmont Park horse racing. C.J. never seemed to use that building, although he did press a smaller shack next to it into action as his payoff and sign – in booth. A man who attended that first race once told me that he was one of those people on the roof.
The man said the overwhelmed and outnumbered rent – a -cops, mostly deputy sheriffs and retired policemen, had tried to shoo people off the roof but had no luck Having paid their whole dollar and a half to get in, folks were bound and determined to see the show. In this day and age, the show would have been shut down either for the fence huggers, the roof dwellers or especially for bot happening at the same time.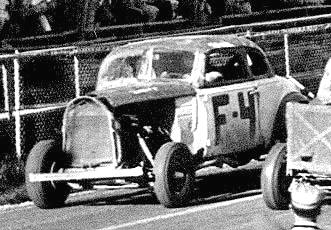 Bob Frazier Photo via C.J. Richards
Gansevoort, NY's Beryl Fitzgerald, likely a Whites Beach regular,
was there for the first race but would end up having his six
cylinder Chevy coupe destroyed at C.J.'s Vermont State
Fair show in September. Claremont star Walt Brown, Jr. won
the first race ever at Fairmont – the first heat.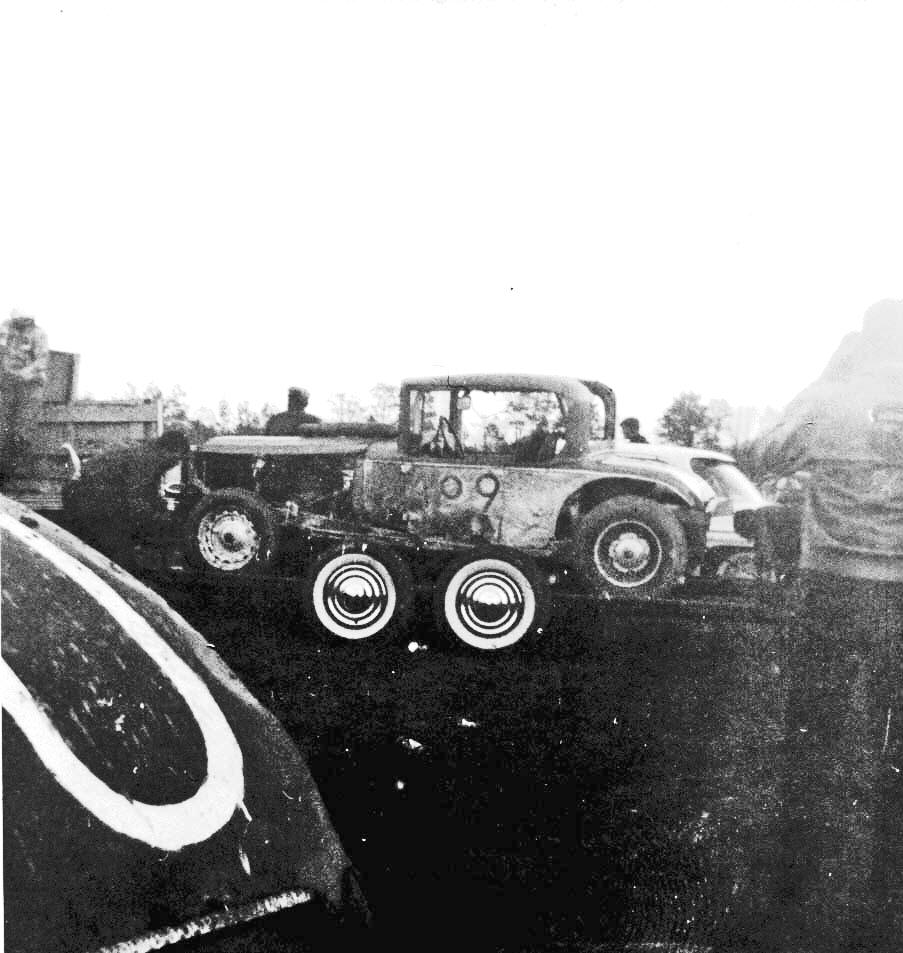 Ladabouche Photo
Couple this with the withering heat, way warmer than normal, the rapidly decreasing food supply at the concession stand, the dustiness of running a dirt race in the afternoon, and frequent long delays all made for a less than comfy afternoon [although it was a very good show] when running]. The biggest local story was from the Julius Metyan team, which came literally from around the corner on the next street. Mestyan had put together what looked like a 194i Ford coupe for his stepson, Kenny Martin.
Built as the show was on, the Mestyan #6 team went to familiar 1950's Fairmont driver Gene Tetreault, an expert welder as well as good driver from Manchester Depot, VT. The show sort of turned out like this: the more powerful but heavier New York cars – especially those from the Valley – struggled to keep up with the lightweight cutdown flathead Claremont cars. The other New York cars, lower budget teams from the old Warrrensburgh Speedway / Whites Beach Speedway circuit, most ran a poor third.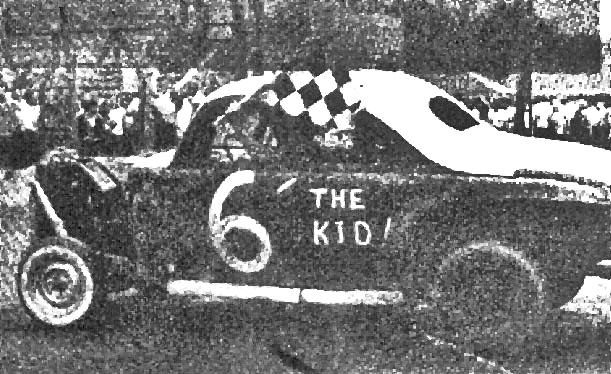 Bob Frazier Photo Courtesy of Norm Vadnais
Gene Tetreault catches a heat win in the Julius Mestyan 6.
Below – Buddy Bardwell, in Victory Lane with his Ford
on that first race afternoon in 1962.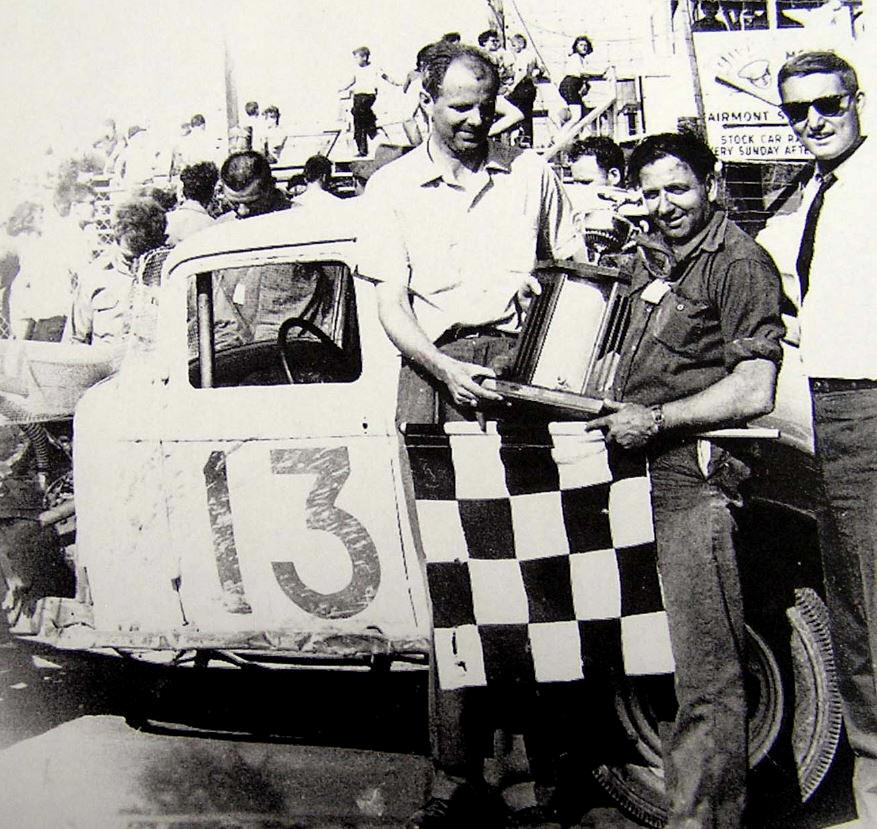 Bob Frazier Photo Courtesy of Neal Davis
The feature, once it got going was paced by Bob Hoffer's new Thunderbird. Hoffer, who fielded the Argyle Racing Team X9, was in the field but not able to compete with the Claremont and Valley cars. The race would be run without too much complication and would be won by unheralded Buddy Bardwell, from Keene, NH, with a a yellow and white #13 Ford. Bardwell, who would race his trademark Hudson coupe with the bullhorns on the roof, was a major figure that day forward at Fairmont. He confided to me in 2006 that he scarcely remembered the Ford, which he only seemed to run in the early summer of 1962.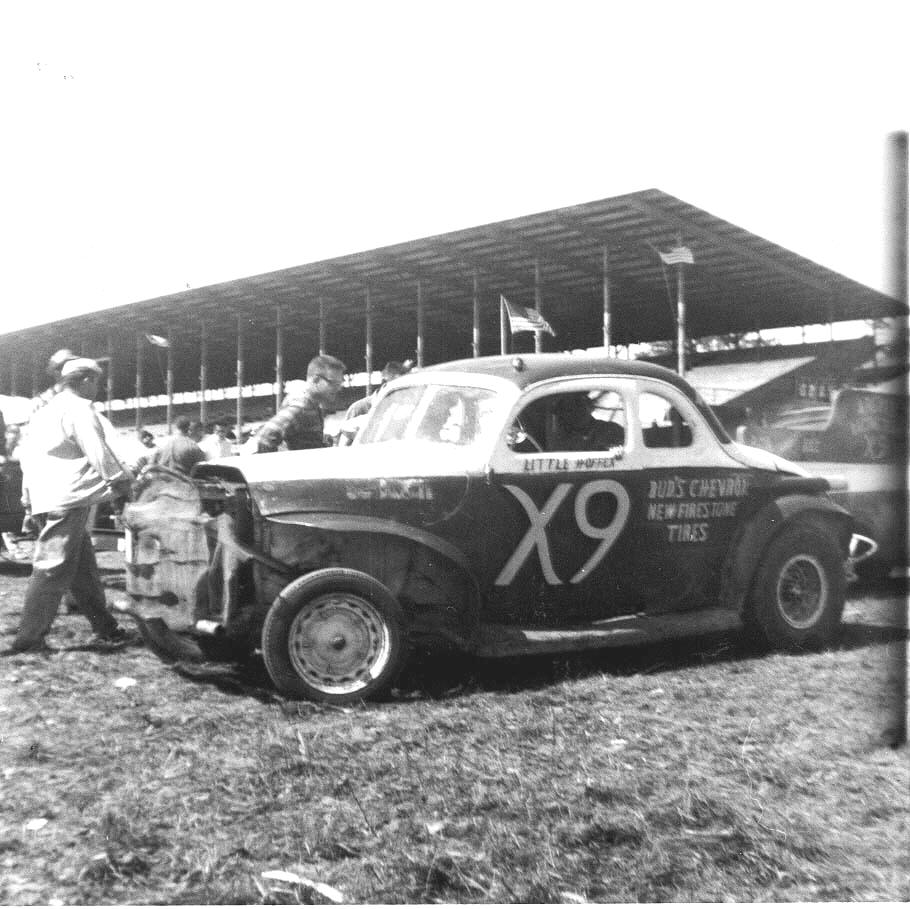 Ladabouche Photo
Bob Hoffer's Argyle Racing Team was impressive with the X9
car and matching hauler but his personal car, the T Bird
was more of a hit at the first Fairmont program as a pace car.
Below - Dick Pennock, a Warrensburgh, NY runner
was quiet that first week but was a major force in 1962.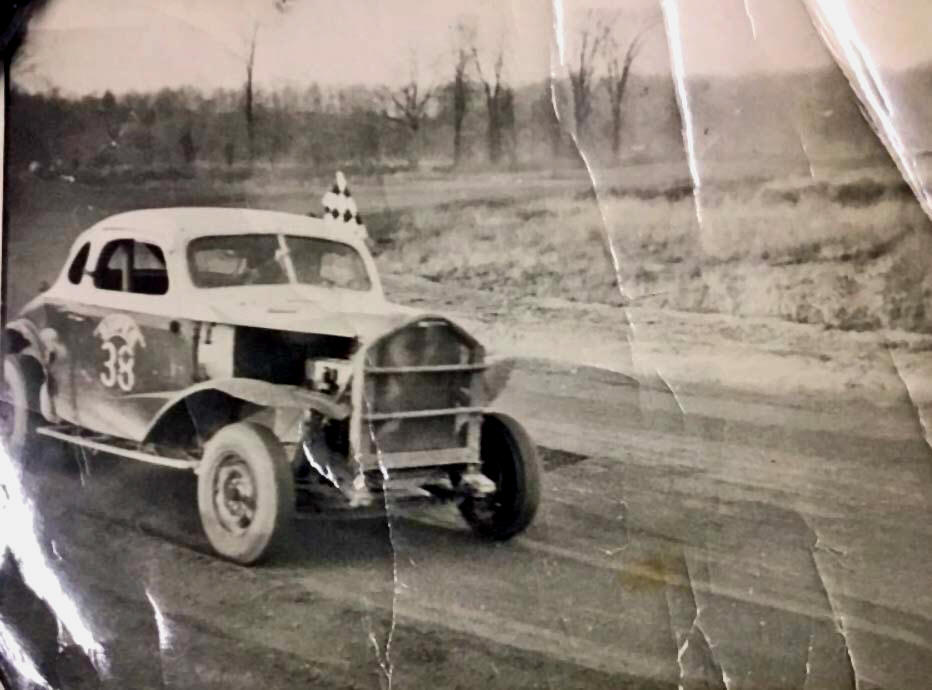 LadabouchePennock Family Photo
Richards and Fairmont would go on to have a successful 1962 season, culminating in a show at the Vermont State fair in Rutland which drew between 10 to 15 thousand people, the largest crowd for a sporting event in Vermont up to then and for years to come. Ironically, while the NH cutdowns would somewhat dominate that first season, Glens Falls' Bill Threw, who drove at the old West Glens Falls tracks and at Whites Beach, would win the second race of the season in a breeze with a thundering 1934 Ford flat top coupe #7A.
Gene Tetreault would drive for Mestyan until he wrecked the big Ford, returning with the car he had driven at Fairmont in 1951 to finish out the season. It was a far superior ride for him. Bardwell would win the 1962 track championship, although the big year – end races were all won by fellow Claremont star Moran "Sonny" Rabideau of Brattleboro with the Frank Smith 311. New Yorkers Threw and Ed Baker won features, as well. Future hall of famer Vince Quenneville, Sr – who had started racing at Otter Creek Speedway first, would be the first Vermonter to win a race at Richards' Fairmont. In the following season, Vermonters George Rogers and Tetreault would come on very strong.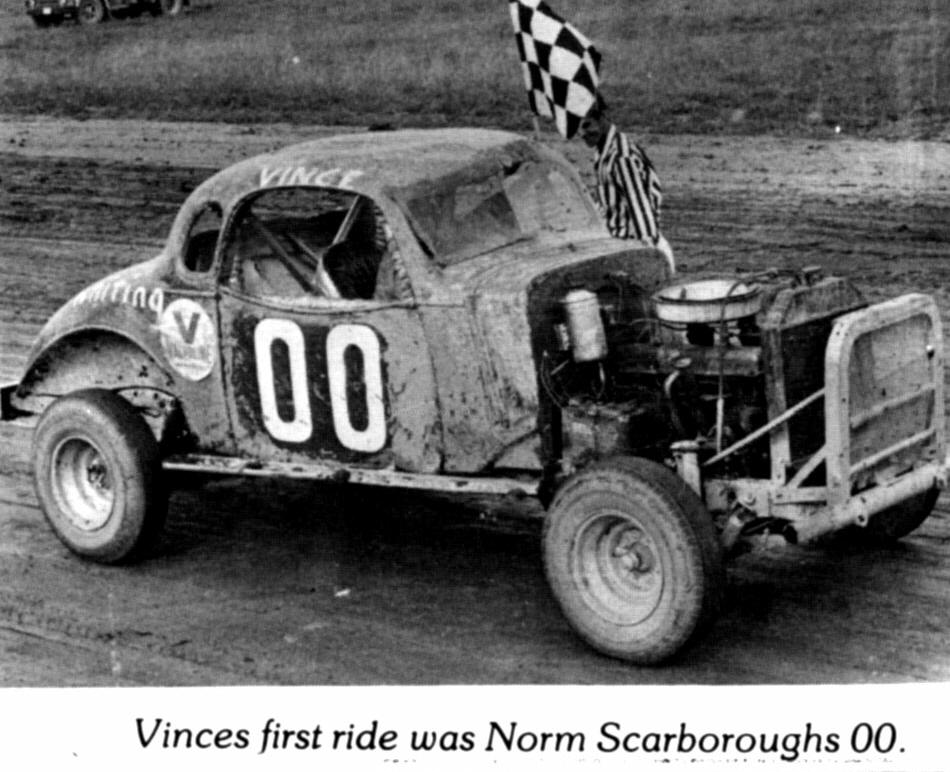 Bob Frazier Photo via Norm Vadnais
Vince Quenneville would start at Otter Creek, starr at Fairmont
and Devil's Bowl and end up in the Hall of Fame. Below -
Warrensburgh's Ed Baker, driving an old Hudson that had been run
eleven years before at Fairmont by Wally LaBelle, would win
some features there in 1962 and 1963.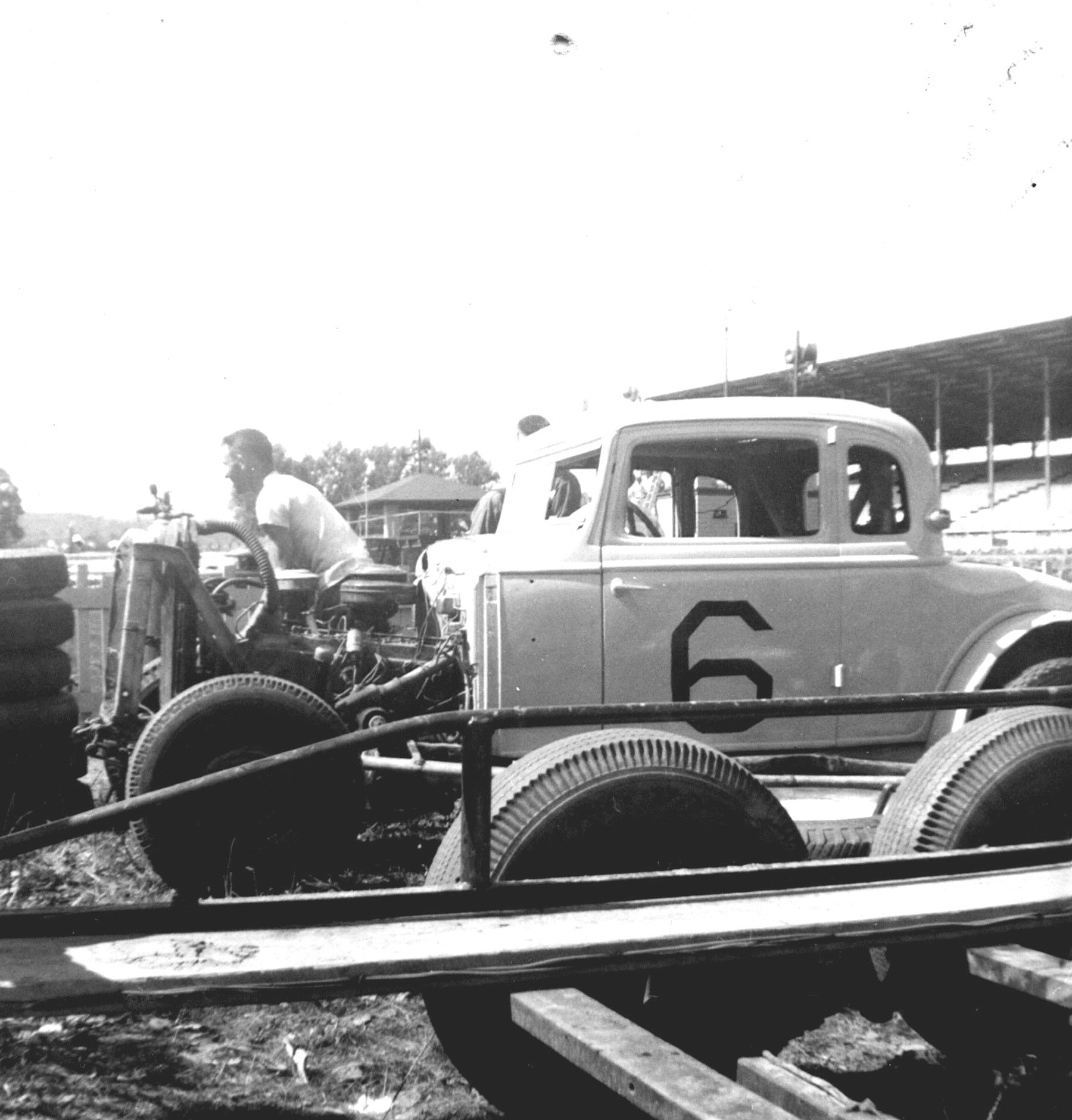 Ladabouche Photo
So, while that photo of Butch Jelley and his nifty '37 Ford numbered Y looks like a very neat and orderly race situation, there was chaos and confusion in the background. We all went home sunburned but satisfied that we had seen some fun racing from an eclectic mix of race cars from all over. Many would stay and become regulars in 1962 and for years to come; others from that first race would never return.
Jelley, a young man lucky enough to have good equipment to race early in his career, would go on to drive even better cars for Martin Riiska, of Winstead, Connecticut, whose famous yellow X had been vacated by Valley legend Doug Garrison by around 1964 or so. As I mentioned, Bardwell would become a Hudson stalwart, joining Warrensburgh's Ed Baker racing that brand.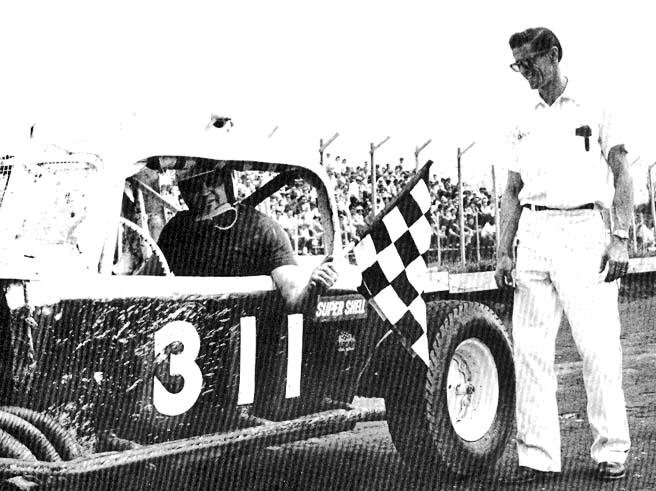 Bob Frazier Photo via Ed Fabian
Neither Sonny Rabideau [above] nor Bill Threw [below] were at
that first show; but, both figured strongly in that first Fairmont season.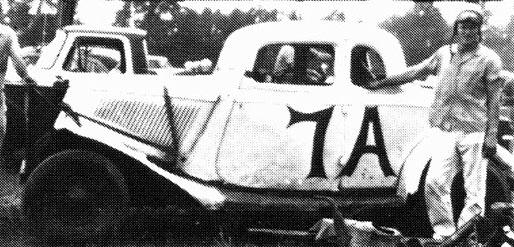 Bob Frazier Photo via Norm Vadnais
Fairmont Speedway would improve its race quality every year until, in 1966, C.J closed it – becoming tired of the carping and interference from an unappreciative town of Fair Haven. Fairmont Speedway only lived for five seasons, but it very definitely made an indelible mark on the history of Northeast racing in its short lifespan. And it all started on that hot May afternoon in 1962, when Butch Jelley won himself a consi.
Please email me if you have any photos to lend me or information and corrections I could benefit from. Please do not submit anything you are not willing to allow me to use on my website - and thanks. Email is: wladabou@comcast.net . For those who still don't like computers - my regular address is: Bill Ladabouche, 23 YorkStreet,Swanton, Vermont 05488.
AS ALWAYS, DON'T FORGET TO CHECK OUT THE REST OF MY WEBSITE
www.catamountstadium.com
Return to the Main Page
Return to the Main News Page
Return to the All Links Page
Return to the Weekly Blog Links Page