BILL'S [Somewhat] WEEKLY COLUMN/BLOG PAGE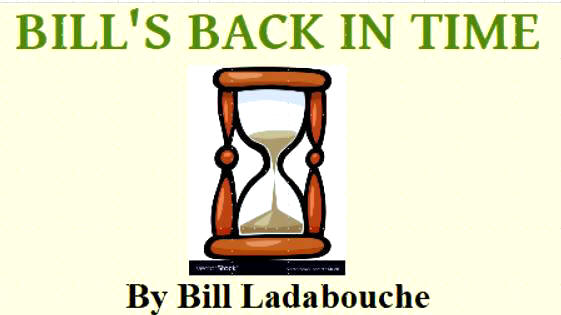 AMAZING CHESHIRE FAIRGROUNDS
Now Somewhat Forgotten, the Track Once Was a Center
of Many of the Sport's Biggest Names
If you visit the site now, the Cheshire Fairgrounds site seems more like a typical sleepy New England fair ground; and – like so many nowadays – the location no longer has its race track. Regular visitors could access one of the site buildings for a somewhat permanent flea market, and there are other activities which happen at various times; but, nothing comes close to what used to happen there on a weekly basis in the 1950's.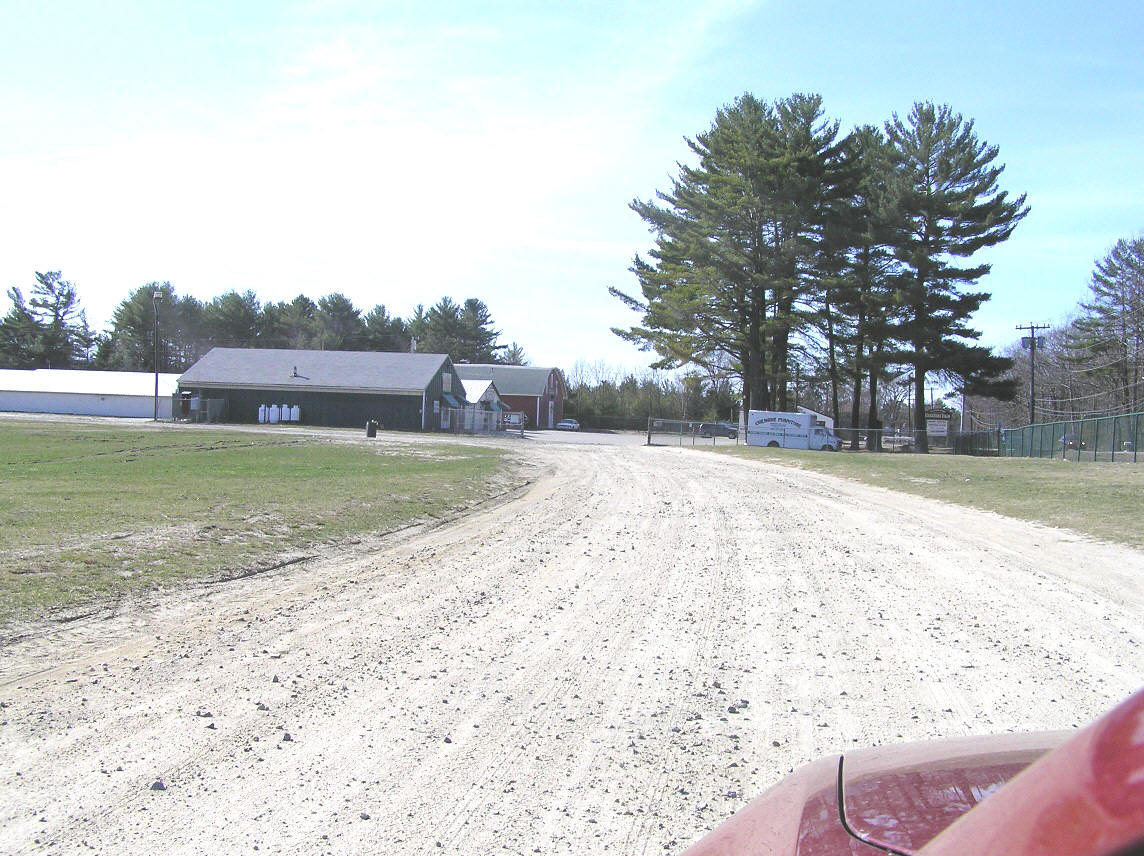 Roxanne Ladabouche Photo
Looking down into turn three at the fairgrounds today. Looks pretty intact there, but nothing is left of the frontstretch.
This is not intended to be a deeply – researched factual study. Good thing, as finding much about the history of the place is pretty difficult. This is more a reflection on the significance of the venue in the whole sphere of Northeastern stock car racing history. Like many fairs, the Cheshire County fair had open wheel racing for many years; but , we are here to think about the stock cars which raced there.
I would have to assume the first stock car racing there came either around 1949 or perhaps 1950. There were some fledgling tracks in the region: the Goodwin family track in West Lebanon, the track near Hinsdale, and - soon thereafter – Rhythm Inn Speedway, Millers Falls, MA; Brattleboro Speedway, West Brattleboro, VT; and venues further away such as Riverside Park Speedway near Agawam, MA.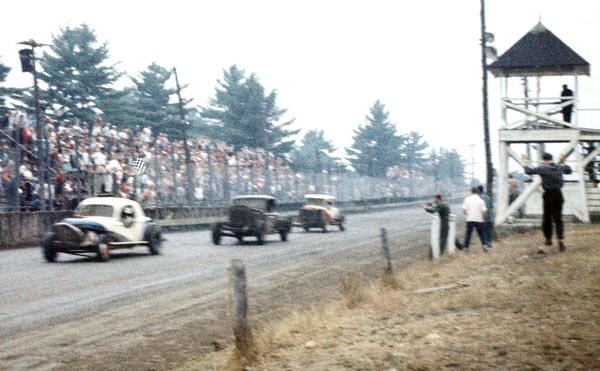 Courtesy of Dick Monahan via Lew Boyd
George Monsen leads a field of cars that includes Dover, NH's
Charlie Zip and Ernie Gahan at the Cheshire track in 1957.
Below - Action at the then – called Safford Park includes
80 Roy Forsyth [behind someone in Frank Smith's 111], Art
Rousseau [20] and Dave Todd.


Courtesy of Walt Perkins

The track at the fairgrounds near Keene, NH would see a few sanctioning bodies. The two I am familiar with were The Monadnock Stock Car Racing Association and the later Triangle Racing Association. The former seemed to focus more on just the Cheshire site, while the latter affected racing at Cheshire, West Brattleboro, Millers Falls, and Claremont, NH. During its run, the site went both by Cheshire Fairgrounds and by the name Safford Park Speedway.
My first [and almost only] impression of the place came one time in the 1950's when my uncle and I traveled to some of his relatives in Needham, MA. We had to use Route 10, which caused us to drive directly by the fairgrounds. I had not seen anything approaching stock car racing since Rutland, VT's Pico Raceway had closed in 1952, and his explaining that the fairgrounds was a big stock car racing venue was very impressive.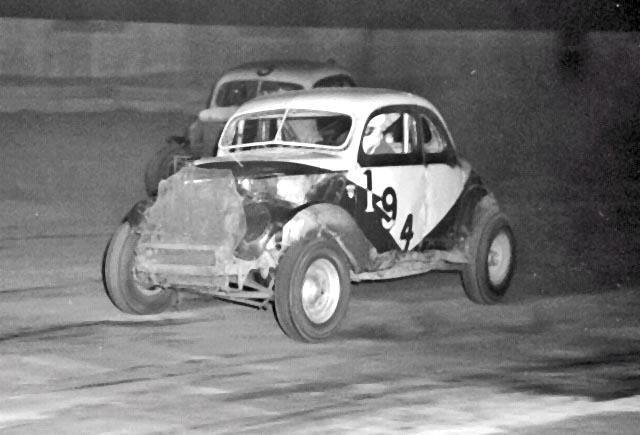 Courtesy of Chip Cormie
Northhampton, MA star Ed Cormie, driving his own 194,
at speed at Rhythm Inn, near Miller's Falls, MA. Below -
A field lines up at the rustic Brattleboro Speedway. Both tracks
operated in cooperation with the Cheshire track.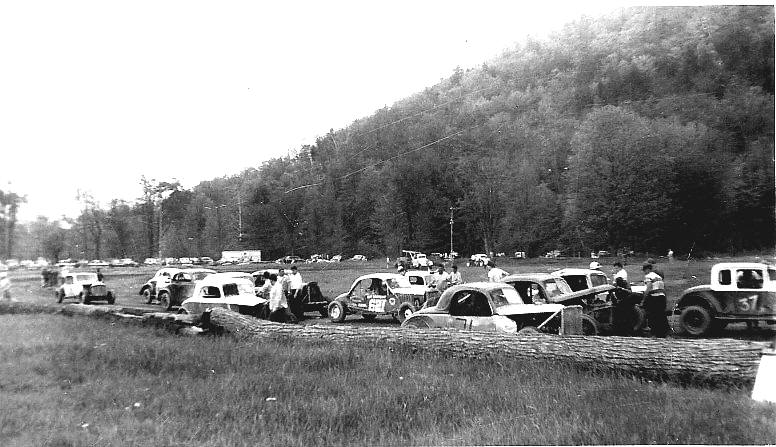 Courtesy of Lew Boyd

Passing by that didn't offer much of hint that racing happened there. A solitary fastback 1948 Chevy sat, forgotten, by itself by the track which was still obviously intact at that time. When my wife and I revisited the site around 2006, the track was no longer intact as a usable oval. The area in front of the grandstands was particularly gone. I took pictures where I could anyway that day, reflecting on what a force this place once was.
Many people do not know or appreciate the stature of competitors who ran in that most busy of racing areas which encompassed parts of eastern New York, southern Vermont, Massachusetts and Connecticut, and southern New Hampshire. I cannot even pretend to be able to name all of the prominent drivers, owners, mechanics, and officials who participated in racing in the area around the Cheshire Country fairgrounds in the 1950's.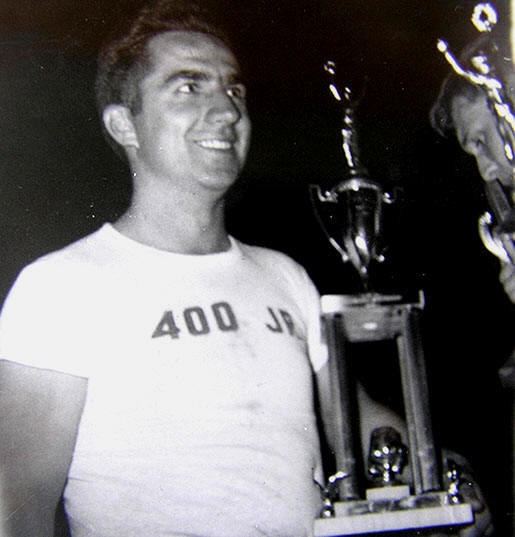 Keene Sentinel Photo
A young Rene Charland sports a tee shirt for the
car he ran at Cheshire Fairgrounds. Below – this is said to be Hattie
Todd Brown receiving an award for winning a powder puff race.
A young Ken Squier looks on. Hattie's brother, Dave raced, as did her
husband, Ted Brown. I have some doubts about it being Hattie.

Courtesy of James Howard

Suffice it to say, I can name some national figures who began in that area – national champions, successful full – time stock car racers, prominent car builders, and men who went on to various halls of fame in the Northeast often shared the tracks around Keene, NH simultaneously. If you factor in Riverside Park in Massachusetts and tracks in New York like Empire Raceway, Menands and Pine Bowl Speedway near Troy, you end up with a who's who of stock car racing people.
Just off the top of my head, I know that Safford Park Speedway / Cheshire County Fairgrounds hosted four -time NASCAR National Sportsman Champion Rene Charland [then from Holyoke, MA] and future NASCAR National Modified Champion Ernie Gahan, from Dover, NH. A little more time to dig around and I might have found at least another champion of some sort from that amazing list of men who drove there.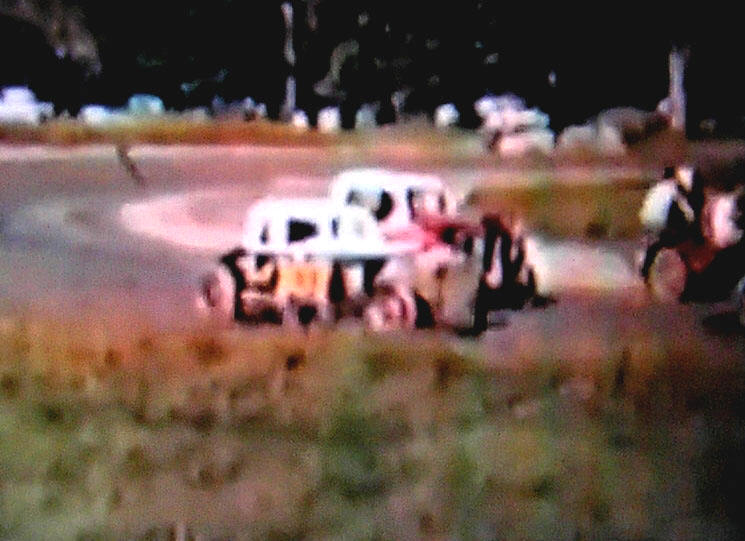 From Dan Ody's 8MM Old Speedways DVD'S
Rene Charland runs the outside at Brattleboro on his way to
what might have been the first win in his great career.
It was in Leo Matte's 107. Below – Charland and Delisle
with the unique airplane engine car at Rhythm Inn.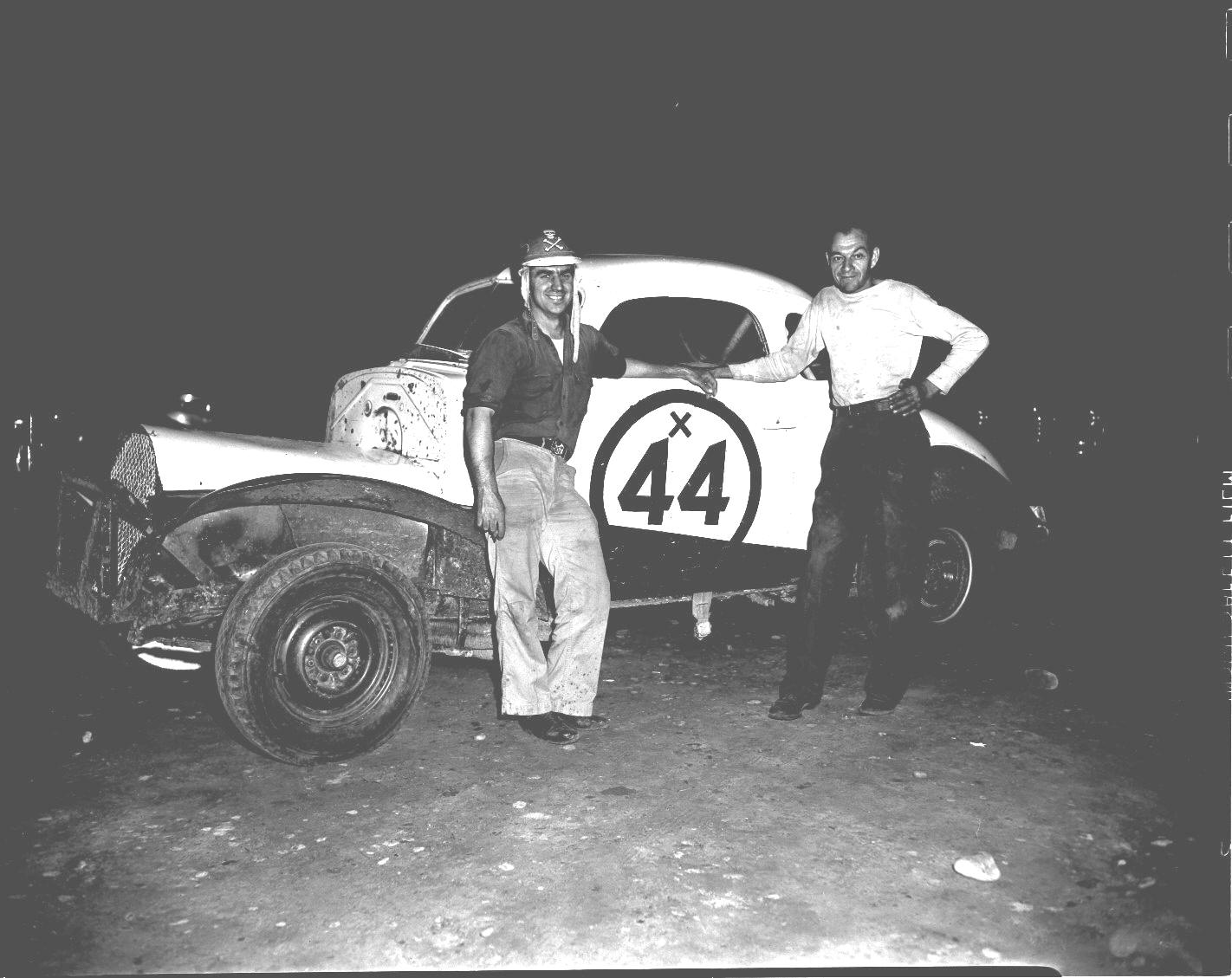 Source Unknown

Charland, a burly, smart – talking ex Marine, had raced already for a while before he hooked up with car Owner Leo Matte and his #107's. Lore has it that Charland's first victory came at the bucolic Brattleboro Speedway in West Brattleboro, VT around 1951. Grainy, terrible old 8MM footage shows that race and Charland in Victory Lane with Matte. Rene was also a division champion at Cheshire when it was run by the Monadnock Stock Car Racing Association under president Roy Forsyth. Then, Charland seemed to drive a different car strangely numbered 400.
The strangest rig Charland drove back then was Arnie Delisle's airplane motor – powered car, which he ran mostly at Rhythm Inn Speedway in Miller's Falls, MA. Charland began to build a strong car building business out of Agawam, MA and eventually no longer raced in the region – concentrating on the more lucrative NASCAR racing in Massachusetts and New York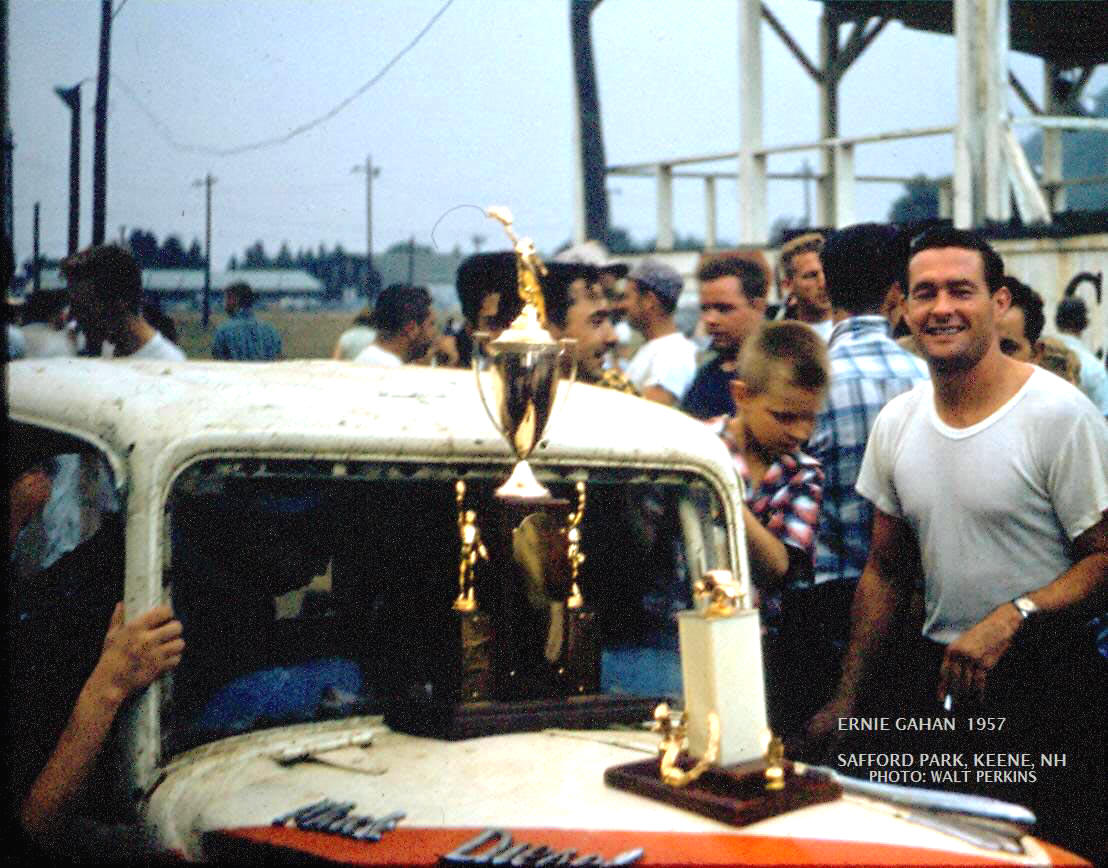 Courtesy of James Howard
Ernie Gahan, with his Stoney's Diner 50, at Cheshire
around 1957. Below – Ernie and local driver Art Rousseau
receive awards for racing at Cheshire.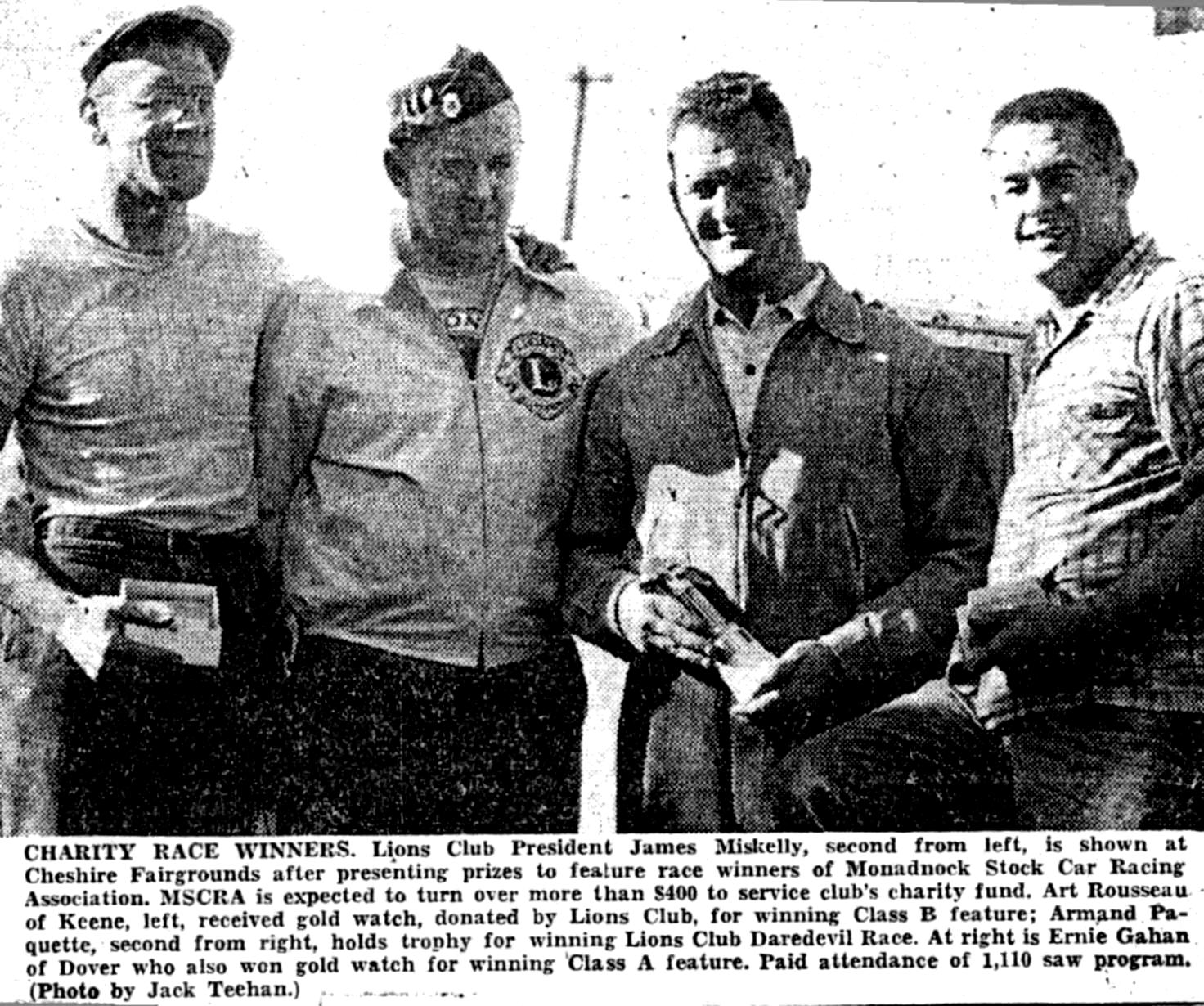 Keene Sentinel Photo
Ernie Gahan followed a similar path, albeit only as driver. He moved to NASCAR tracks like Stafford Springs, CT and Fonda, NY. While racing around Maine and New Hampshire, he ran a #50 car sponsored by Stoney's Diner. That 50NH would be a trademark for decades. He was a feature winner at Cheshire on a number of occasions. In his quest for NASCAR points and higher paying tracks, he would sometimes hook up with Rhode Island car owner Sonny Koszella, driving the latter's 15's; but not at Cheshire.
Another big name to run Safford Park and sister tracks was Rhode Island's burly Don Rounds and his familiar light blue and white #101's. Sometimes teaming with brother, Harold, Rounds would compete at the Keene oval, and I suspect he would hit other area tracks once in a while. Rounds, unlike Gahan and Charland, did not chase NASCAR after his time with the Cheshire fairgrounds, but rather seemed to concentrate on the highly – competitive, high – banked, non – NASCAR Lebanon Valley Speedway. I first saw Rounds at a Valley – promoted show at the Vermont State fairgrounds in Rutland, VT in 1961. I recall liking the pirate flag on Don's '37 Ford.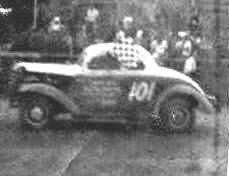 Courtesy of Don Rounds Jr
Don Rounds, flying the checkers as the Safford Park
Midsummer Champion. The photo was
very small. Below – The two Rounds cars
sit in the Cheshire infield pit area.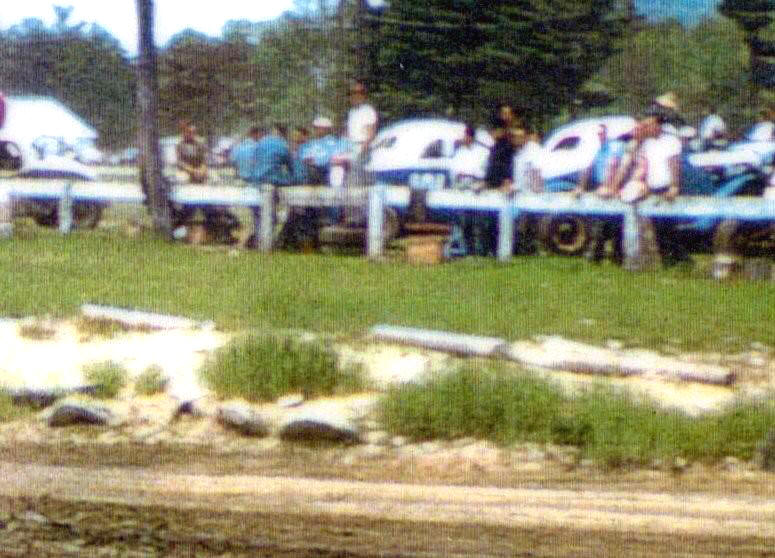 Courtesy of Cho Lee

Roy "Pappy" Forsyth is story unto himself. A Keene native, he was a strong racer as early as 1950. He was one of the first winner at Rutland, VT's Pico raceway in 1951. Driving red and white #80's at that time, Forsyth became the president of the Monadnock Stock Car Racing Associaton that sanctioned the Keene track in earlier years.
As the tracks in that region began falling by the wayside throughout the '50's, Forsyth would sign on with Bradford, VT car owner George Barber, whose driver had left the team due to family pressures. The Barber #46 [which may or may not have actually run at Cheshire] barnstormed all over New England, winning whereever it went. I have seen photos of that team at Stafford Springs, Stateline Speedway near Bennington, VT, Brattleboro, and numerous other venues.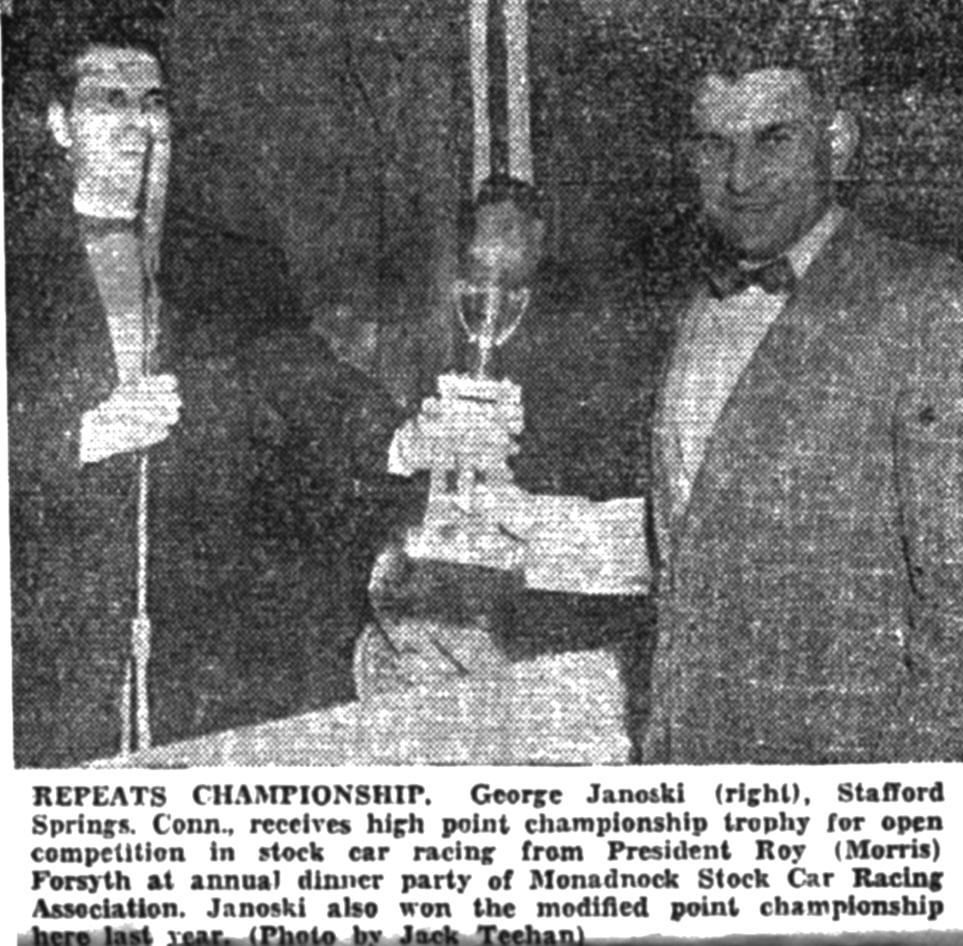 Keene Sentinel Photo
As president of the MSCRA, Roy Forsyth awards a
trophy to Connecticut's George Janoski, one of the
Cheshire drivers to eventually go to NASCAR. Below -
While driving for Barber at Rhythm Inn, Forsyth gets into
it with Cheshire rival and future champion Rene Charland.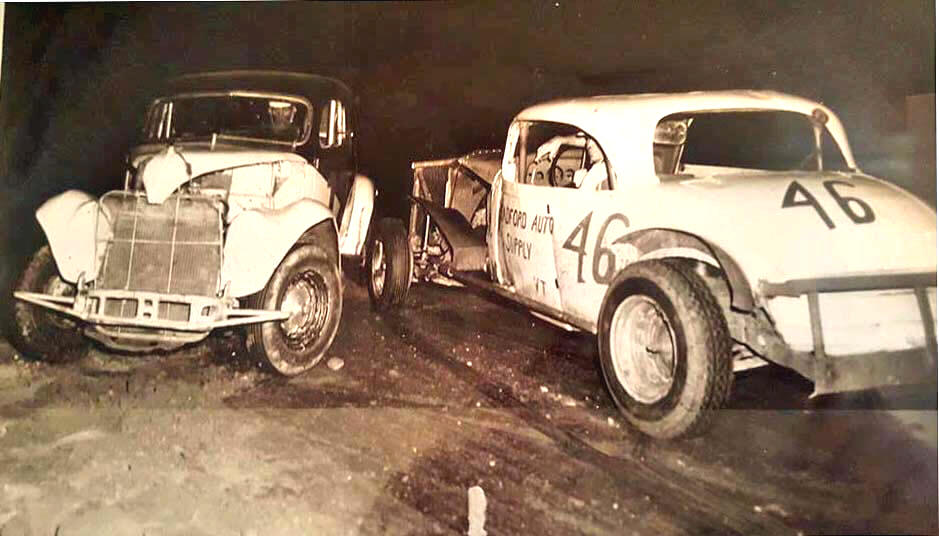 Courtesy of Chip Cormie


While serving as president, Forsyth oversaw the fortunes of Charland, Gahan, Rounds, Art Rousseau, George Schnyer, George Janoski, Charlie Zip [Zerbinopoulos], Keene's Cody brothers, Sonny Rabideau, Cecil Bosworth, Buddy Krebs, Lionel Arel, and tons more I can't bring to mind this moment. The racing at Cheshire, at that time, rivaled anything Riverside Park may have been doing. Forsyth and the track were pulling in people like Bob Bushley, from Beech Ridge, ME, and even an occasional New York team.
Another prominent team that would run at tracks like Cheshire and Brattleboro was the Fred Snape group from northern Massachusetts. Snape, and Ed Cormie were big wheels at the Rhythm Inn track in Massachusetts, as well. I think Cecil Bosworth was one of the bigger drivers of the Snape #26 entries. In time, as racing wound down in that immediate area, Snape would follow Don Rounds and others to Lebanon Valley.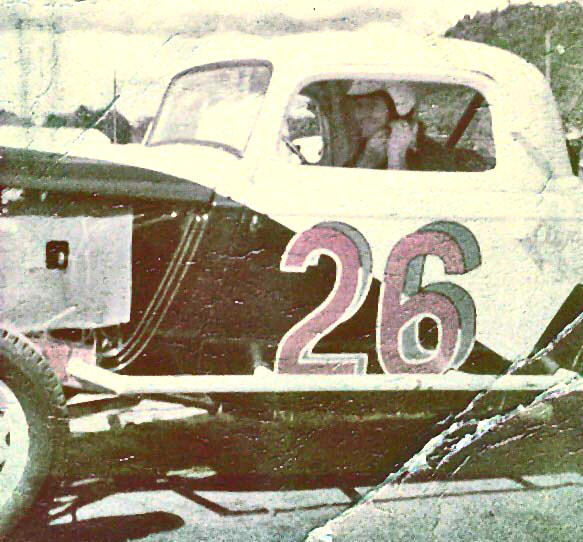 Courtesy of Crystal Snape
Ed Cormie driving the 26 for fellow Northamptonite
Fred Snape. Below - Early Snape driver Cecil Bosworth.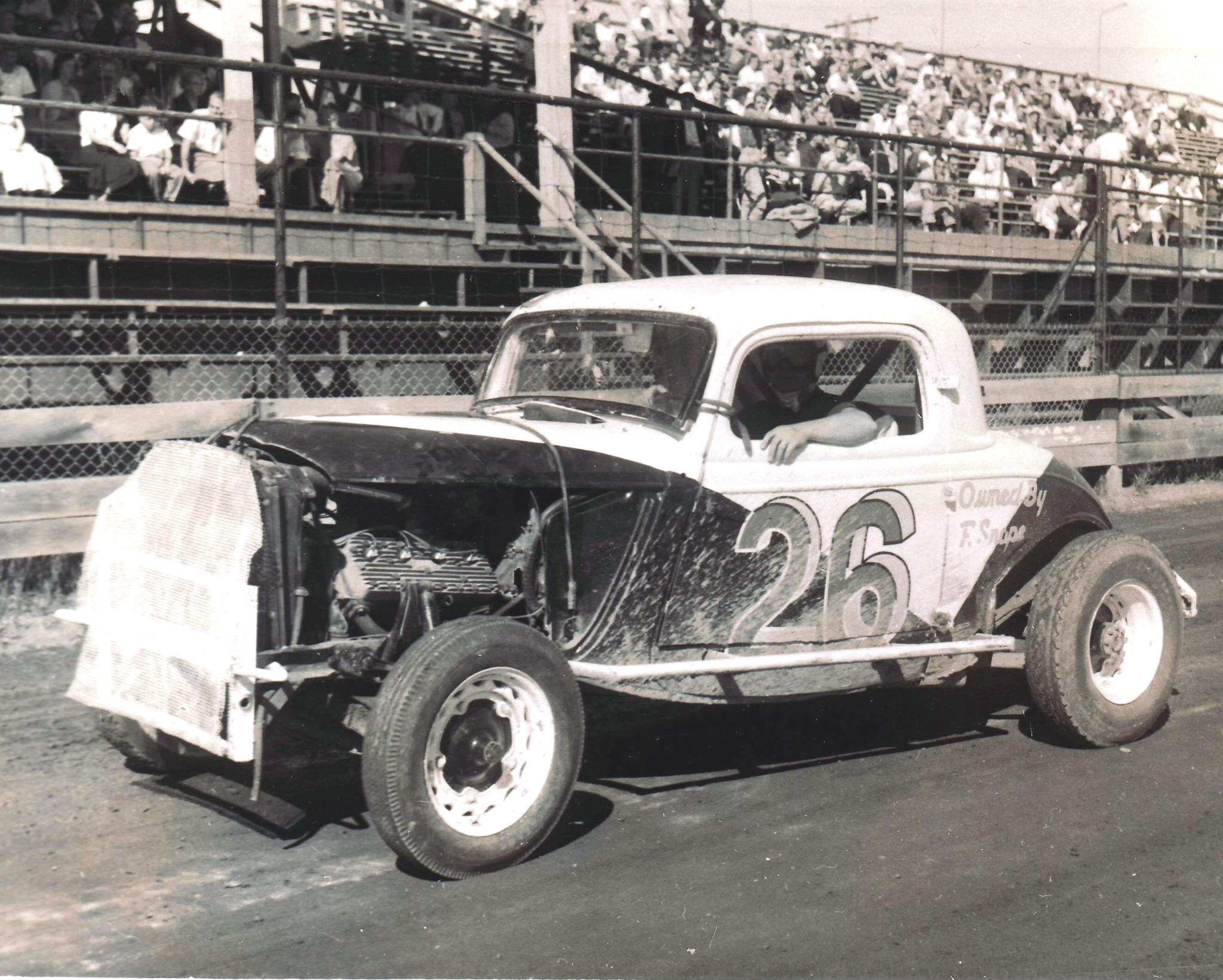 Courtesy of Dave Dykes
The Claremont Speedway would begin and develop on Sonny Fleury's land in Claremont, with much of its early influence coming from the Cheshire fairgrounds / Safford Park venue. Many of Fleury's stars came directly from Keene, such as Rabideau, Bosworth, the Codys, Ted Brown, and more. But he also "harvested" some talent from dying tracks like the one in West Lebanon, NH. One of his track champions was "Pop" Goodwin, whose family ran that track before turning the property into a landfill.
I don't have information on exactly when the fairgrounds track closed or why. I suspect it was the usual reasons such as dust, noise, and a desire to have the track available for horse racing. Unlike somewhere like Fonda, NY, I don't think the operators of the race track modified the track or stands all that much, so they didn't have as much to lose if they pulled out. But, the racing there certainly accomplished great things in its life span.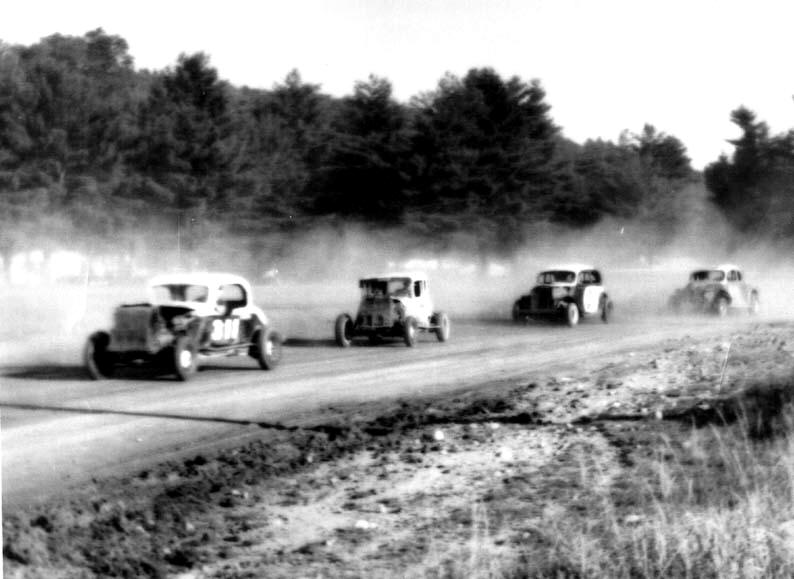 Courtesy of George Hill
Action at Cheshire sees Sonny Rabideau leading the
Suffield Auto #5 of Buddy Krebs. Below – Joe Ryan,
another Northampton, MA hot shoe in the X.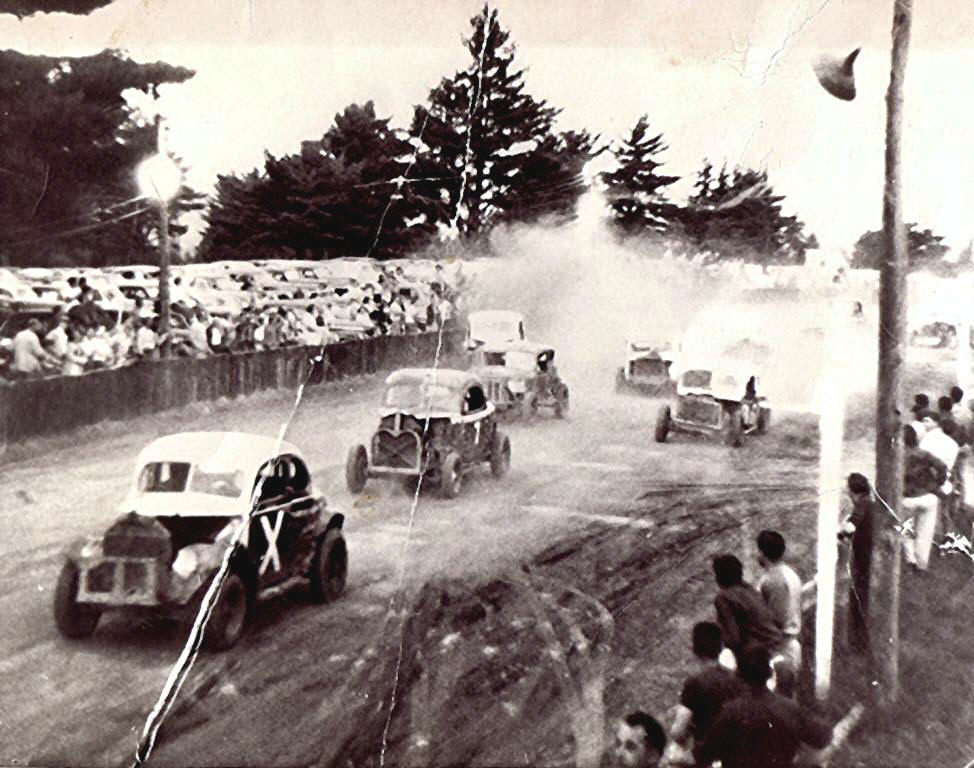 Courtesy of Walt Ryan
If you're still rattling off names – especially of New England stars – you go through Buddy Krebs, Big Ed Patnode, Don Rounds, Rene Charland, Lionel Arel, Art Rousseau, Art and Mike Cody, Cecil Bosworth, Sonny Rabideau, Ted Brown, Ernie Gahan, Ray Brown, Buddy Bardwell, Paul Martell, George Munson, Ralph Cusack, George Janoski, Jerry Dolliver, and Joe Ryan. This doesn't even get into a second tier of drivers who were expert at one particular time or one track. It doesn't cover the guys who never became famous but who were stars at Cheshire, in their own right.
Evidence of what took place at the Swanzey, NY fair oval lies mostly in microfiche at local libraries and whatever you can glean from people whose fathers raced there. There aren't many originals left. Too bad they weren't running that afternoon when we drove by there; knowing the way my uncle and I were about racing, we may have never made it to Needham or the Red Sox game the next day.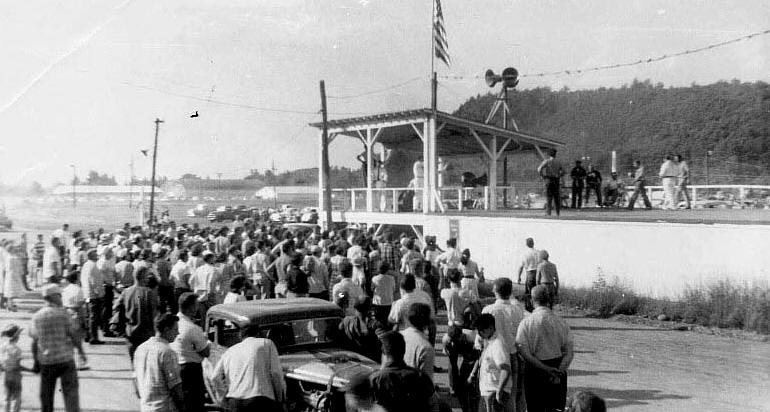 Courtesy of James Howard
Please email me at wladabou@comcast.net if you have any photos to lend me or information and corrections I could benefit from. Please do not submit anything you are not willing to allow me to use on my website - and thanks. For those who still don't like computers - my regular address is: Bill Ladabouche, 23 York Street, Swanton, Vermont 05488.
AS ALWAYS, DON'T FORGET TO CHECK OUT THE REST OF MY WEBSITE:
www.catamountstadium.com
Return to the Main Page
Return to the Main News Page
Return to the All Links Page
Return to the Weekly Blog Links Page