BILL'S [Somewhat] WEEKLY COLUMN/BLOG PAGE

BILL'S BACK IN TIME
By Bill Ladabouche
THOSE CAGLE COACHES
Writer's Note: There are literally hundreds of people who know more about Will Cagle than I do. This is not for them. Nor, is it an attempt at fully covering this man's long and storied career. It is, rather, my impressions of the man and one very interesting aspect of his career. It is also for the benefit of my regular readers who are not familiar with the man – either for reasons of age or geographic location.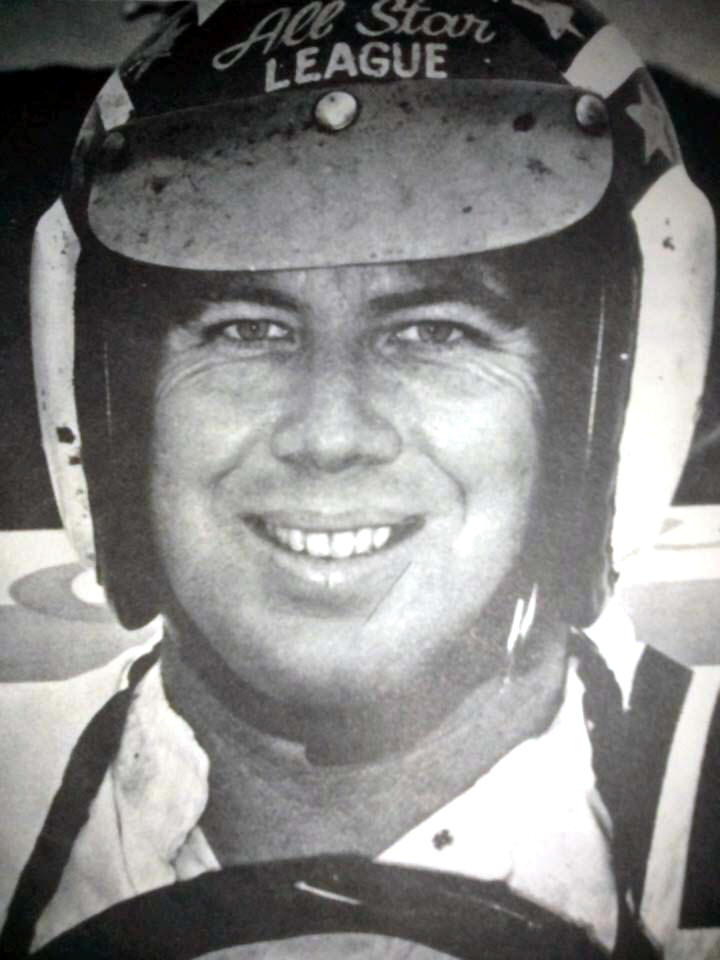 Courtesy of Mike Bruno
Will Cagle portrait,in an All Star League helmet.

Will Cagle is s stock car driver with an unusually long and successful career. Although from Florida [as were so many top shelf stock car drivers], his name is irrevocably linked with racing in the Northeast because that is where he chose to set up shop for most of his career. The part of the Cagle story that I am most interested in is about those dominant and interesting sedans he had in the late sixties and into the seventies.
However, just a little background on the man is necessary to get the full effect of the story. I had been living and teaching in Milton, Vermont for about four years by the time Catamount Stadium hosted an All Star League race. Mind you, the track hadn't had a regular modified event since the same year I moved up there to teach. I did, however, have a fairly good familiarity with the man then. Having read about him for years and having seen him at a couple of Fairmont Speedway special all star events and at some Lebanon Valley open shows.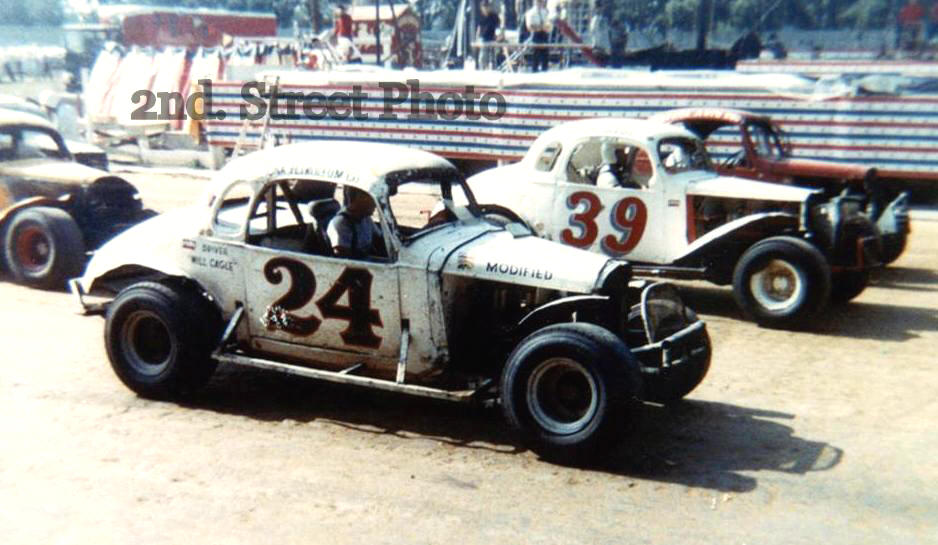 From 2nd Street Collection via Chas. Hertica
A familiar way to see Cagle in the 1960's – a some track in New Jersey or Pennsylvania.Below – A primered Cagle coupe, maybe fresh out of the box.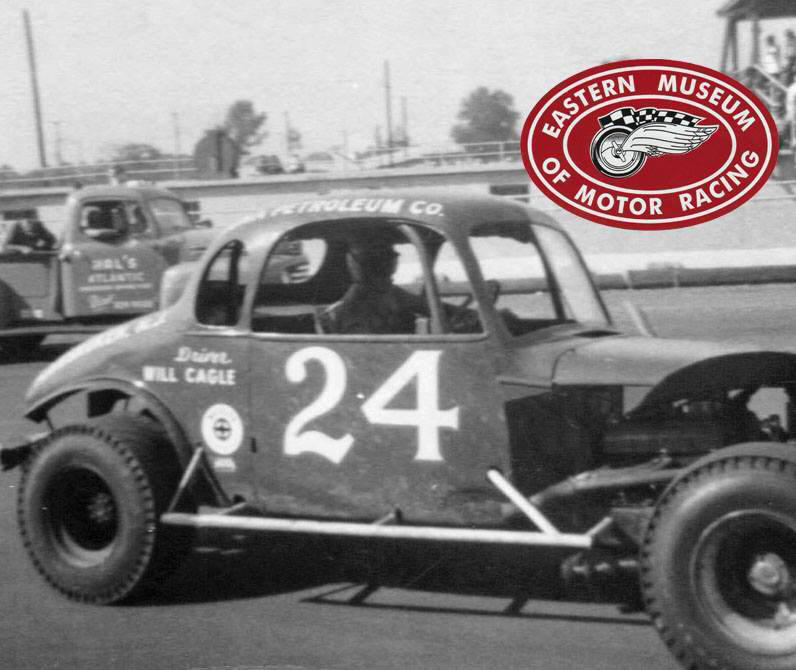 Eastern Museum Photo via Chas. Hertica
Therefore, it floored me when a great many Catamount regular attendees – while immediately recognizing the likes of Bugs Stevens, Ken Shoemaker, Jerry Cook, and the like – had little or no idea who Cagle was. You see, the other stars had run Catamount regularly until the midst of the 1968 season, becoming familiar and beloved to Catamount fans and Milton townspeople alike. But Will Cagle was not running there – at least as far as I have been told.
Cagle began racing in his native Florida – probably in the early1950's – while around 15 years old, like many of his contemporaries. Catamount people would come to know other Tampa, Floridians like C.A. Crouch and son, Robbie; Dan Perez, and others who came to run in the NASCAR late model sportsman ranks up North. Those of us who had come from further down in the Northeast, knew of Cagle, Herbie Tillman, Pee Wee Griffin, and other Southerners who had come up North for relatively easy pickings in New York and on the New Jersey / Pennsylvania circuit. Catamounters had not been seeing much of the Southern modified stars.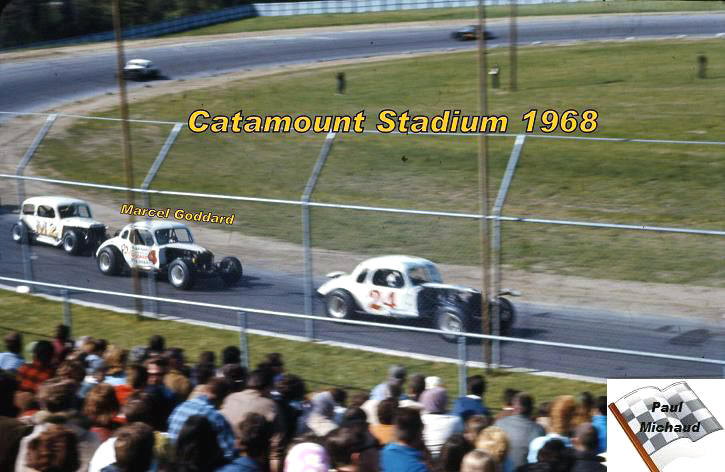 Paul Michaud Photo
Modified action in their last weeks at Catamount in 1968. Don MacTavish plies the Wright / Zautner pavement
car ahead of Marcel Godard and probably Hop Harrington. Below – Wild Bill Slater chases Leo Cleary into Catamount's fourth turn.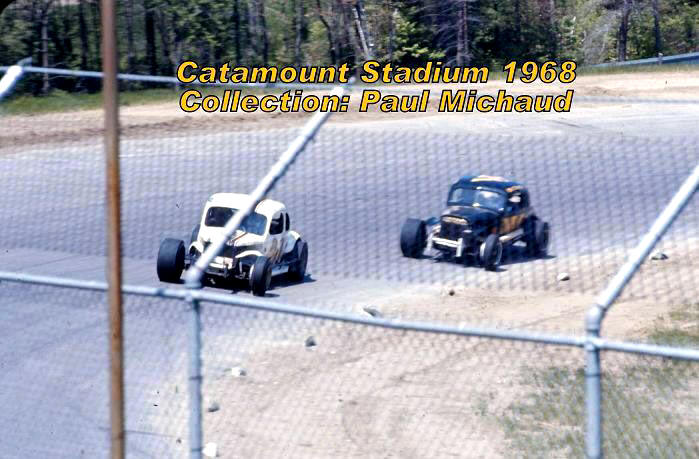 Paul Michaud Photo

Cagle had run various cars at tracks around rthe Tampa area for a few years. Some of these included some fairly cut down modifieds and some with full late model bodies. Some information that accompanied a Getty Images photos of Cagle says he moved North in 1959, where he won championships at 26 different tracks and won an almost uncountable number of features. He had fully earned nicknames like Wily Will and the The Tampa Terror, very dominant – first,on that NJ/PA circuit and later, when he saw pickings were good – more on the New York circuits.
Cagle is linked with names like Buzzie Reutimann, another transplanted Floridian, Griffin, Frankie Schneider [who may have even outdone him in accomplishments], Al Tasnady, Rags Carter, Bobby Malzahn, and many more of the NJ / PA drivers. By the time he was invading more of New York than just Orange County Speedway, Middletown, he already had the reputation. This is where he starts to get into my territory.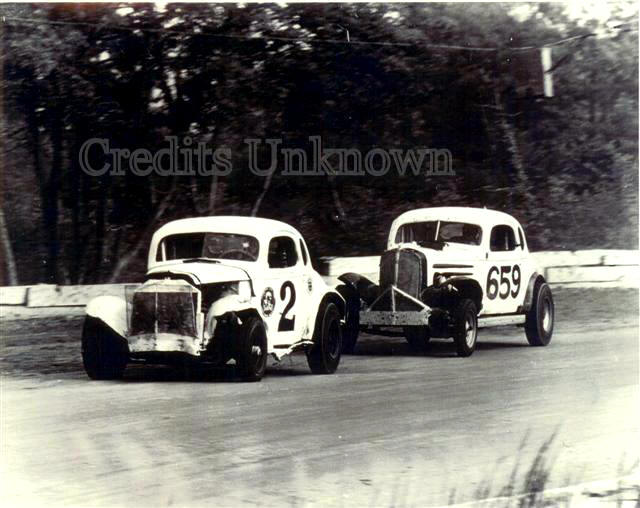 Courtesy of Chas. Hertica
Will Cagle, driving the Lucky Jordan deuce at Alcyon Speedway in Pitman, NJ.
He would learn much from Jordan in this brief tenure. Below -
Eckert, in an article on My Race Pass.com, states that Cagle's ultimate goal was not stock cars, but – rather – to reach Indiannapolis. Eckert goes on to say that Cagle actually got started up North in 1959 at the long – defunct, oddly – shaped Alcyon Speedway in Pitman, NJ. He began early learning that he could benefit by others' knowing more about race cars than he might know. He had realized the 1936 Chevy he had brought North was too heavy and learned how to rectify that from experienced owners like Lucky Jordan, whose #2's were the scourge of New Jersey tracks then.
Apparently Cagle and Vermont's enigmatic promoter C.J. Richards were closer friends than most people realize. This may have developed either before or during the "all star" races that Richards had at his first track, Fairmont Speedway in Fair Haven, Vermont during the last few years of the track's existence before he moved the CVRA operations out to Devil's Bowl. In these special events, Richards managed to attract such big names as Cagle, Ken Shoemaker [who was in the first Wright/Zautner 24 at the time], Pete Corey, Ron Narducci, Reutimann, and a few others. I expect he paid some huge appearance money for this and had to have the races in the middle of the week to pull it off. This was before the All Star Stock Car Racing League did some of the same things – particularly mid week shows.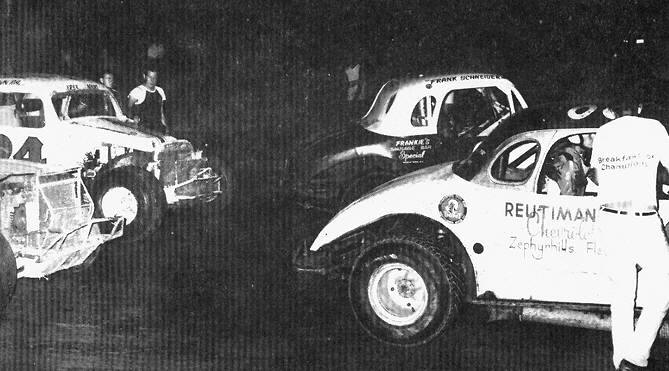 Bob Frazier Photo Courtesy of Ed Fabian
I think Cagle's first connection with Richards was when the latter staged some "All Star" races at his old Fairmont
Speedway in the mid 1960's. Below - Cagle with a coupe very similar to what he used at Fairmont.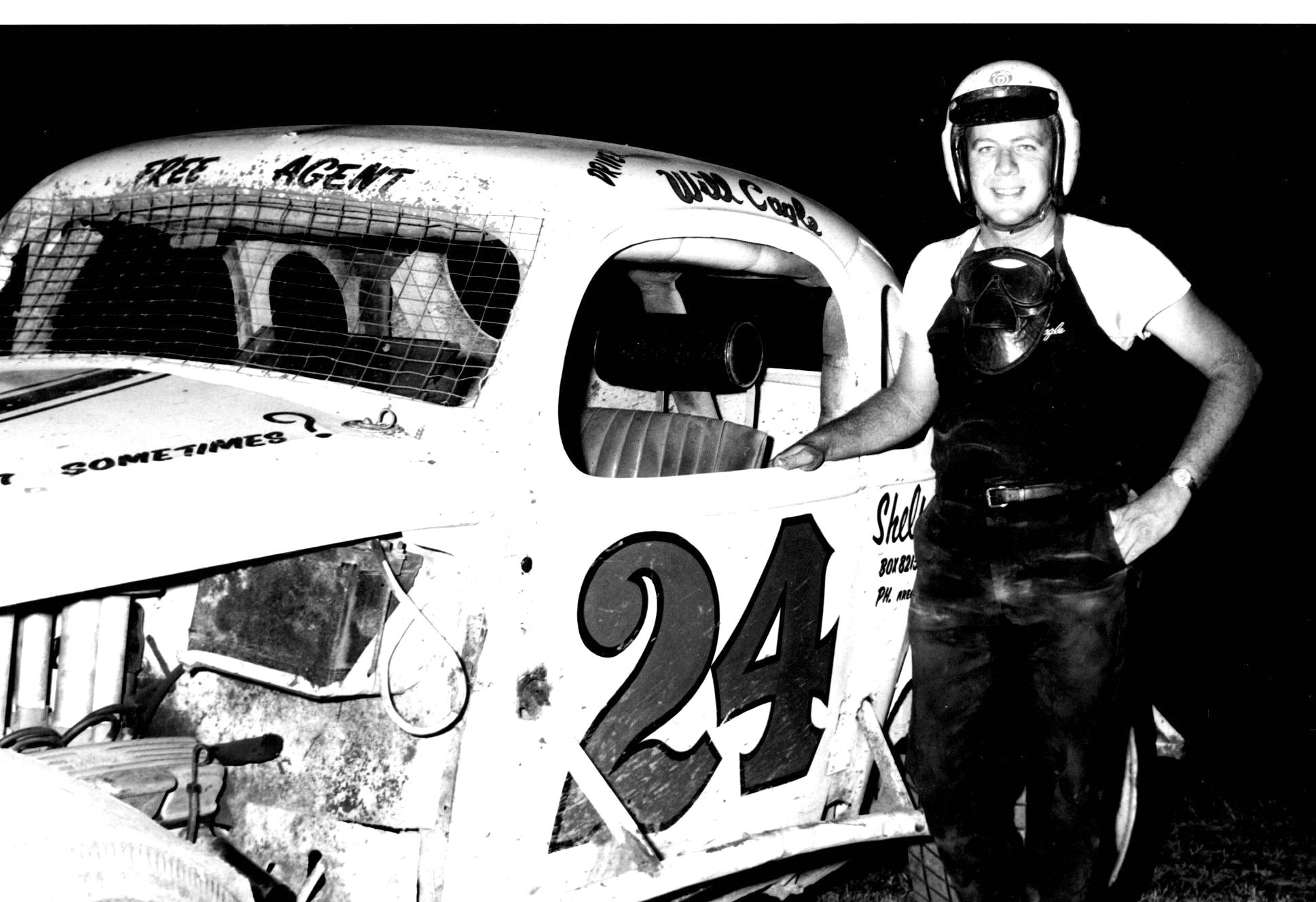 Bob Frazier Photo Courtesy of CJ Richards
So it was that Cagle and Richards became good enough friends where Cagle would actually stay at the Richards residence when running for C.J. At Devil's Bowl. Cagle would go on, into the 1980s – during the fabricated body revolution that brought about those Troyer Mud Busses, Olsen Eagles, Conkey Show Cars, Lape Champ Cars, and – later, the Bicknells and so forth. Cagle was smart, and he often took advantage of car building expertise from others rather than taking the time to build his own [although I have no doubt he was capable]. He retired around 1985 after a serious injury.
It was the combination of this friendship [and yes, maybe even "arrangement" with Richards] along with that good sense to have many of his cars built, that leads us to that story about THOSE CAGLE COACHES ! [Good time for dramatic orchestra music in the background here ]. In that dirt period at Devil's Bowl between its opening in 1967 and its paving around 1970, Cagle went through a period where he dominated at Devil's Bowl, running a sedan which he had constructed by Bob Rossell, a regular on that aforementioned NJ / PA circuit in places like Nazareth, Flemington, Harmony, Reading, and Orange County – to name a few tracks.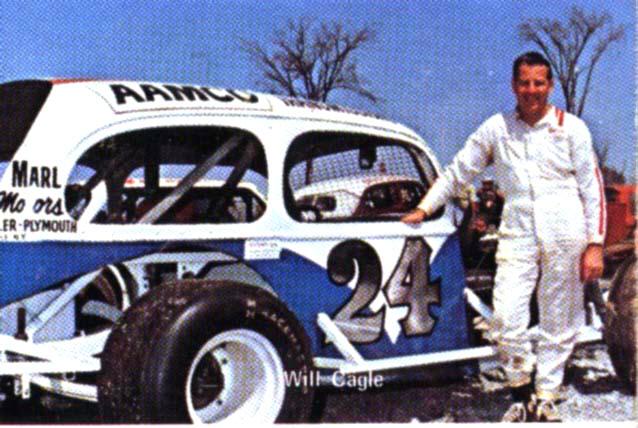 Bob Frazier Photo via Devil's Book Program
Cagle and the infamous Rossell sedan he used at Devil's Bowl. Below -
Cagle, with another Rossell – built sedan winning an All Star League
race somewhere.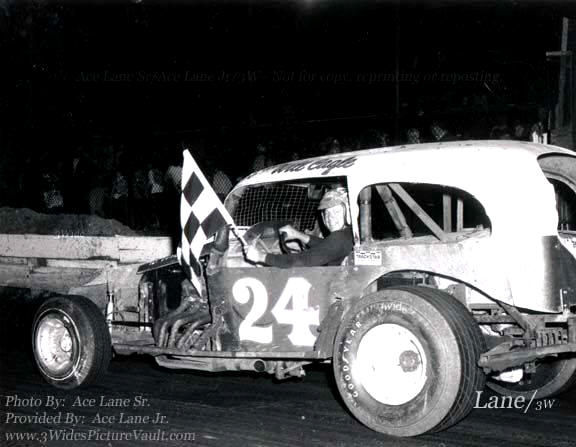 Ace Lane Photo via Chas Hertica

Rossell was just as good as building as he was at driving. And, while Cagle could and did build many good cars, it is the Rossell sedans which are the stars of the story. Rossell built the particular sedan involved at Devil's Bowl Old School – with his trademark square tubing in the cage. While Cagle's Rossell cars were front and center here, he had a number of sedans in this period. In fact, around the beginning of the All Star League, he had twin gold and white sedans – one for pavement and one for dirt. If you are not familiar, the All Star League matched up the top modified stars in the Northeast, from both dirt and pavement [and they had to race on each other's tracks, if that tracks had a team in the League.
So it was that Cagle began setting up shop for racing at Devil's Bowl somewhere around [I am guessing] 1969. He had at least the one Rossell sedan, with a blue and white paint scheme; but, there may have been two. It seemed like, for a while, Cagle simply could not lose a race at the Bowl; and it was not like he was besting weak, inferior fields of competition. The Bowl boasted the likes of Dexter Dorr, Vince Quenneville, Sr., Butch Jelley, Wes Moody, Ed Allen, Chet Doaner, along with a good number of other local drivers and Lebanon Valley regulars. This is not to leave out some Fonda cars and some competition from Claremont Speedway.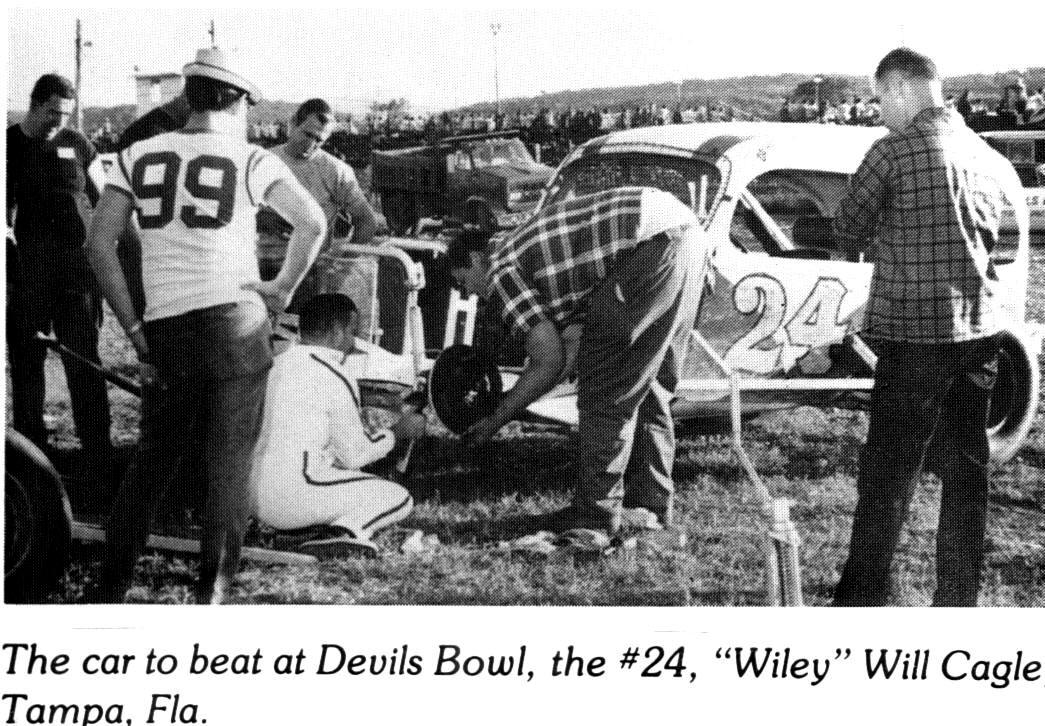 Bob Frazier Photo via Norm Vadnais
In the midst of the dominating run, the Cagle coach was a focus of attention in the Devil's Bowl pits weekly.
Possibly alone, Cagle gets some help from some locals. Below – A feature win during the strong run of the Cagle sedan.
Bob Frazier Photo via Mike Bruno
One team that was particularly irked with wht they perceived to be an advantage for Cagle was the 1968 Devil's Bowl champs, Vince Quenneville and car owner Norm "The Fat Rabbit" Scarborough. Lifelong classmates at the tiny Whiting, VT school, the two had combined for a potent winning race effort for a number of years. That was interrupted only by Quenneville's stint with Whiting neighbor Gael Dundon [while Scarborough built potent cars for other drivers]. Anyone who let Scarborough's hayseed appearance fool them would regret it, as the big, heavy redhead was an engineering genius with ties to a prominent big – time motor builder.
Quenneville and Scarborough were determined to learn what it was about the Cagle / Rossell car that made it sing and build one for themselves. A local well driller was letting Cagle garage the sedan at one of his buildings [all covered up,. Of course]. Another man who was connected with the building claims that sympathetic locals who resented Cagle would get Scarborough and Quenneville into the building to examine and measure the sedan. Others have said they would observe Norm, pacing around the Cagle car in the Bowl pits and that he was, again, taking measurements.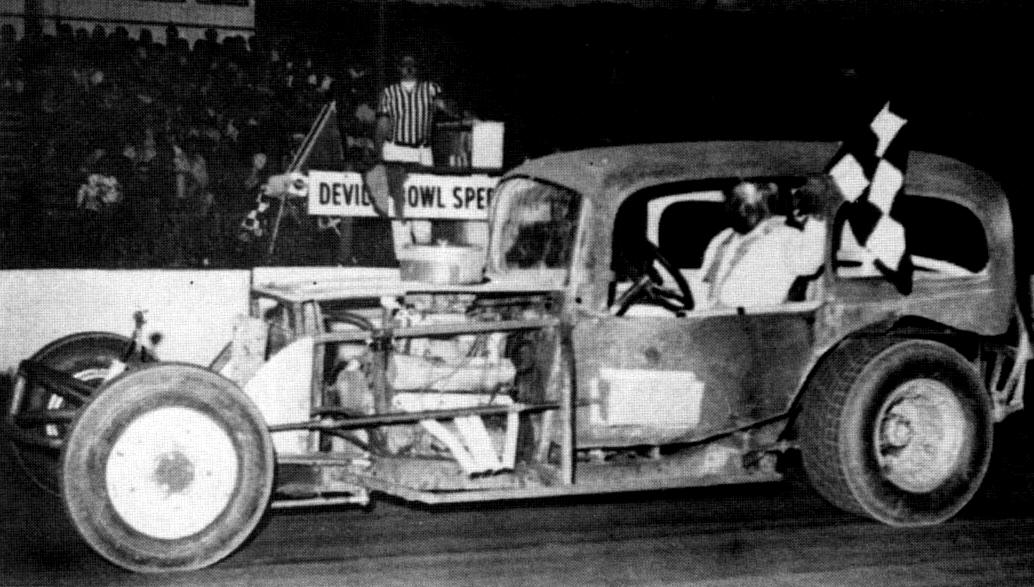 Bob Frazier Photo via Norm Vadnais
The Quenneville / Scarborough sedan debuted and won the feature, which included Cagle and his sedan. The win has been the delight of local lore ever since; but, there are whispers that the ever – promotion savvy C.J. Richards may have paid Cagle to not win. I hope this is not true. Below – Butch Jelley was one of the drivers who ended up driving the Cagle sedan later – and that included at Devil's Bowl.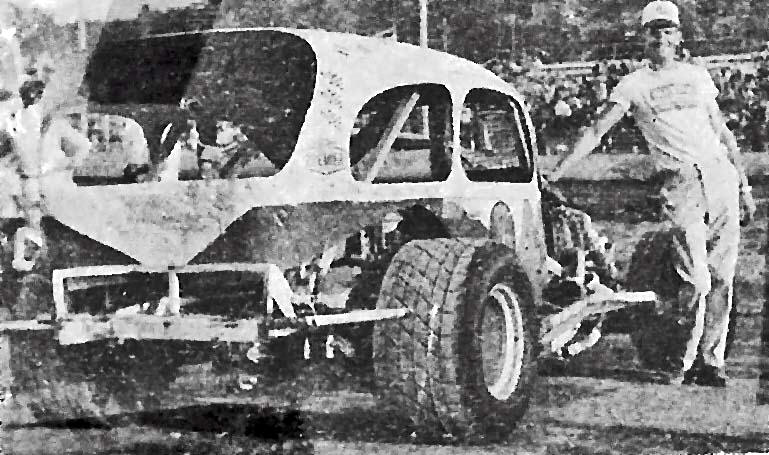 Gater Racing News Photo

At any rate, construction began, with little knowledge of it outside the tight – knit Whiting race community [which was, pretty much a Devil's Bowl power pact]. A sedan body of similar vintage was quietly acquired and all of the Cagle specs that Scarborough cared to use were built into the car. However, Norm was adding a few innovations of his to his "Cagle Killer" car. To make a long story short, the somewhat homely and unpainted Whiting entry came out and – before long – was handing Cagle his head at the Bowl
At first, the car was a very familiar red and white, with the number 38 – just like the long – framed coupe that Nrom had built for Vince, enabling them to win the "68 Bow title. Later, the sedan was sold to flamboyant local car owner Austin Dickerman and was painted in his famiiar yellow and blue# 357 scheme. The "Banana Wagon" was still driven, at that time, by Vince and still wrenched by Scarborough. The thing was a tour de force at the Bowl and at the Valley.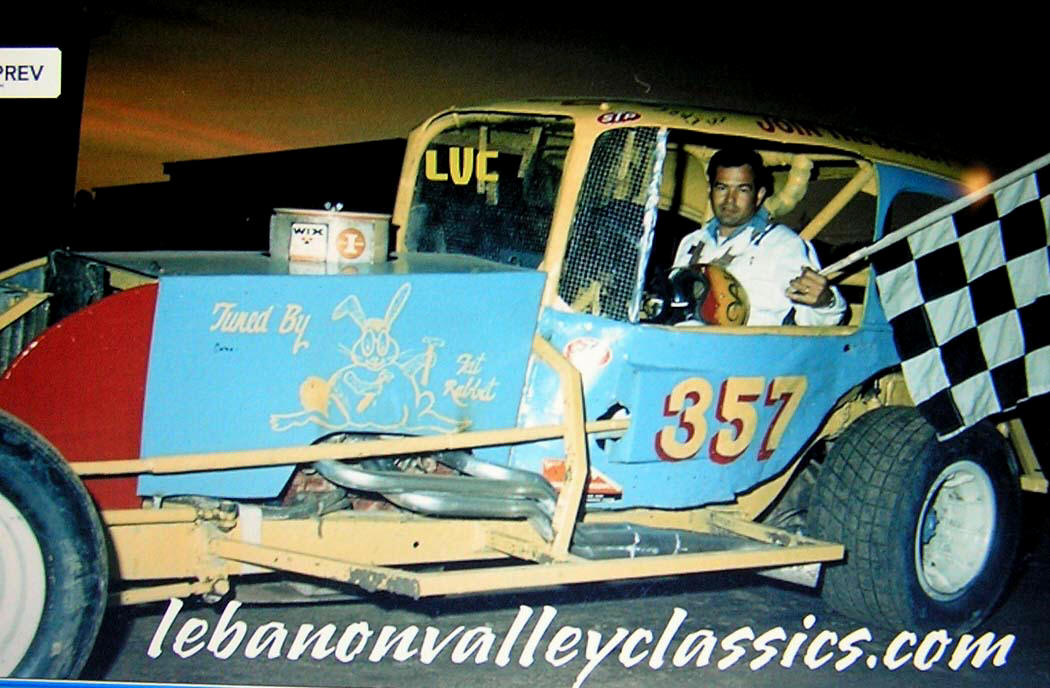 Lebanon Valley Classics
Vince Quenneville with the sedan once it had become the Dickerman
Banana Wagon. This is at the Valley. Below – Apparently Tommie
Corellis was another driver of what certainly looks like the same
sedan. Curt Prescott likely owned it by then.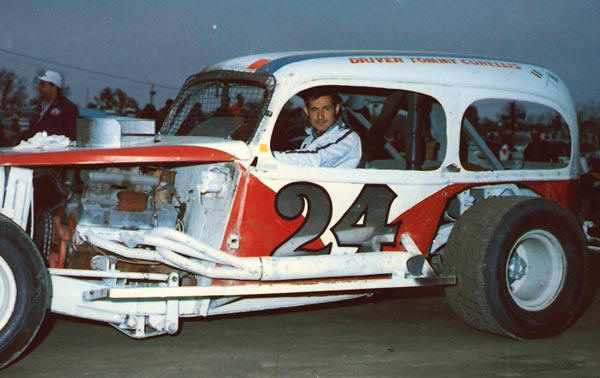 Courtesy of Otto Graham
Back to Cagle, Now that his Rossell sedan was showing chinks in the armor, he was ready to move on, despite the fact this was still a marvelous car. With that firmly in mind and with the determination to find out what Cagle had been doing to cheat and have such success, the sedan was bought by Brandon's Curt Prescott, owner of the New England Tower company and former owner of a fast #2 car that had been driven by the recently – deceased Ed Foley and by Tommy Corellis. Ironically, Corellis would be involved with the Cagle sedan while Foley would have a turn at the wheeel of the Banana Wagon upon Quenneville's departure.
The drama would shift down south to Lebanon Valley, as Richards decided to pave his successful dirt track, thus alienating most of his local race support. Now the Cagle sedan story gets complicated, and I can only HOPE to have the story straight, having heard stories from a number of people who claim to know much more about it than I.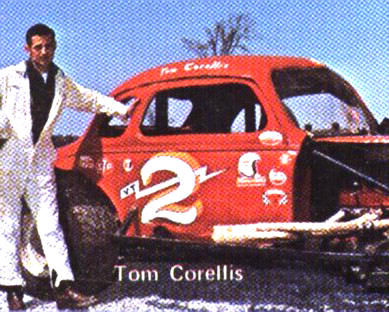 Bob Frazier Photo
Curt Prescott's first arrangement with Tommie Corellis came when Prescott bought the fast car of fellow Brandon
resident Ed Foley. Below – Corellis, likely with the newly – bought Rossell sedan of Prescott's at the Valley.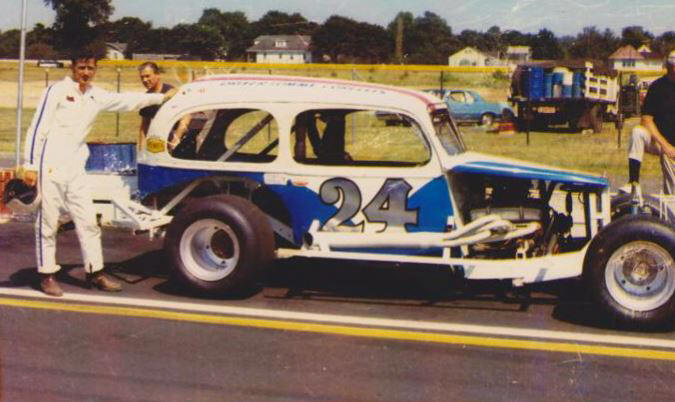 Courtesy of Arnie Ainsworth

The Cagle coach was still in Will's hands at first, and he used Valley and Devil's Bowl veteran Butch Jelley as driver for a while. The car was supposedly kept in the Cagle scheme, although it may have been red and white for a while. According to Ken Tremont, Sr., Jelley – knowing that his tenure in the car was brief [as the Prescott deal was looming] allowed Tremont to do a Scarborugh – like examination of the car to build a car for his driver, Chuck Ely. In return, Tremont would build a second sedan for Jelley to have with the Bill Young John Warren Contracting – sponsored #28.
Prescott, it is said, upon getting his hands on the Cagle sedan, ordered it torn apart, only to find no funny business in the chassis. What infuriated Prescott the most was the fact that the Cagle motor [and it WAS the one Will used] was a stock engine ! It has been alleged by three different of my sources that Prescott actually tried to file suit against Cagle after these revelations – to no avail. The Prescott / Corellis combo competed with the Cagle coach for a while [I believe as #28, which certainly add to confusion]. Eventually, perhaps through Jelley, a sometimes partner of Armand Fleury, Fleury purchased the sedan, which he seemed to go out of his was to keep ugly and put Connecticut's Bobby Leach at controls – as Fleury's son, Mark, was not yet old enough to race. The car was run as #52, a number that would become synonymous with Mark later.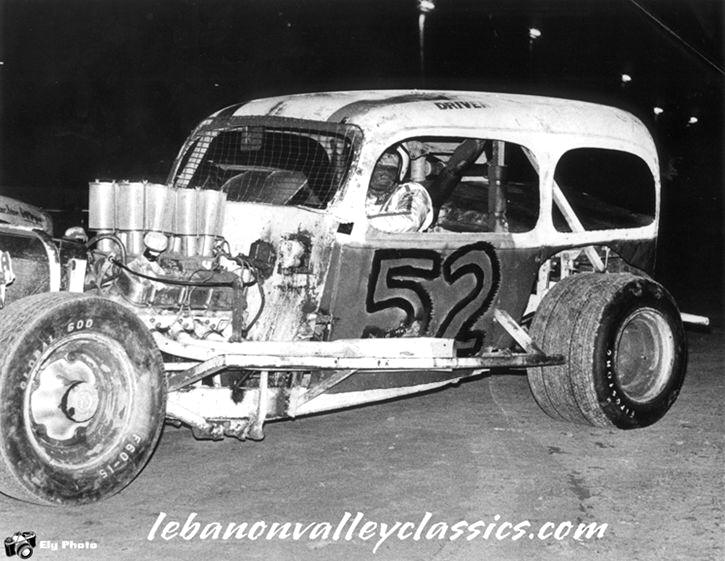 Lebanon Valley Classics
Bobby Leach with the ex – Cagle, ex – Prescott Armand Fleury52. The car – now less attractive but sporting serious injection
there. Below – Looking a little more settled. This is at Devil's Bowl, and I wonder how many people even recognized it.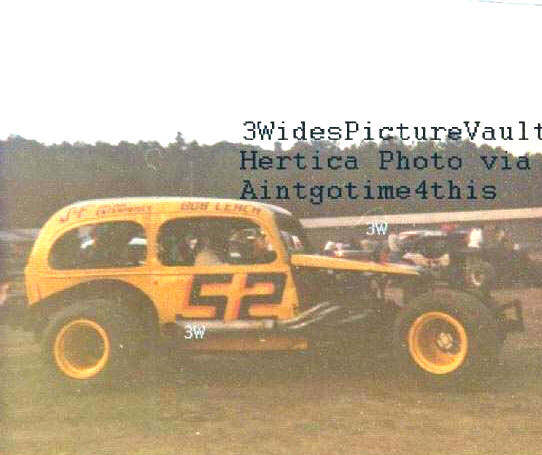 Lebanon Valley Classics via Chas Hertica
So, now the Valley was infested with fast sedans. The Cagle / Prescott / Fleury coach was there; the Scarborough – built Cagle Killer was sometimes there; Tremont had this beautiful black and white 115 sedan for Ely; Jelly [and later Corellis] had the Warren 28; and there were a number of other locals who tried their hands at building one. Sometime, during open shows, Frankie Schneider would have his sedan there. Rossell would attend those shows, as well, but I don't think he had a sedan.
Eventually, the Pinto, Vega, and Valiant revolutions came and went. Then, of course Kenny Wel stood the racing on its ear in 1980 with the Batmobile, which ushered in the Mud Buss and other fabricated, Gremlin - like bodies. The sedans were relegated to support classes or small tracks like Vermont's Bear Ridge Speedway. But, while those sedans were ruling the day – especially in that season at Devil's Bowl – they were all the story. I got that story mostly correct; I sure as hell tried.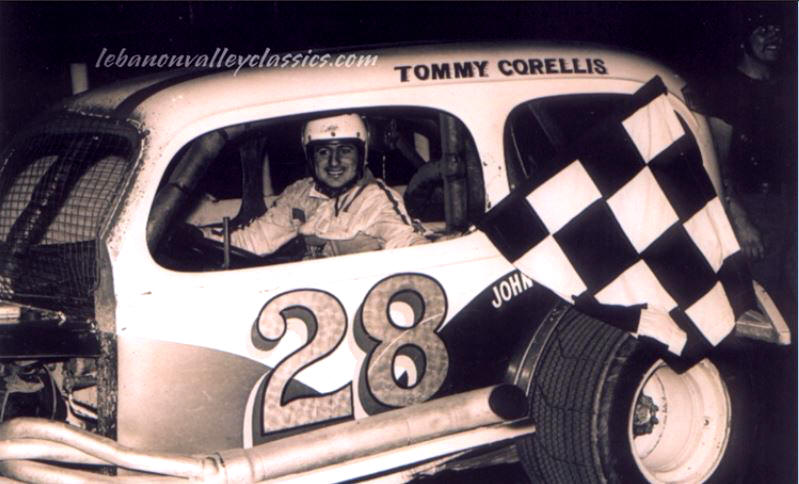 Lebanon Valley Classics
Corellis with a later sedan, the familiar Warren Construction team. This was fashioned after the Cagle sedan.
Below – A Ken Tremont sedan – said to have been built by Butch Jelley. According to Ken Tremont.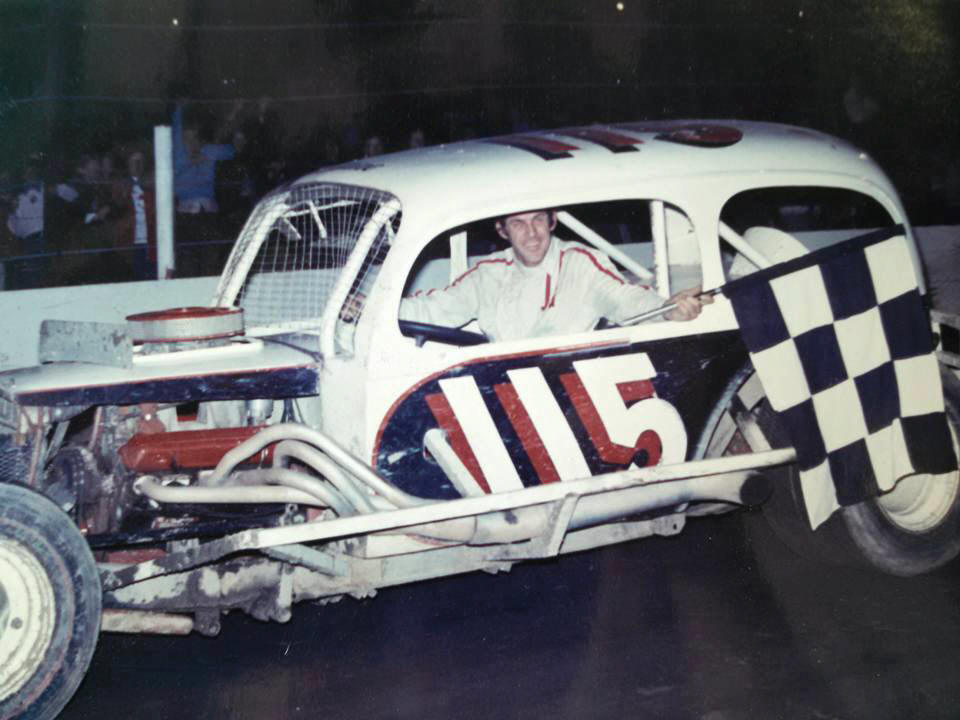 Courtesy of Arnie Ainsworth
Please email me if you have any photos to lend me or information and corrections I could benefit from. Please do not submit anything you are not willing to allow me to use on my website - and thanks. Email is: wladabou@comcast.net . For those who still don't like computers - my regular address is: Bill Ladabouche, 23 York Street, Swanton, Vermont 05488.
AS ALWAYS, DON'T FORGET TO CHECK OUT THE REST OF MY WEBSITE
www.catamountstadium.com
Return to the Main Page
Return to the Main News Page
Return to the All Links Page
Return to the Weekly Blog Links Page