BILL'S [Somewhat] WEEKLY COLUMN/BLOG PAGE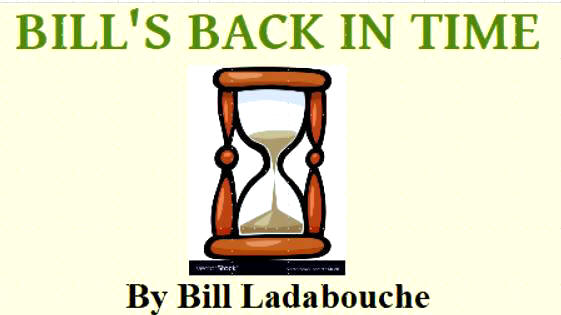 HOW 'BOUT THAT CRESCENT HILLBILLY !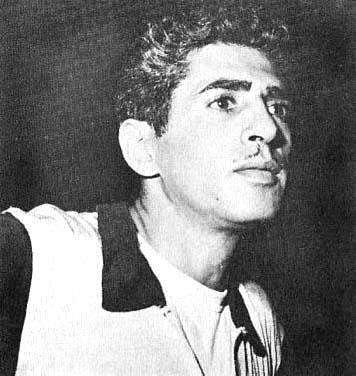 Courtesy of Blackjack Racing

This is an attempt, on my part, to acquaint some of my readers up this way who had little or no contact with Pete Corey to know what a remarkable man he was. I am sure Pete, Jr, the Pieniazeks, the Taylors, and others can find a million holes in this – but this is not for them. A lot of my readers think of Corey as Randy, the kid who drove late models a bit for Bob Curtiss towards the end of the '70's or the beginning of the '80's. For all anyone knows, he and Pete could be related.
Like almost everybody else in the earlier history of stock car racing, the story of Pete Corey begins mostly after WWII, the big one. A very good looking man, I believe he was of Lebanese descent [and the name might have begun somewhere back through the generations as Khouri]. Pete Corey would go on to be not only a hall of fame level stock car driver, but a consummate car builder and – by all accounts – a fantastic body man.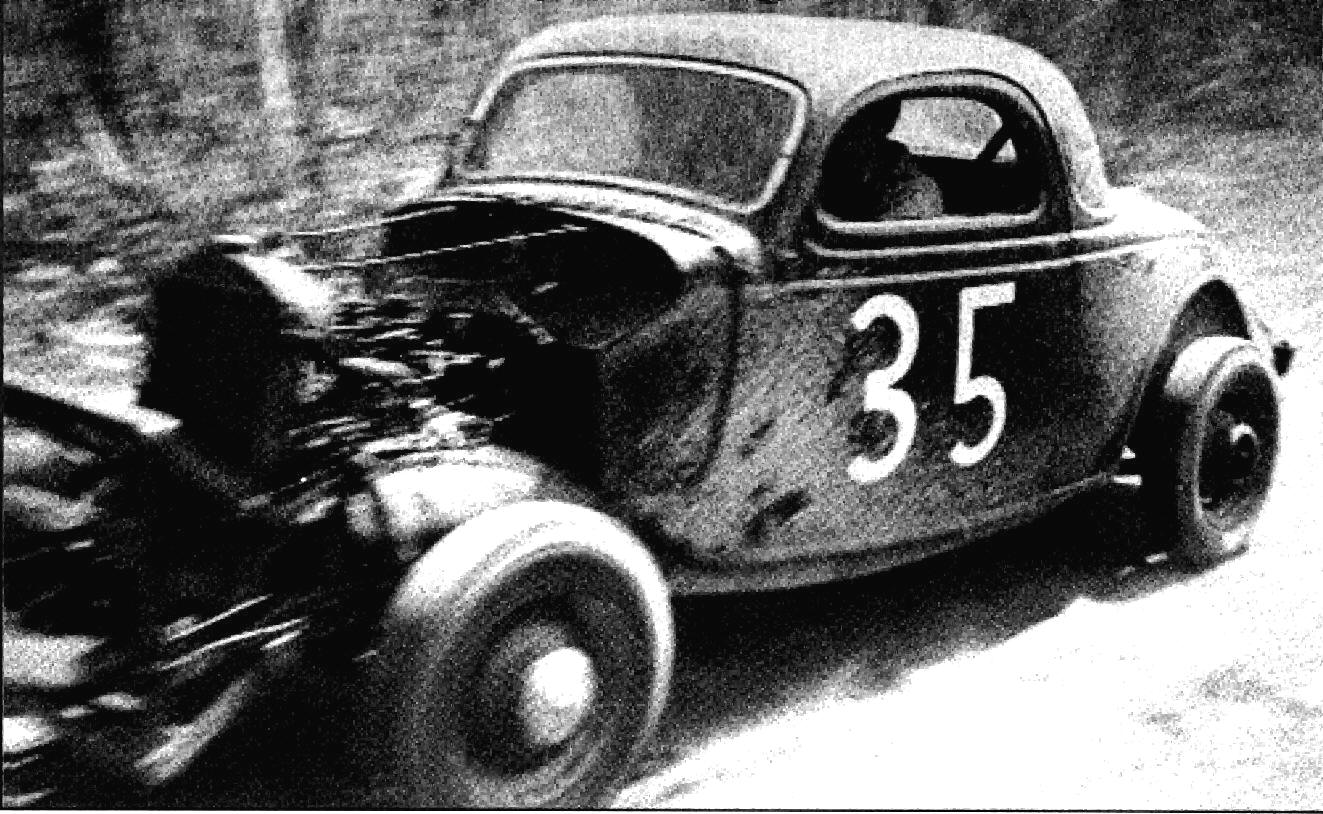 From the Fonda Book Corey Family Collection
The black $35 car is hauled into Burden Lake. Below -
The poor car never had much of a chance.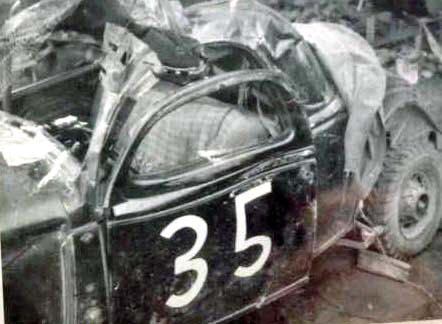 Courtesy of Corey Family Collection
As nearly as I can ascertain, he had a close friend that a few people have heard of [ :) ]named Ken Shoemaker. According to popular legend, they were roommates once, in the 1940's probably before Shoemaker moved up to the Whitehall, NY area. Both would go on to very enviable careers: Corey, often building and maintaining his own cars; and Shoemaker, the ultimate driver for hire [although he definitely was an expert working on a race car, in his own right].
I will be brief on some of this because the authors of the Fonda book already did it up very well. Actually born in Bennington, VT Pete grew up in eastern New York. When he and Shoemaker lived together, they pooled sparse money and bought a 1935 Ford coupe, numbering it 35 after the price they paid for it. Shoemaker always insisted that – while he had to learn to drive a race car [and he learned well], Pete was just a natural born racer. Shoemaker would really not take off until he was up in Whitehall and drove for Cliff LaRose.


Courtesy of Jay Mooney
Corey, I take it, drove the car more – at places like the heavily oiled, rollercoaster – like Burden Lake Speedway near Troy. From photos Pete, Jr. puit on Facebook, it is fairly evident that the car met with "a Awful accident" at some point. The Ford eventually sported roller skates on the roof because, as Pete would point out, it spent a lot of time upside down. Corey would soon be noticed by Bob Whitbeck, already a veteran in racing having dallied with roadsters in the 1940's. Corey had driven for a while for Art Spoar in the #95. Although the young Corey took a turn in the Whitbeck roadster, Bob would soon build him a stock car.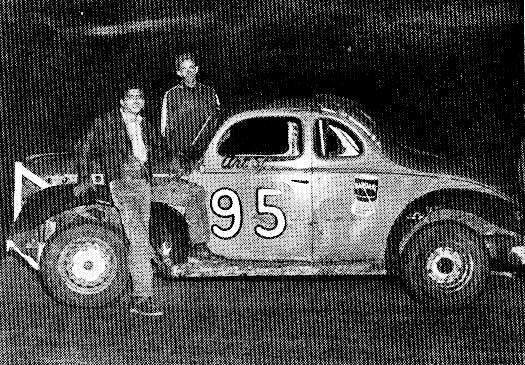 Courtesy of Putnam Collection via the Fonda Book
Pete briefly drove the 95 of former open wheel driver Art Spoar.
Below – The first Whitbeck – built stock car, a holey wonder.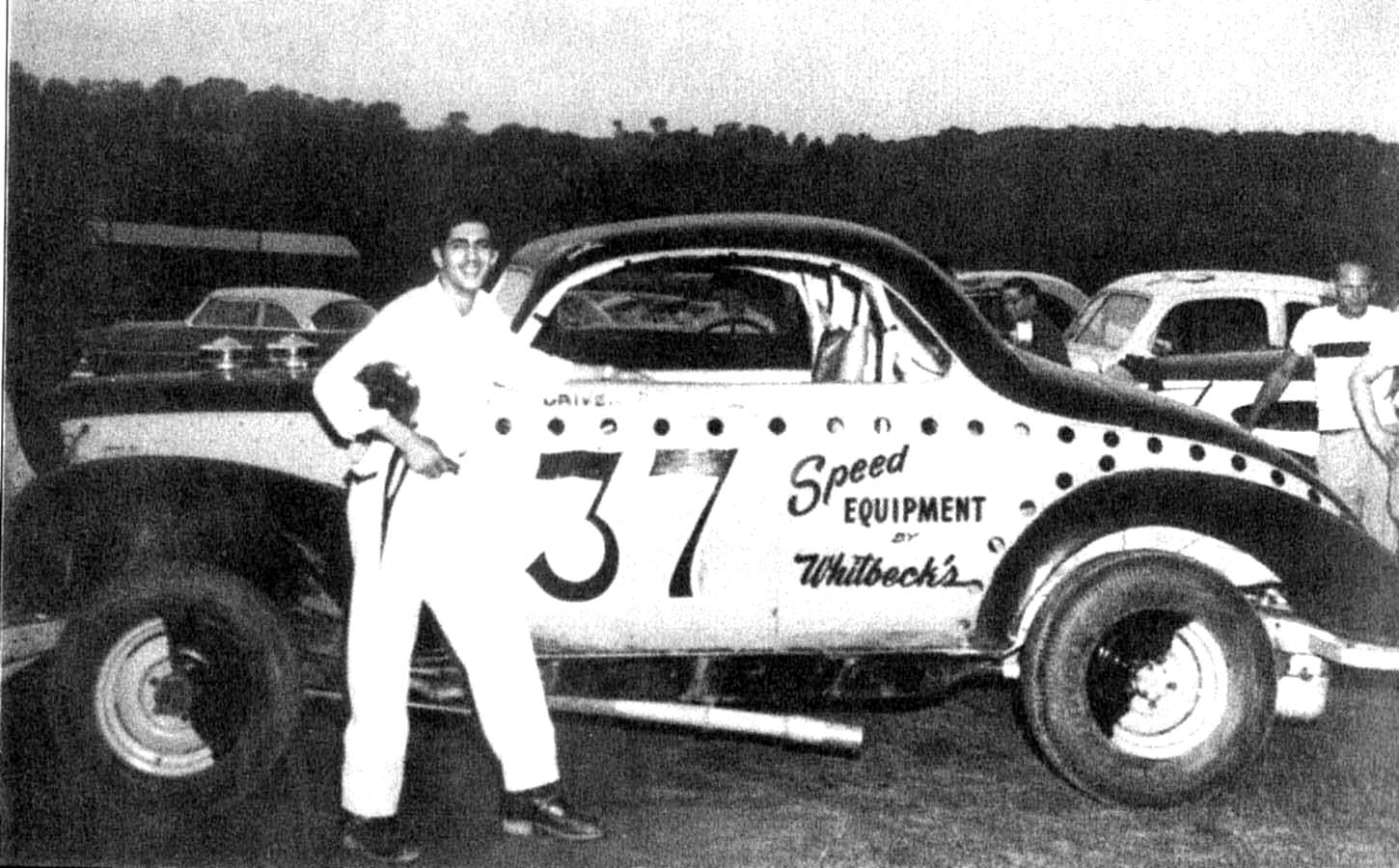 Ed Biitig Collection


The Whitebeck car, a Ford, was carefully built and the body was riddled with holes, to lighten the weight of the car. Corey could never get the thing to handle. The car went on to infamy when Jerry Jerome crashed it at Fonda, making the list of all – time worst Fonda crashes. With Whitbeck attracting sponsors Sam Kittler [Kittler's Western Meats] and Gibby Wolf [Gibby's Diner] the two businessmen insisted on using veteran Jeep Herbert in the new #37. So, Corey jumped into Herbert's old ride, the potent Bob Mott 3NY – a virtual rocket ship that I actually remember seeing at Pico Raceway in 1952.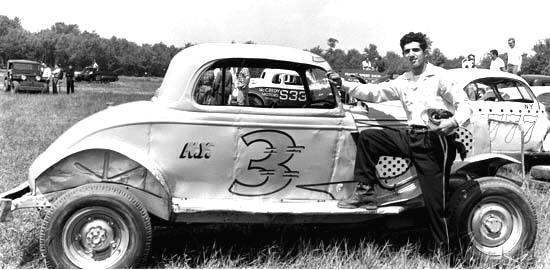 Ed Feuz Collection via Lew Boyd
This shot of Pete with Mott's 3 speaks volumes. His former car, the
holey Whitbeck mobile is in the background at Stateline. Below -
The Kittler/ Wolf 37, good at Fonda and lethal at Stateline. Here
Jeep has won Fonda with it while Corey was hot in the Mott 3.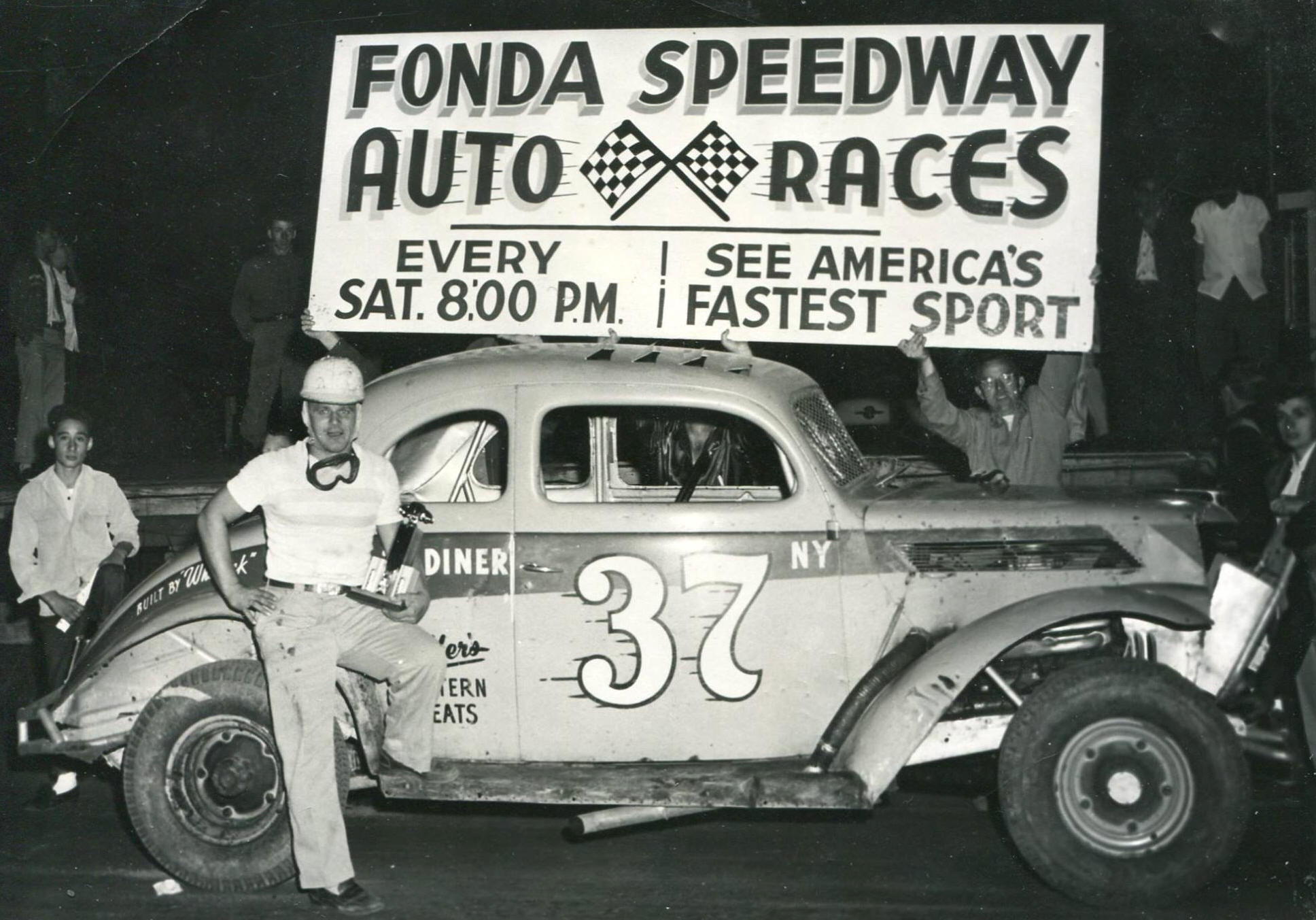 Courtesy of Gene Swain

This would prove to put Corey's name in the lights forever. Corey and the flat – topped 3 were virtually unbeatable at Fonda in 1955 – so much so that the track invoked a NASCAR rule that banned cars with pre – 1936 bodies from running at their sanctioned tracks. The basis for this was that those older bodies did not have solid roofs and that drivers were being ejected out the loosely tinned roofs and being killed. Corey and Mott were, of course wild ! He and Mott would have to build, in midseason, a 3NY with a newer body. He still won.
Pete Corey would go through the next several years, often driving #37 cars, while sometimes driving other top shelf cars such as the Harold Smith 22 [also built by Whitbeck] and, later, another 37, owned by A.C. Caprara who had eventually bought out Kittler and Wolf. The black Smith 22's were all Whitbeck, and could fly, in their own right. The black color with he flaming 22's was brought back by Dave Lape in the 1980's as a tribute to Whitbeck, his Canajoharie, NY neighbor. Almost fittingly, the 22 was destroyed when its garage burned in Johnstown.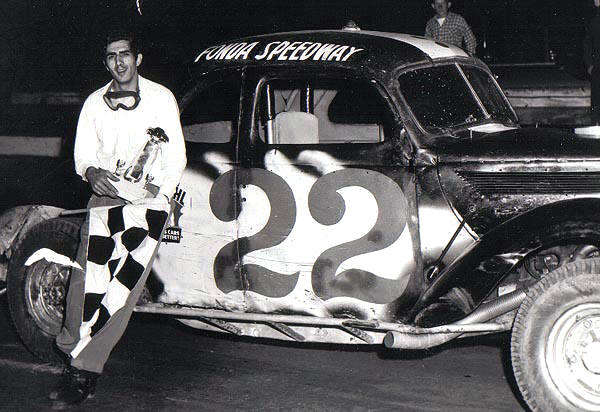 Courtesy of Otto Graham
Pete with the very successful Whitbeck – built 22, a car which
apparently no one else ever got to drive. Below – The aftermath
of the Langhorne disaster, Pete had had great success there, as well.
The accident was completely out of his control.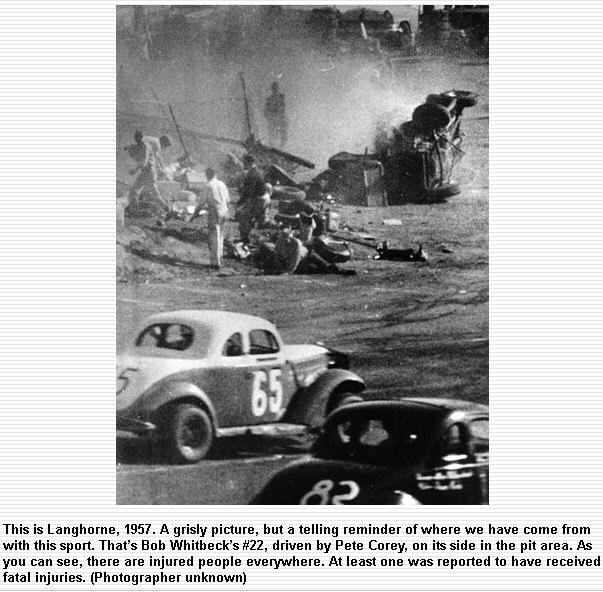 Boyd Collection
There was a bit of a dark could over that potent black 22, however. Pete had a wreck with it at Langhorne, and the trajectory of the wrecking car took it into the infield where some spectators were killed. Corey did not discuss this or other low points in his career any more than he did the highlights. He could be an intense, moody man and you never quite knew which Pete you'd get if you approached. In my limited experiences with him, I found him to be warm and polite, despite the onslaught of fans which would usually best him after races.
By the very end of the 1950's, already established as a major star and one of the luminaries at the difficult, competitive Fonda track, Corey threw in with fellow body man A.C. Caprara, now the third man to own the 37 team. The Caprara 37 was a good car but it will always be remembered for the car in which Pete Corey lost his leg. He had an accident at Fonda wherein a guard rail came into the car and pinned his leg against the cage.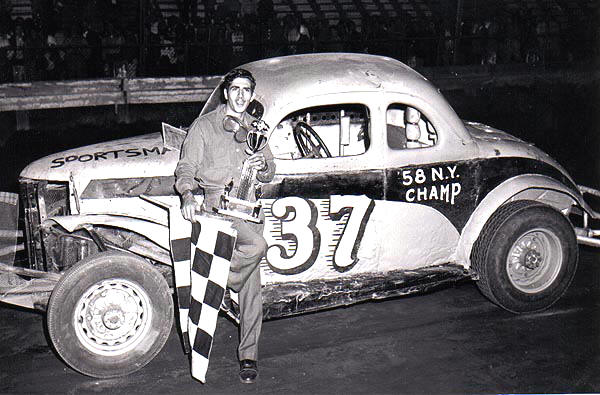 Courtesy of Jo Towns via Otto Graham
The A.C. Caprara car, with Pete as 1958 NY Sportsman champion.
Below- Pete shown here cutting himself out of the 37 at Fonda in 1960.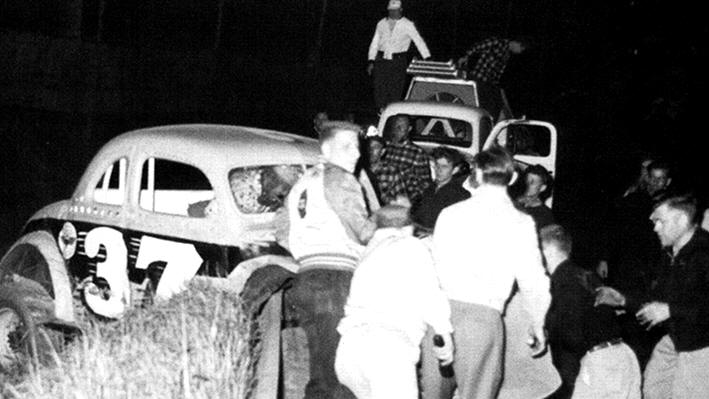 Ed Feuz Collection
Personnel hurried to Corey's rescue but no one could come up with a way to extricate him, and I imagine it hurt like hell. Finally Corey's voice could be heard calling for a cutting torch to be handed into him. Unbelievably, he cut himself out; I can't imagine how that had to hurt, what with the heat and all. The leg would have to be amputated. Pete had a convalescence period in which he often attended races, sometimes handing out trophies.
The accident was in 1960, and I think that was about all for Caprara. When Pete returned he did not let the prosthesis bother him. In fact, it is said he used it to carry a small transistor radio with him. The next race car would have to have some hand controls. Again, Pete landed with the 37 team – now with owner Tony Villano. Pete was right back in the groove, and just as fast.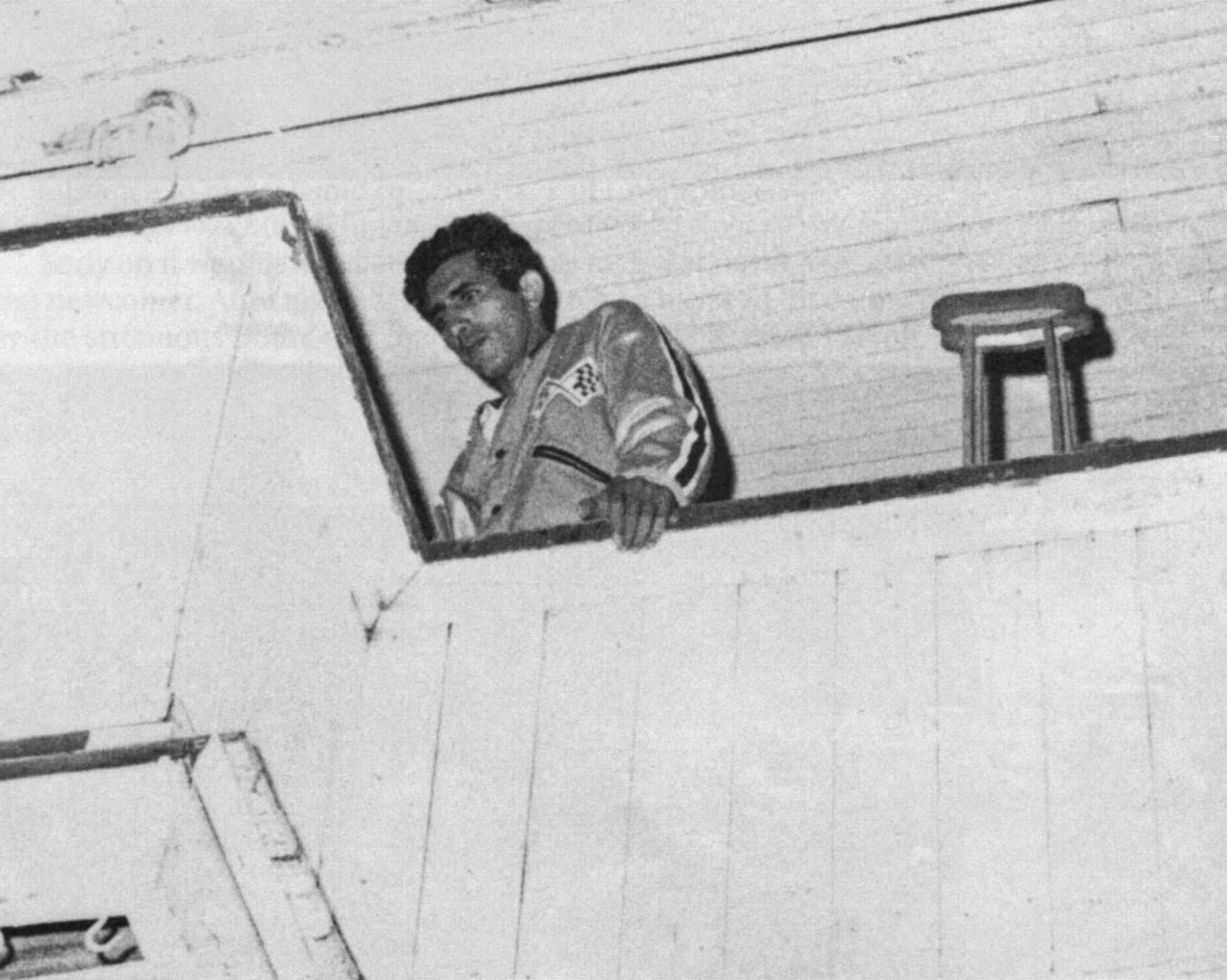 Courtesy of the Ed Feuz Collection
A convalescing Pete watching Fonda races from the Judges' stand
in 1960. Below – The first ride Pete had after his return was In
Frank Trinkhaus' 62. This is not that car – it is at least three years later.
It looks to be the former Drellos 111.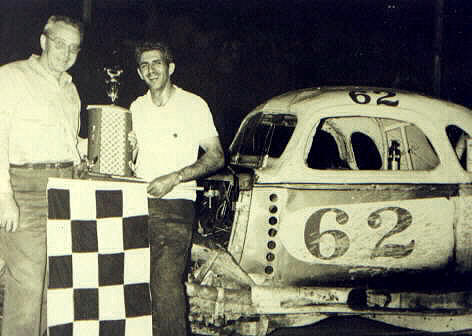 Courtesy of the Conde & Parry Website
My first ever visit to the storied Fonda track was around 1962. We had never seen race cars move at the rate of speed that they did at Fonda. We had seen some the NY sportsman cars at the long, half – mile Otter Creek Speedway back home but the poor track conditions did not allow the cars to go as fast and the sheer distance of the track from then stands tended to understate how fast they may have been managing to go on the dusty, bumpy, badly – designed cow pasture track.
At any rate, we were thrilled to see the cars come out for warmups, chugging around the track slowly, the gears protesting at the slow speeds. The Chet Hames threw the green, and we literally gasped at how fast they flew by the stands. It made me dizzy to let them fly by my eyes; I had to follow them around to feet like I was really seeing it right. My biggest impression was the yellow and black 37, hurtling into turn one with Corey's yellow Cromwell helmet literally sticking out the driver's window.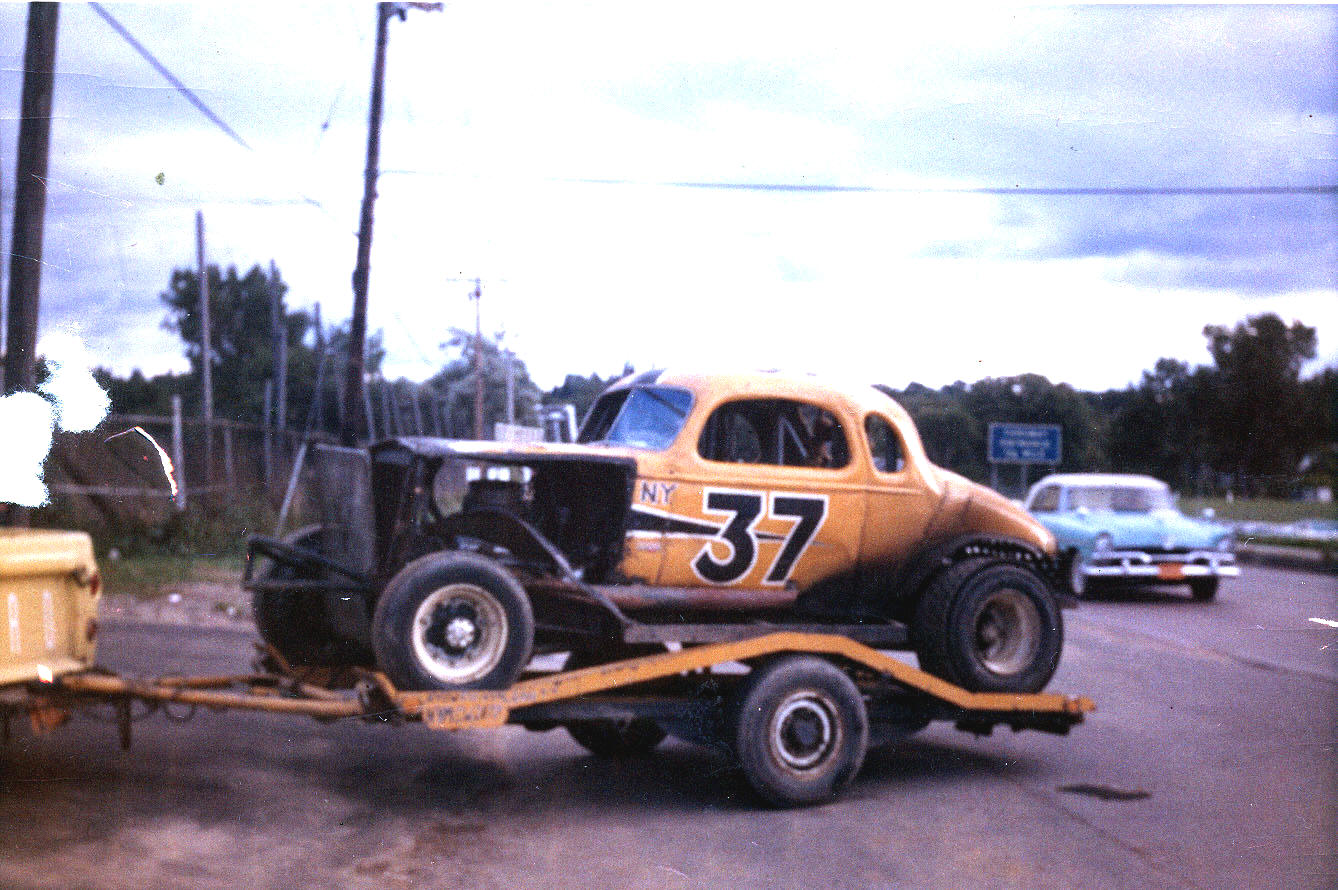 Ladabouche Photo
The 37, now owned by Tony Villano, shows up for work at Fonda.
Below – A Villano win for Pete at Fonda around 1963. It might
have still been Caprara's then. Hard to tell.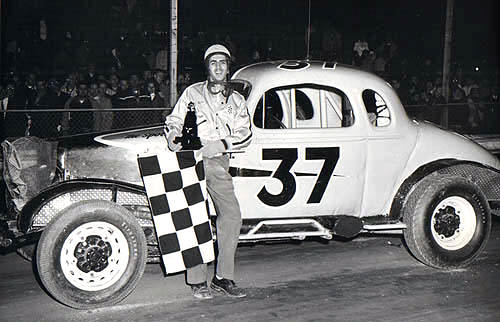 Russ Bergh Photo
Pete would drive the Villano car that year. Before Tony ended up fielding the cars for a seemingly endless stream of hired drivers. Corey would try a year with one of the Chris Drellos racing team cars – the #11 red and white team mate to Shoemaker's established 111 flagship car that he had run since way back when Henry Caputo had the car. The team was very ambitious, running Fonda, Victoria, and even Stafford Springs, CT that year. About this time, Drellos became terminally ill and sold off the cars. Shoe would go with Cliff Wright and Bob Zautner while Pete decided to field his own cars.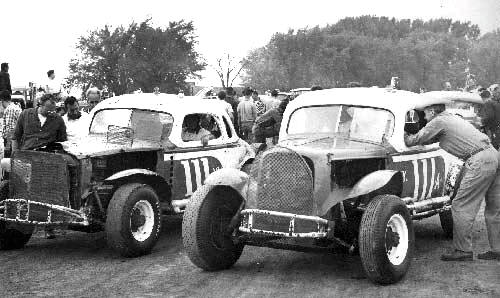 Ladabouche Collection
This is thought to be Pete and Ken, lined up in the pits at Fonda in 1964.
It is not - Pete never drove the undependable 111A.
Although Shoemaker was established there and the headliner, Pete bristled
at playing second fiddle. Below – A Drellos win for Pete at Fonda.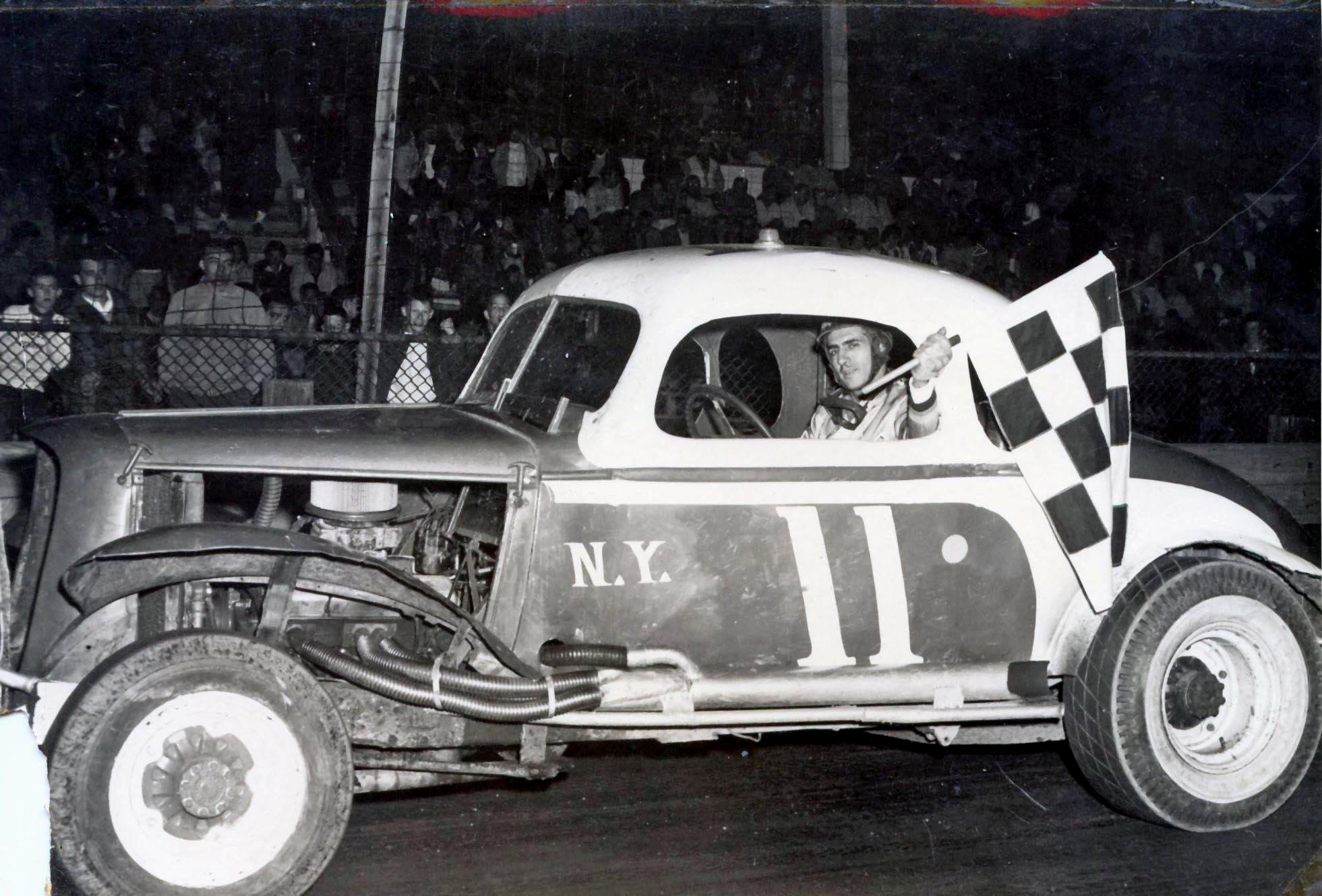 Courtesy of NESCOT
The Corey cars seemed to be, in a way, a tribute to Bob Mott. They were usually #3 and would sport Mott's yellow and silver colors. Corey would put together beautiful and very racy cars, usually bearing the same few sponsors on the sides: Crescent Auto Body [his], Uber's Garage [no, not Oober], and the Rock Garden Pharmacy. He also developed a lasting relationship with Jimmy Bosco and his Commericial Tire Corporation out of New Britain, CT. [Dave Davies, Pete's fantastic sign man, more often than not would spell it New Britian, for some unknown reason]. According to the Fonda book, Corey had a partner in these cars named Danny D'Annuzio.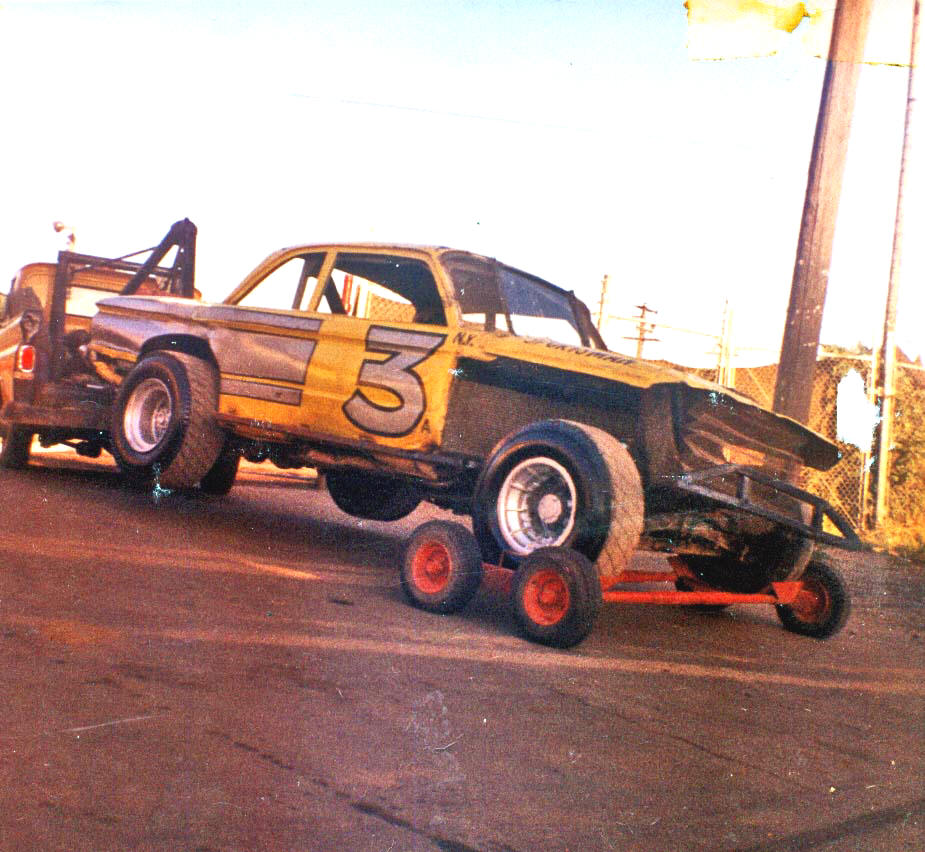 Ladabouche Photo
The early days of the Falcon were [and still are] confusing. Was this
car the same as the more familiar one ? Below – Whichever Falcon,
Pete had gone with the Bob Mott color and number scheme. Here
at Victoria, Peter fusses with the windshield screen. Note the familiar
stuffed tiger on the trunk lid.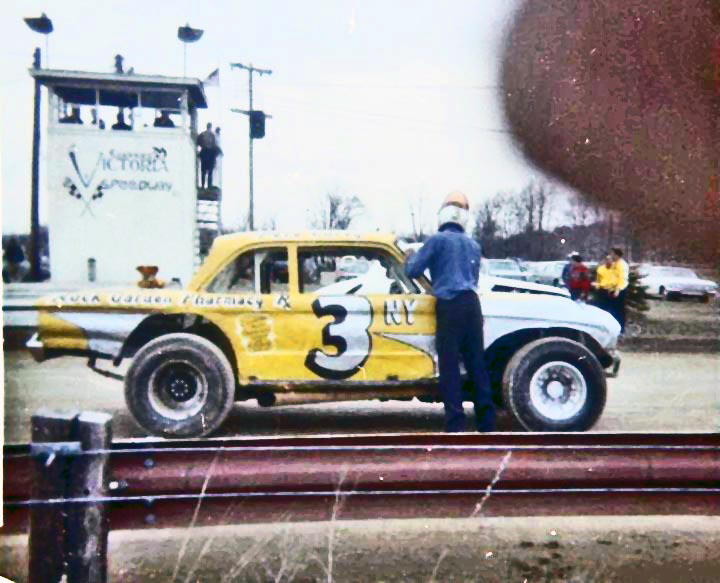 Courtesy of Greg Rickes


Somewhere generally in this period of time, Pete did something on the track that incurred the wrath of his old friend and former Drellos team mate, The Shoe. The salty and pugnacious Shoemaker was heard to say something, roughly translated as "You go down there and tell that crescent hillbilly I forgot more about racing than he'll ever learn !" Corey was apparently totally delighted that he had been able to raise his pal's blood pressure that much. The bname was first seen on the Studebaker. I remember when Fonda instituted a late model class in the later '60's. Burtonville's Bill Russell bought the Ed Brockett Studebaker and had it lettered up with "The Burtonville Hillbilly" in an overt show of admiration.
Corey stirred up some dust with some of these cars. The first such case was the creation of his storied Falcon. Al most nowhere was anyone using late model bodies – not since that experiment with 1950 Chevies and such at the end of the 1950's, in which teams could have bigger engines if they used those heavier bodies. Irv Taylor, a neighbor and one of the few people to ever get very close to Pete, also blossomed out with a Falcon for a while. He debutted a second Falcon only to destroy it in a flip in 1965.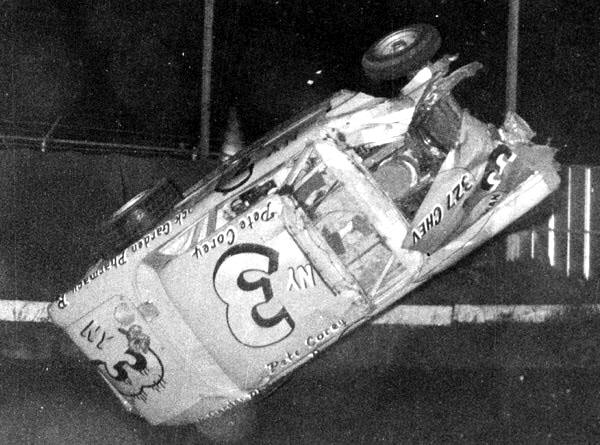 Courtesy of Mike Russo
Pete, doing in the second Falcon at Fonda. Below – Pete poses with the
specially fitted post – Falcon coupe at home. Note the distressed Falcon in the
background. There seems to be a cleaned up Tiger rescued from the Falcon, as well.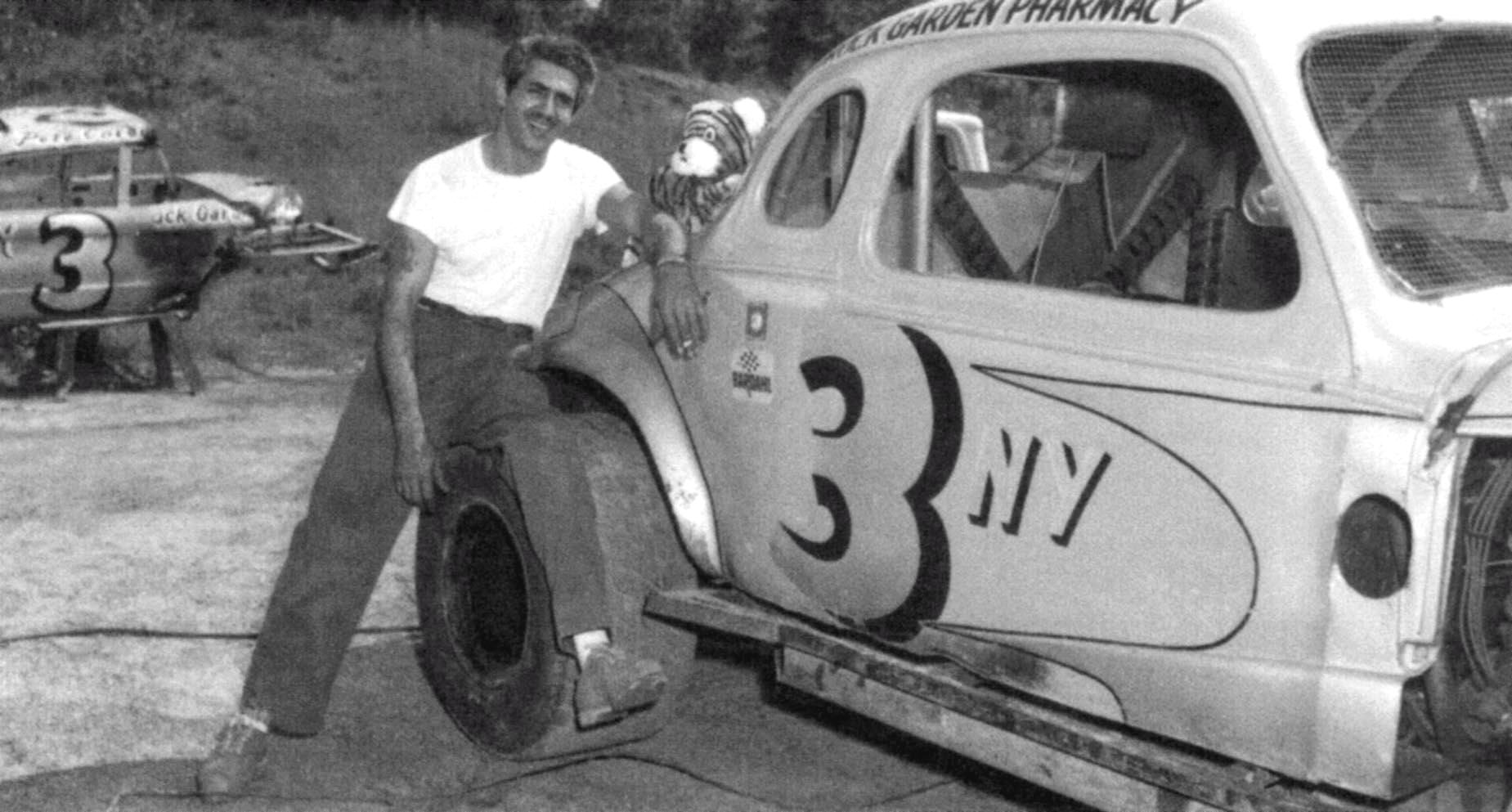 Ric Lucia Collection
A lot of us not in the loop never knew he had that second Falcon, although there was always the mystery concerning the fact that some of the early Falcon photos show one with no fender work on the front, while he did most of his "damage' with a full – fendered entry. He made an unexpected visit to my track, Fairmont Speedway, in 1964, causing a frenzy. The car was so superior to the local cars it wasn't much of a race. The NASCAR sportsman was allowed to have a lot more speed features than the cars Fairmont was running at the time; but, a lot of other such sportsman cars that would visit at the end of the season were nowhere near as totally dominant as was that Falcon. I recall one, somewhat stock y guy who came with Corey. He was reveling in all the attention, strutting around the pit.
After that, came my all time favorite Corey creation – The Studebaker ! In 1966 he surprised the Fonda railbirds with a Chevy powered Studebaker, full bodied sportsman. The thing looked twenty feet long ! He would fly around Fonda, throwing it sideways in the turns and there wasn't a lot of room to get by [but you probably couldn't catch it to try]. Apparently, the thing was a beast on a heavy, wet track but, as the heat of summer came in, it wouldn't handle anymore and Pete cut it up.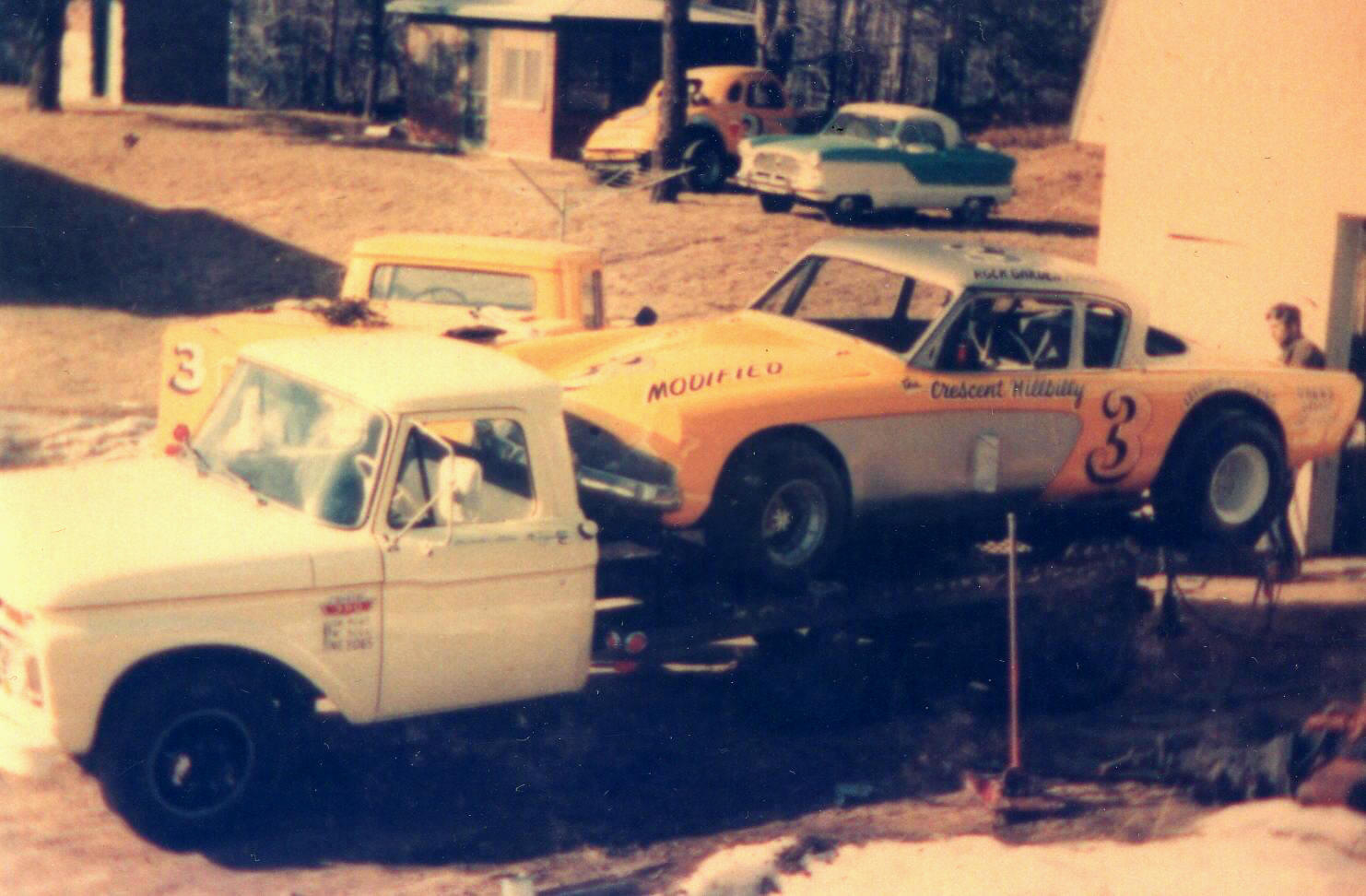 Courtesy of Rick Parry
The Studebaker, leaving Crescent on the hauler. Note the Post – Falcon coupe in the background
that would replace the Stude later. Below – This became a problem with the long Studie, as track got drier.
This little mishap was at Stafford Springs.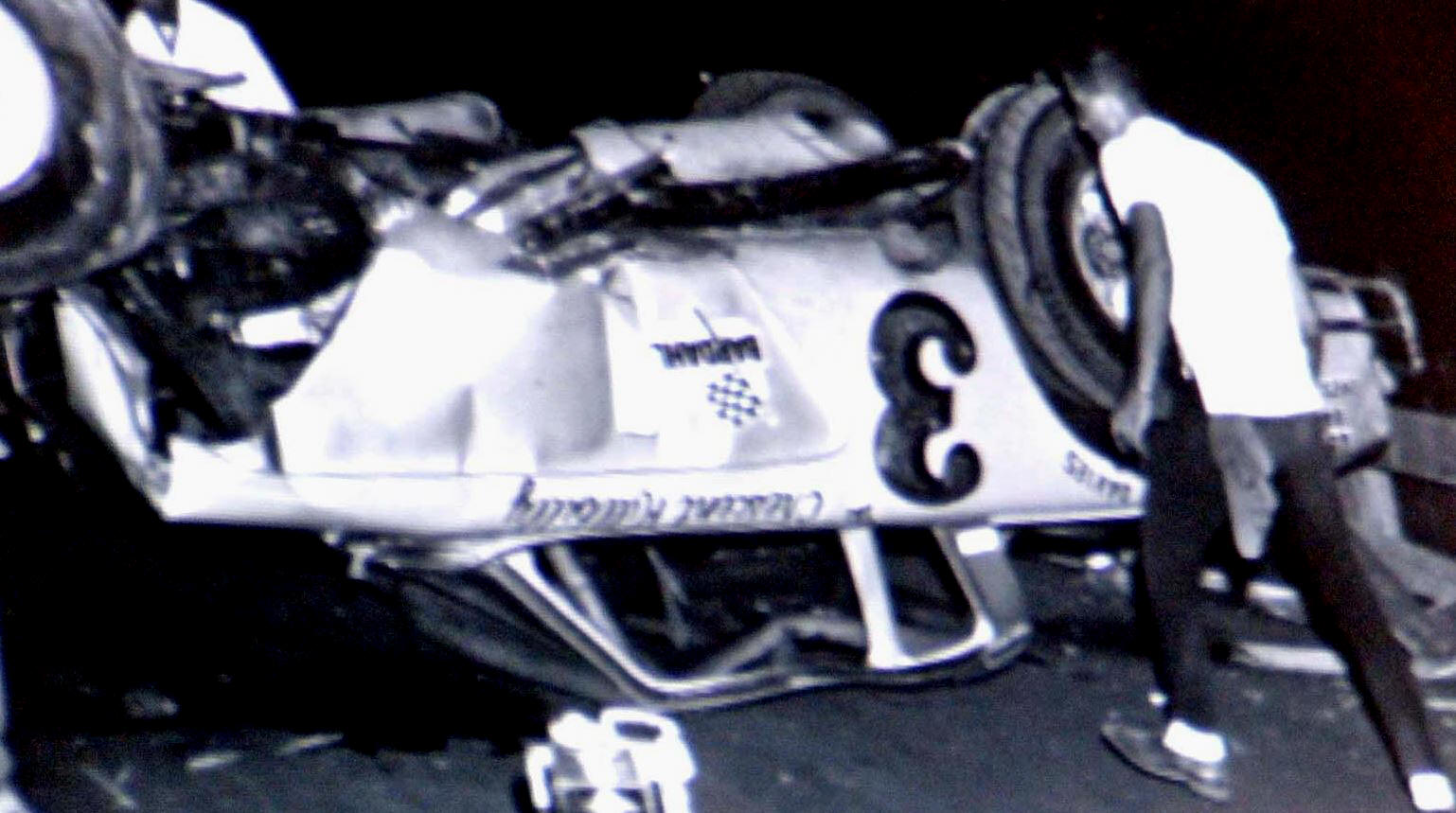 Shany Lorenzent Photo via Andy Fusco


As I mentioned, Corey was a consummate body man. He had to make a car to finish out the '65 season after he wadded up the Falcon. He had taken the frame from it and made a 1938 Chevy body fit on it. That was no small accomplish as they weren't compatible. He had to do some creative body work to make it fit and not look stupid. After the demise of the Studebaker, he dragged the '38 back out and finished the year. Corey would go on, into the fuel injected era, building coupes; but then came that gorgeous Mustang.
In the late '60's I think of Corey in a team sense. He had this fabulous fast back Mustang – bodied injected modified, while Ed Pienizaek, one of the only other people I know to be Corey's confidence, would drive first the original injected coupe and later other coupes. Corey also had branched out to running asphalt tracks like Albany – Saratoga and Airborne. He had his ups and downs in this period, originally being tapped to be a team member in the inaugural All Star Stock Car Racing League in 1967.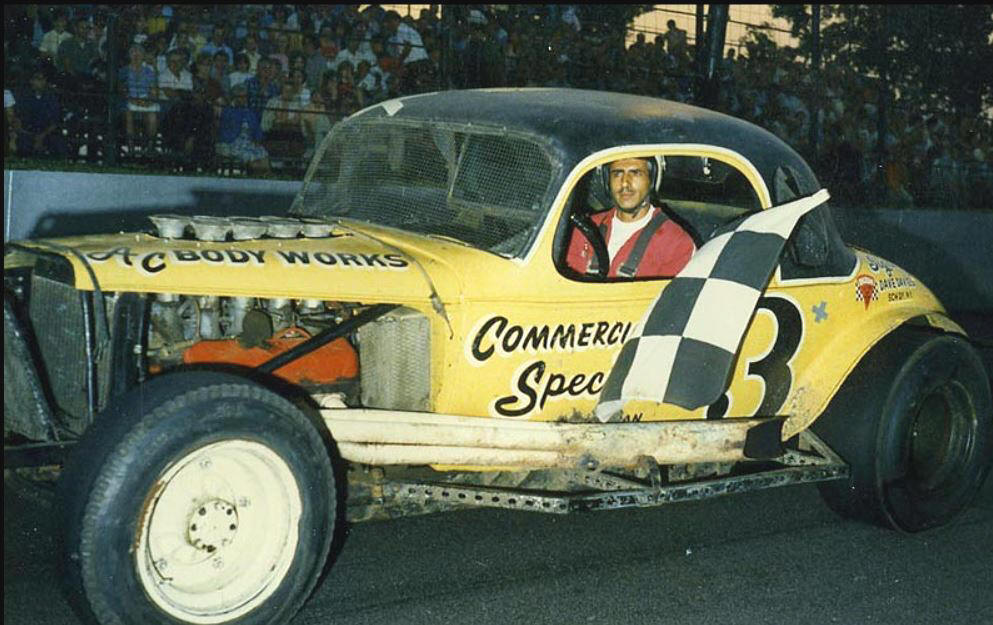 John Grady Photo
This, I think, is the first car Pete built in the late '60's fuel
injection modified era. This is a win at Malta, a track he
says he never like much. Below – Pete poses at home with the
beautiful Mustang for John Grady.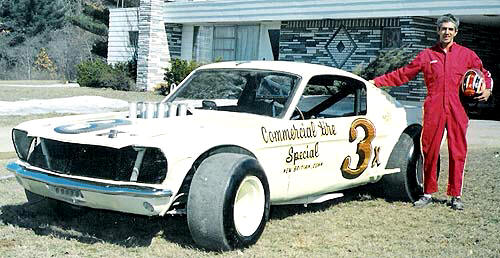 John Grady Photo
Corey would race on the Albany – Saratoga team in 1967. After that, I never saw him on another ASL team. Hard to say why. Disposition ? Not wanting to be tied down to a schedule of midweek shows? I have no idea. He was certainly good enough by a mile. He just never raced on another ASL team; in fact, I don't know how many ASL shows he even ran as an "open". The league went on until 1973, when the oil crisis, as well as health problems with its founders, made it grind to a halt.
Pete Corey would, towards the end of fielding cars, paint his familiar cream, and yellow Mustang red for a Schmidt's Beer sponsorship. I have seen him at Airborne around 1970 or 1971 and I assume he ran Malta and other paved venues mostly by then. He had several times when he was angry with Fonda and / or NASCAR and would stay away. Finally, he just didn't come back at all.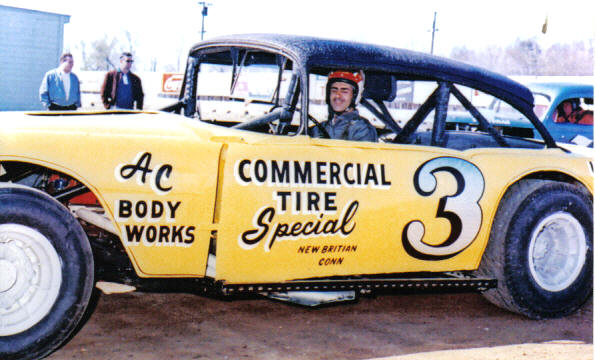 Ladabouche Collection
Pete produced this pretty late model for Lebanon Valley.
Below – The resentful Valley guys made sure he had
plenty of practice doing body work.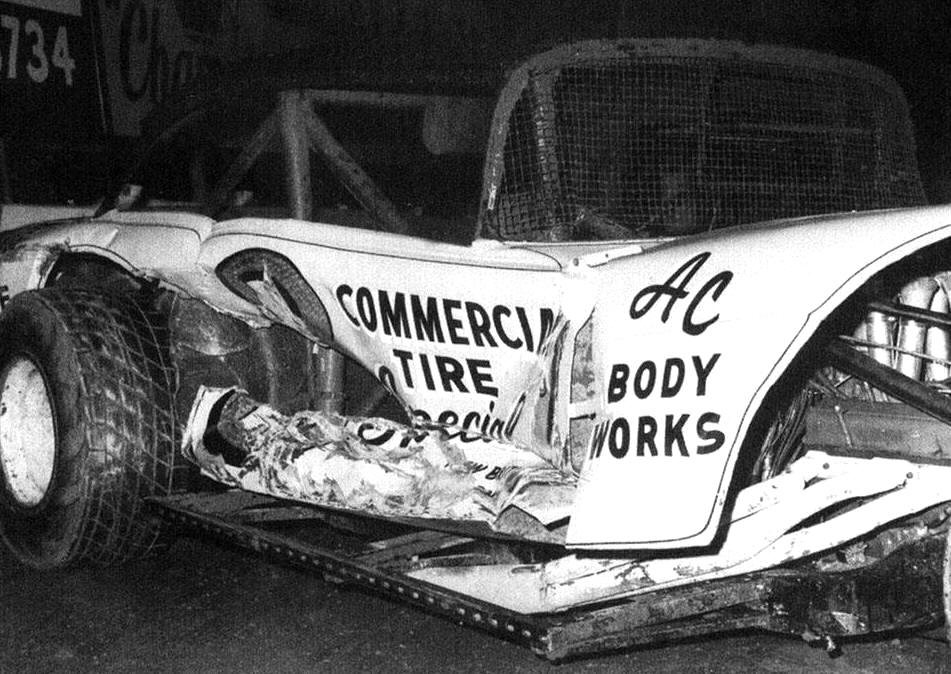 John Grady Photo via Gater Racing News
The best know time when he would not run at Fonda was 1967 and 68. He finished out the '67 season at the Lebanon Valley Speedway with whatever coupe he had at the time. In 1968 he built a 1955 Chevy – bodied modified he dubbed "The Valley Stagecoach". Again, beautiful body work and superb mechanics as well. Trouble was that Valley regulars had been infamous for years for not liking invaders from other tracks. They were also putting up with Bill Wimble, by then. Team like Vince Barbuto #2 [with driver Jack Farquhar] and Pop Wilcox #32 [with driver Jerry Townley] had already made the switch earlier but seemed to spared the wrath.
The old valley guard were particularly rough with Corey, for a number of reasons, and his beautiful Chevy would return to Crescent in a basket way too often. Pete did, however, have his share of success at the high banked dirt track during this time but won only once. According to the Fonda book, Corey had been a pretty rough driver in the old days at the Route 66 Speedway, and that may be the primary reason for his treatment. At any rate, he tired of the repairs and quit going after a while.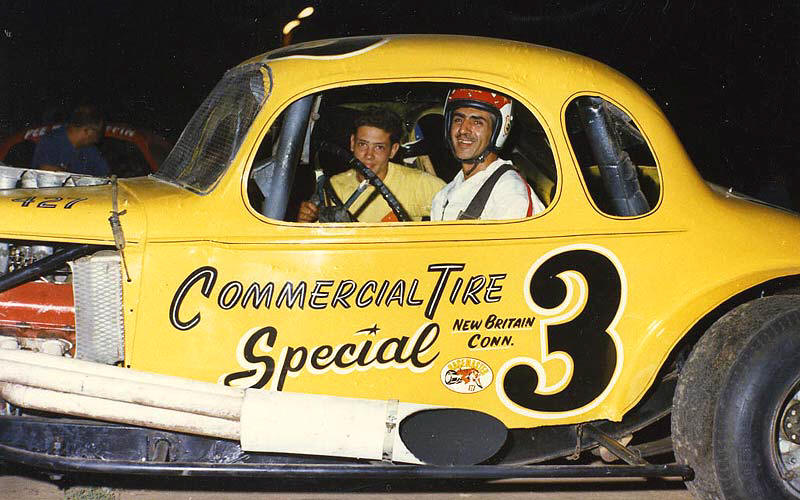 Courtesy of Otto Graham
Pete, giving kiddie rides with a coupe variation he had towards the
end of the 60's. He has his All Star League gear on. He seemed to be very
proud of his year in the League. Below – The Mustang, at the end ,
with the Schmidt's sponsorship.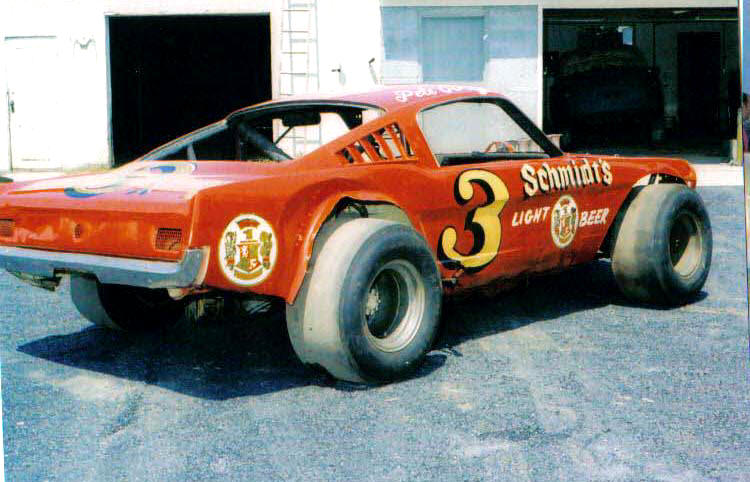 Courtesy of Arnie Ainsworth
By the 1970's Pete was definitely winding down. He had, at one point, sold his Valley car to Malta area Jerry Rose, from Ballston Spa. Rose and young driver Brian Ross were having a struggle with the car and Corey helped out. He ended up driving the Rose 93 for a while, winning his final races at Fonda with it in 1970. He ended his loife not going to races much at all, even to watch son Pete, Jr. Pete was ill now, perhaps from all those years of body work. I really don't know.
My friend and the subject of my book, Beaver Dragon was – like Corey – an accomplished stock car racer who was just as avid an outdoorsman. Beaver told me he ended up, one time, in a cabin deep in the northern woods in Canada. He was sharing the place with non other than Pete Corey. He said that as much as Pete liked him and shared his love of hunting and fishing, Pete would never agree to discuss racing at all. It made Dragon kind of sad to think that such a radiant career had soured so much for Corey.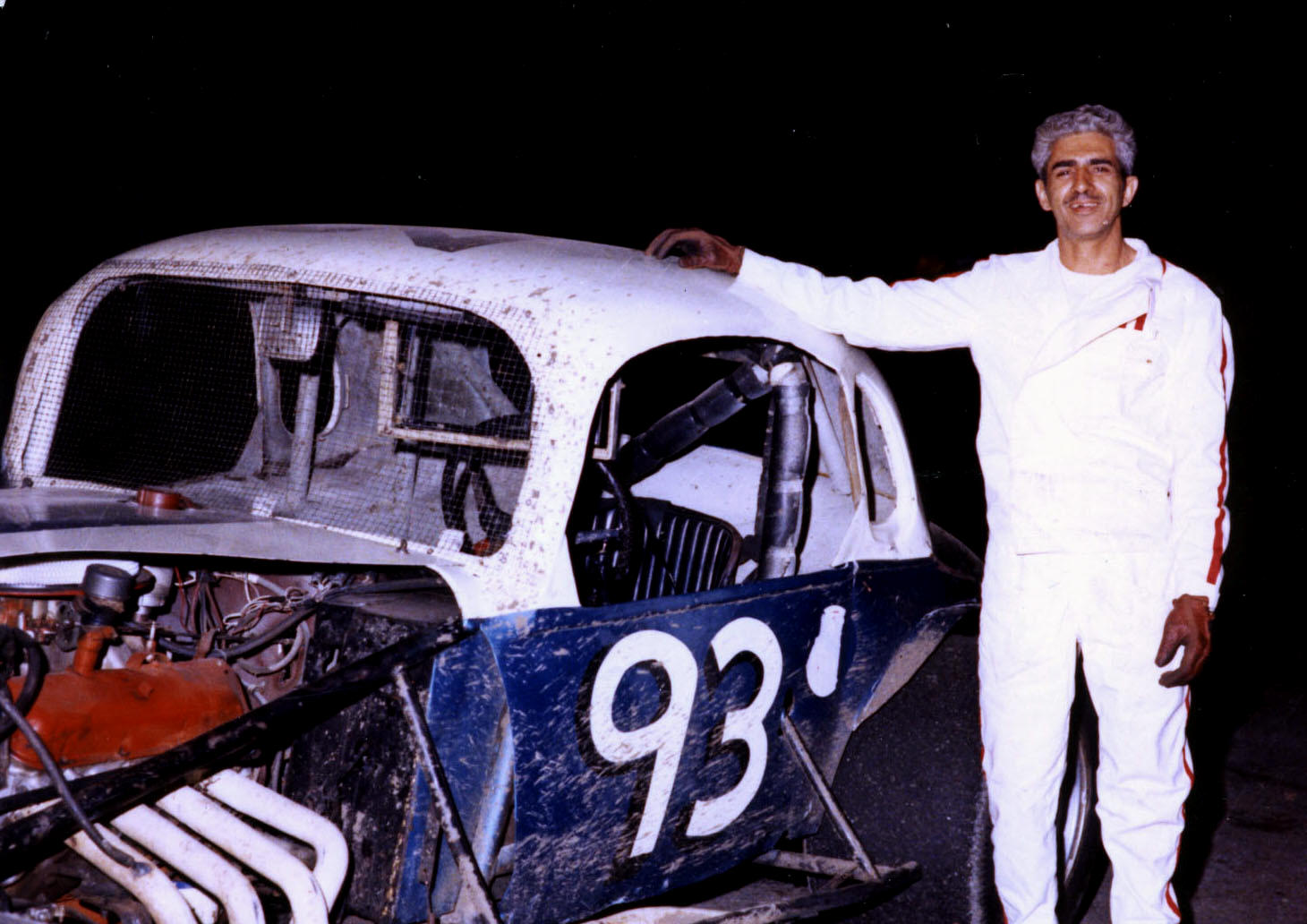 John Grady Photo
Pete, with the Jerry Rose car, which supposedly had the chassis from his Valley car.
Below- Pete strikes one of his characteristic post - injury poses after a 1963 win.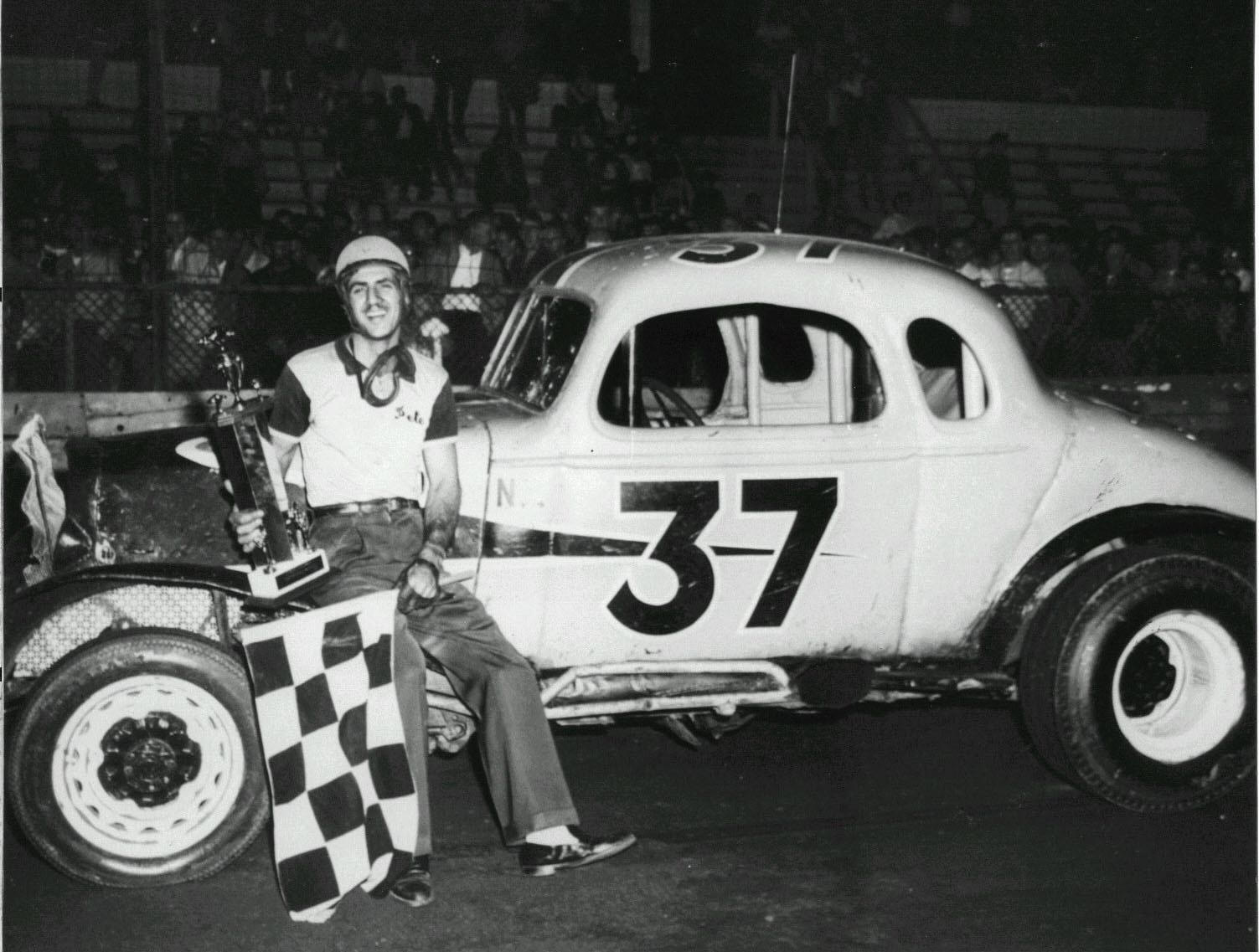 Russ Bergh Photo Ladabouche Collectio
There were few men in the sport who could do it like Pete, He drove brilliantly; he spanned several eras of racing successfully; and – to be somewhat unique – he was just as good at building the cars. Pete had broken the mold of what a NASCAR sportsman car could be in the 1960's. He was somewhat responsible for that revolution of first – Falcons and later Pintos, Vegas, etc. It was probably a good thing as there were just so many pre WWII cars left. More importantly, after his passing, there weren't men like him left either.
Please email me at wladabou@comcast.net if you have any photos to lend me or information and corrections I could benefit from. Please do not submit anything you are not willing to allow me to use on my website - and thanks. For those who still don't like computers - my regular address is: Bill Ladabouche, 23 York Street, Swanton, Vermont 05488.
AS ALWAYS, DON'T FORGET TO CHECK OUT THE REST OF MY WEBSITE:
www.catamountstadium.com
Return to the Main Page
Return to the Main News Page
Return to the All Links Page
Return to the Weekly Blog Links Page