BILL'S [Somewhat] WEEKLY COLUMN/BLOG PAGE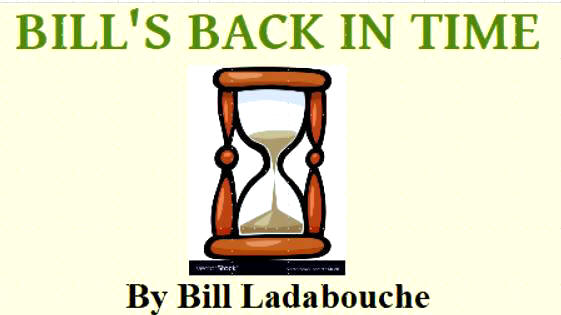 Guys With Those Nasty Little Six Bangers
Pioneers Among The Eights
It's one thing to run successfully in a division that allows only six cylinder motors; but, it's another thing to accomplish this with a six banger in a field of larger motors. I have seen a few brave souls over the years who have managed to run well with a six among flathead or even overhead V-8'S. That's worth giving a nod to them.
Although he was so good I didn't even know he was sporting a six, Cropseyville, NY's intrepid and very particular Steve Danish managed to run Fonda Speedway at a time when arguably the cream of NASCAR sportsman teams competed there on a regular basis; and he did it with a six cylinder motor most lof that time.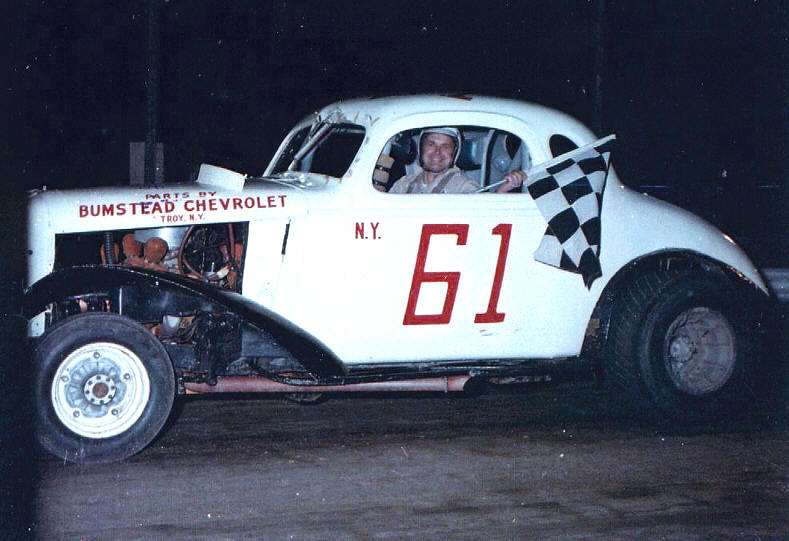 Courtesy of the Danish Family
You can almost get a good look at the Danish powerplant here. Below - A man looks with amazement at both
the Danish towing setup and at the fact that he brought a six cylinder car to Langhorne.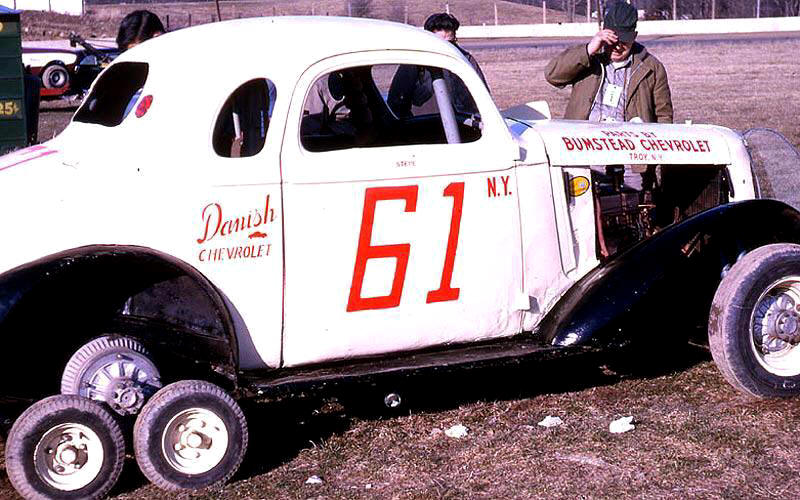 Maynard Johnson Photo via Chas Hertica
Danish won numerous features and even track championships while competing with a six against the prevailing V-8's of that era – possibly 327's if I recall correctly. According to the Fonda history book – somewhere around 1954 Danish discovered the power of the 236 C.I. Corvette six cylinder engine. Even after most of the competition gave up on their flatheads and went to overhead V-8's, he could manage almost as many cubes as they had.
He had many milestone years at Fonda, Victoria, and at venues he would sometimes venture out to. He had a brief flirtation with a Buick engine in 1955, but went back to his familiar powerplant after. Danish remained a strong force until into the mid 1960's, when both overhead V-8 technology and the development of more technical sportsman cars began to edge him out.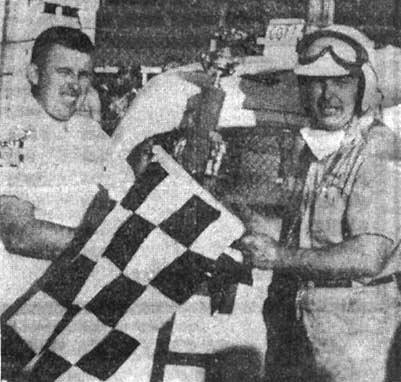 Rutland Herald Photo Ladabouche Collection
C.J. Richards awards a trophy to Steve Danish after his last – minute
100 lap win at Fairmont around 1965. Below – Steve's last win came
against fellow six cylinder stalwart Parker Bohn and his Tom
Skinner 659. The Skinner motor was usually covered up.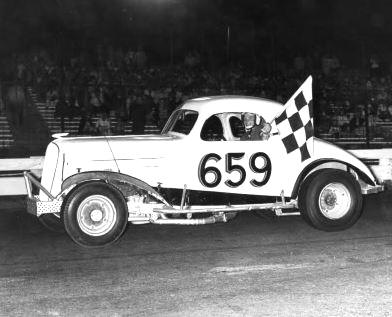 Forever Blue via HAMB Chat Sight

I still think I saw the last real Danish feature win – at Fairmont Speedway around 1965. Not a regular there, he was following Jean Guy Chartrand, another NASCAR sportman invader in the final laps of a 100 lapper. Chartrand's 901 either blew a rear end or maybe ran out of gas; but, he coasted to a halt with only a few laps left. Danish, with his less thirsty six, eased in and won the race. He later won a sort of match race at Middletown against fellow six cylinder stalwart Parker Bohn – and that was the final win.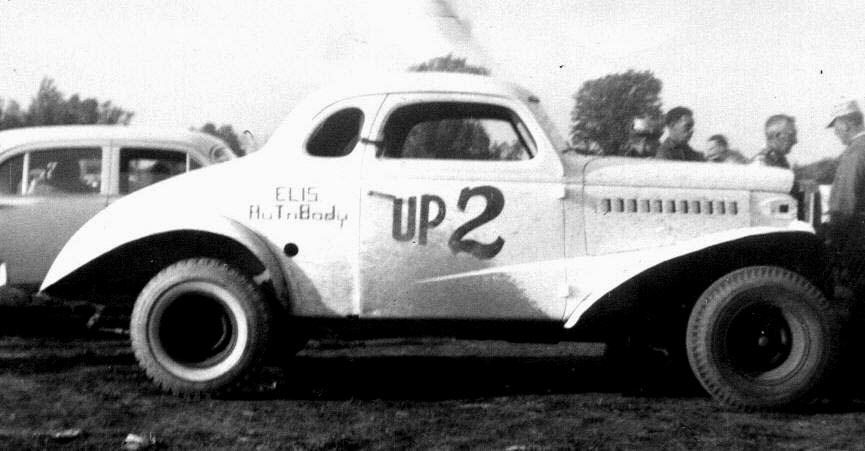 Ladabouche Photo
George Rogers, with his tall standing GMC powered UP2
around 1962. Below – The later lightweight coupe with that
same GMC motor.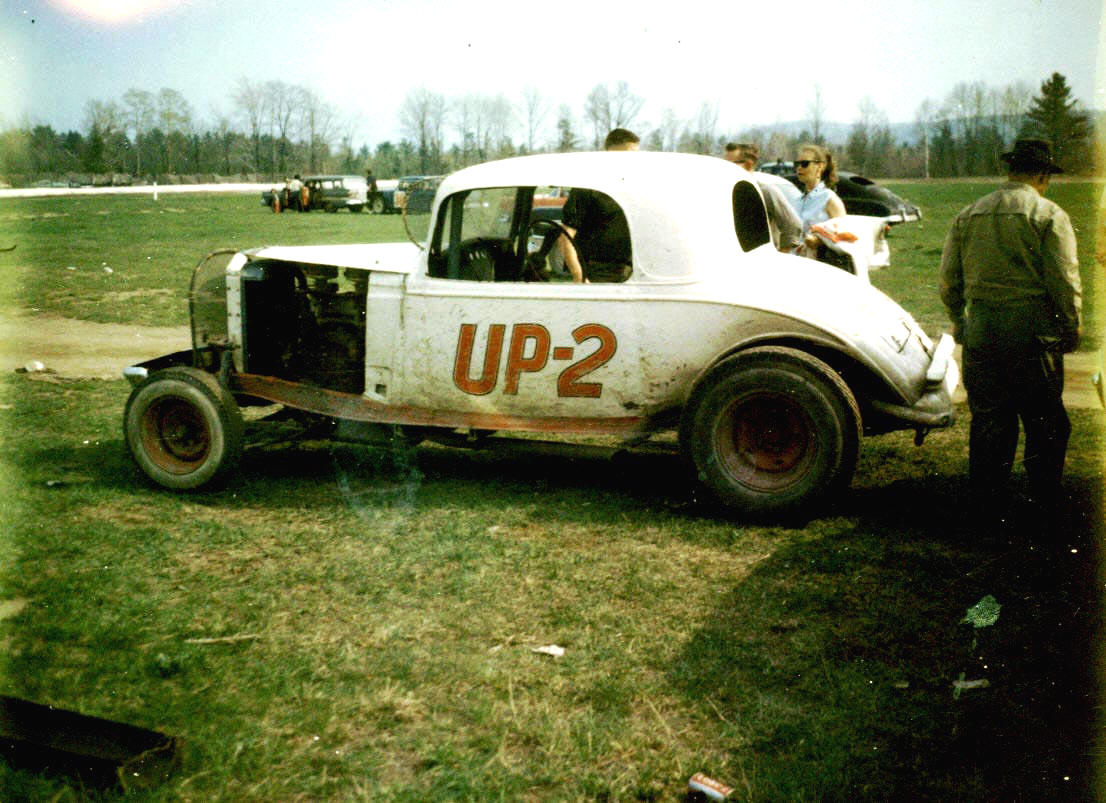 Ladabouche Collection

Another six cylinder man from the earlier years was Castleton, VT's George Rogers, an expert welder, another very particular man, and a lover of the GMC six. When Rogers returned to racing in 1962 as C.J. Richards re-opened Fairmont, Rogers' big '36 Chevy coupe [a car that ran very high off the ground], had that GMC in it. He would become very successful – even against some of the most refined flathead Ford cars of the day – mostly from New Hampshire.
When the big old Chevy was getting old and the height may have been becoming an issue, Rogers began to fashion a very opposite car. He constructed an ultra lightweight '34 Ford coupe, still with his familiar number UP-2. I found out later that stood for "You pee, too'. The lightweight had good success running the Jimmy until, in 1965, Richards converted his lead division to overhead V-8 sportsman cars. After a brave run at competing with these, Rogers went over to a V-8 motor in 1966. He would keep that eight and put it in a 1956 Chevy Late Model for the inaugural Devil's Season in 1967.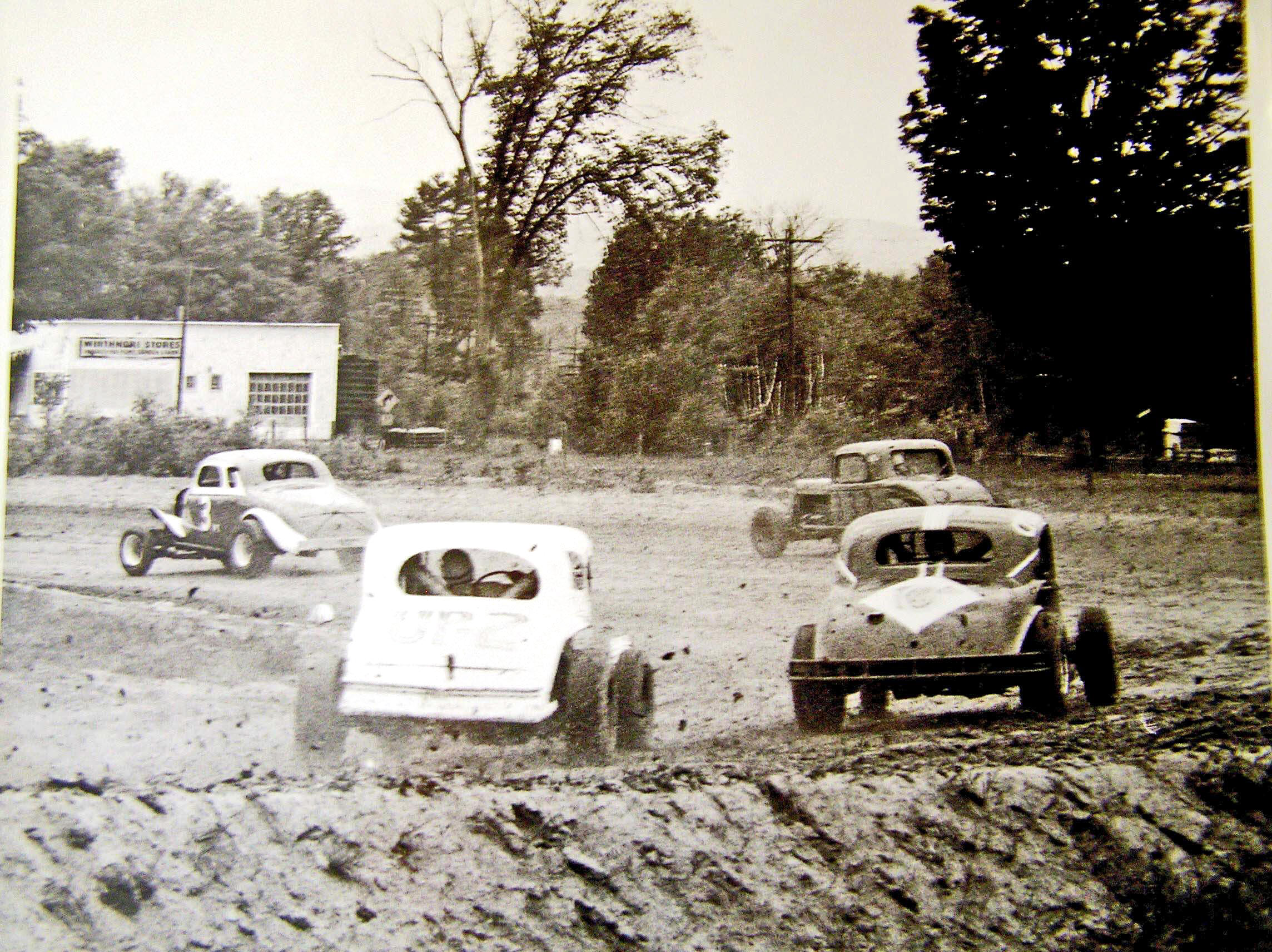 Courtesy of Wes Moody
Rogers, still trying the six in 1965, chases the V-8's
of Vince Quenneville, Howard Stevens, and Cecil Bosworth.
Below - George takes the checkers from Danny Rumpf at Fairmont
around 1964 or 65.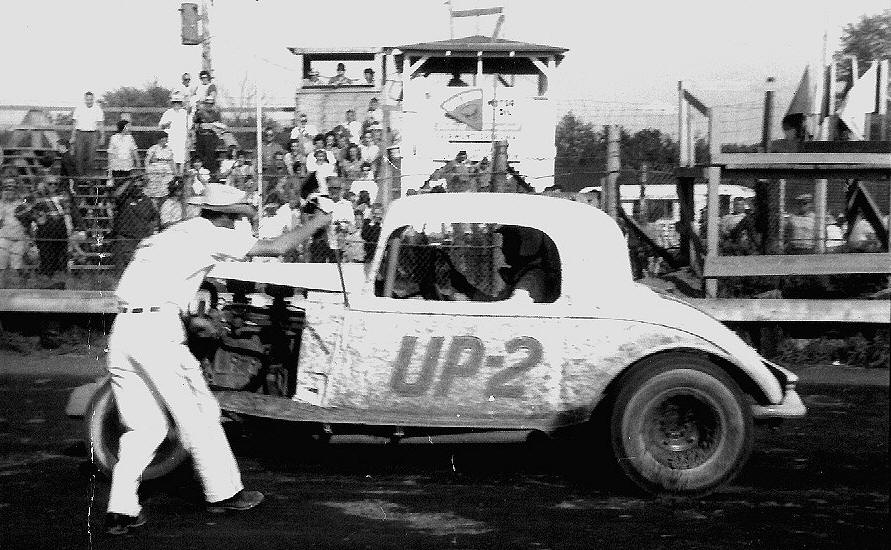 Bob Frazier Photo Courtesy of Chris Companion

By then Rogers was coming down with what would become a debilitating illness. He managed to build the car after selling the lightweight coupe to Bob Harrison. He ran in, and won, the Vermont State Late Model Championship late in the 1967 season; but he could not race any more. He left a legacy of not only GMC power but tremendous race car development through his welding skills.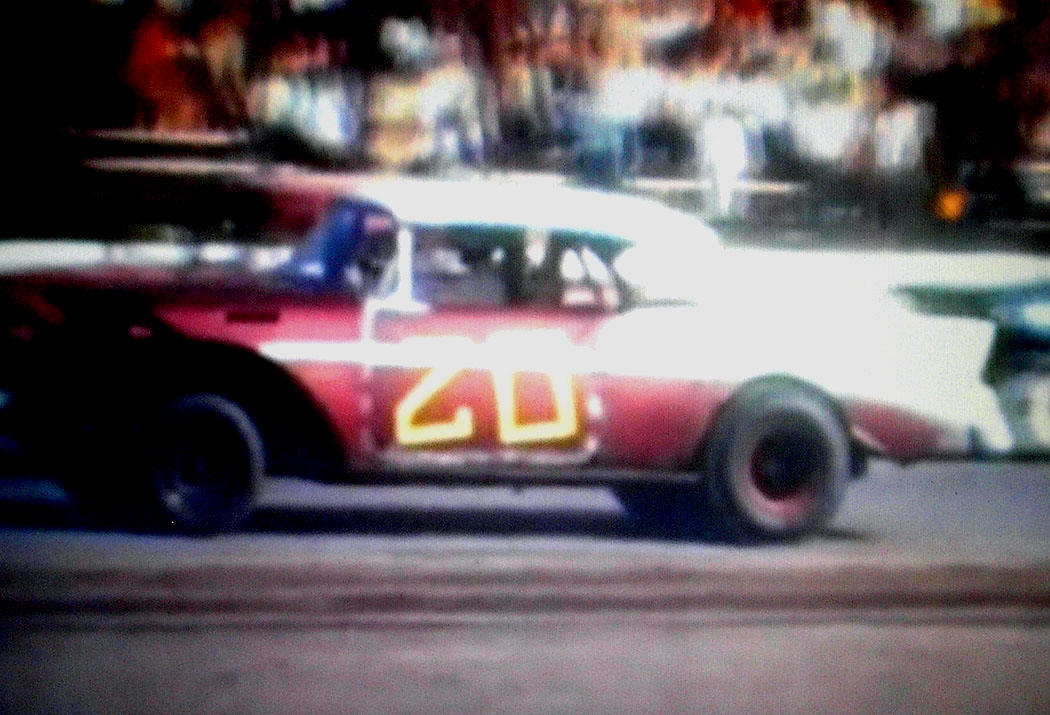 From Dan Ody's 8MM Old Speedways DVD's
George, putting the '56 Chevy through its paces at the 1967 Vermont
State Late Model Championship at Devil's Bowl
The next performance I saw only once as it was at Oxford Plains Speedway, and I didn't get up there very much. Much like Catamount Stadium, Oxford had gone over to the late model sportsman and – in the very early 1970's almost every manufacturer was represented in the division that spawned notables like Mike Rowe, Al Hammond, Dick Glines, Dick Mason, and many more. I had first seen this group in action on a honeymoon in 1969 – even though I was far more taken with the six cylinder "Chah – gahs".
Around 1970, I happened to visit that region again and went to OPS. The late models were much like I had seen them the year before, when a guy named Doug McDonald had ruled the night. The amazing performance was not from McDonald, Glines, Rowe, or any of the rest. West Paris's Frankie Perham had a slant six – powered Plymouth Valiant in the late models. I tought to myself, this oughta be good.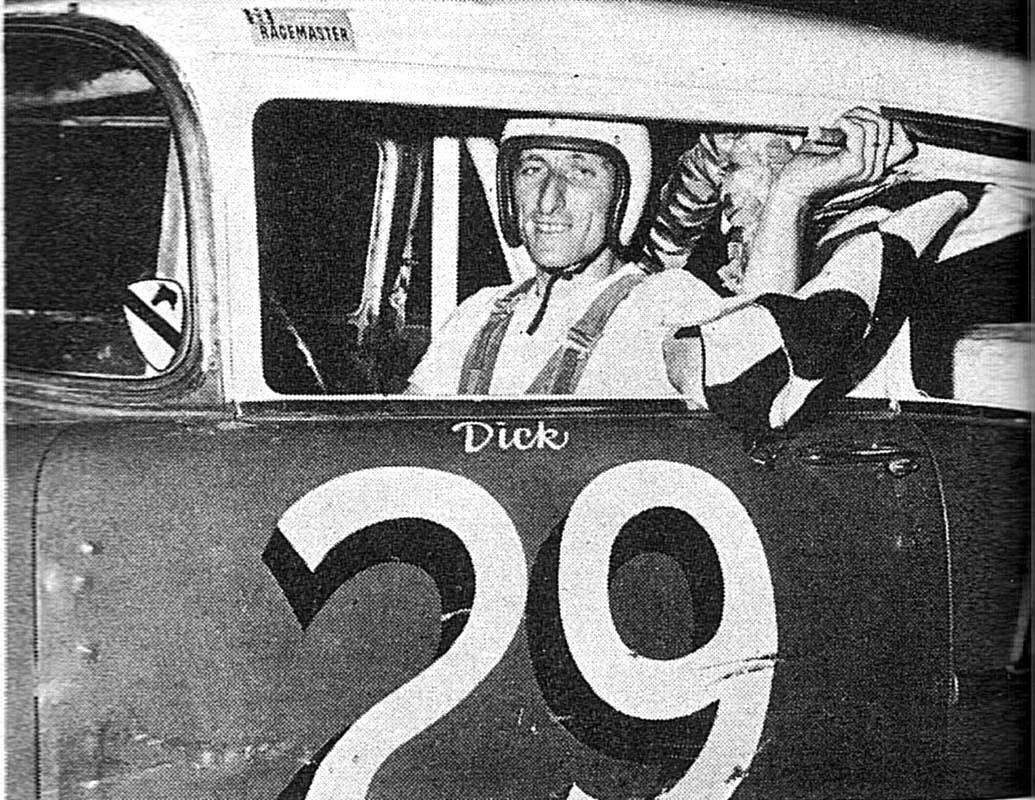 From Cavalcade of Auto Racing
I have no photo of Frankie Perham. A typical competitor that year
would be a V-8 sportsman like that of Dick Mason.
They started Perham and his little Mopar [that sported a wicked leftside lean] right on the pole, and off he went. It must have taken ¾ of the race before the V-8's could reel him in. Although he fell back through the field, the fall was not sudden – each sportsman car having to work hard on the outside of that flat track to get by him. I remain impressed to this day, and a lot of Maine guys you talk to still recall Perham and his Valiant with respect.
In 1985, I was hired on by C.J. Richards and then promoter Wes Moody to work publicity for Airborne Speedway in Plattsburgh, NY. Having been wrriting for SPEEDWAY SCENE paper, I had ventured over to Bear Ridge Speedway in Bradford, on the eastern border of Vermont to watch dirt action on a fifth mile track.
If you're not familiar, the Ridge was built in 1968 by George Barber as a final place where people could run those old flathead Ford coupes. He allowed six cylinder motors – much like most flathead tracks. It amazed me how those guys could race and maneuver on such a small, tight track. I struck up a friendship with Chelsea, VT's Frank Keene who had recently bought the six cylinder Gremlin car of perennial track star Bob Moore. He had a good night when I was there.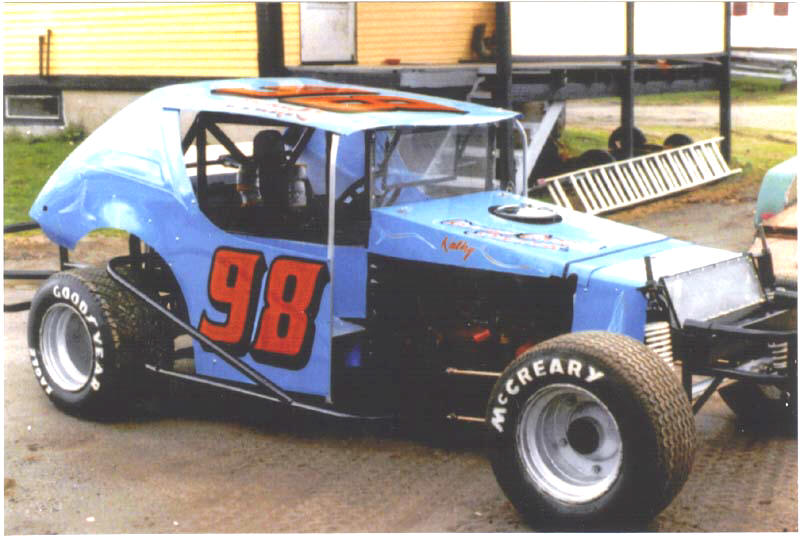 Courtesy of George Hill
Frank Keene's Gremlin was briefly a source of amusement at
Airborne until he raced it. Below – Frank seated by his car.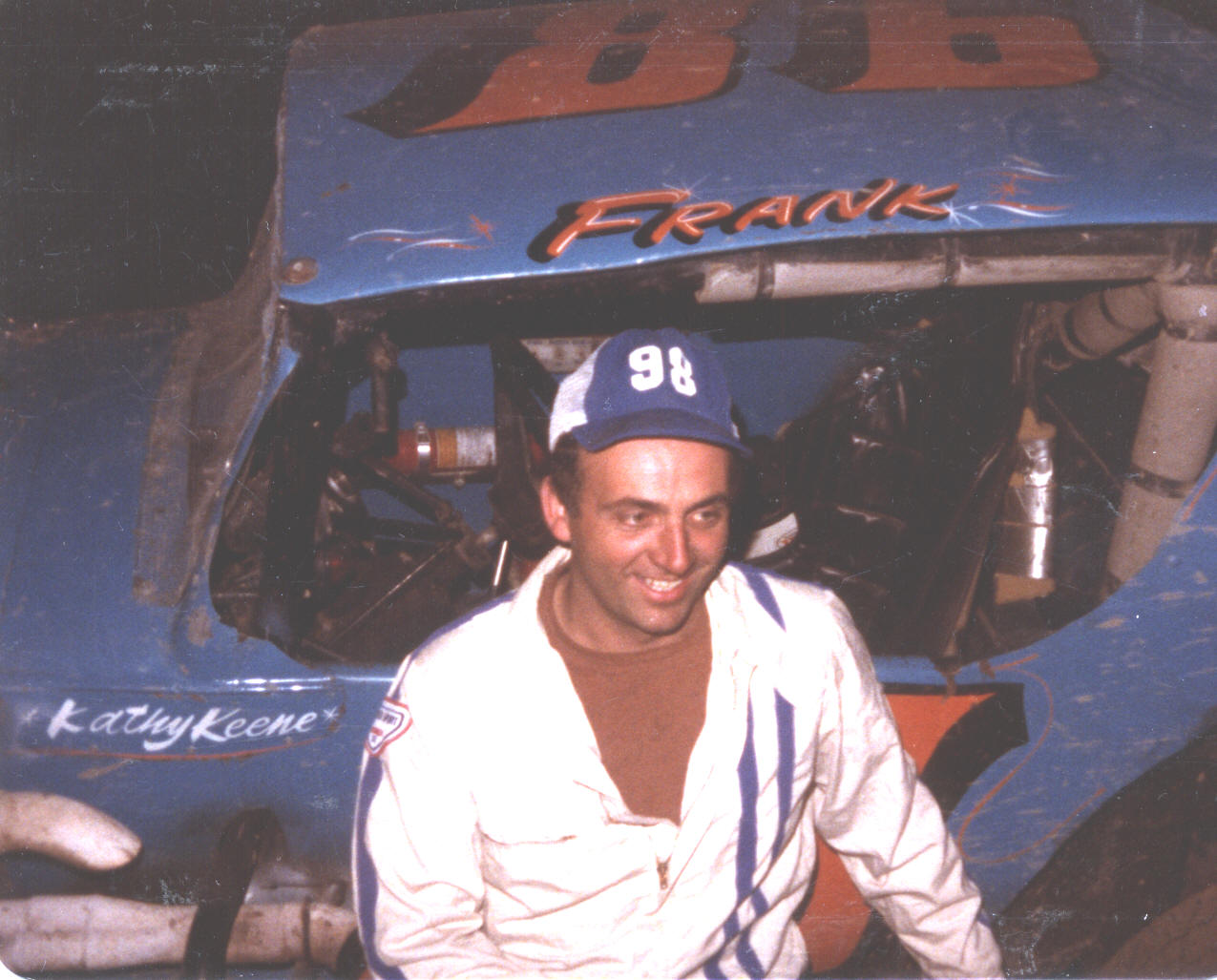 Evelyn Elms Photo Ladabouche Collection
Now having a good night with the car among flatheads and six bangers is one thing – but I suggested, given how well he drove, that he take the alcohol – burning Gremlin over to Airborne to run against the DIRT pre – manufactured Mud Busses, Olsen Eagles, Champ Cars, and the like that were running there. He was skeptical until I pointed out that his ability to race under such cramped conditions at Bear Ridge might be quite an advantage – given many of the Airborne drivers were just learning dirt and modifieds.
Frank showed up one Saturday night and everybody had a good snicker at the little blue #98 Gremlin with the six cylinder motor. There was considerable guffawing and rib poking after the local inspected the car and saw the motor. The snickers came to a rapid halt when he finished second in a qualifier, chasing the winner across the line. Keene also enjoyed a good top five finish in the feature. He earned a loit of admiration from that tough New York bunch and ended up being a regular Airborne [when he could] for years to come.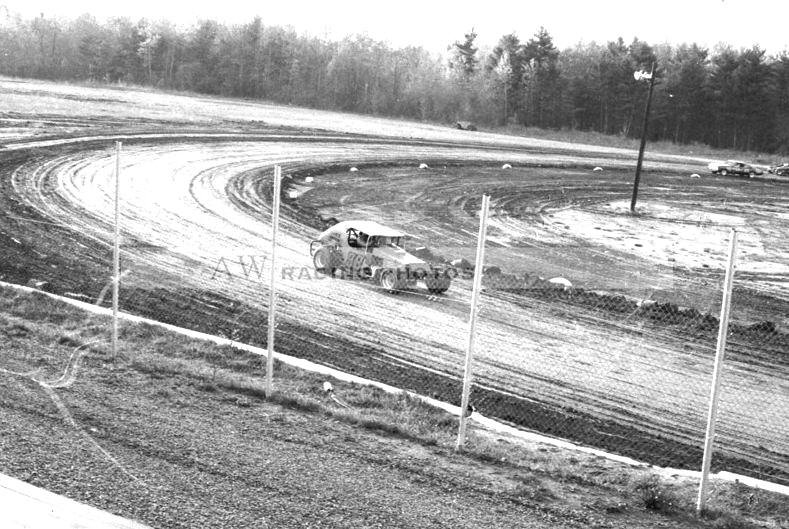 Al Ward Photo
Frank is running away from some of his competition here.
Below – Fellow Vermonter Charlie Wilbur also raised cain with
the locals that year. Here he is running against the great
Dick Nephew. But they had far more expensive equipment than Keene.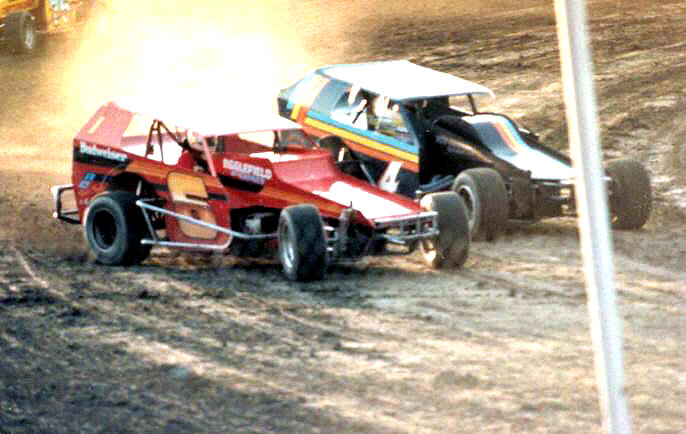 Probably Al Ward Photo

My last example was actually at Catamount. Although the Home of the Brave actually went through a period when they featured a six cylinder Grand American division, this is not about that. While the prevailing Grand Americans were Camaros, Mustangs, and a few Javelins and such – Larry Caron fielded a slightly larger Nova in the class, and it was rocket fast – limited only perhaps by its slightly bigger weight.
So, when Catamount decided to try some Friday night shows around 1979 or so, they dedicated those races to the less successful, lower budget late model teams. Most of the time, the higher level NASCAR North teams were kept out of the mix – probably by the limited purse as much as anything else. This is just before all those big teams started owning multiple cars that included smaller six bangers like the Buick Somerset, for instance.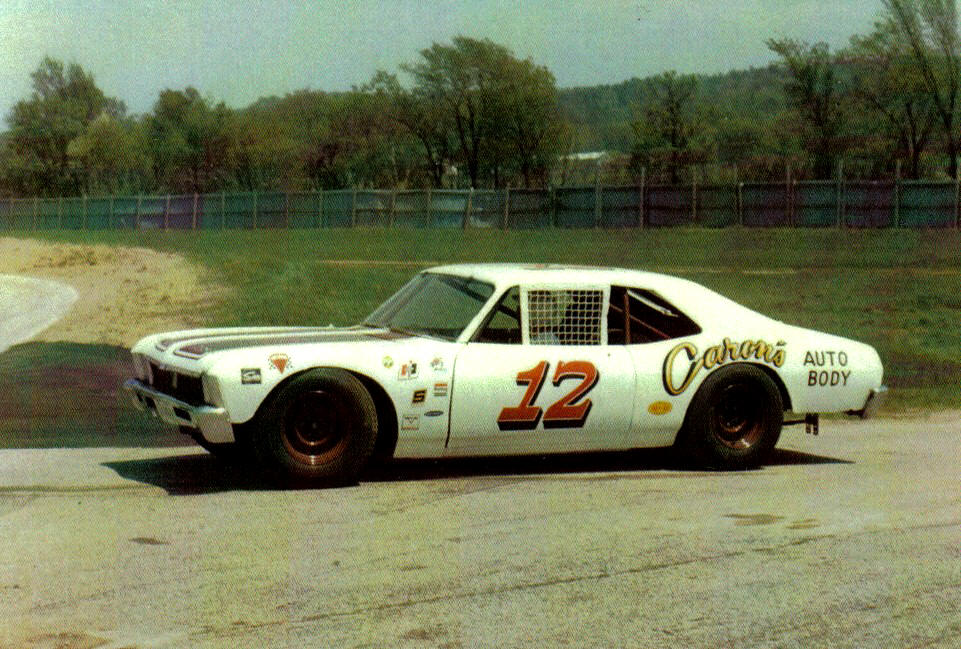 Courtesy of Andy Boright
Larry Caron started off by developing a slightly different Grand American
after running a dominant Camaro. Below – The V6 Nova late model
sportsman Friday Night Special.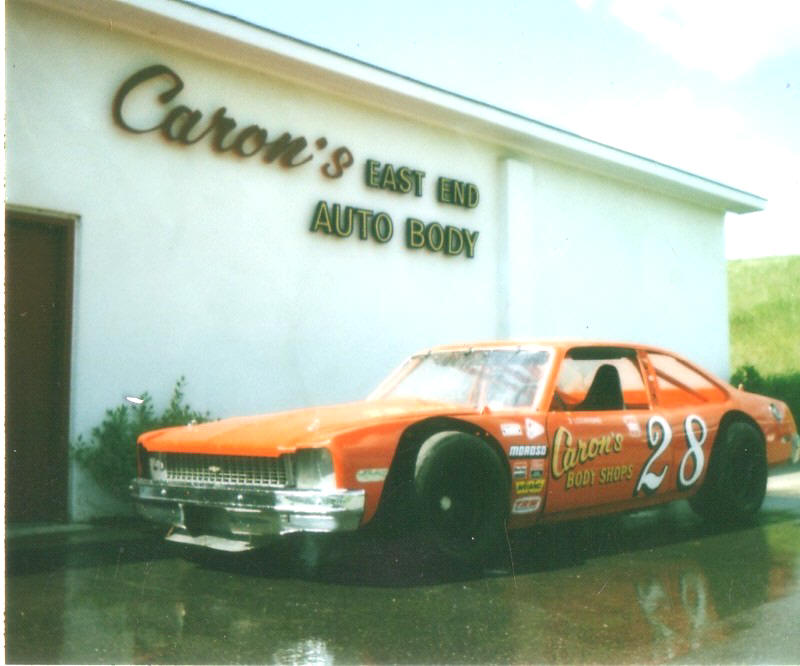 Courtesy of the Caron Family
Larry Caron developed a six cylinder motor which he installed in another Nova. Although the motor often did not hold together, he could keep right up with faster Friday nighters and blow off some of the others. The red Nova showed up for several weeks that summer before it was clear the Friday shows were not working out. He would then build a typical 356 C.I. late model and ran the Tour with generous sponsor D.G. Robertson. But many people recall Larry for his work with the six cylinder cars. [His Grand American Camaro was nothing to sneeze at either – very dominant].
So, being a little guy among larger, more powerful competition has always struck the fancy of the sports fan. Look at the popularity of little Isiah Thomas when he played brilliantly for the Boston Celtics until his trade earlier in 2017. Everybody cheers for the underdog, although I could scarcely put any of these men [with the possible exception of Perham] in this category. Who's next ?
POST NOTE: This is , by no means, intended as a comprehensive coverage of six cylinder pioneers. They're just from my own experience.
Please email me at wladabou@comcast.net if you have any photos to lend me or information and corrections I could benefit from. Please do not submit anything you are not willing to allow me to use on my website - and thanks. For those who still don't like computers - my regular address is: Bill Ladabouche, 23 York Street, Swanton, Vermont 05488.
AS ALWAYS, DON'T FORGET TO CHECK OUT THE REST OF MY WEBSITE:
www.catamountstadium.com
Return to the Main Page
Return to the Main News Page
Return to the All Links Page
Return to the Weekly Blog Links Page