BILL'S [Somewhat] WEEKLY COLUMN/BLOG PAGE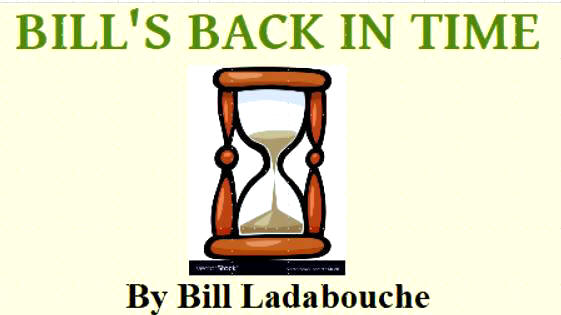 THAT CONTROVERSIAL NASCAR RULING ON THE PRE-1937 STOCK CAR BODIES
Like so many other stories and their perspectives - it depends on where you were at the time. As it struggled to bring some semblance of order and safety to what had been a young, wild, and unsafe sport called stock car racing, the National Association for Stock Car Auto Racing could, at times, be pretty autocratic. But one ruling they made in the 1950's really did have a lot of sense and logic behind it.


Courtesy of Lew Boyd
Unsafe sport? What unsafe sport ? Future promoter Charlie
Elliott slings an early 1940's race car that is nearly devoid
of safety equipment in New Hampshire.
Sometime around the earlier 1950's NASCAR had this wording in its rules on the legal construction of a sportsman stock car : "Sportsman Division races are open to any make or model of American closed car with a steel top. Models older than 1937 may compete if passed as mechanically fit by NASCAR officials and conform with conditions of entry at each track."
Most pre – 1937 cars had was referred to as a "rag top", a roof which had an opening in the center that was constructed with wood and canvas. Stock car builders would remove this rag top and rivet or weld steel onto that space. There were many early cases, however, where teams did not do this or – in some rarer cases – they left the roof open with that square hold unfilled. One such case was that of Saratoga Springs, NY's Jack Barney, a race driver and founder of the McGregor Speedway in nearby Wilton. As of 1951, Barney's white #6 coupe had that hole in the roof.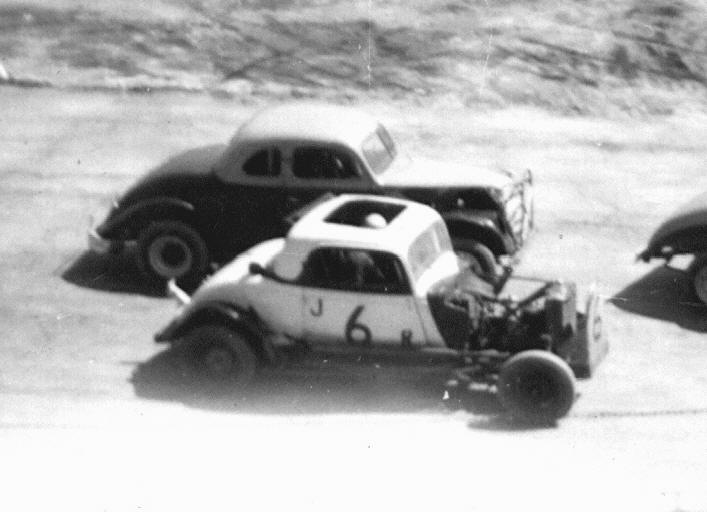 Courtesy of Jerry King
Jack Barney and his topless coupe at Pico Raceway,
Rutland, VT in 1951. Below - Art Cody's Henry Merrow -
coupe was always one that gave no clue it was a rag top.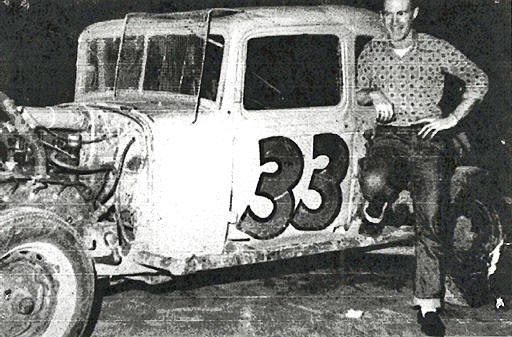 Bob Frazier Photo via Norm Vadnais
There were venues where these pre – 1937 bodies were almost the rule, such as Claremont [NH] Speedway, Thunder Road International Speedbowl, and others. Then, too, there were even more venues where these bodies were liberally mixed in with the '37 Fords, Chevies, and so forth. One example of this was the old Fairmont Speedway. Another example, before it went to NASCAR , was New York's Victoria Speedway, which had cars from NASCAR tracks like Fonda and cars from independent tracks like Lebanon Valley or Onteora.
So it was that this brewing mess moved its way through the 1950's sometimes creating both problems with which rules to follow at mixed tracks and the serious accidents which occasionally occurred when the older cars wrecked and the applies steel patches did not hold. To be fair, most of the car builders did a great job with this patch; as a youngster and well into adulthood, I didn't even realize that some of the stock cars I watched racing had this repair because the job was thorough and smoothly done.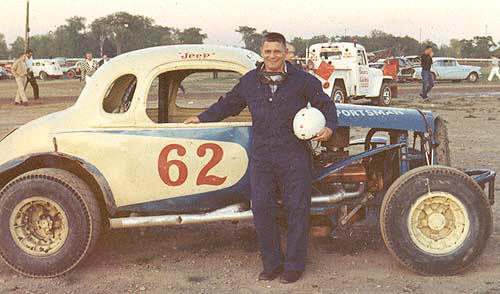 Russ Bergh Photo
Jeep Herbert's Frank Trinkhaus – built Chevy is an example
of a coupe new enough to have no rag top problems. Below -
This early 1960's shot of Thunder Road action shows that the
earlier cars were not only accepted but preferred there – until
1965.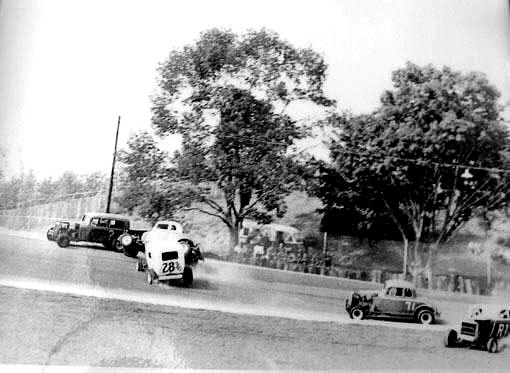 Courtesy of Cho Lee
The shortcomings of the safety harness setups on early stock cars were as much to blame as some poor patch jobs. Most drivers, for year, drove with only a lap belt. The first year I recall seeing many drivers at my tracks wearing anything that secured above the waist was 1963. Three accidents would really bring these problems with the older bodies to the forefront. The first wreck, perhaps not as well known in my neck of the woods, was that of Ray Stevens, a driver from way out in western New York.
Stevens was always an enthusiast of cars that went fast, and he had been convinced to take up stock car racing in order to perhaps reduce the amount of time he was going fast in cars on the street. He was showing promise with a 1933 – bodied car when he had an accident causing a rollover at Merrittville Speedway in Canada. Not only was he thrown from the seat, but the rag top roof patch came loose. Stevens was caught, partially in the car and partially out, causing a catastrophic spinal injury that left him in a wheelchair.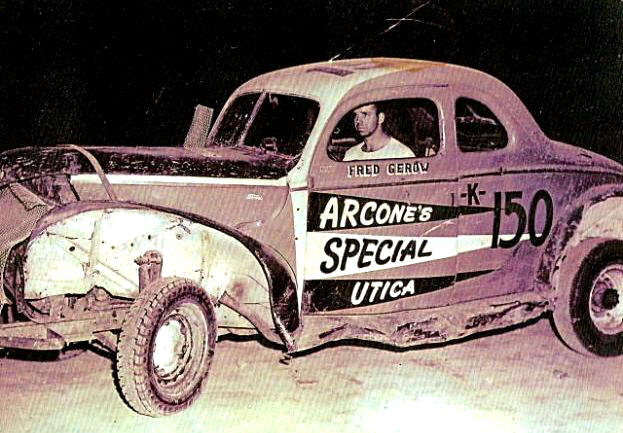 Source Unknown - Maybe Rick Parry
This interior shot of Fred Gerow'sArcone – sponsored car
gives an idea of the lack of safety items in the early stock cars.
Below – A field at Claremont Speedway includes a rag top
sedan with no attempted covering on the roof.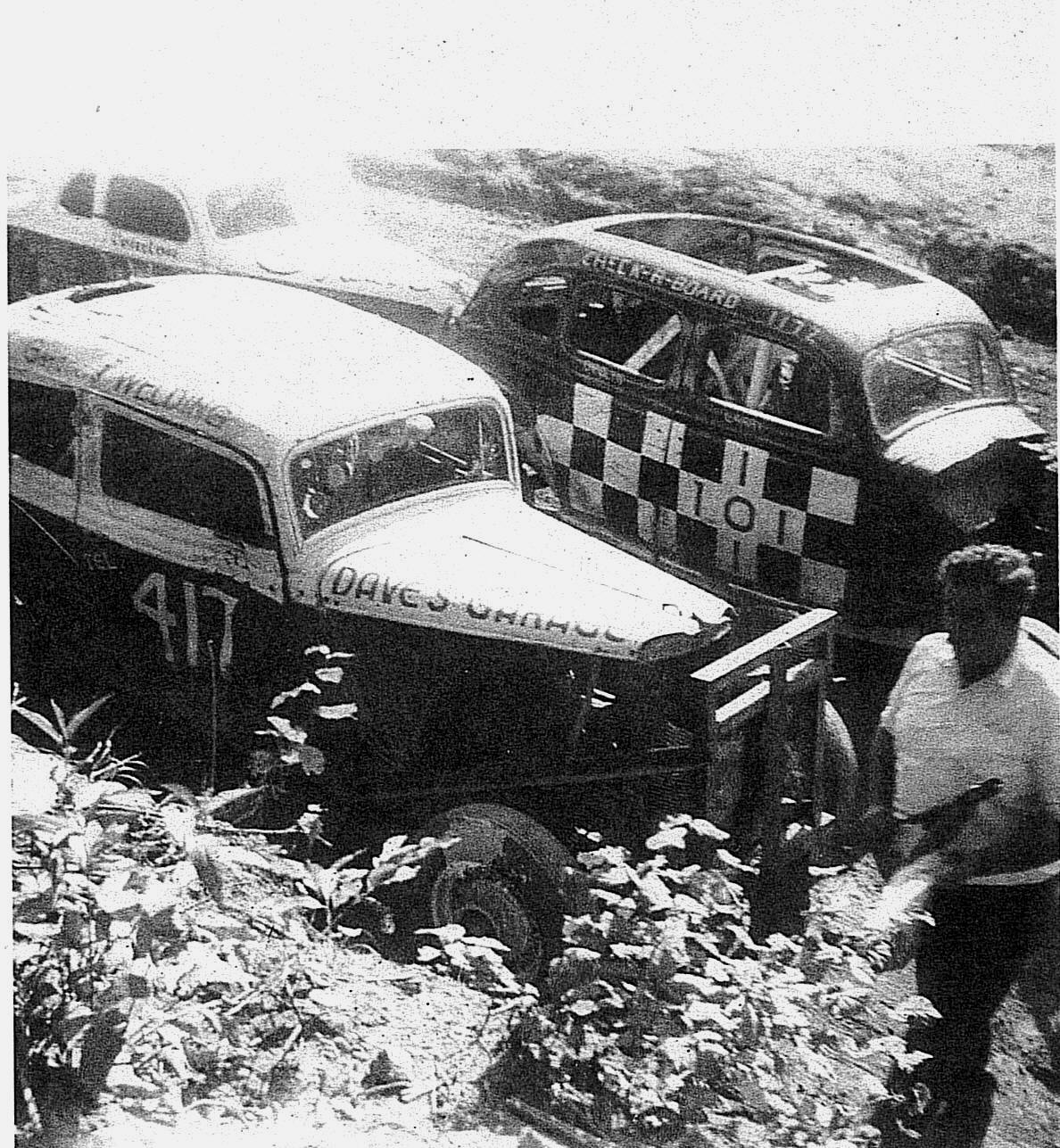 Courtesy of Marty Harty
Closer to home, we were watching races around 1963 at C.J. Richards' Fairmont Speedway when a new driver named James Van Guider showed up with a plain white car 39. He apparently managed to qualify for the feature because – during the featurethat afternoon, his car rolled. I still can see his body flying through air among pieces of sheet metal and other parts. He landed on the track surface where he was nearly run over by a speeding George Rogers. Only the unusual clearance with which Rogers' Up2 rode kept that from happening.
What was ironic about the Van Guilder situation was this was the year Richards had begun requiring the shoulder harness. Problem was they found out whoever had built the car 39 had not hitched the restraints to the correct part of the car and they became detached with the force of the rolls and the weight of Van Guilder's body. Terribly upset and not being convinced he had not struck the man, Rogers would not race for quite some time after that.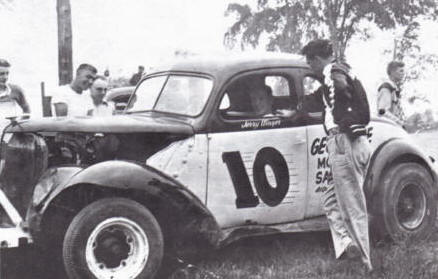 Courtesy of Merrittville Site
Clearly, from this photo, all the Mertittville early cars were
not of the pre- 1937 persuasion. Below – This view of the George Rogers
UP2 car shows that clearance that allowed him to slide OVER James
Van Guilder, not onto him.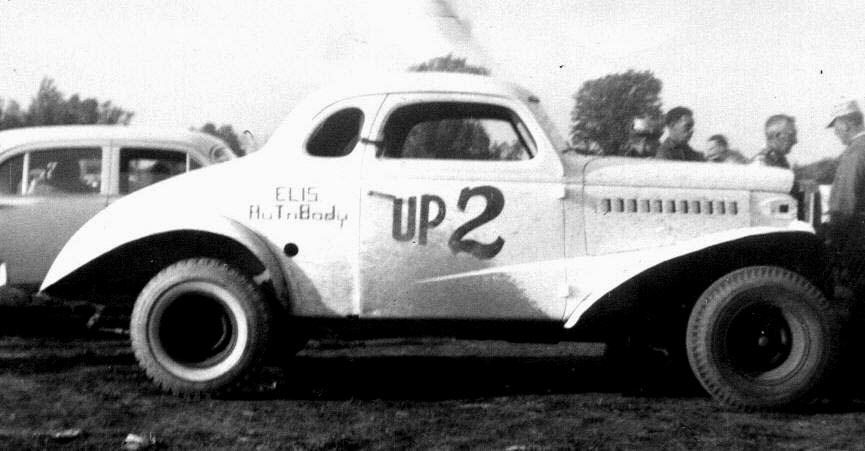 Ladabouche Photo
Arguably, the accident that really brought out the problem with the rag top cars was the death of prominent and highly – popular D.D. "Rebel" Harris, of Poughkeepsie. He had raced for many years and was a real star in the Northeast when he drove Joe Lawrence's car AAA at Onteora Speedway in Olive Bridge, NY. The all – too – familiar rollover with driver ejection through the roof happened again, this time resulting in driver death.
With the Harris and Van Guilder fatalities still years in the future, the other event that made the whole rag top car controversy such a sticking point happened in that informal circuit of mid 1950's racing that included North Bennington, Vermont's Stateline Speedway and New York tracks like Fonda Speedway. Bob Mott, himself a driver, had constructed this particular 1934 Ford – a yellow and silver rocketship of a car.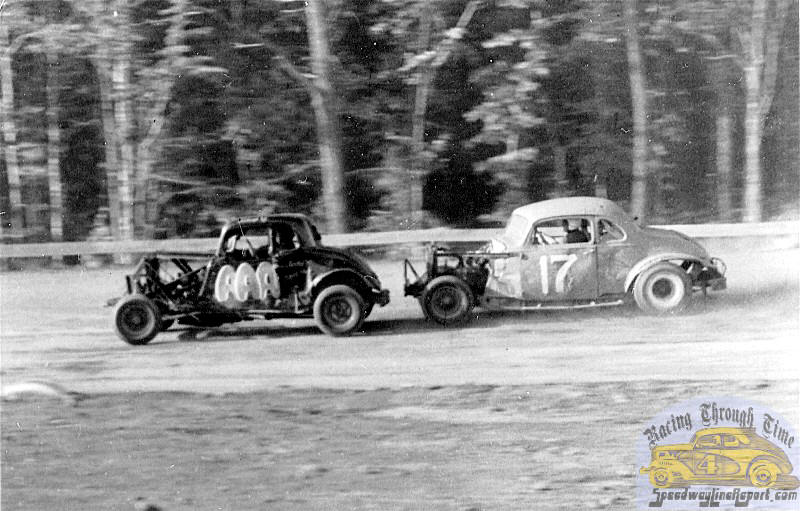 Bob Ellis Photo via Roger Liller and Dave Dykes
D.D. "Rebel" Harris leads Ernie Beesmer at Onteora with the
same Lawrence AAA he was later killed driving. Below – This
driver at St. Jerome, Quebec's Bouvrette Speedway sits
dazed on the track after being ejected. He was luckier than most.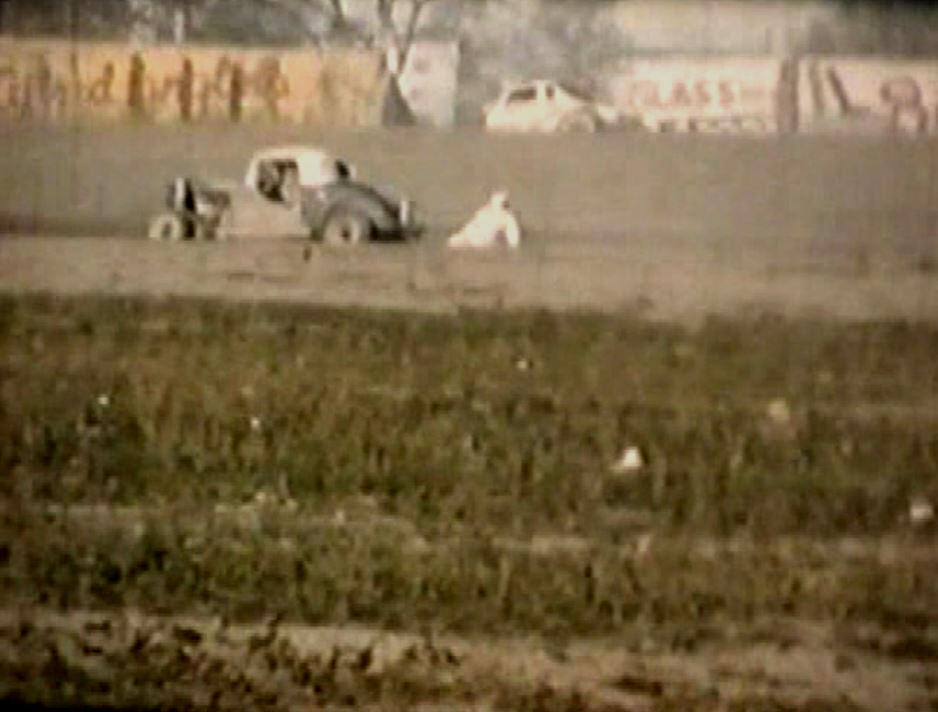 Courtesy of the LaBreche family
Jeep Herbert had driven the car with success; I actually can remember seeing him in that car [or the Mott predecessor car] at Pico Raceway in 1952. But, when Herbert went on to another car, Mott put the swashbuckling Pete Corey in the car , and the pair began running it at the fairly – new Fonda Speedway. If Herbert had had success in the car – Corey had reached for and grabbed the stars. He was damned nigh unbeatable in the thing. The flathead that had propelled Herbert was out and a new Thunderbird V-8 was giving Corey much more power.
Mott had done a good job replacing the rag top on the yellow and silver 3NY, and people had initially largely chosen to ignore the rule at the Fonda track; but then, Corey won six and the first seven races of the year. With fan interest wavering a bit, track officials now chose to arbitrarily enforce the NASCAR rule that had been sitting there the whole time since the track opened two years before. The #NY went out with the bath water as all the cars with that age of body had to go in order to get Corey and Mott out.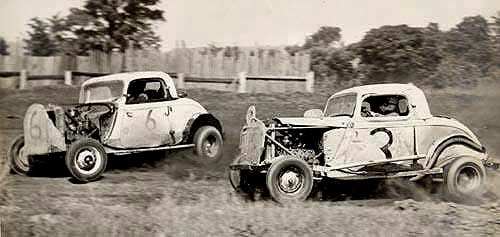 Herbert Family Photo
Bob Mott's earlier car was a real exemplar for looks. Here Jeep
Herbert races against that same Jack Barney at Stateline Speedway.
Below – Pete Corey at Fonda with the newly re-powered Mott
3NY in 1955.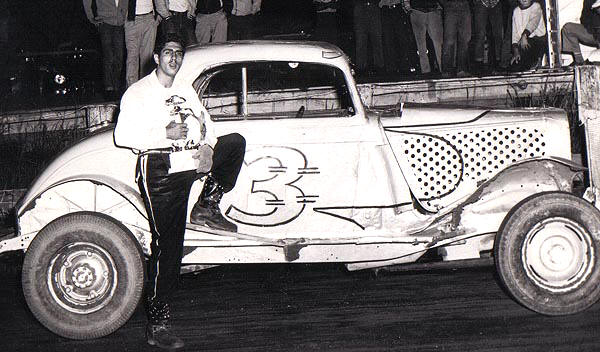 Russ Bergh Photo Courtesy of Jo Towns via Otto Graham
The sometimes tempestuous Corey was furious. He had wondered out loud how come it was all right for two years when Jeep drove it but not when he drove it. Of course, he did leave out that the car did have an entirely different power plant for his use. Although their new, legal car was never as good at Fonda, he and Mott went out to Langhorne and won the big show with the new car. Corey would be pissed at NASCAR and Fonda until he died.
Those little early thirties coupes stayed in vogue at Claremont, Fairmont, Thunder Road, places like Five Mile Point, and even – to some extent – at Lebanon Valley until the overhead V-8 revolution really hit in 1965. The you saw fewer and fewer of the older bodies unless you went somewhere like Bear Ridge Speedway [which was created especially to save the flathead Ford race cars]. Ironically, Fonda was have its worst year for accidents in 1965, seeing both Pepper Eastman and Lou Smith die in crashes [but neither man was ejected].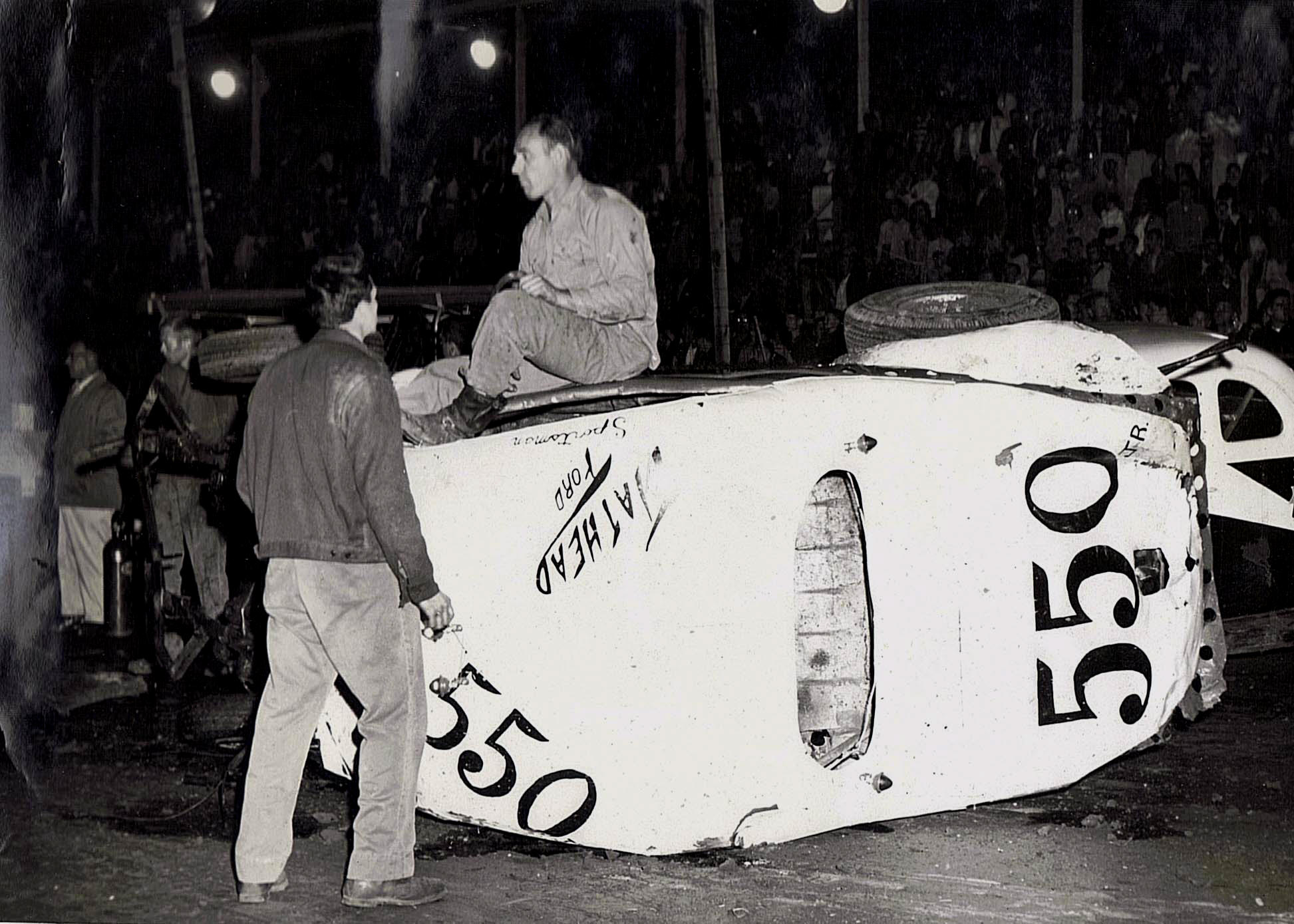 Russ Bergh or Frank Simek Photo via the Starin Family
Jerry Jerome sits, stunned, atop his wrecked 550Jr at Fonda. A good
look at the roof shows it is not a rag top. Below – Ironically, years
later, Pepper Eastman would die in this seemingly minor wreck
at Fonda in a post – 1937 car. You never know.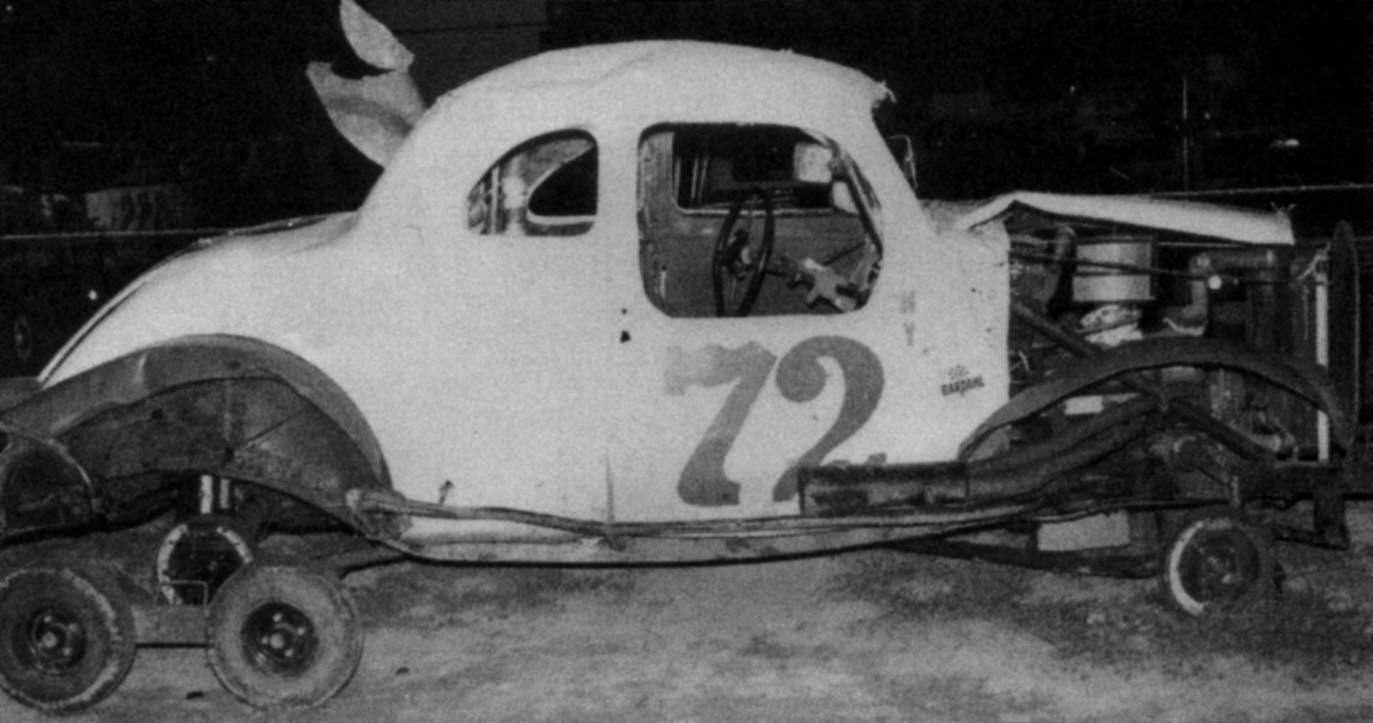 Russ Bergh or Frank Simek Photo
The early thirties coupe has survived as a street rod, and a few of the old stock cars, such as Art Cody's 33 in New Hampshire and the B29 car in the Midstate antique racing club have been saved. But, the nature of racing did certainly change when you could no longer race one of them at your local track.
Please email me at wladabou@comcast.net if you have any photos to lend me or information and corrections I could benefit from. Please do not submit anything you are not willing to allow me to use on my website - and thanks. For those who still don't like computers - my regular address is: Bill Ladabouche, 23 York Street, Swanton, Vermont 05488.
AS ALWAYS, DON'T FORGET TO CHECK OUT THE REST OF MY WEBSITE:
www.catamountstadium.com
Return to the Main Page
Return to the Main News Page
Return to the All Links Page
Return to the Weekly Blog Links Page