BILL'S [Somewhat] WEEKLY COLUMN/BLOG PAGE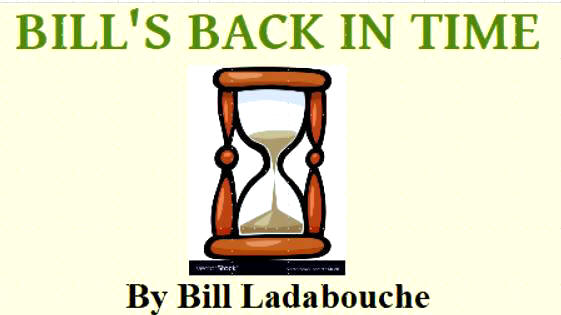 A FEW THOUGHTS ABOUT CAM GAGLIARDI AND GIL CRAMER
The first time I saw the name Cam Gagliardi was on a Fonda program. The only reason I paid any attention to it [there were no points beside the name] was that he was identified as being from Lockport, NY and I had just seen a race in Vermont where the unexpected winner was a team from Lockport. Like so many others at Fonda, Cam must have expressed interest in a race at Fonda and, therefore, his name was stuck on the program for the remainder of that season. Others that happened to included prominent names like Fred Hurst, Andre Manny, Buck Bucholtz, and more.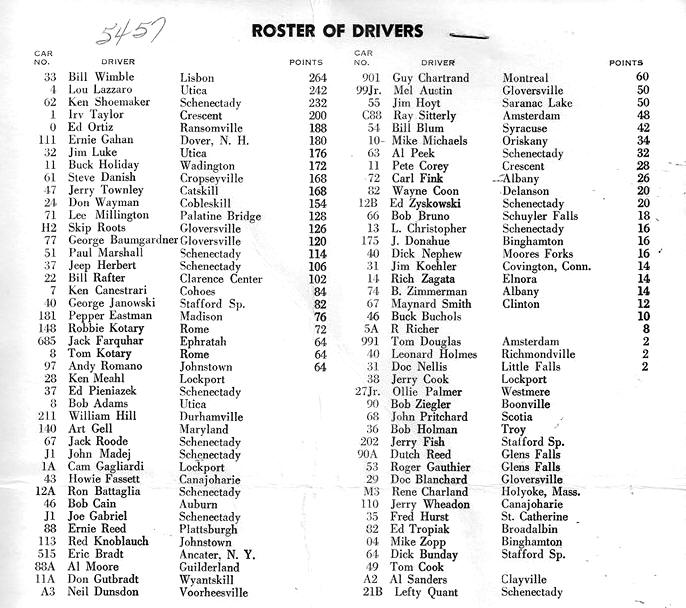 Courtesy of John Danish
There he is in the Fonda non – points list, along with the likes of
Fred Hurst [St. Catherines, ON], Rene Charland [Holyoke, MA],
Jerry Cook, [Lockport, NY] Bob Cain [Auburn, NY], and Bob
Ziegler [Boonville, NY].
My uncle and I were very interested in the name, seeing as we had recently attended a NASCAR sportsman event [rare in Vermont] at which the likes of Ken Shoemaker, Bill Wimble, and others that were there for easy national points were beaten by an unknown [to us] named Ken Meahl. It turns out Meahl was driving for Jerry Cook, who was too young to pilot his own cars yet. After that, Lockport was on our radar, so to speak. I recall hearing it mentioned one night when I had tuned in WKBW, Buffalo – a fantastic high – powered AM station from the golden era of radio rock stations.
At any rate, Cook's car made maybe one appearance at Fonda that year, but we never saw anyone named Cam Gagliardi – and without the benefits of online research we have now, I had nothing on the man for years. Just today Dec. 31, 2018, I happened to Bing the name, and not really much showed up; for God's sake, people, this is Cam Gagliardi – not some backmarker ! What came up was certainly not enough information for the accomplishments he managed. This is a personal impressions blog – I don't know enough about Cam for it to be an authoritative source in any way.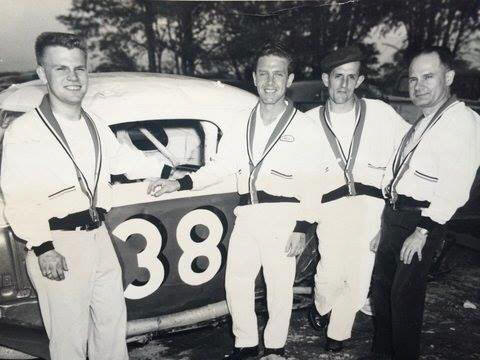 Cook Family Photo
The "too young" Jerry Cook [left] with his driver, Ken Meahl from nearby
East Amherst. Crewman Gene Hare and father, Ronald Cook are at right.
Below – An early Cam Gagliardi stock car, the Lazy 8.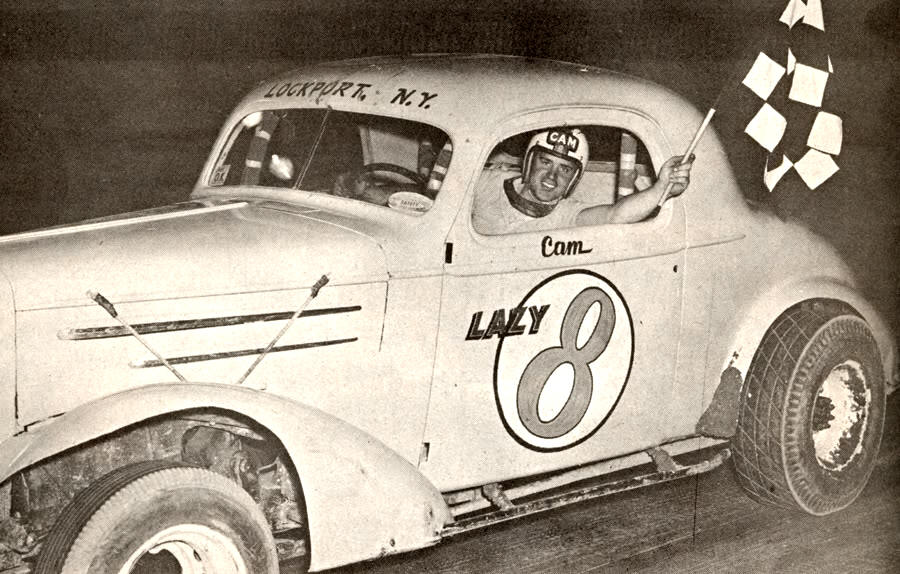 Courtesy of The Bullfather
Cam Gagliardi was older than the better – known Jerry Cook and – at one time – Cam actually had a car built by the then – 14 year –old Cook. Cam had also started young, helping not only to construct a midget that raced at Buffalo's Civic Stadium; but he ran a few races with the car even when he wasn't of age to do so. Cam was close friends with another young racer, Gil Cramer. After competing against one another at Western NY and Canadian tracks, they would join forces to run the familiar yellow Permatex cars that ran successfully at Daytona Speedweeks for years.
Gagliardi, an accomplished stock car racer, would always keep his hand in driving, fielding the familiar "Lazy 8" and "Lazy 1" cars at various tracks within a large area of his region. Photos often show him in direct competition with the likes of Dutch Hoag, Bill Rafter, Ken Meahl, Ed Ortiz, and other prominent names of that time. My particular favorite modified was a shorten – up Corvair he ran for a while.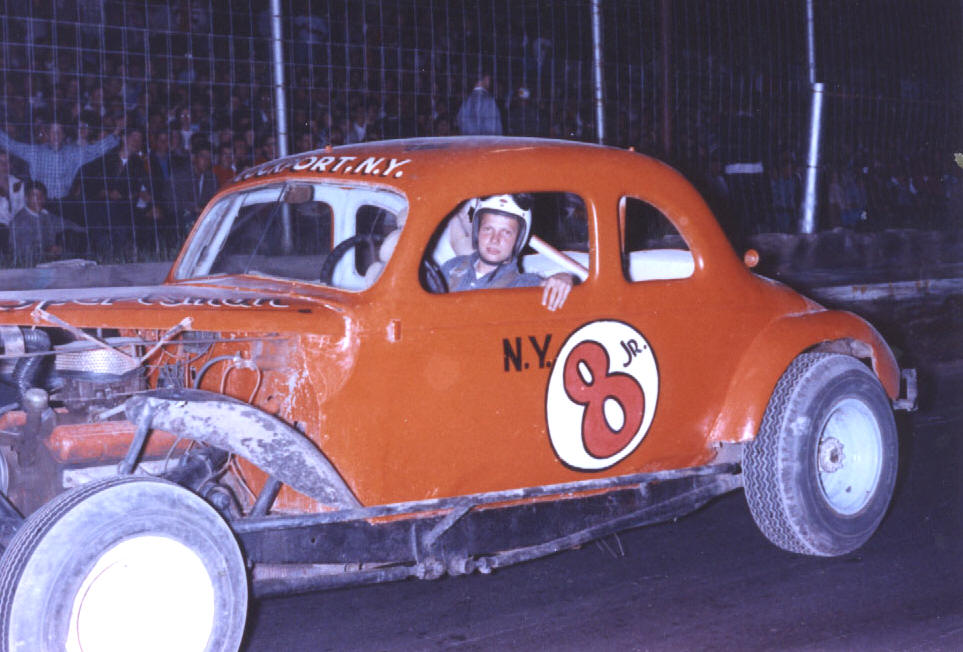 John Grady Photo
Cam, on the asphalt, at Albany – Saratoga Speedway probably in
the later 1960's. Below – A more advanced Gagliardi Corvair,
this time using the Lazy 1 numerals.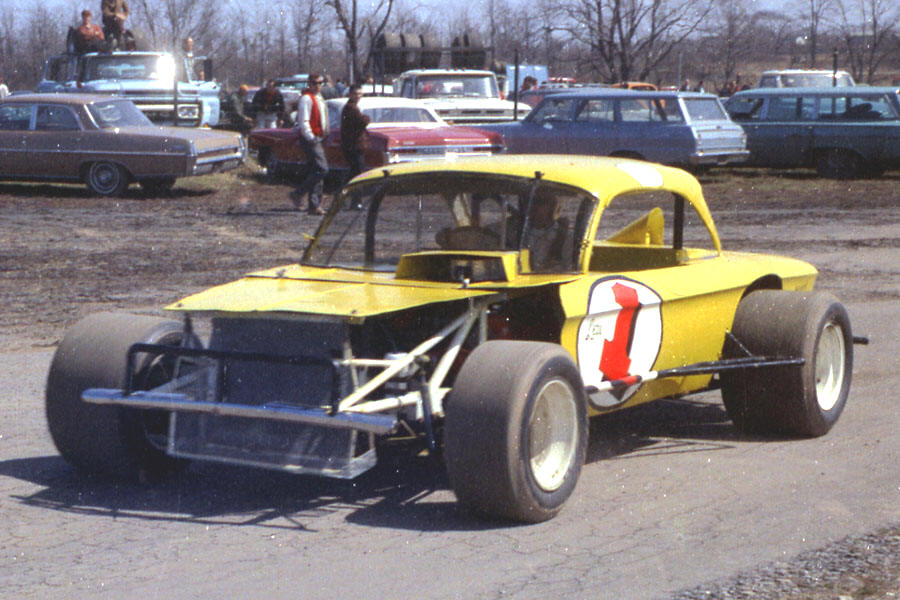 Gordon Reinig Photo
Gagliardi's early racing – whether the midget or stock cars – was heavily supported by Gagliardi Brothers Texaco [apparently in Lockport]. By the time he finished, he was running major sponsorships from businesses like Gennessee Beer. He had to be a member of NASCAR for the racing they did in Daytona. This meant that, when he wanted to race at tracks that did not have the autocratic organization's sanction, he had to play the "racing nickname" game they all did in those days. He went by Glenn Reese.
Lockport Union Sun and Journal writer John D'Onofrio did a nice piece in 2011 on Gagliardi at the time of his passing. His work explains that familiar photo of Cam and Gil's first adventure at Daytona. I always thought the wrecked car they showed was a Buick, but D'Onofrio points out it was a fastback 1950 Chevy which Cam wrecked during practice. I imagine racing in Western NY could not prepare one for handling a car on Daytona. They had to use the Number "Lazy 15" that first time.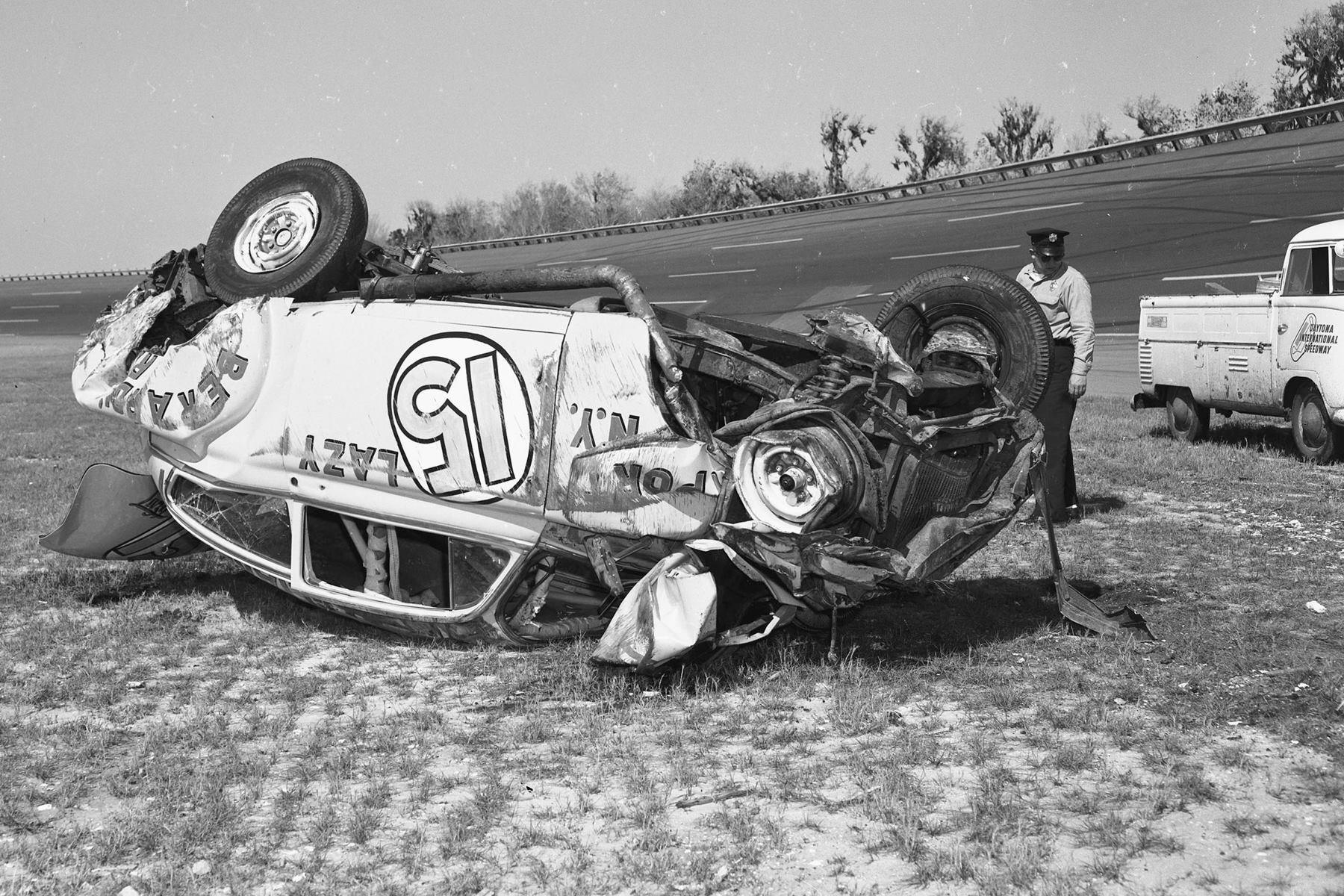 John Bisci Photo
A policeman looks over the fastback Chevy, bearing an unfamiliar "Lazy 15",
looks to be the worse for wear. I think it was wrecked in practice
before the "big one" they had in that 1960 modified/sportsman race.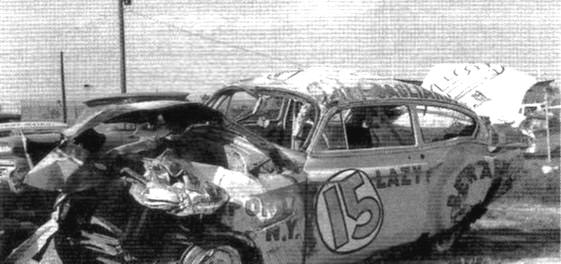 Courtesy of Pascal Cote
The following season, they went back with the familiar Studebaker – bodied car they ran for a number of seasons. Again, Cam had bad luck and was pulled out of the race with Carbon Monoxide problems in a car whose windows were kept rolled up for aerodynamic purposes. I can't imagine how officials even knew what going on inside that car unless someone said something to them. Gil and Cam would go on to run the car with Southern hotshot Lee Roy Yarbrough with different results – they won the race that year.
It wasn't always simple with the mercurial and sometimes troubled Yarbrough. Photos show that he did a fairly thorough job of wrecking the Studebaker at least once. The pair would go on to field other cars with that familiar yellow color, going to such numbers as 38 and 70. They would employ some of the best drivers from New York's regular racing community.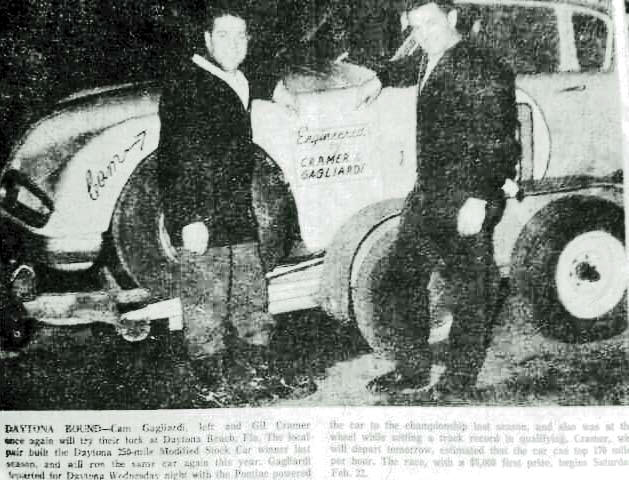 Pauly Rubens Photo Lockport Sun and Union Journal
Cam and Gil, on their way to Daytona with the Studebaker. Below -
They had both good and bad fortune with Yarbrough as driver. As
poor as it is, this is the only photo I have of Gil Cramer.


Tom Studebaker Photo [Interesting choice of photographers]
One year, the team used one of New York's hottest commodities and one of the best drivers to ever race in and from the state: Lou Lazzaro, from Utica. A man equally at home on dirt or asphalt, Lazzaro always had competitive equipment but certainly ran on a budget considerably smaller than much of his competition. I do not have information on how Louie did at Daytona, but I doubt it intimidated him any more than any other unfamiliar venue [and that was not at all].
It is likely the Lazzaro stint came in the same car as 1960 and 1961 NASCAR National Sportsman Champion Bill Wimble drove – a 1961 Pontiac. Wimble had run the Permatex race with cars supplied by his regular car owner, Dave McCredy of Sherburne, NY before – at least two times.
Later, they placed four – time NASCAR National Sportsman Champion Rene Charland in one of the cars – and Jerry Cook in another. Despite being from Agawam, Massachusetts at the time, Charland spent in inordinate amount of time racing in New York, probably cementing the arrangement for that year. I don't know if it was one of the years in which Charland was in direct competition for the national title – or whether it was later; but, the cigar chomping trickster knew just how to accrue points and Daytona Speedweeks were his best source.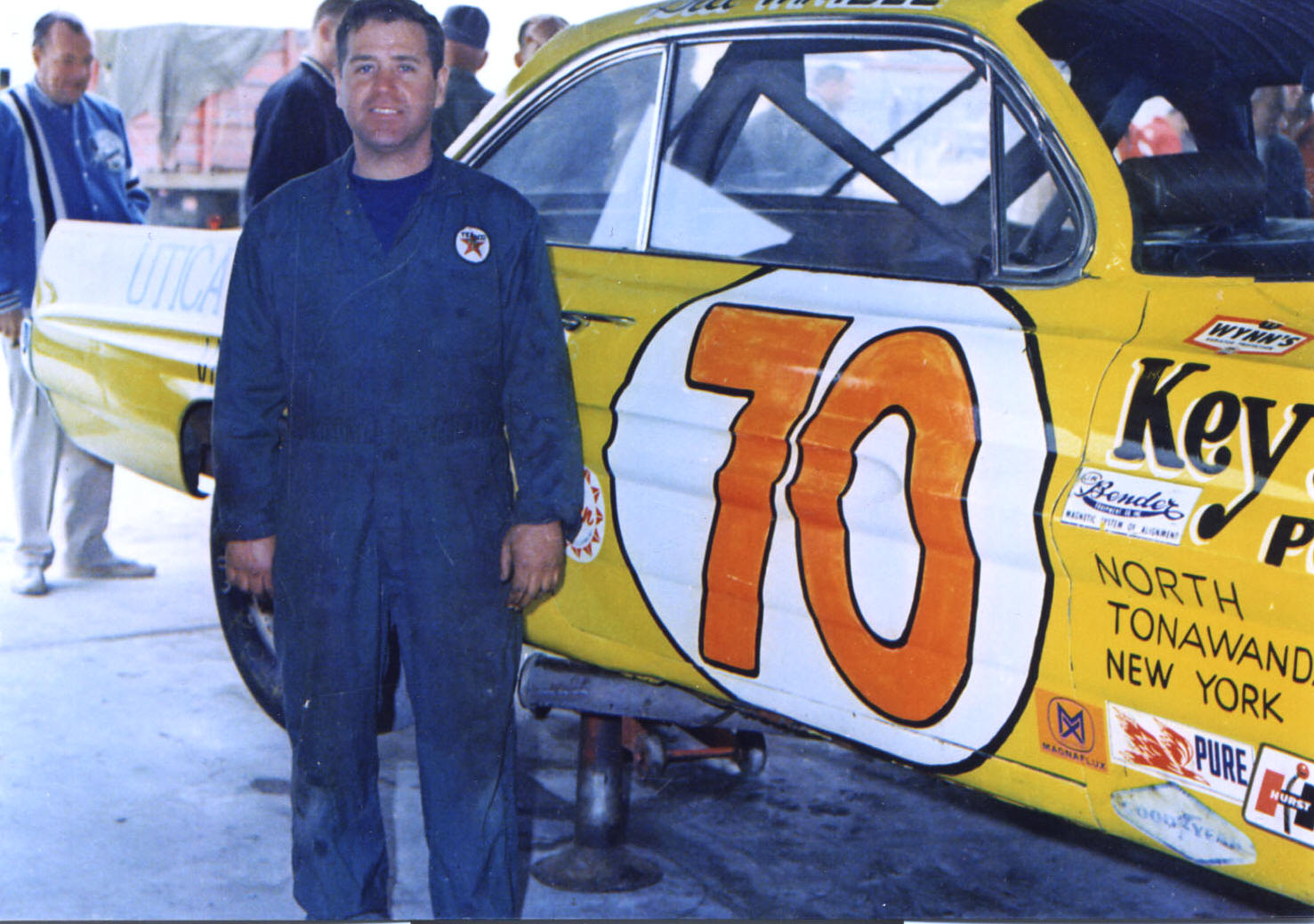 John Grady Photo
This Cramer/Gagliardi Pontiac was run for the team by Lazzaro and
Wimble. Below – the two – car team that involved Charland and
Cook is seen below. Sorry, it was a small photo.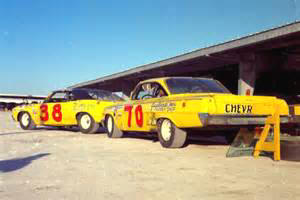 Source Unknown
The final prominent name to climb into a Cramer / Gagliardi Permatex car [this time numbered 38] was Jerry Cook, who as a fourteen year – old had built Cam a car to run. It looks like the team fielded both the #70 and the #38 Chevelle that year. Again, I don't know how Cook did in the big race. One thing is for sure, he took care of the equipment and was likely in the running at the end. I am not sure when the team stopped bringing those bug light yellow cars down South, but they managed to become one of the more recognizable Permatex teams seen at Daytona in February.
Cam Gagliardi was still running effectively up into the 1980's. He had started out working on cars out of high school and one of his most fond memories was getting to race with a grandson at age 55. Businesses started by Gagliardi are now being run by family members. He has been recognized for his excellence in halls of fame around New York. Unforunately, I have no further information concerning Gil Cramer.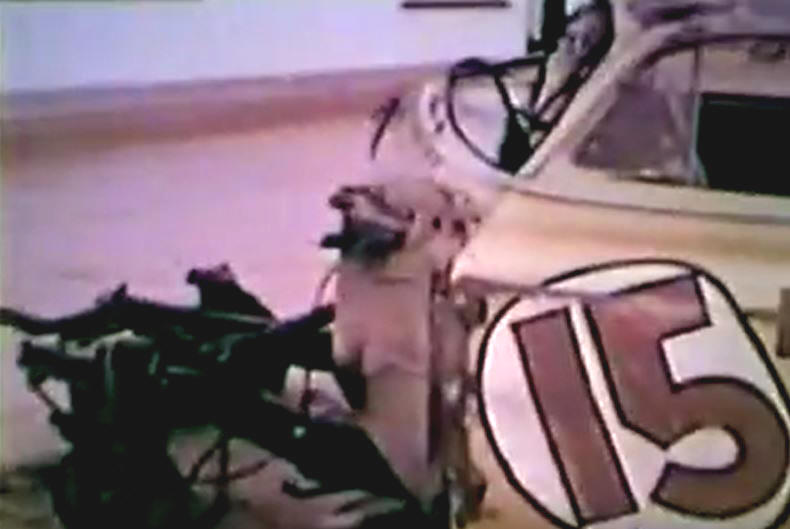 From 8MM Film from You Tube
Another look at the iconic 1960 wrecked Chevy. It must have hit pretty hard. Below - The popularity of the aerodynamic Studebakers
at the time is shown as Yarbrough leads New England star Bill Slater in the 1963 Permatex race.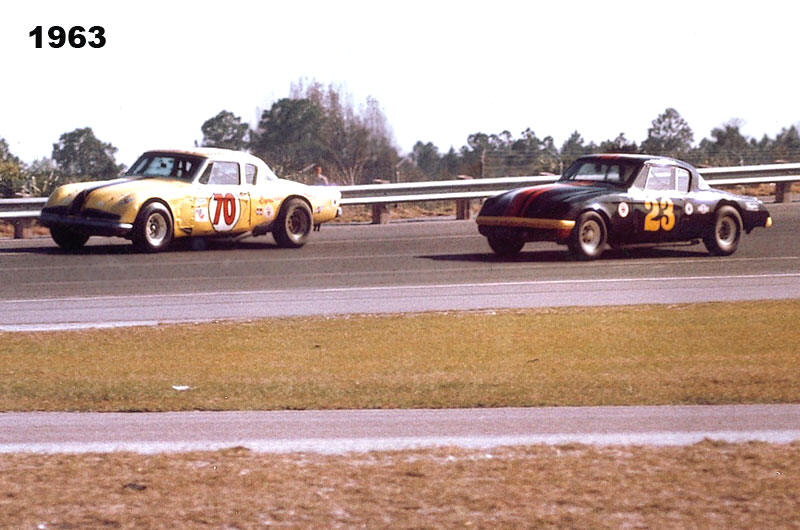 Norwood Arena Site Photo
Please email me at wladabou@comcast.net if you have any photos to lend me or information and corrections I could benefit from. Please do not submit anything you are not willing to allow me to use on my website - and thanks. For those who still don't like computers - my regular address is: Bill Ladabouche, 23 York Street, Swanton, Vermont 05488.
AS ALWAYS, DON'T FORGET TO CHECK OUT THE REST OF MY WEBSITE:
www.catamountstadium.com
Return to the Main Page
Return to the Main News Page
Return to the All Links Page
Return to the Weekly Blog Links Page