BILL'S [Somewhat] WEEKLY COLUMN/BLOG PAGE

BILL'S BACK IN TIME
By Bill Ladabouche
THEY USED TO HAVE SOME OF THE DAMNEDEST CARS
It's a cookie cutter world in racing today. There has always been an attempt made at rules and some looks towards a level playing field, but nothing like today. In a miserably failing attempt to keep costs down and have parity, not much room has been made for individuality among cars in a particular division at a track. Nor, for that matter, is there much difference from any track to the next. [Yawn]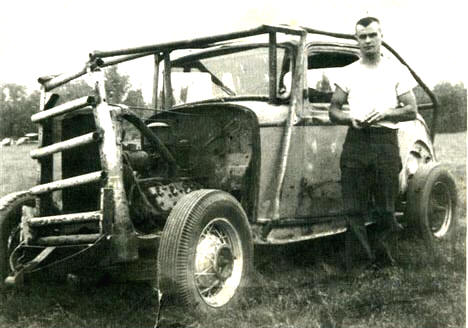 Courtesy of Paul Bellefeuille
Safe ? Nu – uh; fast ? Nu – uh. But probably more fun to watch ? Ya – huh !
There was a time when just getting a car to the track and have it be somewhat safe was enough. This allowed some pretty darned weird vehicles to enter the arena, so to speak. They may not have been easy to adjust and they may not have performed particularly well – but they were fun to see and observe, as they made their way down dusty, bumpy tracks. [And, the best part was, many of these beauties belonged to your neighbor or cousin].
I have been having to go through my thousands of photo files, over and over again while doing a massive upgrade on one race track and I have run across this one car in particular – Ken Torrent's New England Auto Body car. That got me thinking about some of the other unusual race cars I have gotten pictures of over these years of doing this history research. New England Auto Body is now a Boca Raton, Florida business run by "Leo and Mike', and I have not idea if it has any connection to Torrent at all.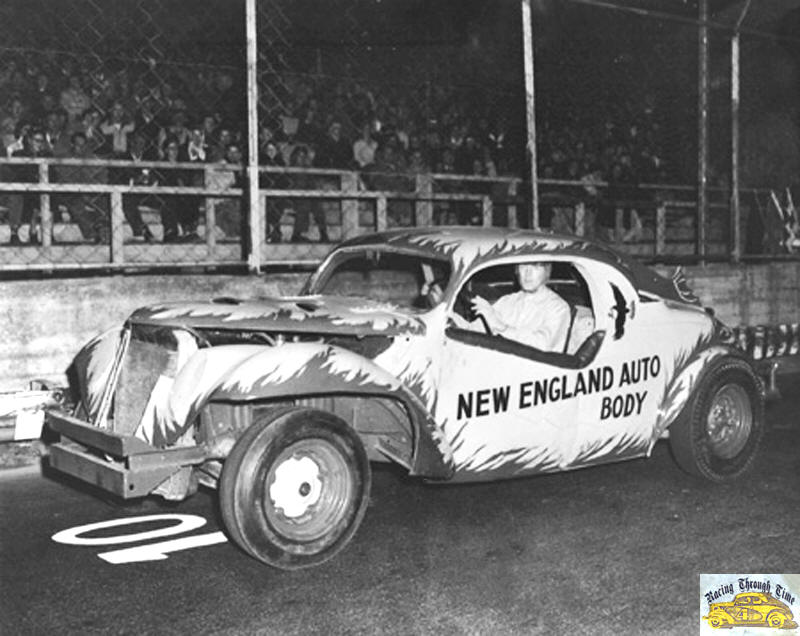 Shany Lorenzent Photo via Dave Dykes
It's a bird ! It's a plane ! Naw, it's just Kenny Torrent's really odd – looking cutdown at Riverside Park Speedway.
Below - Kenny apparently had to go to this more standard car later after the cutdowns were banned at most tracks.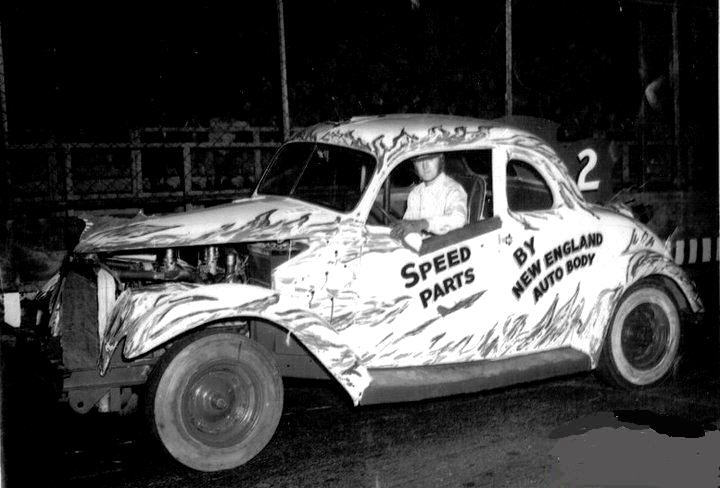 Courtesy of Ed Duncan Likely a Shany Photo


I am not at all sure what look Torrent was going for when he created these #2 cars he ran in the 1950's; but, they were something to behold. He seemed to race primarily at Riverside Park Speedway in Agawam, winning his one feature there in 1954. He apparently ran some in the cutdown cars that were eventually banned for safety reasons, and he wound up in a more standard 1937 Ford later. Torrent ran a #2 that usually had references to New England Auto Body.
The Torrent cutdown was the epitome of a strange race car. Cutdowns, on their own merit, looked pretty weird by today's standards; but, Ken had the car covered with flames and branch – like symbols that made it look like it came from middle earth. The cutdown also had some body characteristics that were just, well strange ! This is no other information on this guy, so his "fame" comes from the oddball car.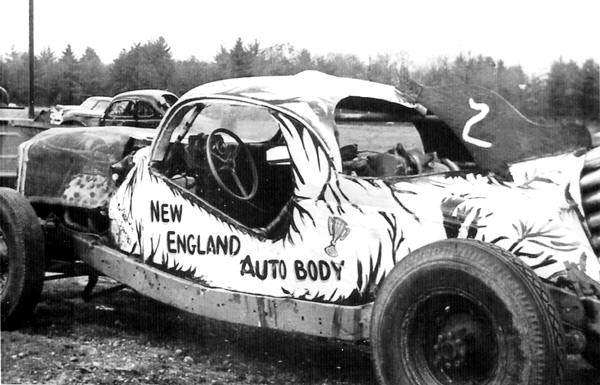 Courtesy of Ed Duncan Likely a Shany Photo
Another view of the Torrent car at Riverside park. If anything it got stranger.
Below – Bob Gatien did love his dragons, as seen on this earlier coupe.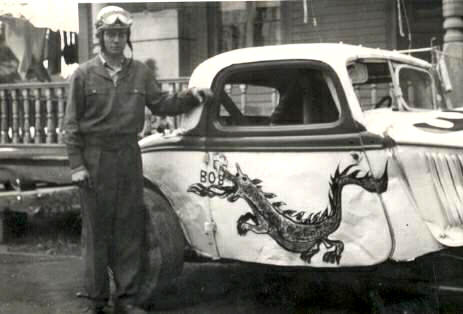 Courtesy of Gerard Major
Another similar car to Torrent's came from Quebec's Bob Gatien [pronounced gah – tee – yen]. Or as they pronounced it at Catamount - "gay – shun". Gatien, who ran at tracks like Ste. Martine and Sherbrooke in Quebec, liked to paint dragons on his cars. When he graduated from the standard flat top Ford coupe to a 1953ish Studebaker two door coupe, that was soon festooned with a big old swooping dragon as well.
The thing was that, as time went on, the Studebaker started to shrink. As damage would happen to body parts such as most of the entire trunk, they would just fall by the wayside and not be replaced. Finally, he wound up with this bob-tailed little white thing that sometimes had a dragon on it. It looked odd – even in the early days of Quebec racing [which were odd by themselves].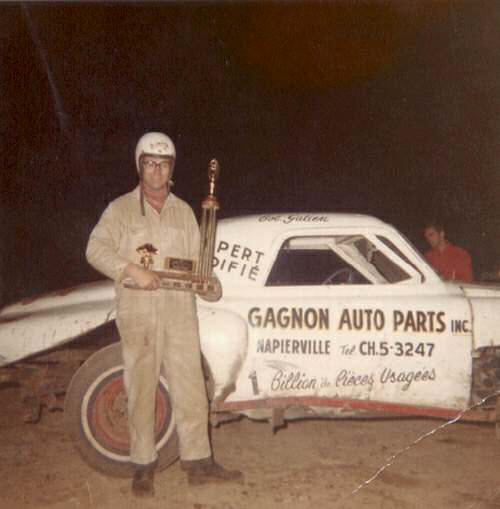 Courtesy of Gerard Major
Gatien with the Studebaker when he started out. Below – The Studie started to disappear, a little at a time.
Further below – Bob, with the really strange remnants of the Studebaker at Granby's Rebel Speedway.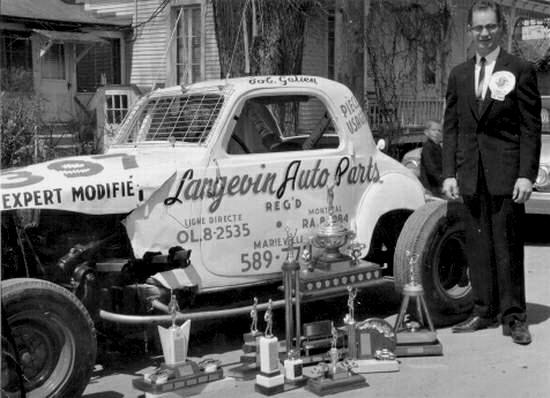 Courtesy of Gerard Major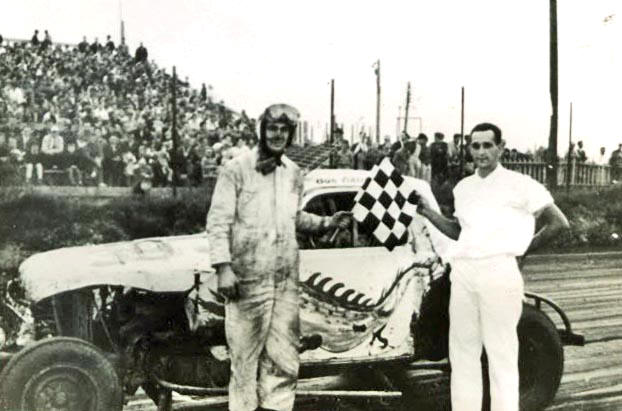 Courtesy of Yvan LaCroix


Gatien went on to a more run – of – the – mill ride, the #397 sportsman coupe. He apparently ended his career with this much more regular car. There was a Gatien who owned some of Guy LeClerc's D8's; but, I don't know if it was the same Bob Gatien. He did have quite an imagination as to what a race car should look like.
The next car was, by itself, usual enough – a 1960's NASCAR sportsman coupe. The thing that made it a fan favorite [especially with kids] at Fonda Speedway was the fact that it was painted to resemble the markings on a skunk. Skip Roots, a tall, lanky drink of water from Gloversville, NY, was the son of one of the region's stock car racing pioneers – Herb Roots. Skip's car was numbered H2 in deference to Herb's sometimes number H1.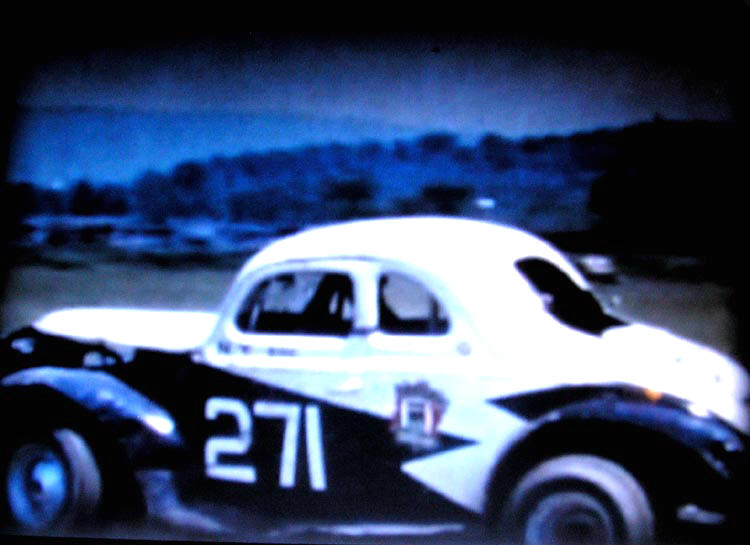 From Dan Ody's 8MM Old Speedways DVD's
Looks like Herb may have had the skunk idea first. The style of the 2 is also consistent with Skip's later.
Below – Skip, with his familiar H2 car, posing at Fonda.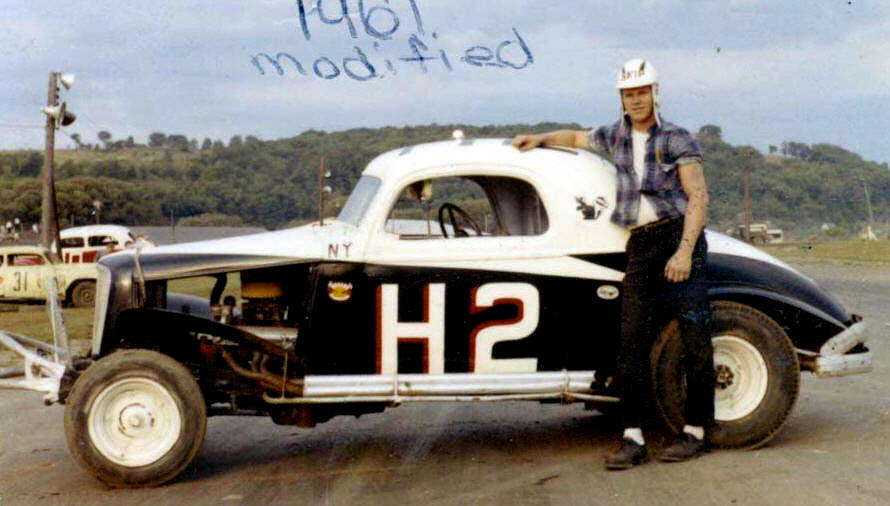 Russ Bergh Photo

The Roots H2, with which Skip had managed to finish in the top ten in Fonda points on occasion, was a three window mid '30's Chevy coupe. Skip had the disadvantage of trying to race at the Track of Champions in its Golden Age – competing with the likes of Steve Danish, Lou Lazzaro, Pete Corey, Ken Shoemaker, Jim Luke, Bill Wimble, and the like. He didn't win much but he placed well often.
The last car Herb had was a #271, black with white roof and markings somewhat like a skunk itself. When the car was wrecked at Fonda with Doc Blanchard driving, it had been changed to H2. Soon after, a young Skip took over and refined the skunk markings. He went so far as to place little skunk decals on each side of the roof. It was all done very subtly and he kept the car in one piece, selling it off to what would be quite a succession of other owners.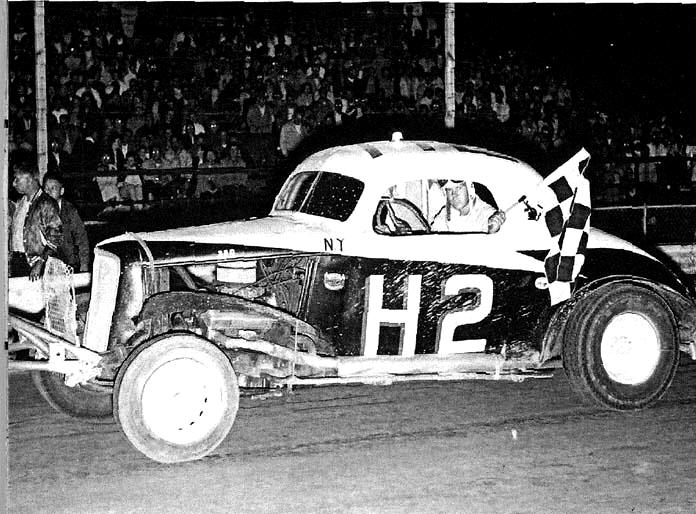 Russ Bergh Photo
Roots had modest success at the highly – competitive Fonda Speedway. Below – This, one of my favorite shots ever,
Sort of dispels the rumor that Roots sold his car to Rebel Ross. Both drivers are in this shot. I suppose it's still somehow
possible, as Ross is using Herb Roots' old H1 number. Could Skip have rebuilt ?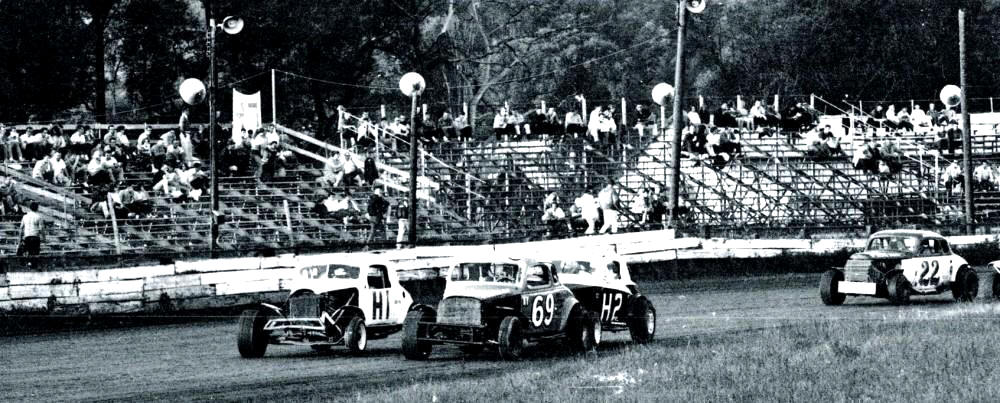 Frank Simek Photo

Another off beat variation in earlier stock cars was the pickup truck. There was at least one that ran at either Beech Ridge or Unity in Maine; but, the one I actually saw ran at Claremont [NH] Speedway in the late 1950's and early 1960's. The early Claremont track seemed to ne mostly a sandpit, hollowed out on Sonny Fleury's farm. The flat head Ford coupe was king there, but Walt [Pop] Brown, Sr. did run in the Claremont Jalopy Owners and Drivers' Association days with a pickup.
The first time I was able to hook a ride to the track that was sending so many dominant cars to my local Fairmont Speedway, I was a little disappointed with the place as – I had pointed out – the place was pretty rudimentary and most of the cars were, too. Then my friend, Bob yelled over that one of the "cars" out there was a pickup truck ! Brown, a former standout, didn't amount to much. It couldn't have handled very well. His son, Walt, Jr. did go on to some good accomplishments with his yellow and brown #409's later on.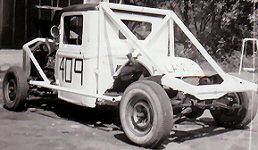 Walt Brown Family Photo
Walt Brown Sr.'s race "car", at Claremont in the jalopy association days. Below – Another such entry in an early Unity Raceway lineup in Maine.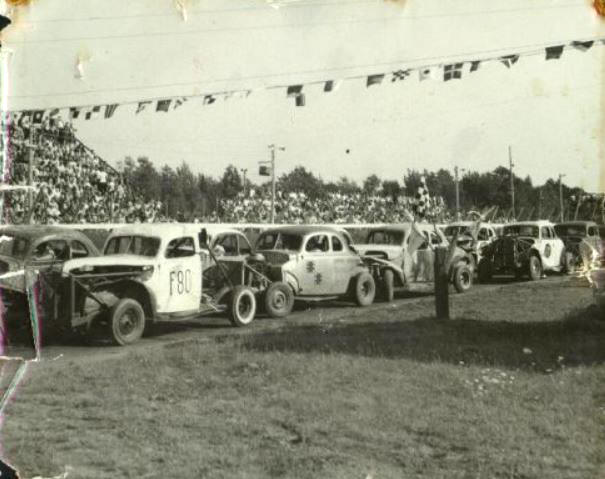 MVRCA Site Photo

Speaking of race cars that weren't always cars, New England Antique Racers Hall of Fame member Marty Harty built some very unusual vehicles and made them work on the race track. Harty is credited with many innovations with the old Ford chassis in the days before anyone had heard of a Laughlin chassis or anything from Emmanuel Zervakis. The Barrington, NH man started by building a Ford with his brother that, with the help of driver Leo Richard, was an immediate success at Hudson Speedway.
Even that first car had a quirk or two, including exhausts that went up along the sides like those of a tractor trailer truck. Other different Harty rig included a short racer that looked somewhat like a pickup truck hot rod and a sedan he had such as Roger Lancey and Ernie Gahan drive at Thunder Road. The tall, boxy coach apparently did well enough.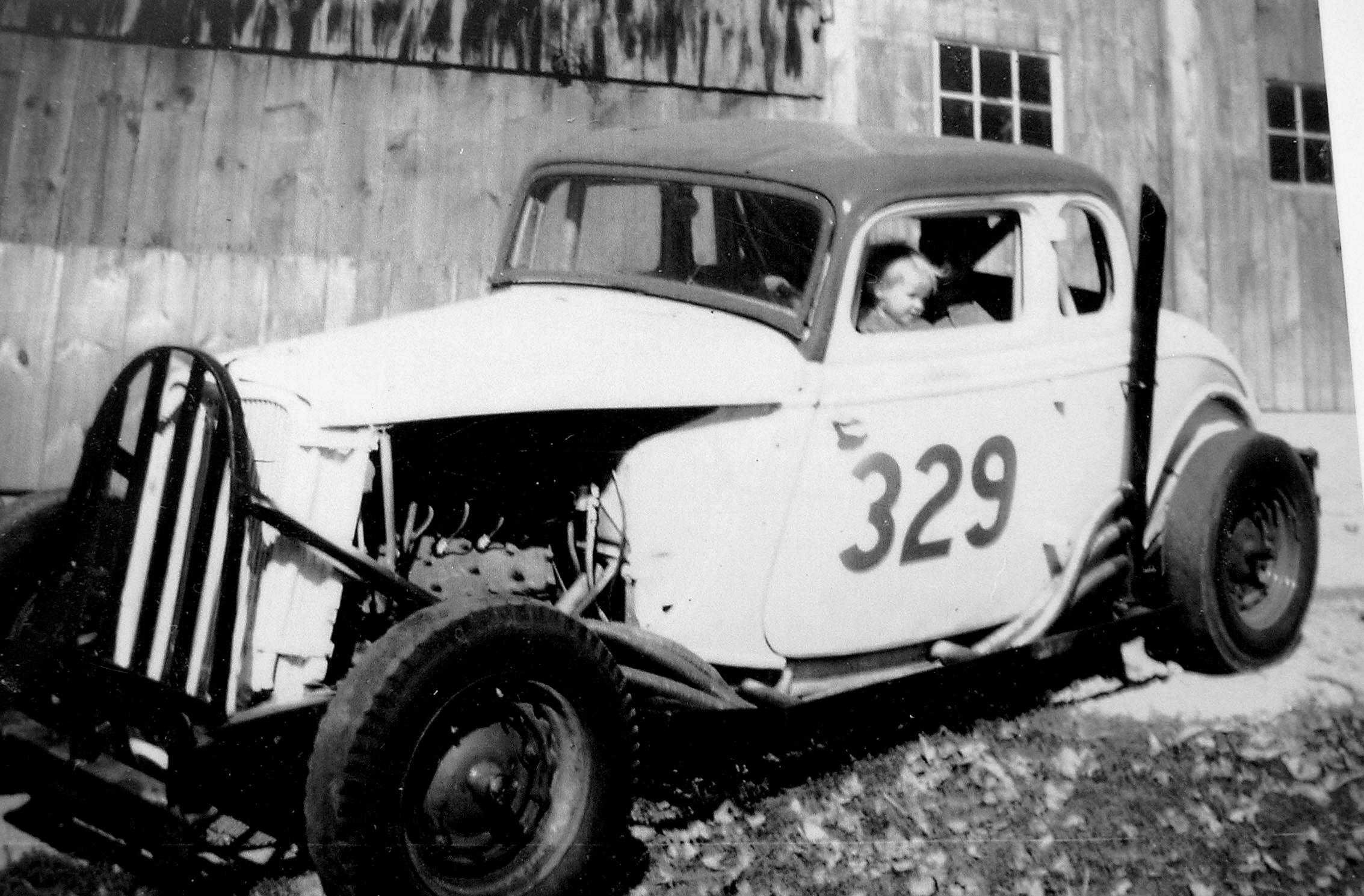 Courtesy of Paul Zampieri
Possibly the first Harty car, with the side stacks. Below – This
Harty creation was almost more of a street rod.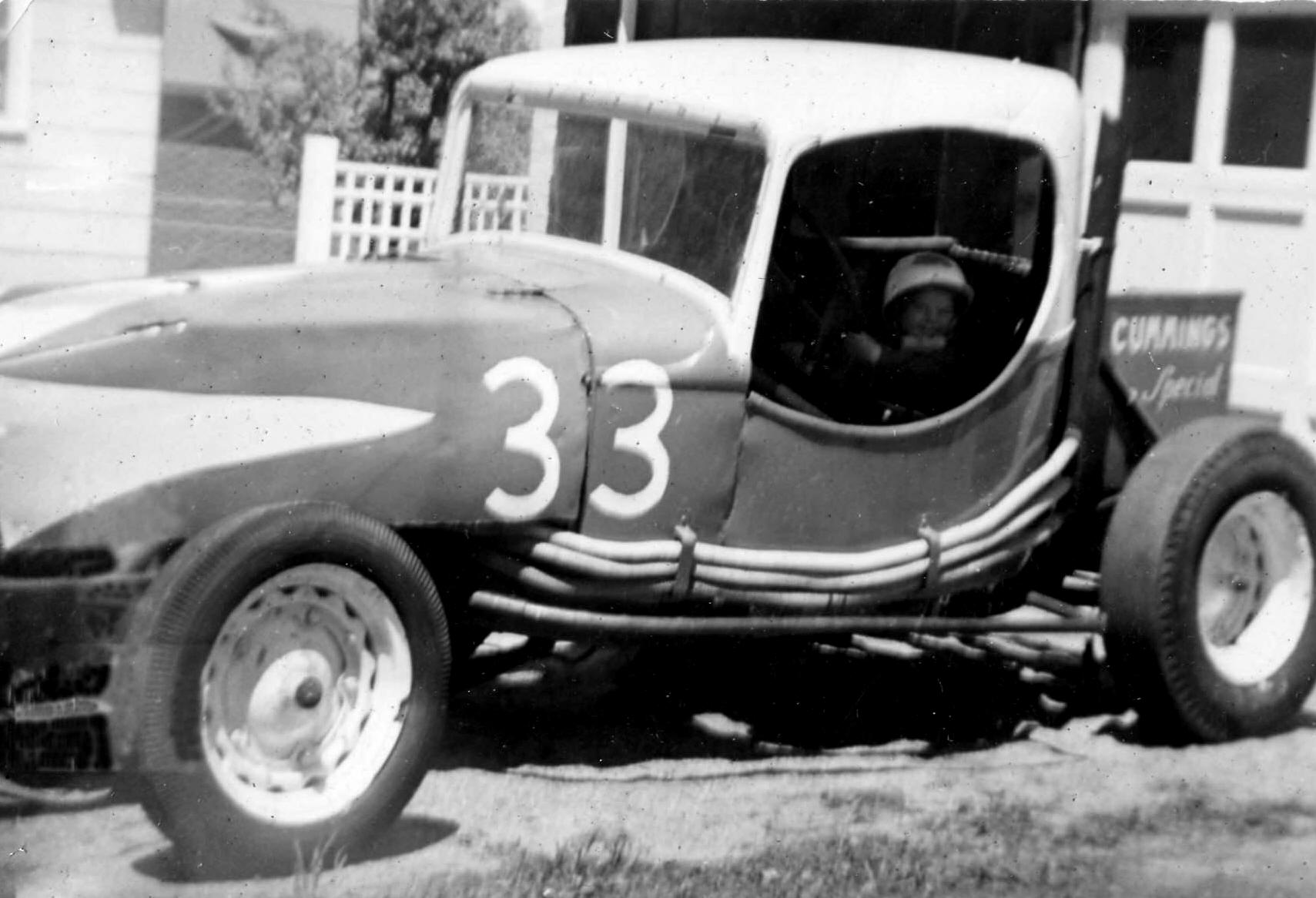 Courtesy of 176 Racing Site
Even the numbers on a couple of Marty's cars evoked interest. The car number of 28 9/10 was on both a coupe and that sedan. As I have heard, he had a good sponsor in Ralph Atkins from Troy, NH, and Atkins ran a filling station. The car number was the price of gas at the time. That sure as heck dates it some. I once saw Ralph listed as a driver at Fairmont Speedway with that number but never saw him race. I met Harty at one of the Ron Bouchard reunions in Fitchburg and found him as fascinating as his cars.
Doug Benjamin was a 1950's star who seemed to drive in that circuit that involved such as Riverside Park, the Pine Bowl Speedway, and Rhinebeck, NY. He may have shared the track with Ken Torrent at times. Doug's cars didn't have dragons or flames, they didn't look like skunks, and they weren't trucks. If you are young enough to remember Wonder Bread and it polka dot wrapper, that's pretty much what Doug's cars looked like. You can almost always pick out a Benjamin 50 right away with all the polka dots.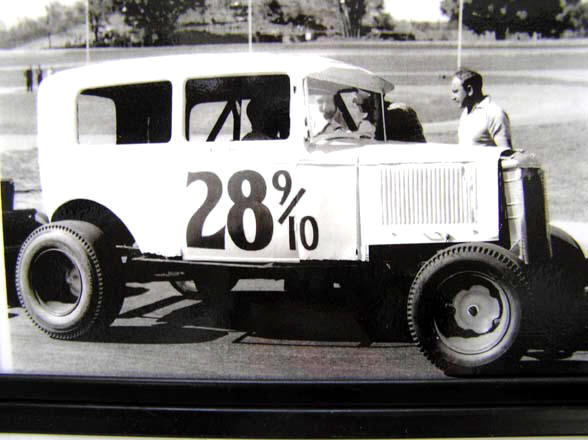 Courtesy of Cho Lee
This is said to be Ernie Gahan with the boxy Harty sedan at "Thunder Road in 1962. Below – This Harty coupe may have been what Atkins was going to"drive at Fairmont in 1963. Other Harty coupes like the 000 and 300 were very effective – especially at Brookline Speedway. In this shot Mike Osborne is winning a feature at T Road.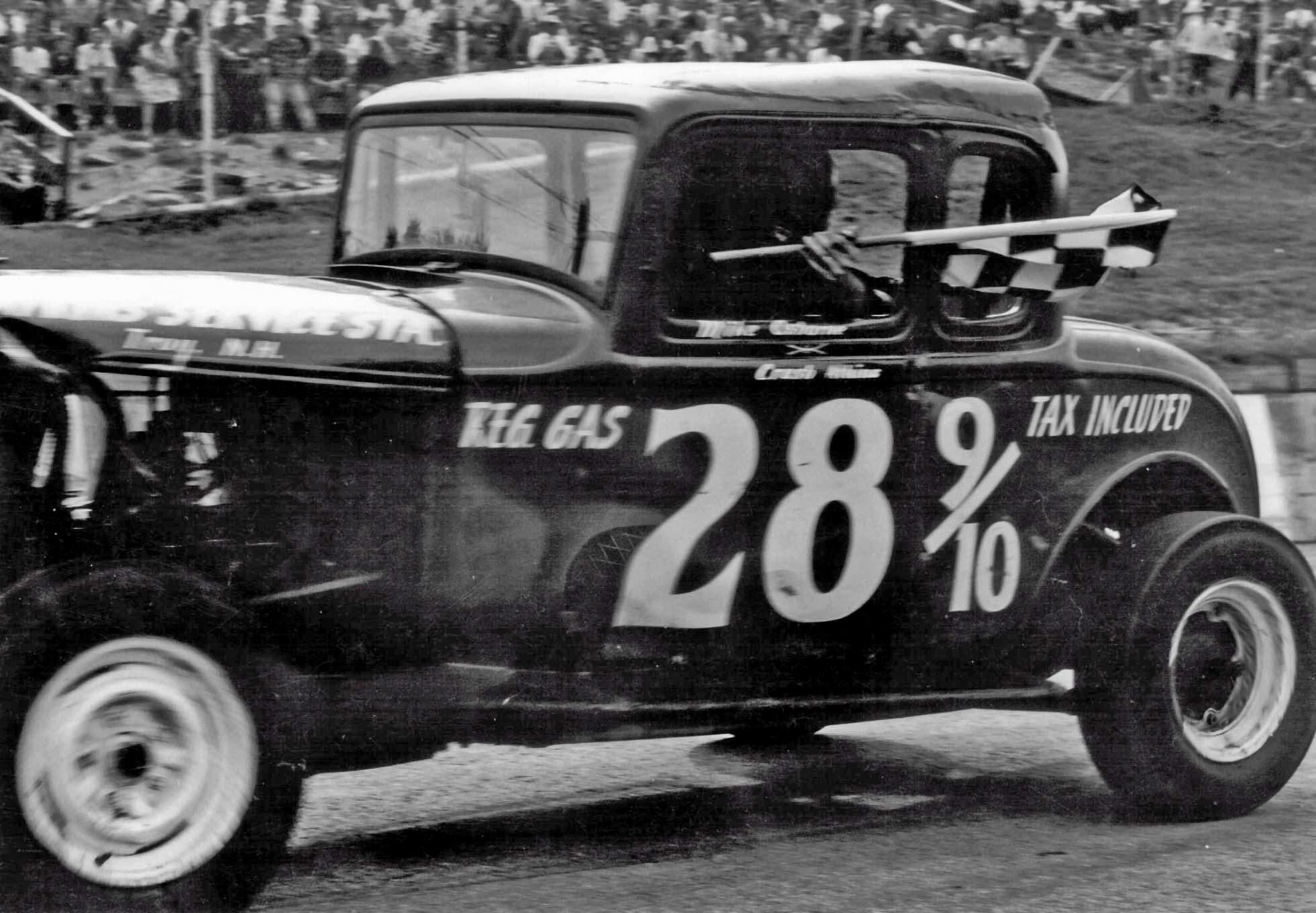 Courtesy of Mark Austin

The next guy didn't have any of the above. He just had one of the more creative car numbers in history. There was frequently a car at Pine Bowl Speedway numbered "One Lap Lena". I have struggled to determine the name of the driver of this iconic car and I have decided it must be Honest John Knighton. From all appearances, Knighton was popular, being chosen to pose with pretty girls from local radio stations in his cars and so forth. Someone has even built a tribute car of the One Lap Lena.
At least one of the Lena cars looks to be a Hudson. Knighton is seen in one other photo with a car #3 that looks more like a Ford. He ran mostly at Pine Bowl, I think, but he may have tried venues like Burden Lake or Route 66 as well. I don't know where the Honest John moniker came from; maybe he was a car dealer. There is an illustration under the "One Lap Lena" on his Hudson, but I cannot figure out what kind of creature it is supposed to be.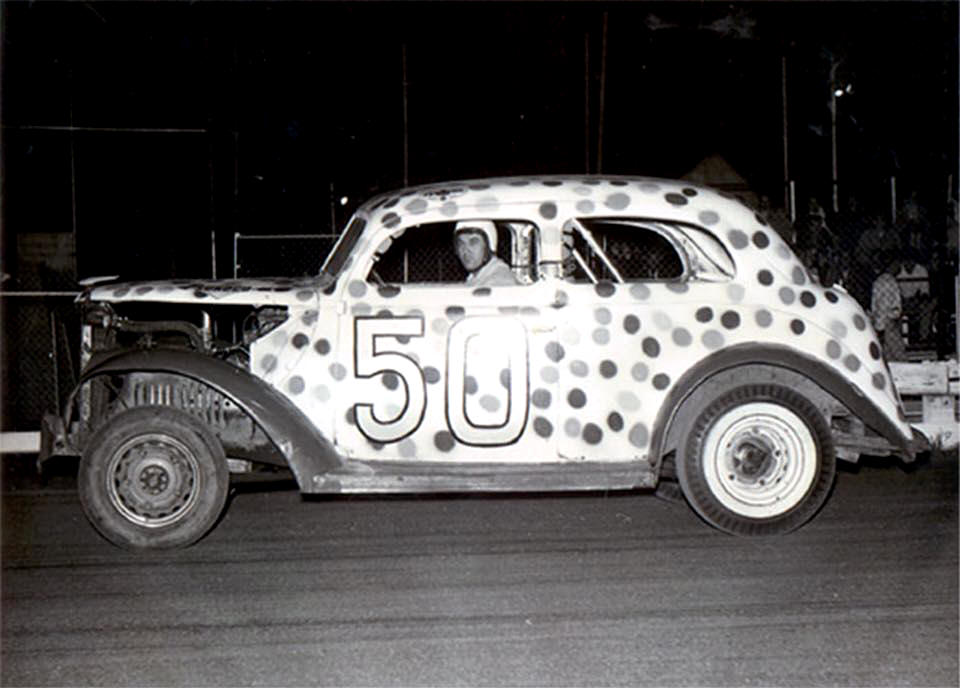 Courtesy of Steve Finley
Doug Benjamin drove his polka dot cars all over. This sedan shot is from Danbury RaceArena. Below – Benjamin in
an earlier car at Empire Raceway. Below – Benjamin, in 1951, at Brewster, NY.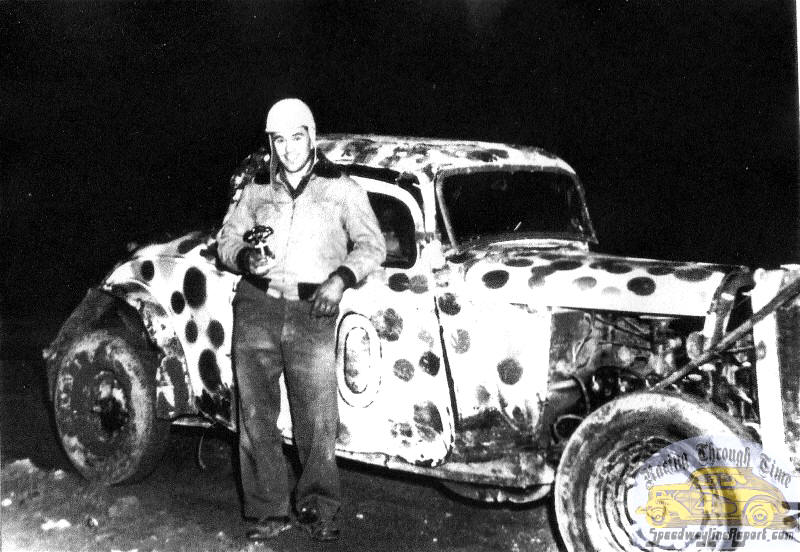 Probably McDowell Photo Courtesy of Roger Liller

Cars like Knighton's, like Benjamin's, goofy cars like Torrent's cutdown; these all make up what used to be so fun about racing. I recall Stan Timberlake's Oxford Plains Chargers car simply numbered with a big red apple because his support came from an orchard in Turner, Maine. Touchy sponsors, total business atmosphere, cookie cutter cars, and few if any men left like Smokey Yunick in the sport are just some of the reasons it ain't so much fun any more.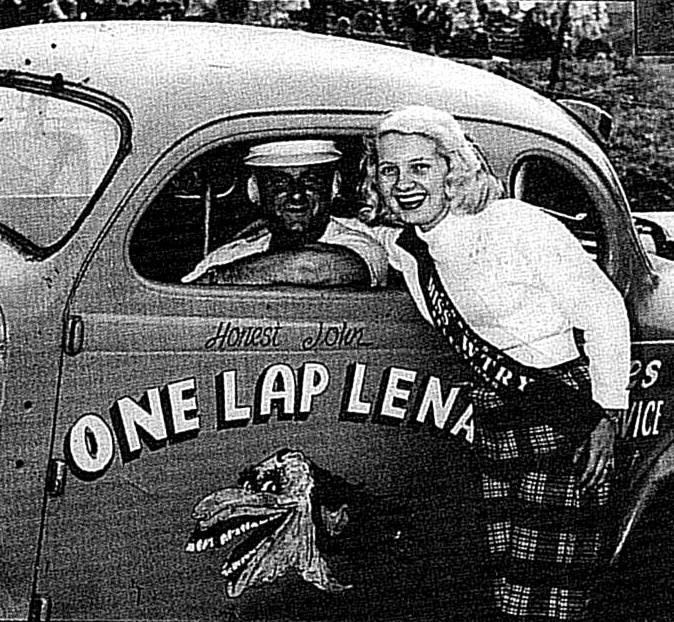 Courtesy of Joe Grossetti
Honest John with Miss WTRY at the Pine Bowl Speedway. Below – A
better look at One Lap Lena, at Empire Raceway.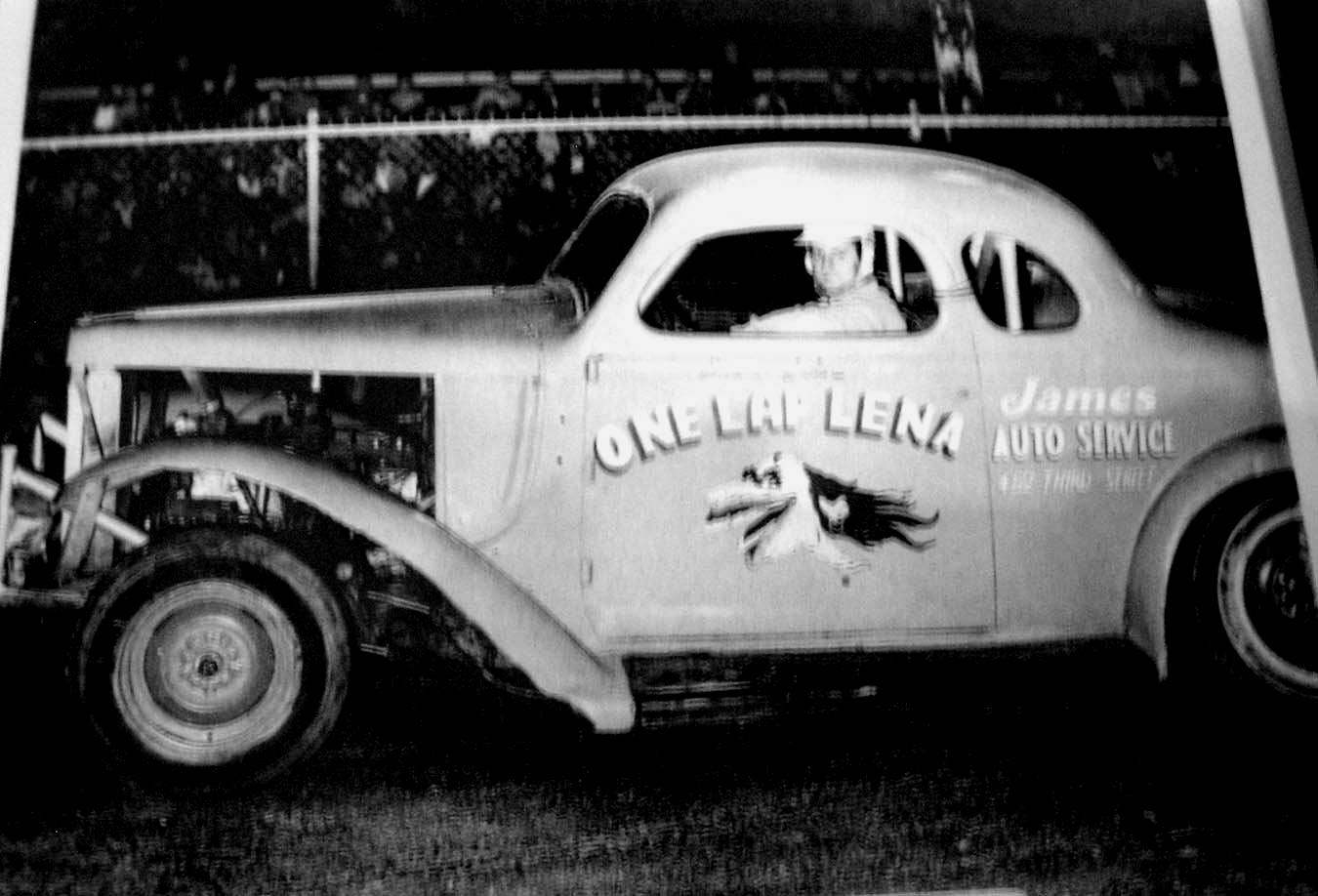 Courtesy of Dan Ody
Please email me if you have any photos to lend me or information and corrections could benefit from. Please do not submit anything you are not willing to allow me to use on my website - and thanks. Email is: wladabou@comcast.net . For those who still don't like computers - my regular address is: Bill Ladabouche, 23 York Street, Swanton, Vermont 05488.
AS ALWAYS, DON'T FORGET TO CHECK OUT THE REST OF MY WEBSITE
www.catamountstadium.com
Return to the Main Page
Return to the Main News Page
Return to the All Links Page
Return to the Weekly Blog Links Page